30 Thoughtful Gifts for the Mother of the Groom
Looking for a great MOG gift? Look no further.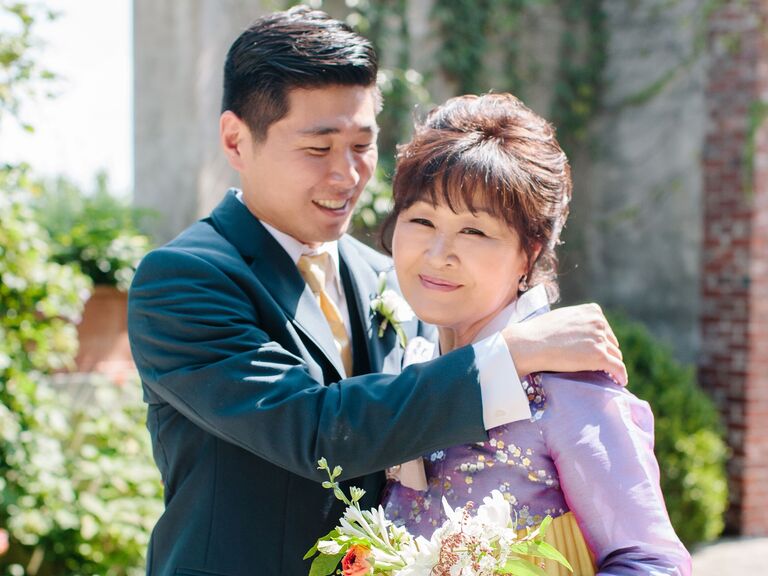 LEIGH+BECCA
We have included third party products to help you navigate and enjoy life's biggest moments. Purchases made through links on this page may earn us a commission.
As you're planning your wedding, don't forget about thank-you gifts for your parents. A thoughtful present is a great way to acknowledge all their encouragement and support, especially if they've helped organize or finance any of the wedding festivities. If you're shopping for the mother of the groom, you'll want to choose something that shows her how important she is to you and this monumental occasion. That's why we've rounded up the best gift ideas for the mother of the groom to make her feel appreciated and loved. But first, who should buy a gift for the mother of the groom? And what exactly is the perfect gift?
In this article:
Who Buys the Mother of the Groom a Gift?
It's customary for the couple to give gifts to all the members of the wedding party—including their parents—on or around the wedding day (the rehearsal dinner is a good time to do this). It's common for the groom to buy a gift for his mother that's sentimental and special to their unique relationship. That said, the groom's partner may also feel inclined to give the MOG a present to thank her for raising the man they adore. Alternatively, the groom and his future spouse can give a gift of thanks together.
What to Gift the Mother of the Groom
Keep the mother of the groom's personality and taste in mind when picking out her gift. Is she the sentimental type? Does she love to accessorize? Common mother-of-the-groom presents include photo gifts, jewelry and cute wedding day essentials. You can also think outside the box and give her something practical that celebrates one of her hobbies. To help you get inspired, we've rounded up a variety of unique mother-of-the-groom gift ideas. Whether you're her son, the love of her son's life or the couple shopping together, there's something on this list that we know will impress her.
Our Favorite Mother-of-the-Groom Gifts
1. Mom Charm Bracelet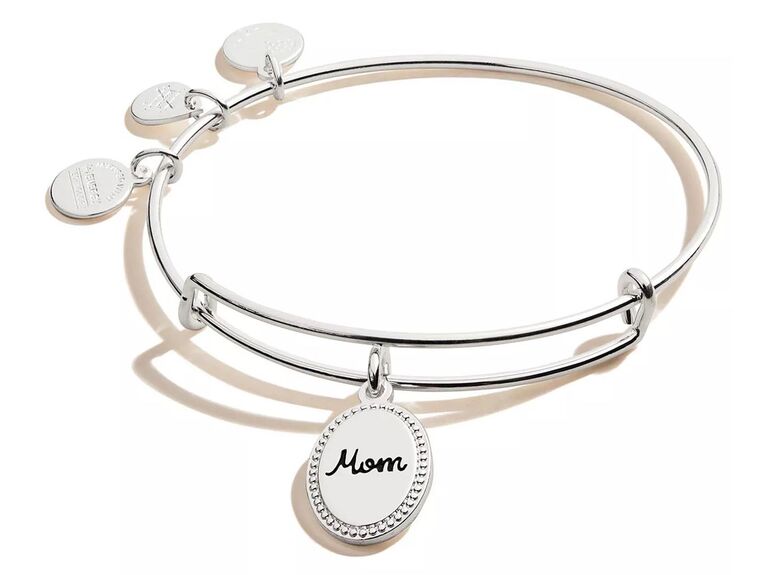 Jewelry is a classic mother-of-the-groom gift and this charm bangle is a timeless pick. Crafted from silver-plated brass, it features an oval pendant engraved with the word "Mom." It's a simple mother-of-the-groom bracelet that lets her elegantly show off her important title.
2. Monogrammed MOG Mug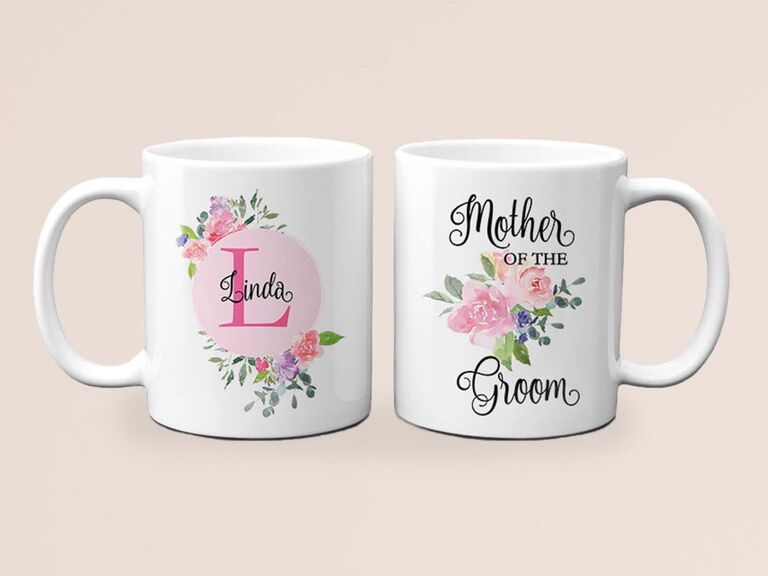 Planning a breakfast for your VIPs on the wedding day? Present the mother of the groom with this cute floral mug to thank her for all she's done. The front displays her wedding party title, while the back is monogrammed with her name and first initial.
3. Mother-of-Pearl Picture Frame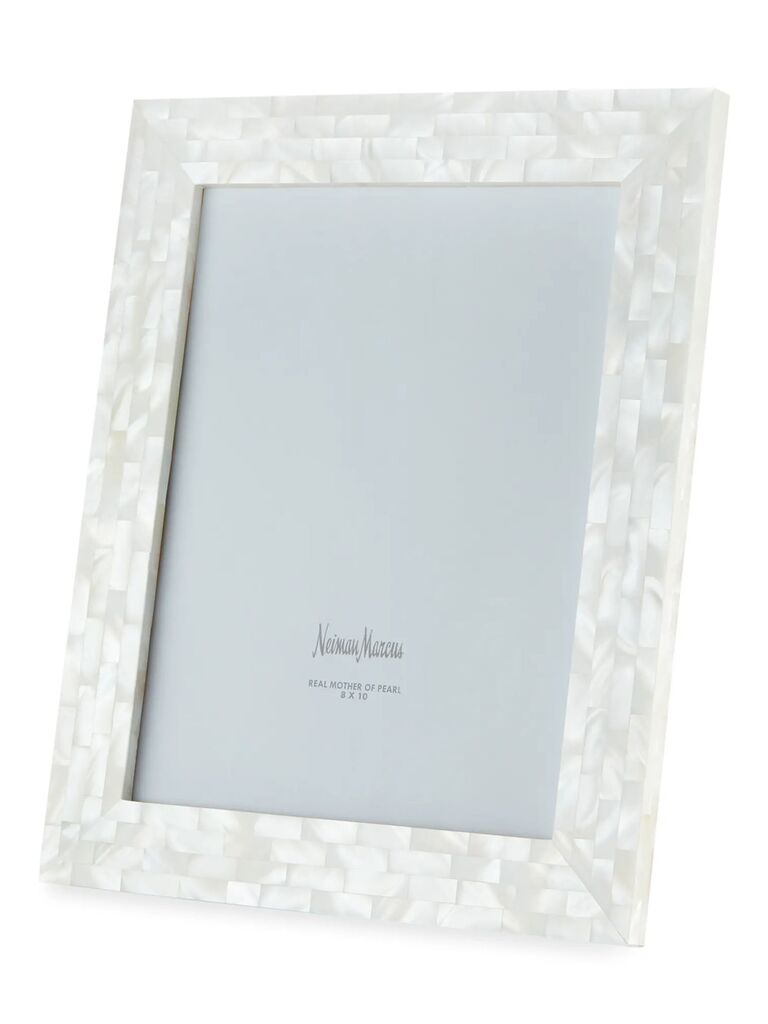 Photo gifts are timeless mother-of-the-groom wedding gifts—and this mother-of-pearl frame couldn't be more fitting. Fill it with your favorite mom and son photo, perhaps one from your childhood, to spark happy tears.
4. Italian Herringbone Throw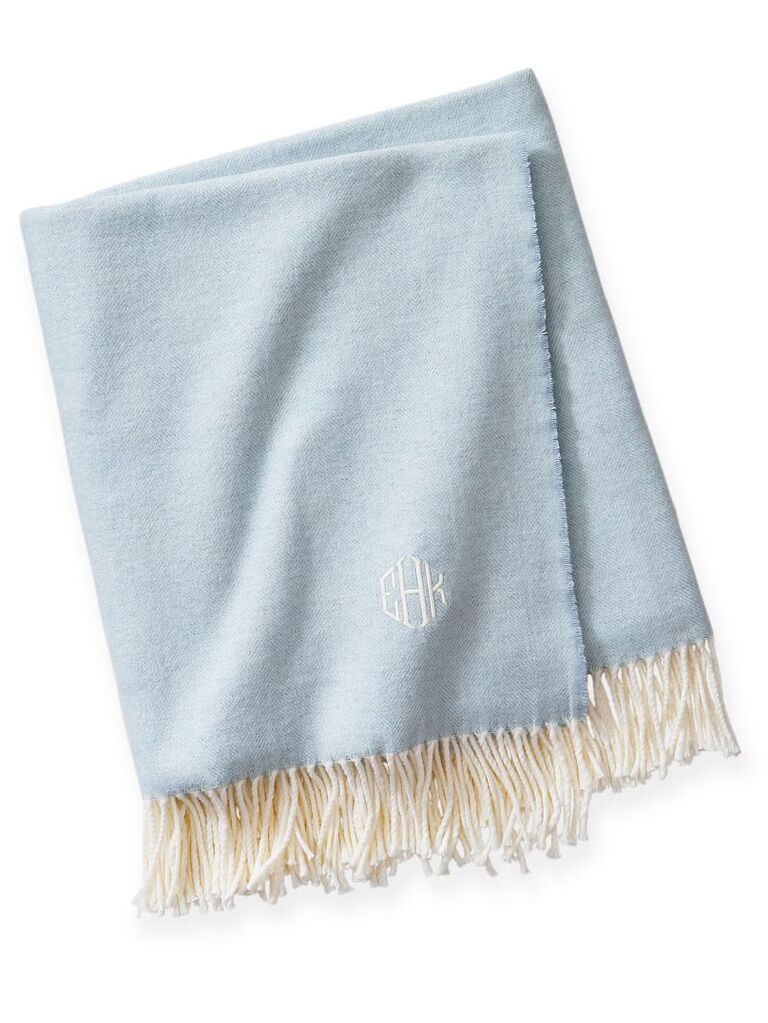 This super-soft throw is the ultimate multitasker. It's not just a travel blanket—it's also a scarf and shawl. Talk about a chic and practical mother-of-the-groom gift for a cold-weather wedding. Add her embroidered initials to make the gift extra special.
5. Mother-of-the-Groom T-Shirt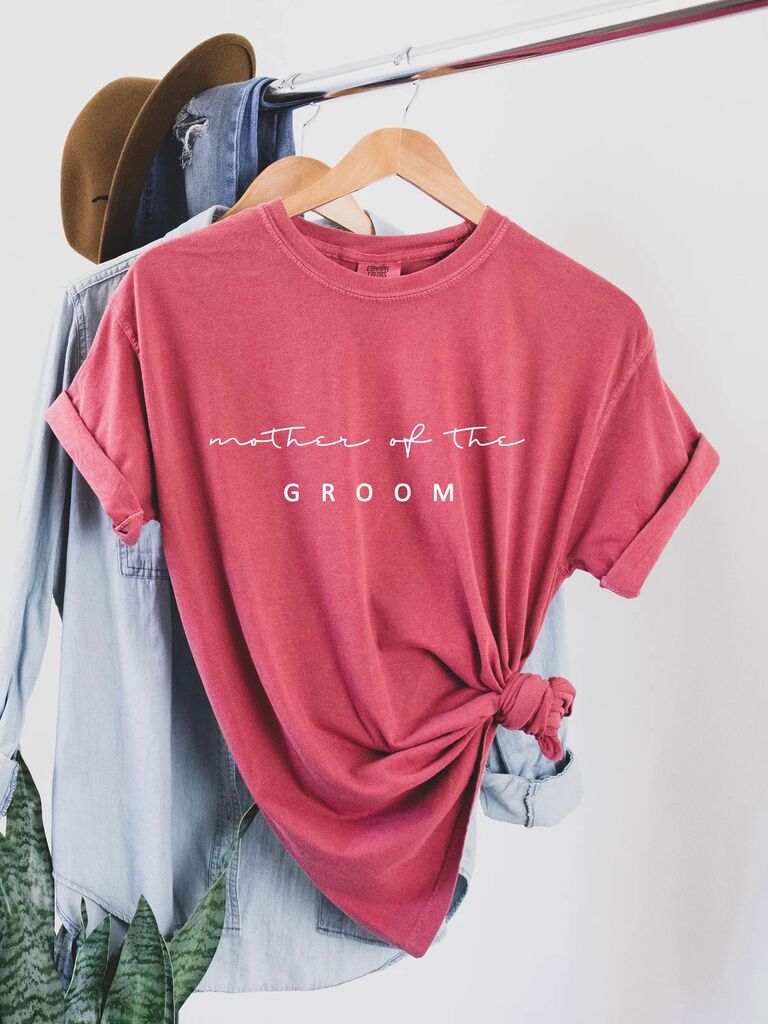 If you want a fun and celebratory gift for the mother of the groom, how about a T-shirt that lets her wear her role proudly? This one is best given early in the engagement, so she can sport it at all the prewedding events. It comes in lots of fun colors, including Crimson, Seafoam Green and Golden Yellow.
6. Interlocking Hearts Necklace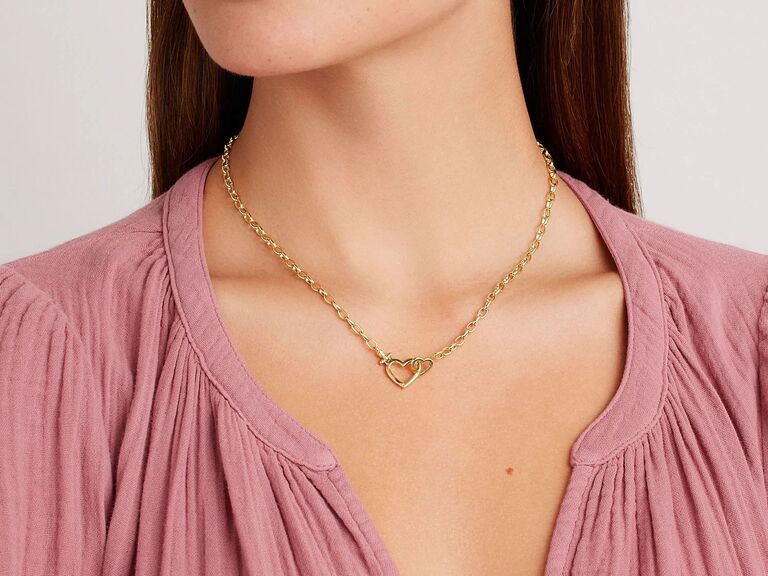 Shopping for something a little more subtle? This mother-of-the-groom necklace features interlocking double hearts to represent the special connection between a mom and son. It's made from 18K gold-plated brass and one of the hearts is the clasp.
7. Monogrammed Jewelry Box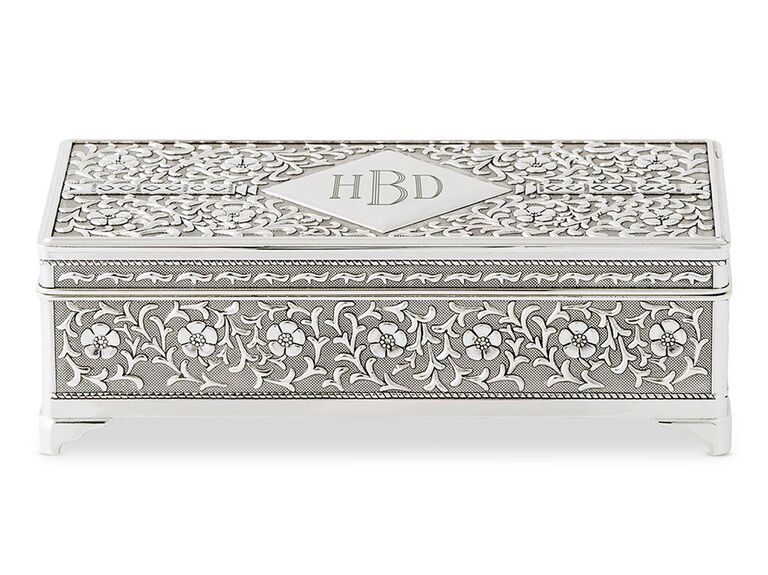 If your mom or mother-in-law already has a lot of jewelry, consider gifting a charming organizer for her accessories instead. This silver jewelry box is embossed with a vintage-inspired floral and vine design while the top is engraved with Mom's initials. It's a beautiful wedding gift that she'll surely put to use.
8. Personalized Mother-of-the-Groom Vase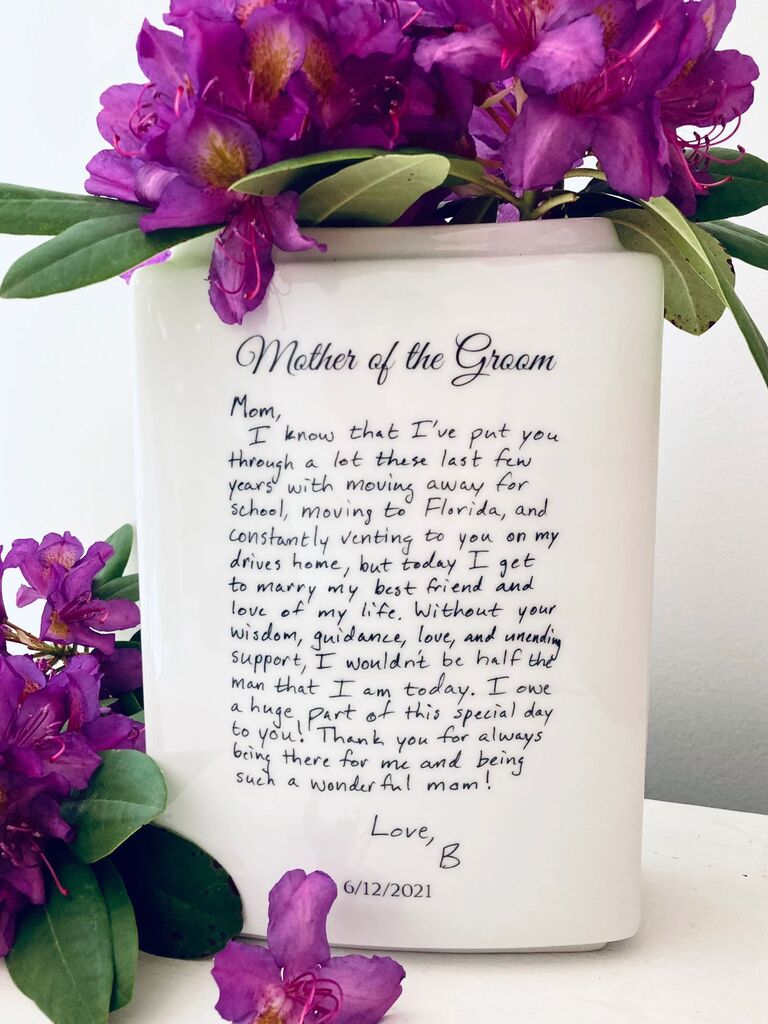 Here's a gift that'll certainly bring a tear to her eye. This white ceramic vase is printed with your own personalized, handwritten letter. Pair the gift with a bouquet of gorgeous flowers for a fail-safe mother-of-the-groom present.
9. Pink Lilies Bouquet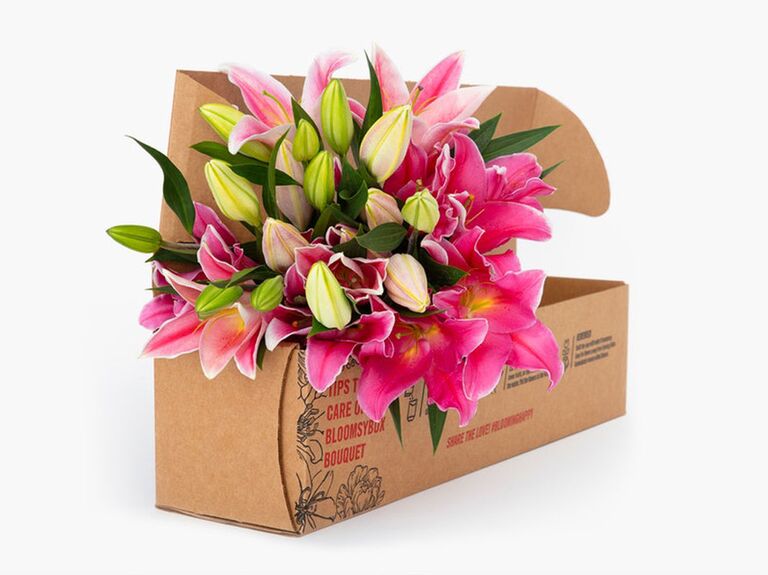 Did you know lilies are commonly associated with motherhood? This fact makes a beautiful bouquet of lilies a meaningful mother-of-the-groom gift idea. These vibrant pink lilies will be delivered straight to her door for a sweet surprise.
10. Plush Cotton Bathrobe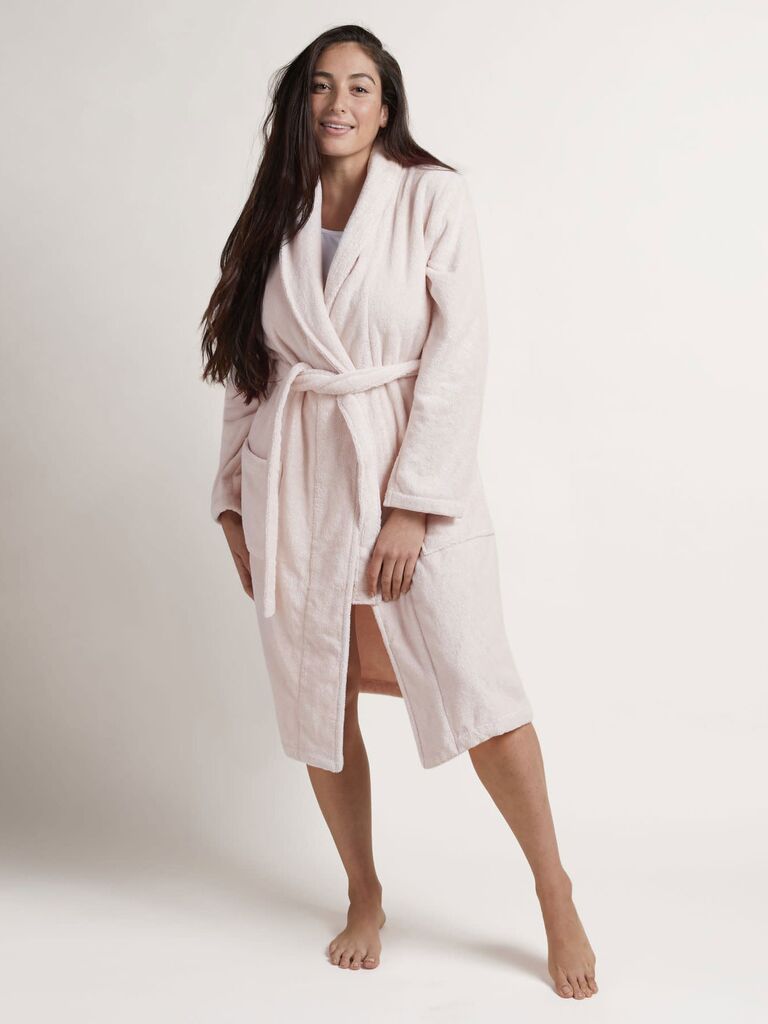 If your mother or mother-in-law lent a hand to plan the wedding, she deserves to relax. Help her unwind after the big day with a cozy bathrobe. This plush option is made from 100% Turkish cotton for an irresistibly soft feel.
11. Lavender Spa Set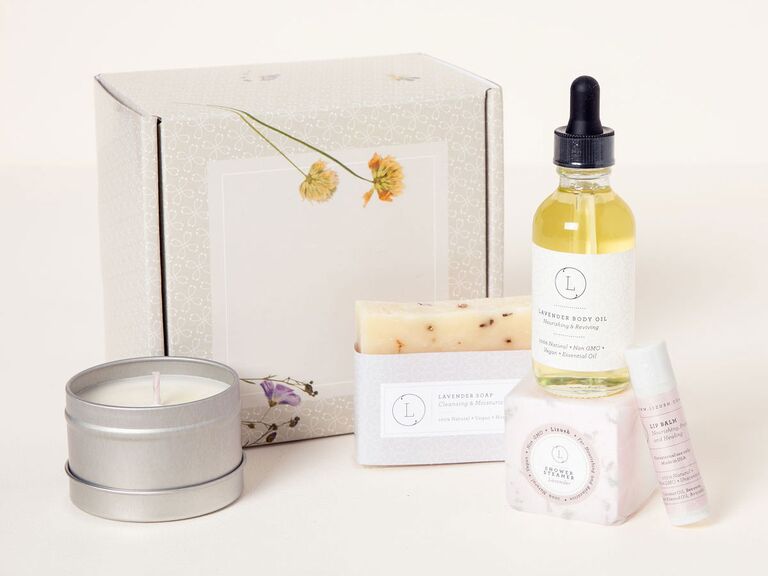 You can't go wrong with an at-home spa gift set. This one includes body oil, a shower steamer and a soap bar infused with lavender essential oils for a fragrant and calming spa experience. It also comes with soothing lip balm and a soy candle. It's a great gift to pamper the MOG before or after the wedding.
12. Handmade Ring Dish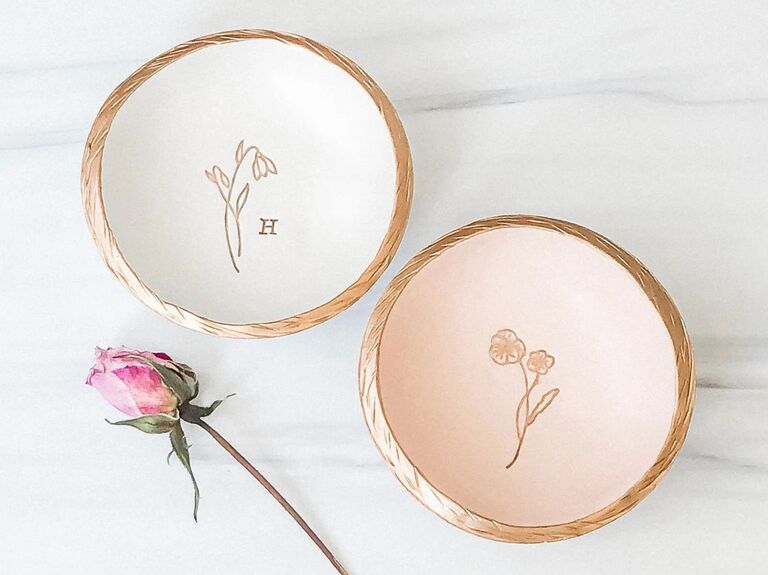 A ring dish is a small, useful gift for the mother of the groom. She can use it to lay out her jewelry on the big day and then display it on her vanity every day after. This ceramic trinket is stamped with her birth flower for a personalized touch. It can also include a name, date, monogram or word.
13. MOG Clothes Hanger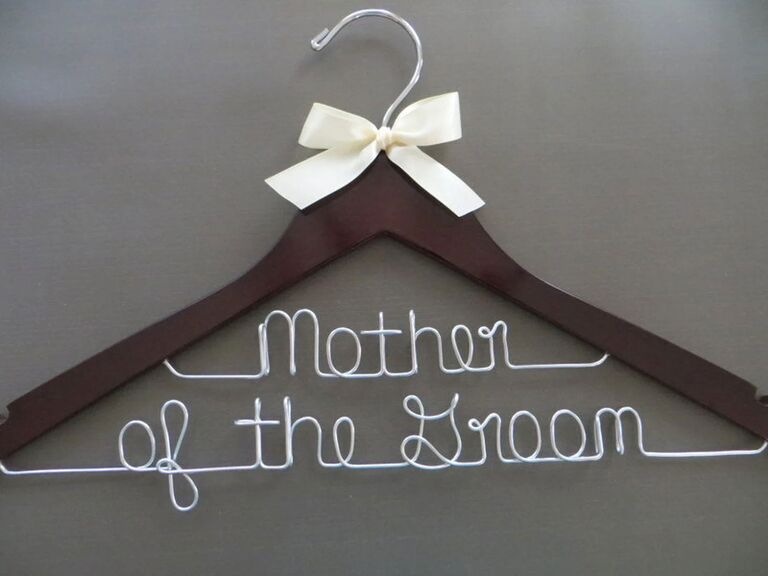 If you're searching for getting-ready gifts for the mother of the groom, how about a fancy clothes hanger? This wooden hanger spells "mother of the bride" in wire and it's finished with a pretty white ribbon. She'll take extra care to hang up her wedding day outfit.
14. Custom Wedding Illustrations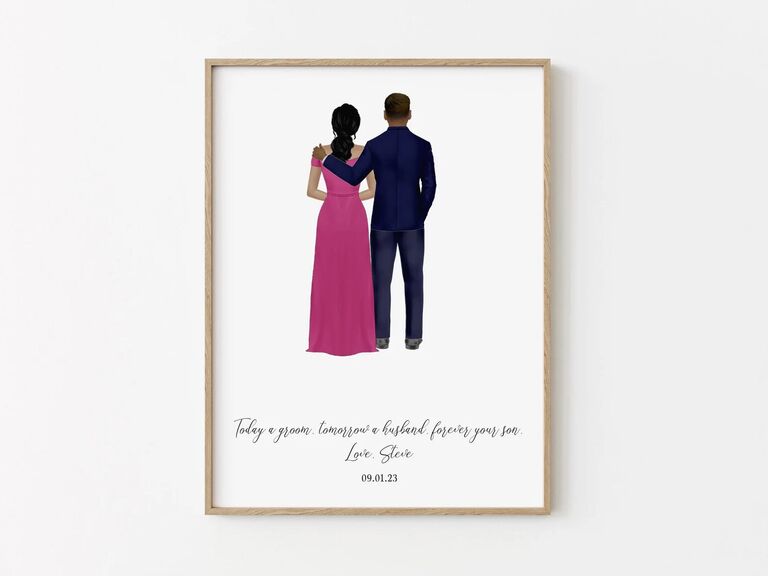 We're completely obsessed with custom illustrations and your mother will be too. A portrait from your wedding day will be sweet way to remember the shared moment. This one even reads, "Today a groom, tomorrow a husband, forever your son."
15. Handblown Stemless Wine Glass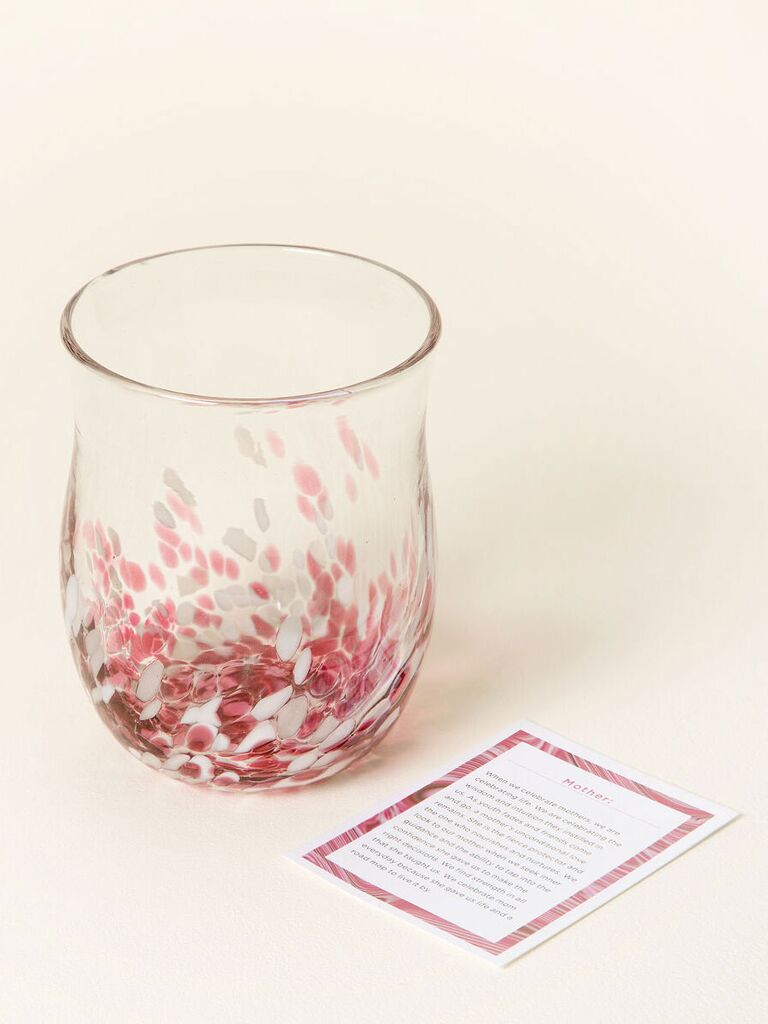 This handblown stemless wine glass was specifically made for mothers. Benjamin Giguere's functional art celebrates all female role models with special glasses in their honor. This speckled red and white design is meant for moms. So, raise a glass to the mother of the groom!
16. Monthly Wine Delivery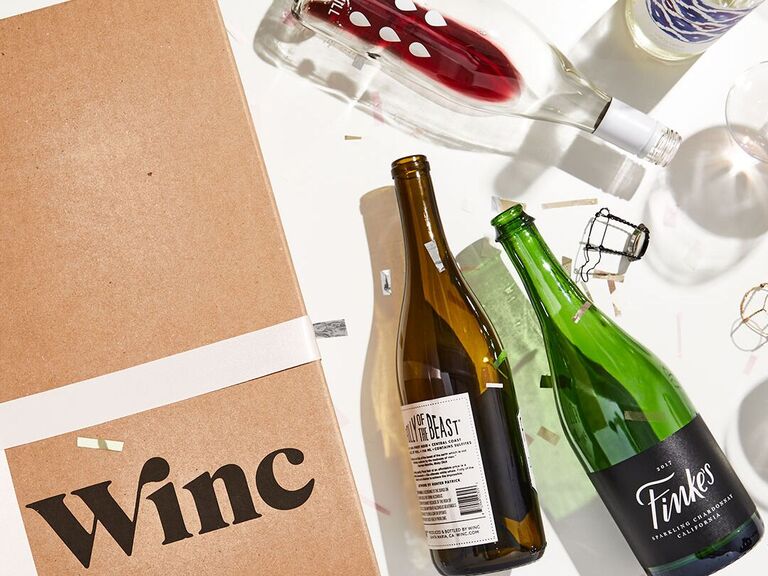 Give the mother of the groom a gift you know she'll love—wine! Winc will deliver a personalized selection of delicious vino right to her door every month. Whether you're buying for your own mother or your mother-in-law, a Winc gift card is sure to delight.
17. Mother-of-Pearl Earrings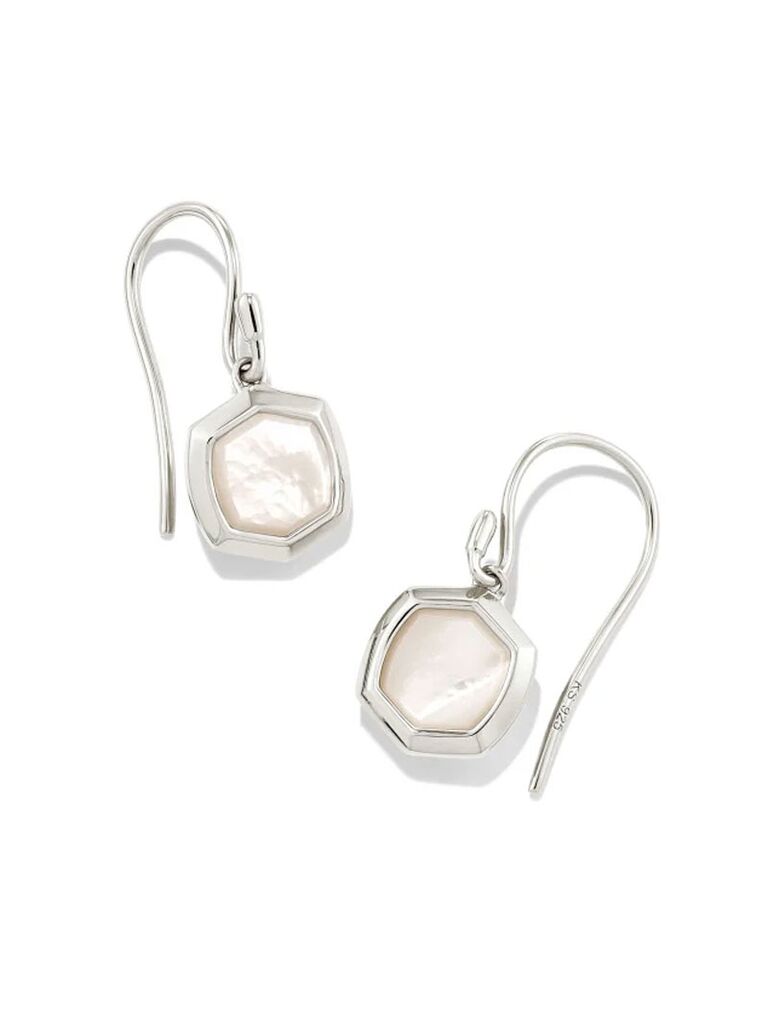 Wedding day earrings make a great gift for the mother of the groom. These hexagonal drop earrings are crafted from sterling silver with ivory mother-of-pearl pendants. They're perfect for formal occasions, but can also be dressed down to flaunt every day.
18. Custom Photo Wedding Clutch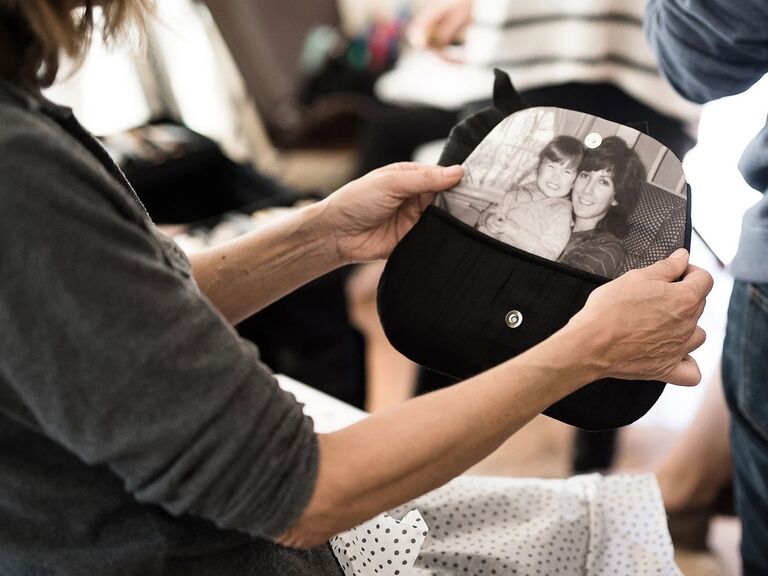 This groom's gift for his mother is unbearably sweet. Before the wedding, give your mom this fashionable silk clutch with a decorative bow. The inside lining is a photo of the two of you printed in black and white. She'll not only have a stylish place to keep her things on the big day, but also a lifelong keepsake.
19. Self-Watering Sunflower Kit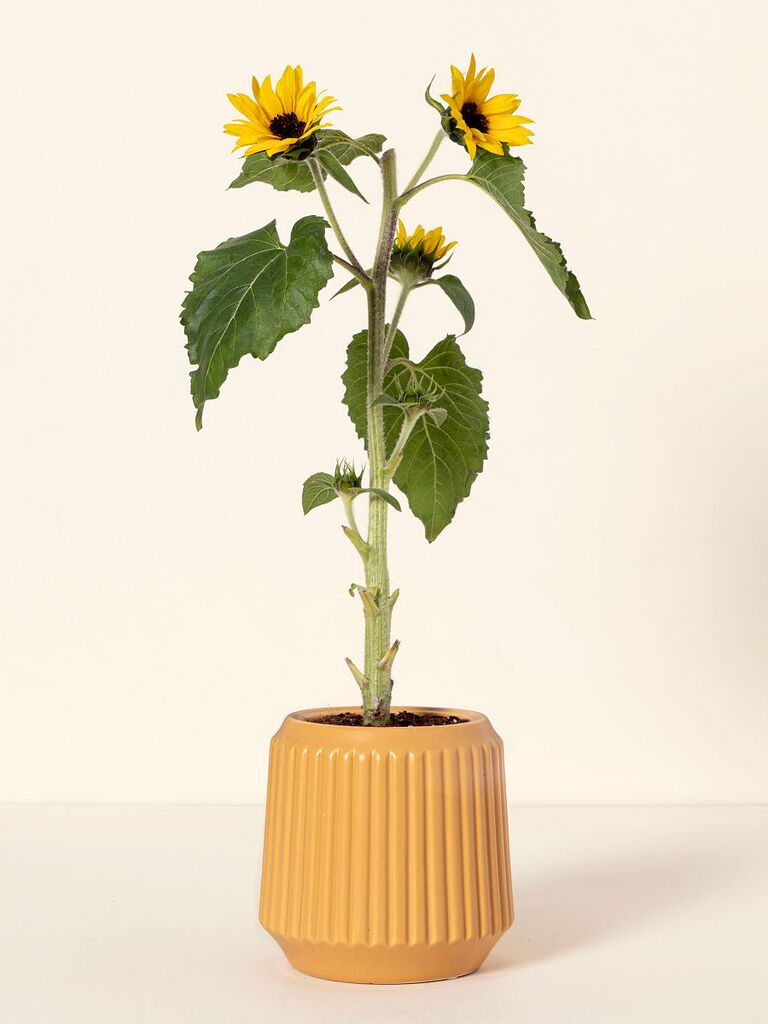 If your mom always referred to you as "her sunshine," she'll love this unique gift idea. This indoor sunflower grow kit requires no green thumb thanks to its hydroponic (aka soil-free) planter. In no time, she'll have beautiful blooms that'll remind her of you.
20. Dear Mom Suncatcher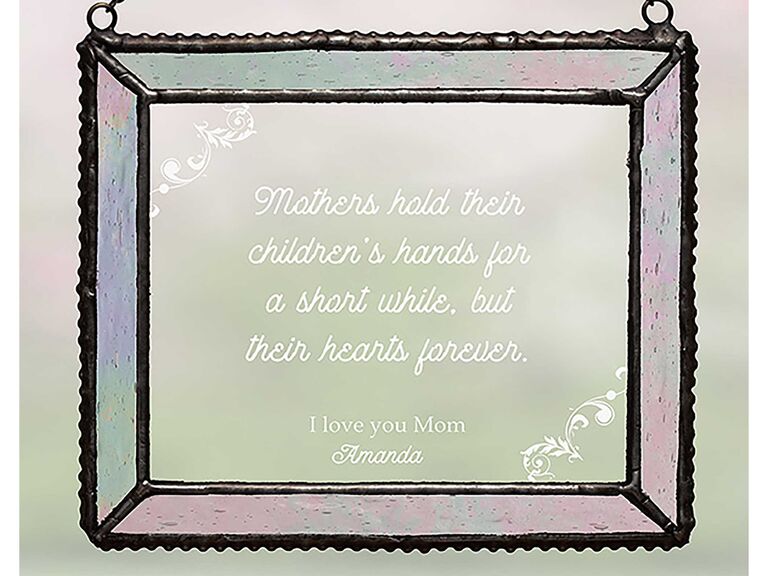 Here's another great groom-to-mom gift. The striking suncatcher is engraved with the sweet sentiment, "Mothers hold their children's hands for a short while, but their hearts forever." Better yet, you can add an extra inscription, like a personal note or your signed name. We're welling up just a little bit thinking about it.
21. Custom Keepsake Box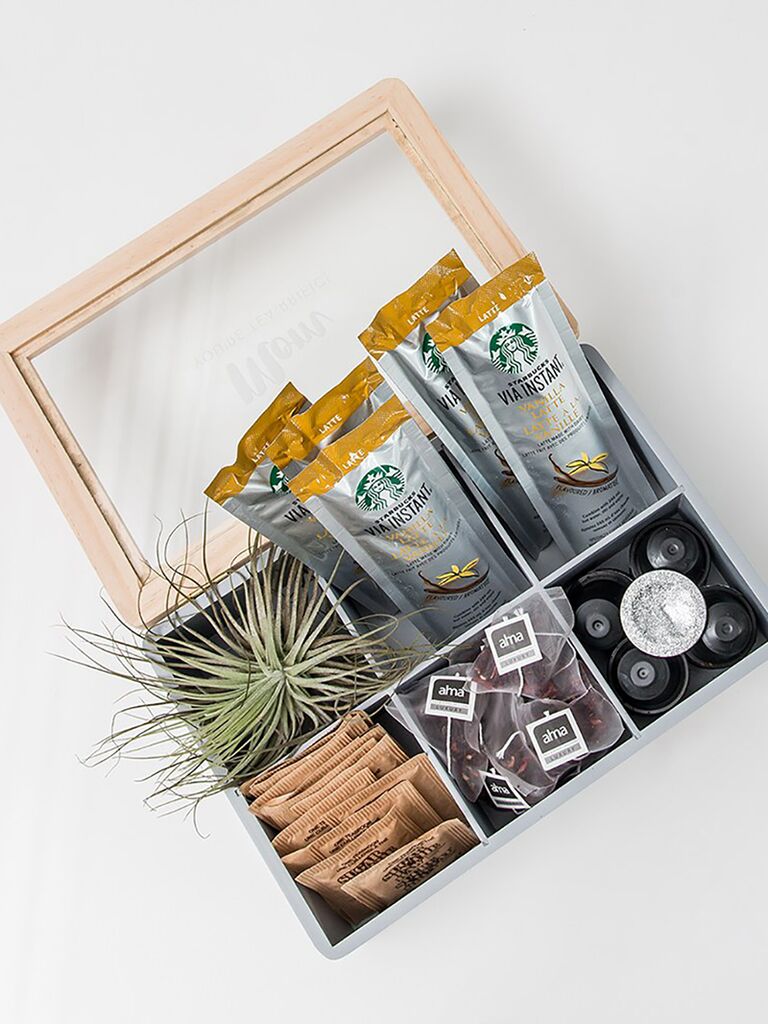 No one knows your parents like you do. Grab this pretty keepsake box and fill it with a few of your mother's favorite things. The glass lid is etched with the word "Mom" alongside a custom note. Need inspiration? Consider stocking the box with her favorite teas and the personalized message, "Mom, you're tea-rrific."
22. Digital Photo Frame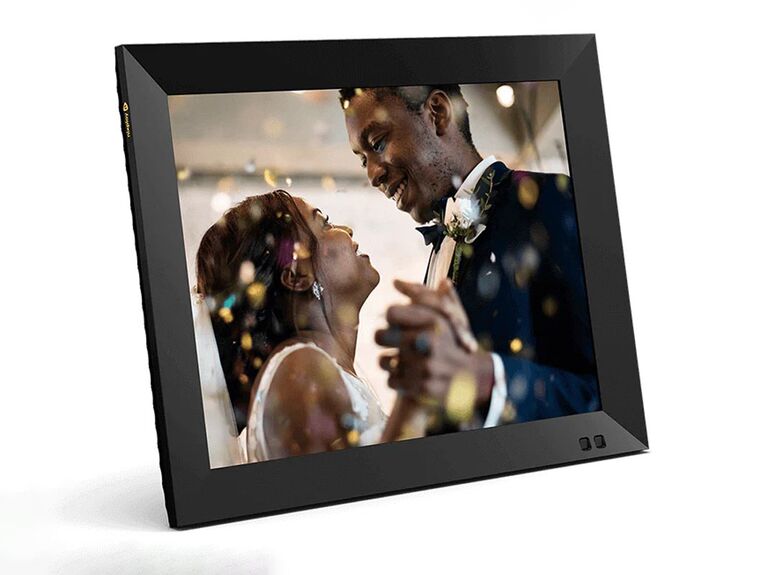 From a first look at your professional wedding photos, to selfies from the honeymoon and all of life's moments to come, this digital photo frame will always keep your mom in the loop. She'll love to have up-to-date photos of you in the house, especially if you don't live close by to visit often. It's a mother-of-the-groom gift she'll use—and get great joy from—for many years.
23. Embroidered Mom Handkerchief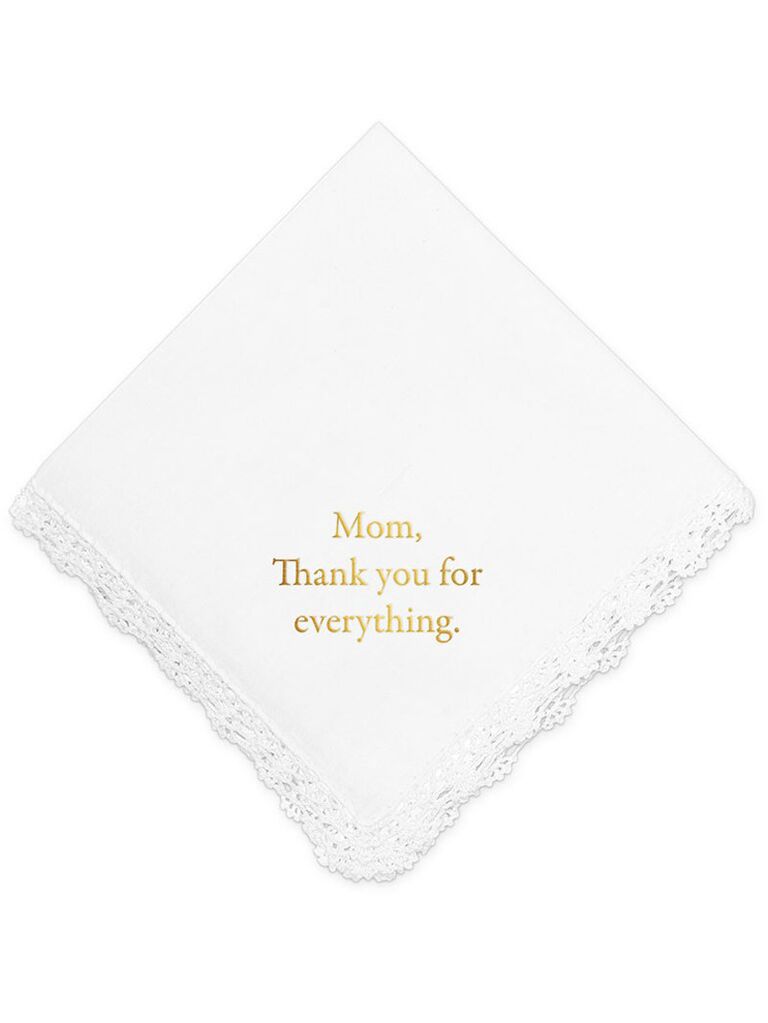 For the traditional mother of the groom, gift something simple, yet still sentimental. This embroidered wedding handkerchief, with an antique-style crochet border, gets right to it: "Mom, thank you for everything."
24. What I Love About Mom Book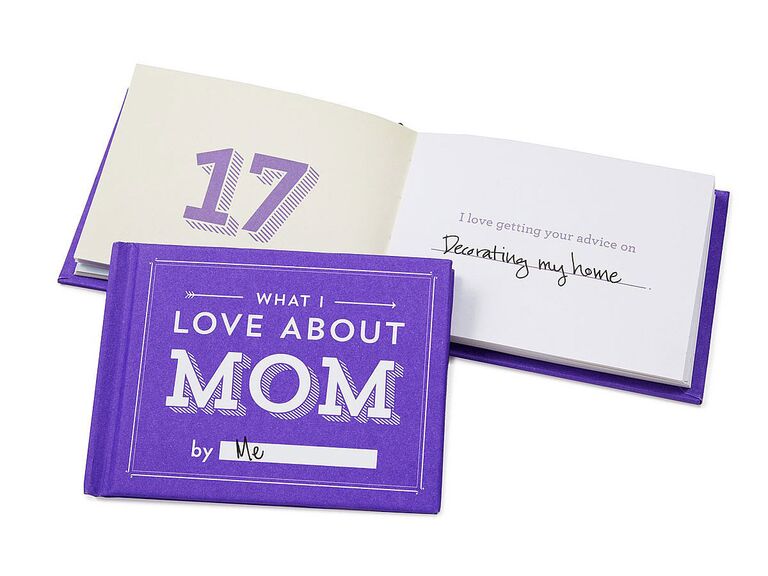 Here's a sentimental and affordable mother-of-the-groom gift. It's a fill-in-the-blank prompt book that helps you verbalize all the reasons you love your mom.
25. Canvas and Leather Tote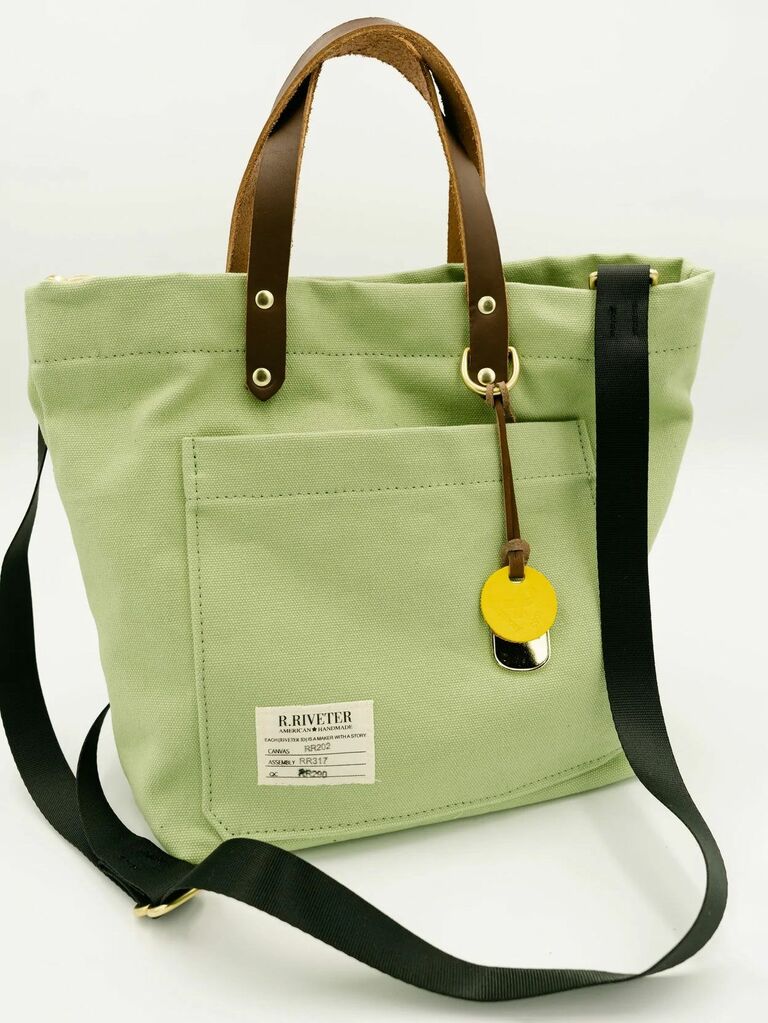 Looking for a tried-and-true gift for the groom's mother? A chic tote bag is a go-to idea for any woman in your life. This Liberty Green canvas and brown leather option is deceivingly spacious with four interior and exterior pockets, including one specifically for water bottles. Best of all, R. Riveter's bags are all named after strong, passionate women—just like your mother!
26. Mother-of-the-Groom Cuff Bracelet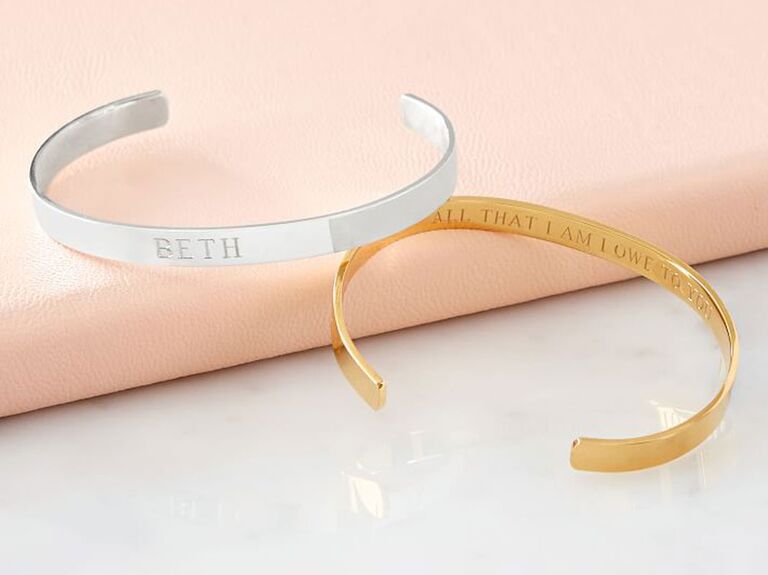 This pretty cuff comes in silver or gold and can be engraved with the mother of the groom's name on the outside and one of two thoughtful messages on the inside. For a gift from the groom himself, "all that I am I owe to you" sets the perfect tone, while "thanks for making the best one" is a beautiful gift from his future spouse.
27. Heart of the Home Cutting Board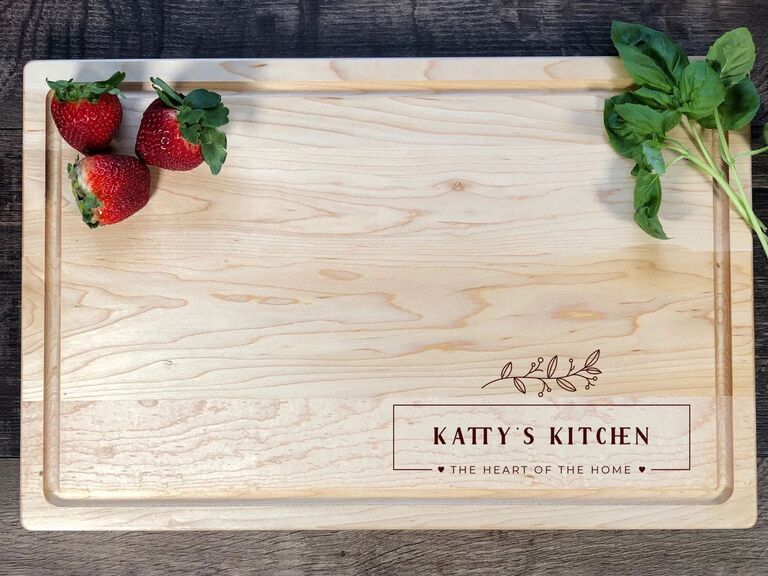 The mom who loves to cook and entertain will get plenty of use out of her very own engraved cutting board. This wooden cutting board is personalized with her name and reads, "the heart of the home." It's a practical and sincere mother-of-the-groom gift.
28. Mother-of-the-Groom Candle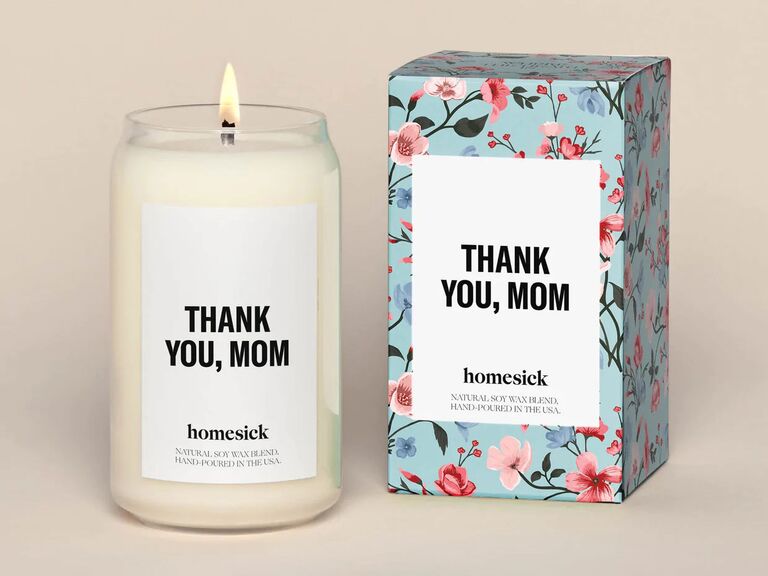 With top notes of bergamot, lavender and sage, this candle not only smells amazing, but clearly expresses your gratitude. The label puts it simply: "Thank you, Mom." It's a long-lasting gift for the mother of the groom; plus, there's a spot for a handwritten note on the back of the box.
29. Personalized Daily Planner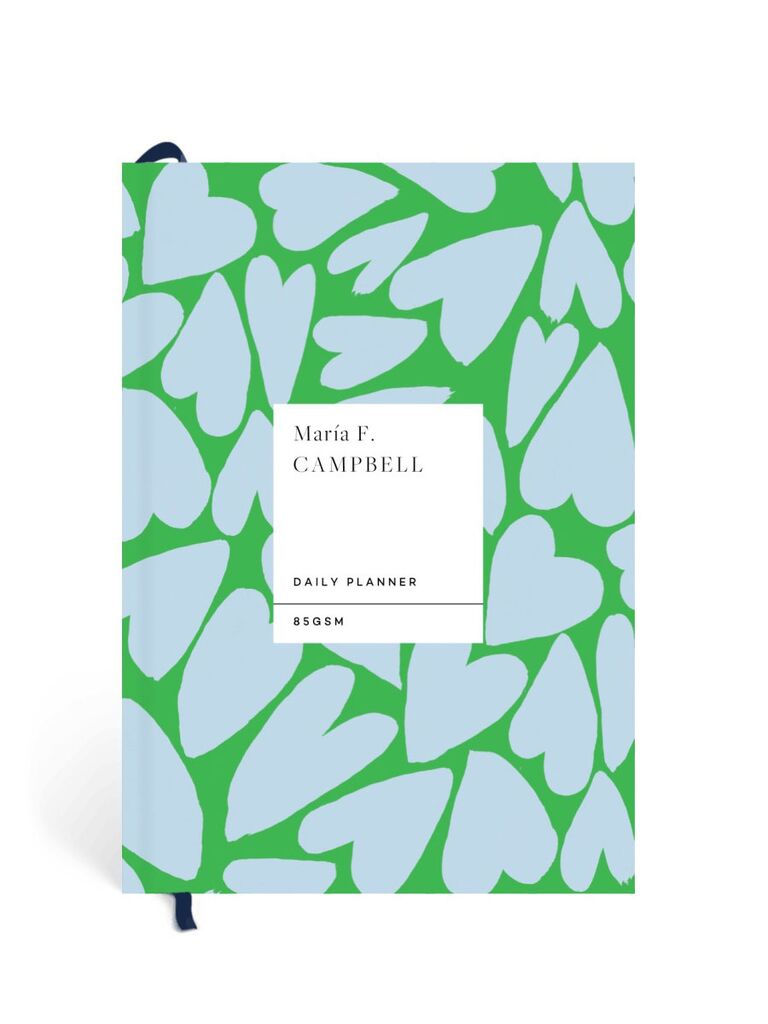 This mother-of-the-groom gift is for the social butterfly with reliable organizational skills. It's a personalized daily planner appropriately decorated with hearts to signify your love. Pencil in a few dinners with her (after the wedding, of course) so she knows she'll get to spend some time with you after the festivities.
30. Handwritten Mother-of-the-Groom Card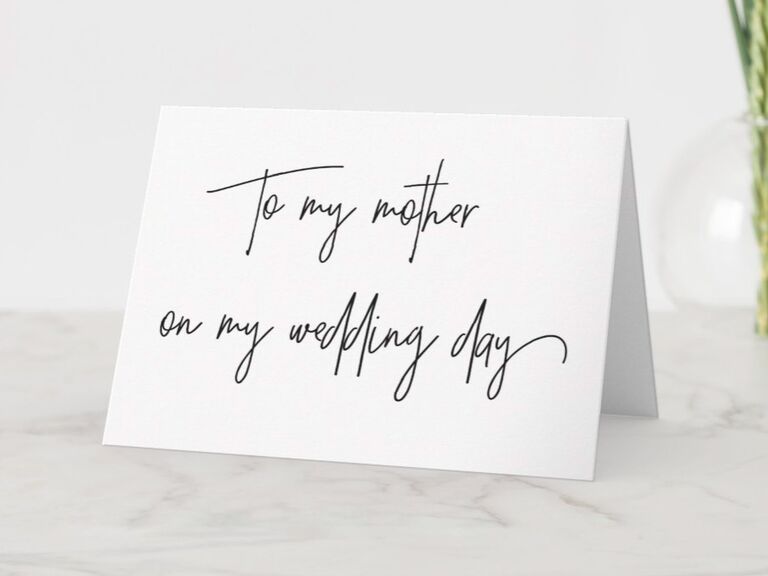 There's no doubt you've both been waiting for this big day for a long time. If a gift alone can't convey all your love and appreciation, pair it with a handwritten card. This one—which reads, "To my mother on my wedding day"—has plenty of room for your personal message. It's a simple but supremely meaningful gesture.