How Climate Change Is Impacting the Wedding Floral Industry
Here's what to know and how you can plan your decor accordingly.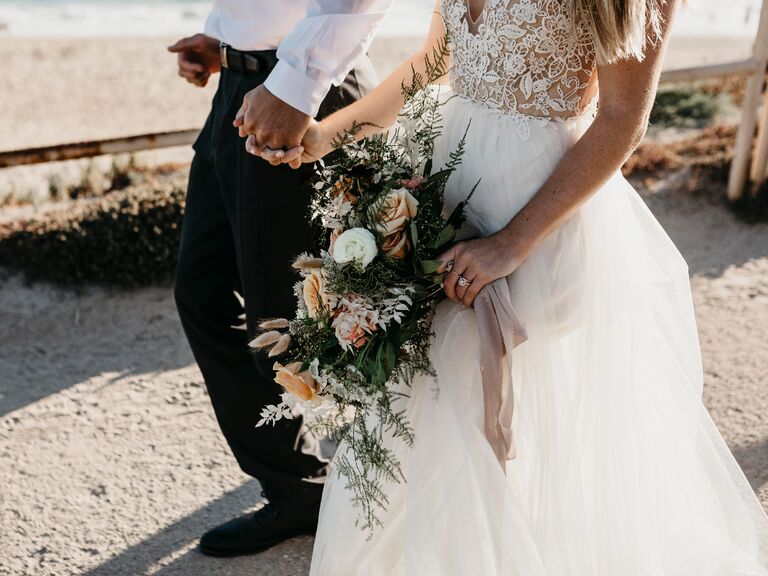 Westend61/Getty Images
In the aftermath of COVID, 2022 was dubbed the year of the wedding boom—and rightfully so. Our data found 2.6 million couples will marry this year in the US, a significant lift from the typical average. Although there's been an abundance of weddings, one commodity that's experienced a shortage is flowers, due to a culmination of factors.
The ongoing effects of supply chain delays and inflation are partially responsible for the current wedding flower shortage. Increased product demand and shipping bottlenecks have put a strain on suppliers, which has trickled down to wedding florists and couples. Beyond general availability issues, additional research indicates climate change may also be playing a significant role in floral availability.
To get to the bottom of the wedding flower shortage, we tapped scientists, event professionals and florists to understand its root causes, including climate change's impact on the wedding industry. Together, we explain exactly what you need to know, along with actionable tips to adapt amid this changing landscape.
In this article:
Is There a Wedding Flower Shortage Right Now?
The question on the minds of couples everywhere is such: Is there really a wedding flower shortage right now? The answer is complicated. Due to increased demand of specific flowers, an overall lift in events, and supply chain issues, florists are finding that some blooms are harder to source.
"We have experienced an overall availability issue due to supply chain issues," says Virginia-based florist Bron Hansboro, founder of The Flower Guy Bron. According to the team at The Society of American Florists (SAF), widespread supply chain delays began during the onset of the pandemic in 2020, a point corroborated by South Carolina-based florist Ashley Paul, founder of C&A Event Planning. "Our sourcing issues and delays started back in 2020," she says. "We dealt with a lot of hiccups that year. Our flowers would get delayed through shipping partners for a whole day, or sometimes even two days. We had to start ordering earlier so that we could have buffer time, and hope that nothing died on the way."
SAF's current data, supported by 2022 fresh-cut flower imports tracked by US Trade Numbers, signals wedding flower availability is slowly bouncing back to pre-COVID numbers. "Major indicators—such as the time it takes to move product through the supply chain from grower to wholesaler to retailer, the volume of product flow, and inventory levels have all been trending in a positive direction since early 2022," says Kate Penn, CEO of SAF.
What's Causing Flower Supply Chain Delays
Although availability is improving, some florists are still grappling with the lingering impact of supply chain delays. "During COVID, a lot of farms had to destroy their crops because of lack of demand, which put everyone's growing seasons behind schedule," Hansboro explains. "The implications of the pandemic also affected the workers on the farms where we source product, many of which are in underdeveloped countries without access to great health care. Because of this, some farms were not able to produce at the same scale."
This forced florists and event designers to find new sourcing avenues. But as more people began using the same alternatives, the unprecedented demand made it even harder for sellers to keep up, thus creating a bottleneck of output. It's for this reason that the cost of wedding flowers has been on the rise. "Because we're having to do way more legwork to source the product to guarantee, as well as paying higher transportation costs, the cost of doing business, in general, has increased for all of us, which is naturally impacting the cost of our goods and services," Hansboro adds.

The current wedding flower shortage is a result of more than just higher demand and supply chain delays, though. Scientific data indicates the effects of climate change may also be to blame. "There is no doubt in my mind that climate change is contributing to flower sourcing challenges," says Deborah Barber, Director of Land Management for The Nature Conservancy, a global environmental organization. "Global weather systems, just like the global supply chain, are incredibly complex, and climate change is having different effects in different parts of the globe."
How Climate Change is Affecting Wedding Flowers
Conversations about climate change and its impact on everyday activities certainly aren't new. But amid the wedding flower shortage, research appears to indicate that changes in weather patterns are also playing a role in current availability issues. So, what does this mean for couples planning their nuptials? We explain below.
Rising Temperatures Are Disrupting Flower Growth Seasons
Perhaps the biggest way climate change is affecting the floral industry is by altering growth seasons. Irregular weather patterns dictate when flowers will be available, and how viable the crops are. "We are at the mercy of the weather, and that certainly has changed how much we can get of certain flower varieties," Paul says.
Rising temperatures pose one of the biggest threats to crops. According to a 2022 report from the National Oceanic and Atmospheric Administration, Earth's temperature has risen by 0.14° Fahrenheit per decade since 1880. The study also found that the nine years from 2013 through 2021 rank among the 10 warmest years on record. This, of course, has the power to impact crops around the globe. "One thing I've observed in my own garden is that, when it's hotter, flowers bloom, fade and die faster," Barber explains. "In a cool, moderate spring, my peony flowers can live for a full two weeks and be gorgeous the whole time. But, in a hotter spring, that very same plant can open and fade in four days flat." She adds that similar patterns can be observed in roses—another one of the most popular blooms for weddings.

Hansboro experienced this exact scenario too. "The heat and the exposure to the sun, which has increased some of the growing seasons and the cycles, is not necessarily aligning with when we need the product," he says. These newer and temperamental growing patterns, he says, may eventually impact the ability to source popular wedding flowers during their traditional growth seasons: "It's been much more difficult to predict exactly when things will be available based on previous growing patterns."
Unpredictable Weather Patterns Threaten the Health of Crops
Climate change involves more than just rising temperatures, though. While some areas of the globe are experiencing hotter climates, others are receiving more rainfall, which can also be detrimental to crops. "Ecuador and Colombia, for example, are very large global centers of cut flower production," Barber notes. "In areas like that, we've seen a statistically significant increase in rainfall between March and December between the 1950s to 2000s."
This can be harmful to flowers that have fleshy roots, like peonies—a favored bloom in the wedding industry. "Peonies do not like to sit in water during the winter dormant period, which leads to root rot," Barber says. "In areas where climate patterns are changing towards rainier winters, there's more possibility of the loss of plants or entire crops due to root rot." Beyond that, flowers that are prone to fungal diseases (like roses) may be more susceptible to contracting them in damper climates. "Roses can get black spots and various mildews when it's warmer and wetter," Barber adds. This can force growers to treat their crops with more fungicides to maintain their health and longevity, which could lead to higher costs for the consumer.
Lack of rainfall also presents challenges for flower crops. "Kenya is an important source of cut flowers in the industry, but areas like that are seeing longer droughts," Barber says. "We're seeing crop failures in Africa because everything is changing."
Rising Global Temperature Is Also Affecting Structural Decor
Hansboro has faced trouble sourcing smilax, a popular greenery plant that's typically used to decorate arbors, tent poles, and layered arrangements. "We used to be able to guarantee a good healthy smilax growing season throughout the fall months and into winter. However, due to excessive weather, we've seen that smilax production has been broken up," he tells us. "We'll have it for a few strong months, then it'll go out of season."
Paul has also noticed this unpredictability, telling us, "Greens like seeded eucalyptus change drastically throughout the season. Sometimes when we get it, it has tons of seeds and very few leaves. Other times, it's like super lush and beautiful in both aspects."
Warmer Climates Can Also Alter Floral Aesthetics
Beyond general availability, climate change has the ability to change how flowers look. "One of the indirect results of climate change is the possibility of increased UVA and UVB radiation hitting the earth," Barber says. "In some areas where there's decreased ozone in the stratosphere, that allows more harmful UVB rays to reach the earth's surface, which can cause DNA damage in both plants and animals." This may result in aesthetic changes, like faded color or wilted leaves.
This is only prevalent in areas where harmful rays are abundant, though, which means it's difficult to guess how this may impact crops globally. "Another result of climate change in some areas is the increase in cloud cover, increases in pollution, increases in dust, and increases in smoke from wild wildfires, which means less UV rays reach the Earth's surface," Barber shares.
It's for this reason that it's challenging to predict what the future of the wedding industry looks like, particularly because so many climate change-related challenges are region-specific. "In thinking about climate change, the world is not going to end—it is going to be different," Barber says. "The key words for florists and consumers are resilience through flexibility and creativity."
While we may not know the long-term effects of climate change, it's crucial to be flexible when planning your wedding design, and give your vendors grace as they navigate the ever-changing industry. And, of course, be mindful of how you can make a difference. "It's important to support efforts to reduce emissions at all levels: individual efforts, local efforts, state efforts, and federal efforts," Barber recommends.
How Couples Can Address Wedding Flower Challenges
Despite the changing landscape of wedding flowers, it's still completely possible to achieve the wedding aesthetic of your dreams—it just might take some creative thinking and help from your team of pros. Here are six ways to navigate the current wedding flower shortage challenges.
Work With a Professional Florist

The best way to handle wedding flower sourcing and supply issues is to work with a professional florist. While DIYing your wedding flowers could seem like a smart way to minimize your wedding budget, the connections and skills offered by a pro are invaluable. Not only are they experts at navigating the current floral sourcing challenges, they can also provide alternative solutions to achieve your design goal.
"The importance of working with a professional florist is no different than the importance of working with a professional photographer or a professional planner," Hansboro says. "While you probably could do some things yourself, keep in mind your time and how valuable that is. You'll trust people who have the experience, the networks, and the ability to pull out the stops and make sure that they're going to be able to exceed your design expectations—and to me, that always comes with investing in a professional service."
Zoë Gallina, founder of Tampa-based event design company Botanica International Design Studio, says a florist can also help mitigate last-minute challenges that arise in the days leading up to your big day—including those you haven't even thought of. "We try our hardest to anticipate challenges and best prepare ourselves for anything that might happen the day of and the week leading up to the event," she says. "Our teams have the experience to maneuver through many situations."
During a time that's as unpredictable as the inflationary period we're in, that professional support is invaluable. "Our expertise in the planning process through the day of event execution is what clients are paying for," Gallin adds. "Trust your florist will do everything in their power to achieve the design you are looking for and ensure the day goes off flawlessly."
Hire Your Pro Early
Beyond working with a professional, it's also crucial to allow plenty of time to source wedding flowers and finalize the design of your big day. In fact, Hansboro recommends booking your pro and beginning to plan your vision at least a year in advance, if your wedding planning timeline permits. Doing so will allow you to begin planning early and create alternative solutions if the global flower shortage proves to be an obstacle for your specific vision. "The earlier you meet with a designer or florist, the better," he adds. "Giving yourself more time to plan creates the opportunity to flesh out your ideas. Plus, you might lessen the ability for creative flow the closer you are to the deadline."
Decorate with Dried Florals
Perhaps you envision your venue covered in flowers—it's still an attainable look, especially if you're open to decorating with pieces beyond fresh flowers. "For couples that are flower-focused, I have been encouraging them to use a combination of dried and preserved elements when appropriate," Hansboro suggests. In fact, the use of dried flowers is a rising trend echoed by Seth Goldman, CEO of online flower delivery service UrbanStems. "A more recent trend we've seen among couples has been using dried flower arrangements with muted hues and rich textures," he tells us. "Like fresh flower arrangements, they also capture a mood that feels perfectly unique to dried flower arrangements."
Another benefit of using dried florals is that they last a long time, giving you the option to reuse or preserve your decor after the big day. "We've seen an increase in demand for dried wedding flowers," he explains. "These long-lasting arrangements can be saved and enjoyed for several months to even years after the event and are incredibly low maintenance."
In your search for alternative flower options, you may come across companies that specialize in faux flowers, such as silk stems. While this may seem like an easy alternative, know that this isn't necessarily a more sustainable choice, especially depending on the company's production practices. We always recommend researching a company's manufacturing process, including how they make their faux florals and what they do with excess product. Couples committed to utilizing sustainable alternatives to fresh flowers may prefer leaning into dried flowers as a more conscious choice.
Use a Floral Delivery Service
A potential solution to wedding flower shortage challenges is to work with a floral delivery service. Such companies skyrocketed in popularity amid the pandemic when couples needed fast solutions for scaled-down minimonies and elopements. Now, they're also preparing to counteract climate change- and supply chain-related issues. "We have been working closely with our farm partners in South America to forecast our assortment and create our modern designs with the best seasonal stems they have to offer," Goldman tells us of UrbanStems' efforts. "Shipping delays and supply chain challenges remain, but we've been able to minimize the effect on our customers."
Although a delivery service may help solve some flower shortage issues, Goldman still suggests enlisting the help of a professional to supplement additional blooms for your wedding design. "While we've seen many couples purchase our bouquets for their wedding, we still recommend working with a florist, especially for larger ceremonies and events," he suggests. "Our bouquets often serve as great centerpieces or gifts for the wedding party, but if couples are looking for a custom arrangement and want to hand select each stem a florist is best-suited for that."
Combine Fresh and Faux Blooms
The thought of using faux flowers at your wedding may seem taboo—but we're here to eradicate that narrative. "I've been encouraging couples to consider incorporating faux elements, as this helps guarantee scale," Hansboro says. "If I were to run into a situation with availability, I could layer silk products within fresh flowers just to guarantee the size and the look the couple wants."
If you are considering supplementing some fresh blooms with faux stems, we recommend working with suppliers that follow sustainable production processes. This was crucial to Lauren Bercier and Laken Swan, founders of Something Borrowed Blooms, a faux floral rental service. The duo launched their company as a solution to counteract rising flower costs and product waste. "For most weddings, flowers are used for a few hours before being thrown away, while silk flowers have a much longer lifecycle," Bercier tells us. "Our premium silk floral bouquets are re-used multiple times, with light refreshes between each use, upwards of 26 times per year before being recycled, never thrown away."
For those interested in using faux flowers as well as fresh blooms, be sure to discuss all ideas with your florist first. They'll be able to help you identify the best design solutions for your wedding vision.
Consider Alternative Decor Ideas
Fresh flowers aren't the only way to decorate your wedding venue. In fact, Hansboro tells us that more couples are beginning to consider alternative decor ideas amid the global flower shortage of 2022. "I've been encouraging my couples to invest in lighting to enhance their space, and to get another layer of design," he muses, adding that candles, votives, string lights, and non-traditional illuminated fixtures can all transform the ambiance of your space.
Beyond lighting, scent is another impactful decor element. Although the concept of scenting your wedding isn't quite mainstream yet, it's an innovative way to invigorate one of the most underrated senses. While Hansboro notes that scenting an event can be costly, it may be on the rise.
Another attainable way to decorate your wedding venue beyond flowers is through equipment rentals, such as seating. "We've seen couples reimagining their wedding look by moving towards a residential feel," Hansboro continues. "People have been spending more time in their homes, so they're focusing their time and attention on making their personal spaces happier—and we're seeing that flowers aren't necessarily what does that for all couples on the wedding day." As a result, he explains that people are investing in "creative seating" that creates "more communal opportunities for people to gather." In lieu of traditional table seating at your reception, for example, you might consider transforming the space with innovative rentals like bistro stools, clustered chairs, or lounge areas with cozy couches, pillows, and chaises.
Regardless of how you imagine decorating your wedding venue, Hansboro predicts that the current state of the flower market may usher in a new era of wedding design. "Couples and designers have had to go back to the drawing board to reconsider what we can do to add value that might not be fresh-cut flowers, and consumer habits have shifted," he reflects. "I think this is the new norm that we find ourselves in, which leaves the opportunity to get creative. It's important to keep an open mind as to what can add the 'thing' that makes your wedding uniquely yours."