10 Pieces of Floral Jewelry Perfect for Spring Brides
Not into flower crowns? Wear these budding fashions instead.
by Carrie Anton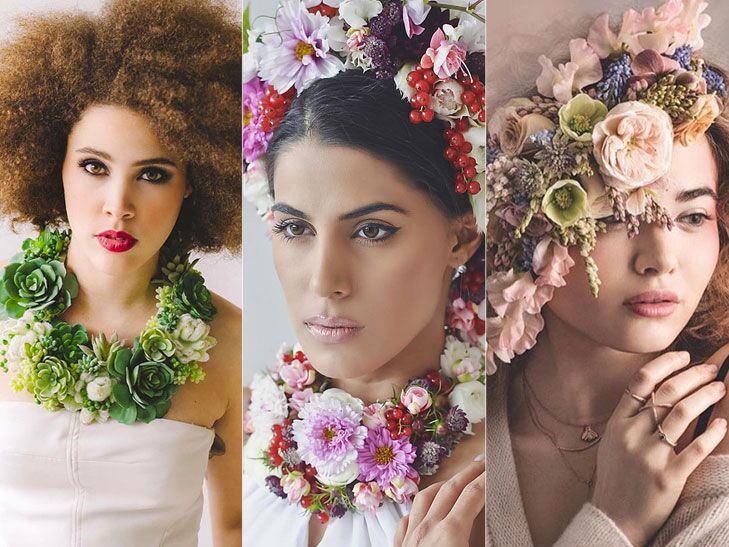 Instagram.com/PassionflowerSue
If you're not into the floral crown trend but still want a unique way to freshen up your fashion, just turn to your garden for bridal accessory inspiration. We love diamonds and pearls, but for a real wow-factor, blooms, buds, succulents and leaves are the next growing trend in gorgeous jewelry.
"Floral jewelry can be applied to different styles," says Susan McLeary, owner of Passionflower, a design studio specializing in floral fashion and jewelry. "I feel my succulent jewelry appeals to the bohemian bride, but also brides with a modern sensibility. The graphic quality of the succulents really pairs well with structured, artful dresses. I've also made very romantic floral jewelry—necklaces, bracelets, earrings and petite headpieces—with muted tones and delicate flowers, suitable for soft, feminine dresses."
Whether you go big and bold with an avant garde statement piece, or keep things minimal with something simple yet sophisticated, consider these looks for a touch of springtime no matter what the weather is on your wedding day.
1. Lush Lobes
You'll get an earful of compliments when you dangle these itty bitty bouquets from your lobes.
2. Ring Finger Flora
Who needs diamonds when succulents look just as stunning when shown off on your ring finger?
3. Perennial Pendant
Trade your chained pendant for petals, which give a pretty pop of color and natural perfume scent.
4. Garden Garter
Your groom will be in for a blooming surprise when he lifts your skirt to find a leg full of flowers.
5. Botany Buns
Leave the bobby-pinned sock buns to the ballerinas. Instead cover your chic top knot with vibrantly colored flowers.
6. Wrist Wreath
Prom-style wrist corsages get a modern-day makeover with a bracelet full of blooms.
7. Floral Feet
Avoid tired, achy feet from a long day in heels, and swap your wedding shoes for flora made just for your feet. This barefoot style is perfect for a beachy or boho-style day, or just for the bride who likes to kick off her shoes and dance the night away.
8. Bridesmaid Blooms
Instead of a bouquet for every bridesmaid, get fancy with flowers as sweet updo-accent pieces.
9. Vegetation Veil
Want to give your guests something they'll never forget? Trade in tulle and lace for a veil that's full of everything you might find in the forest. Yes, this is more of an art piece and not something to sport your entire wedding day. Still, a few posed pictures in a magnificent headpiece would be amazing!
10. Mother Nature's Wrap
Add a touch of whimsy to a simple strapless gown or create a clever way to cover your shoulders in a church ceremony with a wrap made from full flowers and baby's breath.