20 Funny Bridal Shower Invitations Perfect for a Good Laugh
The puns and jokes on these bridal shower invitations are sure to elicit laughs and RSVPs.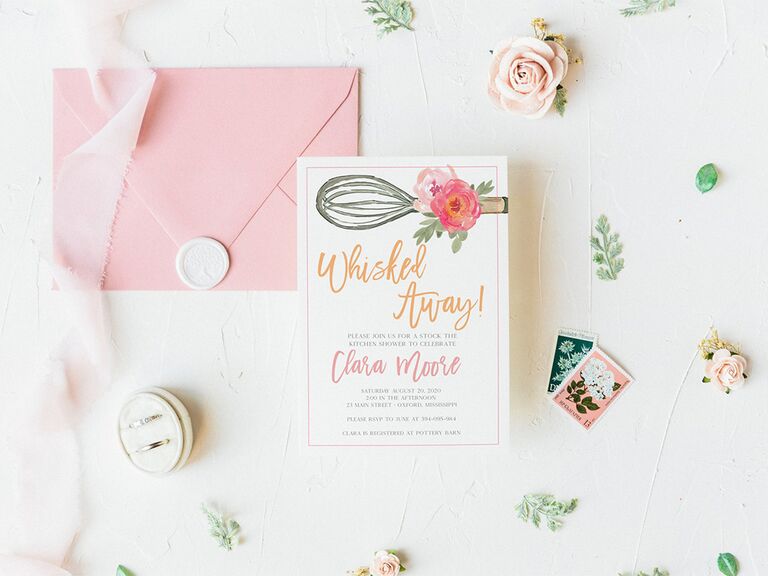 We have included third party products to help you navigate and enjoy life's biggest moments. Purchases made through links on this page may earn us a commission.
Throwing a bridal shower can feel overwhelming. If you're a bridesmaid, friend or family member responsible for planning such an event, you'll find that you have numerous decisions to make, ranging from the date and venue to themes, games, food and more.
But here's a tip: If your guest of honor appreciates a good joke, a well-placed pun or a lot of laughs, they might enjoy a humor-infused wedding shower. Browsing bridal shower invitations can be a great way to start your planning process, as the designs can germinate further ideas for food, drinks and even themes. (By the way, if you're coming up empty on ideas for a unique theme, The Knot also has lots of great bridal shower ideas and tips for planning thematic wedding showers.)
It's important to remember that ultimately a wedding shower is about loved ones showering the to-be-weds with well wishes and gifts in the lead up to the big day. Keeping that goal at the center will ensure a successful shower, but here are 20 funny bridal shower invites to get your planning started, just in case.
Bliss Paper Boutique Unique Bridal Shower Invitation Template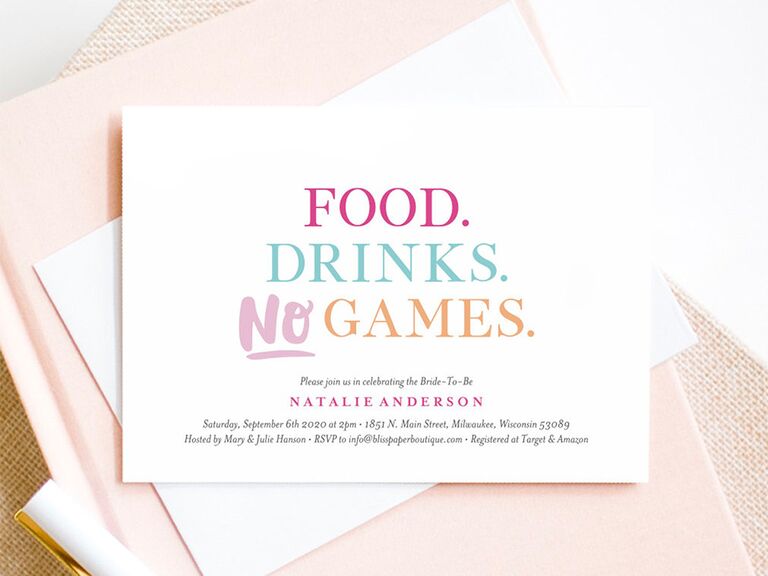 These clever bridal shower invites will come as a relief to friends and family who aren't fond of games. This instant digital download template makes sending these invitations quick and easy and is great if you're a bit behind in your shower planning duties (hey, it happens!).
Yes I Do She Found Her Main Squeeze Lemon Boho Summer Invitation
These bridal shower invitations have a summery vibe with their vibrant lemon motifs, greenery and fresh, playful typography fonts. The "main squeeze" pun adds to the design's carefree fun.
Photo Fun Creations Bridal Shower Invitation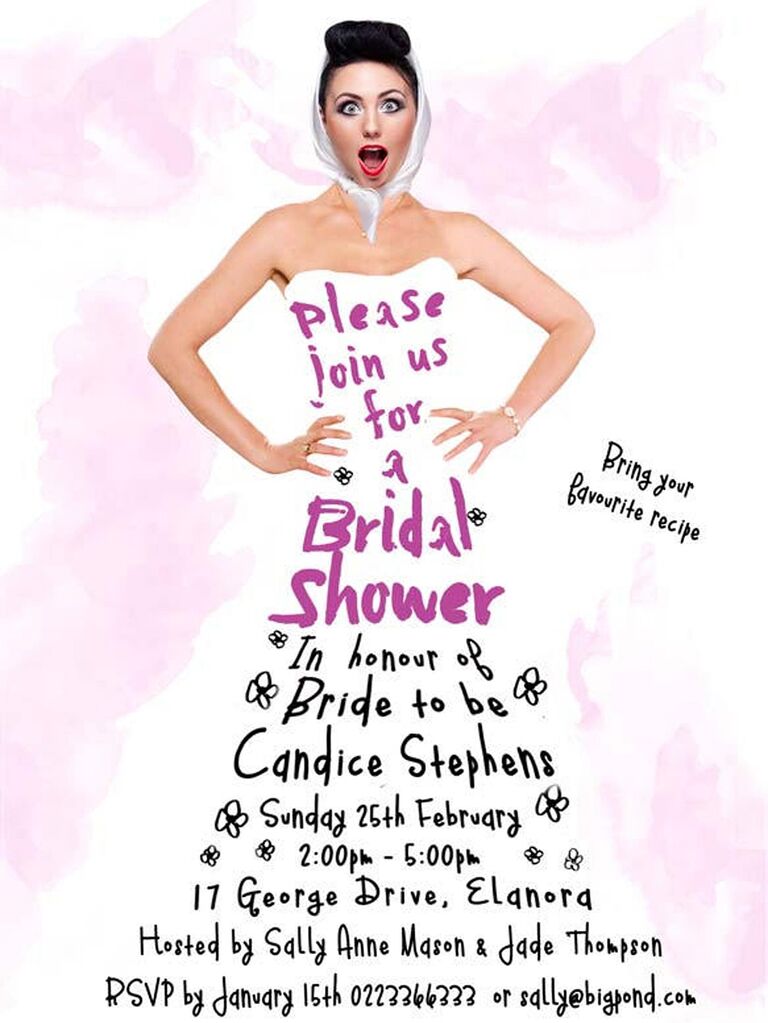 Customize this bridal shower invitation with a photo of the bride-to-be, wearing a dress adorned with the event details, which is reminiscent of the 2008 rom com, 27 Dresses. This witty invitation card is an especially great option if your friend has garnered a reputation as a serial bridesmaid in your group of friends.
Color Jungle Co. Vintage Style I Do BBQ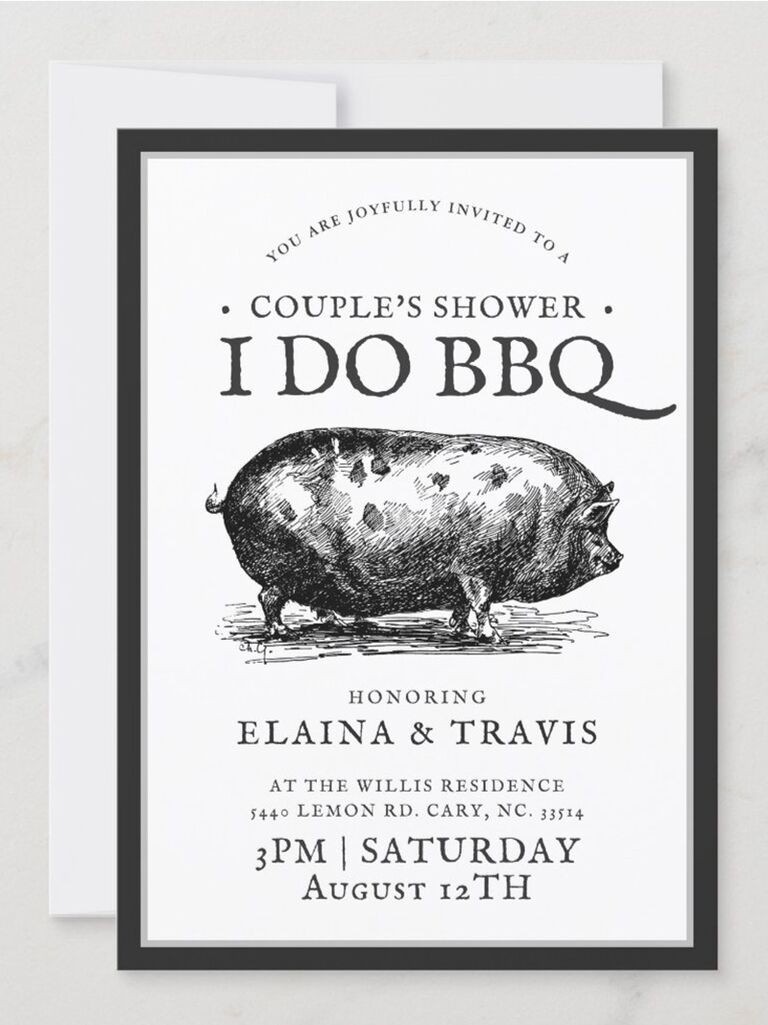 A playful rotund pig takes center stage on these vintage-inspired couples shower invites, which joyfully invite guests to an "I do BBQ." They're equal parts quirky and fun, and ideal for a pair of foodies looking forward to splitting dessert for life.
Instant Invitation Brews Before I Do Couple Shower Invitation Template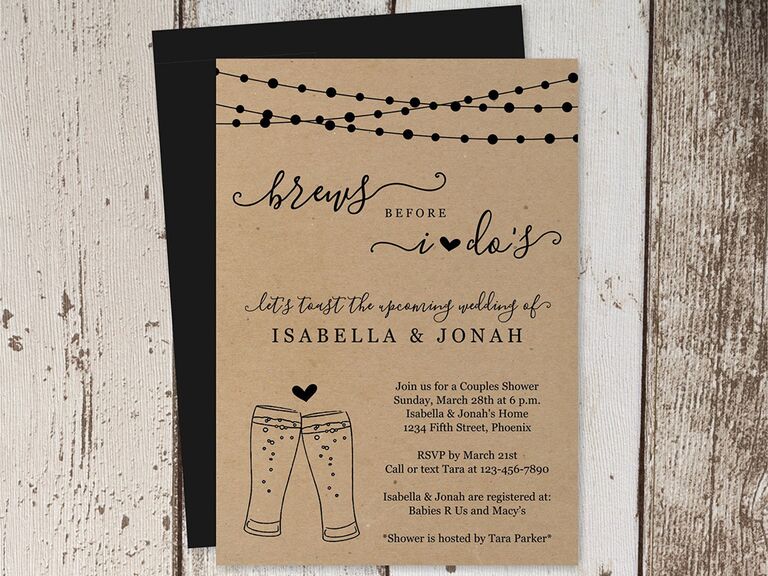 Cheers! For duos who love craft beer, these couples shower invites are a no-brainer. The kraft paper background and bistro light motif are just the right rustic touch.
Michele Ivy Prints Free Brunch Bridal Shower Invitations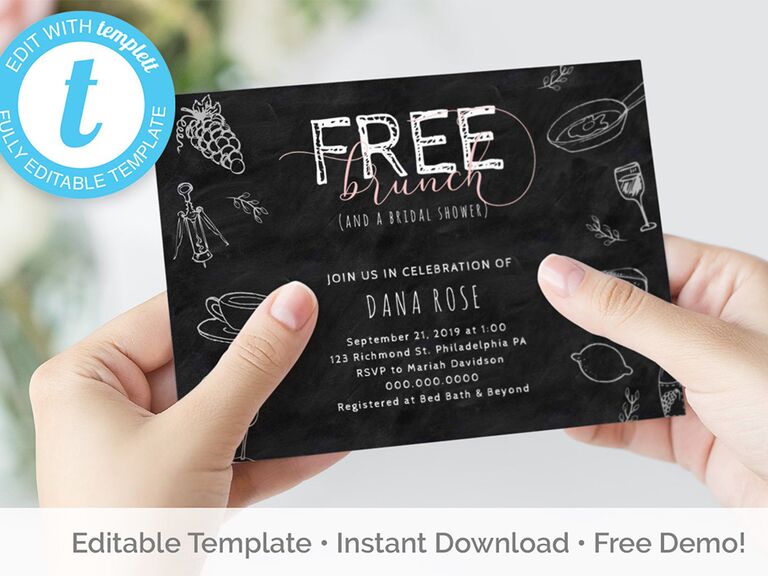 Tempt guests with the promise of free food (oh, and a wedding shower!) with these cheeky invites. The chalkboard background lends a casual, bistro-like feel, which would be ideal for a restaurant shower venue.
Unique Invites Childhood Photo Bridal Shower Invitations
Choose a funny childhood photo of the guest of honor for these bridal shower invites to set the tone for a fun-loving celebration. You can even encourage guests to bring along any old-school photos they have of the couple to display at the shower.
Instant Invitation Sip Sip Hooray Couples Wedding Shower Invitation Template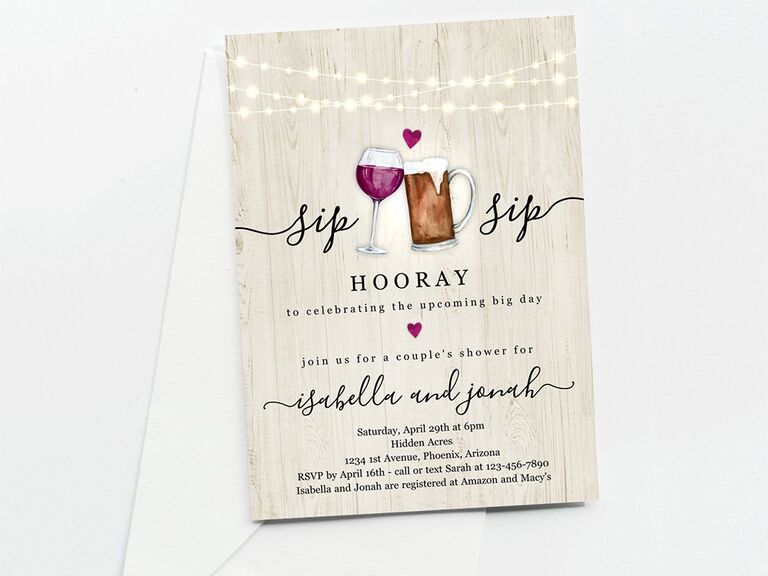 The play on words in these "Sip, Sip, Hooray" rustic bridal shower invitations gives them a subtly funny vibe while the watercolor effect lends a bespoke flair.
Piper and Finch Digital Design Co. Clara Whisked Away Invitation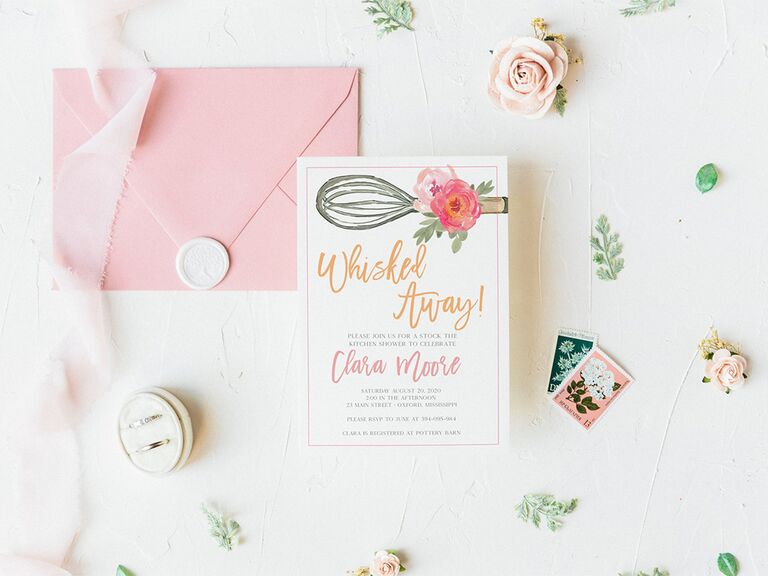 For a stock-the-kitchen wedding shower theme, these invites are the way to go. Featuring a play on the phrase "whisked away," the watercolor renderings of a kitchen whisk and flowers are cute and feminine.
Made by Megss Design I'm Getting Meowied Printable Template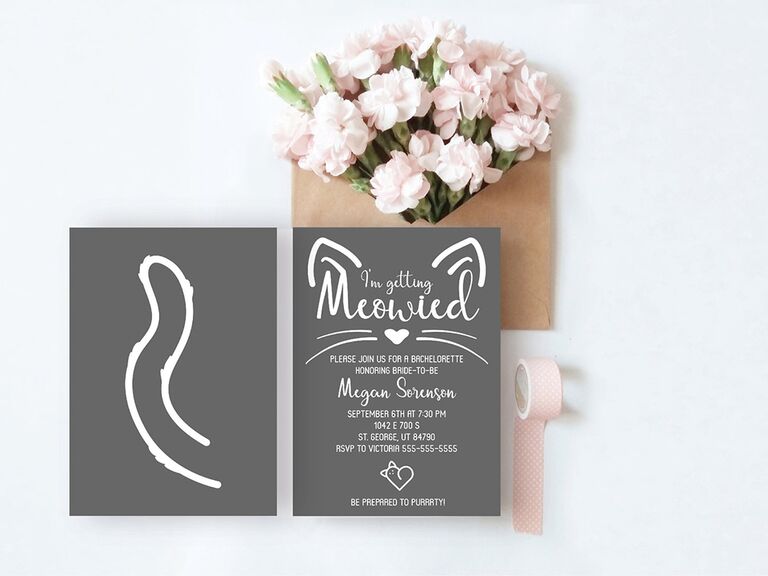 These bridal shower invites are perfect for the to-be-wed who is no longer destined to become an old cat lady but still loves her fair share of felines. Thanks to fully customizable text, these cards can also be used for bachelorette parties or any other kind of wedding party.
Word Art by Bree Bridal Shower Invitation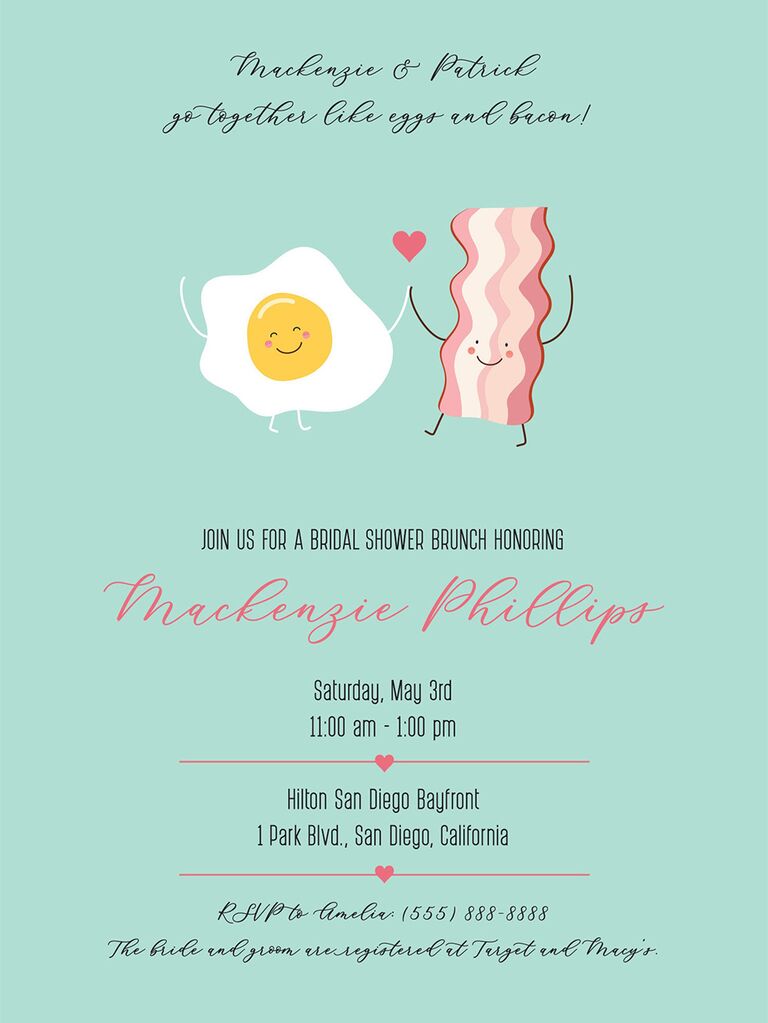 Planning a casual bridal brunch? Look no further for your paper goods. These bridal shower party invitations feature a strip of bacon and a sunny-side-up egg with the sweet sentiment that the couple of honor goes together like eggs and bacon.
Hunny Prints Taco 'Bout Love Fiesta Bridal Shower Invitation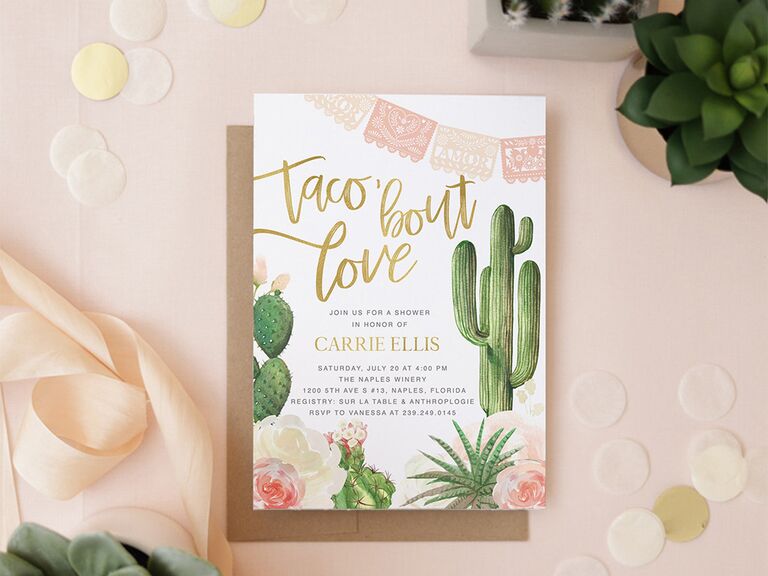 If tacos and margs are on the menu, these invites are a great way to drum up excitement. Featuring watercolor illustrations with blossoming cacti and the message "Taco 'Bout Love," they're a cute choice for casual party invitations.
Go Print Plus What a Catch Wedding Shower Invitations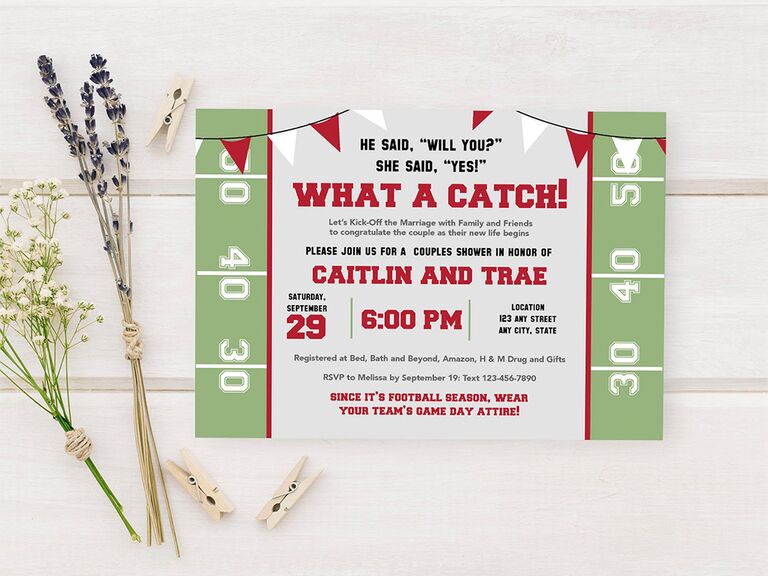 With their gridiron illustration and clever, football-inspired wording, these wedding shower invitations are perfect for couples who love a good game of pigskin.
Chrissy H. Studios LLC: Invitations Party Supplies Mad Hatter Bridal Shower Invitations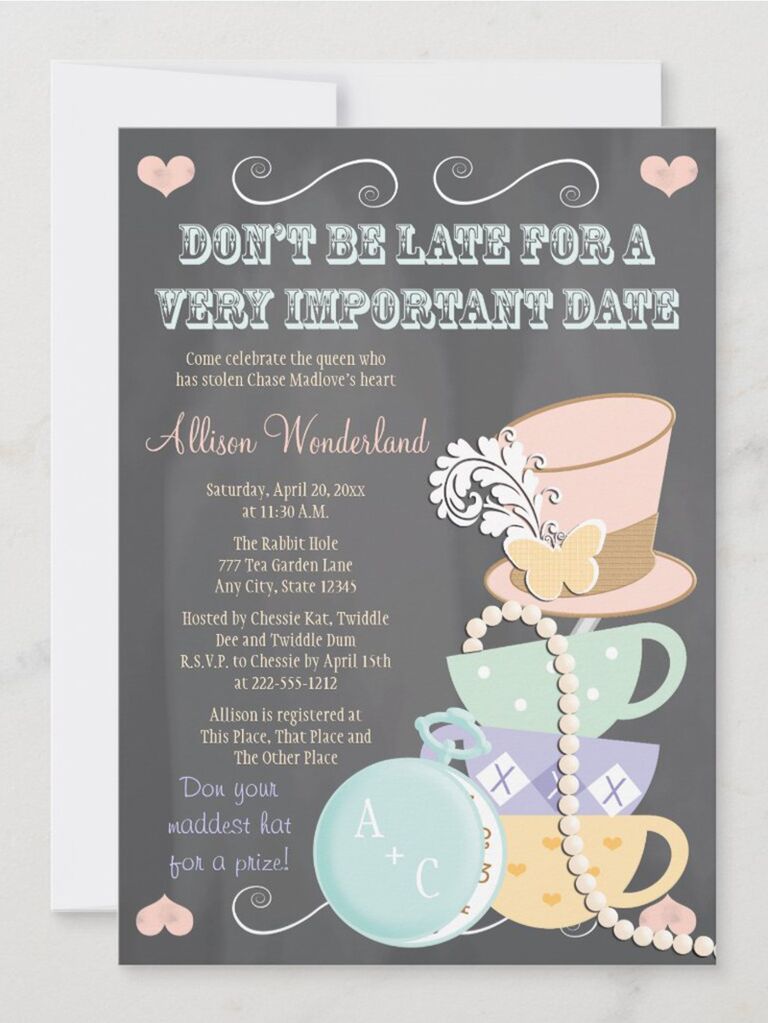 For a bridal shower with a tea party theme, these Alice in Wonderland-inspired invitations are filled with delightful puns and nods to Lewis Carroll's trippy novel.
Piper and Finch Digital Design Co. McKinleys Monograms and Margaritas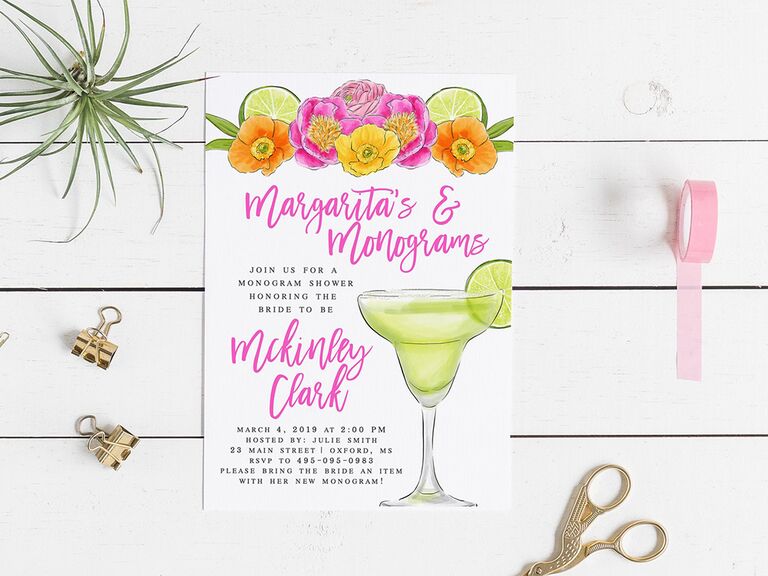 For engaged duos who love a good monogram, a wedding shower theme that features monograms and margaritas might be in order (after all, they may be exchanging one initial for another!). These floral bridal shower invitations remind everyone on the guest list to bring a monogrammed bridal shower gift to the party for a fun, themed soirée.
Lollie J Design Wedding and Stationery Design Two Less Fish in the Sea Wedding Shower Invitation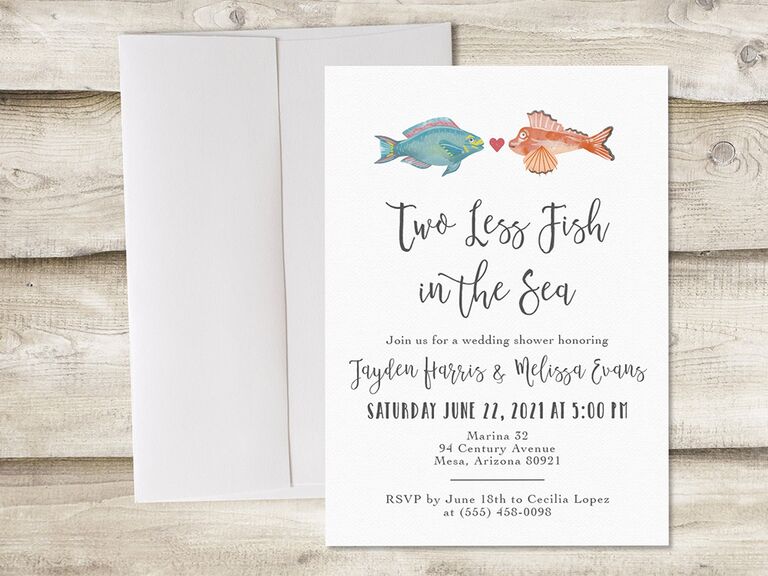 Maybe they like to fish, or maybe the wedding shower is located on the water... Even if neither of those is true, these invites are a cute and quirky way to announce a shower. Don't forget to add registry information to the design so guests know where to shop for your favorite picks.
Hayley Warner Bridal Brunch Bridal Shower Invitations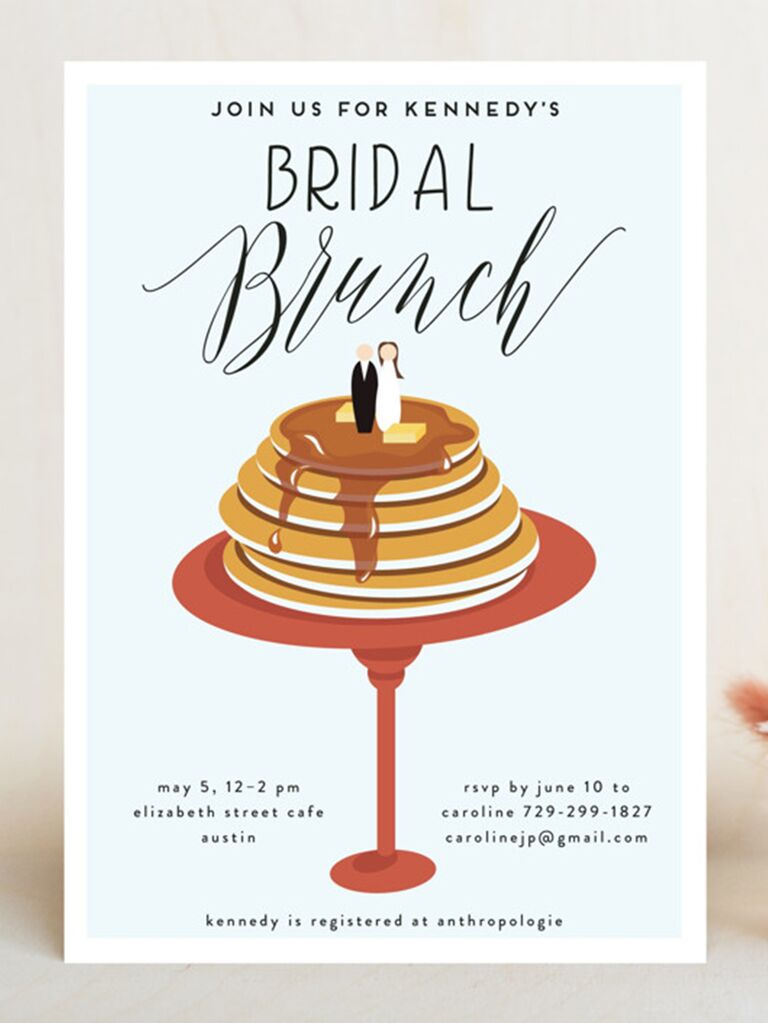 These bridal brunch invitations feature an illustration of bride-and-groom cake toppers atop a stack of pancakes rather than a wedding cake. With their warm colors and friendly retro fonts, these invites are perfect for a laid-back and casual brunch event.
Colleen Michele Cute Donut Bridal Shower Invitations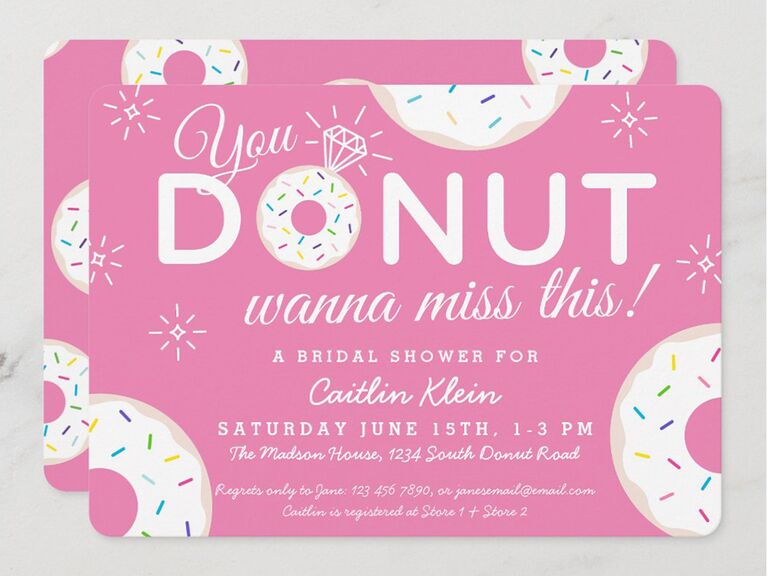 Serving donuts at the bridal shower brunch? These bright pink cards feature illustrations of sprinkle donuts served alongside a sweet pun.
Magic Wand Weddings Bridal Shower Invitations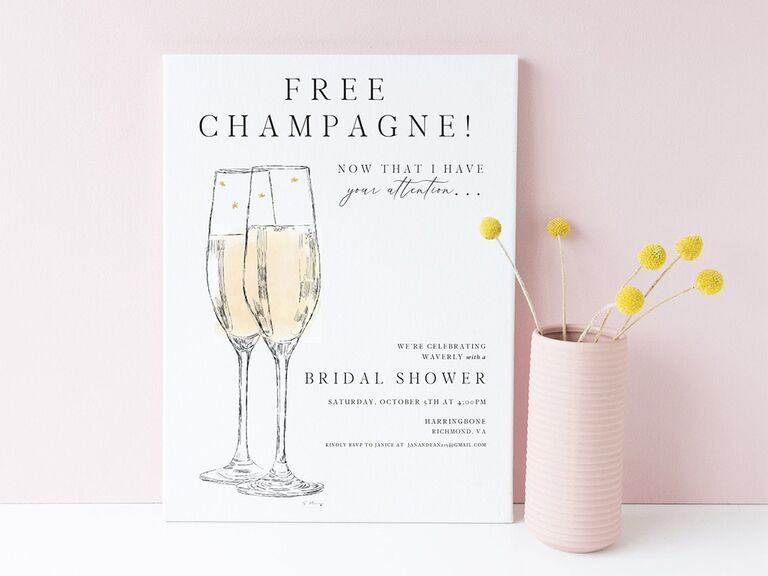 These tongue-in-cheek bridal shower invitations advertise "free champagne" before diving into the nitty-gritty details about the wedding shower. The invitation wording is just as sparkling as the illustration of bubbles in the champagne flute.
Minty Paperie Shop Funny Bridal Shower Invitation Template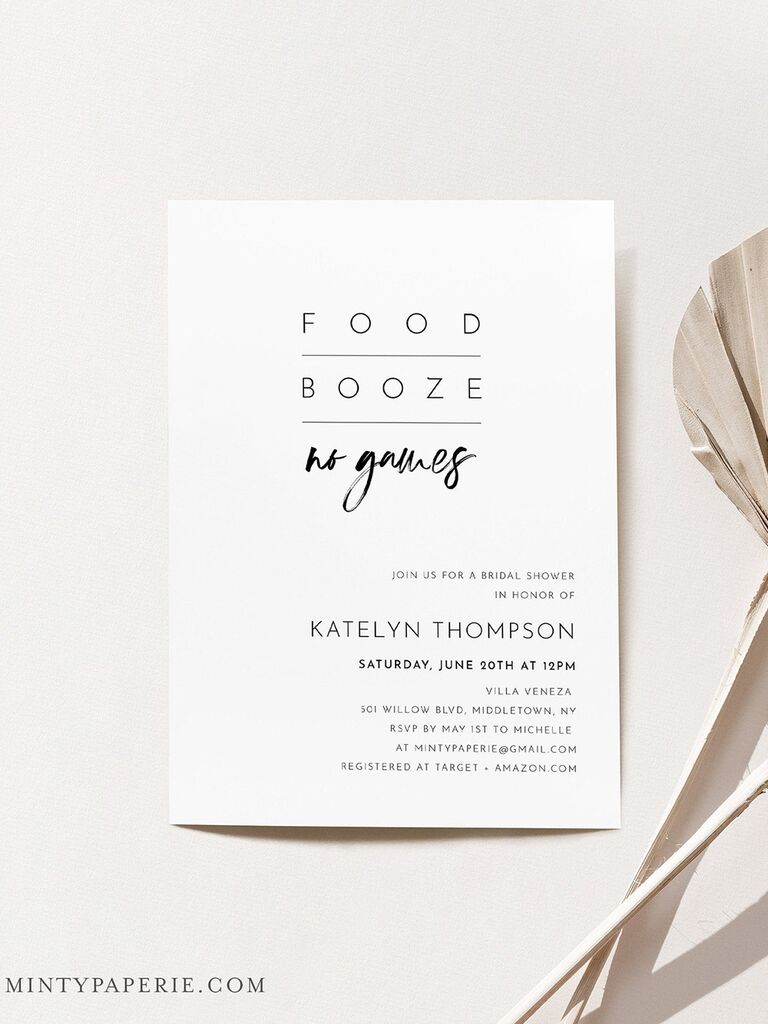 Modern couples will appreciate you throwing a game-free wedding shower. The crisp white paper and elegant fonts featured on this design juxtapose perfectly with its no-nonsense attitude.