The Complete Guide to a Vibrant Mallorca Honeymoon
Swim your way across the rocky coastline and caves of this sophisticated and beautiful Balearic Island.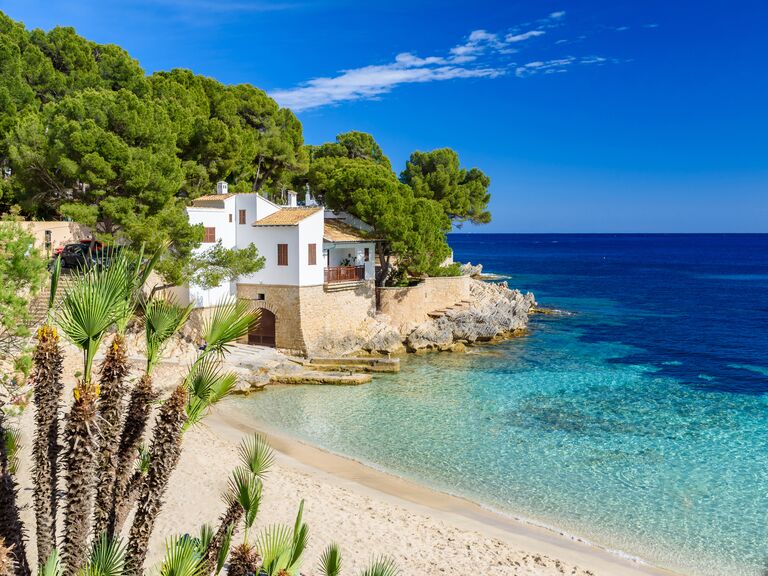 Simon Dannhauer / iStock
We have included third party products to help you navigate and enjoy life's biggest moments. Purchases made through links on this page may earn us a commission.
The intoxicating beauty of Spain's largest island has been attracting artists and musicians since the late 19th century. Only within the last decade has Mallorca transformed into a coveted hot spot for luxury resort vacations and honeymoons. Already a popular summer beach destination for Europeans, this Balearic Island (which also goes by Majorca) beckons with clear turquoise waters, secluded coves, rocky cliffs and charming architecture.
Honeymooners can soak up the captivating scenery as they sunbathe and sip sangria. When they'd rather be more active, they can explore the local culture, swim or snorkel in the Mediterranean Sea, or dance the night away at vibrant clubs.
Is Mallorca Good for a Honeymoon?
Sweeping bays and clear, blue waters stretch out in striking contrast to the jutting cliffs and towering mountains of this Mediterranean locale. Couples looking for a European beach destination with many activities should consider Mallorca, says travel advisor Ashley Les of Postcards From. "Because the island has it all, you can enjoy seven to 10 days there and not get bored." Plus, the picture-perfect nature adds romance, while the intriguing local culture provides novelty and a sense of adventure.
The Pros of a Mallorca Honeymoon
Mallorca offers gorgeous beaches just a short flight from mainland Spain, France, and Italy, says travel advisor Megan Hardesty of Cohica Travel. She suggests heading to the island after a few days in a city, like Barcelona, Valencia, or Sevilla—Mallorca's airport is easy to access from all the major European hubs, says Les. However, couples who would rather go direct can hop on a nonstop flight from Newark, New Jersey, says travel advisor Jonathan Alder of Jonathan's Travels. Along with accessibility, Mallorca is also more budget-friendly than other Mediterranean destinations, like Greece and Italy, in part because it's less popular with U.S. travelers, says Les.
Cons of a Mallorca Honeymoon
"This is not the best honeymoon destination for those looking for a tropical paradise and perfect white sand beaches," says Alder. Also, if you visit during the summer, expect families and some crowds, adds Hardesty, pointing out that August draws many vacationing Europeans. When choosing a place to stay, keep in mind that—due to the "big nightlife scene"—some areas are loud into the night, according to Les. Plus, since the locals speak Majorcan (a dialect of Catalan) and Spanish, not everyone will know English.
The Best Times of Year to Go on a Mallorca Honeymoon for Good Weather
The Mediterranean climate is mild most of the year, but there is a best time to honeymoon in Mallorca. Average highs stay around 60 degrees in winter (December to March). July and August are the warmest months, with average highs in the mid-80s. "The weather is great year-round, says Les, "but it tends to get cooler from November through March. December and January are the rainiest months, so those are best to avoid. Anything from April to October is perfect."
Also bear in mind that most properties shut down after October, with towns emptying out for the winter, says Alder. To avoid crowds, consider coming in June or September (when the weather will be warm), says Hardesty. March through very early summer is pleasant but not entirely ideal for swimming with temperatures ranging from 60 to 70-degrees.
Things to Do During a Mallorca Honeymoon
Visit Palma
The island's capital boasts a vibrant nightlife scene plus rich history, dating back more than 2,000 years, says Zach. In particular, she recommends Bellver Castle, which offers panoramic views of the city. While in town, go on a food tour, tasting traditional Spanish fare, including potato-onion tortilla, croquettes, ham, almond ice cream, and vermouth.
Go on Train and Boat Rides
Take a vintage train through olive groves and charming small towns, recommends Alder. To experience the island by water, sailing or boating and stopping in coves to swim and snorkel is a must, says Hardesty, who recommends Vita Bel Sailing. Or try a catamaran ride complete with tapas.
Explore UNESCO World Heritage Sites
Hike the Serra de Tramuntana Mountains, a UNESCO World Heritage Site, suggests Zach. Hardesty recommends visiting Mondragó Natural Park, then heading to the beach, Cala Mondragó, for a swim.
Swim Through Caves
Spend an afternoon at the Cuevas del Drach in Porto Cristo, where brilliantly designed lighting illuminates the limestone formations. A tour of the caves includes a live concert by classical musicians and a boat ride through the cavern's underground lakes.
Taste Wine and Make a Traditional Liqueur
"No trip to Mallorca would be complete without tasting some locally-produced wine," says Zach. "Visit family-run wineries, where you can learn about different kinds of grapes and the aging process on guided tours." For a more unique experience, sign up for a workshop to make hierbas, a traditional Mallorcan liqueur made with local herbs, says Hardesty.
Enjoy a Festival
Couples who are into music may want to visit in May when the island hosts the multi-genre Mallorca Live Festival, advises Mercedes Zach, Travel Expert at ASAP Tickets. The music festival is held in Calvià located close to the airport.
Where to Stay for a Mallorca Honeymoon
For stunning coves and access to Mallorca's unique rocky coastline, stay near the calas (coves) on the east side of the island, suggests Hardesty. She particularly recommends the area around Cala d'Or, which features restaurants and three or four gorgeous beaches within walking distance.
For luxury honeymooners, a Jumeirah property delivers with consistency. Alder says this 121-room option is quite possibly the best hotel in Mallorca especially as it's located in a small UNESCO World Heritage town. Expect top-notch service and rooms with private terraces or balconies.
The boutique, luxury hotel features 71 rooms and many pools. "If you want to feel like you've been transported back hundreds of years, while admiring amazing views, eating the best food, and enjoying five-star service, this is the hotel for you," raves Les.
Situated within an old fort on the coast, this adults-only resort features an epic cliffside infinity pool, says Les. The Sentinel Suite comes well-recommended to honeymooners.
Located on almost 100 acres of land (some devoted to grape-growing), this property offers a range of activities, plus an acclaimed spa.
What to Pack for a Mallorca Honeymoon
Bring beach attire, including swimsuits, sandals, and sunscreen, says Hardesty. While dress tends to be casual, couples will want to bring outfits for dancing, if they plan to visit nightclubs, says Alder. For exploring the interior of the island plus the caves and rocky beaches, don't forget walking shoes and water shoes, he adds—heels aren't a practical choice on the cobblestone streets.