7 Ways to Actually Find Wedding Flowers on a Budget
Plus, a list of affordable blooms to get you started.
We have included third party products to help you navigate and enjoy life's biggest moments. Purchases made through links on this page may earn us a commission.
When it comes to wedding flowers, bigger isn't always better—especially if you're keeping a close eye on your wallet. Florals are a notoriously pricey component of any wedding day, which can make finding wedding flowers on a budget feel like a tall order, but the good news is that it's totally doable. Yes, it's true that there are some expensive wedding flowers on the market, but there are also plenty of affordable wedding flowers for every season. And with a little magic from your wedding florist, you can make any arrangement look like a million bucks. We're sharing real-life ways to find inexpensive wedding flowers that won't break the bank—plus a list of affordable blooms you can use as alternatives to pricier options.
In this article:
Where to Find Inexpensive Flowers
When in doubt, the best way to source wedding flowers on a budget is to work with a professional florist. You might be tempted to DIY your wedding flowers as a way to save money, but trying to figure out exactly how many flowers you'll need—and what's easily available—on top of doing all the work yourself can cause you more trouble than it's worth. (Remember: time is money too, and the last thing you need is to stress about how to recreate your dream wedding centerpieces when you're down to the wire.) Any professional florist will be able to work within a budget, whether big or small, to help you get the most bang for your buck. Plus, a florist will be able to get flowers at a lower wholesale price by sourcing them directly from the supplier or grower. Before signing a contract, be sure to ask your florist a few questions about what's realistically doable for your wedding vision and within your budget to make sure you're all aligned.
How to Style Wedding Flowers on a Budget
The way you present your wedding flowers impacts the overall visual experience on your big day. And, with some careful planning, you can make any stem varieties look lush and expensive. Here, we break down the best ways to decorate with wedding flowers on a budget.
1. Let your florist do their own thing.
We know you've probably come across inspirational photos of flowers that you'd love to recreate for your own wedding. It's great to start off with a vision of what you want, but the key to finding wedding flowers on a budget is to avoid getting too caught up in recreating those ideas exactly. Trust your florist to put their own creative spin on your wedding inspo with flowers that are in-season and within budget. If you're adamant about using specific flowers or having a carbon-copy of something you've seen at another wedding, you run the risk of a costlier bill.
"A good florist can help you figure out what you like, as well as the best flower choices for your wedding," says Gerry Rogers, founder and lead designer of Petal's Edge Floral Design in Alexandria, Virginia. "In the long run, that saves you time and money." Once you've hired a designer, they'll level-set your expectations to keep your wedding ideas realistic and attainable. "If you're trying to reduce costs, your best bet is to be upfront with your florist about what that budget is," Rogers adds. "Let their creativity lead the way and you'll get a much better result."
2. Invest in quality over quantity.
To give your wedding ceremony and reception that "wow factor" look, you might be tempted to cover your space in flowers. Not only will this be expensive, it may create a visual experience that's overwhelming for guests. Instead, you can make just as big of an impact by dedicating your flower budget to quality blooms in thoughtful, intentional arrangements. Rogers, who has more than 20 years of professional experience in floral design, says investing in quality flowers is more important than quantity. "The best way to make things look expensive is to make them appropriate in size," says Rogers. "A smaller-than-average bridesmaid bouquet or a too-small-for-the-table centerpiece is often noticeable. Instead, a few intentional floral arrangements will go much further in terms of impact than trying to cover everything."
3. Shop in-season.
Shopping in-season can often help you find budget-friendly wedding flowers, and the main reason for that is because there's an increased supply of certain wedding flowers during certain times of the year. This means that the flowers are fresher (and ultimately last longer during transport and design) and are more abundant in certain parts of the country—a win if you're able to source your flowers locally.
"The idea that you can get cheaper flowers in their blooming season is one of the biggest myths in the flower industry," Rogers explains. "While this might be true in regions like California, which has a large agriculture base, it's not applicable in every state. Local and in-season flowers might offer better quality, but some flowers, like peonies, are higher than average in cost when they are in-season. In our experience, seasonality corresponds more to availability than it does to cost."
So, what does this mean for finding wedding flowers on a budget? You may or may not be able to save money by shopping solely for in-season flowers, but you will be able to find good-quality flowers. And, if you spend a lot on blooms that are out of season, you run the risk of having them die or wilt on your big day due to improper conditions. And, as with Rogers' point above, investing in quality over quantity will help you make the most out of the money you spend.
4. Rent faux blooms.
Another way to style wedding flowers on a budget is to incorporate some faux blooms in clusters and installations that won't be seen up close, like bridesmaid bouquets or hanging decorations. And, instead of buying fake flowers, you can rent exactly what you need for as long as you need it. "Renting faux is a great option for couples that want the look of fresh flowers without the hassle or cost," says Megan Westman, co-founder of Silk Stem Collective. And, while you might think faux florals will look fake next to fresh blooms, new production techniques allow companies to seamlessly recreate the look of real blooms. "Silk, fabrics and specialty plastics can all be designed to mimic the look of a real flower petal," Westman explains. "Expert manufacturers specifically select materials that replicate the texture and color of fresh flowers depending on the variety of bloom they're replicating."
Even if you choose to rent some faux flowers, couples are still encouraged to work with their florist to use fresh blooms as needed. Then, you can use the remainder of your flower budget on larger, statement-worthy floral installations. "We frequently have couples mix silk flowers with fresh flowers," says Westman. "We've had couples rent faux bouquets and use the money they saved to get a fresh flower arch, while others use fresh flower bouquets but faux centerpieces for an outdoor summer reception."
Renting faux florals is also a great way to incorporate sustainability practices into your wedding. For couples with an eco-conscious focus, silk flowers can serve as an environmentally-friendly choice. "Many people don't realize that fresh flowers have a large carbon footprint," says Westman. "Renting faux flowers is not a perfect solution, but it does offer a lower waste option. It takes fewer resources to produce faux flowers, and because they are reused over and over again, the carbon footprint is much lower."
5. Consider dried florals.
If you're looking for inexpensive wedding flowers, consider buying blooms that can be reused to decorate multiple wedding events, like showers, the rehearsal dinner, your wedding day or even your farewell brunch. Since most fresh flowers don't last for long periods of time, especially after they're cut, dried flowers can be a cost-efficient alternative. While these are traditionally a staple of boho wedding style, you can incorporate dried stems into your big day (and related events) for nearly any aesthetic.
"A dried flower arrangement comes with its own ethereal and unique beauty that makes it different from fresh flowers, but no less beautiful," says a representative for UrbanStems, who notes that dried flowers have an exceptionally long shelf life. "While freshly cut flowers can last up to two weeks when properly cared for, dried flowers can last up to several months to even years. And, with dried flowers, you won't have to worry about maintaining their freshness on your wedding day."
When paired together, select fresh flowers and dried petals would make for a unique styling combination that offers the best of both worlds. And, while it's recommended to work with a florist for fresh blooms, you could find affordable dried options that can be reused for multiple wedding events online. "You have much more flexibility with dried florals," the rep adds. "Couples can buy them six months to a year in advance, save them, and incorporate them with fresh flowers on the wedding day."
6. Think of multi-use designs.
There might be instances throughout your wedding day where you can repurpose some flowers and arrangements. Is your florist creating a ceremony arch filled with greenery and flowers? Ask if it's possible to move the arch to your reception space as a backdrop for the head table or sweetheart table. Don't know what to do with the bridesmaid bouquets once the ceremony and wedding photos wrap up? Use them to decorate cocktail tables or other areas you want to spruce up without blowing your budget.
7. Simplify your flowers.
In an ideal world, your wedding budget would be the last thing on your mind and you could have as many intricate flower arrangements as you want. But if affordable wedding flowers are your goal, simplifying the designs (and downsizing the arrangements) is one of the fastest ways to save money. Simple definitely doesn't mean boring—but costs will go up if you're including six, seven, eight or more different types of flowers in a single arrangement. The more varieties your florist has to order, the more you'll end up paying. If you're fine with choosing just two or three types of flowers to use in all of the arrangements, there's a better chance of maximizing your budget, since your florist can order everything in bulk.
Affordable Wedding Flowers
Your florist will help you make the final call when deciding what's included in your designs, but it doesn't hurt to do a little prep work in advance. Here are 12 inexpensive wedding flowers that tend to cost less compared to other blooms.
Alstroemeria
Also known as Peruvian lily, this summer wedding flower comes in more than 150 different colors and varieties, ranging from white and golden yellow to red, pink and purple. Plus, they have a very long vase life, sometimes lasting up to two weeks or more.
Blooming season: Late spring or early summer
Average cost: Around $2 to $3 per stem
Baby's Breath
Wispy baby's breath (also called 'gypsophila') is a go-to for laid-back and boho weddings, whether you weave it into bouquets or use it to create a statement design. "Baby's breath has made a major comeback," says Denise Porcaro, founder and designer at Flower Girl NYC. "Lots of couples like baby's breath on its own [or] in big arrangements. It looks gorgeous with long, trailing pastel-colored ribbons for a more ethereal wedding, and it's nice to make flower crowns that are delicate and airy."
Blooming season: Summer and fall
Average cost: Around $1 to $2 per stem
Carnations
Carnations typically make an appearance at weddings because of their lengthy, sturdy set, ideal for tall arrangements. They also have a reputation as being one of the longest-lasting blooms after being cut. Plus, their unique serrated petals will add lovely texture to a bouquet or your wedding decor.
Blooming season: Year-round
Average cost: Around $1 to $2 per stem
Chrysanthemums
Otherwise known as mums, these pom-pom-like blooms boast lush, exotic blossoms in multiple colors—without the extravagant price tag. Just specify which type of stem you prefer: Florist mums are the big, spidery blossoms, while garden mums are smaller, more compact flowers.
Blooming season: Late summer and fall
Average cost: Around $2 to $4 per stem
Daisies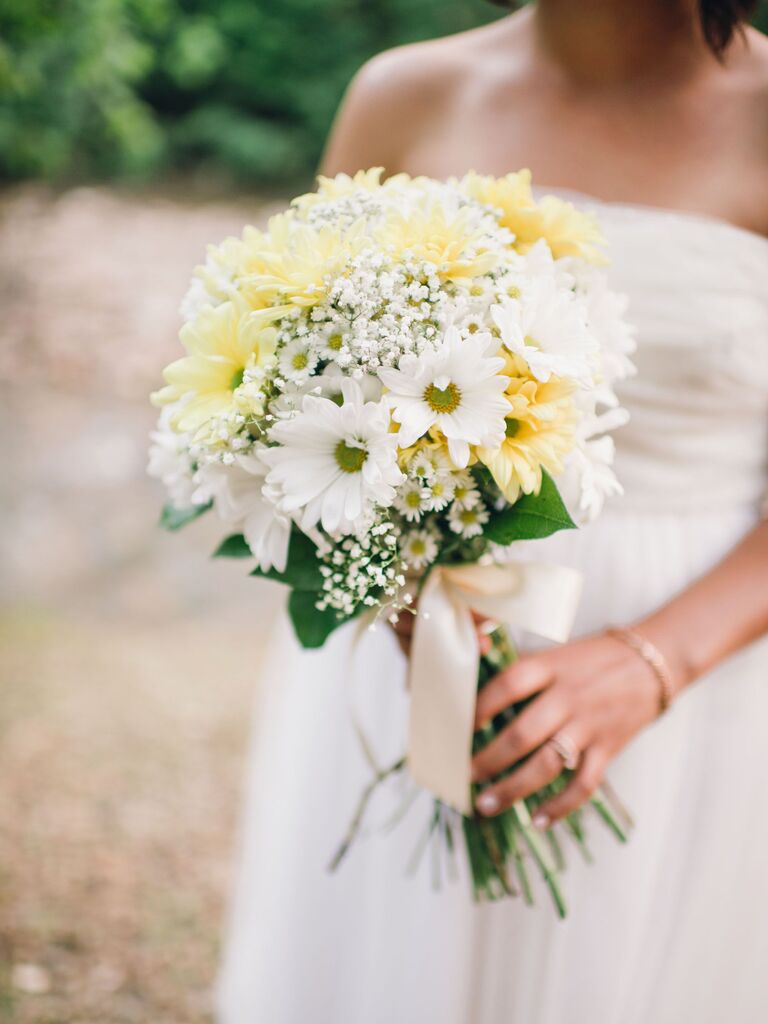 For a cheery springtime bouquet, white daisies are a classic go-to whether they're helping out as a filler flower or making up the entire floral arrangement. They naturally grow white blossoms, but thanks to food coloring they can be tinted purple, blue, neon green—almost any color of the rainbow. Gerbera daisies are another option, with larger flower heads and thicker stems.
Blooming season: Late spring through late fall
Average cost: Around $2 to $4 per stem
Freesias
For a long-lasting floral, consider this fragrant stem, which can last up to three weeks in a vase. This longevity makes freesias one of the all-time great affordable wedding flowers. As many as eight blooms grow on one stalk, and they come in multiple colors like white, yellow, red, purple and pink.
Blooming season: Spring
Average cost: Around $2 to $3 per stem
Gladiolus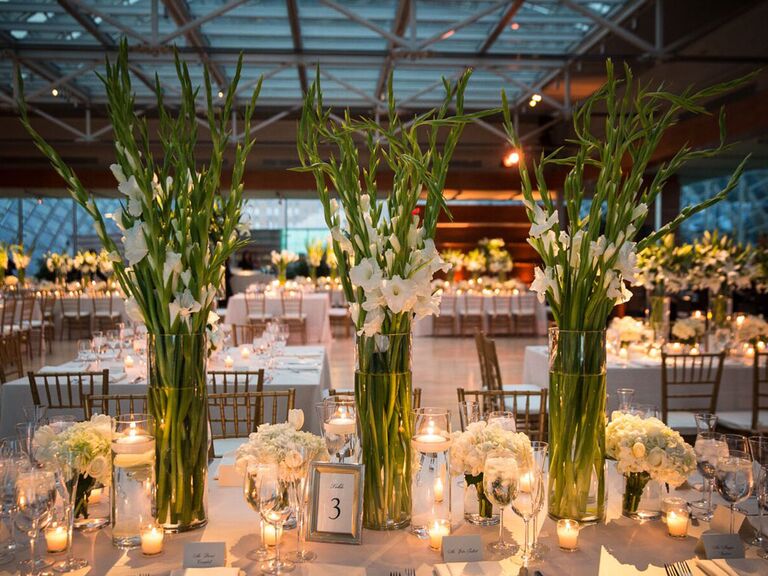 If tall wedding centerpieces speak to you, this towering, ornate blossom fits the bill. It can grow between two and six feet tall, comes in a variety of hues and looks striking enough to stand on its own so you don't need as many.
Blooming season: Summer
Average cost: Around $3 to $4 per stem
Hydrangeas
This oversized bloom is a must for nautical or coastal summer weddings. And, because of their size, using hydrangeas for your wedding is great for covering a lot of surface area without stretching your floral budget. "Hydrangeas can be a cost-effective choice, especially for centerpieces, because they take up a lot of space," explains Rogers.
Blooming season: Late spring and summer
Average cost: Around $3 to $5 per stem
Queen Anne's Lace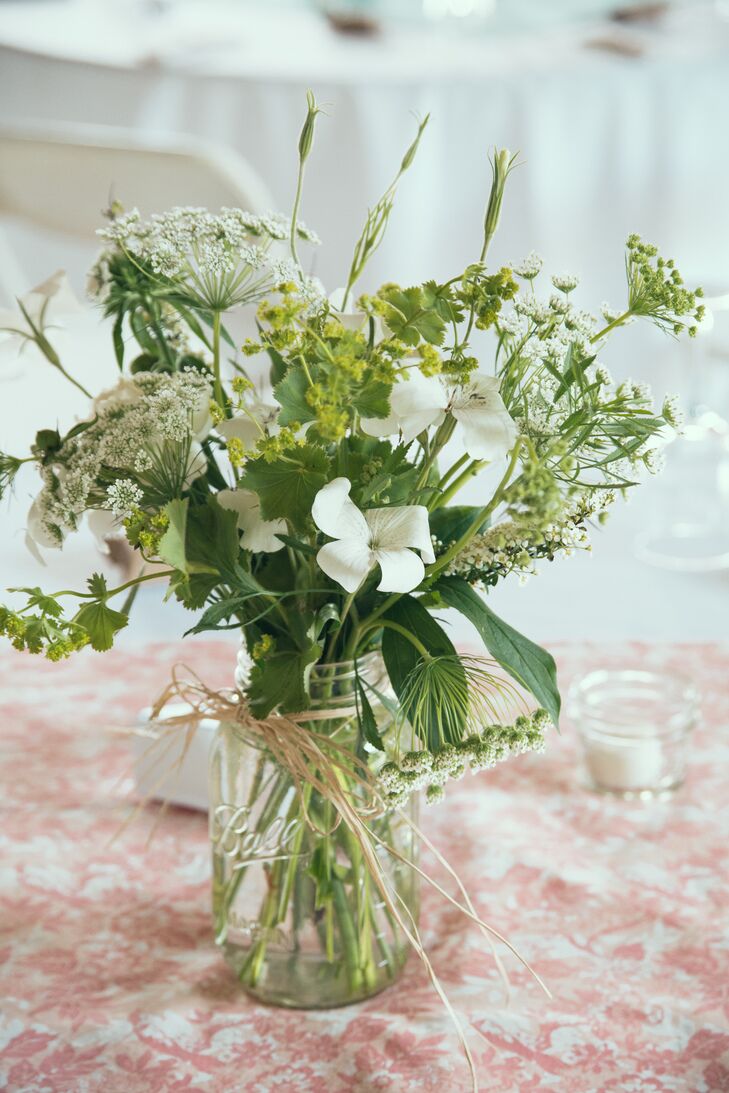 "Queen Anne's lace adds beautiful texture when mixed with other blooms in a bouquet and can be the 'green' for couples who don't want a lot of greenery in their arrangements," Porcaro says. It's easily mistaken for baby's breath because of its small white blossoms, but its flat-topped clusters set them apart.
Blooming season: Late spring
Average cost: Around $1 to $3 per stem
Roses
From bouquets to centerpieces, you can't go wrong with using roses at your wedding. "In terms of bouquets, roses are often maligned but a great choice," Rogers says. "They're a reliable flower and come at a decent price for their size." Some rose varieties are much pricier than others (for example, garden roses and heirloom roses are more rare and more expensive than the roses you find at the grocery store), so double-check with your florist on cost for the types you want.
Blooming season: Spring and summer
Average cost: Around $2 to $6 per stem
Sunflowers
There's no denying that using sunflowers at your wedding will spark joy, especially because their big, bright petals add a burst of vibrant color to any arrangement. You can also take advantage of their strong stalks and place them in unexpected locations around your venue to create a visually appealing floral design. Getting wedding flowers on a budget has never been so simple with sunflowers.
Blooming season: Summer and early fall
Average cost: Around $2 to $4 per stem
Wax Flowers
With so many blooms on each stem, this little Lily of the Valley look-alike makes a fabulous filler for bridal bouquets, corsages, boutonnieres or centerpieces. Wax flowers also come in a range of two-tone colors, allowing you to get creative with your floral arrangements.
Blooming season: Late winter through early spring
Average cost: Around $2 to $3 per stem