20 Mexican-Inspired Wedding Ideas to Honor Your Heritage
These fiesta-ready ideas will help you plan a vibrant wedding celebration.
When it comes to settling on a vibe or aesthetic for your wedding day, many couples assume that themes are the only direction to go. However, if a wedding theme isn't quite your speed, consider festively working in details inspired by your heritage as a nod to your roots. Even if you're not getting married with a destination wedding in Mexico, you can beautifully celebrate Mexico and Mexican heritage by bringing in nods to the vibrant culture through your fashion, decor, entertainment and catering choices. Let the fiesta-ready wedding inspiration below inform your own Mexican-themed wedding.
1. Wedding Cake Decorated With Papel Picado Banner
Not only did this couple include papel picado banners in their reception decor, but they also decked out their wedding cake in mini white flags to mirror those hanging from the wedding venue.
2. Maraca Escort Cards
Maracas, with tags indicating guests' names and table numbers, served as both escort cards and wedding favors at this celebration in San Jose dél Cabo, Mexico.
3. Piñata Guest Book
For their guest book, this couple asked wedding attendees to write notes and place them inside a piñata. For crafty couples, making a DIY guest book piñata could be a fun pre-wedding activity.
4. Flower Girls in Colorful Mexican Dresses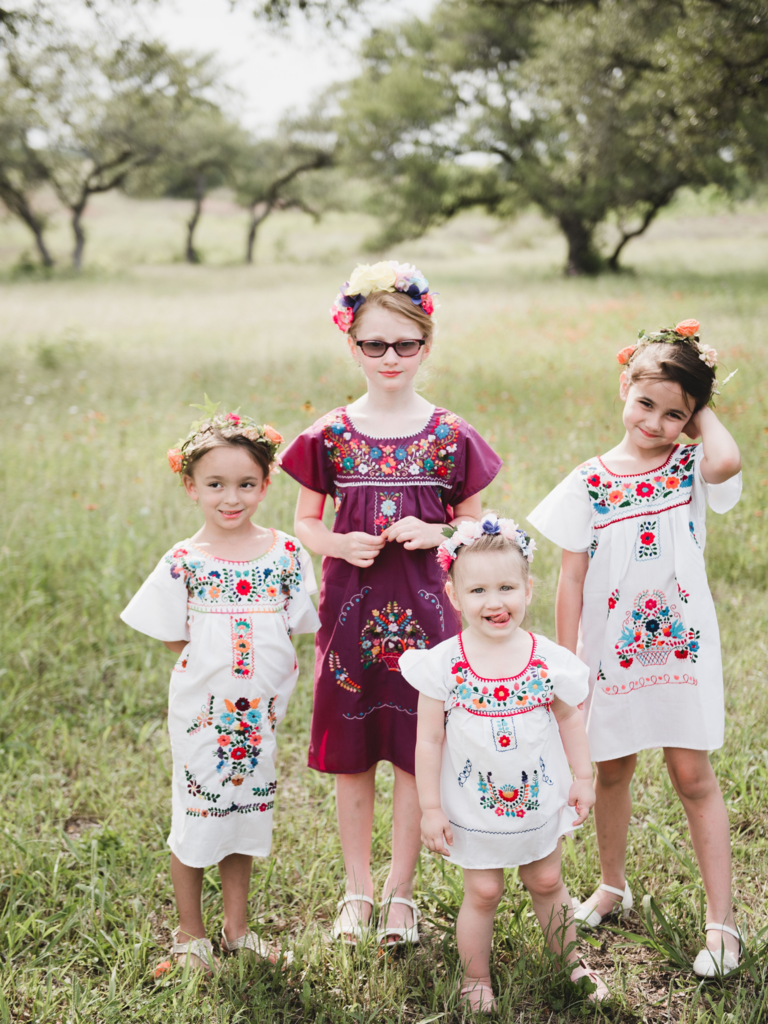 Beyond planning festive attire for your wedding party to wear, like vibrant dresses for your bridesmaids, consider outfitting flower girls and ring bearers in outfits befitting a fiesta wedding as well, like this couple did.
5. Mexican Tile Escort Cards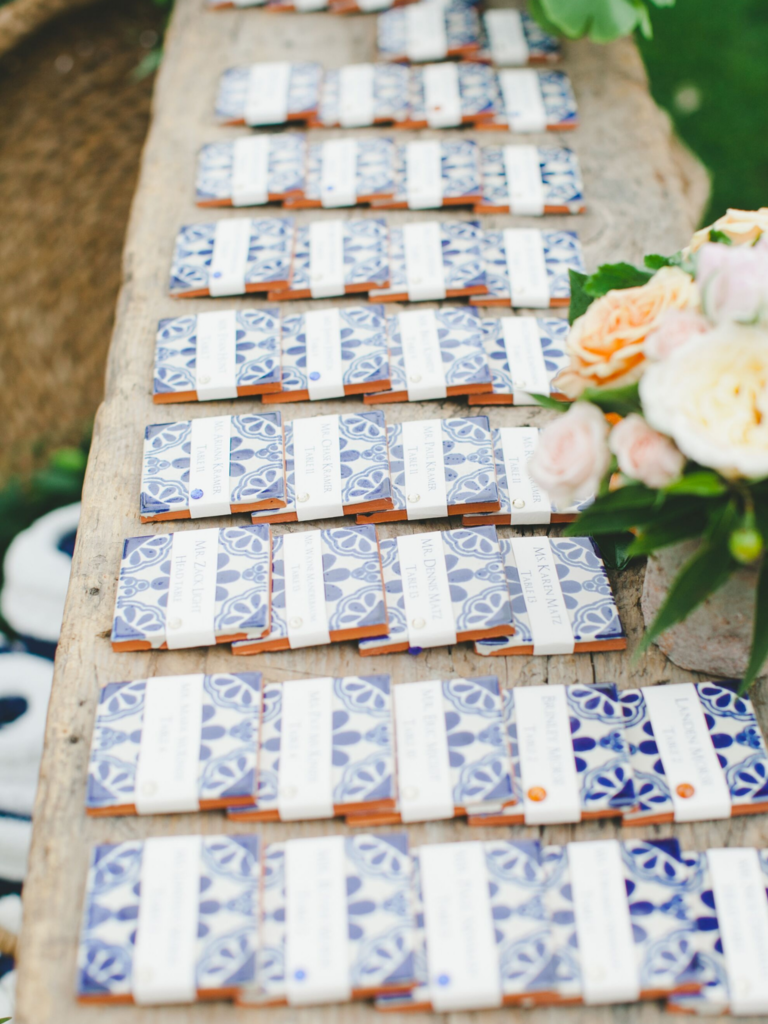 The escort cards at this event, which were blue-and-white painted tiles, doubled as wedding favors.
6. Traditional Mexican Dance Performance
Bringing your wedding vision to life is about more than just centerpieces, decor and visual elements. During wedding planning, keep in mind the activities and entertainment that will be present as well. This couple hired a professional dancer to perform a traditional number. If you want to include other Mexican wedding traditions in your nuptials, consider dancing to la vibora de la mar during the wedding reception.
7. Mariachi Band
Music is central to Mexican culture and this couple paid homage to that by hiring a mariachi band to perform at their rustic wedding in southern Texas.
8. Wedding Invitation Inspired by Día de los Muertos
Inspired by Día de los Muertos, this wedding invitation suite featured bright colors and skull illustrations.
9. Mexican Wedding Cookies
While this Mexican wedding tradition is a bit less common than many people think, serving Mexican wedding cookies for dessert can still be a fun way to bring Mexican culture into your event.
10. Mexican Grilled Corn
For an event that truly feels like a Mexican fiesta, wedding food inspired by traditional Mexican cuisine is a must. This couple served fresh-off-the-grill corn at their wedding reception in Mexico City.
11. Callejoneada in San Miguel de Allende
A Mexican wedding tradition seen mainly in San Miguel de Allende, many newlyweds will partake in a wedding parade in the streets following the vow exchange. During their wedding in San Jose dél Cabo, this couple took shots of a locally made tequila.
12. Tequila Shot During Wedding Ceremony
The sky's the limit when it comes to unique ceremony unity rituals.
13. Cake Topper Inspired by Día de los Muertos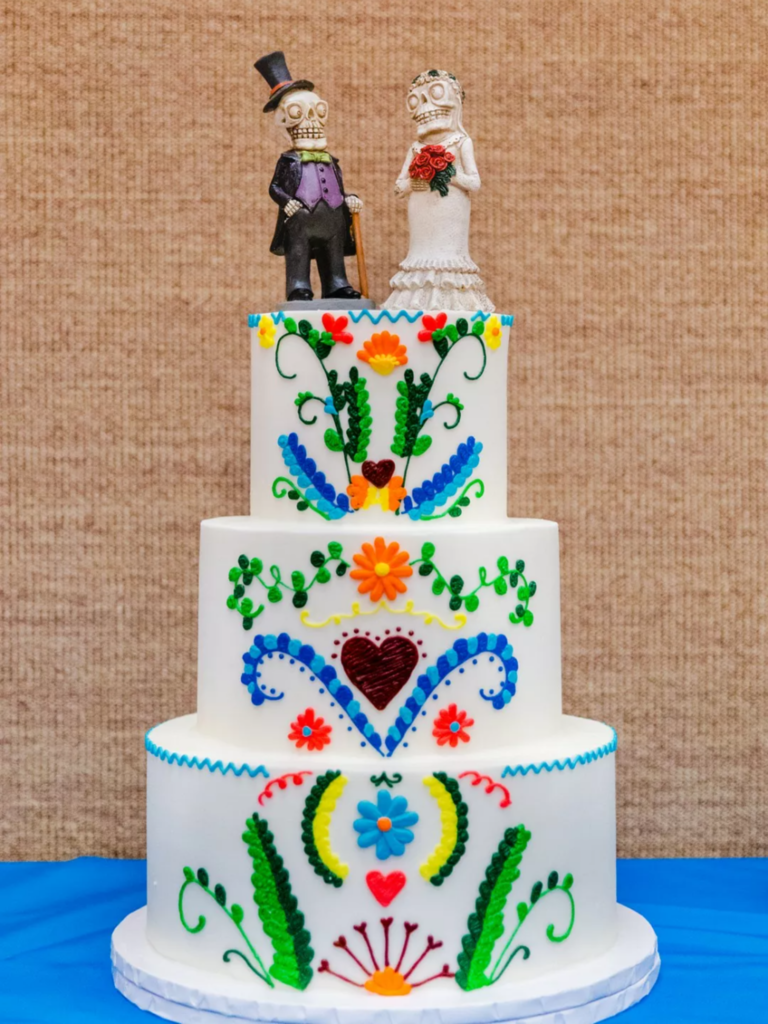 A skeleton couple sat atop this wedding cake as a festive nod to Día de los Muertos.
14. Mini Margaritas at Cocktail Hour
Beyond having tasty signature cocktails, serving the drinks in creative containers is a great way to make things even more fun for guests. Mini tequila bottles filled with margaritas were served alongside mini taco appetizers during cocktail hour at this wedding.
15. Papel Picado Banners
While traditional Mexican weddings are often decorated with papel picado banners in bright colors like pink, purple and red, don't be afraid to mix it up. This couple opted for white flags as part of their wedding decor to better suit their wedding color palette. If you're feeling really creative, you could consider mirroring the papel picado look on the tables by crafting a DIY table runner made of cut paper or fabric.
16. Tacos at Cocktail Hour
A trio of street tacos were on offer at this wedding. If you and your partner have a favorite taco shop that you visit frequently for date nights, consider asking whether they would cater cocktail hour or even be able to show up later on so guests could enjoy fresh tacos as a late-night snack while dancing.
17. Corn Elote Salad Hors d'Oeuvres
During cocktail hour at this wedding, the passed appetizers include corn elote salad served in bamboo bowls.
18. Trio of Margaritas as Signature Cocktails
This couple served three margarita variations as their signature cocktails for their California wedding. While custom margs are a great option for a wedding reception, the festive sips would be just as great at a wedding or bridal shower, or even at a bach party or birthday party.
19. Welcome Bag With Modelo and Topo Chico
Guests were welcomed to this wedding weekend with a welcome bag filled with Mexican-inspired snacks and sips.
20. Tequila Bottle Escort Card Display
Kick things up a notch during cocktail hour, like these newlyweds did, with mini bottles of tequila as escort cards.