Questions to Ask Ceremony Site Managers
Run these questions by the venue manager while visiting potential ceremony sites.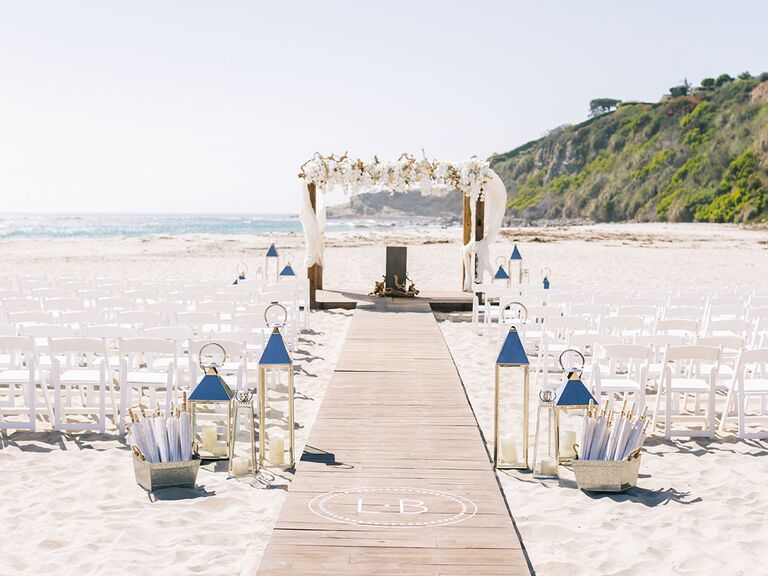 Brandon Kidd Photography
When you think "wedding" you might be picturing a cake, dress and all-night dance party. While all of these fun elements are amazing (and in your future!), your ceremony is the actual wedding. While touring potential ceremony sites, whether it's a beach, garden, house of worship or a national park, you'll want to take a few minutes with the site manager of each venue to ask these important logistical questions.
Is this ceremony site available on our preferred wedding date?
Why you want to know: It sounds obvious, but don't assume you're the only ones interested in booking this site on that date. The availability of your top ceremony venue could technically determine the date of your wedding.
Does this site charge a standard fee? Is it a donation to the house of worship or a fee to rent the space?
Why you want to know: To make sure site fees won't throw off your budget, ask the venue manager up front about site rental costs. If you're getting married in a house of worship, call and ask about the suggested donation amount.
Is the sanctuary or other ceremony space large enough for your ideal guest list? Where will everyone (the wedding party, the officiant, you two, the musicians) stand?
Why you want to know: Make sure the size and layout align with your wedding day vision. If there's nowhere for your wedding party to stand at the altar, you might need to rethink locations or add a few more seats for them to sit during the ceremony. The size of your dream venue could determine whether or not you need to trim your guest list. (A good rule of thumb is to have at least 10 square feet per guest­—not including space for the aisle, altar and musicians.) Also consider the seating arrangement you want for your ceremony when calculating whether you'll have enough space. A circular or amphitheater setup may require more room than traditional rows. The event coordinator or your wedding planner should know the exact guest count the space can accommodate and help you determine the best layout.
What will the site supply?
Why you want to know: Find out what the site already provides in terms of ceremonial or religious items, like prayer books, an aisle runner, chuppah, wine goblets, candelabras, yarmulkes and so on. You'll need to factor items you need to purchase or rent into your budget. In addition, inquire about amenities such as parking, restrooms and temperature control, and what the price will look like should you need to bring in, say, portable restrooms, valet service, heaters or umbrellas for shade.
Are there any restrictions on how you can decorate the ceremony area? What about rules for photography or videography?
Why you want to know: You may be envisioning a tower of flowers and a drone flying overhead to capture your walk down the aisle, but if you're marrying in a house of worship (or any indoor space) you could have to deal with décor, videography and photography restrictions.
Are there restrictions on music? Must you use the site's in-house musicians, or can you bring in your own? Is there an additional fee?
Why you want to know: Before you start interviewing quartets and contemplating song selections, do a little homework. Some ceremony sites and officiants may have strict guidelines about which music can—and can't—be played during a ceremony. Secular locations may also have guidelines you'll need to be aware of, setting limits on the noise (volume or curfew) or the space allotted for musicians. Other than venue rules, make sure there's enough room and adequate acoustics for your preferred musical selections.
Are there any restrictions on attire?
Why you want to know: Some churches require shoulders to be covered, which means if the bride's dress is sleeveless, a shawl or other cover-up will be necessary. You'll also need to convey this information to your guests. Put a friendly attire reminder on your wedding website to avoid fashion confusion.
If your ceremony will be outdoors in a public place, do you need a permit? When and where should you apply? Are there restrictions (number of people gathered, for example)?
Why you want to know: Bringing in a tent, alcohol or musicians (hello, preceremony cocktail hour)? You'll probably need a permit for some or each, and the manager can help point you in the right direction.
Ready to find a ceremony site? Book the one here.
Read helpful tips on finding your reception venue here.