These 25 Rustic Wedding Signs Are Perfect for Your Outdoor (or Indoor) Venue
When done right, signage is so much more than just a directional advisor.
by The Knot
When it comes to rustic weddings, the most prominent décor detail is usually nature. So supplementing Mother Nature with a few of your own organic touches such as wood, greenery and wildflowers will really bring your event to life. Rustic weddings are often (though not always) held outdoors, which can make for some confusing directions (think: trails to follow or separate ceremony and reception spaces), especially once the sun goes down and the drinks start flowing. That's where directional signage can be super helpful—but other than directionals, there are so many ways to personalize your celebration with rustic wood signs. Seriously, the options are endless: sweetheart chair décor, seating charts, aisle embellishments, chalkboard welcome signs and more. Check out the best rustic wedding signs below for inspiration.
1. Wood signs shaped like arrows point the way to the ceremony and reception sites when they're in different locations at the same venue.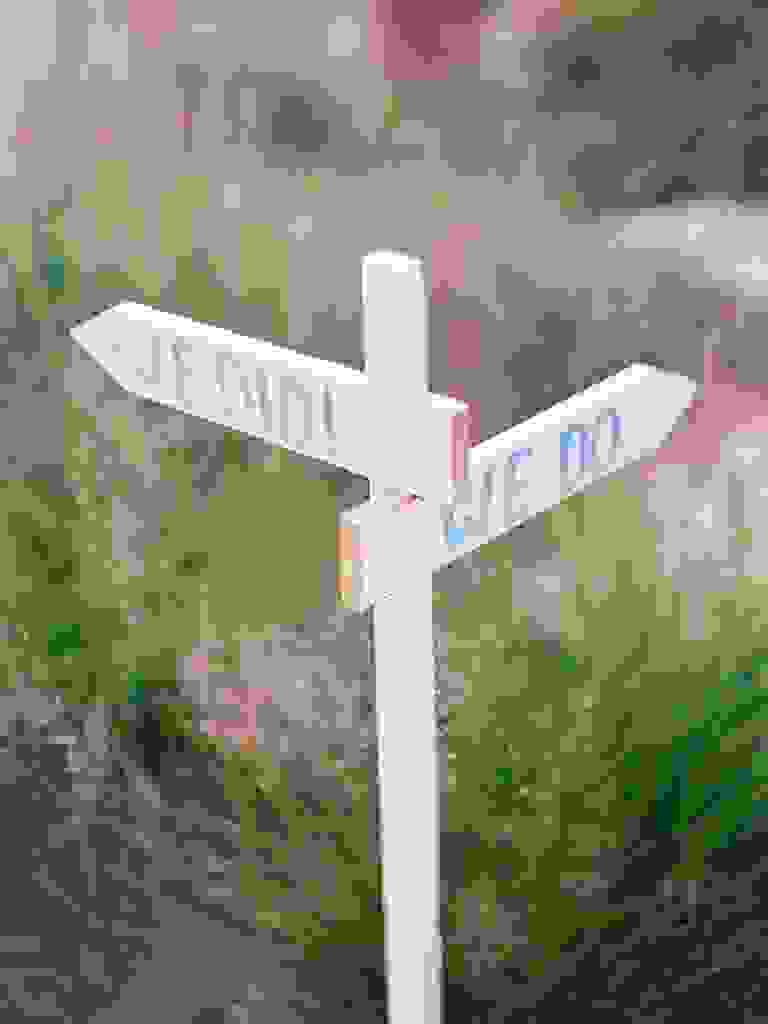 From: A Sweet, Bohemian-Inspired Wedding in White Lake, Michigan
2. How sweet is this rustic, stitched "Here Comes the Bride" flag? It's perfect for flower girls or ring bearers to hold.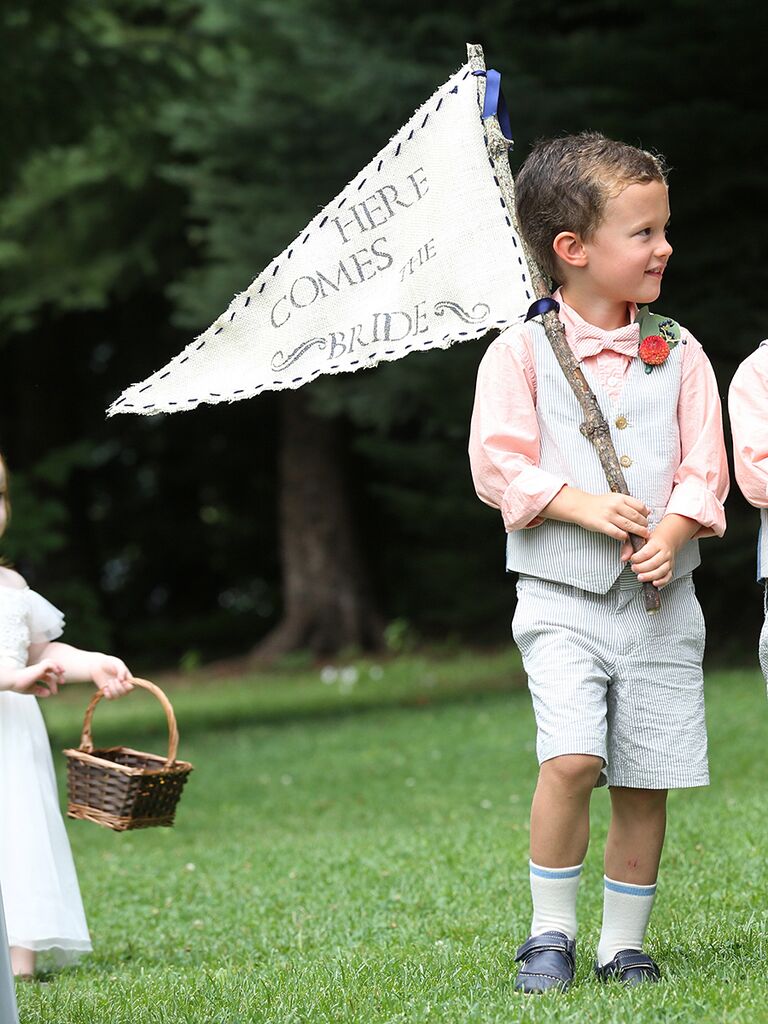 From: A Rustic Orange Wedding in Mt. Hood, Oregon
3. Turn a recycled windowpane into a rustic sign to welcome guests in style.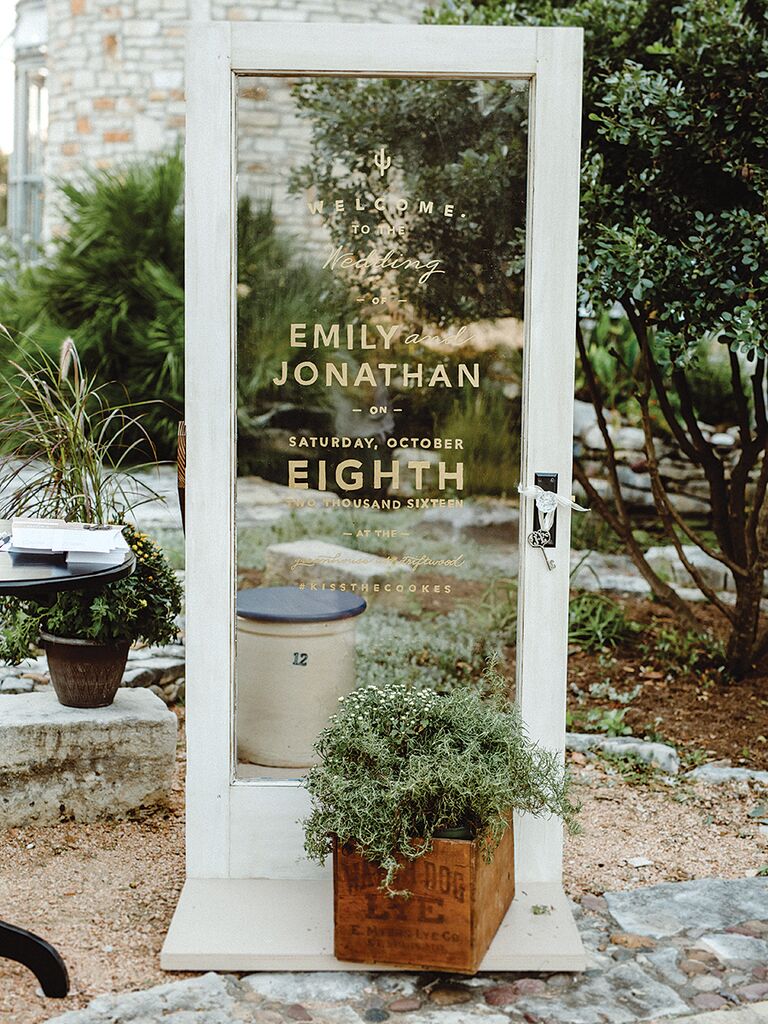 4. A glass and wood sign lets people know who's who in the wedding party and ups the rustic atmostphere.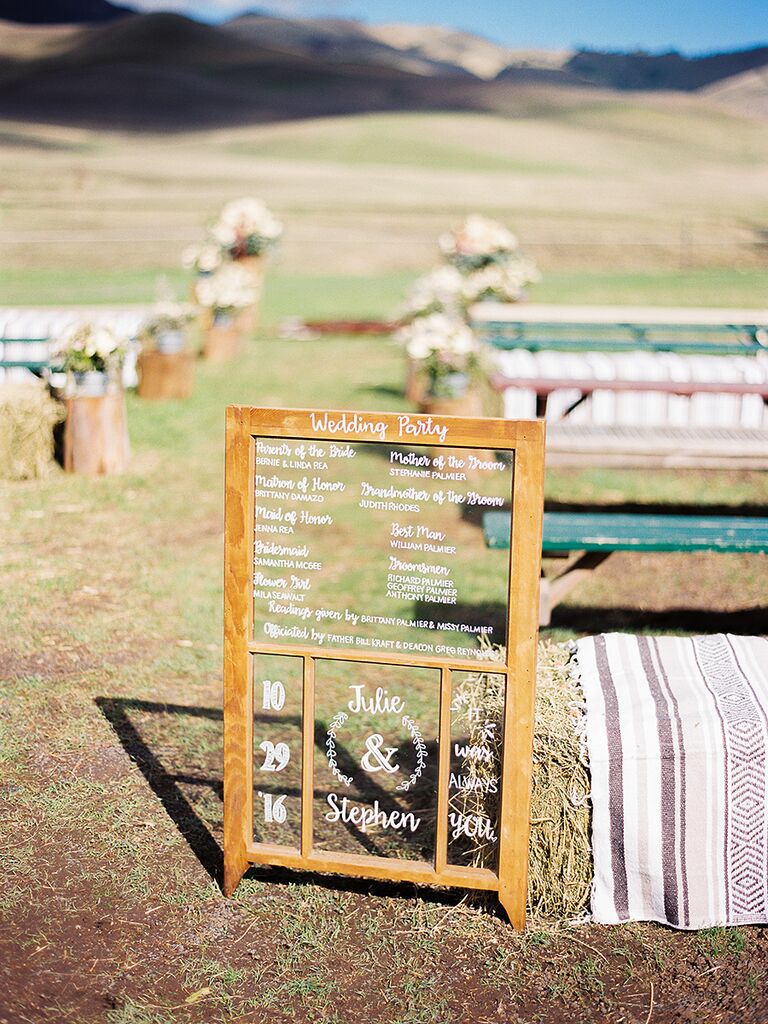 5. Get your guests (even more) excited for the festivities with a painted wood sign marking the "Almost There" point.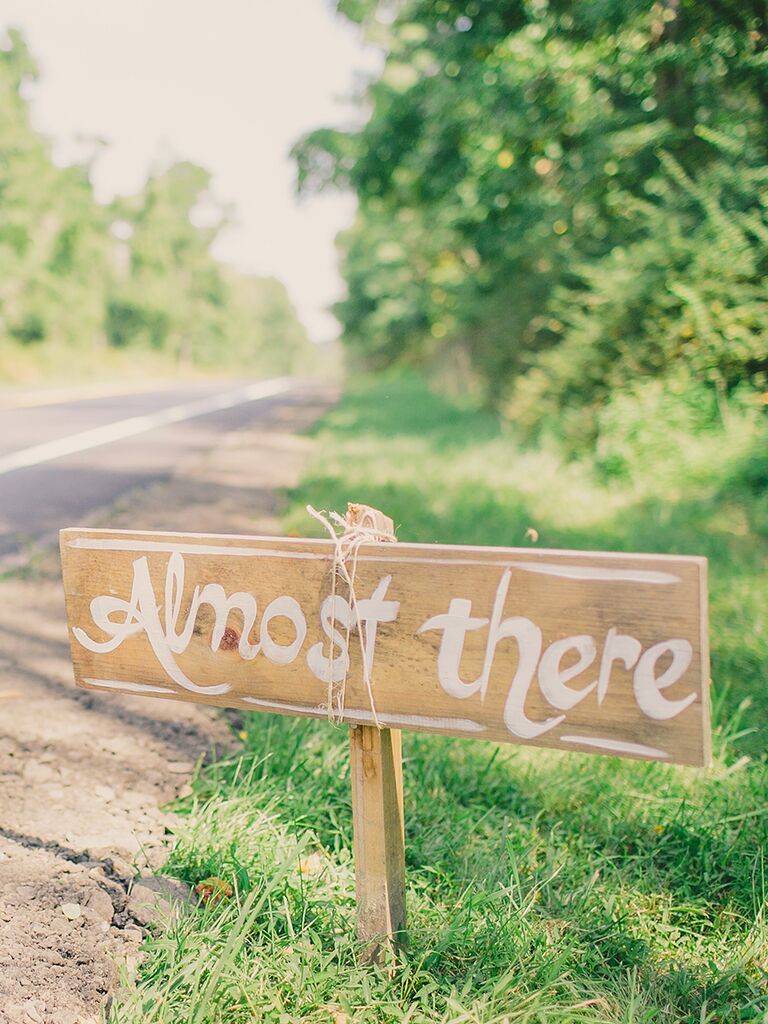 From: A Bohemian DIY Wedding on Campgrounds in Sloatsburg, New York
6. Worried guests won't know where to go? That's what cute, directional wood signs are for.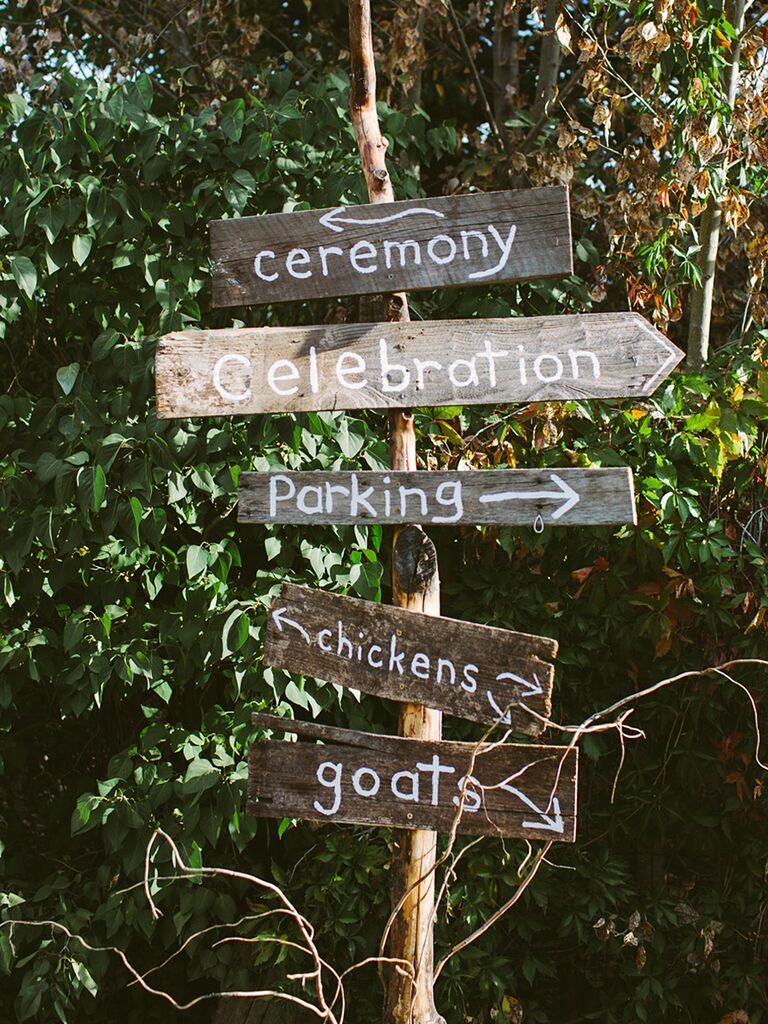 From: A Southwest-Inspired Rustic Wedding at Lone Hawk Farm in Longmont, Colorado
7. Stack your rustic arrows on a vertical tree limb to incorporate the natural surroundings.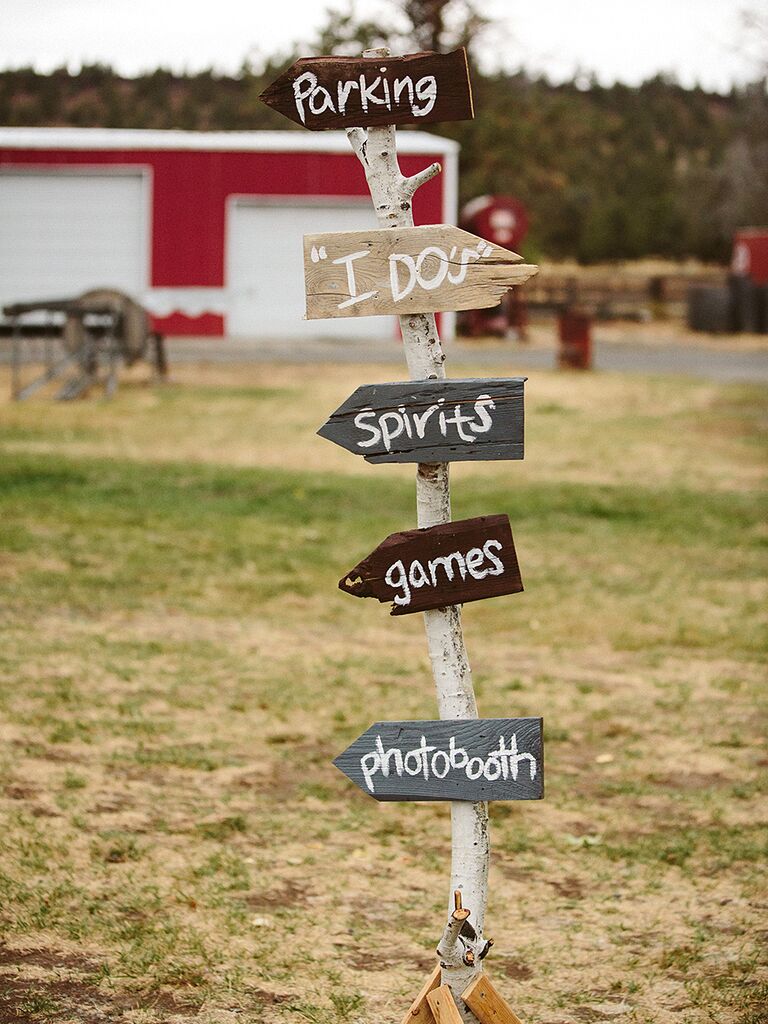 From: A Rustic, Fall Wedding at Long Hollow Ranch in Sisters, Oregon
8. There's something so gorgeous about white calligraphy on a simple, yet elegant, wood wedding sign.
9. Display your signature cocktail menu on a bolted wood sign with rustic print.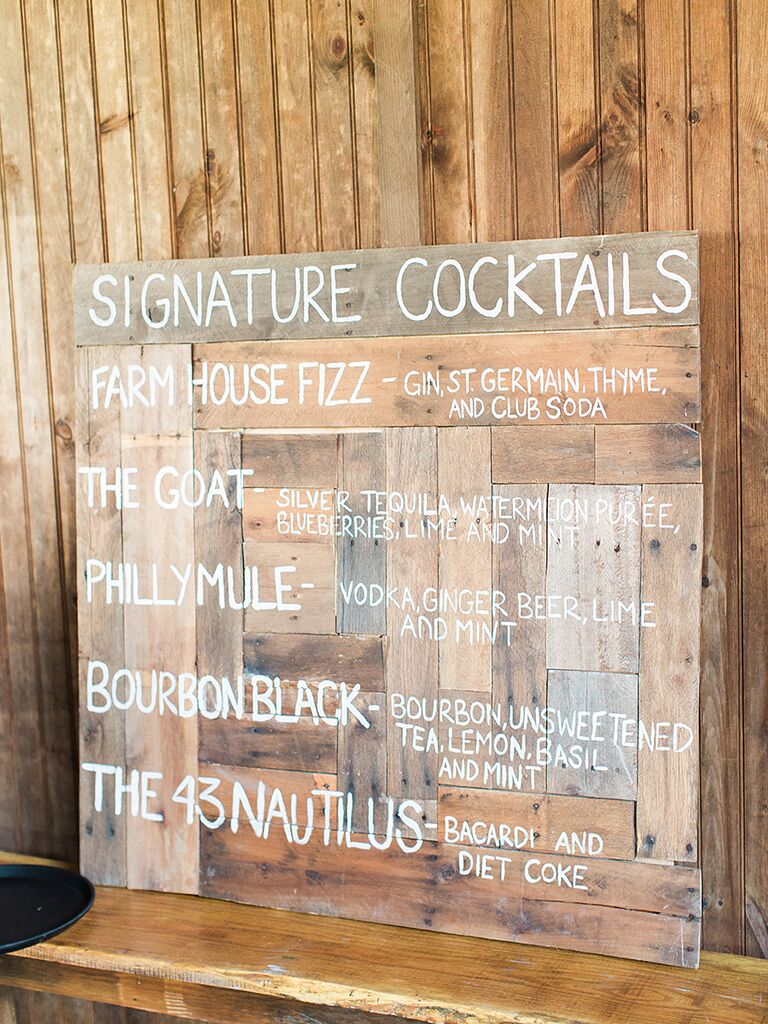 From: A Bohemian Barn Wedding at Rodale Institute in Kutztown, Pennsylvania
10. Can I get a witness? Be as playful and personal with your wedding signs as you'd like.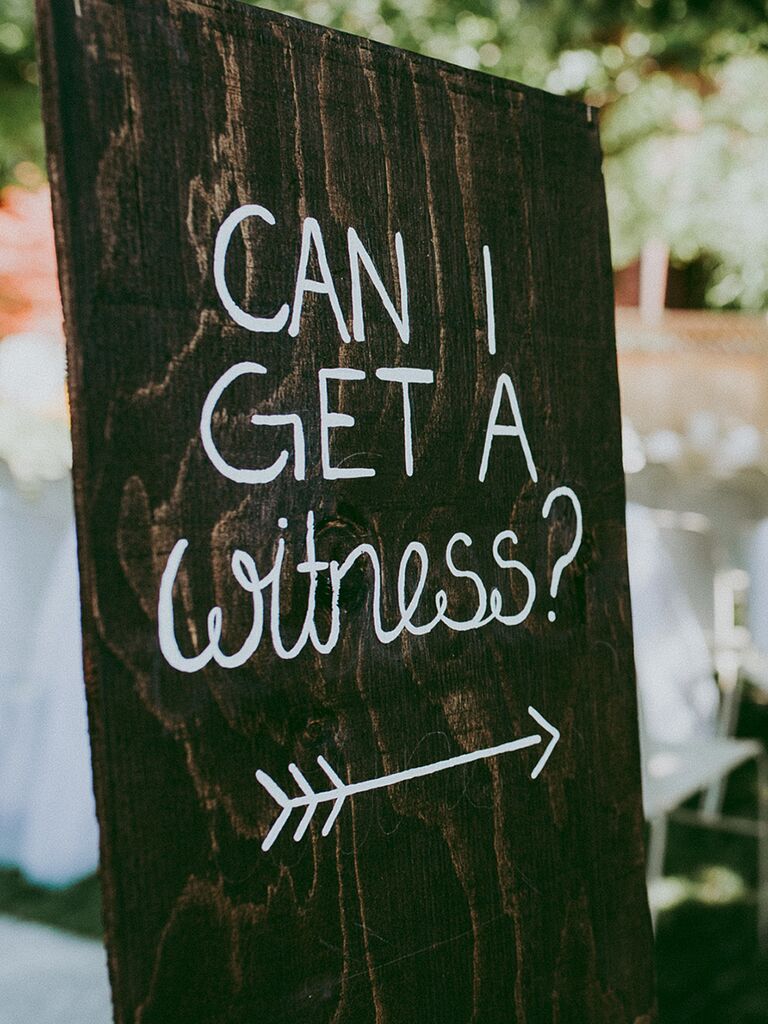 From: A DIY Bohemian Wedding at a Private Residence in Okanagan, British Columbia
11. Wood wedding signs aren't just for directions. Make your mark with a song lyric or love quote close to your heart.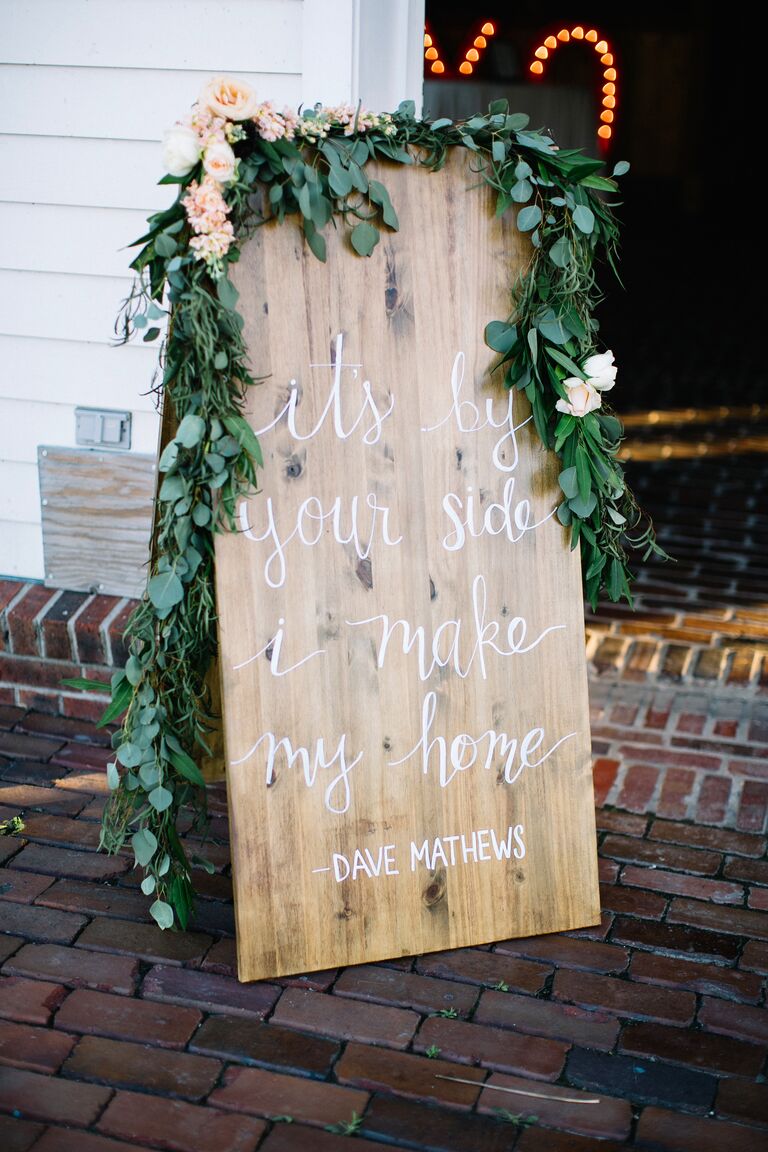 From: A Romantic Wedding at Mildale Farm in Edgerton, Kansas
12. Speaking of love quotes, let your favorite romantic quote inspire not only the words on your wedding sign, but its design and embellishments.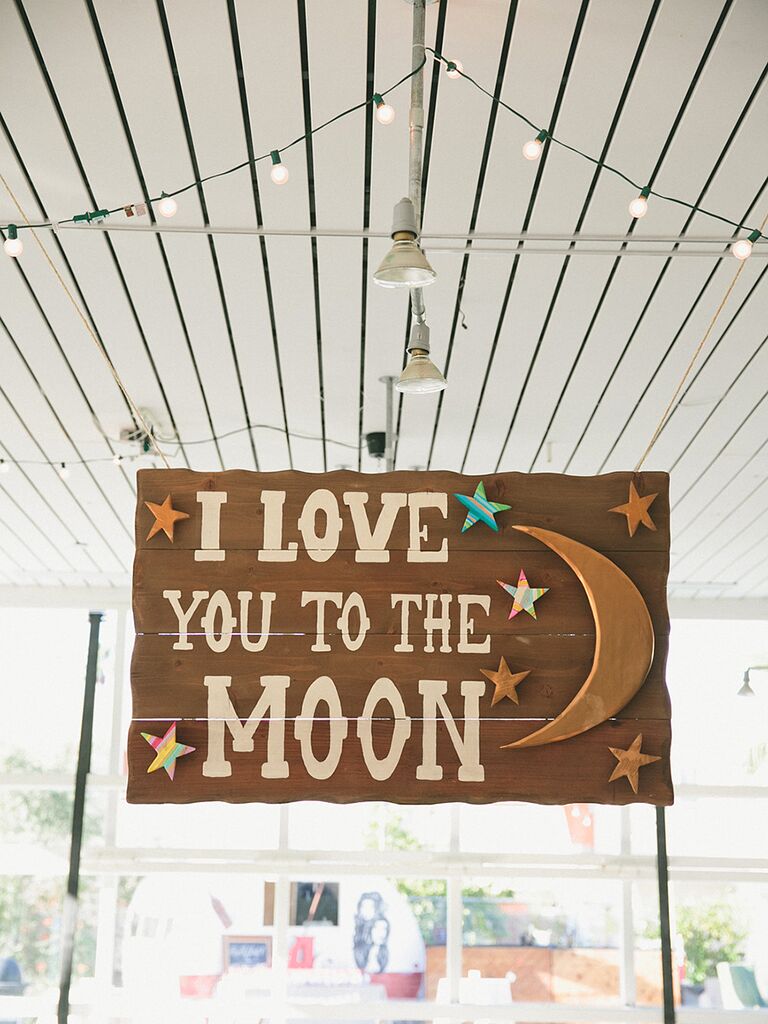 From: A Bright Vintage Glam Wedding at the Ace Hotel in Palm Springs, California
13. Label your tables (like this petal and herb tossing station) with charming and elegant wood signs.
From: A Tuscan-Inspired Wedding at The Brooklyn Arts Center at St. Andrews in Wilmington, North Carolina
14. An indoor ceremony calls for rustic wood signage too. Communicate where people should sit (or that you couldn't care less where they do!).
From: An Elegant Industrial Wedding With Rustic Flair at King Plow Arts Center in Atlanta, Georgia
15. Share your wedding hashtag on a natural, yet modern, wood wedding sign.
From: An Organic, Autumnal Wedding at The Barn at Springhouse in Lexington, Kentucky
16. A sweetheart table backdrop decked in lush greenery gets another organic element (and becomes a natural focal point) thanks to a raised wood sign.
From: A Rustic, Boho Wedding at Shishki Hotel in Zagorshchnya, Belarus
17. Hang your favorite couples photos, or pics of your parents and grandparents, inside a DIY wood frame.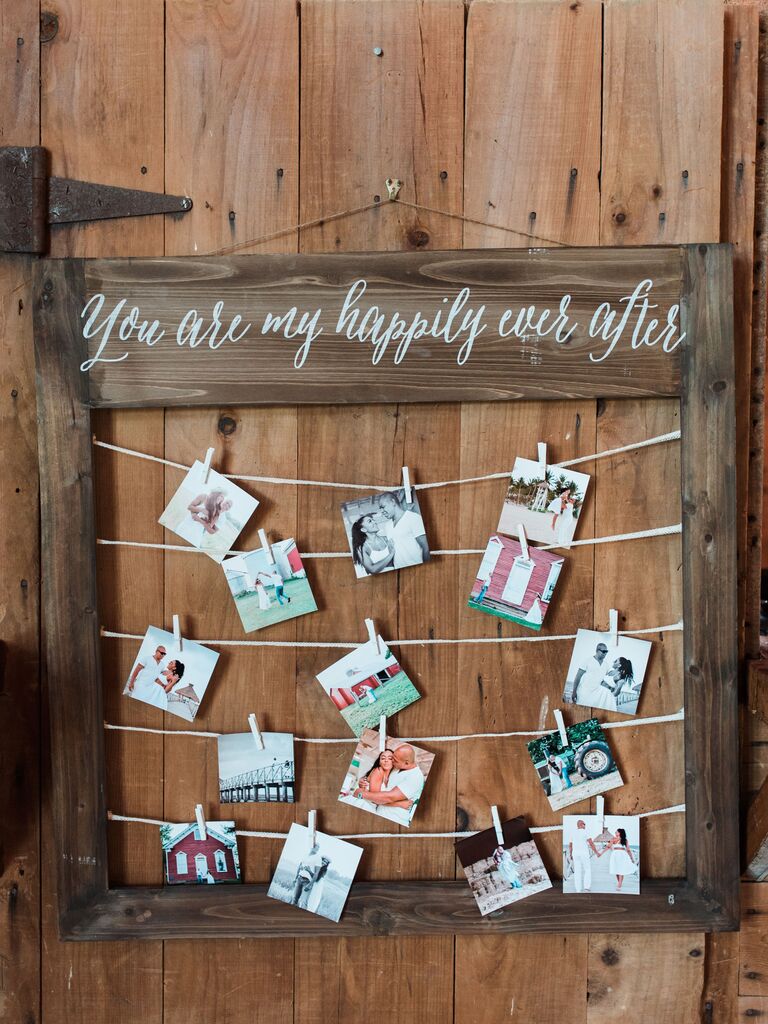 From: A Rustic, Chic Barn Wedding at Sterlingbrook Farm in Pittstown, New Jersey
18. Need ceremony aisle décor ideas? Wood wedding signs with love quotes or Bible verses make a gorgeous, rustic statement.
From: A Rustic-Chic Wedding at The Barn at Shady Lane in Bessemer, Alabama
19. Who else is obsessed with this cerulean tandem bike? It's perfectly rustic, especially with the addition of a wood welcome sign and a basket of flowers.
From: A Romantic, Contemporary Wedding at Aynhoe Park in Aynho, England
20. Turn a vintage wood door into the ideal rustic wedding sign. Bonus points if you add a meaningful quote.
From: An At-Home Wedding in Belhaven, North Carolina
21. Wood signage definitely doesn't need to be brown, beige or black—this sunny yellow dessert table sign is all the proof you need.
From: A Yellow Backyard Wedding at a Private Residence in Maple Valley, Washington
22. Think outside the box for your wedding menus: Instead of individually printed menus, write your wedding courses on a large, rustic sign.
From: A Fall Wedding at a Private Estate in Germantown, New York
23. There's no better place for a wood wedding sign than the back (or front) of a sweetheart table.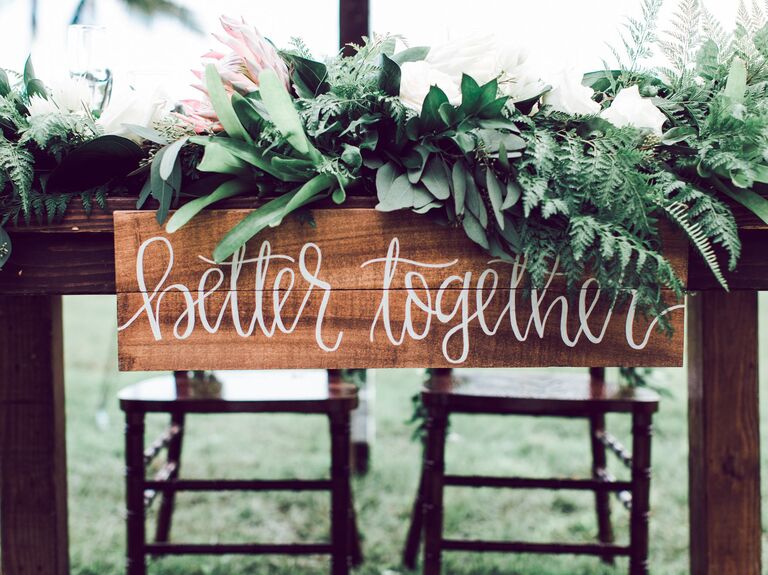 From: A Contemporary Island Wedding at Kualoa Ranch in Oahu, Hawaii
24. Chalkboard and wood wedding signs are the décor gift that keeps on giving. Use them to assign seats, name the wedding party, tout your hashtag or ask guests to mute their phones.
From: A Literary Vineyard Wedding at Saddlerock Ranch in Malibu, California
25. Drape vines, garlands or florals over a wood wedding sign to create an overgrown and natural, yet whimsical, moment at your wedding.