22 Vineyard Wedding Invitations That'll Whisk Guests Away to Wine Country
Whether you're hosting a soiree in Sonoma Valley or a fete in the Finger Lakes, there's an invitation suite to match.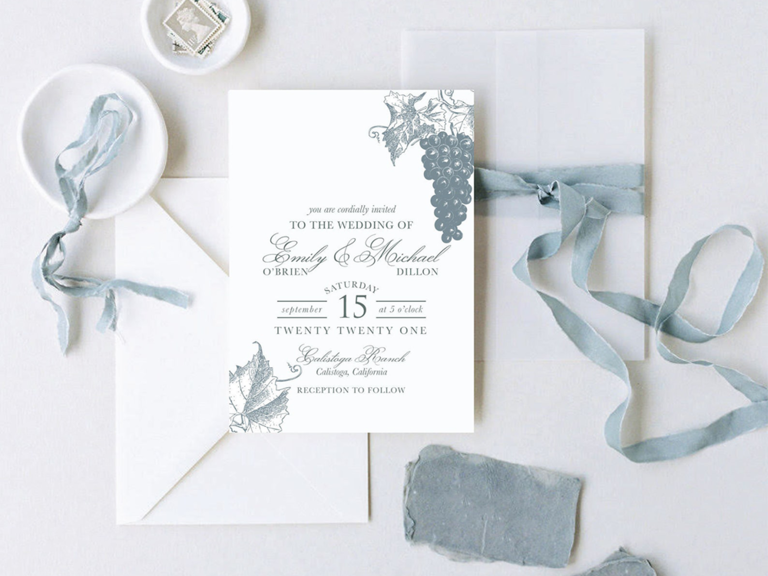 We have included third party products to help you navigate and enjoy life's biggest moments. Purchases made through links on this page may earn us a commission.
A wine-drenched wedding is so tempting, especially if you consider yourselves a couple of vino connoisseurs. From natural light-filled panoramas to abundant epicurean charm, vineyards blend breathtaking views and robust sights, tastes and sounds (the ASMR from that wine pour, though) into one epic I Do destination.
Bringing that dreamscape to life for your guests ahead of your big day is easy, thanks to vineyard wedding invitations that feature rustic venue sketches or renderings of fruit, leaves and grapevines. Invitation suites incorporating a burgundy, red, blush or champagne palette and touches of greenery can also hint at a chic and modern wine country wedding to come. So, whether you want your guests to visualize the actual place you'll say your vows or would prefer they just get the flavor for your nuptials to come, you can't go wrong with any of these winery-themed varietals.
To help you get your big day planning underway, we've rounded up a bunch of on-point templates from The Knot Invitations and several of our favorite wedding stationery retailers online. From formal to casual, whatever wine-aligned design you decide to go with will be the perfect complement to your wedding day.
The Knot Dusted Calligraphy Wedding Invitations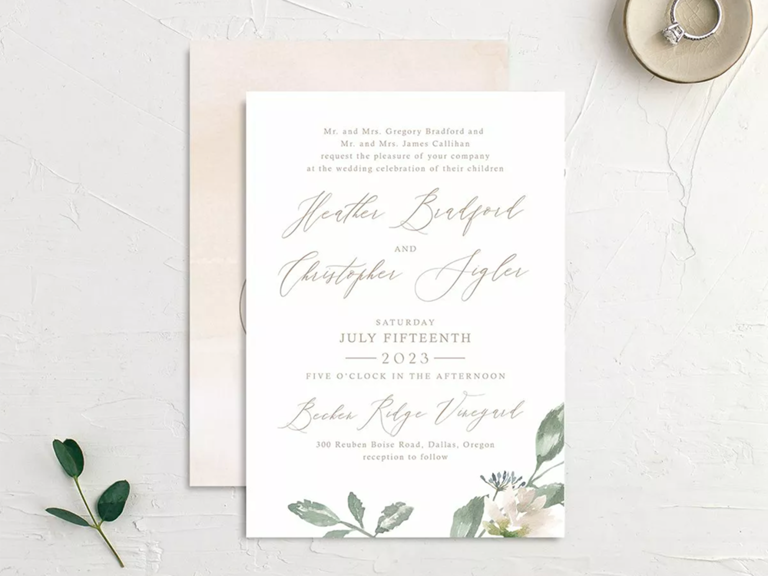 The charm of a vineyard venue doesn't have to stop with the grape foliage—florals can be a focal point too. This stunning wedding invitation introduces your day with elegant calligraphy, delicate green leaves, watercolor details and a large modern monogram. The RSVP card, awash in the color theme of your choosing, provides a beautiful contrast to the rest of the suite.
The Knot Rustic Vines Wedding Invitations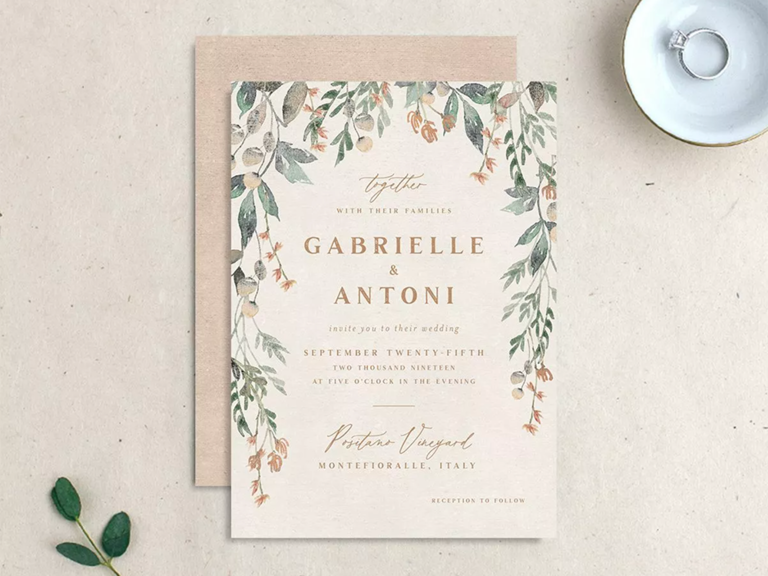 We're getting serious destination wedding vibes with this earthy edition. The pops of soft orange and peach against the light beige background bring an Under the Tuscan Sun quality to the front—and that solid, textured back will totally remind your guests of a cork. Pro tip: If you won't be jetting off for your nuptials, you can also use this copper and rust-kissed greenery as a muse for your photo backdrop (think a DIY photo booth using copper piping, flowing drapery and some hanging ivy or grapevines).
Berry Designs Vineyard Wedding Invitation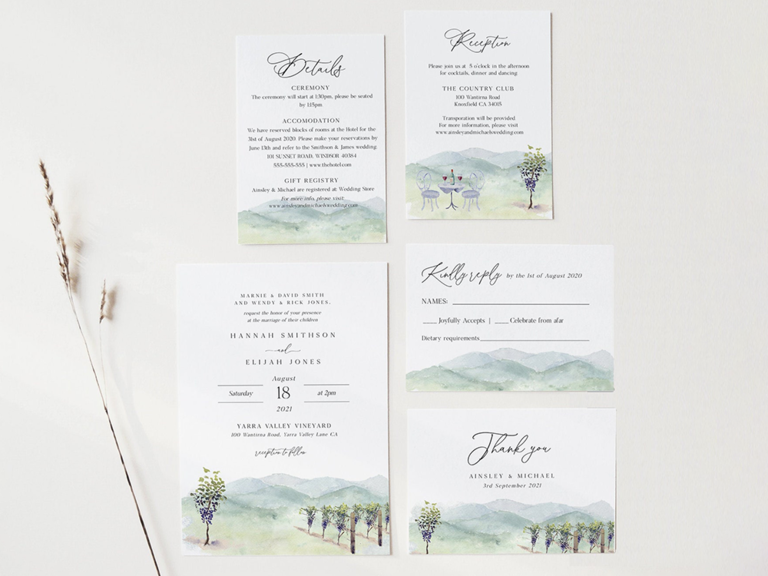 Let the grapes do the talking here! Featuring a watercolor vineyard and mountain scene and minimalist typography, this design works well for a locale ripe with modern refinement. Plus, that reception enclosure card complete with a bistro vignette for two is just too cute.
Susan Moyal Amore Savvy Wedding Invitations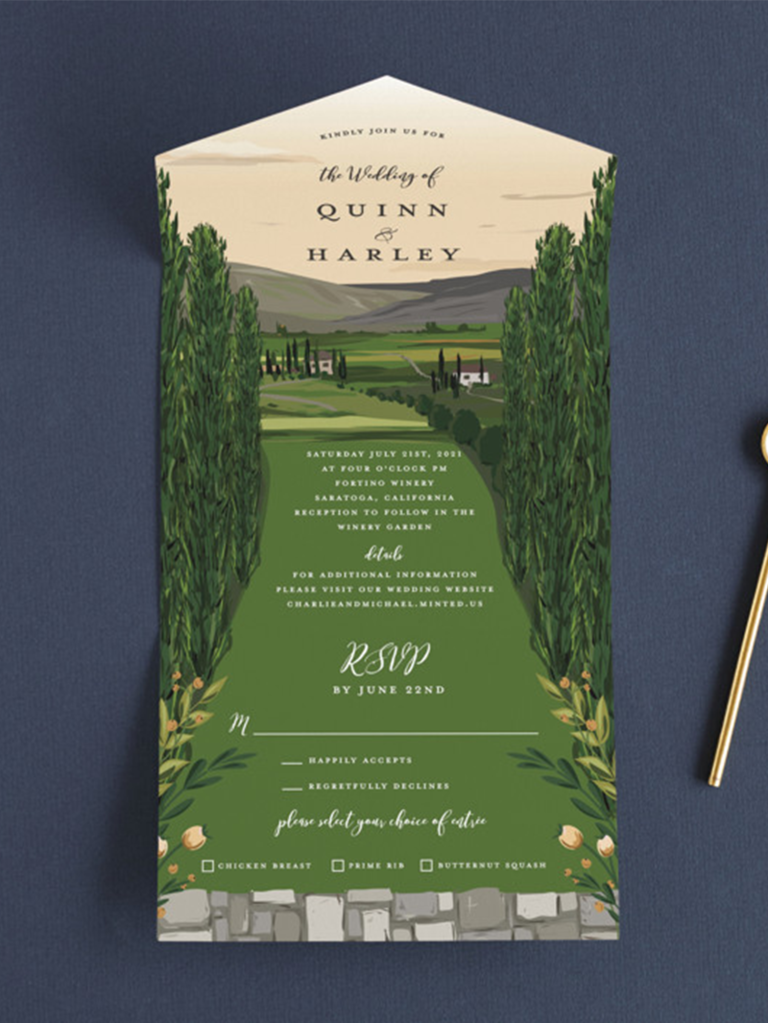 Your guests might not be the ones walking down the aisle, but they'll sure feel that way when they open this unique invitation and get a glimpse of a vibrant horizon lined with cypress trees. This all-in-one design just needs to be folded and sealed with three clear stickers (which are included) on the center and side flaps. Since it includes a perforated RSVP postcard that's already addressed, your guests just need to add their names and check their dinner choice before dropping it in the mail.
Encre Studio Vineyard Wedding Invitation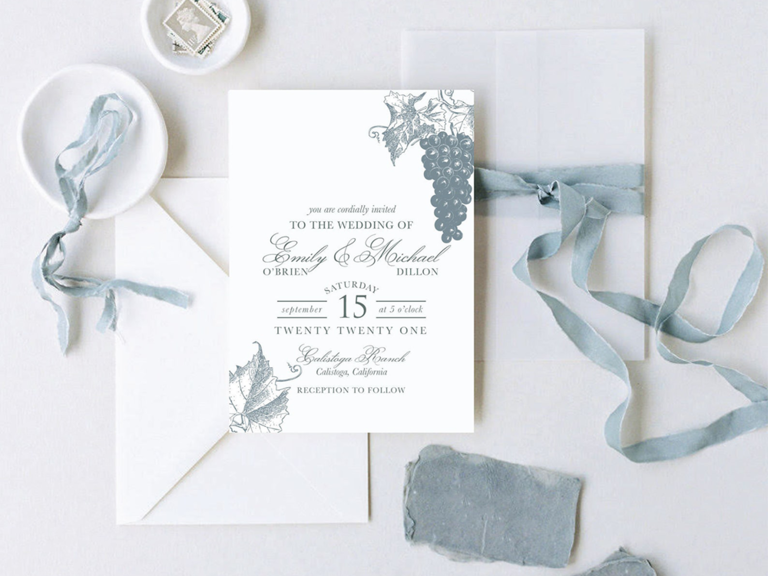 The monochromatic motif happening on this simple invitation suite is such a sophisticated choice—and all of the ink options (from fog and jade to blush or stone) stand on their own. With the full-bodied set, you get the invitation, response and thank-you card, with coordinating envelopes. Just be sure to make a mention of your wedding website for additional information, as enclosure cards are not included.
Willowberry Paperi Winery Wedding Invitation Template Set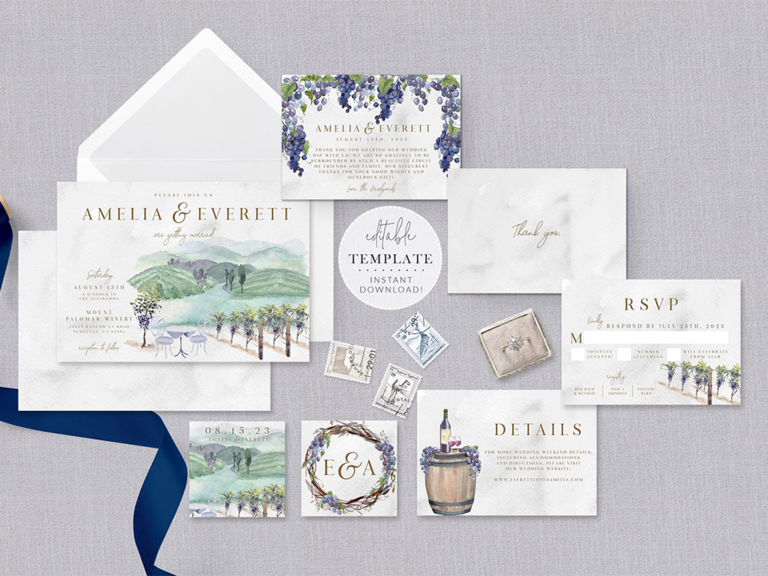 If you're planning a winery wedding, you can go all-in on the theme and no one would blame you. We adore this suite of editable templates that you can personalize with all of your wedding specifics. Each card—from the main invitation to the details card—is uniquely illustrated with grapes, vines, wreaths and wine barrels, allowing you to tell the whole story of your impending wedding. So, purchase, edit and print, because your mood is already set!
Customize My Wedding Minimalist Winery Vineyard Wedding Invitation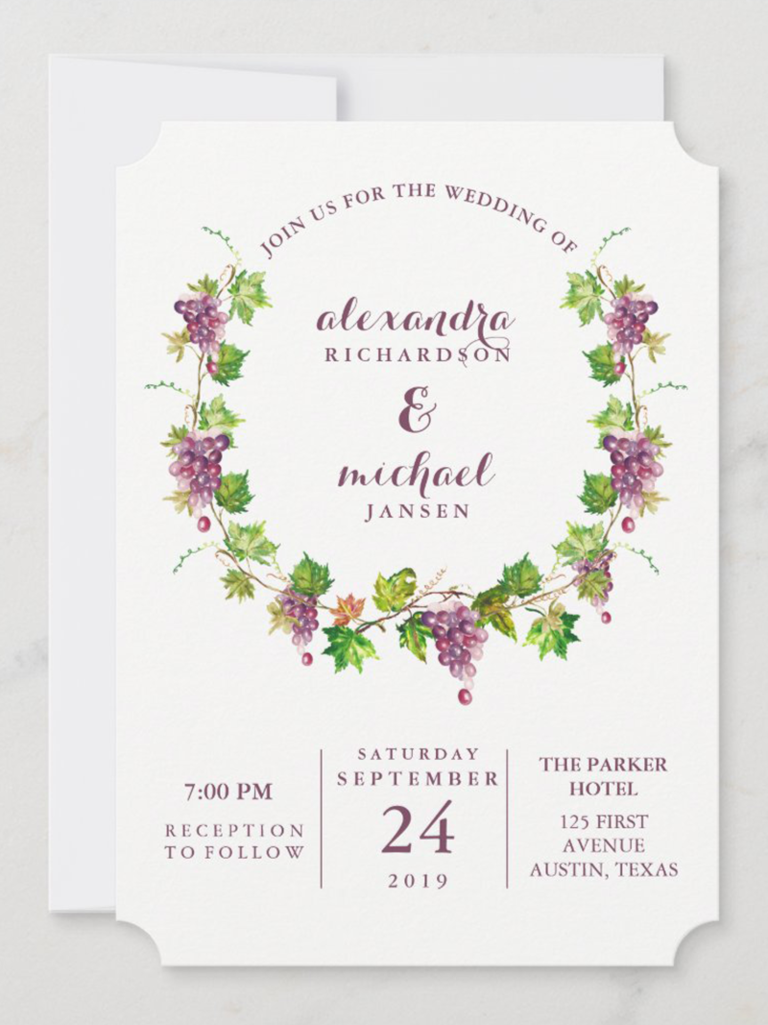 These stylish invitations feature a modern watercolor wreath decorated with purple grapes, green leaves and vines on a streamlined white background. The natural look and feel of the standard matte paper stands the test of time, and since the colors print softer and more subtly, the overall impression is elegant and understated.
The Knot Painted Winery Wedding Invitations
Nope, it's not just in your head, vineyards and olive groves go hand in hand like wine and olive oil do. So, if you'll be serving both up at your wedding, why not hint about your fare in your invitation? Every element of this wedding suite is hand-painted, which adds a unique artistic touch. Seal it with a coordinating winery landscape liner and you'll paint a gorgeous picture of the party to come.
Kate Ahn Leafy Wreath Wedding Invitations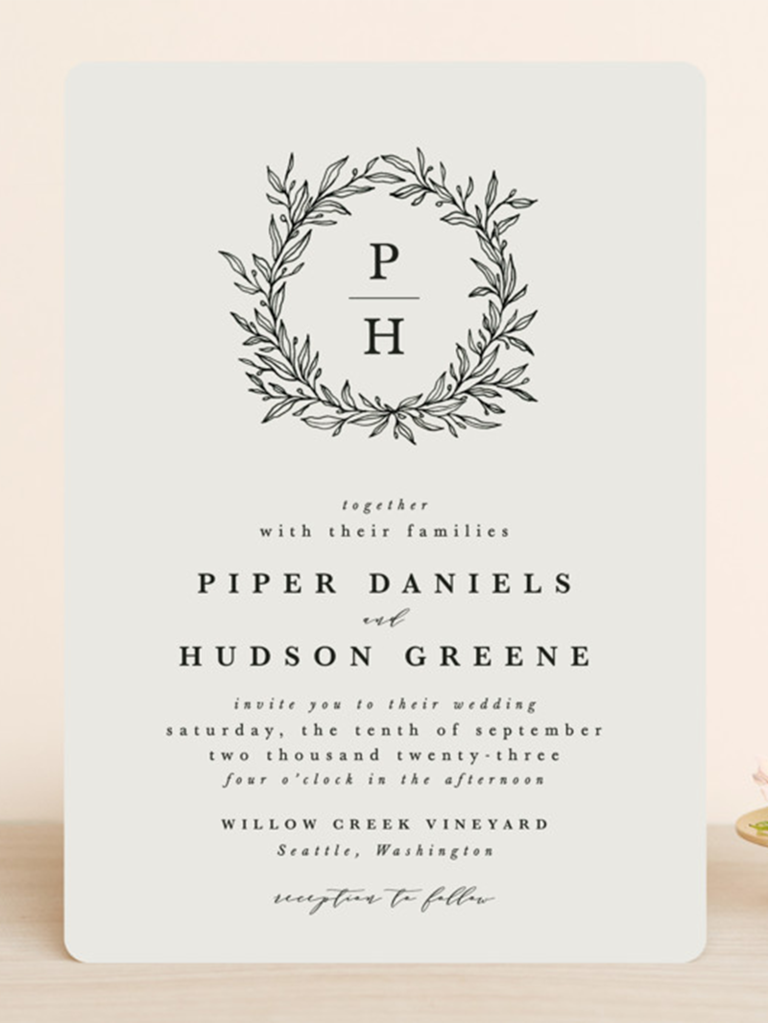 If you're after a rustic yet understated wedding, look for an invitation with an edgy grapevine wreath. We're fans of the cotton color theme of this suite, but the naval, plum and copper tones works especially well for autumn or winter weddings. If you have a little extra to spend, definitely add the printed return addresses for an elegant and timeless touch guests are sure to appreciate.
Olga Chuykova Wine Country Wedding Invitations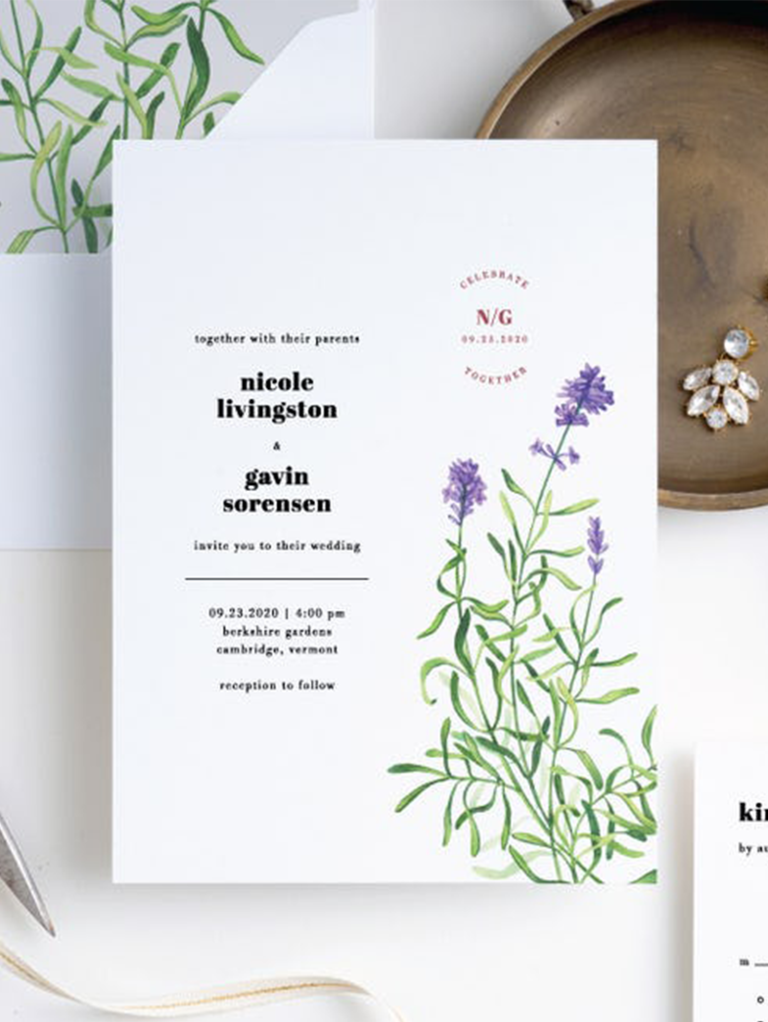 This whimsical wedding invitation features floral artwork alongside your names, your wedding date and all of the other celebration confidentials. You can customize your fonts and your colors, but if you'd like creative help beyond that, take advantage of free designer assistance and speak with wedding consultants who shine with those finishing touches. What's even more special? Paper Culture uses recycled materials (100% recycled paper or bamboo) to produce their wedding stationery and plants a tree for every order placed. If sustainability is really important to you and your spouse-to-be, then what better match for your vineyard vows?
The Knot Classic Landscape Wedding Invitations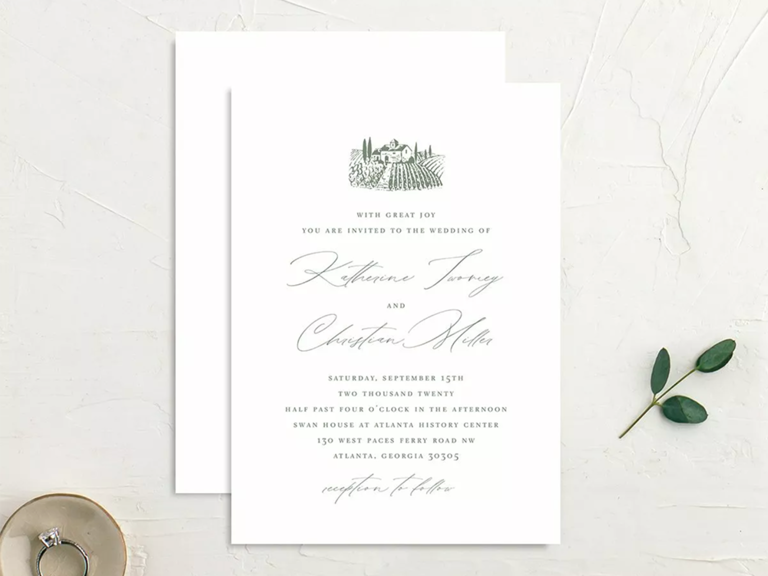 Looking for a memorable way to fill your guests in on your wedding locale? Do it with a charming venue sketch and modern calligraphy—in this instance, that would mean a green color theme paired with a gorgeous vineyard landscape. The rehearsal dinner invitations that go along with this particular invitation suite are sublime as well—keep them in mind if you'll be hosting a wine cave dinner the night before.
Kelly Schmidt Italia Wedding Invitations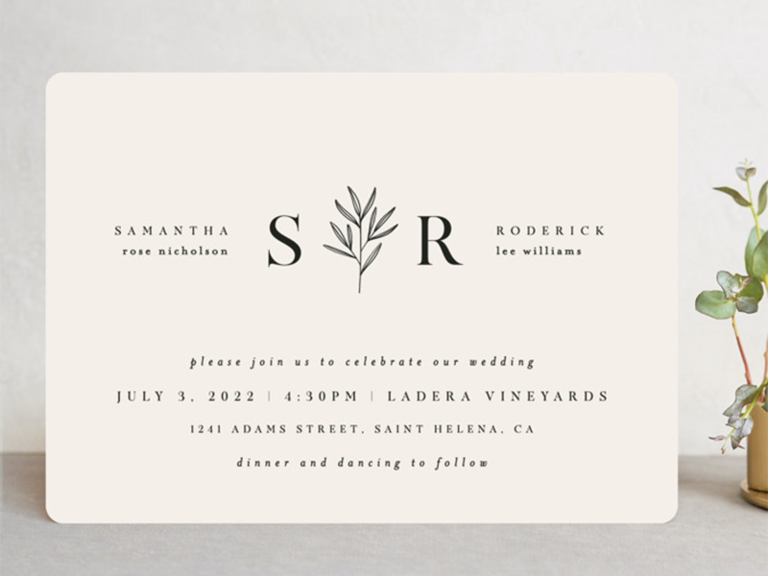 Vineyard wedding invitations don't have to be steeped in dark moody hues—they can also be a lot more subtle and understated, all while still honoring the vineyard's roots. This refined design features a botanical illustration that doesn't compete with your names or wedding logistics. We're obsessed with the horizontal orientation and the fact that all of the colorways are neutral and organic. It's a great match for a special day that won't be saturated with color.
Mouse and Marker Vineyard Winery Rustic Sketch Wedding Invitation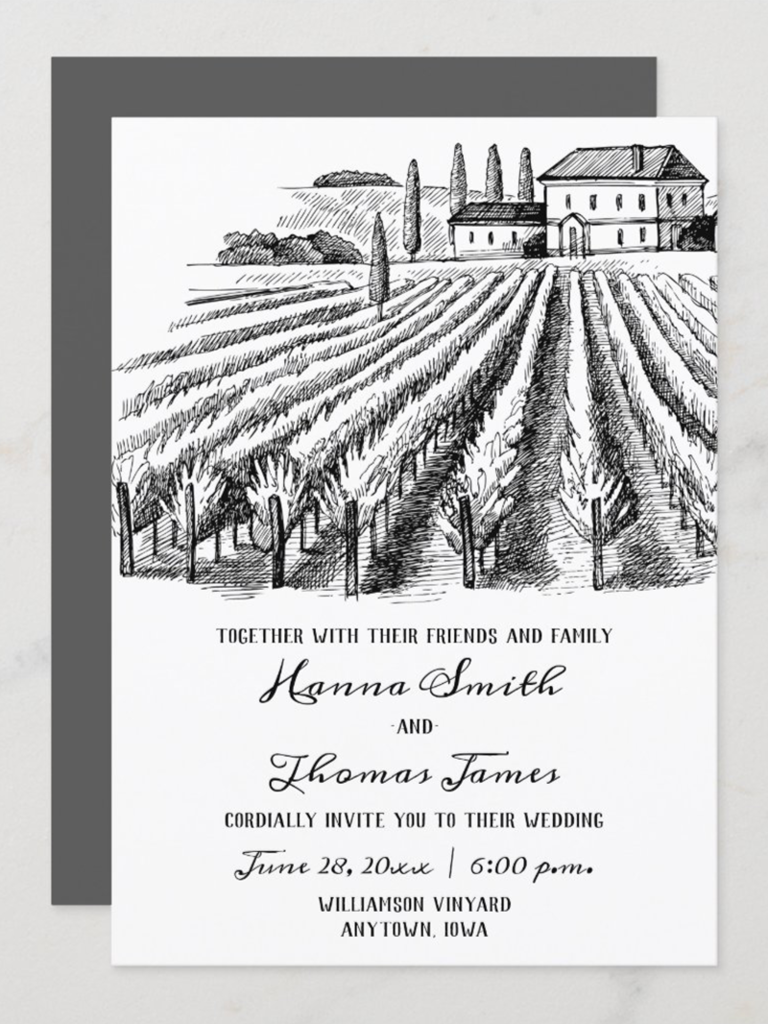 A simple black and white (or grayscale) invitation is a great way to wow guests, even if you plan to lean into color and vibrance come wedding day. Choose from twelve unique paper types, two printing options and six shape options to tailor design a card that's perfect for your best day ever.
Itsy Belle Studio Iliya Wedding Invitations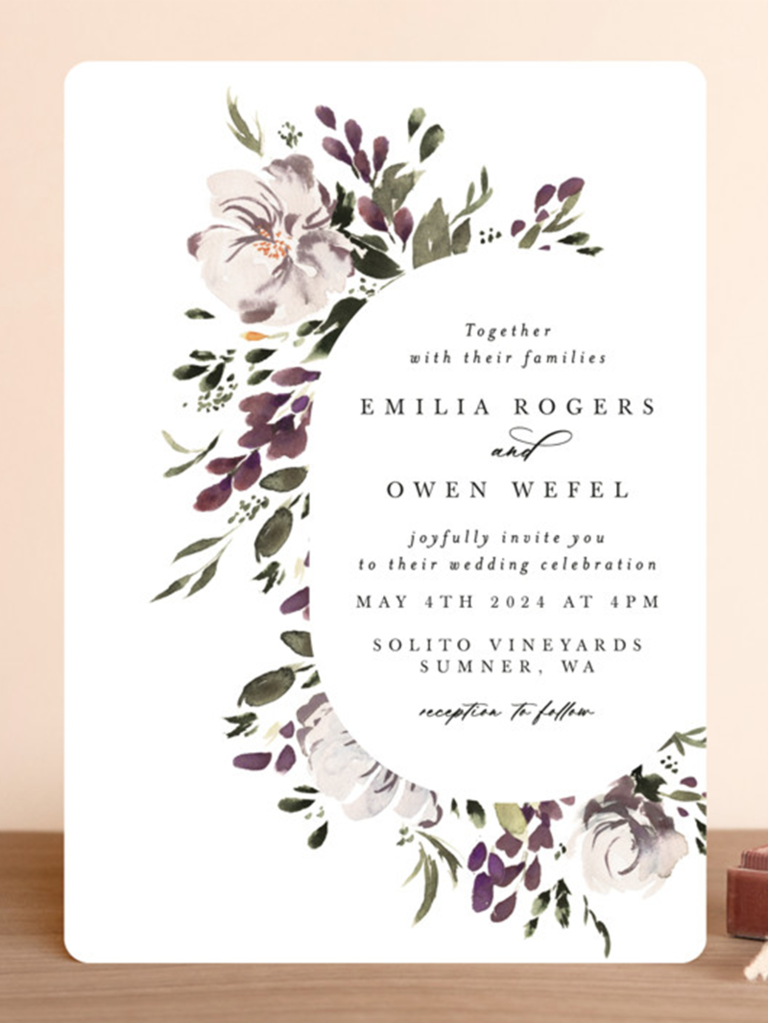 With bordeaux as its headlining hue, it just makes perfect sense why this invitation would befit a winery wedding. Hand-painted watercolor flowers frame your wedding details flawlessly, while touches of script bring some intrigue to the overall composition.
Felix Doolittle Napa Wedding Invitation
Want to get your guests excited about wedding festivities in the heart of Napa Valley? Grapevines and lush greens get the word out in one fell swoop. This design is printed on superfine white paper, which has a smooth finish and is soft to the touch, but if you're leaning towards an online invitation, you can find a corresponding digital missive at Paperless Post.
Ana Sharpe Clarity Gloss-Press Wedding Invitation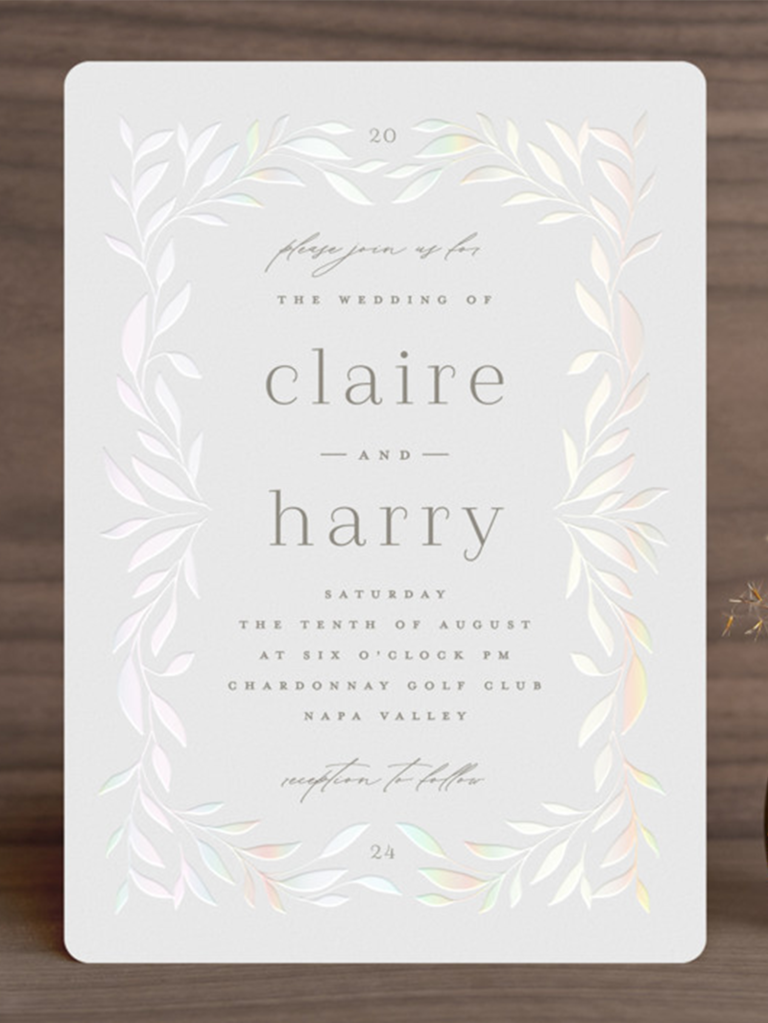 This bright and classic wedding invitation features delicate vines and elegant typography coupled with a holographic treatment that's very now. Minted's luxurious new printing technique lets guests see the beauty and subtlety of gloss, debossed on high-quality paper. This invite is pretty fitting, too, if you plan on having your guests blow bubbles as you're exiting your ceremony. #PrismaticPerfection.
Unmeasured Event Vino Before Vows Bridal Shower Invitation Template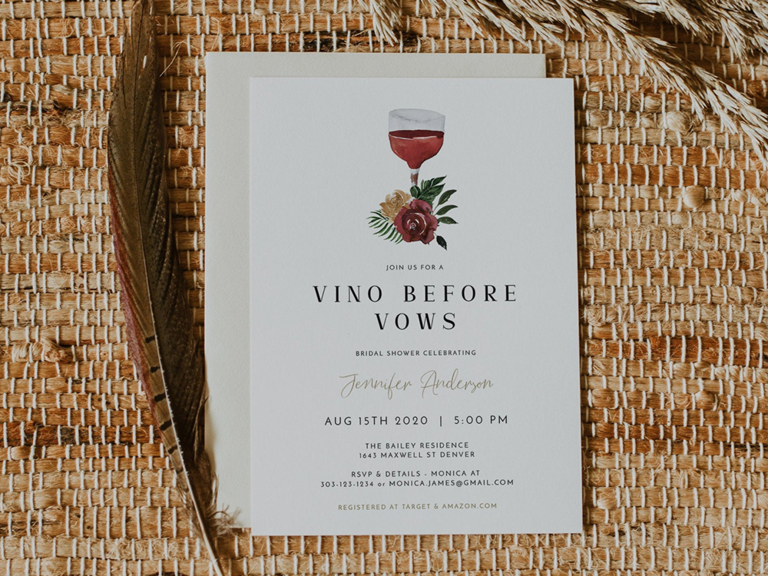 Though this DIY printable is billed as a bridal shower invite, we like it even better for a bachelorette party or reception, because "vino before vows." With fully-customizable watercolor wine and florals (and an optional backside itinerary), your guests will love it. It can also be downloaded and sent via text or email, which bodes well for Millennials and Gen-Z'ers.
Robin Ott Barn Door Wedding Invitations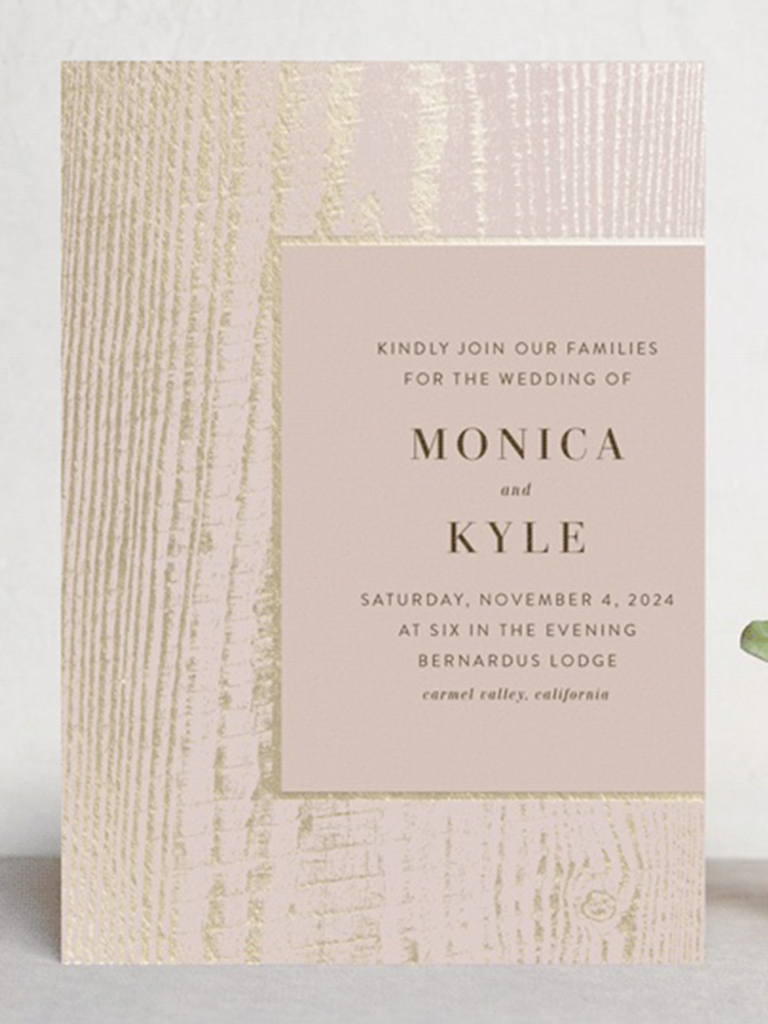 A hybrid vineyard/barn wedding isn't out of the realm of possibility—in fact, some of the most picturesque vineyards have barns on-site to host elevated receptions, and this luxe wood grain invitation design is just what the sommeliers ordered. The textured background is upgraded with the addition of metallic foil, but your wedding details (flush to the right) still draw all the attention.