How Brides of Color Can Navigate Picking The Right Glam Squad
Because you have enough on your plate already!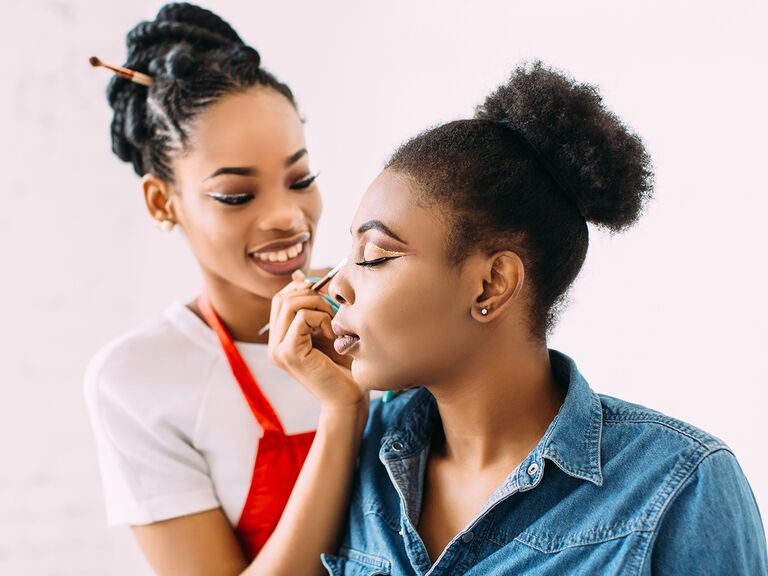 SofikoS/Shutterstock
You may have seen the tagline that #loveisnotcancelled floating around Instagram — and I couldn't agree more. Weddings as we know it have changed, but that isn't deterring brides (including myself) from tying the knot in new, inventive ways. Whether you opt for a minimony or a micro-wedding, looking your best is still a top priority, which leads us to hair and makeup.
As a bride of color, one of the challenges I faced when planning a destination wedding [Editor's Note: we have since opted for a local ceremony due to COVID-19] was finding and sourcing a glam squad in New Mexico. Unfortunately, due to budget restrictions flying in a team from New York that I worked with in the past wasn't feasible — but I also had hesitations about who was currently available and would get it right!
Depending on where you plan on saying "I do" finding experts that are skilled with styling textured hair or confidently making melanin skin pop can be somewhat anxiety-inducing. Even as a beauty editor, I can't tell you how many times I've experienced poor-shade matching skills and lackluster styling results because they didn't "understand" how to properly care for my 4C texture. Obviously, all events are important, but when you are investing so much time and money into your wedding celebration, it's super important to have a true expert on your side.
"You want someone who understands how hard you have worked to plan your big day and how much emotion goes into every decision along the way," explains makeup artist and owner of Betty Rose by Alanna, Alanna Garcia, located in Albuquerque, NM. "Client-vendor energy is everything because emotions will run high. You want to make sure your booked artist is able to handle the pressure and navigate any last minute unknowns with careful ease. You want a vendor who will ask YOU questions to make sure you're on the same page."
Because weddings can be stressful enough, I wanted to pull together a few pointers to other brides (or even grooms) of color that I learned during my experience. See below for a shortlist to help you find your winning wedding beauty team without worry, plus advice from bridal experts.
Ask About Their Overall Experience
Obviously research can help, but carving out time to speak to your artist before you book them will prove worthwhile. "I feel it is important for brides to ask a vendor about their years of experience in the wedding industry, or how many weddings they have completed during their career," explains Garcia.
"Ask the artist if they specialize in weddings. Typically, the more years of experience, the more likely the MUA has experience with all skin tones." Unfortunately, Garcia has "heard numerous 'horror stories' from clients who've had some disappointing experiences with artists not listening to their requested style, cancelling on them last minute, and who arrived late or completely no-showed their trial appointments."
Find your kind of venue
From barns to ballrooms, discover reception venues that feel like you.
Pro beauty expert, Stacie Ford, who splits her time between New York and Los Angeles, shares that "All of our pro team members are professional artists well experienced in working with people of color. This includes having a makeup kit that is well diverse with products and shades that fits POCs."
Truly Analyze Their Portfolio
The internet is an amazing story, but doesn't always tell the full story. If you don't see a diverse clientele on your potential expert's website or social media channels, ask for more. Bridal glam expert, Keka Heron, based in Atlanta, GA, offers a mix. "Generally, I provide my brides my portfolio as well as share my professional website for their review," she shares. "Also, I send them to my Instagram where I have more behind the scenes pictures of my bridal clients. They can also view my testimonials from my past clients."
Ford shares that she "provides at least 4 visual references for each bride that I work with. As a professional makeup artist, it's important to have visual references on hand to show your clients makeup looks that they can relate and identify with," she explains.
Never Ever Skip the Hair & Makeup Trial
Prior to getting married, I made two trips to my wedding venue and maximized my time by coordinating an engagement shoot, plus an official makeup trial. While financially making multiple trips to your destination (or wedding venue in general) may not be possible due to COVID-19, I cannot emphasize how important this step is.
"The hair and makeup trial is extremely important. It allows you to meet face-to-face the artist that will be creating your glam for your special day," echoes Heron. "My trial consists of a questionnaire to be filled out by brides first so I can learn about their hair and makeup needs or desires. Brides usually provide me with some inspiration photos," she explains.
"During the trial, I recreate the look that the bride would like to have for her wedding day. We usually try on a few different lip colors, test eyeliner versus no eye liner, what style of lashes etc. [For hair] we try all the way up or down, middle versus side part, waves or curls. That way, all of these things are seen visually prior to their wedding day. Finally, I use my professional camera and phone to take a picture with a ring light to make sure everything looks good on camera."
Post-trial, stay in touch with your artist and make sure to share feedback. " Many give feedback via email or text," explains Heron. "I tell my brides to really 'live' in the makeup and hair for a day to test the staying power or to see if we need to tweak the look on the actual day."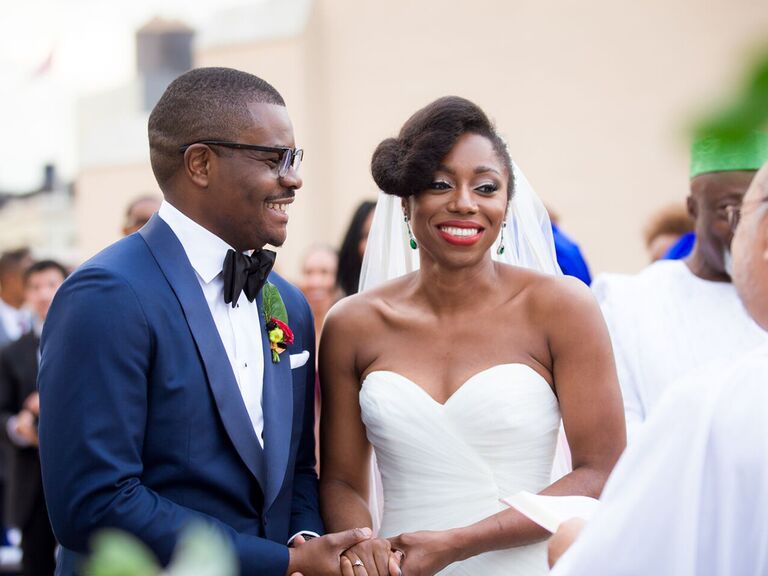 Ask About Their Product Mix
Another great question to ask is what brands your booked artist plans on using during both your trial and on the day of your wedding. "There is no 'one product-fits-all' and it is important that the kit is diverse in products to fit all skin tones and skin types," explains Garcia. "Make sure the artist is using quality products too."
Ford estimates that she carries about 40 shades of foundation/concealer in her kit "This gives me a enough range to know that I can accommodate any skin tone with precision," she explains. "I rarely have clients bring in their own products. As a professional artist, it's my job to have products on hand to accommodate everyone who sits in my chair!
But, numbers don't always equate to success. "That is not to say every MUA needs 40 foundations, they just need to know how to create shades by mixing and manipulating their products," Garcia drops in. "Part of the magic of makeup is the ability to mix and create unique shades tailored to the client. One should also see a few color corrector shades along with foundation that ranges from fair to deep in tone."
In terms of hair, Heron say brides should be on the lookout for a mix of "hair wax, oil, serum, and edge control, curl creme, a boar brush, a rat tail comb, hair thread and needles, hair glue, shine spray, synthetic braiding hair (used for filling/stuffing if needed for an updo)" when working a versatile stylist.
Unfortunately, many women of color have grown accustomed to bring their own products, but like Ford, Garcia isn't a believer in this practice. "The only time I've ever okayed a client bringing their own foundation was when a bridesmaid expressed her concerns about being allergic to vitamin E and being incredibly limited in the products she can use. At that point, makeup was a safety issue and health risk for her that I was not willing to challenge. Outside of that, we are a full service and provide all products," she shares.
Ask for Suggestions from Other Local Brides
Prior to choosing my venue, I had never been to New Mexico before — so I had absolutely zero intel about the bridal beauty market. Thankfully, through Instagram Geotags and resources like The Knot Marketplace, I was able to seek out artists that looked like they could get the job done. However, I also took it a step further...I DMed *actual* brides that looked like me to see if they were able to share referrals or tell me more about their experience for better (or worse).
"Hands down, I strongly suggest brides with textured hair not use a new stylist for their wedding day who doesn't have experience working with textured hair," shares Heron. "During your trial, a telltale sign stylist is not familiar with textured hair is when they are trying to comb/brush out your hair and they are having difficulty. This means, they are not formally trained or versed to work on any women of color OR showcasing women of color in their bridal or professional portfolio.
Another red flag? "When stylists attempt to put water on your hair when it's dry vs. specific haircare products that aid in creating desired styles. If they ask a million basic questions, all signs you may not be the most experienced stylist trained to style your hair texture for your wedding day," she continues.
The Bottom Line?
Your wedding day is your special day, you are paying for services. "This is not the time to give someone the benefit of the doubt—especially if they are not comfortable with your skin and hair type," explains Heron. "I think that cosmetology and aesthetician schools need to have a bigger more intense education on women of color. This will allow stylists/artists to feel more comfortable and knowledgeable working with different skin tones, texture types, and more."