15 Stages Every Groom Goes Through (in GIFs)
Meet the many expressions of the groom-to-be.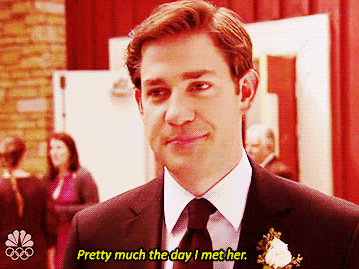 Giphy
Think grooms are totally checked out of the wedding planning process? Think again. Even if they try to act mellow or even appear disinterested, trust us—they've got a lot of emotions about the whole thing too. Get ready to experience 15 stages every groom-to-be goes through.
1. Right before he proposes:
2. When you say "yes":
3. When you ask him whether he'd prefer letterpress or engraved invitations:
4. When you show him your wedding planning checklist:
5. When you ask him what his ideal wedding location is:
6. At your first official cake tasting:
7. When you go over how much the wedding will probably cost:
8.  Before his bachelor party:
9.  After his bachelor party:
10. When he tries on his wedding suit for the first time:
12. When he has to entertain your aunts and uncles while you talk to your wedding party at the rehearsal dinner:
12. The morning of the wedding:
13. Seeing you on your wedding day for the first time:
14. On your wedding night:
15. Right before you head off on your honeymoon: