23 Heart-Shaped Gifts to Give Them All the Heart Eyes
Not to be biased, but these heart gifts clearly have everything else beat.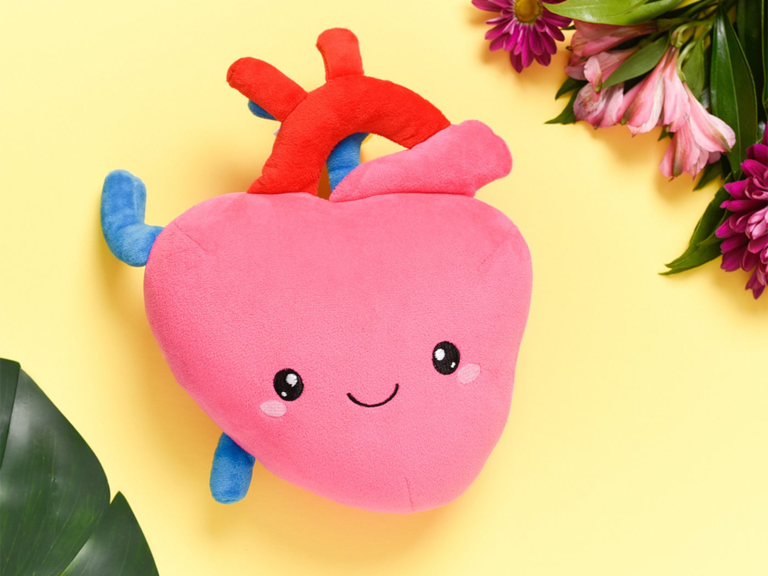 We have included third party products to help you navigate and enjoy life's biggest moments. Purchases made through links on this page may earn us a commission.
Although hearts have long been associated with romance, attraction and passion, they can say "I love you" in friendly, familial and platonic ways, too—and not only on Valentine's Day. Heart-shaped gifts are a lovely reminder to your best friends, siblings, parents, grandparents and partners that you appreciate and adore them, and they'll always hold a special place in your heart. So, if there's an occasion to send that red heart emoji their way—be it a birthday, Mother's Day or Father's Day, Christmas or just because—go a little bigger with something that brings the universal symbol of love to life.
That doesn't have to mean heart-shaped jewelry, either. Sure, heart pendants and locket necklaces have come a long way in the last few decades, but there are plenty of modern fashion, lifestyle, home decor and accessories brands that "understood the assignment" and take the notion of trendy heart-shaped gift ideas, well, to heart.
Below, we've rounded up 23 of our favorite heart-themed gifts to shop right now—even a few from our own The Knot Shop. From mug-topping sugar cubes and sweet cookie cutters to festive felt garlands and gua sha skin-sculpting tools, these presents are guaranteed to make your loved ones' hearts burst (in the best way possible).
Dash Mini Heart Waffle Maker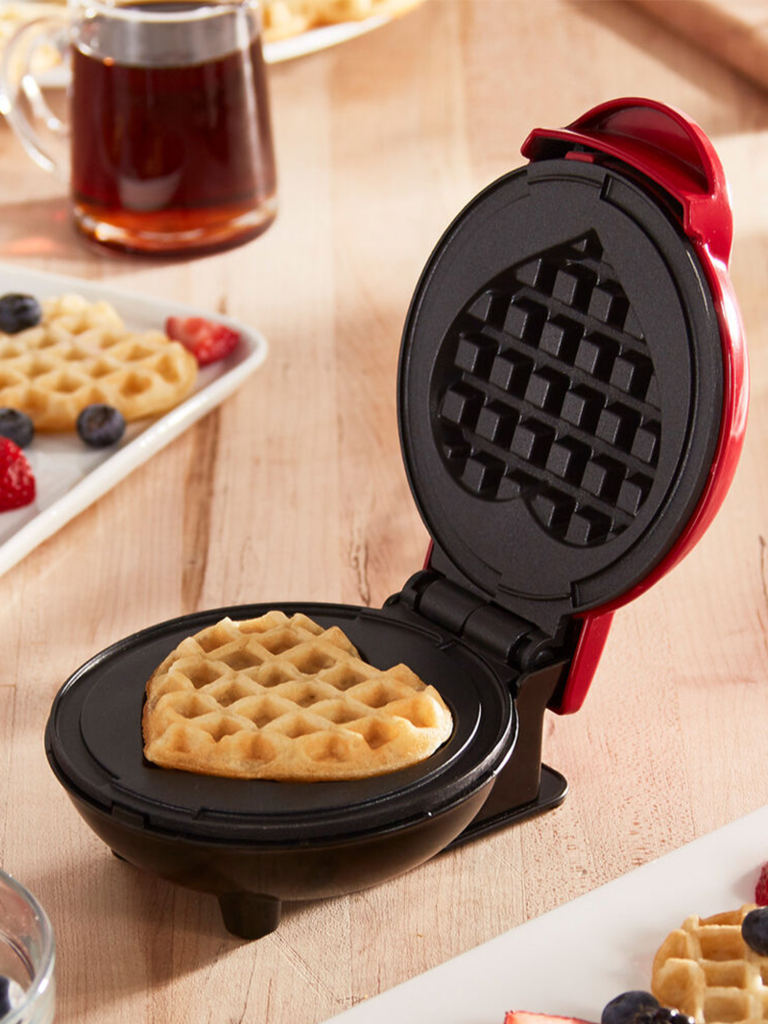 In the wise words of Leslie Knope, "Everyone should love waffles. If they don't, they're crazy." We're definitely Team Knope on this one—especially if said waffles are shaped like hearts and topped with whipped cream and lots of berries. This adorable mini waffle iron (which also turns out delicious paninis and hash browns) makes the perfect gift for a wedding anniversary, Valentine's Day or any other holiday when brunching in bed is a must.
Godinger Set of 2 Double Wall Heart Mugs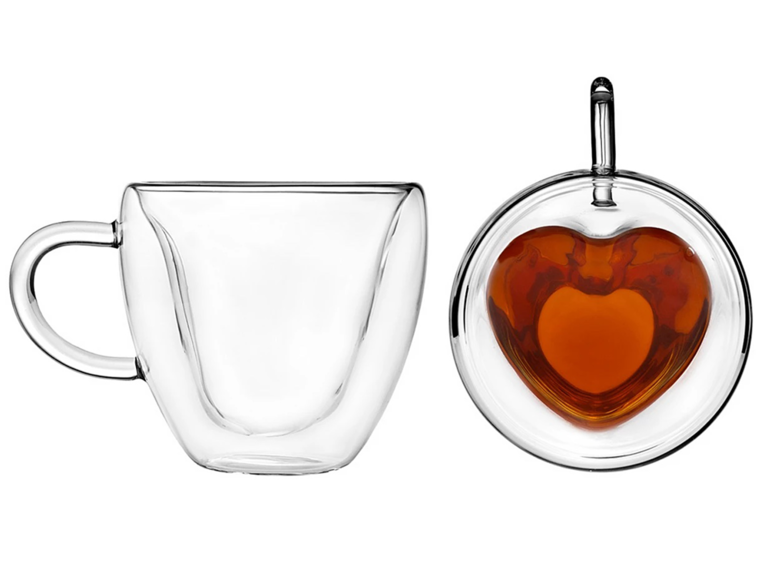 Anyone who appreciates a shot of caffeine morning, noon and night will love these double-walled glass heart mugs to keep their hands cool as they sip their coffee. Extra points if they can perfect that heart-shaped latte art in one pour.
Canasuc Paris Heart Sugar Cubes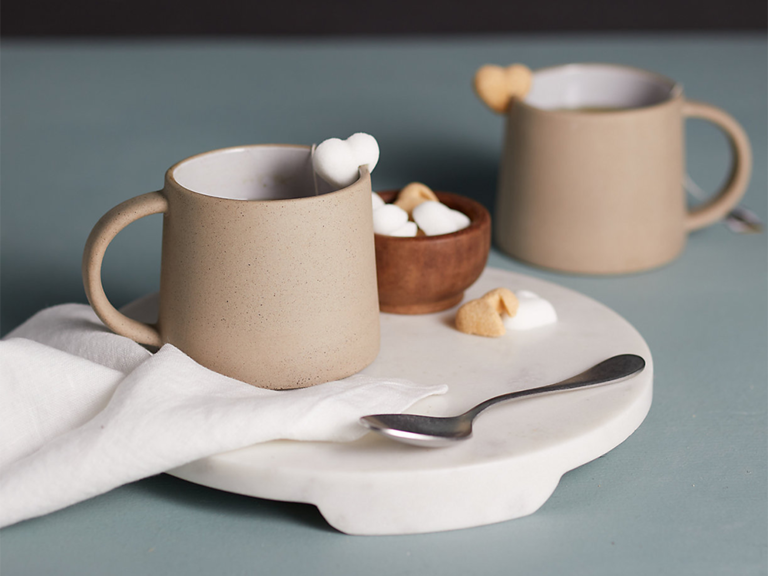 Speaking of a gourmet coffee bar—these Parisian sugar cubes, each molded into the shape of a heart (and sold as a set of 12), make the sweetest addition to a tea time or morning coffee cart. The notches allow the white and brown sugar cubes to sit comfortably on the rims of their favorite mugs before dropping them in and sweetening up their sips.

Rifle Paper Co. Floral Heart Key Chain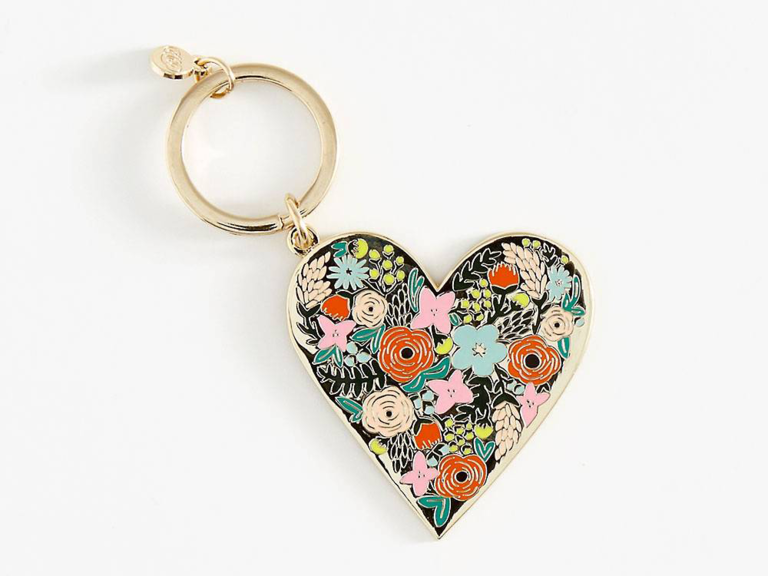 Growing up, key chains were a fun collectible, but they didn't really mean much until moving out became a milestone. With its bright and beautiful floral design, this gold heart-shaped key chain is a great choice to gift a younger sibling or mentee who just bought or signed a lease on their first place. It says "congrats" on this next big step—live well and lock up!
Pottery Barn Teen Neon Heart Wall Light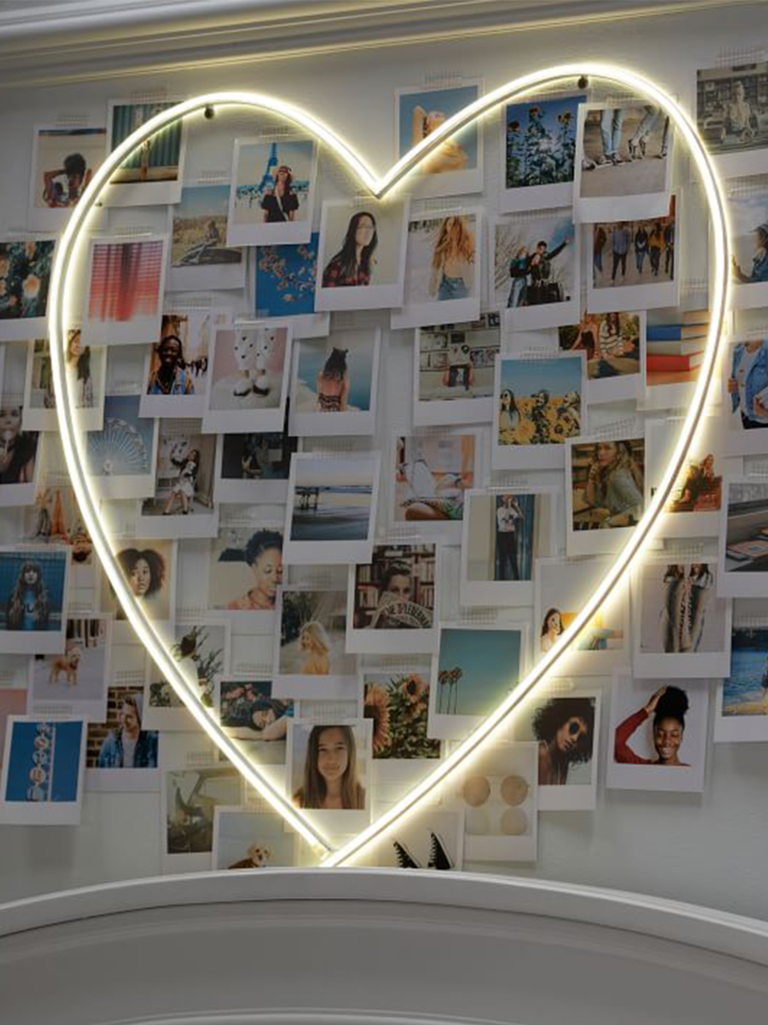 How about something like this neon heart wall light as a housewarming gift for your favorite new homeowners? Featuring playful curves, it's handcrafted design makes for one glowing display to light up their home. If they get engaged later on, they can also use it as a prop for their engagement party or wedding day. Nothing says love better than a neon sign fit for their nuptials.
The Knot Shop Crystal Rhinestone Double Heart Cake Topper in Gold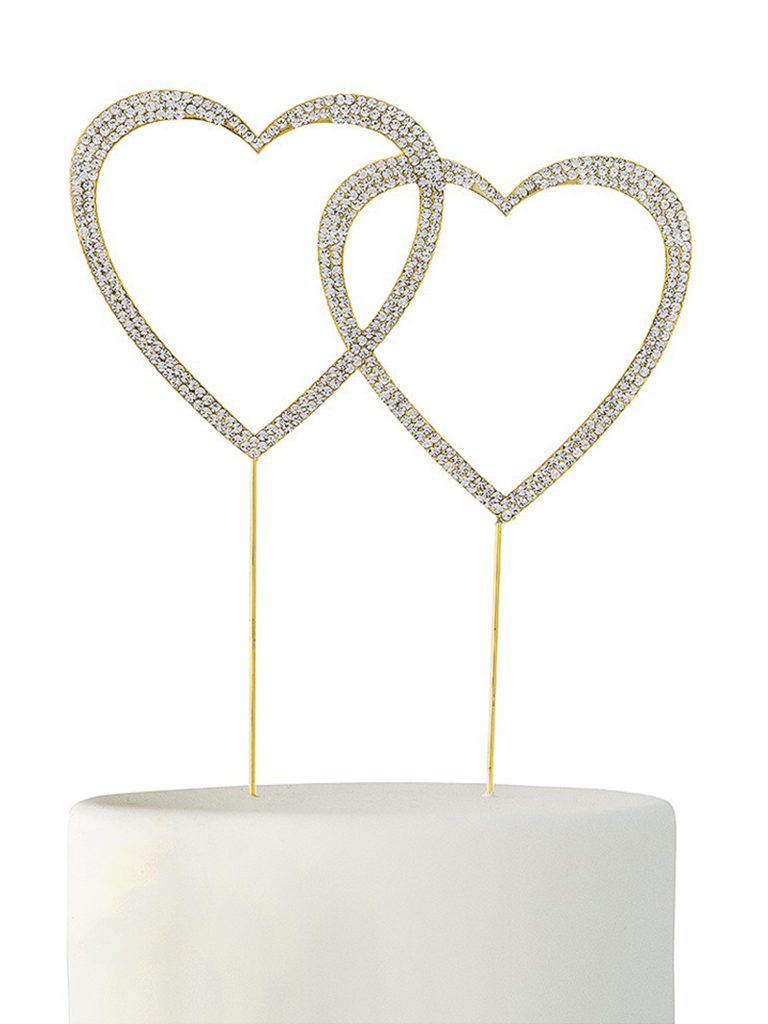 Shopping for meaningful wedding gifts can be challenging, but gifting the couple with something they can use for their wedding (either at their engagement party or wedding shower) will always be appreciated. Made of sturdy metal, this elegant double heart cake topper, lavishly inlaid with crystal rhinestones, includes food-safe picks that will slide easily and discreetly into their wedding cake. Hey, with hearts and sparkle, what's not to love?
The Little Market Heart Felt Garland in White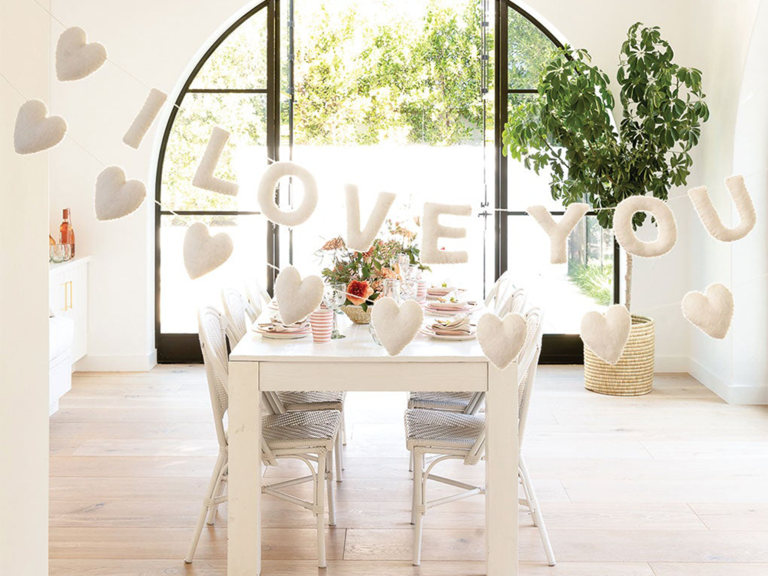 We all know that person who goes all out for holidays and celebrations. If you want to keep their festive game fierce, consider gifting them something for their DIY arsenal. This three-dimensional felt garland—available in seven fun shades—is perfect to string up on Valentine's Day, birthdays, anniversaries and plain old date nights. And, since each garland is eco-consciously made using wool and cotton, it's 100% biodegradable.
Aurate Infinity Heart Huggie Earrings
As far as cool birthday gifts go, these earrings are ace. Snag them for your sister, college bestie or work wife for a present you know they'll swoon over. Cast from pure gold, the tiny cascading hearts on these huggie earrings create the illusion of an infinite loop around the ear. They seriously go with everything and can be worn alone or as part of an enviable ear party.
Sugarfina Strawberry Daiquiri Set of 4 Candy Cubes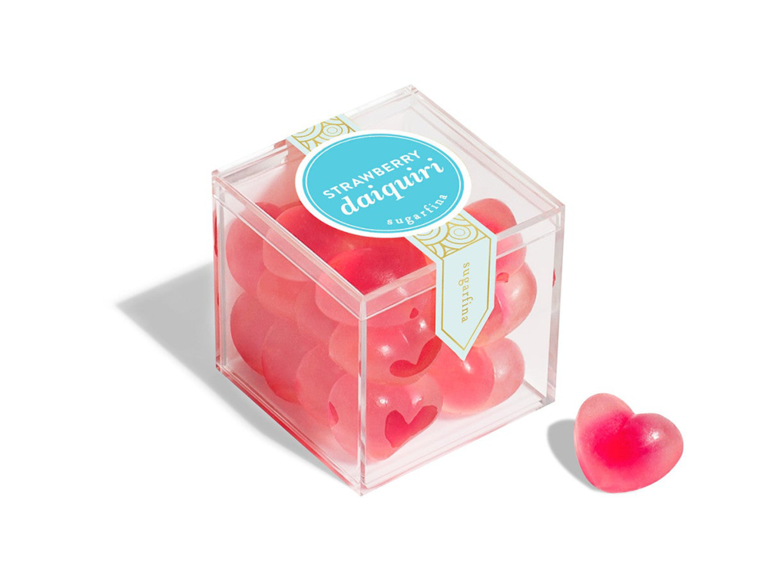 Are you gearing up for a peak-season bachelorette party, in a tropical locale perhaps? Play bride-to-be hype girl by sending a cube of these strawberry daiquiri gummies to each partygoer, along with your multi-day itinerary. The fresh strawberry flavor—plus the plump heart shapes—make these sweet and tart treats total crowd-pleasers.
The Knot Shop Women's Unique Shaped Bachelorette Party Sunglasses in Black Heart Eyes
Stock up on some inexpensive and practical paraphernalia for the bride in your life's bachelorette bash with these black heart frame sunglasses. Cute sunnies are bound to make a splash while you and the crew are out on the town, and let's be honest—twinning moments make for the best bride squad photo opps.
ban.do Heart-Shaped Inflatable Pool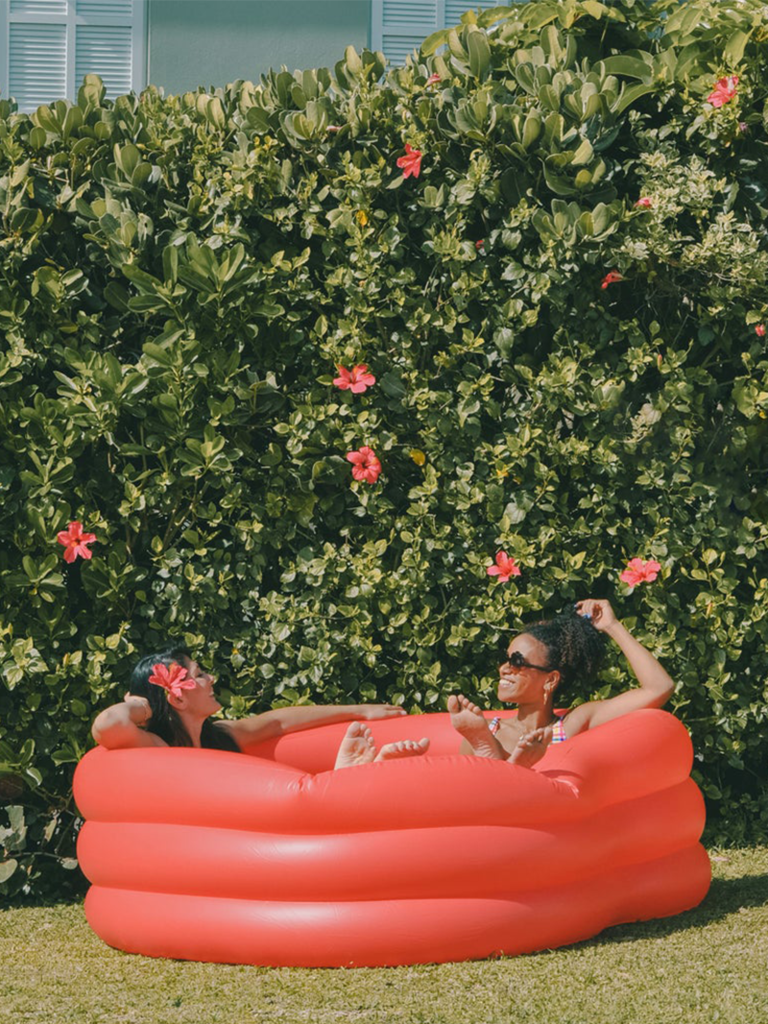 We got over the blow-up pools are just for kids belief a long time ago, so we're all in on this inflatable heart-shaped pool. Made of heavyweight vinyl, it holds up to 12 gallons and can fit 2-3 adults comfortably, making it a great group gift.
Rebecca & Samantha Lee Floating Flowers Heart Paperweight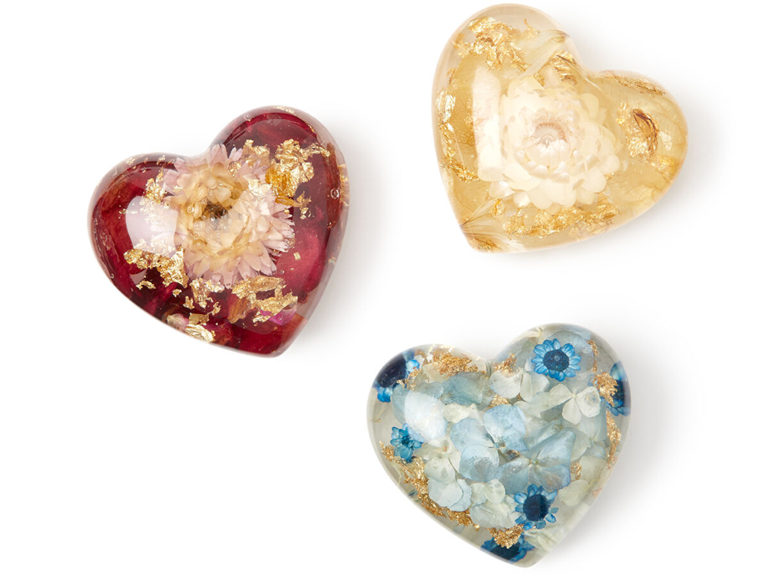 Mothers of the bride (and groom) have lots on their to-do lists, but one of the most important is to be your "rock" throughout the entirety of the planning process. You can return the favor by setting them up for success early on, whether they're trying to stay organized with vendor contracts, master the guest list or plan the perfect playlist. Their paperwork will stay intact with these amazing paperweights, which feature vibrant whole blossoms, rose petals and sparkling real-gold flakes suspended in crystal-clear resin hearts.
Graphic Image Heart Lock Journal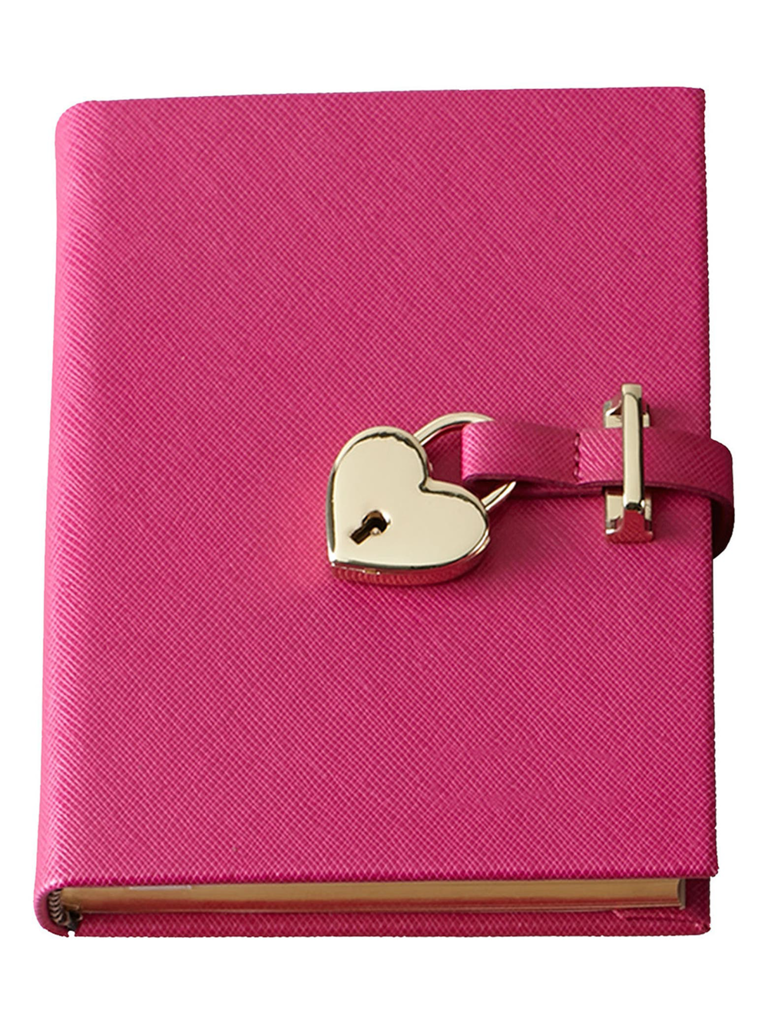 There are so many ways to include your kids in your wedding, and we'll always be here for the "morning-of" gift. This sweet journal—available in pink, purple and orange hues—is such a sweet personalized present. It can be inscribed with an entry expressing how much they mean to you and how excited you are to share this day with them. Plus, once they lock it up, all of their hopes, dreams and secrets are theirs alone to keep.
The Knot Shop Personalized Rose Gold Engraved Charm Necklace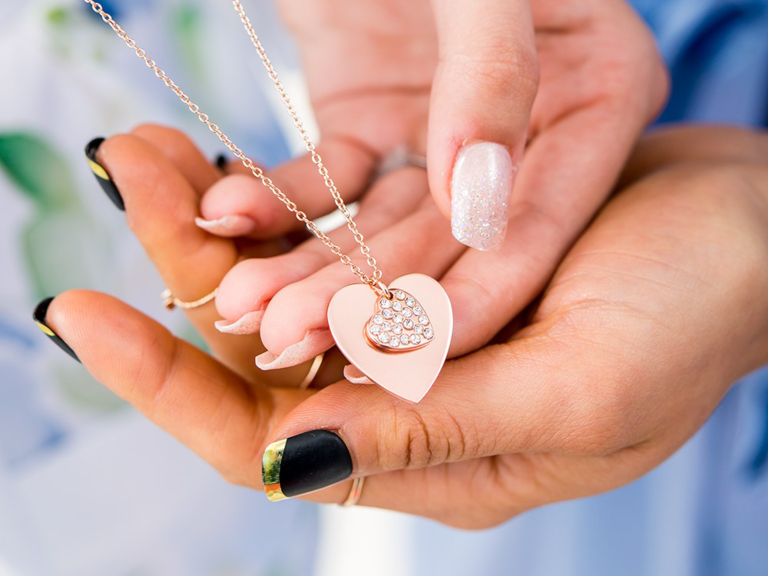 Heart necklaces are a lot cooler than they were a few decades ago—and they don't have to come from a romantic interest either. Have a flower girl who has just gotten into jewelry? This simple rose gold chain—complete with pretty heart pendants and embedded bits of bling—is a very age-appropriate token of your gratitude. You can even personalize the main heart with a custom engraved initial.
Lovebox Spinning Heart Messenger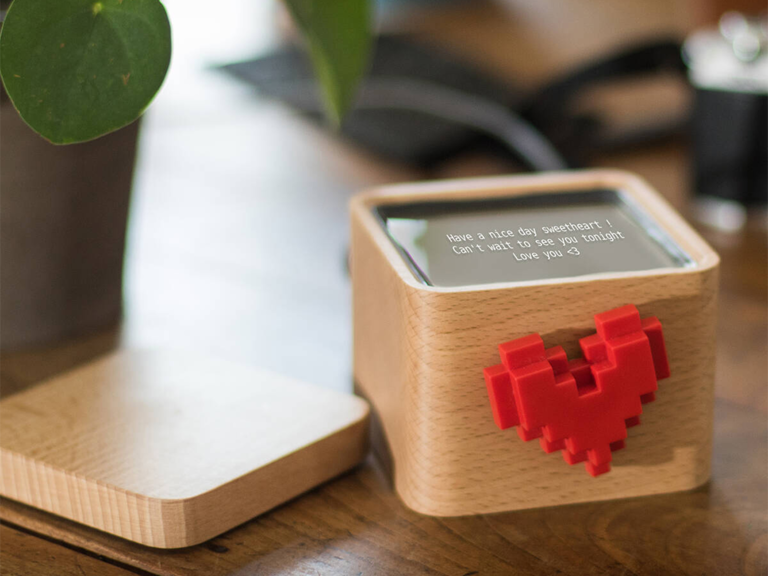 Being in a long-distance relationship is certainly not for the faint of heart, but that's what is so great about this modern love note gift box. You can send photos, personalized sentiments, drawings or stickers to your S.O. via the free Lovebox app. When their box receives your messages, its chunky red heart spins around like crazy 'til they open the lid to read it—at which point they can spin the heart to send you back a waterfall of hearts on the app. In short, it's an adorable way to make sure that even while you're apart, you can still make your soulmate's heart pound.
Neil Edley Chocolate Heart Pizza & Mallet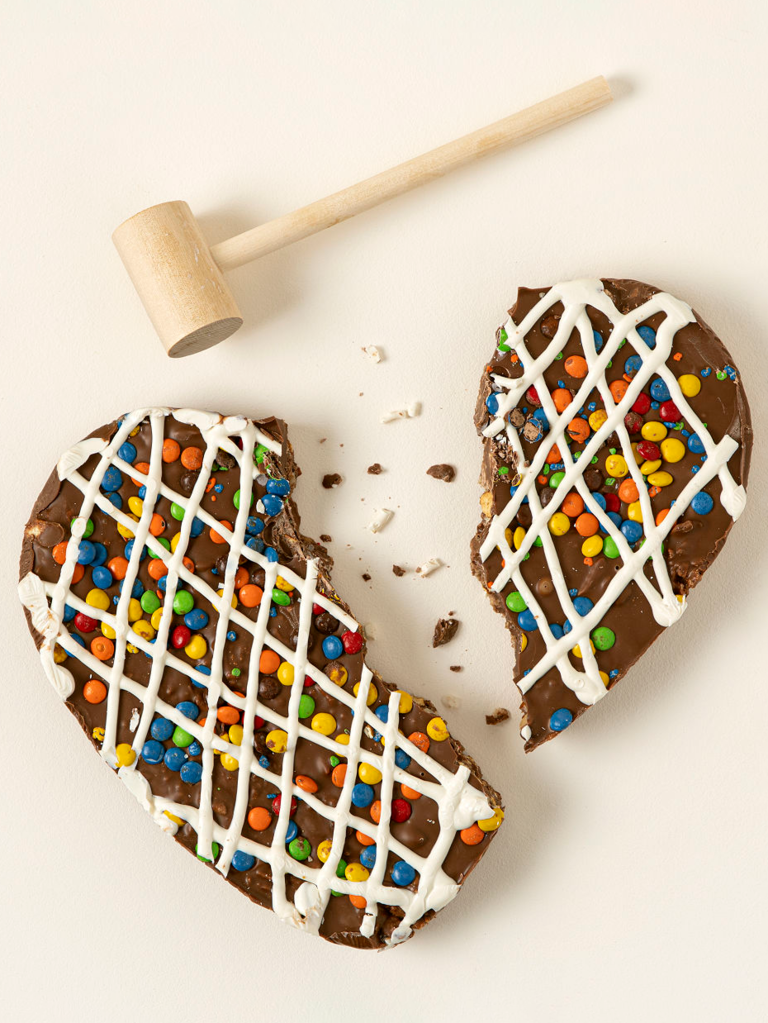 If one of your besties just got out of a relationship, a romantic gift for Valentine's Day might not be on their radar this time around. Instead, brighten up their day with a gift that indulges all of their present feels (a craving for chocolate and a need to smash something). This 12-ounce milk chocolate "pizza" is adorned with crushed pretzels, cookies, potato chips, candied chocolate gems and an allover drizzle of white chocolate. Our favorite part, though? The fact that it comes with its own wooden mallet, so your BFF can work out all their bad vibes with a nice smashing sesh.
ban.do De-Stress Ball - Let Your Heart Guide You
Life is stressful, that's just a fact. And when you reach adulthood, the anxieties and pressures of work, personal and professional relationships and new milestones can contribute to a lot of Sunday scaries. That's why it's important to find ways to cope and get to a place of calm, and an old-school stress ball definitely helps. Opt for this scribbled love heart with a meditative mantra—it's made from slow-rising polyurethane foam that promotes relaxation, concentration and internal guidance when they need it most.
Lizzy Siman-Tov Heart-Shaped Shower Steamer Set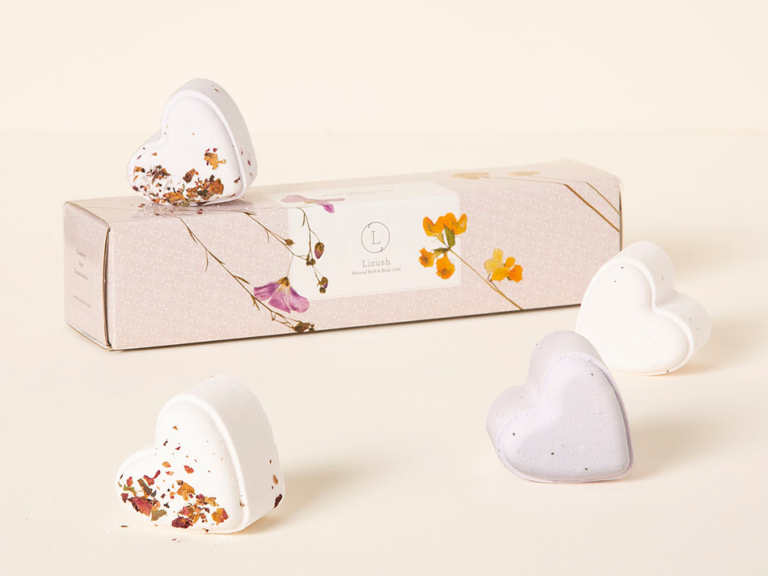 Bath bombs are a nice gift idea in theory, but not everyone has time for a long, luxurious bath on the reg. Shower steamers have the same at-home spa-like effect, but they work a little more quickly. All your recipient needs to do is sprinkle the palm-sized heart with a little water and then place it in their shower's corner or on a shelf. With every inhale and exhale of the aromatherapeutic scents, they'll feel the stress of everyday life wash down the drain. This all-natural set is infused with essential oil and vegan ingredients, so it delivers pampering moments your pal deserves all year long.
KORA Organics Rose Quartz Heart Facial Gua Sha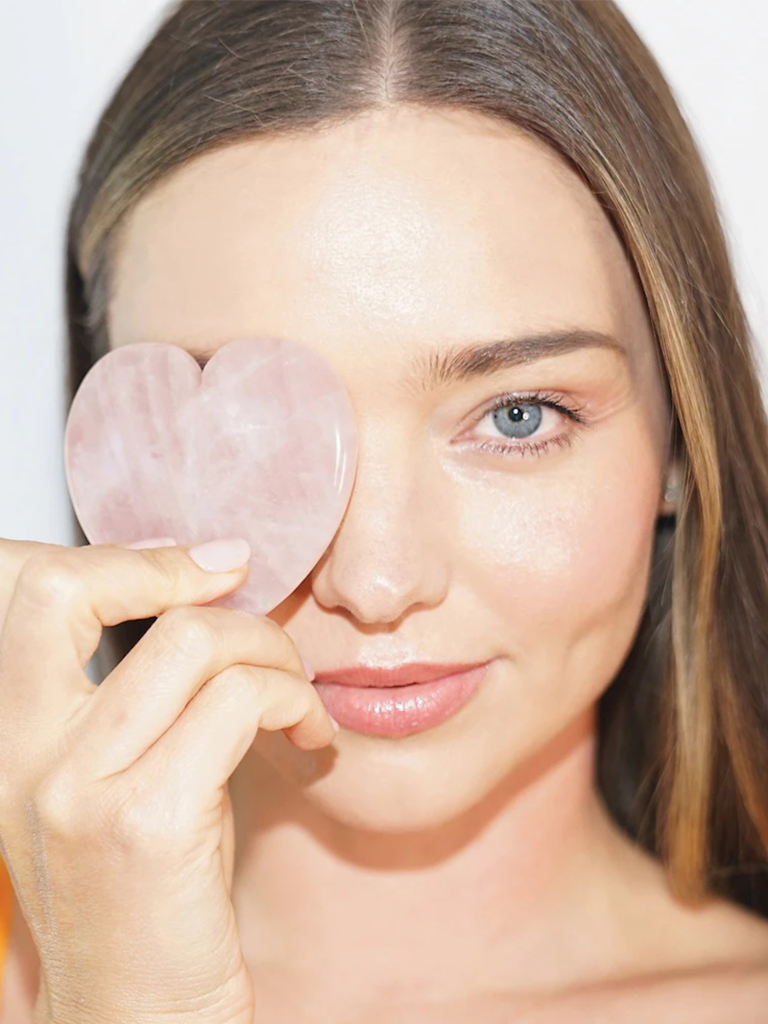 For any of your beauty-loving friends, this rose quartz healing stone will be the best gift they'll receive all year. It's designed to enhance bare-faced beauty by supporting natural circulation to de-puff and visibly sculpt the face, while also balancing out skin tone, reducing puffiness and smoothing the look of fine lines and wrinkles. Any product that can do all that and look amazing on a vanity gets high marks as gifting gold.
Areaware Puzzle Thing NY Heart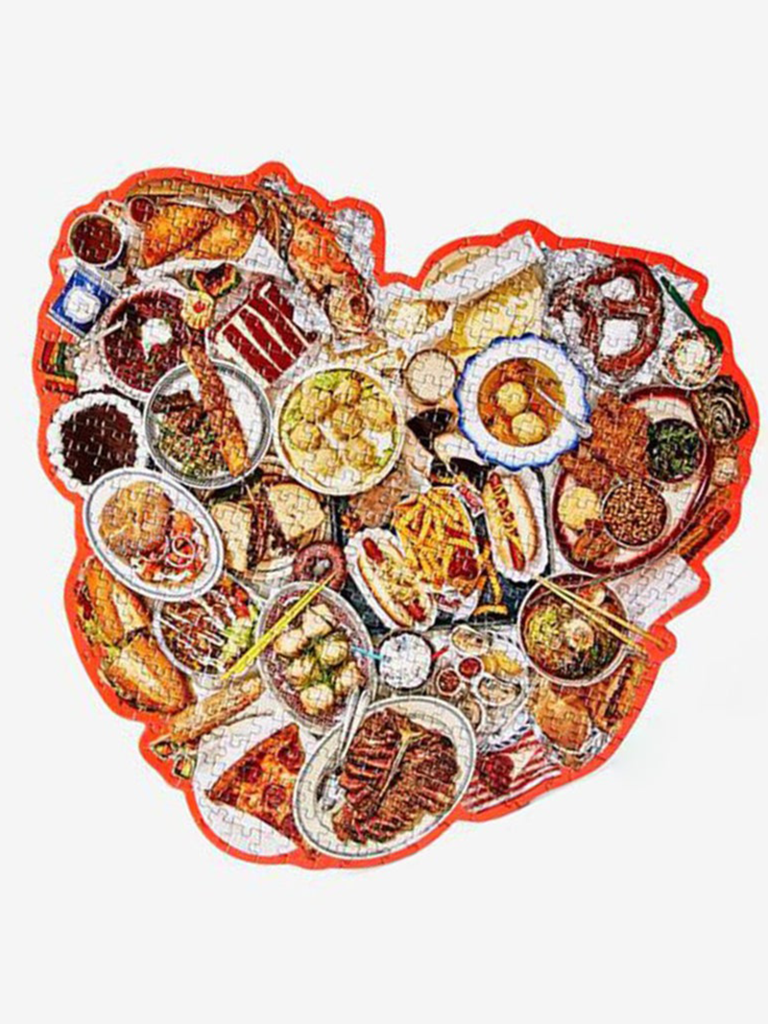 As the saying goes, the way to a person's heart is through their stomach. This puzzle might not be the smorgasbord they had in mind, but at the very least it can work up their appetite and inspire their Friday night takeout plans. From pizza, soft pretzels and ramen to Reubens and fat slices of red velvet cake, the food of the Big Apple never disappoints.
Anthropologie Heart Cookie Cutters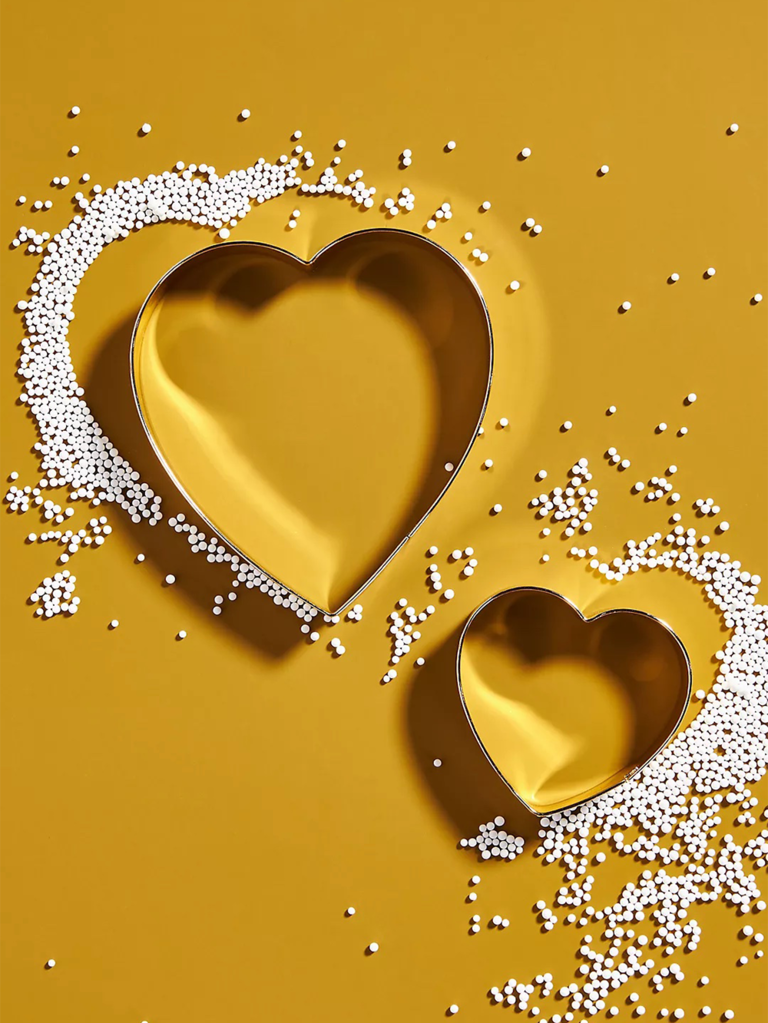 What can we say? Heart cookies just make us happy. This sweet set of cookie cutters would be right at home in any budding baker's Christmas stocking, but we can also envision little ones getting giddy after receiving this from their favorite aunt or uncle.
Sweetniks Heart Marshmallows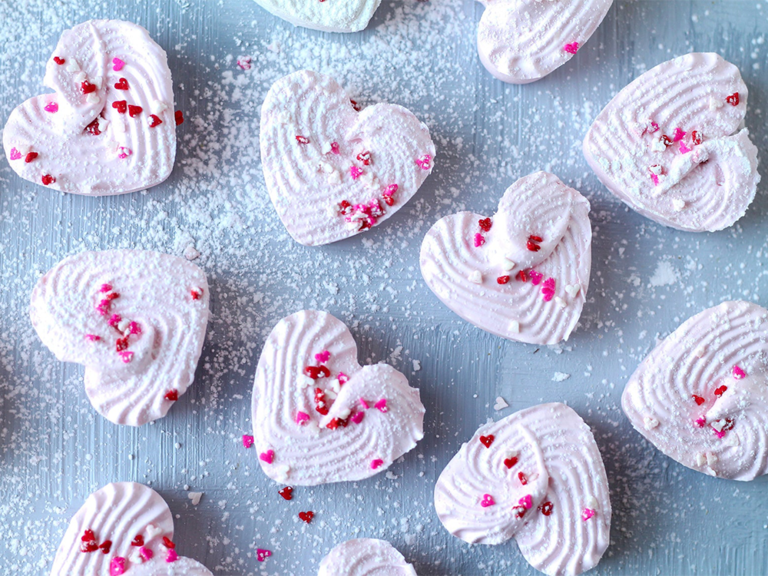 Hot chocolate bombs are great and all, but if your loved one is more into a lewk that makes a lasting impression on their social feeds, then fancy marshmallows atop their cocoa are the way to go. These piped bite-size heart marshmallows come in bags of 12 and shine as edible Valentine's Day gifts. Offered in white/vanilla or rose/vanilla varieties, the mallows are decorated with edible confetti hearts that we promise will pop in all their pics.
Nerdbugs Heart Plushie Organ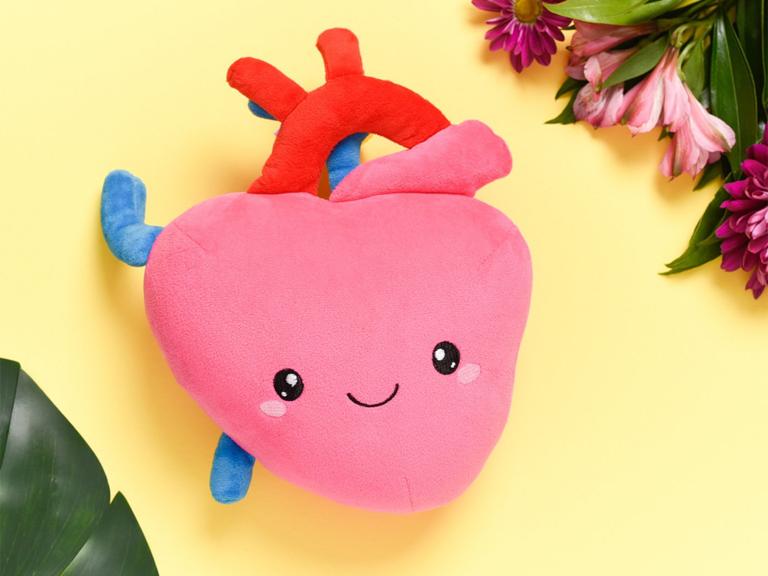 We couldn't let this list come to an end without including a literal heart-shaped lovey. Cozy and adorable, this super-soft plush makes for the perfect snuggle buddy. It's perfect for a partner who just graduated medical school but also simply a great way to bring a smile to one of your loved ones' faces. There's truly no better way to say "I aorta tell you how much I love you!" than with this one-of-a-kind toy.