Your Biggest Bridesmaid Gift Questions, Answered
Got bridesmaid gifts on the brain? Here's everything you need to know about buying thank-you gifts for your crew.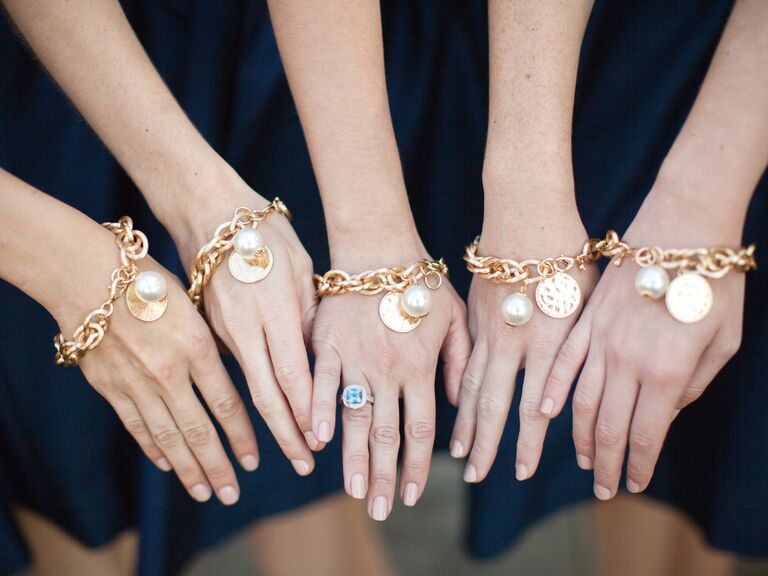 Lauren Jackson Photography
Your wedding party's been with you since the beginning, so giving each member of your group a thoughtful gift—as a token of appreciation and a sweet memento of your wedding—is always the right move. Here's when, what and how to give fabulous gifts for your amazing bridal party.
What Exactly Should You Get Them?
Before jumping in and deciding what to get, you have a few things to consider. First, you're not obligated to get everyone the same present. What works for one person might not work for another, so don't be afraid to give different gifts, but all within the same price range. That way, everyone knows you took the time to pick out something just for them. We also encourage you to gift them something multifunctional and timeless. (Don't forget to take travel logistics into account: A nice bottle of wine and set of wine glasses is a great present, but hard to pack in a suitcase and carry on a flight.)
Anything with their name or monogram is a good call—think leather goods, jewelry, phone cases, robes or pajamas. Gifts with bridesmaid-related phrases are fun for the bachelorette party or getting-ready festivities, but probably not something they'll use outside of your wedding. You can also branch out and get creative. Gift cards to workout classes, a blow-dry bar, their favorite restaurant or theater tickets are always appreciated. When in doubt, take the "would I want it?" test. Or why not make something? Jars of homemade jam, hand-poured candles or a sentimental scrapbook are perfect picks for the crafty bride. (Need more ideas? We've got you.)
When Should You Get Them?
Shopping for bridesmaid gifts is doesn't have a specific timeline, but it's better to get them sooner rather than later. Aim for no later than one to two months before your wedding, since the last thing you want to do the week before your wedding is shop for presents. In the months leading up to your celebration, keep an eye out for fabulous finds. You might encounter a great off-season sale or stumble upon something perfect while making your registry.
How Much Should You Spend?
Consider two main things when budgeting for bridesmaid gifts: how much your wedding budget will allow, and how much your bridesmaids are shelling out for you. The first question is obviously the most important—spend what you can, remembering that it's really how thoughtful the gift is that counts. But do ask yourself what you've been asking financially of your bridesmaids. Depending on your wedding, they could already be paying for a plane ticket, hotel room, dress and shoes—not to mention the bridal shower, bachelorette party, your wedding and shower gifts, and more. You're certainly not expected to cover what they've spent, but you should be spending enough to say, "I appreciate the time, effort and money you've put into this wedding." Something between $75 and $150 should suffice.
The maid/matron of honor typically receives a bit more lavish gift than the others, as it's typically her job to act as point person for prewedding events and more. Consider spending a little extra on her for the extra mile she's goes for you. And don't forget about flower girls and junior bridesmaids (you can spend a little less on them).
When Should You Actually Give Them?
You can present gifts to your wedding party at the rehearsal dinner or the day of your wedding, either at brunch or lunch, or while getting ready together. You could also have a separate meal, like a fun bridal brunch or dinner, a few days before the wedding and do it then. If you're already exchanging gifts with your almost-spouse and parents in the hours leading up to your ceremony and feel overwhelmed, the rehearsal dinner is a good idea.
When you decide to give your bridesmaid gifts might also depend on what you give them. If it's something you want them to wear during the wedding day—like jewelry, getting-ready robes, cuff links or customized sneakers to slip into at the party—present them while you're getting ready. That way no one risks losing it or forgetting it in their hotel room. If it's not something they're meant to wear or have at the wedding—a gift card, beauty products, picture frame or wine paraphernalia—hand it out at the rehearsal dinner so they don't need to worry about keeping track of it throughout the busy wedding day.