The Bridesmaid and Maid of Honor Gift Etiquette You Need to Know
Find out how much to spend, when to give them and more.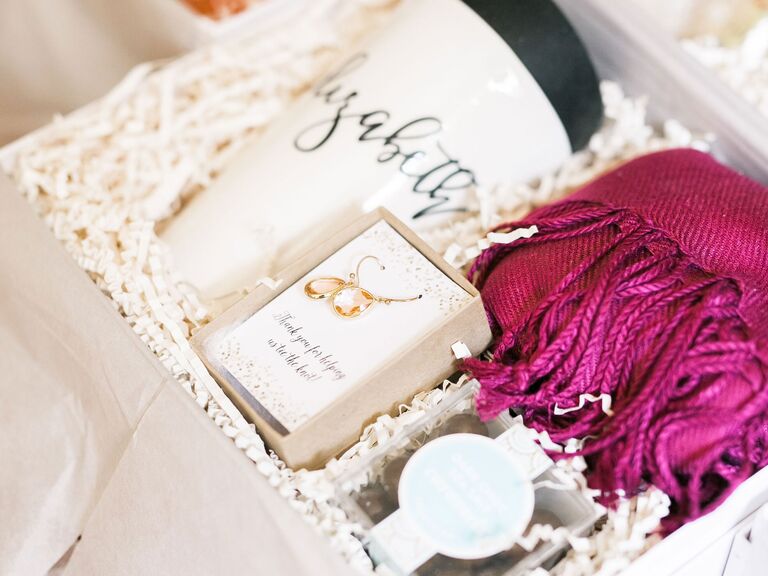 Elaine K Garland Photography
We have included third party products to help you navigate and enjoy life's biggest moments. Purchases made through links on this page may earn us a commission.
Your best friends cheer you on from the moment they join your wedding party, and it's important to acknowledge the contribution (read: time, money and emotional support) they're making to your big day. That said, do you really have to buy bridesmaid gifts to say thank you? The short answer is no—gifts aren't the only way to express your gratitude. Instead of buying presents for their wedding parties, some couples opt to pay for their bridesmaids' accommodation during the wedding or cover the cost of their dresses and accessories.
Of course, there's a reason many to-be-weds consciously choose to buy thoughtful gifts over covering their bridesmaids' wedding costs. Picking out something unique for each bridesmaid will let them know just how special they are to you (and just how much you appreciate them standing by your side). We're answering the top bridesmaid (and maid of honor) gift etiquette FAQs below, including how much to spend, when to give them and how to hand them over.
How Much to Spend on Bridesmaid Gifts
So, exactly how much should you spend on bridal party gifts? There are two main things to consider. First, think about how much your wedding budget will allow. You should spend what you can, but remember that it's really how thoughtful the gift is that counts. If you have to settle on $50 per person, that's okay. Setting a budget for wedding party gifts early on can help you stay on track and make sure there's enough wiggle room in the overall wedding budget to comfortably treat your squad.
Secondly, think about how much your bridesmaids are shelling out for you. Depending on your wedding, they could already be paying for a plane ticket, hotel room, dress and shoes—not to mention the bridal shower, bachelorette party, your wedding and shower gifts, and more. You're certainly not expected to cover what they've spent, but you should be spending enough to say, "I appreciate the time, effort and money you've put into this wedding." Anything between $75–$150 per person is a generous thank-you gift.
How much should you spend on a maid of honor gift?
A few other things to keep in mind: Your maid or matron of honor typically receives a gift that's a bit more lavish than the others, as her duties are often more time-consuming (and costly!). Spend a little extra on your MOH for the extra mile she's gone for you. And don't forget about flower girl gifts and junior bridesmaid gifts (you can spend a little less on them than your bridesmaids).
How much should you spend on bridesmaid proposal gifts?
There's no set price point when it comes to buying bridesmaid proposal gifts. They're a nice-to-have extra, but not essential, so anything from $5 to $50 is acceptable. Just note that if you do decide to buy proposal presents, you're still expected to thank your bridesmaids after they've agreed to join your crew, either by covering some of their wedding costs or buying a thank-you gift. The majority of your wedding party gift budget should go toward saying thank you.
How Many Gifts to Give Your Bridesmaids
If you've decided to buy gifts for your bridesmaids, that's great! But there's really no need to go over the top buying multiple presents for each person. If you bought proposal gifts, you can take the cost of those presents into account when deciding on the total spend. Alternatively, you're welcome to just buy your crew thank-you gifts and forgo expensive wedding party proposals. A sweet card or heart-to-heart conversation is more than enough.
Regardless of what kind of bridesmaid gift you're purchasing, there's no rule stating you need to buy more than one thing for each person. Instead, let your budget be your guide. One luxury bridesmaid gift is just as good as four or five smaller, less expensive items. Think about what your crew would prefer and your own gifting style to help you decide.
When to Buy and Give Bridesmaid Gifts
Shopping for bridesmaid gifts doesn't have a specific timeline, but it's better to get them sooner rather than later. Aim for around two months before your wedding, since the month leading up to the big day can get busy, fast. One great way to get a head start on gift shopping is simply by keeping it in the back of your mind. In the months leading up to your celebration, keep an eye out for anything you think could make a great gift for your crew. And who knows, you might encounter a great off-season sale. (Psst, Black Friday and Cyber Monday are great times to score luxury items like jewelry).
So, if there's no exact timing for buying bridal party presents, when do you give bridesmaids their gifts? It's always best to deliver your presents shortly before the wedding rather than on the day itself. The reason being your bridesmaids will have a lot to keep track of on the day, and finding a time and place to safely stow their gifts might be tricky. The rehearsal dinner is a popular time for the bride to give bridesmaids their gifts and say a few words of appreciation. Alternatively, you could have a separate meal—like a fun bridal brunch or dinner—a few days before the wedding.
When you decide to give your bridesmaid gifts might also depend on what you give them. If it's something you want them to wear during the wedding day—like jewelry, cuff links or customized sneakers to slip into at the party—present them at the rehearsal dinner. If it's not something they're meant to wear or have at the wedding—such as a gift card, beauty products, picture frame or wine paraphernalia—feel free to hand it out a few days before the nuptials.
Where to Buy Bridesmaid Gifts
There are lots of great places to shop for wedding party presents online, including a few dedicated bridesmaid gift retailers, like our very own The Knot Shop. You'll find lots of budget-friendly giftware, from personalized clutches to keepsake jewelry. It's an especially great place to shop if you are putting together your own gift boxes. Etsy is another good site for finding cute, personalized presents for your crew. Or if you're looking for some on-trend pieces of homeware, Anthropologie's gift section is our go-to.
If you're springing for personalized presents, think carefully about what to engrave or print on your bridesmaid gifts. It might seem like a good idea at the time to include their wedding title and the date, but if it's a gift you want them to be able to use again (as opposed to a sentimental keepsake), it's best to personalize items with their names or initials.
How to Present Bridesmaid Gifts
Whether it's at the rehearsal dinner, a prewedding brunch or in private with each of your 'maids, handing over your gifts should feel like a special moment. Make sure you let each person know individually just how much it means to you that they stepped up to the role. Additionally, knowing how to wrap your bridesmaid gifts in a cute way will increase the wow factor. Personalized gift boxes or bags come in clutch (and again, you'll find plenty of options at The Knot Shop). Pick up colorful shredded paper and ribbons at your local craft store for the finishing touch. Oh, and don't forget to include a thoughtful greeting card!