10 Naked Cakes You Have to See
Sure, there aren't any fondant decals or buttercream ruffles, but you'll be surprised just how many style options you have to choose from when it comes to this beautiful bare cake trend.
There's no doubt that almost everyone looks forward to eating a slice of delicious cake during a wedding reception. Plus, sampling wedding cakes while planning your big event is an absolute must. One recent trend involves ditching the wedding cake frosting and displaying a decorated naked cake instead. If you are interested in exploring naked wedding cake ideas, you may soon find that you absolutely love this unique, modern twist to a classic wedding confection.
When it comes to naked wedding cakes, you'll find that they have a few advantages. First of all, because they tend to dry out faster than fully frosted wedding cakes, bakeries often bake these creations within 24 hours of your event. In turn, this results in a fresh, yummy wedding cake for you and your guests. Also, you may save some money if you go this route since some naked wedding cakes cost less than their more intricately frosted alternatives. This is mostly because naked wedding cakes are less labor intensive to assemble than frosting-topped cakes.
If you are ignoring the possibility of a naked wedding cake because you envision just a boring bare cake, wedding cake decorations make it anything but. Instead of traditional frosting, memorable decor may include gorgeous floral accents, personalized cake toppers, chocolate shavings, fresh fruit, powdered sugar, candy, metallic accents, and chocolate or berry drizzle. And remember, just because your cake is bare on the outside, it doesn't mean it can't be loaded on the inside with layers upon layers of frosting. Honestly, we're not even sure these phenomenal cakes can really be considered "bare."
Here is a round-up of some of the most creative, delicious naked wedding cake ideas out there:
Stunning Display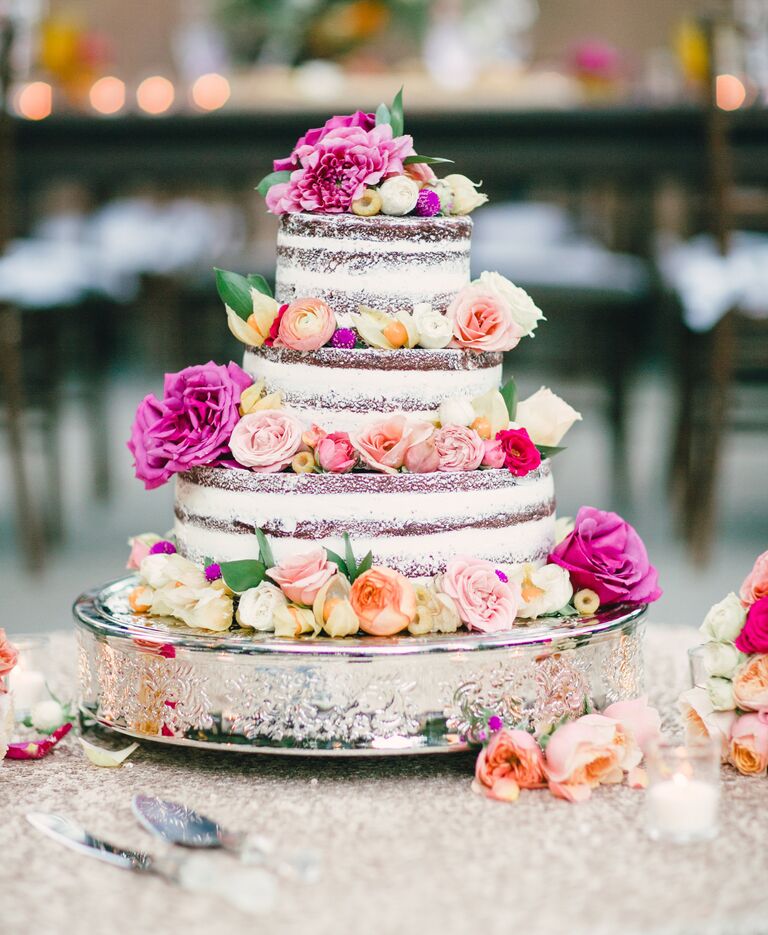 We don't think that this wedding cake is missing a thing, do you? A timeless silver stand elevates any cake's overall style, especially when it's reflecting pops of color from pastel pink and magenta roses, ranunculus and dahlias. A few bright blooms artfully arranged around the base and tucked between tiers adds to the whimsical, romantic look.
From A Romantic Garden Wedding at a Private Residence in Ojai, California
Sharp Contrast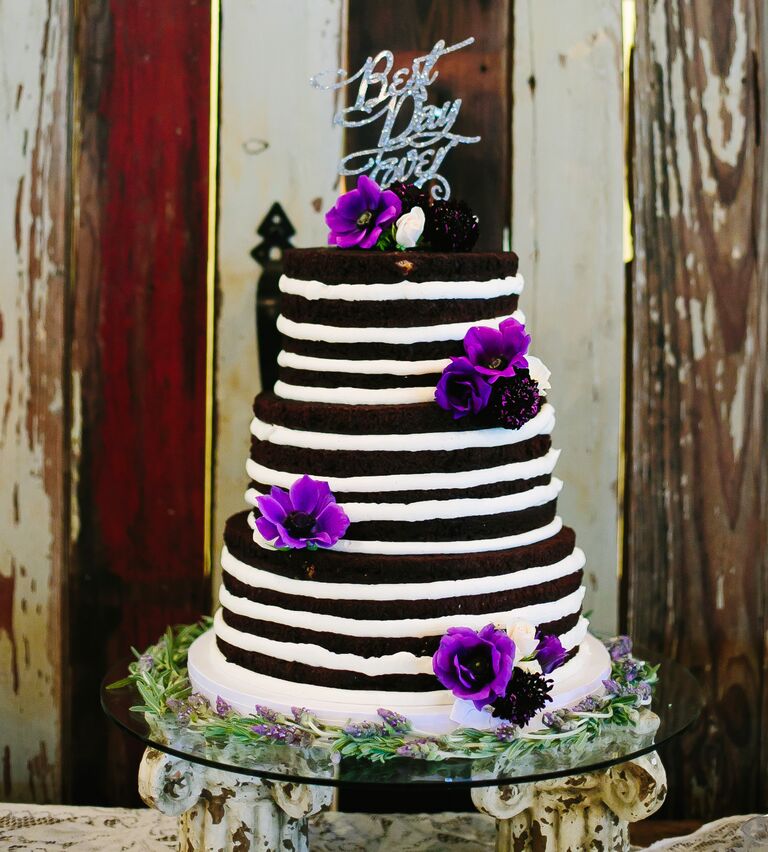 The contrast between a dark chocolate cake and stark white icing is stunning to say the least. Plus, your cake photos will look fantastic when you are standing right next to it in a white wedding dress and black and white tuxedo. Finish the look with some strategically placed vibrant blooms and simple garland around the base for a totally elegant look.
From A Vintage Wedding at Pecan Springs Ranch in Austin, Texas
Short Stacks
This sweet cake, decked out with wedges of fresh fruit, handfuls of grapes, hot pink alstroemeria and a fun cake topper, proves that you don't needs lots of tall tiers to make an impact.
From A Rustic Lakefront Wedding at a Private Home in Drasco, Arkansas
Red All Over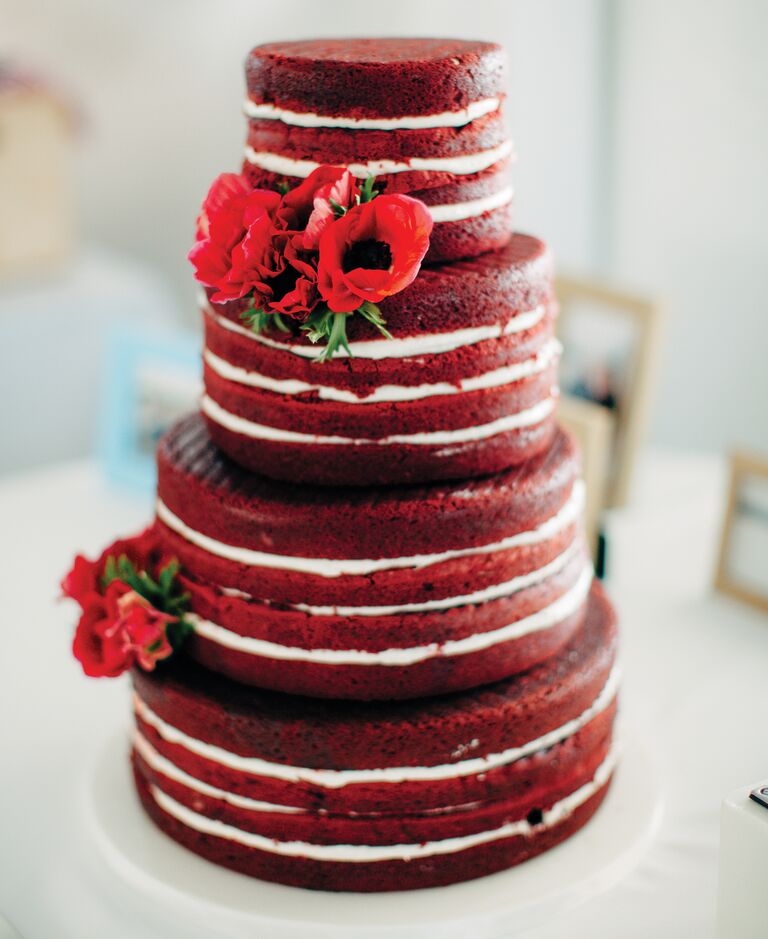 Keeping the decoration simple with clusters of red anemones completes this decadent display and lets the stand-out color speak for itself.
From A Bright Military Wedding at Magnolia Estate in Miamisburg, Ohio
Double Take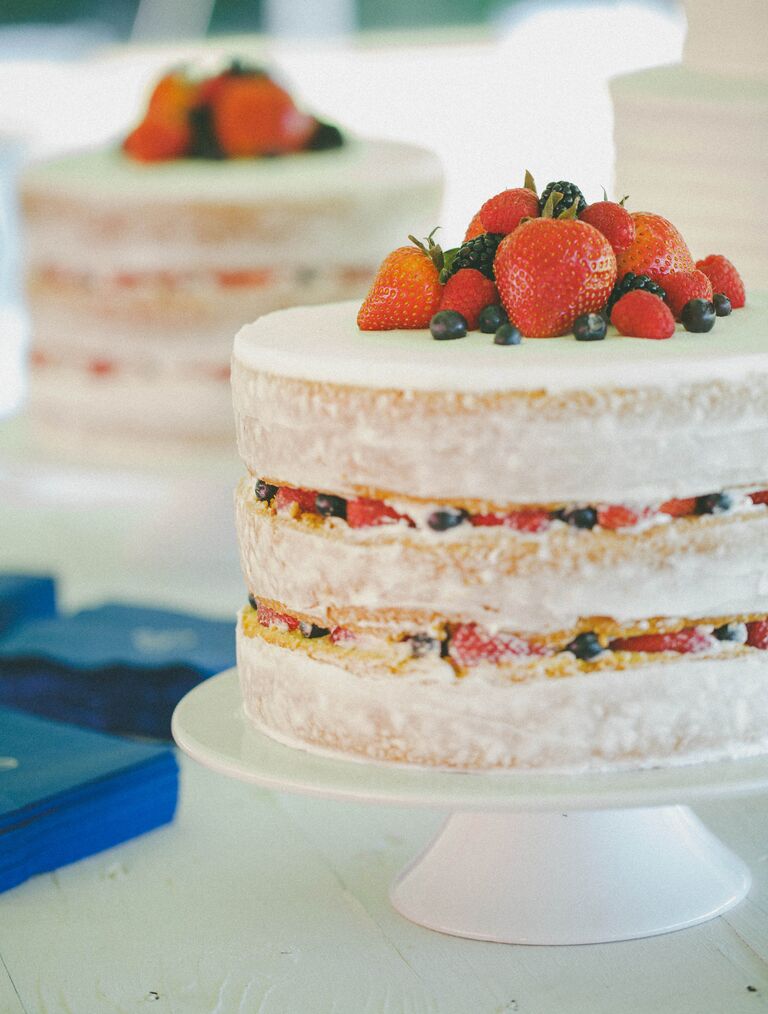 Having multiple cakes on a dessert table is becoming more and more of a trend and offers a mix of flavors, fillings, and even designs—think a combo of traditional frosting-covered cakes and naked cakes. In other words, if you can't settle on one cake, get two! (Or three!)
From A Cheery Barn Wedding at a Private Farm in Danville, Alabama
Playful Flavors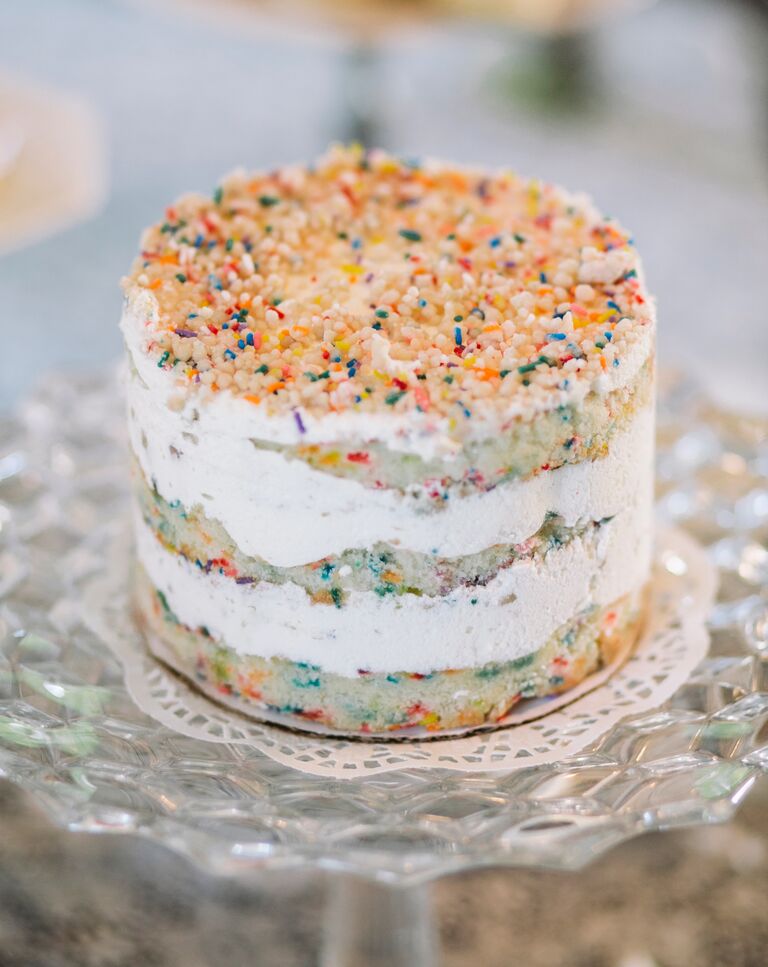 Since the cake layers are completely exposed, any fillings in the cake batter will show through on display—hence, this delightful presentation of rainbow sprinkles. If you're looking for an alternative to a traditional wedding cake, this is definitely a front-runner.
Berry Pretty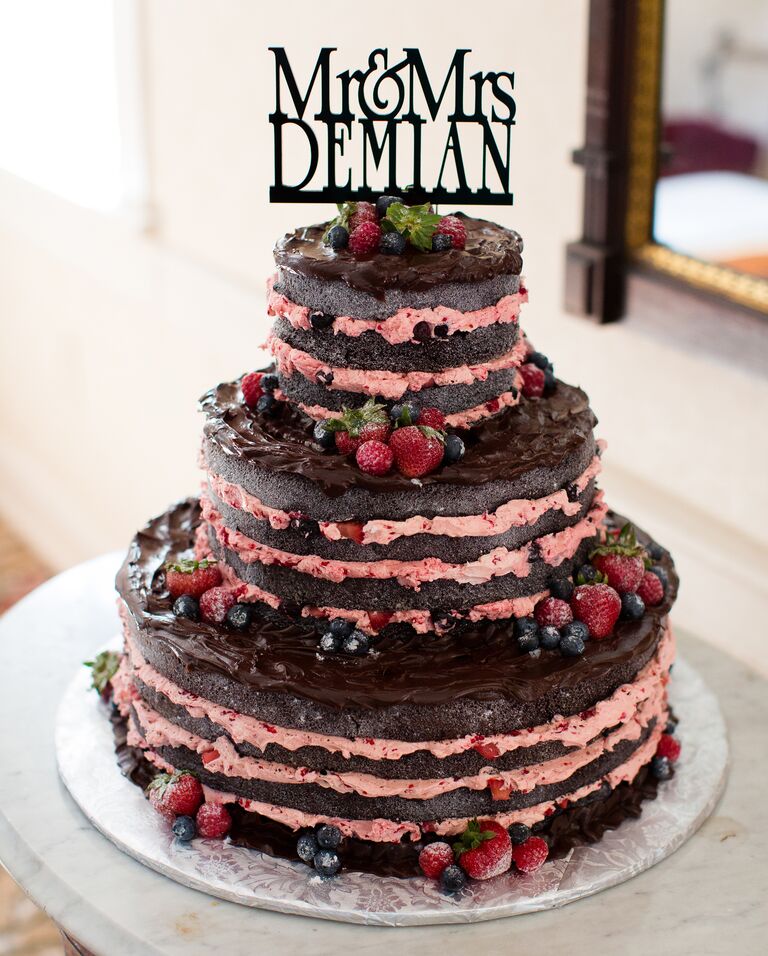 Fresh berries are to naked cakes what gum paste flowers are to buttercream-covered tiers—especially in the case of this fruity-flavored filling. We love how the strawberries, raspberries and blueberries enhance the natural-looking aesthetic.
From A Vintage-Inspired Outdoor Wedding at the Grand Pacific Outdoor Wedding Garden in Olmsted Falls, Ohio
Squared Away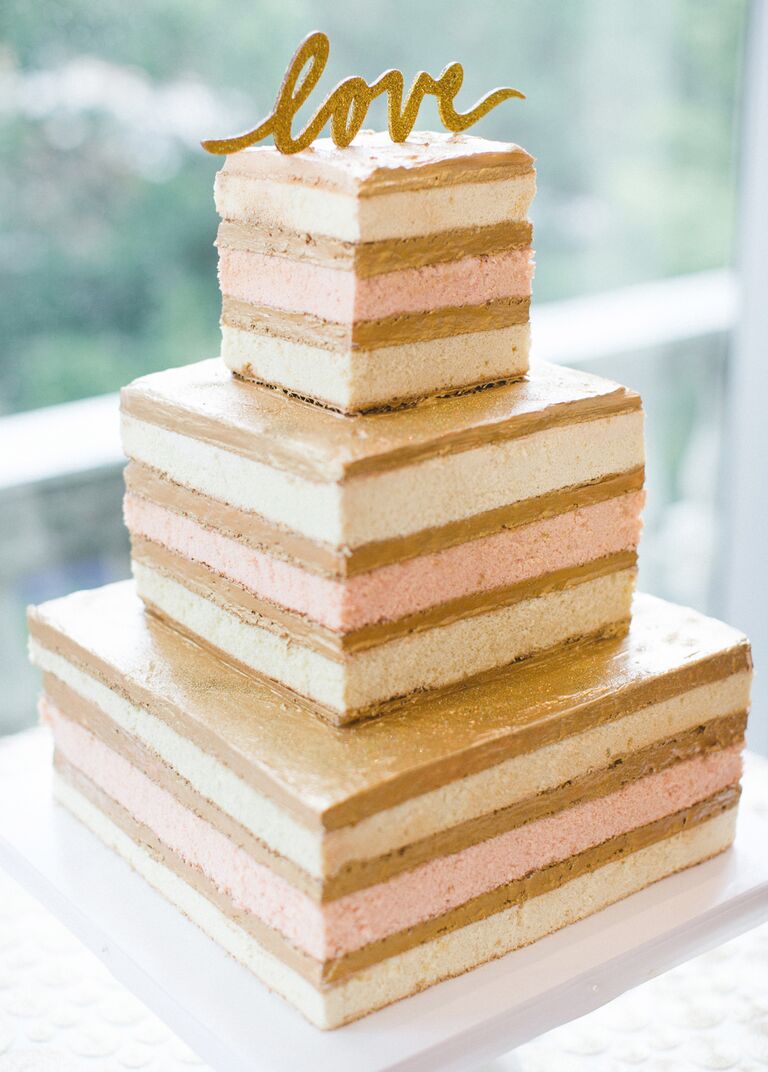 This is one clean-cut confection. The modern design, smooth edges and coordinated colors look so expertly crafted there's no need to garnish with any blooms or berries.
From A Fresh, Romantic Wedding at Foundation for the Carolinas in Charlotte, North Carolina
Flavorful Drips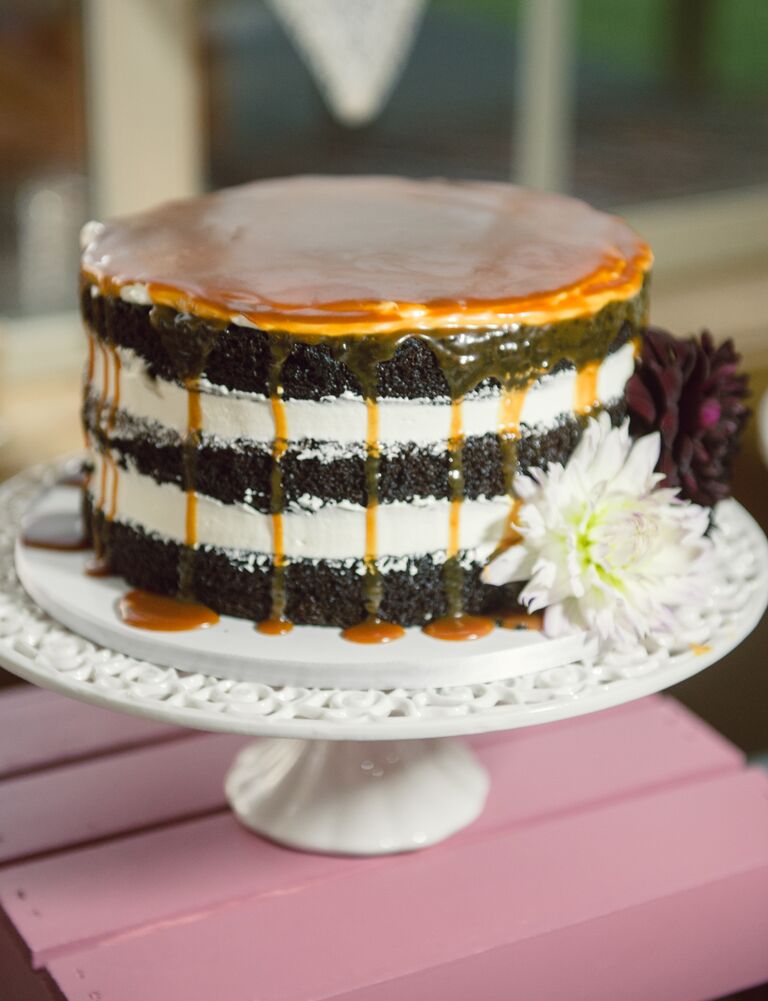 Naturally, the stacked layers of cake and frosting create beautiful horizontal lines, but we love the look of contrasting drips of caramel or chocolate ganache for some subtle flare—and a touch more flavor!
Cascading Blooms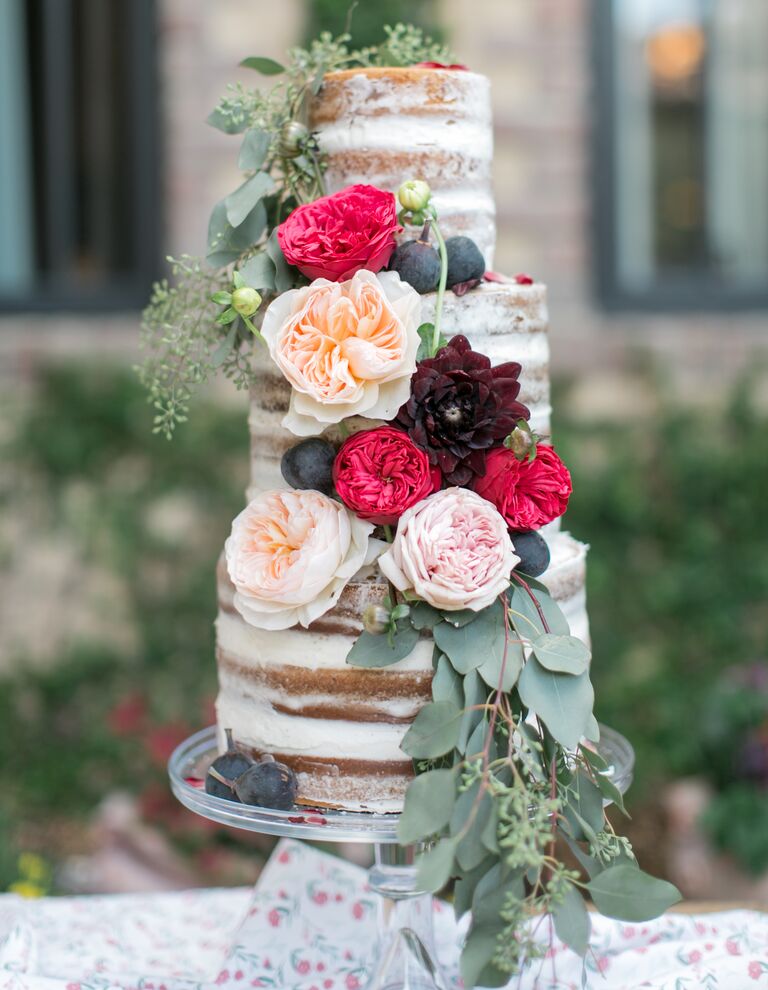 A slim tower of tall tiers outfitted with a romantic cascade of seeded eucalyptus and Juliet garden roses is enough to make anyone think twice about cutting into this beautiful cake (but we suggest you do!).
Check out bakers in your area here who can make the naked cake of your dreams.