28 Naked Wedding Cakes That Prove Bare Is Beautiful
In case you were planning to scrape off the frosting anyway.
There's no doubt that almost everyone looks forward to eating a slice of delicious cake during the wedding reception. Sampling cakes while planning your wedding day is an absolute must (not to mention one of the biggest perks), but if you're realizing that traditional cakes aren't quite your thing, a naked wedding cake could be just what you're looking for. Ditching the frosting is one wedding cake trend that's here to stay—but how exactly do you pull it off? You may not have frosting, but the design can still include other interesting details, like fresh flowers, personalized cake toppers, fruits, flavored drizzles and even candy. And remember: Just because your cake is bare on the outside doesn't mean that it's not loaded up with delicious fillings on the inside. If you're headed to your cake tasting appointment soon, use these naked cake ideas to jumpstart your inspiration folder.
What Is a Naked Wedding Cake?
We know the name sounds funny, but plain and simple, a naked wedding cake is a cake without any frosting or icing covering the outside of the tiers. The cake will still have filling—the buttercream, fruit or ganache that goes in between each layer of sponge—which will give the finished dessert a 'striped' appearance. Naked wedding cake flavors can be the same as any other wedding cake—the only difference is that you won't have any exterior frosting adding to your flavor combo, so you may need to be more strategic when working with your cake baker to get exactly what you want.
When it comes to these bare cakes, you'll find that they have a few advantages other than looking unique. If you're having a summer wedding, a naked cake eliminates the risk of buttercream or fondant icing melting in the heat before dessert is served (yes, it can happen). Naked wedding cakes can also be a potentially cost-friendly alternative to intricately decorated cakes, since they're less labor-intensive to assemble and design. On the other hand, keep in mind that the lack of frosting means naked wedding cakes tend to dry out more quickly than frosted wedding cakes, so your cakery may have specific instructions on how to store and serve it.
Naked Wedding Cake Ideas
Need ideas about how couples decorated their naked cakes IRL? Check out some of our favorite designs below.
1. Garden-Inspired Naked Wedding Cake
An elegant option for a springtime garden fête, this naked cake is showcased atop a bed of moss and finished with various white blooms.
2. Naked Wedding Cake with Burgundy Flowers
Keeping the overall look simple, this cake with clusters of red amaranthus, orchids and roses is presented on a scalloped metal stand that blends into the tablescape.
3. Pink and Orange Naked Wedding Cake
Between the perfectly smooth layers of filling, the gold calligraphy cake topper and the strategically placed flowers, this cake is a perfect example of how to pull off classic with a twist.
Find all the vendors you need
Meet every kind of expert from bakers to bartenders and more.
4. Chocolate Naked Cake for Winter Wedding
Decorated with red and ivory roses, hypericum berries and seeded eucalyptus, this chocolate cake is festive and chic for a Christmas wedding (not to mention the dusting of powdered sugar, which looks like snow).
5. Pancake-Inspired Naked Wedding Cake
Breakfast, but make it a wedding dessert. Whether you're having a brunch wedding or simply love eating pancakes, this cake puts a spin on a classic breakfast favorite, complete with caramel drip glaze and white spray roses that remind us of whipped cream.
6. Naked Wedding Cake with Fresh Berries
Fresh berries on naked wedding cakes never disappoint—especially in the case of these fruit-covered tiers. We love how the strawberries, raspberries, blueberries and sliced figs add color and a bit of tartness to the sweet filling.
7. Key Lime Pie Naked Cake with Succulents
If you can't decide between pie or cake as your wedding dessert, why not have both? This Key lime pie cake shows you how it's done, with sliced limes, a layer of graham cracker crumbs around the outside of the cake and succulents for a dash of flair.
8. One-Tier Naked Wedding Cake
The contrast between a dark chocolate cake and stark white buttercream filling is instantly eye-catching. Finish the design with brightly colored flowers on top.
9. Colorful Ombré Naked Wedding Cake
You don't have to stick to plain white or chocolate fillings. Ask your cake baker to get creative with colors that match your wedding theme to recreate an ombré effect like this.
10. Milk Bar Wedding Cake
Since the layers of your unfrosted cake are completely exposed, any fillings in the batter will show through on display. One example: The cult favorite Milk Bar Birthday Cake is scattered with rainbow sprinkles, making it a fun (and colorful) alternative to a traditional wedding cake.
11. Small Naked Wedding Cake with Citrus Fruits
The stacked layers of cake and filling create beautiful horizontal lines, but we love the look of contrasting drip icing for some subtle flare—and a touch more flavor. Some popular drip glazes include caramel, white chocolate and rich ganache.
12. Three-Tier Rustic Wedding Cake
We envision this grape-covered cake at a winery venue or rustic fall wedding reception. The wooden stand leaves plenty of room to fill out the base with other fruits and decorative greens, like ornamental cabbage leaves.
13. Simple Naked Wedding Cake with Flowers
If a simple wedding cake is what you're after, this sweet two-tier design gets the job done.
14. Square-Shaped Naked Wedding Cake
This is one clean-cut confection. The unexpected shape, perfectly smooth edges and alternating pink and vanilla cake layers look so expertly crafted that there's no need to garnish with blooms or berries.
15. Summer Wedding Cake with Sliced Lemons
For a refreshing summer wedding cake idea, slice into a fruit-filled cake garnished with lemon slices, blackberries and bay leaves.
16. Naked Red Velvet Wedding Cake
Going for a romantic wedding theme? Choose a red velvet cake as your base, then add fluffy pink peonies and finish the design with a custom wedding cake topper.
17. Chocolate and Vanilla Naked Wedding Cake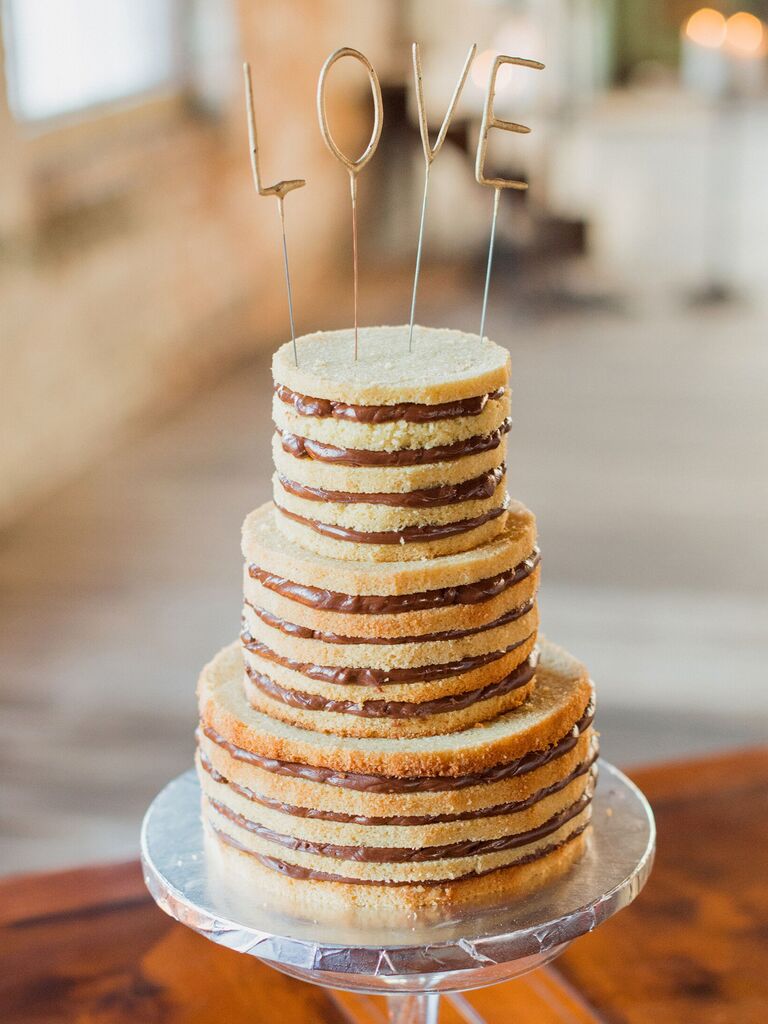 As the saying goes, love is all you need—at least for this cake idea. Without any other embellishments or details, the golden "LOVE" topper totally stands out against the vanilla sponge and chocolate filling.
18. Unique Four-Tiered Wedding Cake
Align the tiers of the cake to one side for an unexpected look. To get the true effect, we'd recommend doing this for cakes with at least three or more tiers.
19. Two-Tier Semi-Naked Wedding Cake
If you don't want to completely give up frosting, consider a semi-naked wedding cake instead. Your baker will add what's called a crumb coat, which is a very thin layer of icing applied to the outside of the cake to seal in moisture and prevent crumbs from falling off.
20. Bundt Cake with Chocolate Drip Icing
Bundt cakes and pound cakes are other alternatives to naked wedding cakes. Both types of cakes are typically left unfrosted, but you can top them off with flavored glazes or icing.
21. Naked Wedding Cake with Fresh Flowers and Powdered Sugar
This sweet cake, decked out with fresh berries, burgundy flowers and a dusting of powdered sugar, proves that you don't needs lots of tall tiers to make an impact.
22. Classic Chocolate Wedding Cake
A fluted white cake stand perfectly frames this three-tiered design, with pink and ivory flowers that stand out against the chocolate sponge. Clusters of votive candles and flowers arranged on the table add to the whimsical, romantic look.
23. Six-Tier Naked Wedding Cake
With a whopping six tiers covered in fresh berries, mint leaves and a monogram on the top tier, this extra-tall masterpiece easily commands the room.
24. Small Naked Cake with Flamingo Cake Topper
This playful flamingo duo is solid proof that sometimes all you need is a fun topper to personalize your wedding cake.
25. Rose and Ivy-Covered Wedding Cake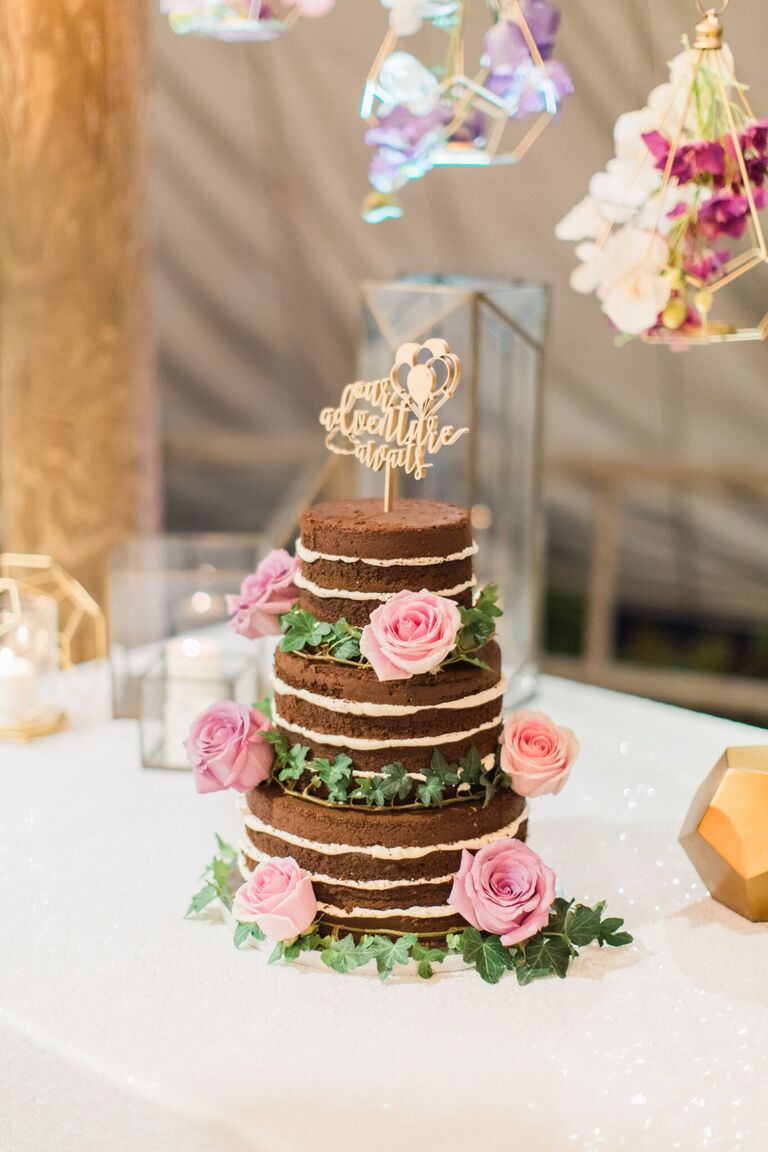 Eucalyptus is great if you're going for a boho aesthetic, but if your style is more classic, consider ivy vines as another greenery option. When it's paired with pink roses, it looks like something straight out of a fairytale.
26. Winter Wedding Cake with Rosemary
Adding sprigs of fresh rosemary to your cake gives it a gourmet look, but it will smell amazing too, especially for a winter reception.
27. Three-Tier Naked Wedding Cake with Pears
At their peak during the fall months, pears are a lovely garnish for a simple naked wedding cake, either sliced or left whole.
28. Succulents and Berries Wedding Cake
Pair succulents and berries together with a chocolate jam-filled cake for a dessert that's as flavorful as it is colorful.