43 Bridesmaid Updos That'll Look Amazing in Pictures
Pin, twist or braid your strands up into one of these stunning styles.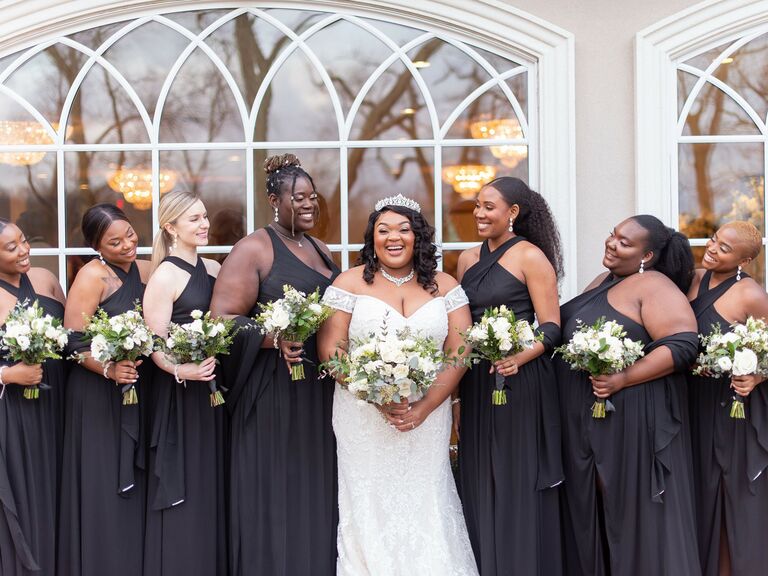 JANELLE JAQUELINE PHOTOGRAPHY
If you're in a wedding party, you've likely selected your bridesmaid dress or outfit. But there's another key part to your wedding day look: your hair. If you prefer your hair up and out of the way, we've got you covered. We rounded up 43 bridesmaid updos for any hair length that are both pretty and practical. Updos look timeless, and they also keep your hair off your face and neck. (Read: you won't have to stress about the wind ruining your 'do, and you can dance the night away without worry.) Whether you have short, medium-length or long hair, we have a bridesmaid updo you'll absolutely love.
Should a bridesmaid wear her hair up or down for the wedding?
If you're trying to decide whether or not to wear your hair up, there are a few factors to consider. First, check in with the bride to see if she has a preference. She might have something planned (like matching hair accessories, for example) that requires a certain style. If she gives you the green light to go with any bridesmaid hairstyle, take the wedding season and venue into consideration. Hot summer weekends and windy outdoor venues tend to play better with updos. If you know you're going to be on the dance floor for the majority of the reception, you might want to take that into consideration too— a chic updo will keep your hair out of the way so you can bust a move with your bestie.
Bridesmaid Updos for Long Hair
If you have long tresses (or you're wearing extensions), your options for bridesmaid updos are virtually limitless. Check out our favorite twists, buns and braids for long hair, below.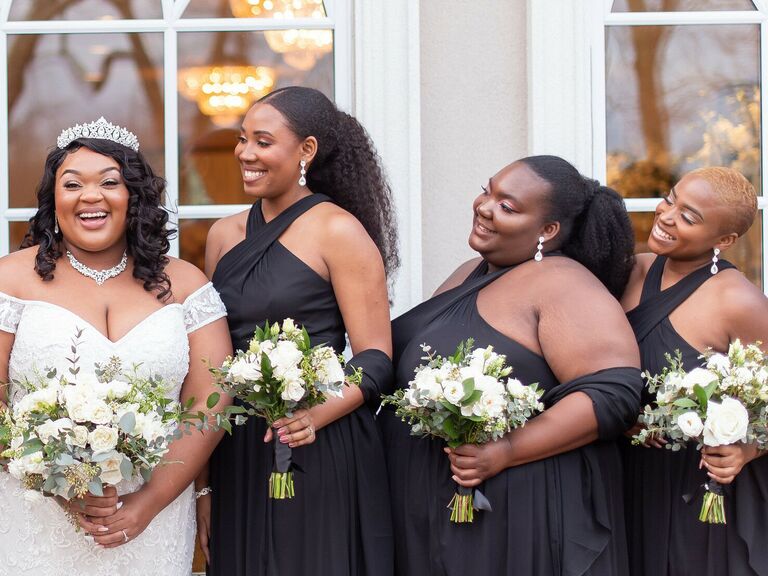 Gather your long mane into a mid-height ponytail. The style is sleek, on-trend and effortlessly cool.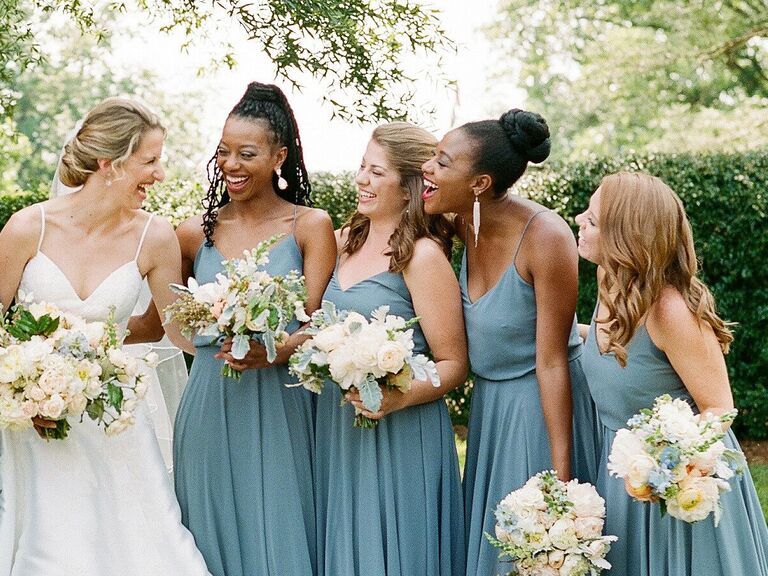 For a more glam alternative, place your ponytail up on the top of your crown. Wrap some of the hair from your ponytail around the elastic for a polished finish.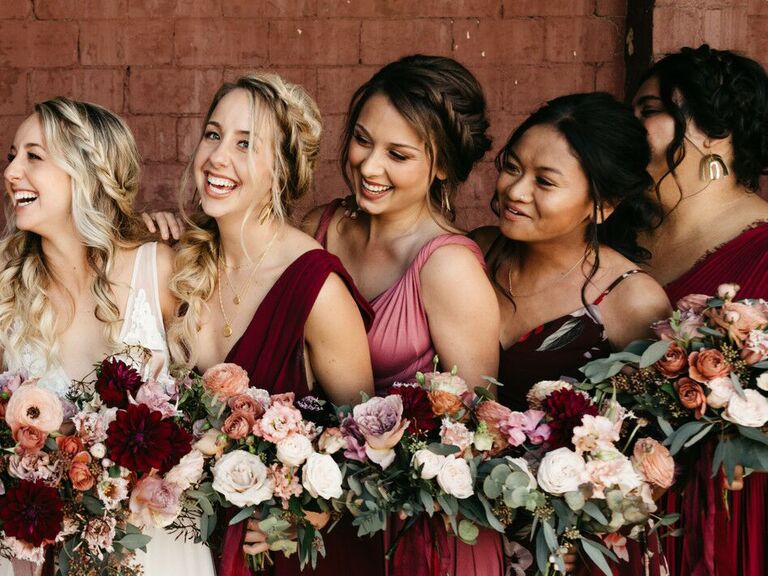 Have your stylist create a low, loose twist and pull out tendrils on the sides for a pretty boho look.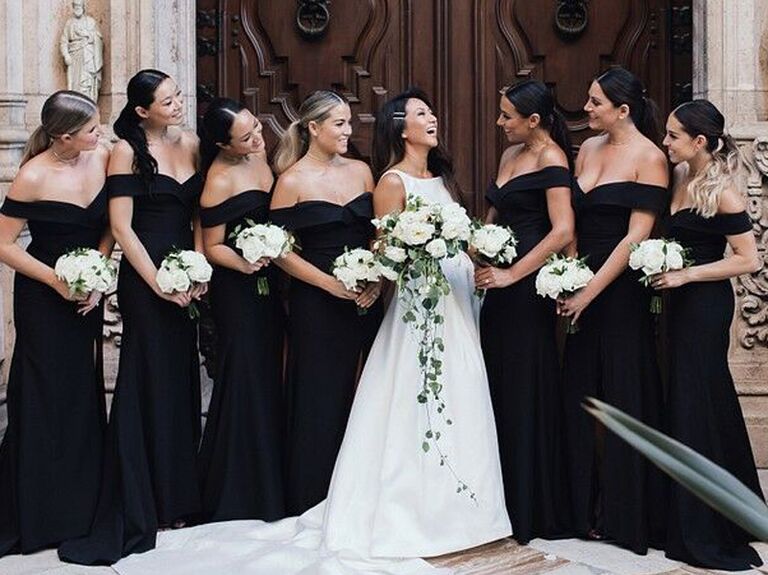 You can still rock a ponytail at a formal event. Slick your hair back into a glossy low ponytail. Add extra hairspray to hold the sleek style in place.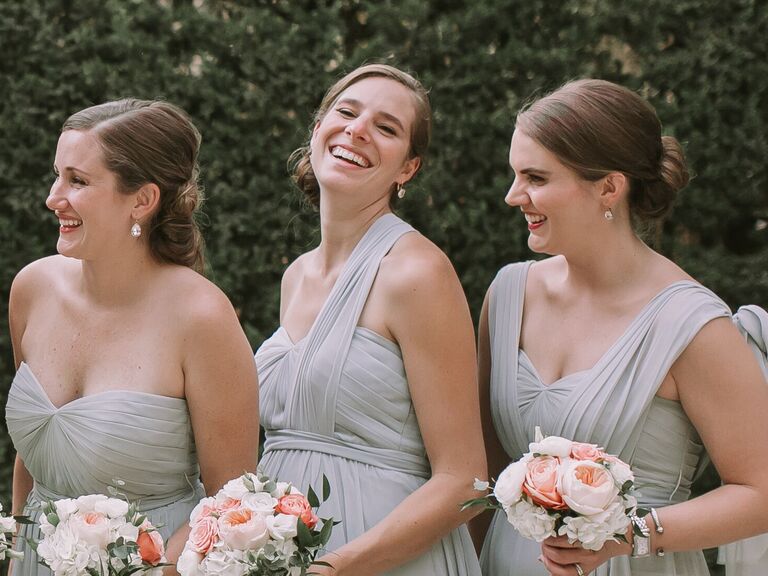 For a perfectly polished look, consider a low ballerina bun.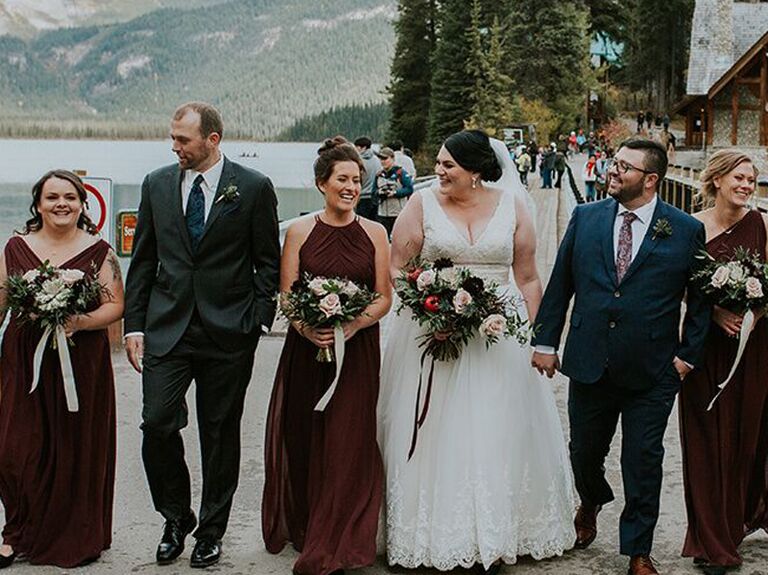 Keep your look casual with a messy high bun. Pull your hair up into a top knot and gently pull on pieces around your face for an effortlessly chic effect.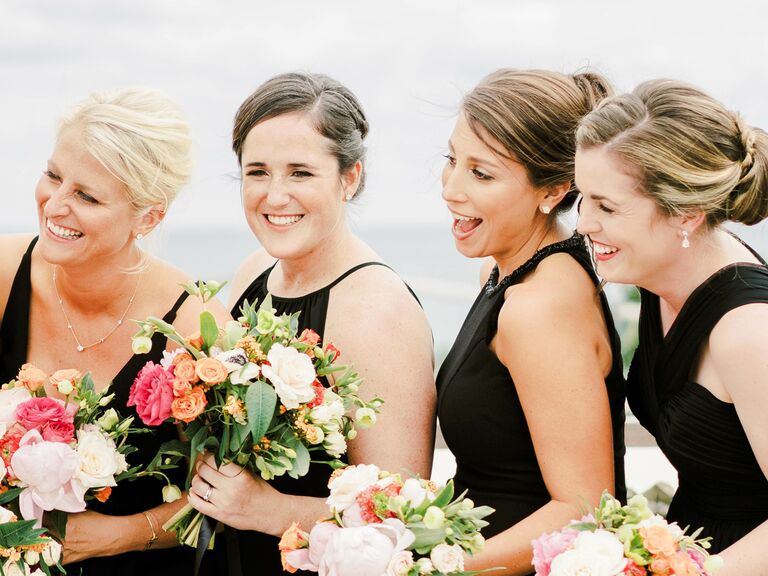 Have your stylist twist your hair back into a bun for an elegant vibe.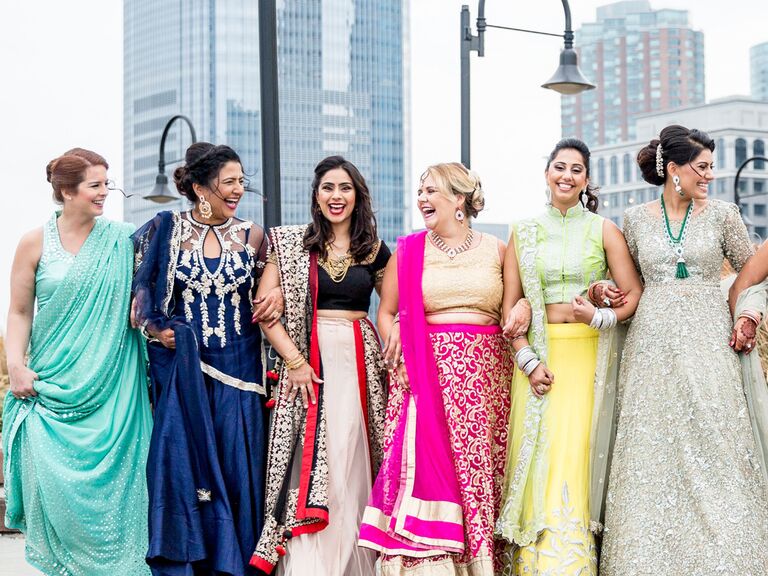 Give your updo a dramatic flair with added volume. Have your stylist tease the hair at your crown to achieve this style.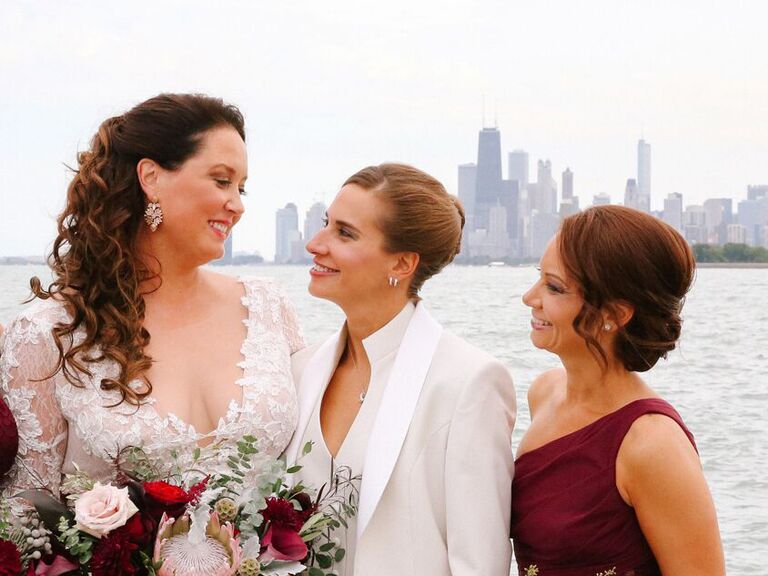 You can't go wrong with a classic. A low chignon with pieces pulled out is a pretty style you'll never regret choosing.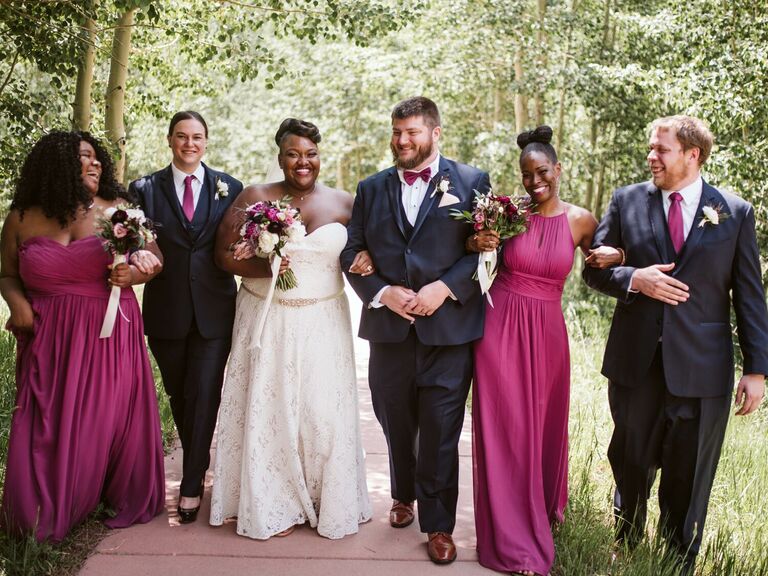 Here's a simple bridesmaid updo we love. Have your stylist create a bow-shaped bun for an adorable spin on the standard top knot.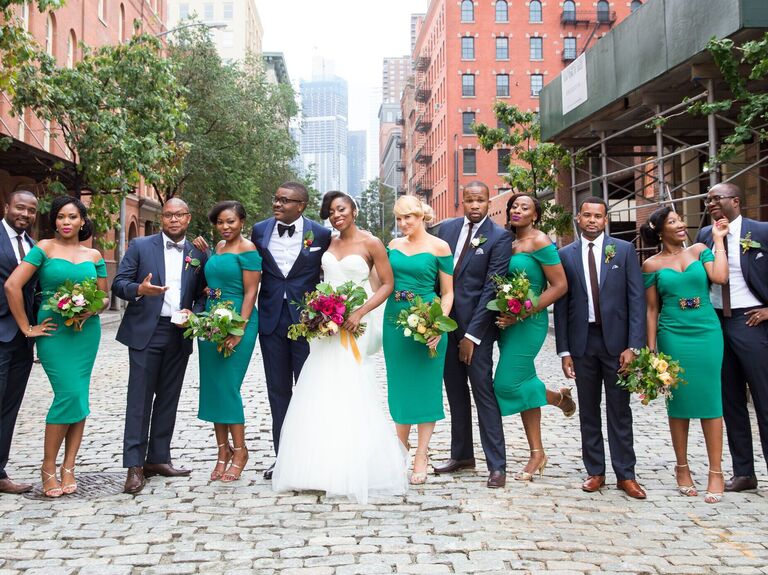 Going for a vintage vibe? Sweep your hair into a deep side back and create a voluminous chignon.
Bridesmaid Updos for Short Hair
Just because you have short hair doesn't mean you can't rock an updo. See our favorite styles for short-haired bridesmaids, below.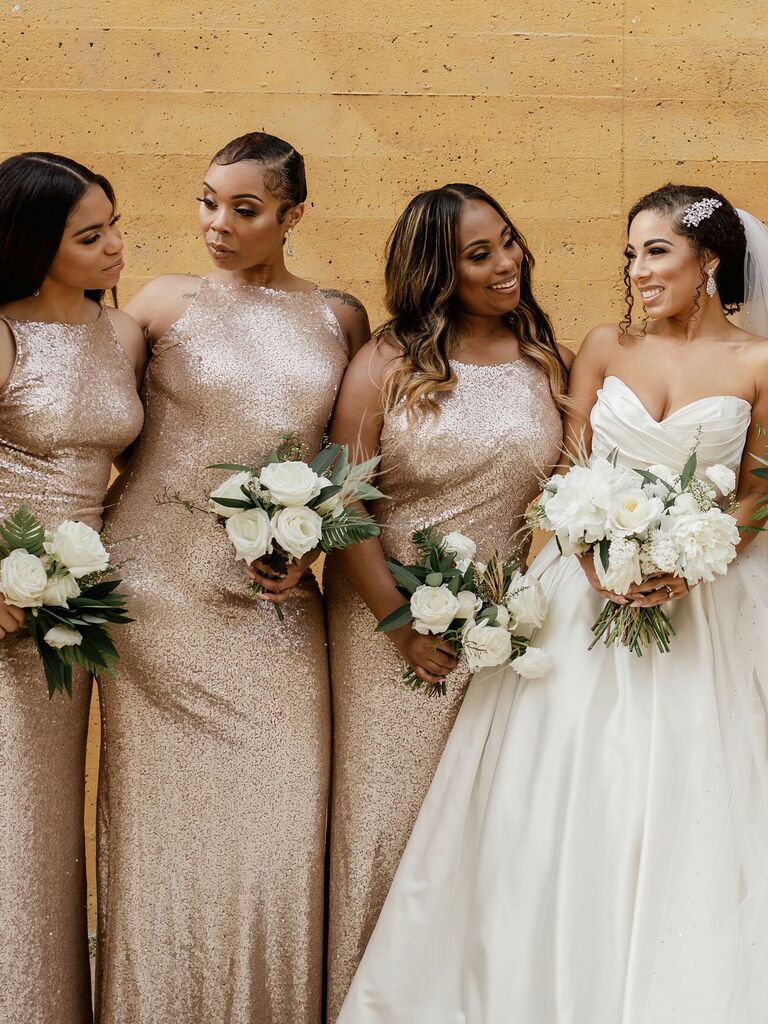 Slick your hair back with gel for a fashion-forward style that will keep your hair out of the way the entire wedding.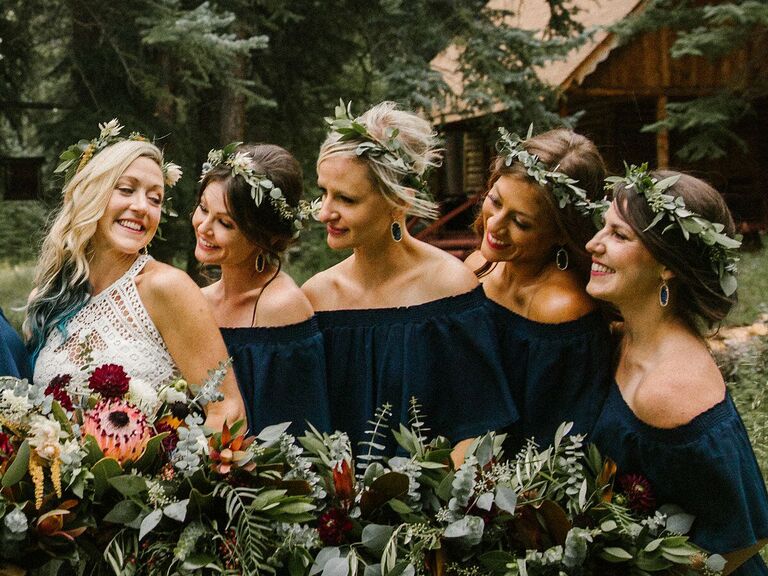 Loosely pin curls to the back of your head and top with the accessory of your choice (like a flower crown, for example).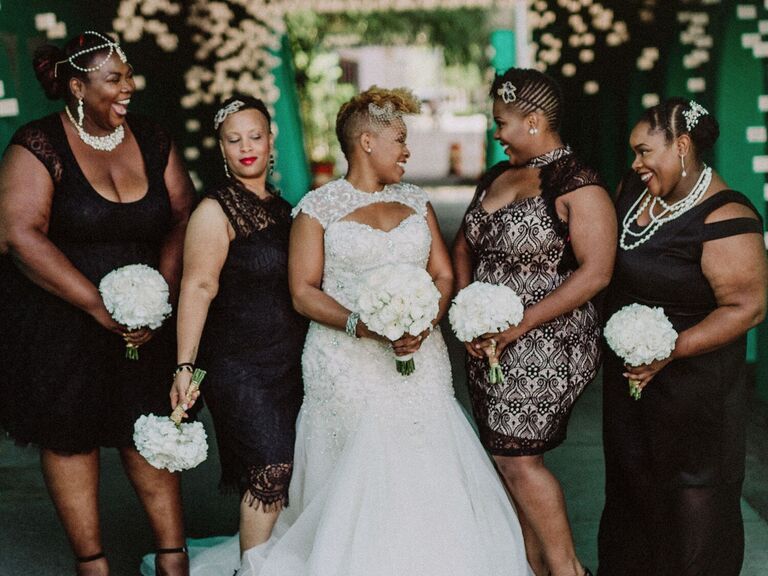 If you don't have much hair to work with, add in a show-stopping hair accessory to a simple bun.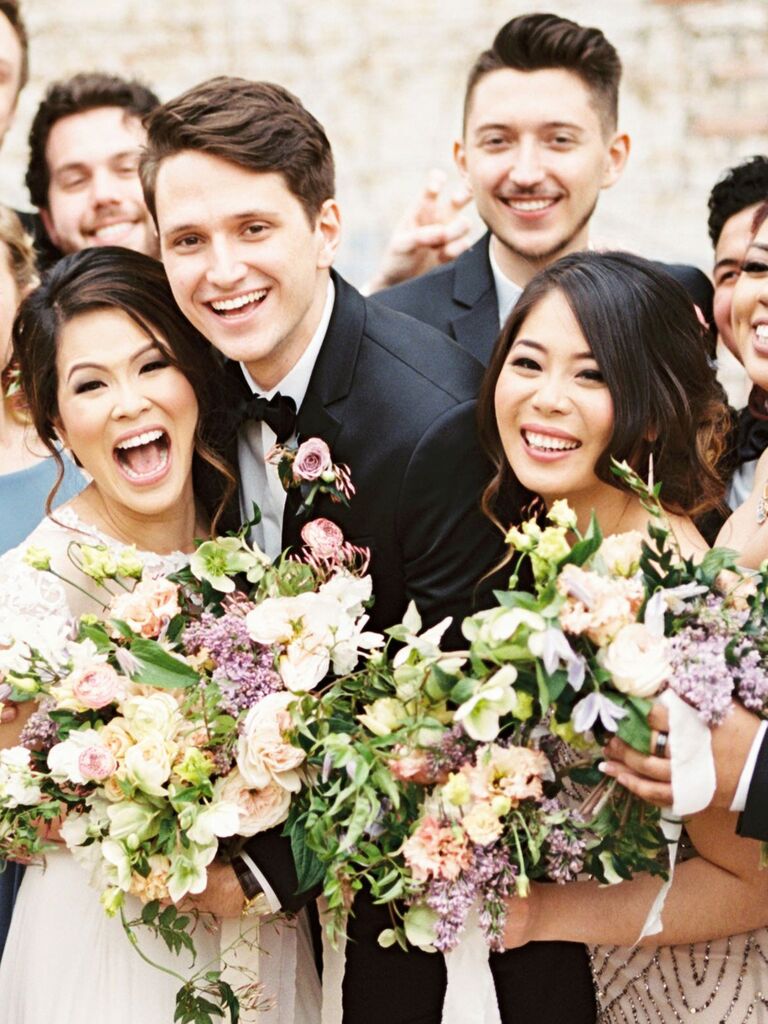 If your hair is too short to pull all the way back, leave the front half out and pin the back into a loose bun.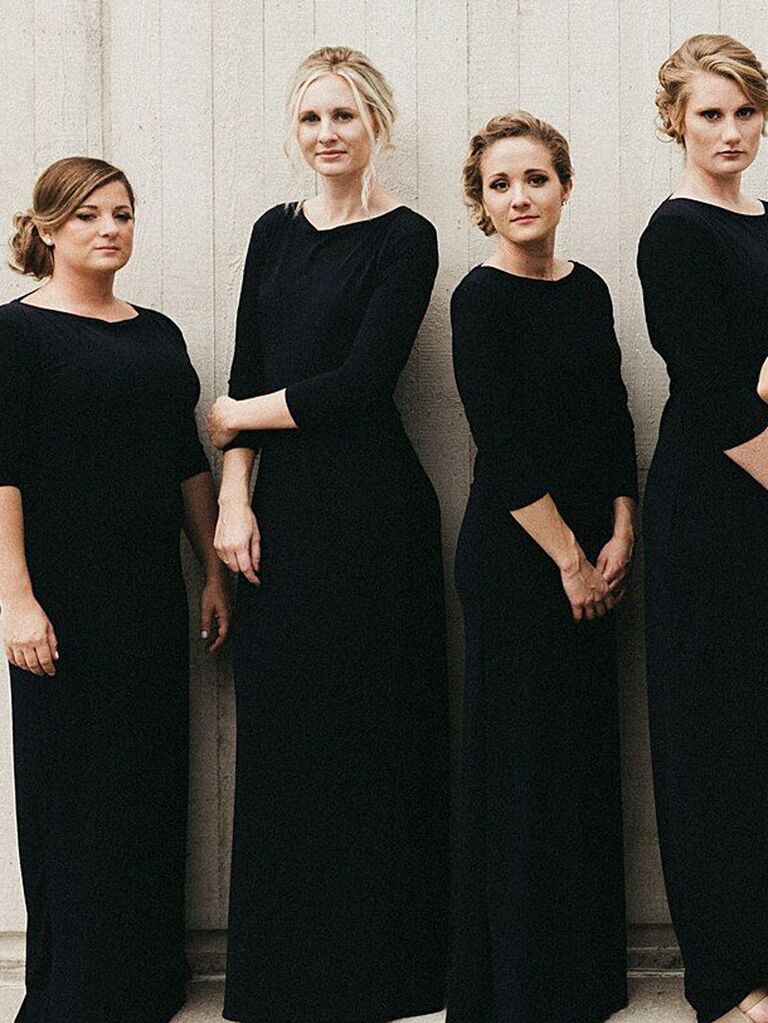 Looking for an edgy bridesmaid updo? Pin the sides of your hair back and pull out two long piece of hair in front for a chic '90s vibe.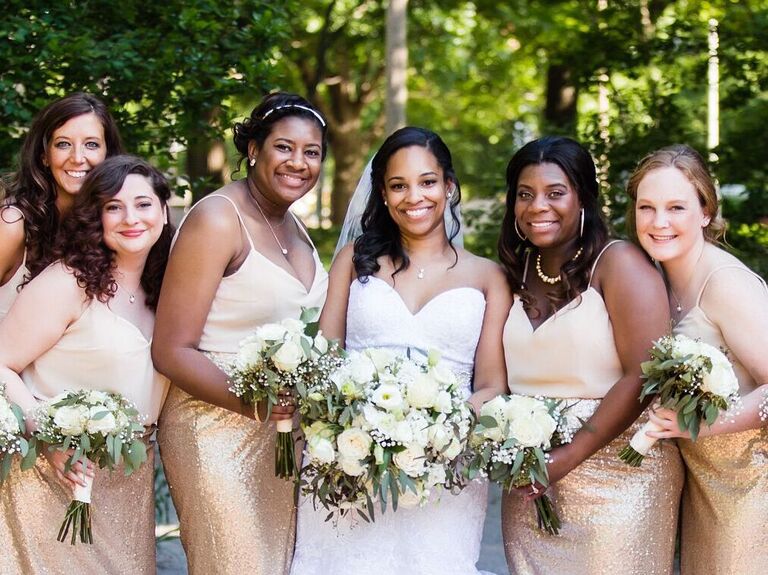 Give a simple chignon a glam upgrade by adding in a sparkly headband.
Bridesmaid Half Updo
Not sure if you want to commit to a full-on updo? Consider rocking a half-up style. It'll keep your hair out of the way and still show off your gorgeous tresses.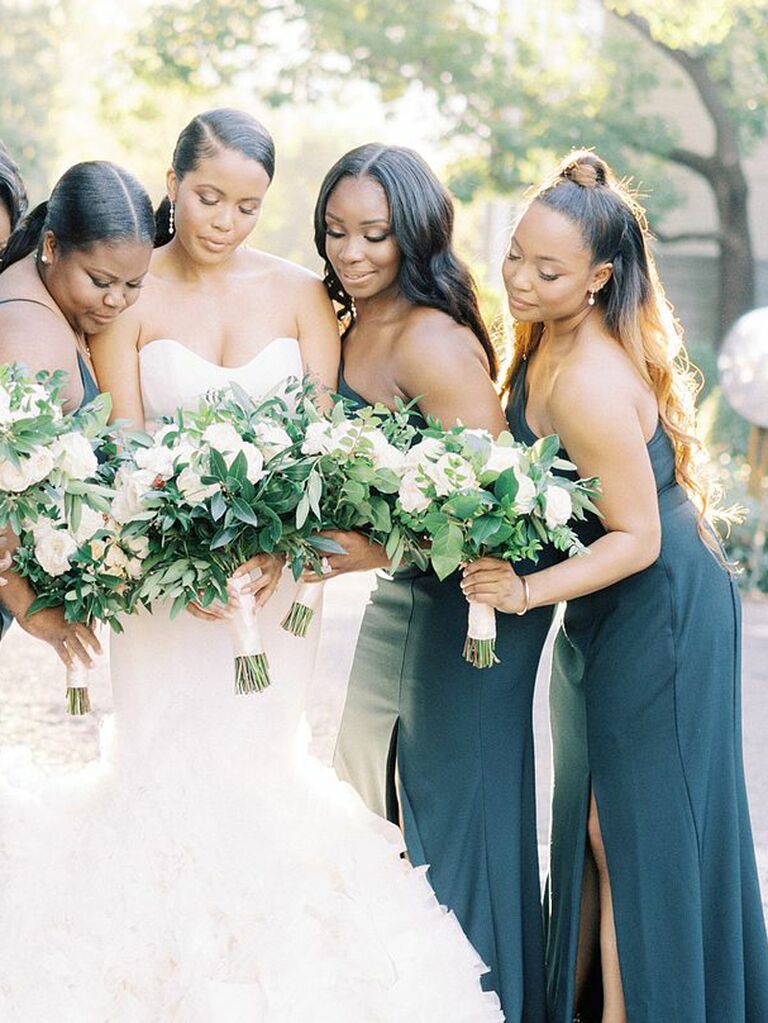 One of our favorite styles is the half-up top knot. It's clean, creative and cool.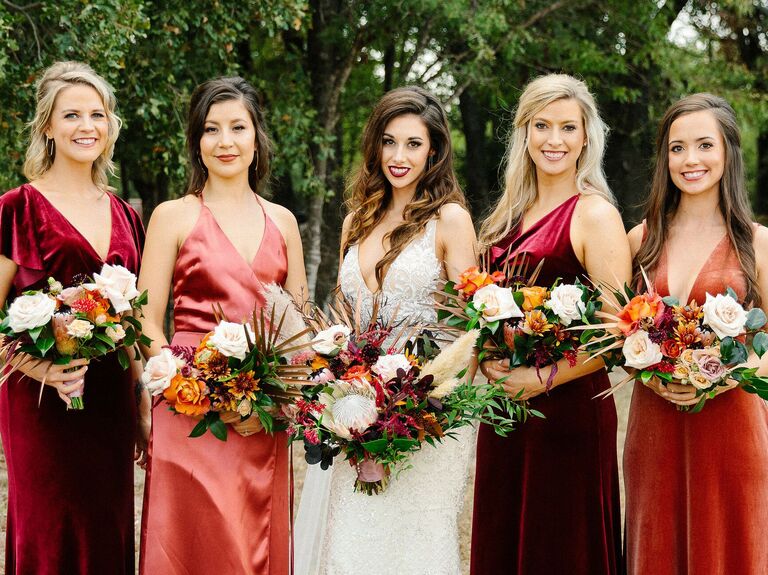 Loosely pin the front strands of your hair back for an effortlessly pretty style.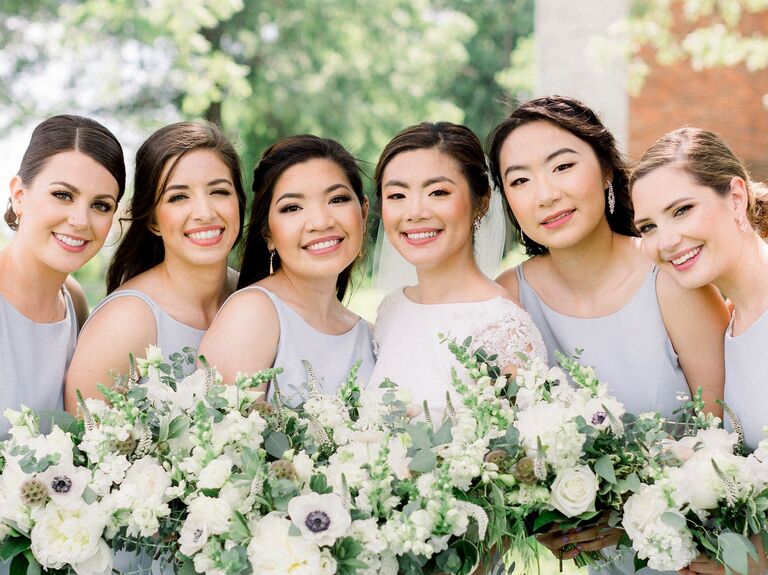 Separate two pieces of hair from each side of your face, twist them back and pin them together at the back of your head. The result is a sweet, simple half updo.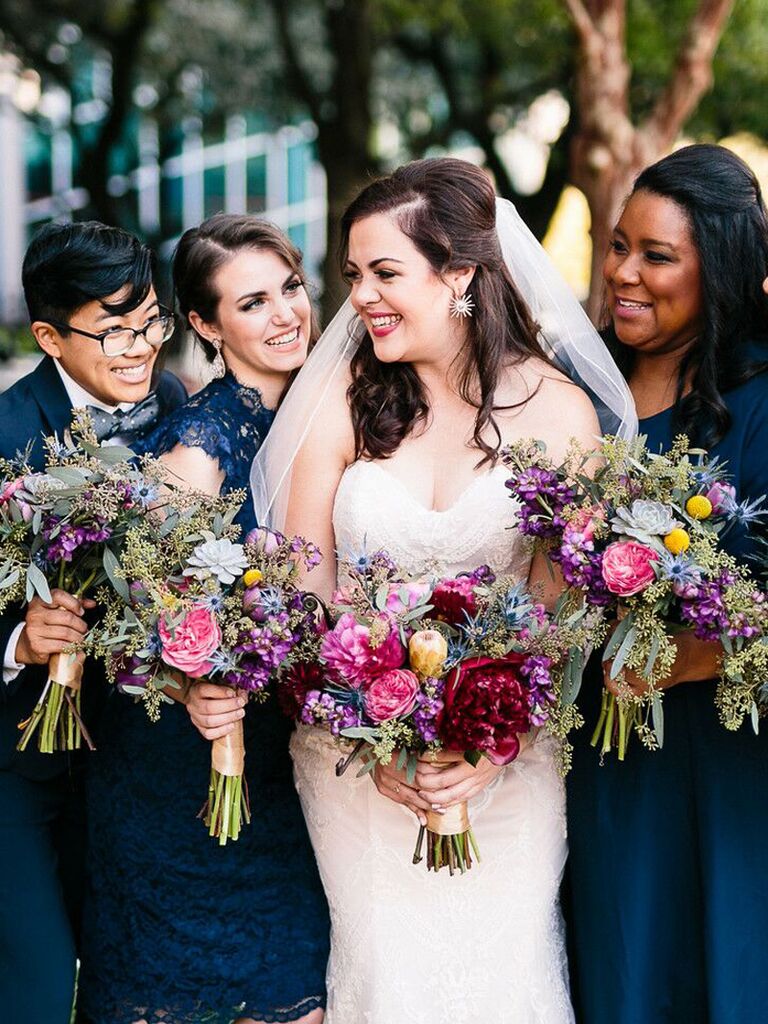 Create a mini pouf for some old-Hollywood glamor.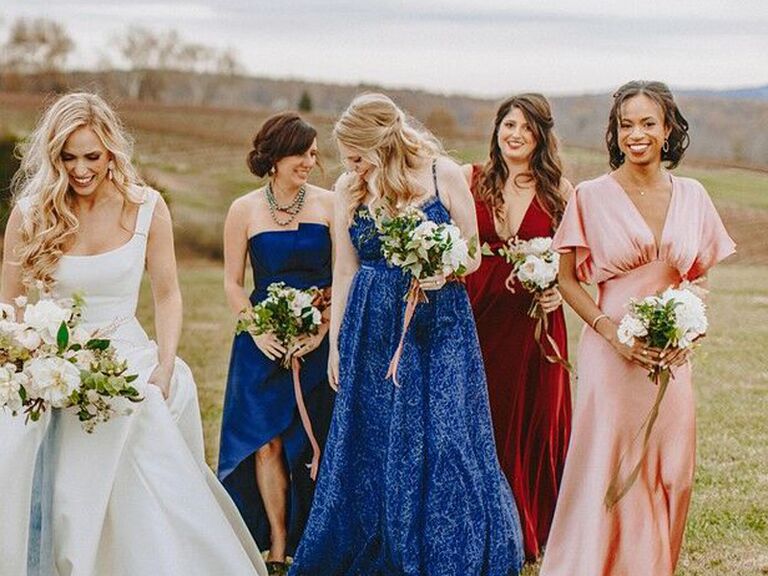 A half updo fit for royalty. Sweep the top half of your hair around to the back of your head and leave some pieces out front for a wispy effect.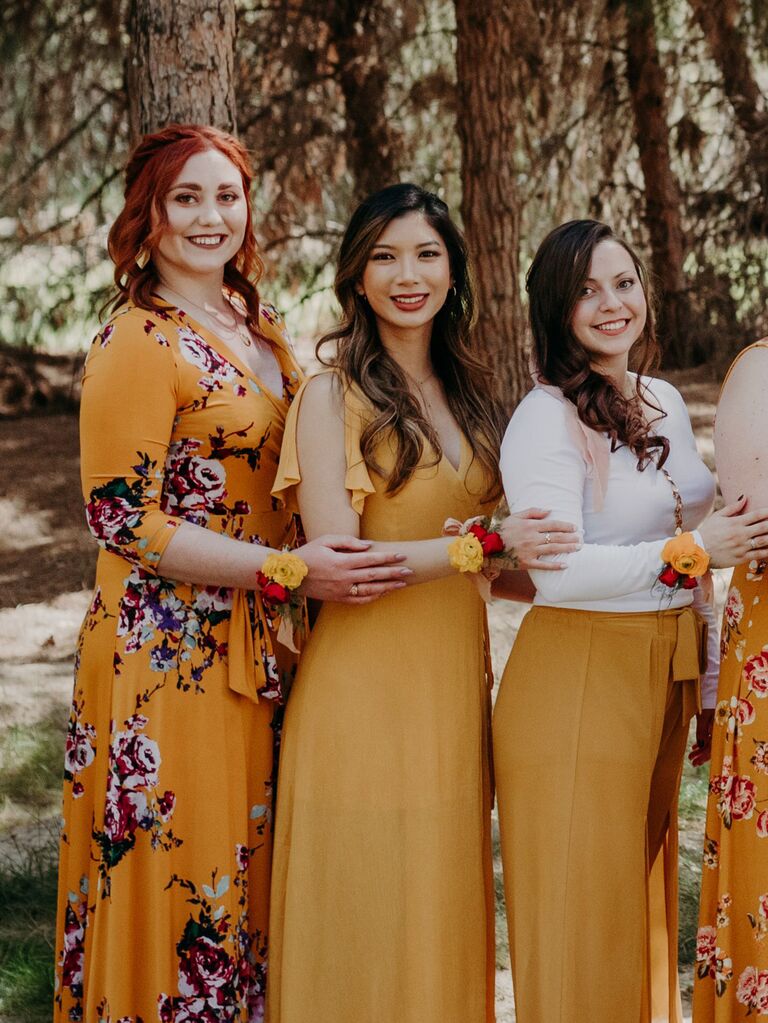 For a unique spin on the classic half updo, have your stylist braid the pieces you're pinning back and leave a few strands out front.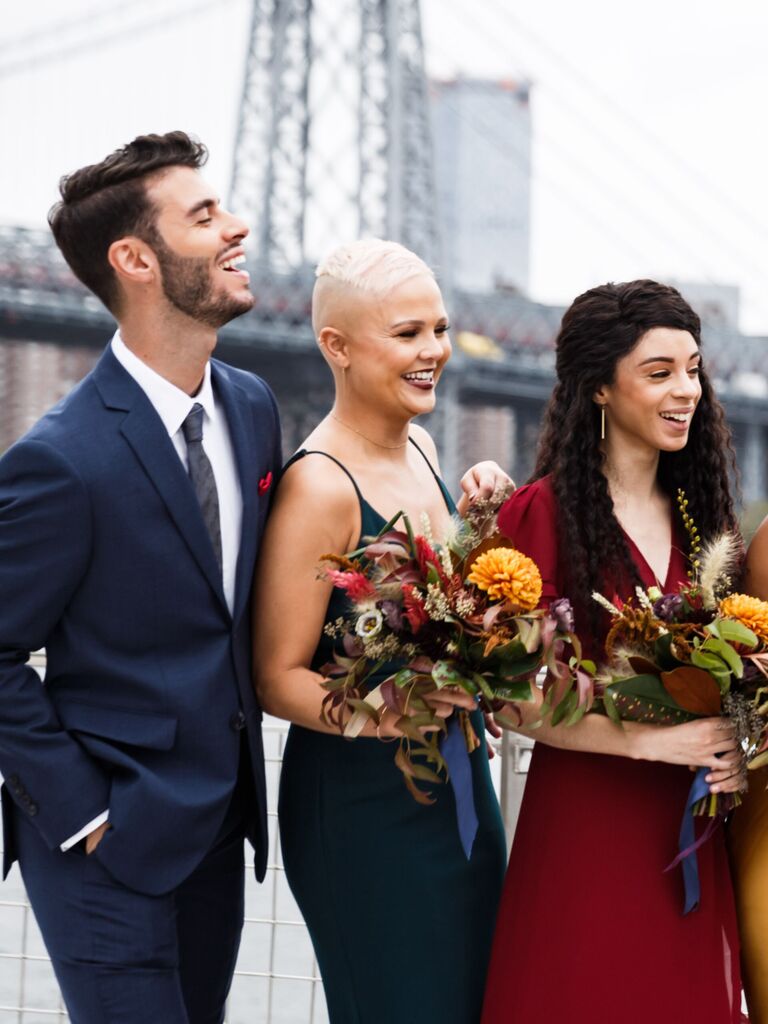 Keep your hair full out of your face with a proper half updo. Gather the top section of your hair (starting from your ears) and secure it back behind your head.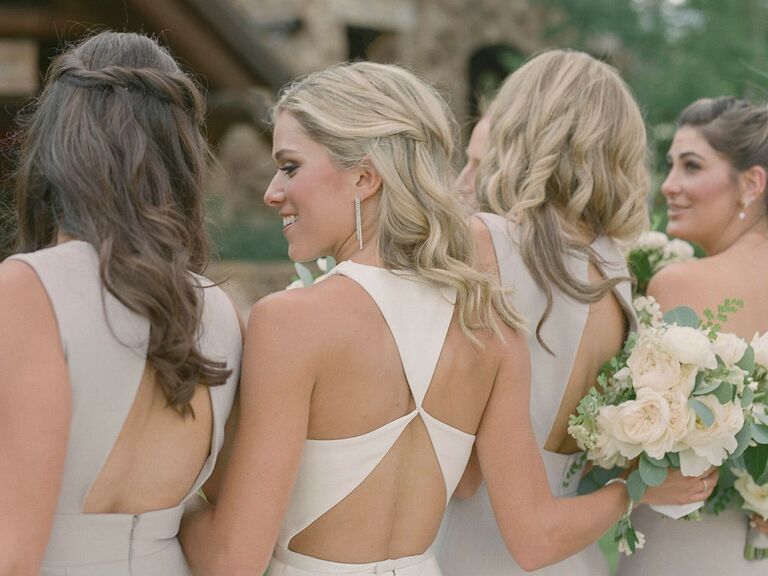 Create a twisted halo by twirling the front sections of your hair to the back of your head. Have your stylist expertly intertwine the ends for a never-ending halo look.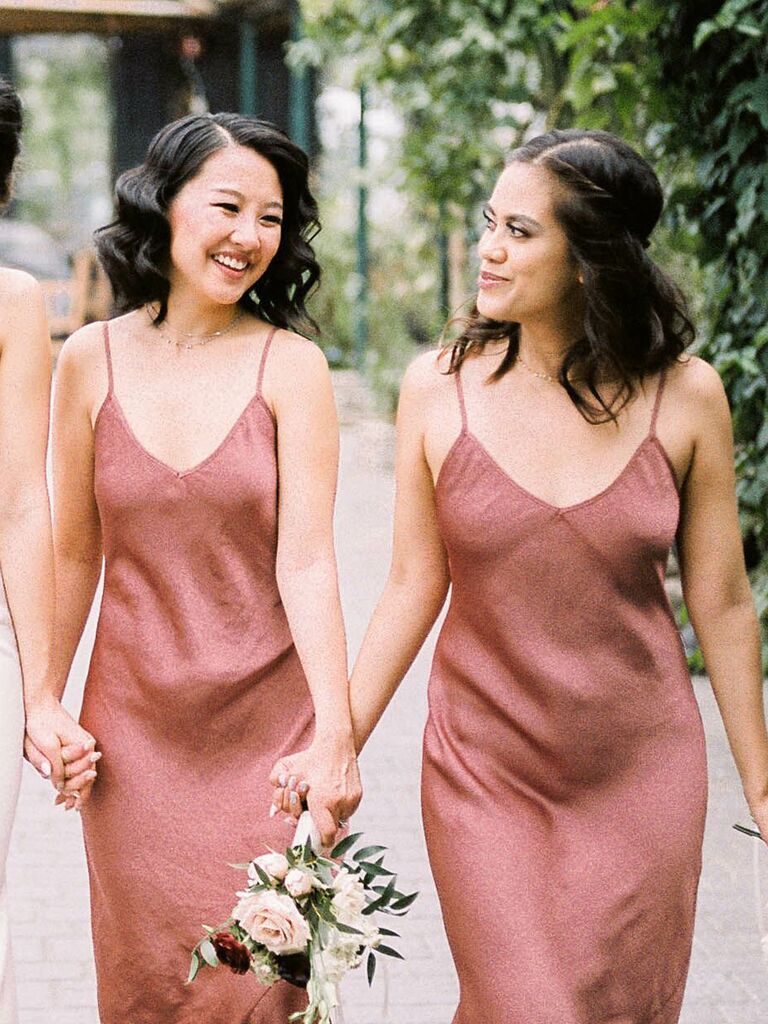 Create two small braids on each side of your head and pin them back tightly for a sleek, pretty vibe.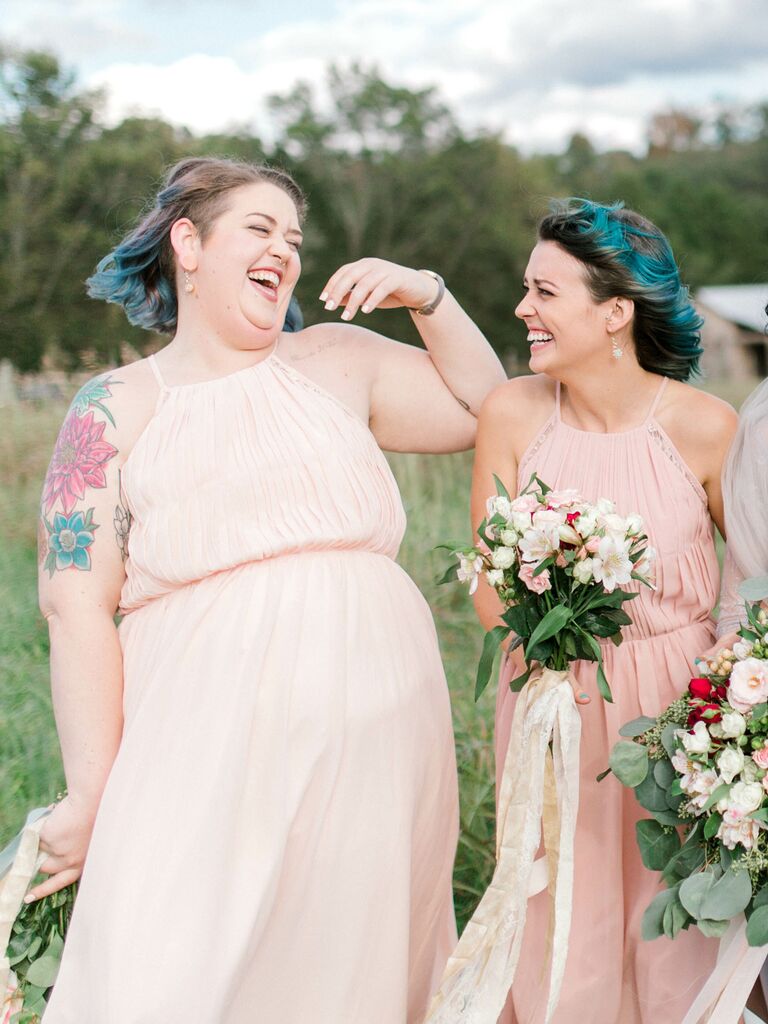 Rock a bold color, like bright blue. A simple half updo will show off your colored locks.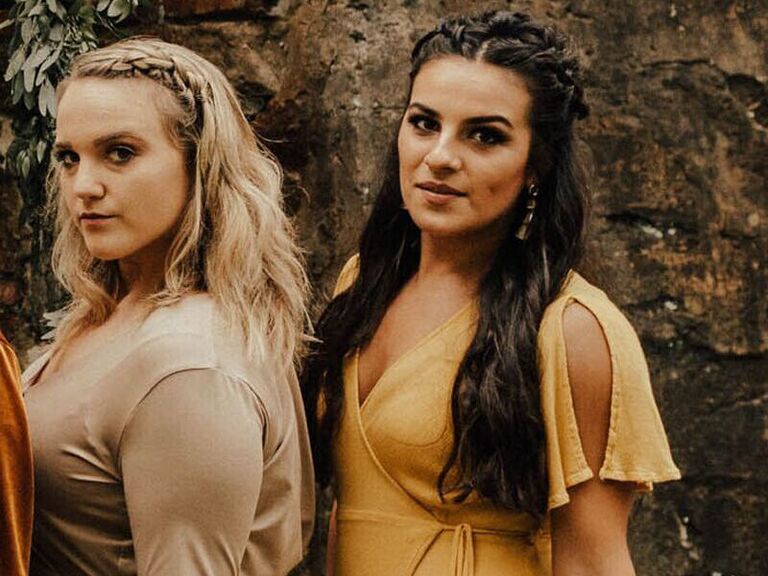 Create two large French braids at the front of your face and pin them back for an edgy, cool-girl vibe.
Bridesmaid Updos for Medium-Length Hair
Working with medium-length hair? Good news: your versatile length gives you plenty of bridesmaid updos to choose from.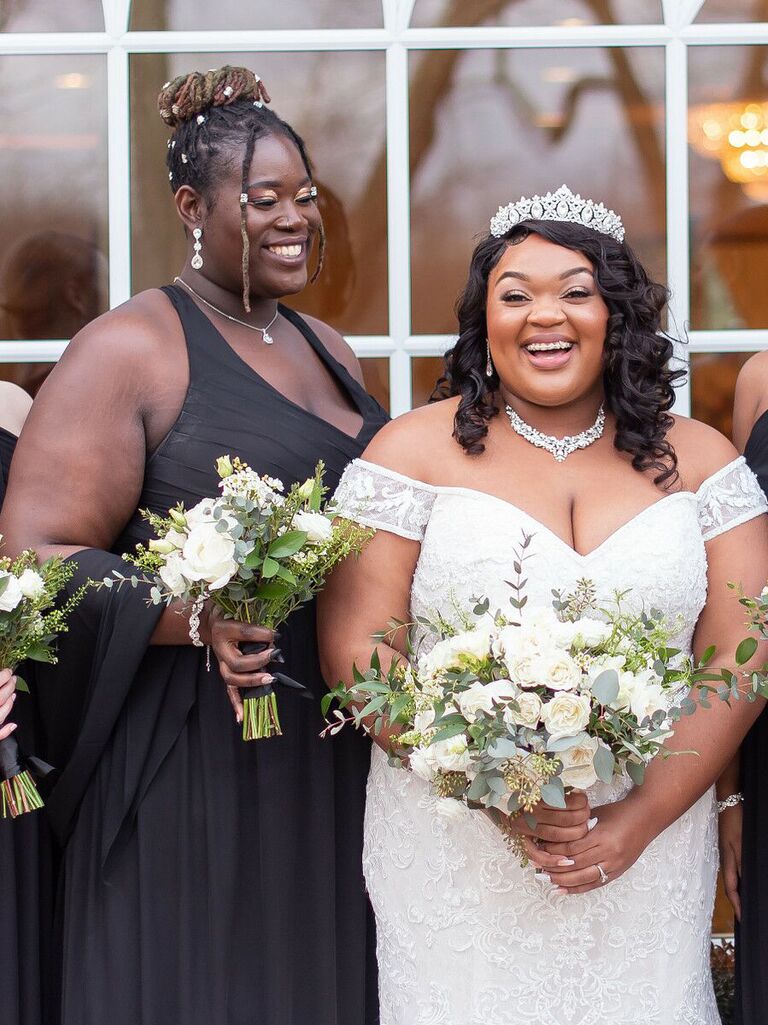 If your hair isn't quite long enough for a dramatic pony, consider a top knot. Make it your own by adding in accessories.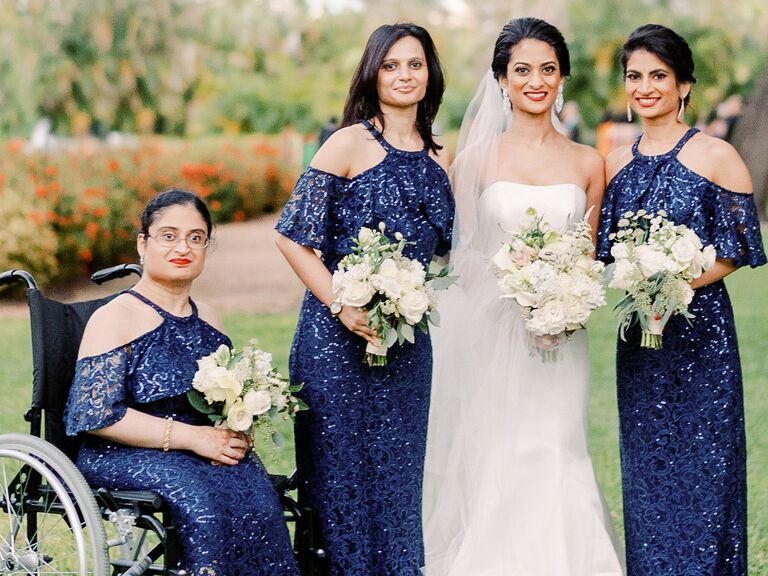 A slicked-back bun looks equal parts chic and elegant. Plus, it'll show off your gorgeous outfit.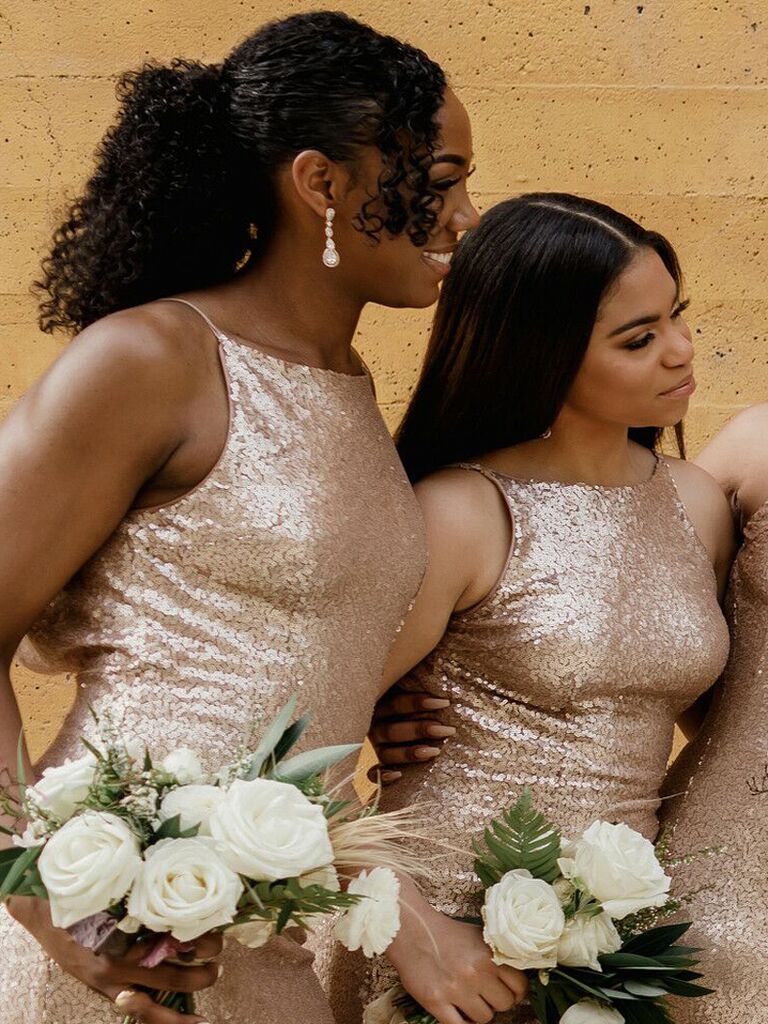 Soften up a slick pony by leaving some pieces out in front. It'll look absolutely stunning.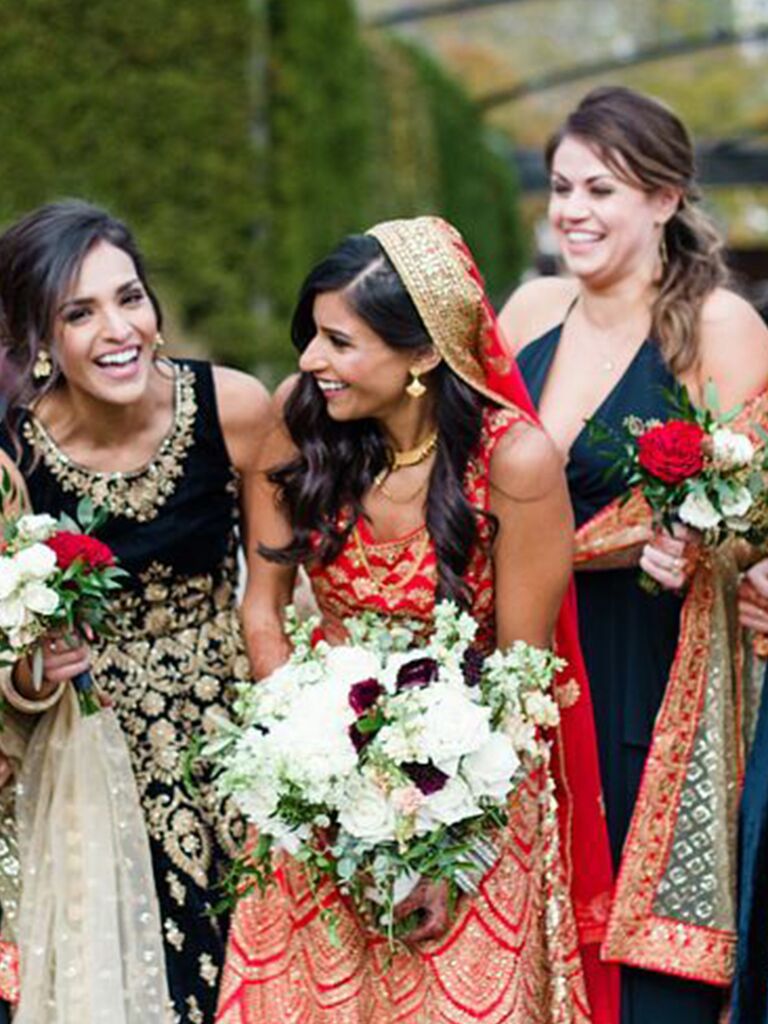 A low side ponytail is a popular bridesmaid updo for a reason. It looks gorgeous with any outfit, and it keeps your hair out of your way.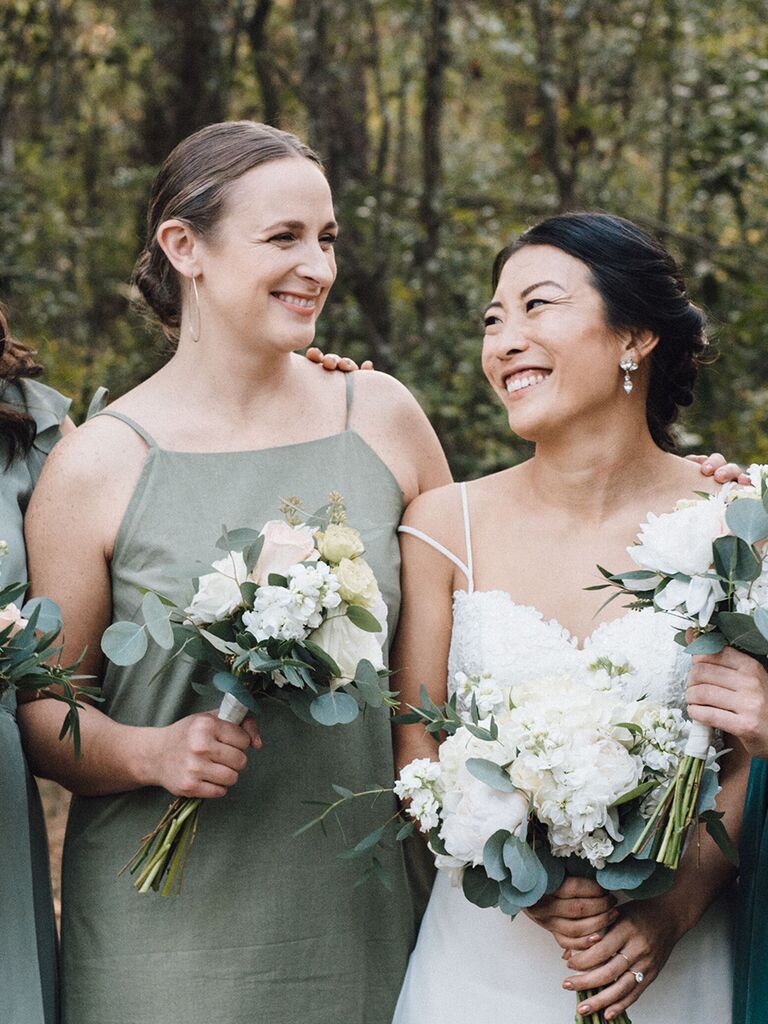 A center part with a low, sleek ballerina bun adds just the right amount of edginess.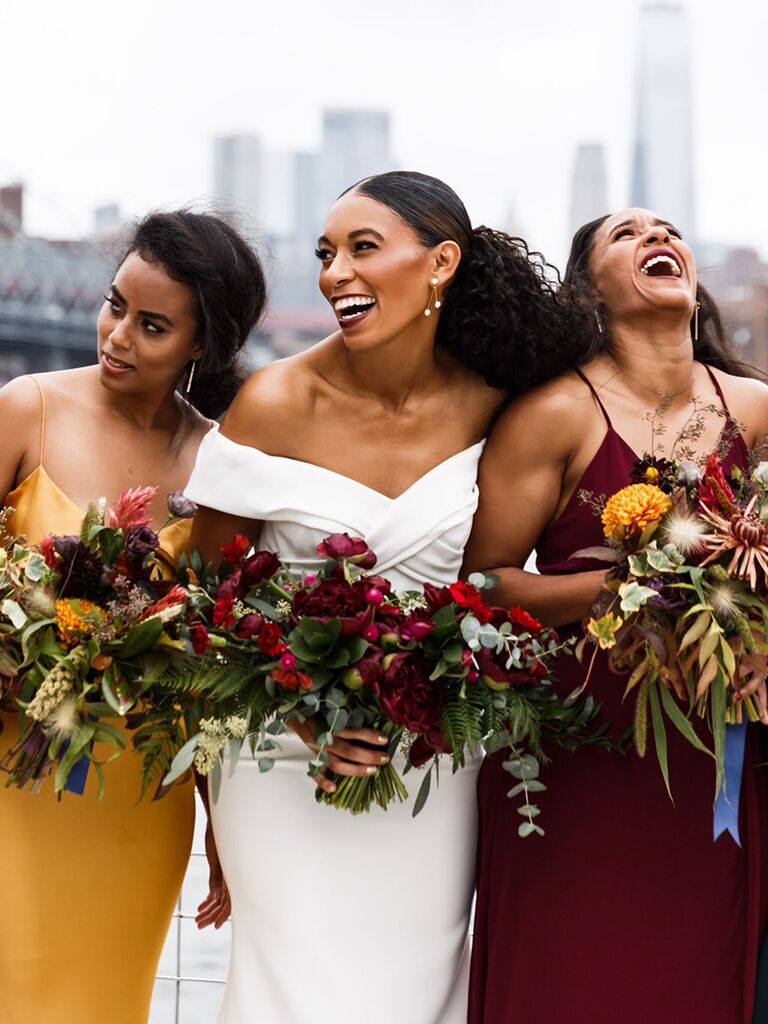 Pin your low bun to one side. It's a simple way to make a classic style more unique.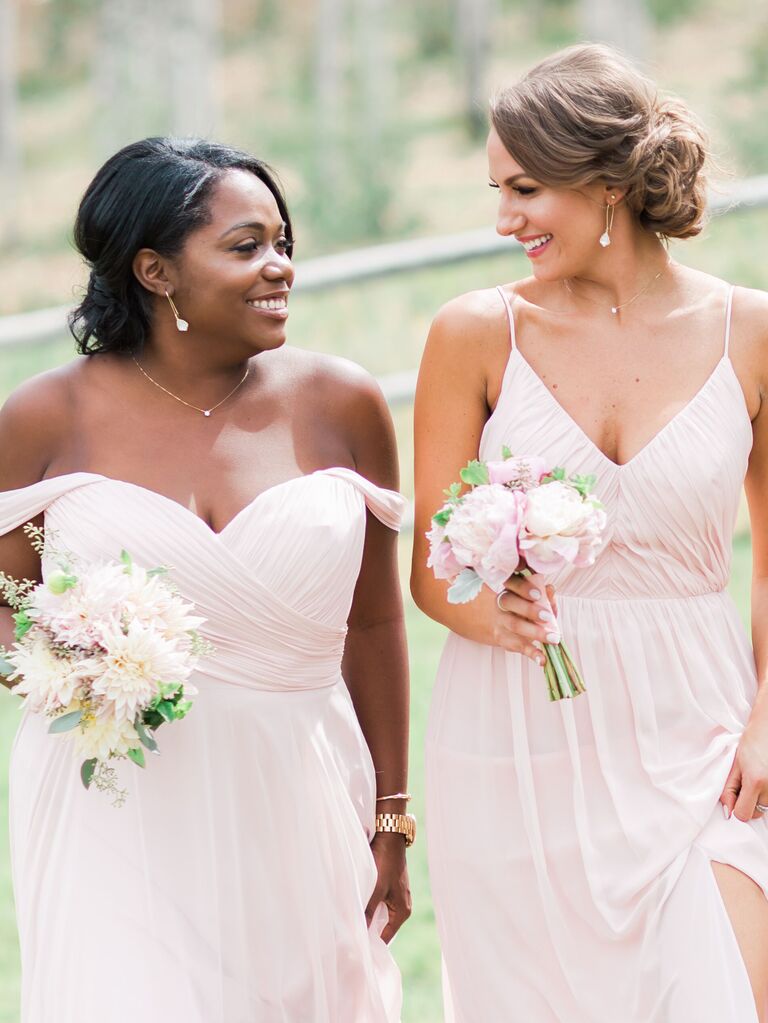 A small chignon at the nape of your neck is a simple bridesmaid updo that works great for mid-length hair.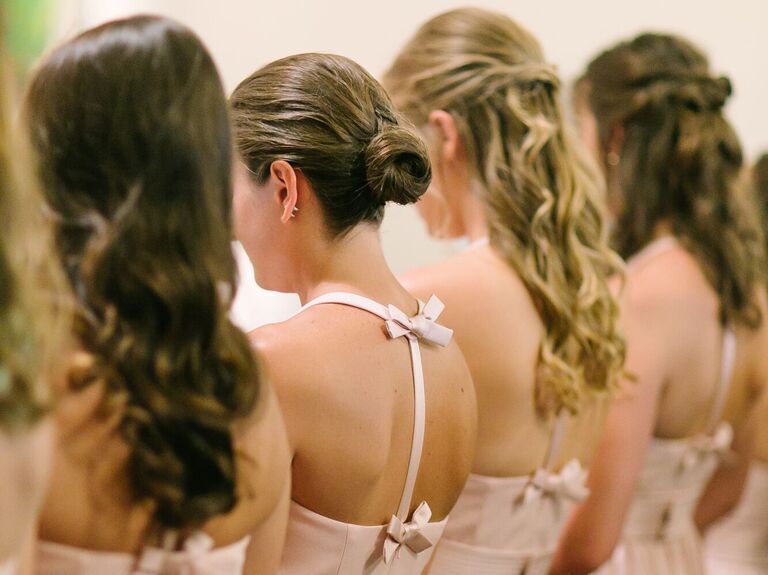 Raise the classic ballerina bun up a few inches for a more modern spin on the classic style.
Bridesmaid Updo with Braid
One of the simplest ways to make an updo more unique is to add a braid. It'll add dimension, texture and an effortless, cool-girl vibe to your wedding day look.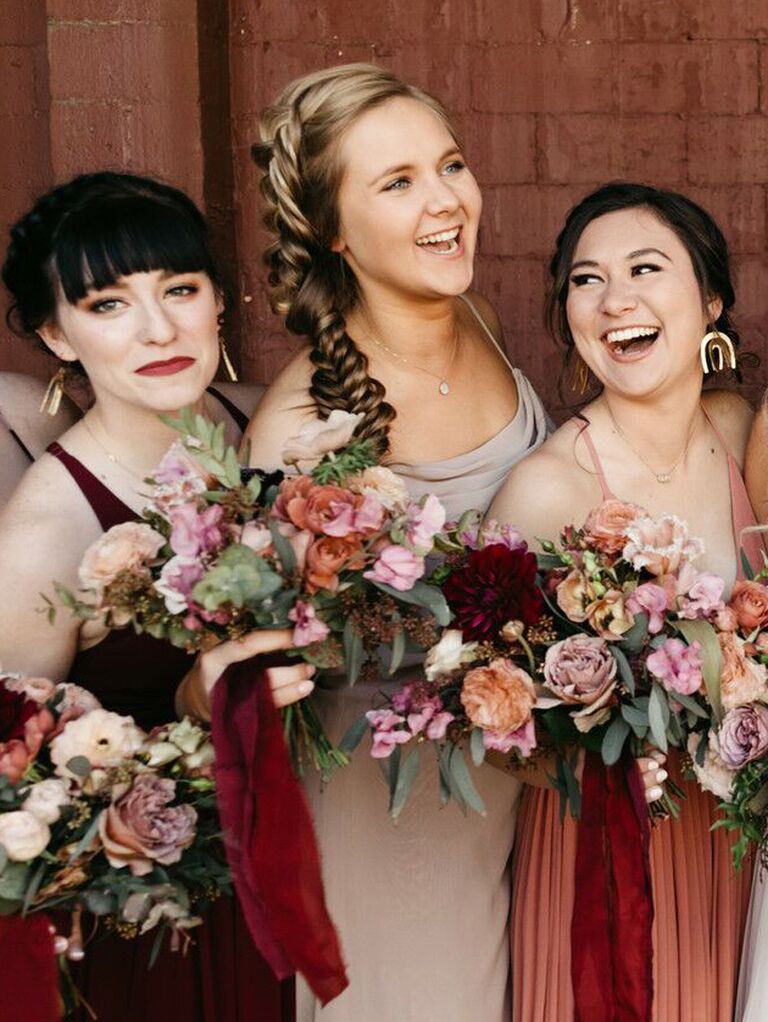 For an edgier spin on the popular French braid, ask your stylist to create a Dutch braid. Since the strands are being braided in the opposite direction, the braid will have more dimension.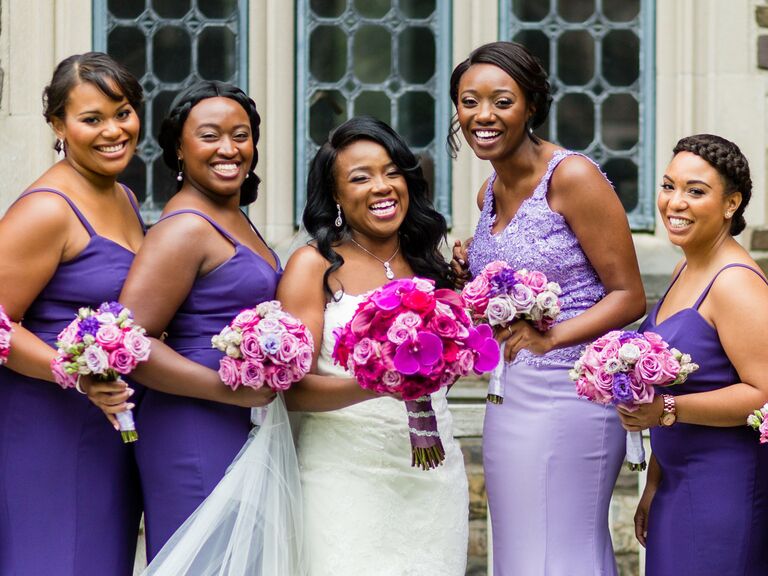 Add a small French braid to the front of your chignon for a unique look.
A low ponytail with a side braid is effortlessly gorgeous.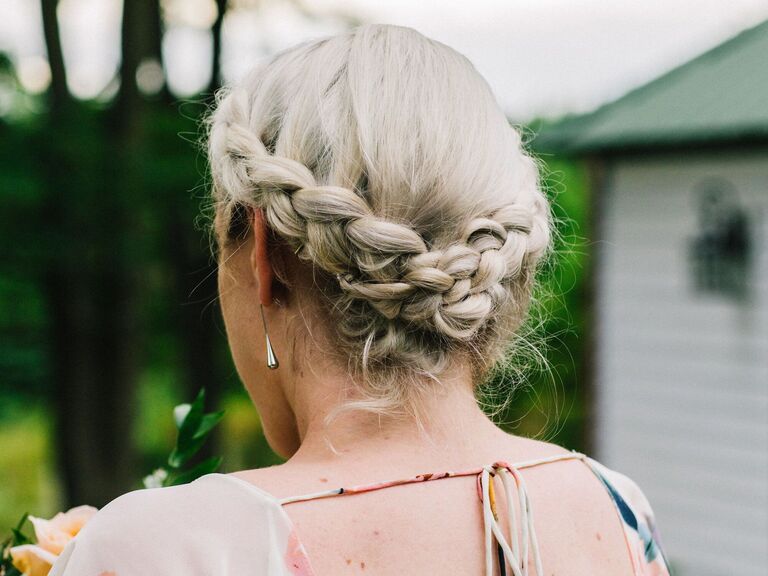 Keep your hair completely out of the way with a braided halo updo. Ask your stylist to French braid the sides of your hair and intertwine them in the back of your head.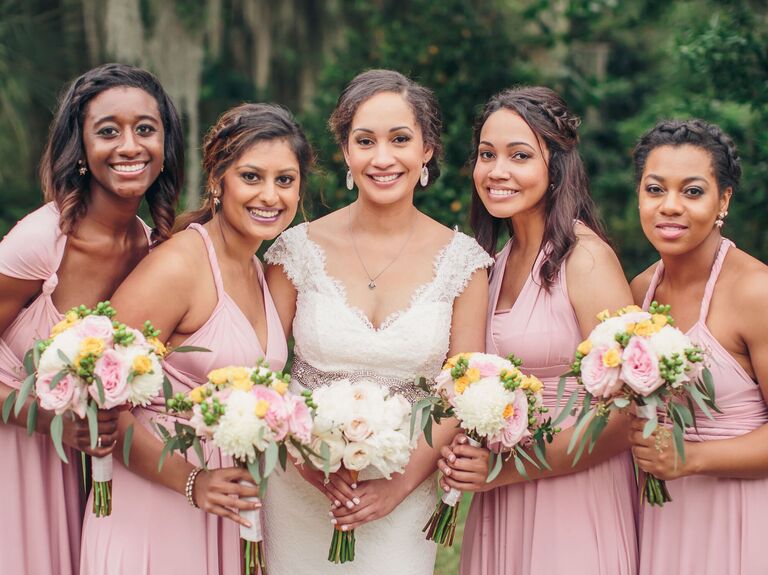 Create your own hair accessory with a braid crown.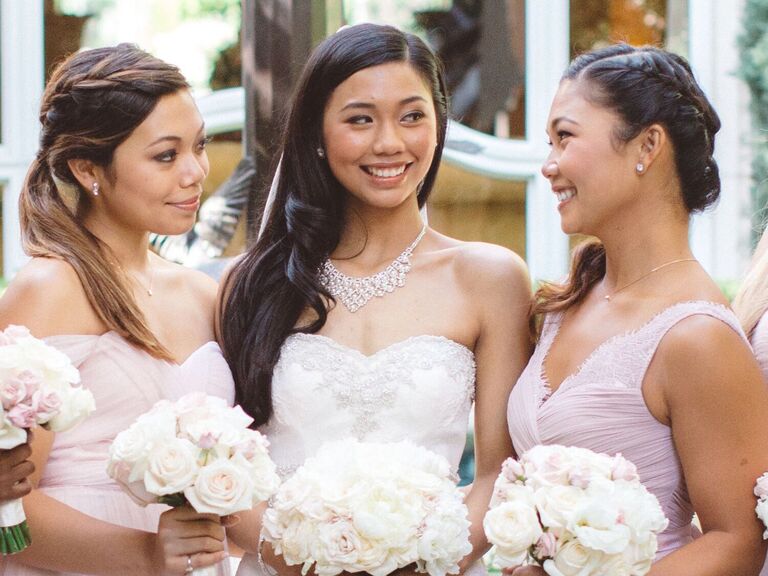 Add a braid to your side ponytail for a pretty, playful vibe.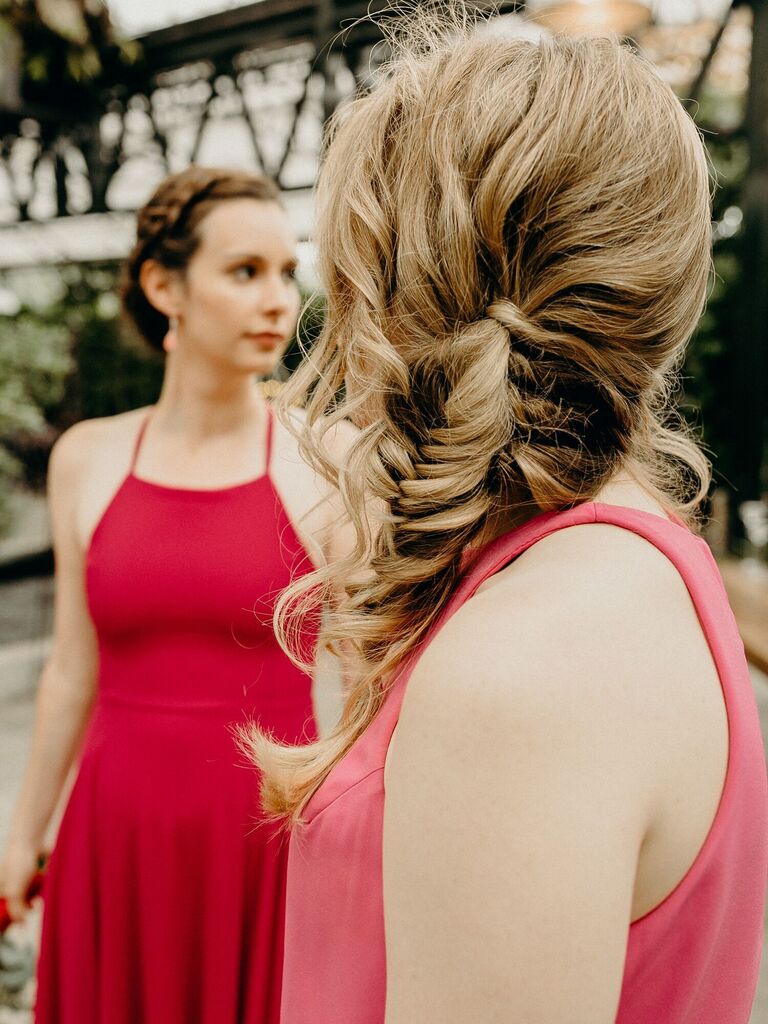 Equal parts edgy and pretty, a fishtail braid is the perfect bridesmaid hairstyle for fashion-forward attendants.