20 Bridesman Gifts That Honor His Role in Your Wedding—and Your Life
Thank your ride-or-die with a gift he won't forget.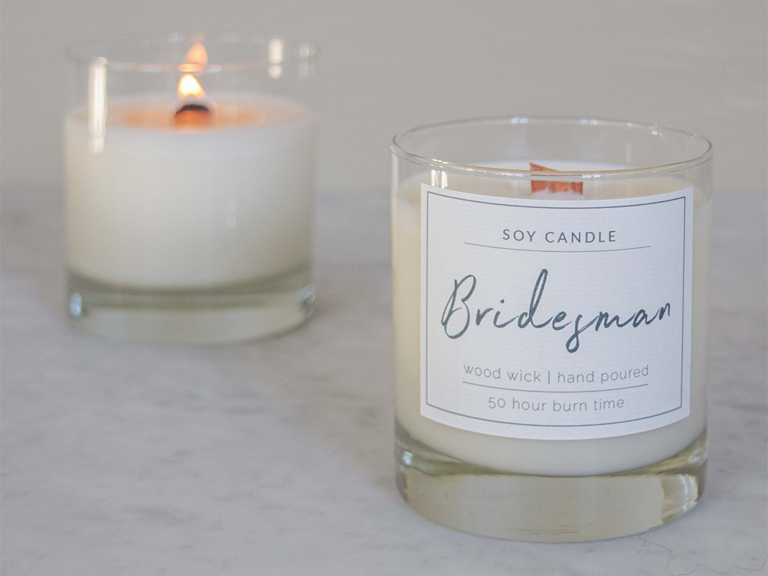 We have included third party products to help you navigate and enjoy life's biggest moments. Purchases made through links on this page may earn us a commission.
The tradition of having your best friends and close family stand with you on your wedding day isn't going anywhere. What is changing, however, is who gets included. These days, more brides are asking male friends to join the wedding party on their side of the aisle. If you're doing this then you'll need a bridesman gift to thank him on the big day, just like you will for your bridesmaids.
If you're scratching your head over what to get him, don't stress it. A bridesman gift can be literally anything you want it to be and is often similar to any groomsmen gift ideas you may be familiar with. But digging down deep to the kinds of things your bridesman likes (and would actually use) is a good place to start. After all, he's been there for you through thick and thin, and soon he may be helping you plan your bachelorette party and cleaning up hoards of wrapping paper at your bridal shower. (That deserves to be commended.)
Scroll on for some of our favorite bridesman gift ideas that say "thank you" in all the right ways.
The Knot Shop Personalized Frame Gunmetal Pocket Watch and Fob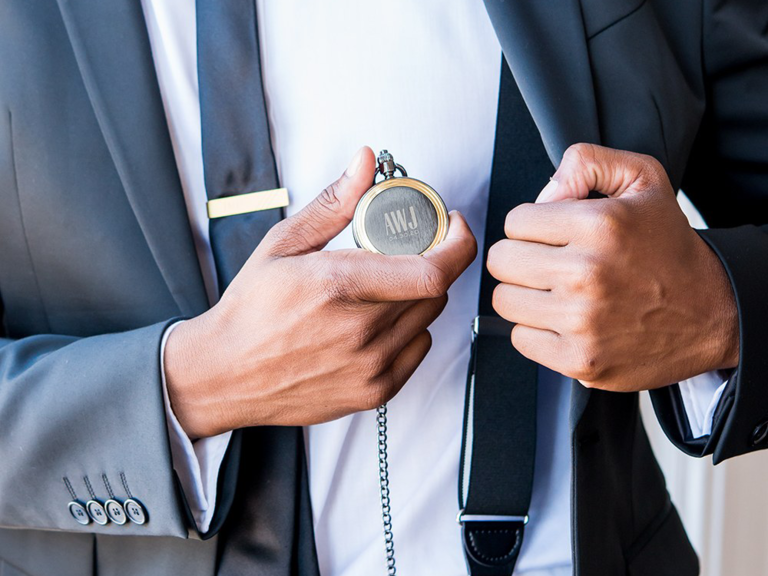 This gunmetal pocket watch has a cool, vintage look that will leave your bridesman feeling like a distinguished gentleman. (As he should.) That said, this isn't your grandfather's pocket watch. Features include a modern clockface, customizable monogram engraving and a matching 12-inch belt chain. It's also battery-operated, so he won't have to wind it up himself.
Shp By Anna Personalized Men's Wooden Watch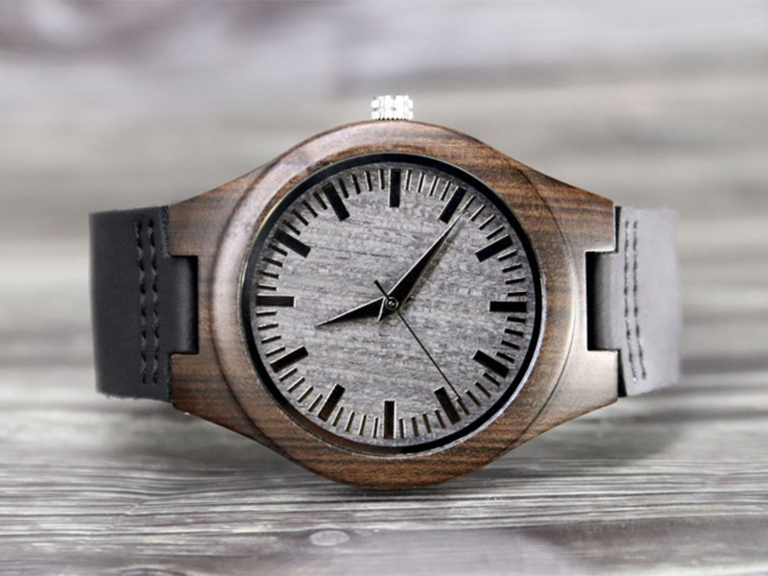 If your bridesman isn't really a pocket watch kinda guy, this unique wristwatch is a fashionable alternative. The case backing is carved from 100% natural wood, while the strap is made of high-quality soft leather that makes it comfy enough for everyday wear. You can also have the Etsy seller wrap it in a customized wooden gift box engraved with his name, your wedding date and his role in the wedding party.
The Knot Shop "Save Water, Drink Beer" Rustic Olive Wood Coasters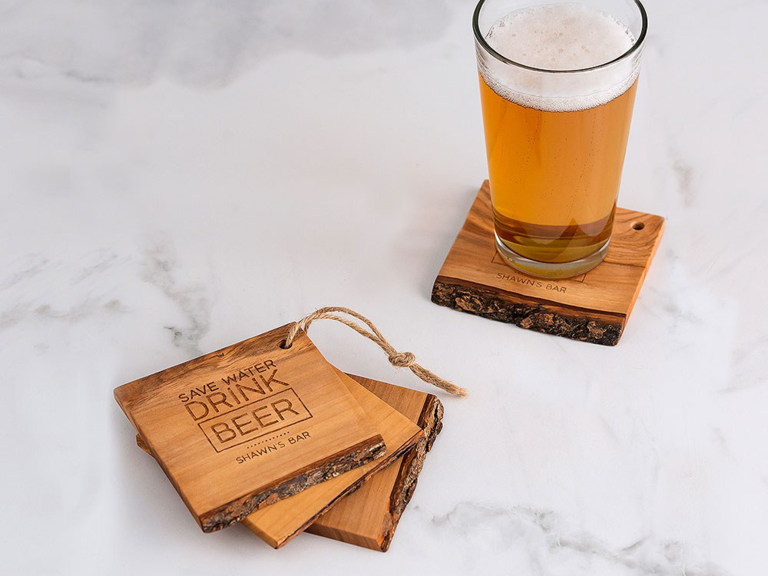 In the words of Larry David, "Do you respect wood?" This eco-friendly set has a rustic style your bridesman will love that also protects his furniture from getting ruined (which he might just love even more). It can also be customized depending on the vibe you're going for, whether you want something simple engraved on each coaster, like his initials and your wedding date, or a phrase like "Save Water, Drink Beer" to match a lighthearted and funny wedding theme.
The Knot Shop Personalized Black Folding Cooler Bag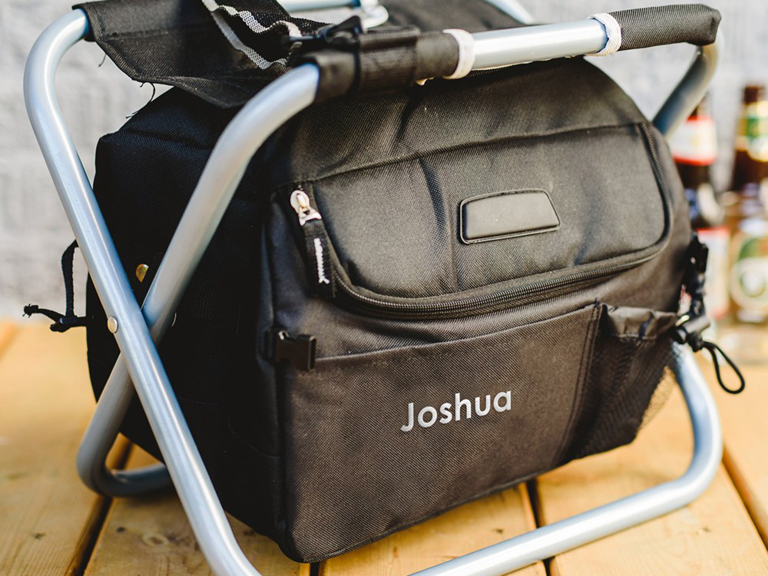 This two-in-one cooler bag and chair was made for the outdoor enthusiast who's all about convenience. The lightweight, easy-to-fold design makes it ideal for taking along on fishing trips, campouts and more. The fact that you can have it embroidered with your friend's initials gives it that special touch you look for in a thank-you gift.
The Knot Shop Adult's Personalized Chef Apron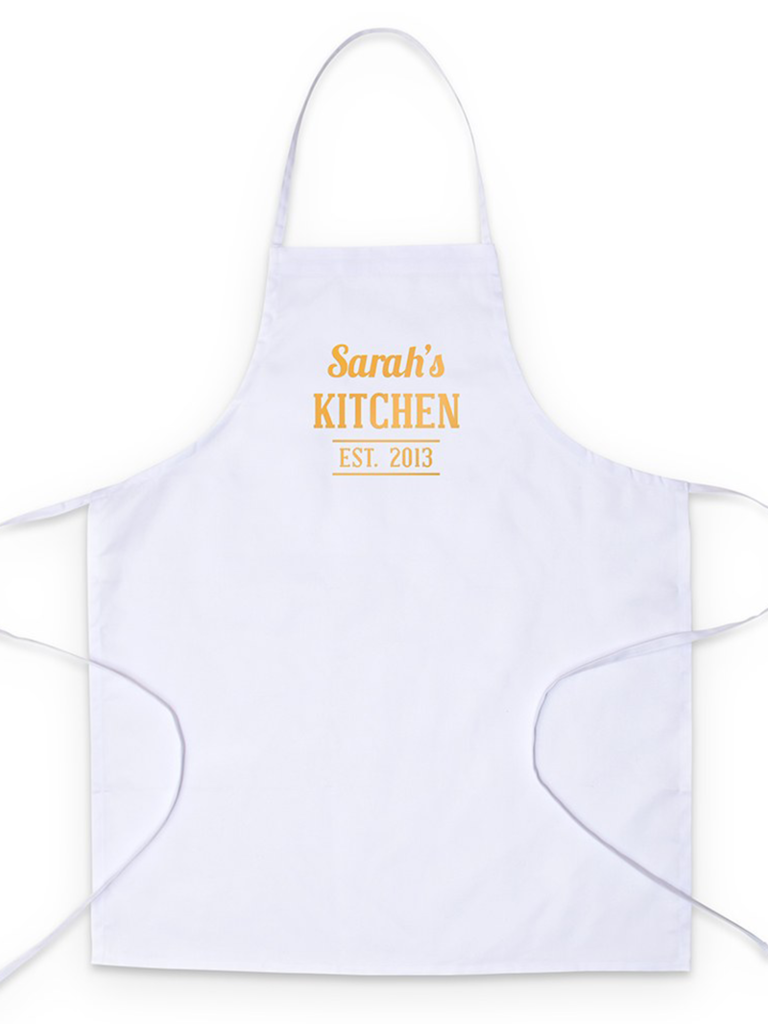 If your bridesman is already known for being a legend in the kitchen, this personalized apron will make sure everyone at his next BBQ doesn't forget it. Available in both black and white, it's made from 100% polyester twill that's easy to wash—no matter how much of a mess he makes in the kitchen.
The Knot Shop Personalized Engraved Black Hip Flask Wedding Gift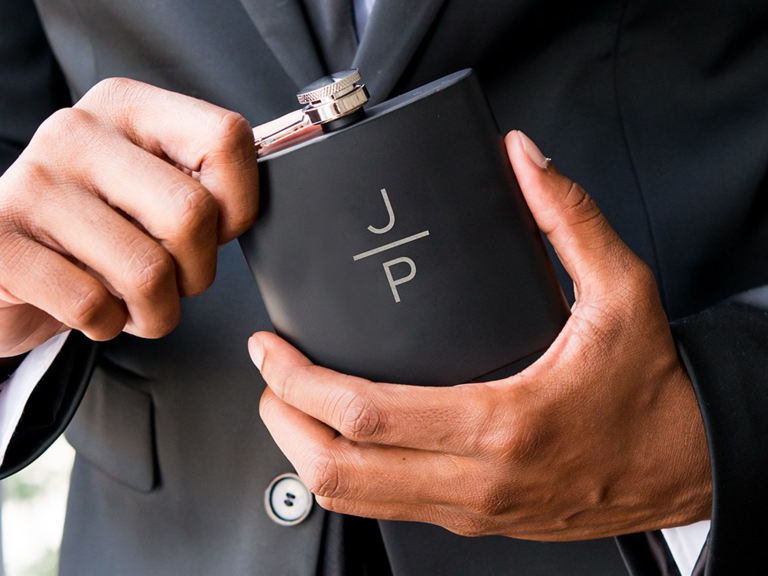 Looking for something fun yet sophisticated for your male bridesman? Say no more. A hip flask is one of those classic wedding party gifts that never seems to go out of style, but this one has a sleek and modern look that makes it feel expensive even though it's not. Choose from multiple monogram options to give this one a personalized touch he'll love.
Uncommon Goods Urban Map Glass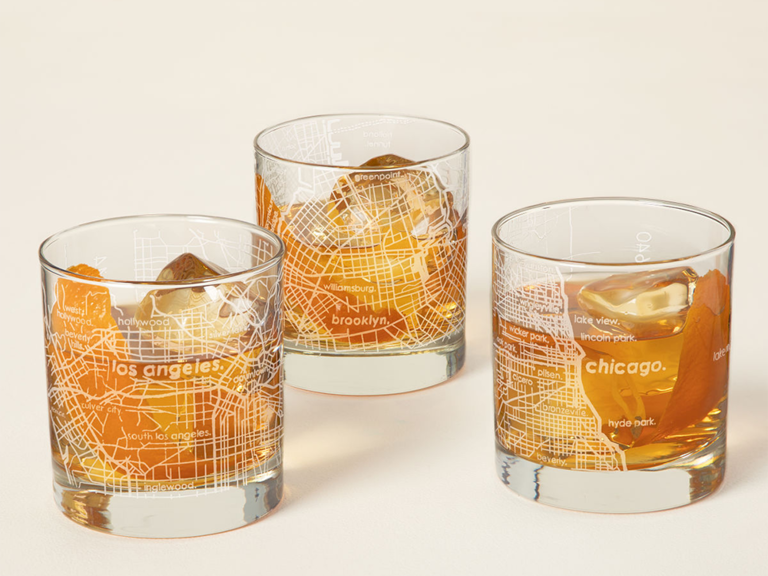 Maybe he left his heart in San Francisco. Or Brooklyn. Or St. Louis. Whatever the case, get your homesick pal a rocks glass etched with the map of his beloved hometown or favorite city. (For bonus points, pair it with a nice bottle of scotch, whiskey or bourbon, depending on his drink of choice.) We promise he'll love it.
The Knot Shop Personalized Men's Travel Toiletry Bag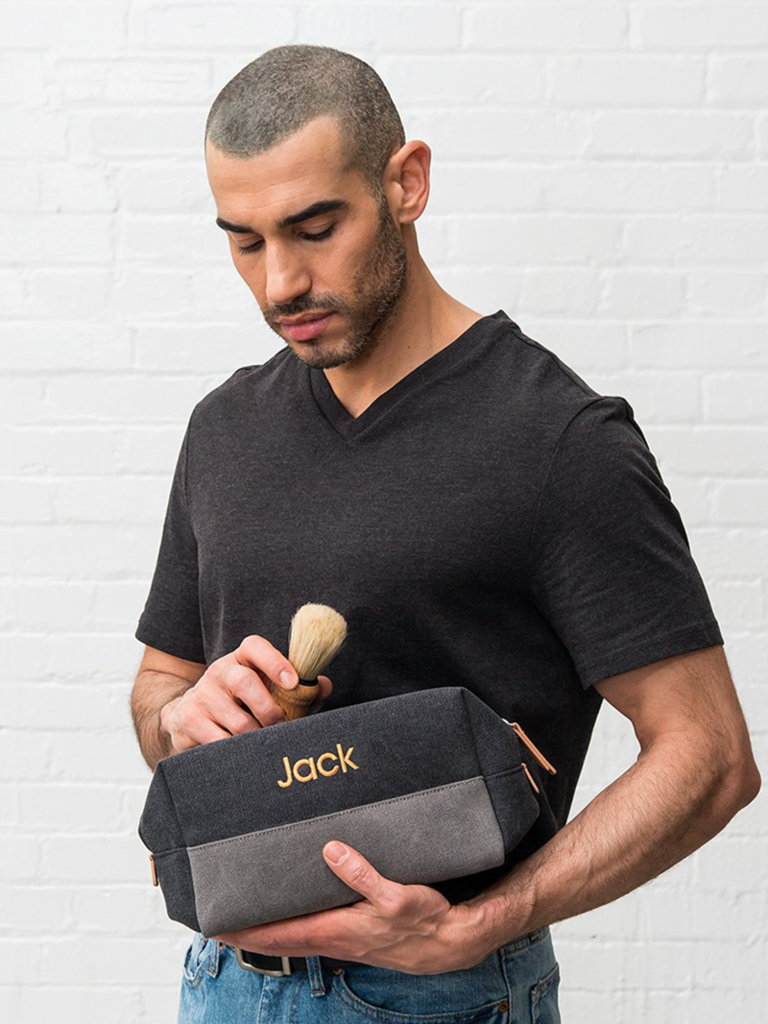 You may want to consider gifting this sleek and roomy toiletry bag before the big day—your bridesman can use it to stock up on any essentials he may need getting ready for the wedding. You can even stash it with things he may need for a destination wedding or overnight hotel stay, like gum, floss and a stain stick.
The Knot Shop Personalized Silver Stainless Steel Shot Glass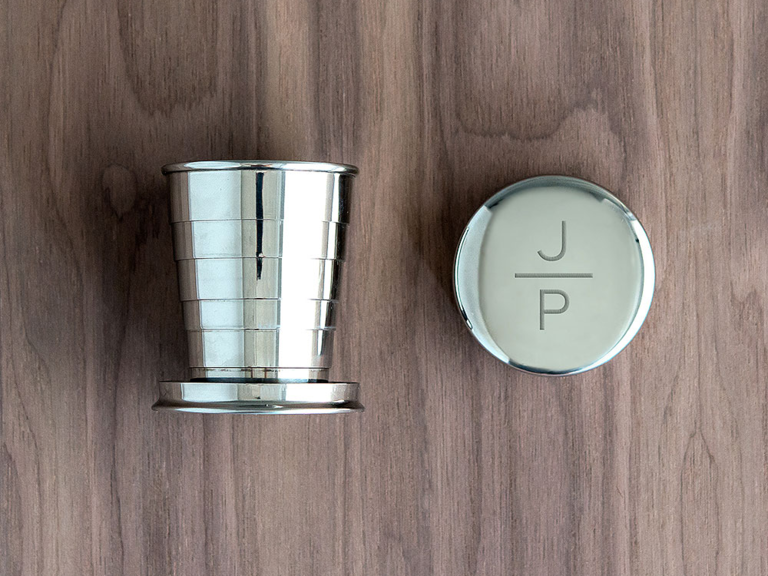 This timeless gift is a definite upgrade from his college-era souvenir shot glass collection. Made from durable stainless steel, it will help keep that shot of whiskey chilled to perfection before he knocks it back. But most of all, he'll love its telescopic design, which allows it to fold up neatly into itself so he can slip it back into his tuxedo.
Funny And Love "The Man, The Myth, The Legend, The Bridesman" T-Shirt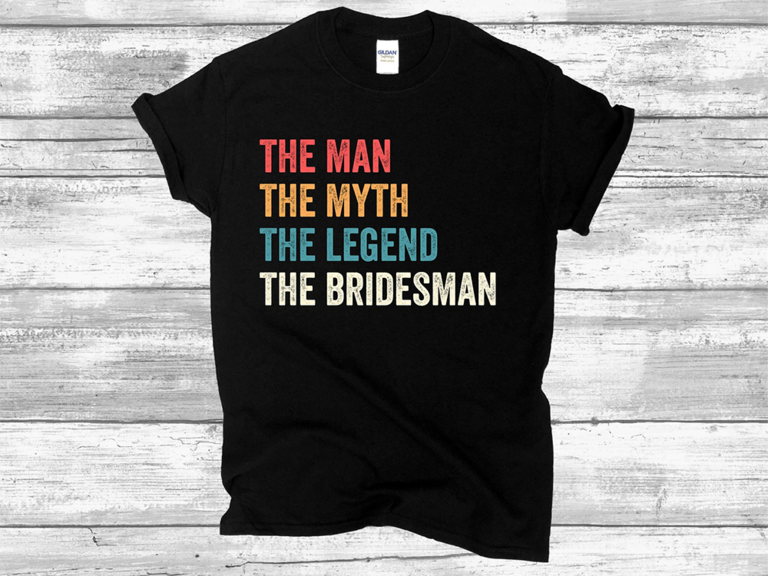 If you're racking your brain trying to come up with funny bridesman proposal or thank-you ideas, just remember, sometimes less is more. This hilarious and to-the-point bridesman shirt will help you "pop the question" to your male bridesmaid in a simple yet fun way. Just don't be surprised when he shows up to the bachelorette in it... and the shower... and maybe even the getting-ready photos.
The Knot Shop Personalized Stainless Steel Cylinder Travel Bottle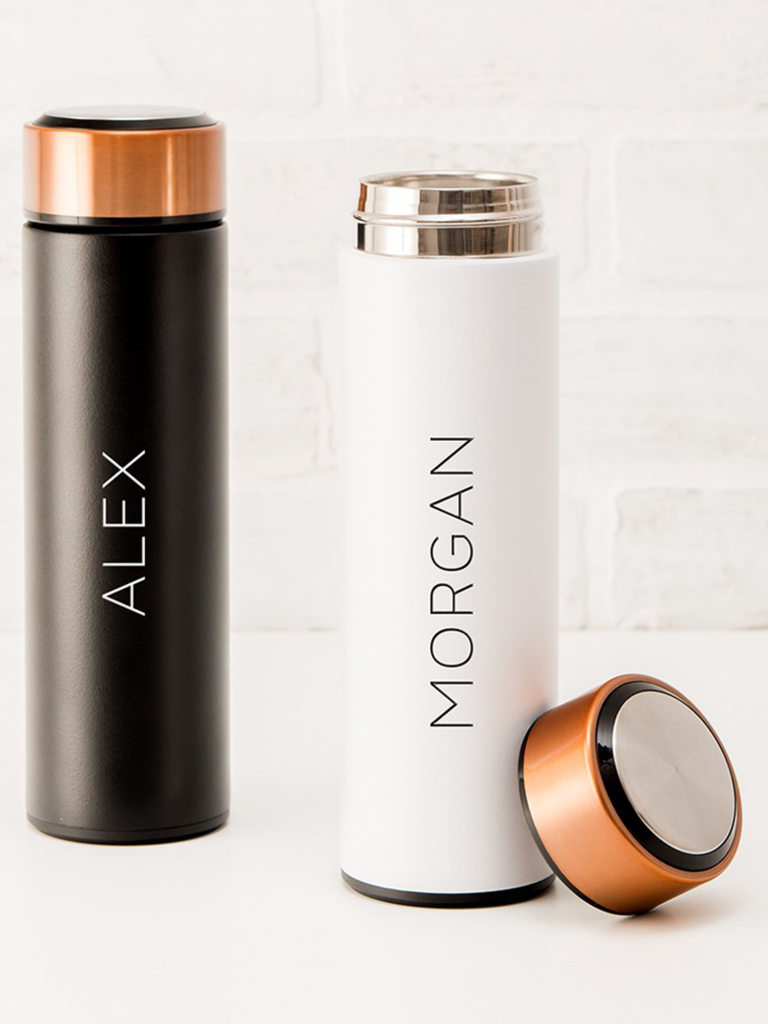 If you and your partner have a massive wedding party between you, then hand-picking each gift individually might feel a bit overwhelming. Consider gender-neutral bridal party gifts you can give the whole crew—including maid of honor, groomsmen, groomswomen and beyond. This stainless steel travel mug is eco-friendly, BPA-free and can be customized with your bridesman's name on the side so they never lose it.
The Cufflink Man Personalized Wedding Bridesman Cuff Links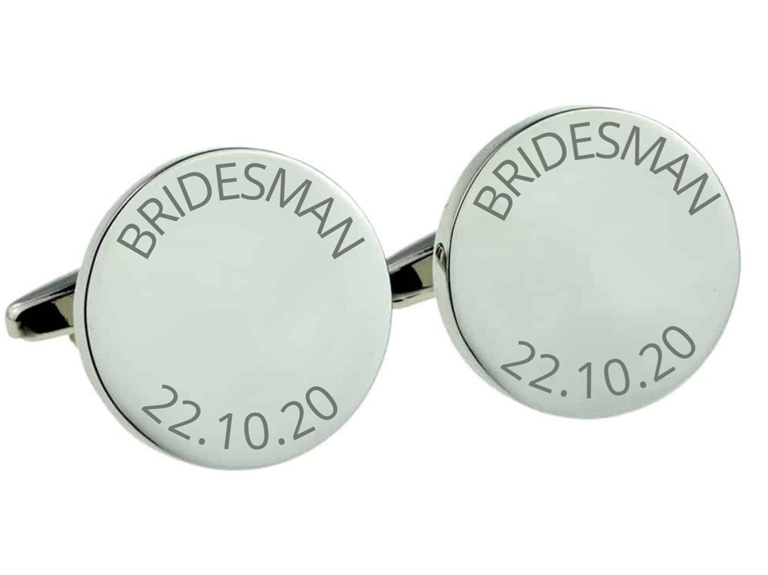 If your bridesman is getting top billing at your wedding as the man of honor, an extra-special thank-you gift is probably in order. These personalized cuff links will ensure that he looks dapper on the big day and will definitely come in handy for any fancy events he attends in the future.
The Knot Wedding Shop Men's Personalized Embroidered Long Waffle Robe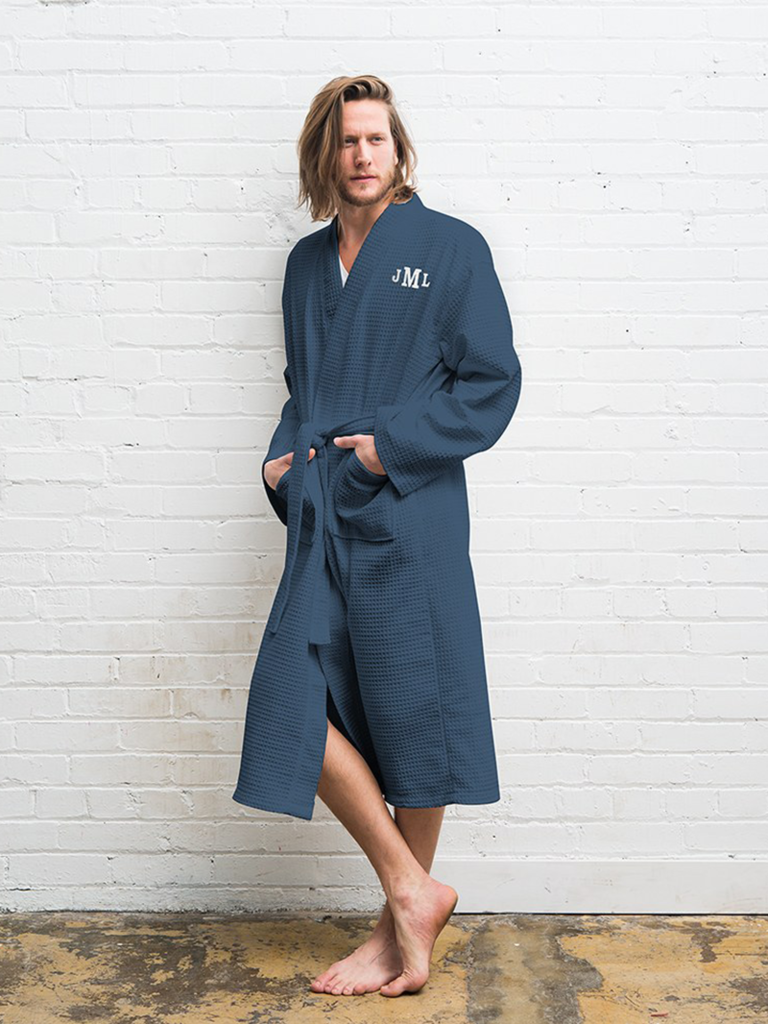 Worried your bridesman gift is just going to wind up in the back of a drawer somewhere? Why not switch gears and go for something practical that he can actually use every day? He may not think he needs a luxe robe like this one, but the second he slips it on post-shower and experiences its supreme coziness, he'll be thanking you.
Zazzle Bridesman Mug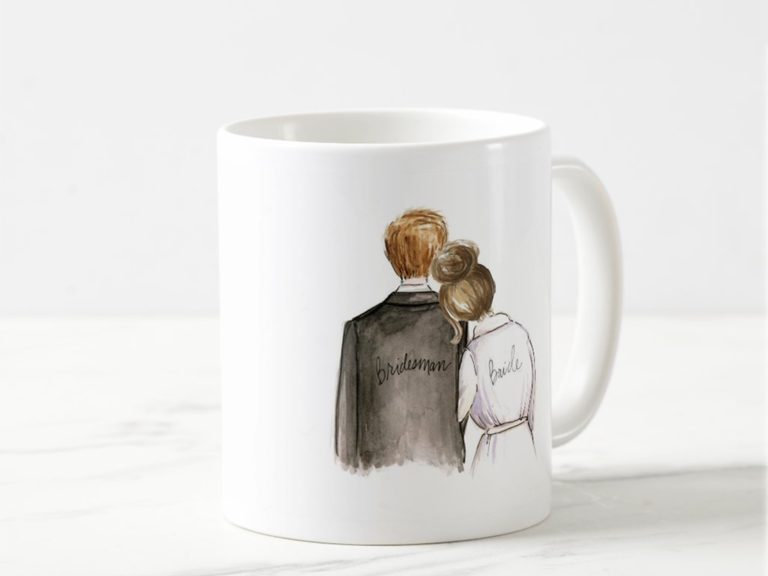 Whether he's the big brother who's always been there or the BFF you've known since kindergarten, this sweet bridesman coffee mug will tug right at his heartstrings. Not only is it a subtle way to acknowledge your unbreakable bond, but it's also a pretty useful gift to ask him to join your wedding party, especially if he's the kind of guy who needs his morning coffee to get through the day.
The Knot Shop Custom Engraved Wooden Wine Gift Box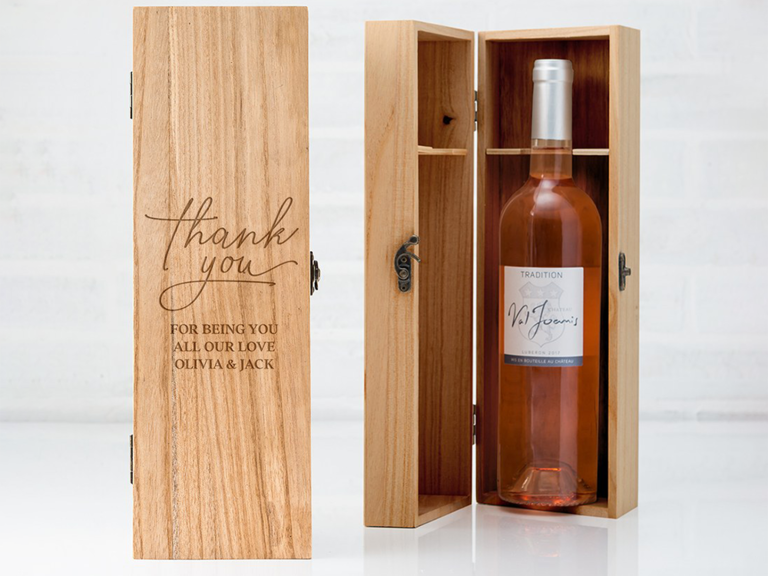 For the wine connoisseur who knows all about his "earthy" reds and "oaky" tannins, this fancy wooden gift box should be right up his alley. The wooden lid can be customized to say virtually anything too, whether you want to engrave your thanks or use it as a bridesman proposal gift with a message like, "Will you be my bridesman?" Either way, it's the perfect place to slip in a nice bottle of his favorite label.
Light Me Up Candle Co. Bridesman Wooden Wick Candle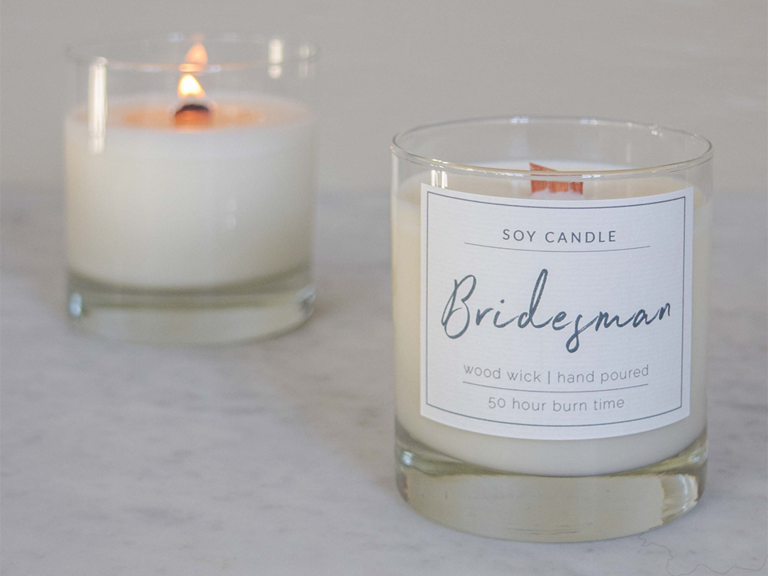 Who says dudes don't like candles? One whiff of this soy wax candle, and he'll be an instant convert (if he isn't already). You can get coordinating candles for your bridesmaids as well if you want to stick with the same theme for everyone in your bridal party. They come boxed and tied with twine for a simple presentation that doesn't require any extra work from you.
The Knot Shop Custom Table Tray Accessory Organizer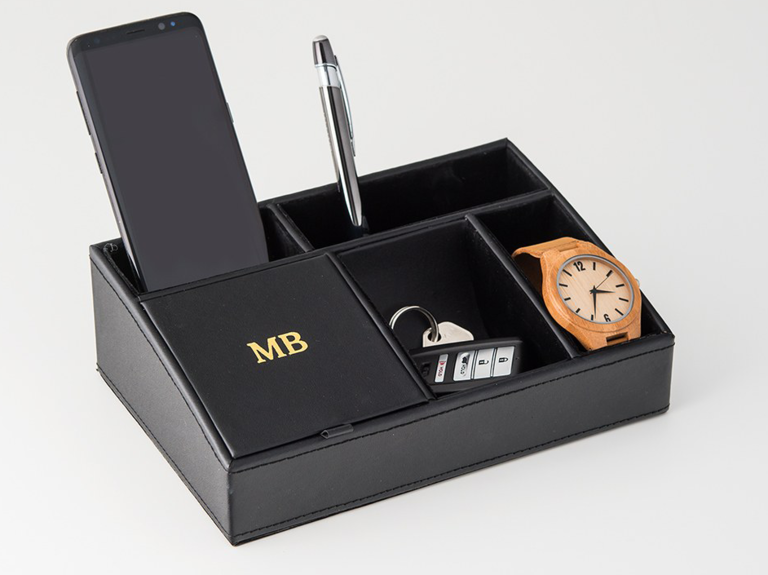 Maybe he's always losing his keys or his wallet (or both). Or, maybe he's super contentious about keeping things in order and would put Marie Kondo to shame. Whatever the case, your best friend will likely appreciate an all-in-one table organizer that creates an instant "drop zone" for his stuff when he comes home from work.
The Knot Shop "Best Friend Ever" Classic Lighter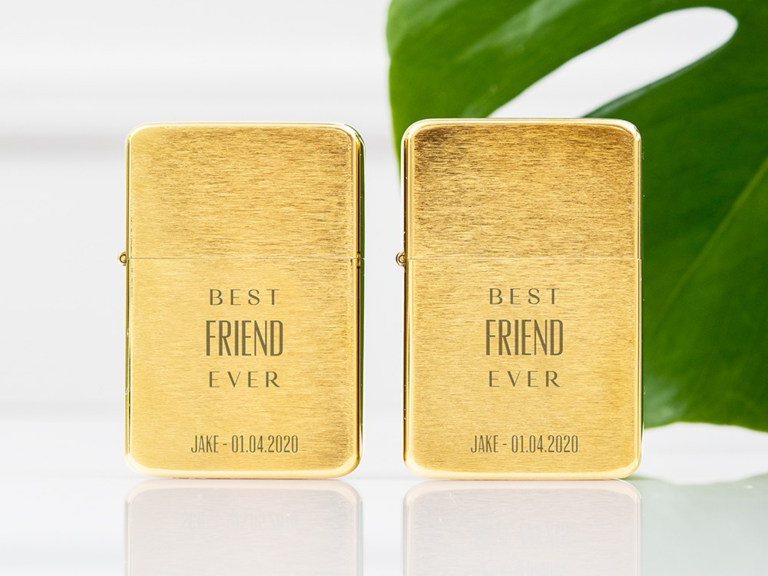 Your bridesman doesn't have to be a smoker to appreciate the fine craftsmanship of this sleek metal lighter. This one can be engraved with your wedding date along with a sweet-yet-simple message that never lets him forget he's your BFF. Plus, its compact design will slip right into his suit pocket in case he wants to use it on the big day.
The Knot Shop Men's Custom Engraved Stainless Steel Tie Bar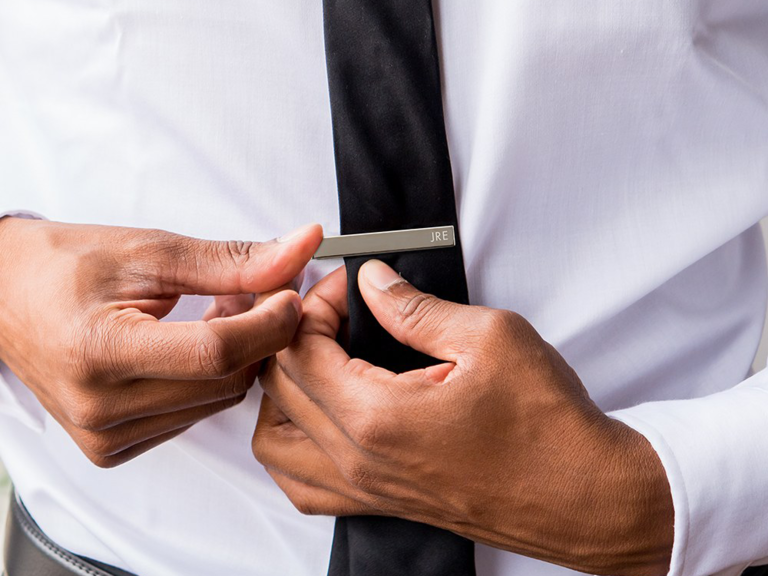 Guys don't have too many accessory options to choose from even when they're getting dressed up for a formal occasion. But this customized tie bar is one way to accessorize his outfit in a simple and classic way. Not only will it make his suit or tux look even more expensive without costing you a fortune, but it'll also keep his tie in place as he dances the night away.
Large Personalized Canvas Weekender Travel Bag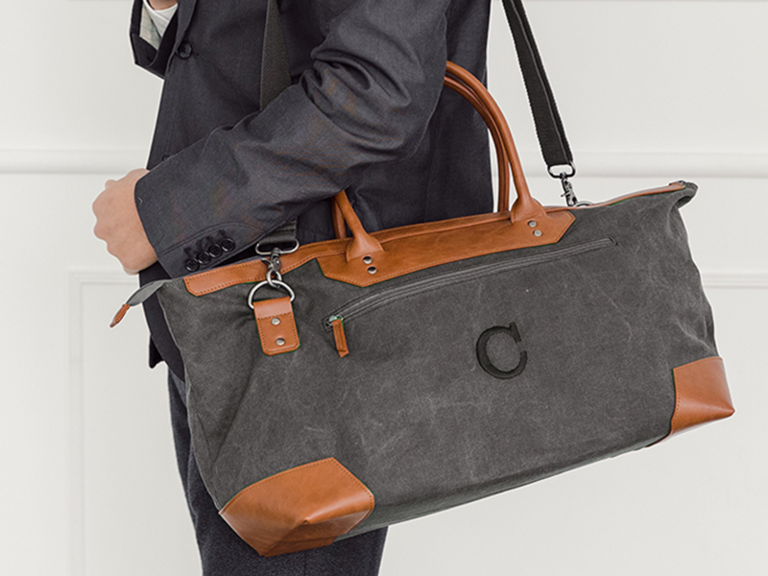 If he's still using that ratty old duffel bag from high school as his carry-on, it may be time for an upgrade. This sleek and roomy weekender bag is stylish and much more grown-up. It also has dual handles and a convenient shoulder strap that makes it easy to tote around no matter where he's off to next.