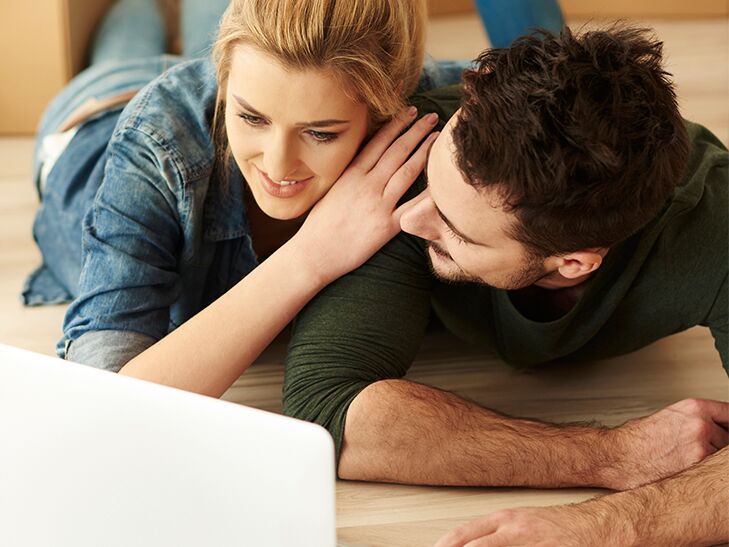 The only thing more time-consuming than planning a wedding? Doing so while also trying to buy a home. If you're thinking about doing both in the same year, you're not crazy (well, maybe just a little bit). With some smart planning and budgeting, it's entirely possible to start your married life in a new place of your own. To help you get there, we spoke to a certified financial planner, a Coldwell Banker Real Estate professional, and real couples who've pulled off this tricky feat. Read on for their best tips and advice.  
Do be realistic about timing. The more time leading up to your wedding (and home purchase), the more time you'll have to save. EBNY certified financial planner Kevin Kautzmann recommends allotting 15 months to put together a financial plan and commit to it. With the average engagement length clocking in at 14.7 months, it's totally feasible to save up a down payment if you start conserving cash right away. But once you start house hunting, keep in mind that it may take longer than you think to find the perfect home. "It depends on a lot of factors, including the time of year and your local market, but you could search anywhere from 30 days to three years," says Laura Seroogy, a Green Bay, Wisconsin-based Coldwell Banker Real Estate professional. "Even the closing takes time—typically 45 to 60 days from an accepted offer until you get the keys."
Do your homework. Before you get all excited looking at listings, you need to be realistic about what you can afford. "Couples should sit down months in advance to get on the same page about what they own—and what they owe" to determine a budget, Kautzmann says. You also need to know your credit history and current credit score, since they'll directly affect your mortgage interest rate. (You can get an idea of what your monthly payments might be with Coldwell Banker's mortgage calculator.) "Then get in touch with lenders to get preapproved for a loan so you're ready to move forward quickly when you find a home you like," Seroogy says. Keep in mind that if you're first-time homebuyers, you may qualify for a lower down payment than you'd think through FHA, VA or other programs, so be sure to look into all your options. "I worked with a lender to find a loan that includes a down payment assistance grant for first-time homebuyers, and we only had to produce a 1 percent down payment in addition to the closing costs," says Brianna Sullivan of Cincinnati, Ohio, who's getting married this June.
Don't mix your funds. Set up one savings account for your house and a second account for the wedding. "You don't want to rob one to pay for the other," Kautzmann explains. "Having two different accounts that automatically draw from your checking account can help you keep a 'dividing wall.'" Sullivan used that strategy successfully. "I kept wedding money separate from what we had to spend on the house down payment and closing costs—it helped me stay on budget and avoid the temptation to dip into those funds," she says. Thinking of asking for cash  in lieu of wedding gifts to help raise that down payment? Just know that your mortgage lender may require you to wait a period of time before using that money or provide documentation of where the large deposit came from. "The waiting period depends on the type of loan, but for some it can take up to six months," Seroogy says.
Do get on the same page about your needs. Ranch or colonial? New construction or old? For many couples, finding that first home can take more time—simply because they want very different things. Seroogy suggests each partner separate and write down their top priorities in a dream home, then come together and talk about them. "If you discuss your needs and wants, likes and dislikes and why you feel that way, it can help you come to a compromise," she says. "For example, you might say you want a large yard, but you're really just looking for privacy." Once you've agreed on your list of must-haves (and must-not-haves), you'll be better able to zero in on homes that fit the profile. And with the Coldwell Banker app, you can search real-time listings and message your real estate agent directly to ask questions or schedule showings—time-saving features any busy couple will appreciate.
Don't run up your credit cards. An impressive 48 percent of couples pay in cash for their weddings, but 42 percent also use credit cards. Think twice before whipping out the plastic: A ballooning balance can affect your mortgage and loan application. "Taking on any sort of debt when you're applying for a mortgage is one of the worst things you can do," Kautzmann says, explaining that underwriters don't want to see high monthly debt repayment to income ratios. If you do decide to use credit cards for your wedding, make sure you'll be able to pay off the bills each month.
Do prepare to sacrifice. The national average cost of a wedding is $33,931, and the national average cost to buy a home is $388,200. Though both price tags obviously vary a lot depending on where you live and what you're looking for, these big lifestage moments are likely to be two of the costliest events in your entire life. When Kautzmann was planning his own wedding and saving for a home, he and his now-wife had to find creative ways to reach their goal. "As a young couple, you don't want to share your living space, but we moved in with a roommate to help save up for the down payment," he explains. "You're going to have to give up something, whether that means buying a fixer-upper (instead of a move-in ready home), or foregoing a more extravagant honeymoon." Florence Lousqui and her fiancé, who bought an apartment in New York City a few months ago and are planning a fall wedding, learned that lesson well. "We've had to hold off on buying new bedroom furniture and minor renovations to ensure we have enough money to cover wedding expenses. We also had to limit our guest list," she says. But giving up a few things has definitely been worth it. "Having our own place makes the wedding planning process more enjoyable—and we won't have to worry about finding a place once it's over," Lousqui says.
Don't forget to build in a buffer. When it comes to your wedding, it's always best to be prepared for the unexpected, whether that means having tents in case of rain, or hiring a day-of-coordinator to take care of surprising—or misbehaving—guests. You'll want to apply that same thinking to the home-buying process. "I always recommend to not only have your down payment saved, but another three to six months of living expenses based on your new mortgage too," Kautzmann says. "You have to prepare for the worst, like the roof leaking or the furnace going out—it's Murphy's Law."
Do plan ahead to keep things moving. "It's really important to know the checklist of what to expect as you go when you're buying your first house," Seroogy says. She does a "buyer consultation" to outline the process with new clients to clear up any confusion and prepare them for the next steps. This way, for example, as soon as you have an accepted offer, you'll know it's time to line up a home inspector and talk to your lender again. And that's key to helping you get into your new house—ASAP.  
Tell us what you think about what you just read! Click here to take a survey and be entered to win a $100 American Express gift card.

The Knot and Coldwell Banker Real Estate present Find Your Happy Place, a sponsored series featuring tips and advice to help you find the perfect home for your newlywed life. Visit ColdwellBanker.com to start your home-buying journey.