How to DIY a Braided Bridal Updo
Check out expert tips on how to do a beautiful braided wedding chignon, straight from Marchesa at Bridal Fashion Week!
by Avery Hutchinson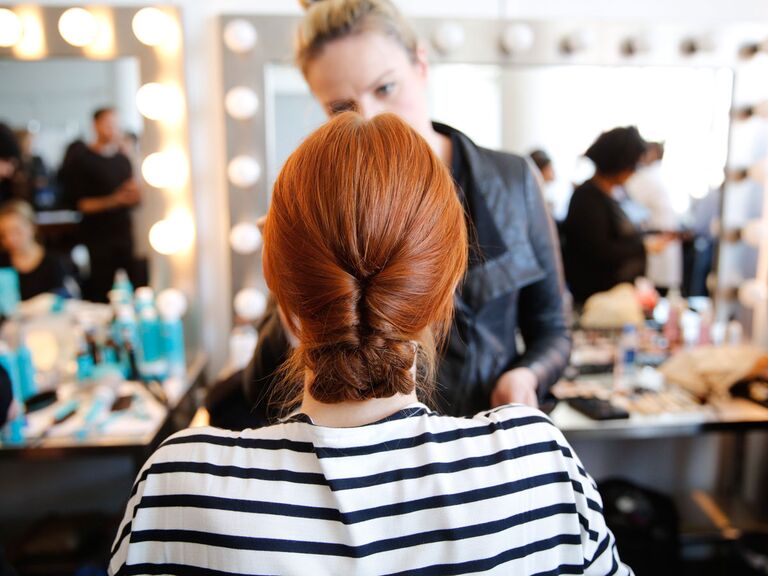 We saw a lot of amazing beauty inspo at Bridal Fashion Week, but we're still obsessing over the braided-chignon we saw at Marchesa's Spring 2017 collection. Not only is this romantic style totally versatile but sporting a structured updo on your wedding day makes adding a veil, haircomb or fresh flowers to your look a total breeze. Wondering how to DIY this high-fashion look? Celebrity hairstylist Kevin Hughes gave us the inside scoop.
Watch the step-by-step video below!
How to Create a Braided Chignon
1. Part your hair down the center and add a thickening lotion to prep it.
2. Break hair into two seperate sections and keep the braid tight—you can always loosen it later.
3. Start braiding in the back of your head with a fishtail braid. Continue the fishtail braid for two rotations, then start with a five-strand braid until you have reached the end.
4. Secure the end of the braid with a clear elastic.
5. "Blouse" the braid, or carefully pull the braid strands to thicken the braid to create volume.
6. Take the tail of the braid and roll it up, keeping the end tucked under on the inside.
7. Continue to roll the braid until it is at the base of your neck.
8. Secure in place on the side by weaving bobby pins and connecting the top layer with the bottom layer.
9. Add extra volume at the crown by carefully pulling strands upward. Pro tip: Use a metal tail comb to add volume and smooth the strands at the same time.
Looking for more wedding updo inspiration? Find it here!