20 Best First Dance Wedding Cover Songs
Sometimes the original is just too predictable. Here's a list of familiar first dance songs with a twist.
by Nicole Piquant & Anja Winikka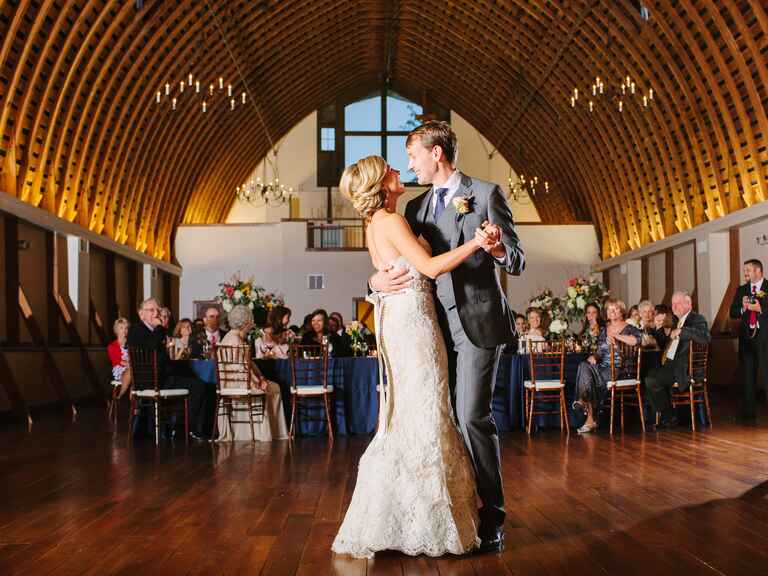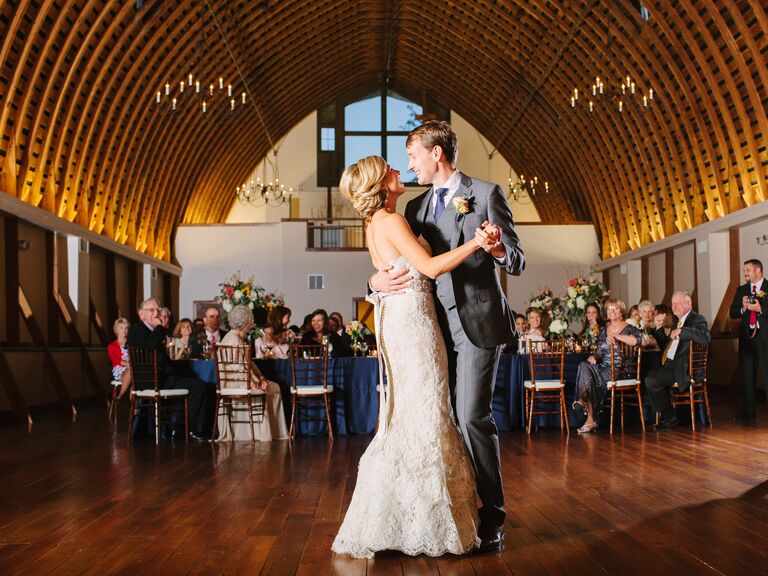 photo by
Sara Logan Photography
Searching for your first dance wedding song? Can't seem to find one that's just right? Look no further than this list of our favorites—with a twist. You know, just because your first dance song is popular doesn't mean it has to be exactly the same as everyone else's. Have your DJ or band play one of these cover songs. They're the perfect mix of familiar and original (and a little surprising too, which is always a good thing!). Check out the best cover songs below and scroll all the way down for our Spotify playlist.
"L.O.V.E" by Joss Stone (original by Nat King Cole)

photo by

James Christianson Photography

"I Melt With You" by Nouvelle Vague (original by Modern English)

photo by

Carlie Statsky Photography

"No Ordinary Love" by Deftones (original by Sade)

"The Way You Look Tonight" by Harry Connick Jr. (original by Fred Astaire)

photo by

Susie Sefcik Photography

"Is This Love" by Corinne Bailey Rae (original by Bob Marley)

photo by

Ned Jackson Photography

"The Best Is Yet to Come" by Tony Bennett (original by Frank Sinatra)

photo by

James Christianson Photography

"At Last" by Beyonce (original by Etta James)

photo by

Marta Locklear Photography

"Wild Horses" by The Sundays (original by The Rolling Stones)

photo by

Jenna Walker Photography

"To Love Somebody" by Damien Rice and Ray LaMontagne (original by the Bee Gees)

photo by

Shipra Panosian Photography

"Heaven" by DJ Sammy (original by Bryan Adams)

photo by

Roey Yohai Photography

"Crazy in Love" by Snow Patrol (original by Beyonce)

photo by

Agnes Lopez Photography

"Across the Universe" by Rufus Wainwright (original by The Beatles)

photo by

Ira Lippke Studios

"That's How Strong My Love Is" by The Rolling Stones (original by Otis Redding)

photo by

Aevum Photography

"Here Comes the Sun" by Nina Simone (original by The Beatles)

photo by

Click Photography KC

"Crazy Love" by Michael Buble (original by Van Morrison)

photo by

Genevieve Leiper Photography

"Grow Old With Me" by The Postal Service (original by John Lennon)

photo by

Caroline Petters Photography

"Can't Help Falling in Love" by UB40 (original by Elvis Presley)

photo by

Nancy Ray Photography

"Endless Love" by Glee Cast (original by Diana Ross and Lionel Richie)

photo by

Binaryflips Photography

"Your Song" by Ewan McGregor (original by Elton John)

photo by

Mike Larson Photography

"Make You Feel My Love" by Adele (original by Bob Dylan)