25 Meaningful Wedding Gifts for the Father of the Groom
Say "thanks" with a meaningful present for the other man of the hour.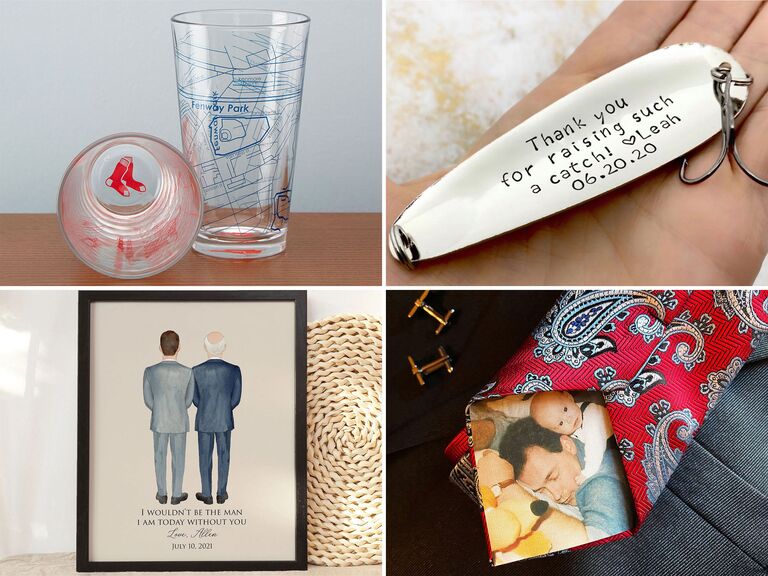 Photos: Uncommon Goods, Etsy
We have included third party products to help you navigate and enjoy life's biggest moments. Purchases made through links on this page may earn us a commission.
Your good looks, sense of humor and dance moves all came from your dad and that deserves a big thanks (probably). Father-of-the-groom gifts, whether you're his own kin or future in-law, are a nice way to say "thanks" for his emotional, creative and even financial support—plus the great genes. But what gift can adequately express your gratitude for the guy who raised the man of the hour? We've got the answer below! From meaningful keepsakes, to practical goods, to even experiences, these are the best father-of-the-groom gift ideas. And don't forget to add a handwritten card and a hug.
1. Handwritten Note Picture Frame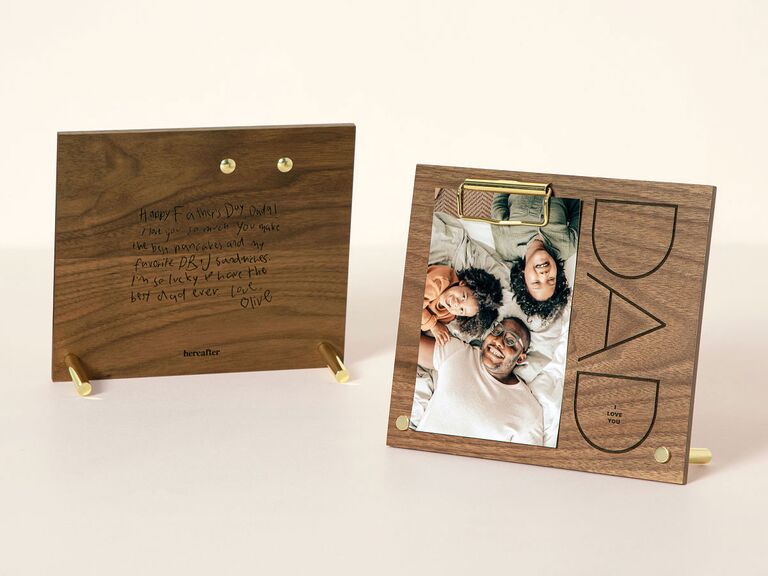 This father-of-the-groom present combines two meaningful gifts for dad: a picture and a handwritten note. Choose between three frame designs, then have a message just as you penned it laser-engraved on the back. Fill it with a photo of you two from your childhood or leave the spot blank until you get your wedding album back.
2. Custom-Embroidered Pocket Square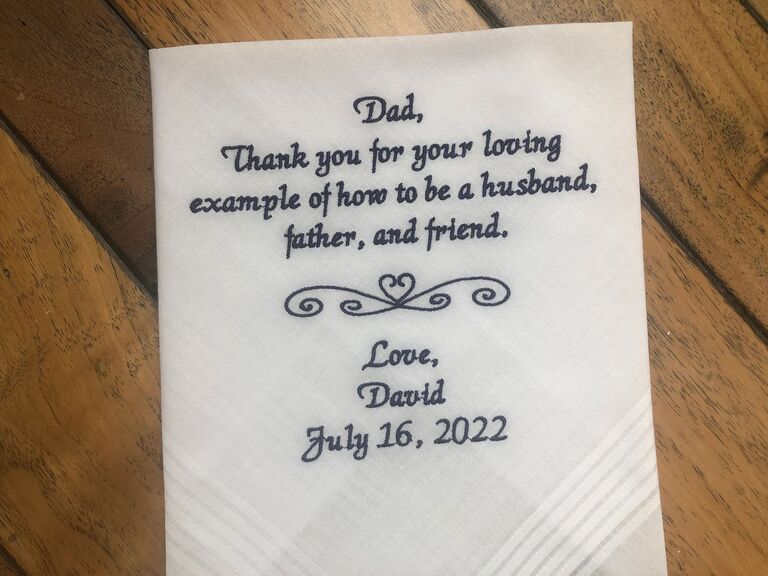 If your dad has an iconic sense of fashion, it's likely his formal ensemble for the wedding won't be complete without a pocket square. Make the accessory extra special by having it custom embroidered. We love the message on this handkerchief: "Dad, Thank you for your loving example of how to be a husband, father, and friend." (It's a good thing this is meant for tears, right?)
3. Father-of-the-Groom Cuff Links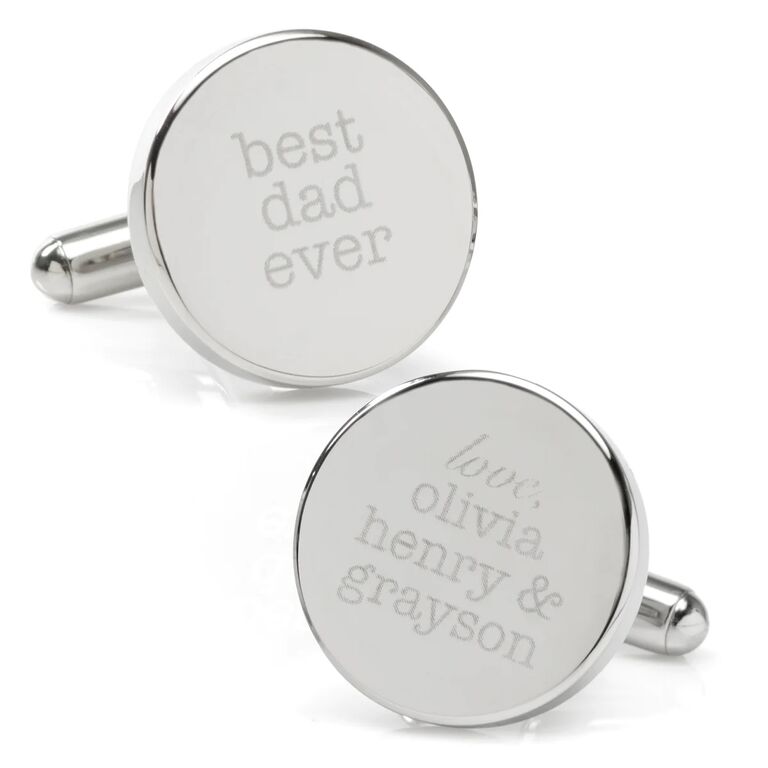 The father of the groom is a VIP at the wedding, so you'll want to make sure he looks (and feels!) his best. Help him complete his ensemble with a pair of sleek cuff links that also boast a personalized touch. These say "best dad ever" on one and are signed "love [your name]" on the other for an awww-worthy gift.
4. MLB Pint Glasses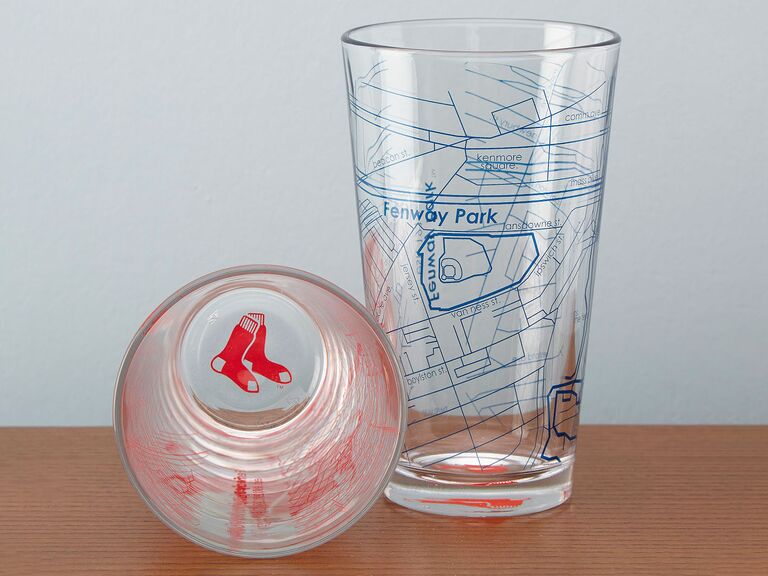 Is your dad or father-in-law a baseball superfan that's constantly inviting you to games? If so, consider this the perfect wedding thank-you gift. This pair of beer glasses features a map of an iconic MLB stadium of your choice, like Fenway Park, Wrigley Field or Yankee Stadium. Gift this set with a note that says drinks are on you during the next home game you two catch.
5. "You're Flippin' Awesome" BBQ Set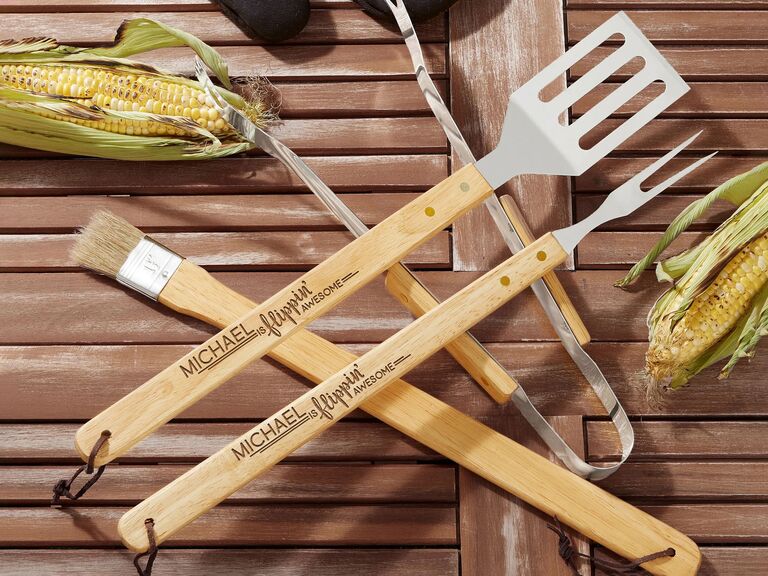 Shopping for a grill master? Give him a wedding gift he can use the next time you and your partner come over for dinner: barbecue tools. This set comes with a long-handle spatula, a fork, chef's tongs and a basting brush—all crafted from rust-resistant stainless steel and wood. This isn't just a practical gift, though—it's also personalized. The spatula and fork let him know you think he's "flippin' awesome."
6. Steak Dinner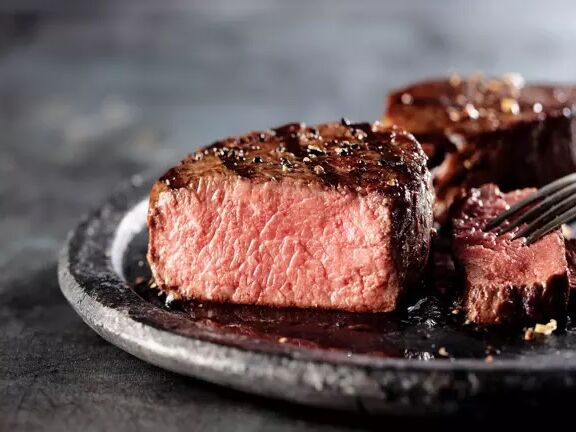 Alternatively, let your dad sit back and relax while you do the cooking—assuming he trusts in all the skills he taught you. Start with a delivery of Omaha Steaks to enjoy on a set date post-honeymoon together. This dinner set comes with four butcher-cut ribeyes,four butcher-cut ribeyes wrapped in bacon as well as burgers, stuffed baked potatoes and key lime tarts. Yum!
7. Monogrammed Dopp Kit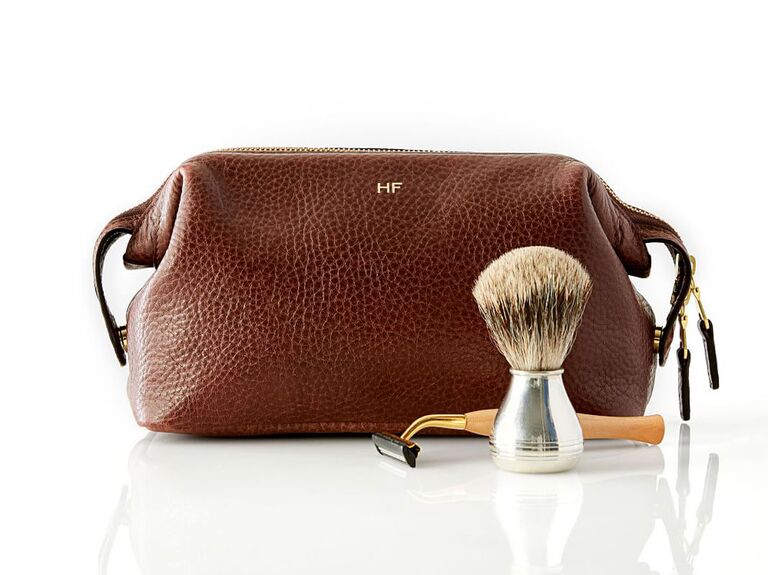 Leather goods are some of the most popular father-of-the-groom gifts because they feel extra luxe. If it's about time he wrangled all his toiletries in one stylish place, buy him this personalized Dopp kit. He can use the monogrammed bag while he's getting ready for the wedding and well beyond—it works especially great if you and your spouse have planned a destination celebration!
8. New Cologne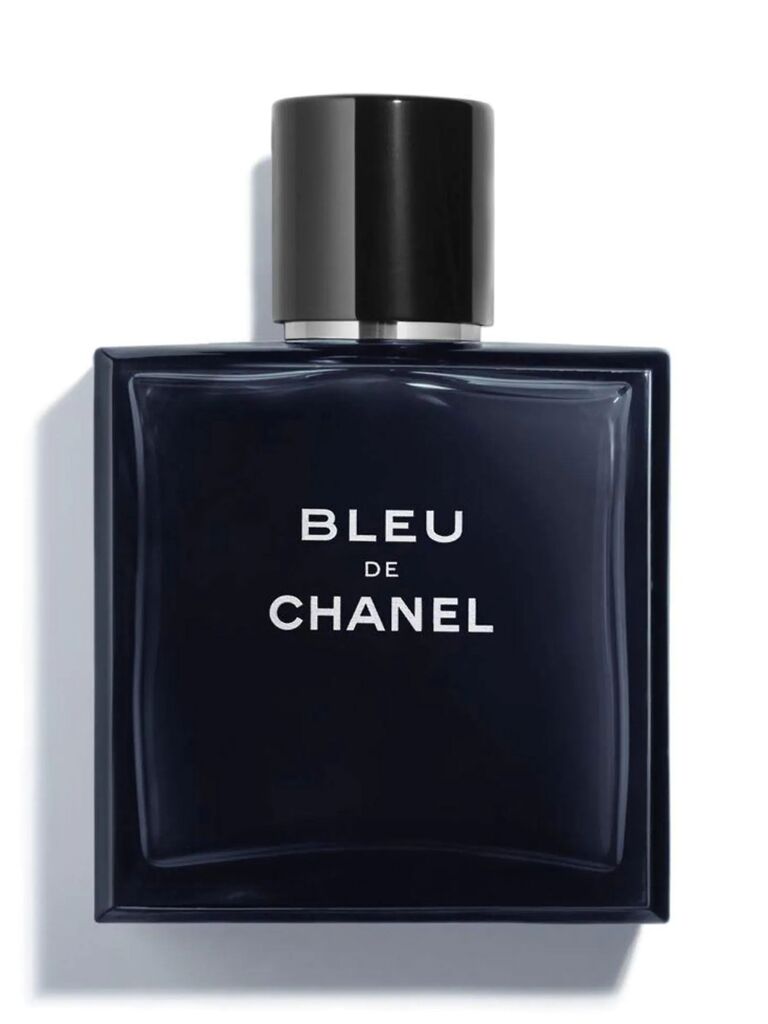 How about filling his Dopp kit with some premium products that'll make him feel luxurious? BLEU DE CHANEL has a woody, aromatic fragrance of citrus and cedar. It's a father-of-the-groom gift he and anyone who sits next to him at the wedding will love.
9. Shearling-Lined Moccasins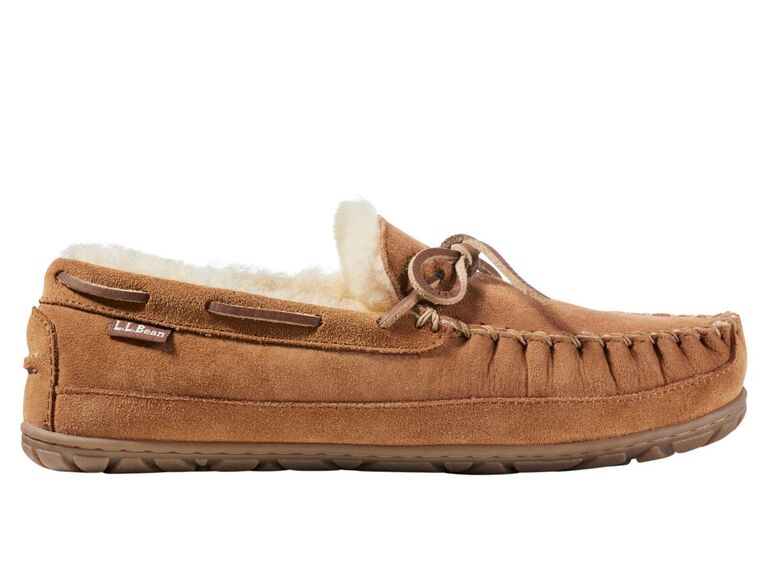 Make sure the father of the groom has everything he needs to put his feet up after a long night on the dance floor with some cozy slippers. These moccasins are made with shearling lamb fur and have a contoured memory foam footbed for arch support. They're so comfortable he might leave the after-party early just to put them on.
10. Personalized Bourbon Flight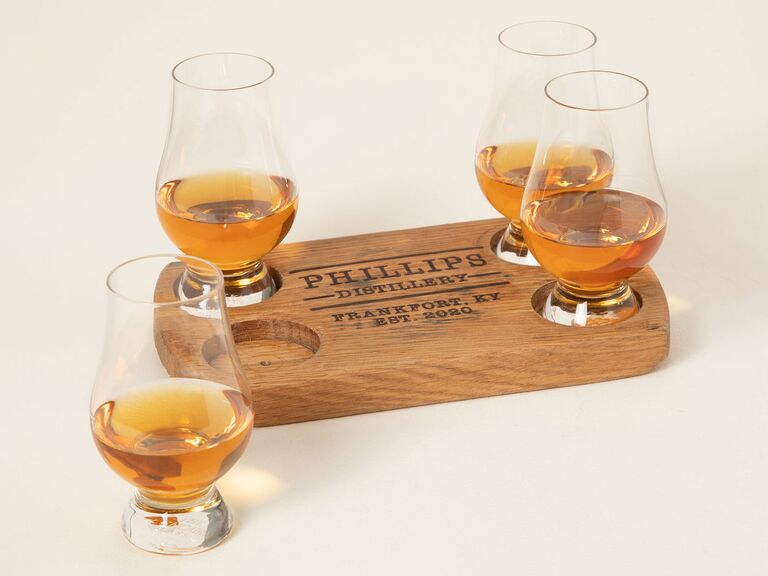 Share a drink with your dad before the ceremony with this reclaimed bourbon barrel flight board. It includes four Glencairn glasses (so your groomsmen can have a sip too) and the base is personalized with a name, location and year of your choice—perhaps the wedding venue and date? After all, it's an important day for him too. Make sure to pair the set with his favorite bottle of bourbon—and a thoughtful toast.
11. Engraved Bottle of Bourbon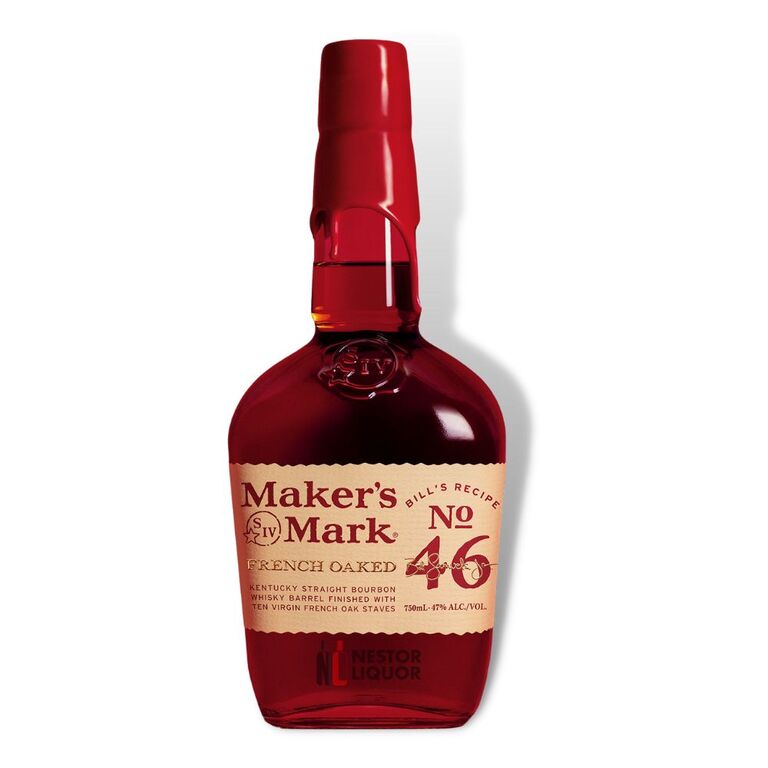 Speaking of bourbon: For a guy so special, you don't want to just get any bottle from the store. Find his favorite alcohol, be it whiskey, tequila, vodka or wine, and have the bottle custom engraved. He'll save it as a keepsake long after the liquor is gone.
12. Reclaimed Whiskey Barrel Watch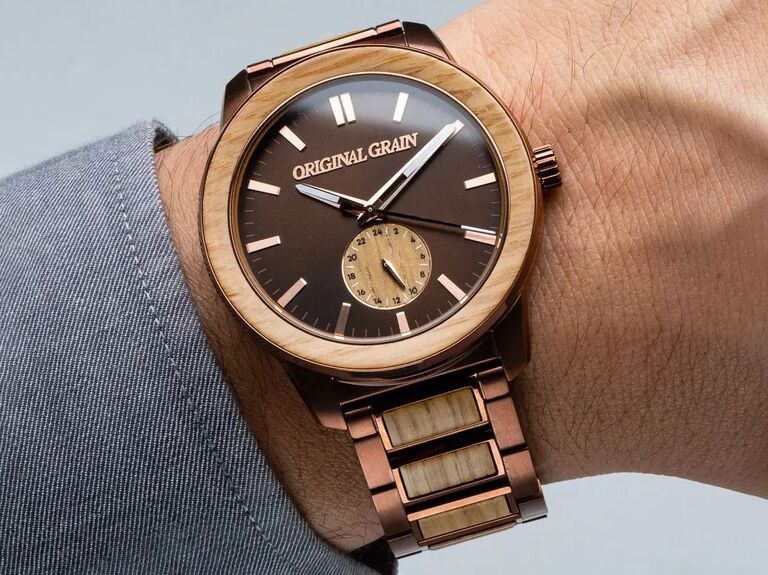 We love the wood-accented watches from Original Grain and your father (or father-in-law) will too. Made from reclaimed bourbon barrel wood and stainless steel, this timepiece will add a unique finishing touch to any outfit. The best part? It can be custom engraved with a personal message, like "I love you until the end of time."
13. Engraved Wooden Watch Box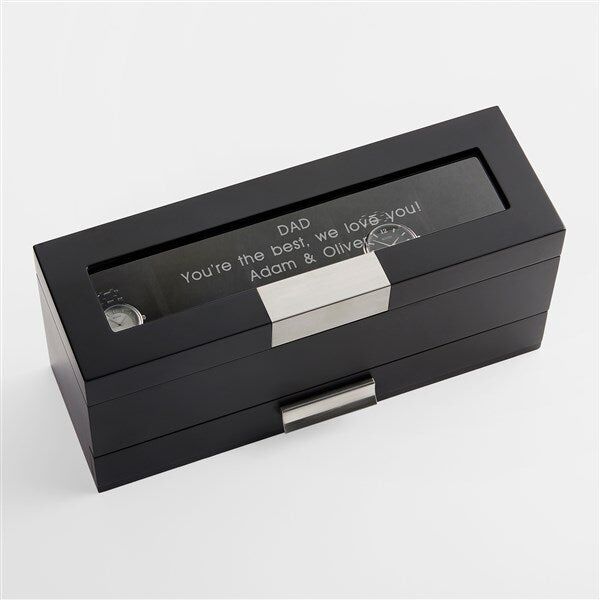 If he already has enough timepieces, consider gifting a safe place for him to store them all. This metallic gray organizer holds up to five watches, keeping them safe with individual pillows for each. It even has a thin drawer along the bottom for him to store smaller accessories, like cuff links. Better still, the glass lid can be engraved with up to three lines of custom text.
14. Custom Photo Tie Patch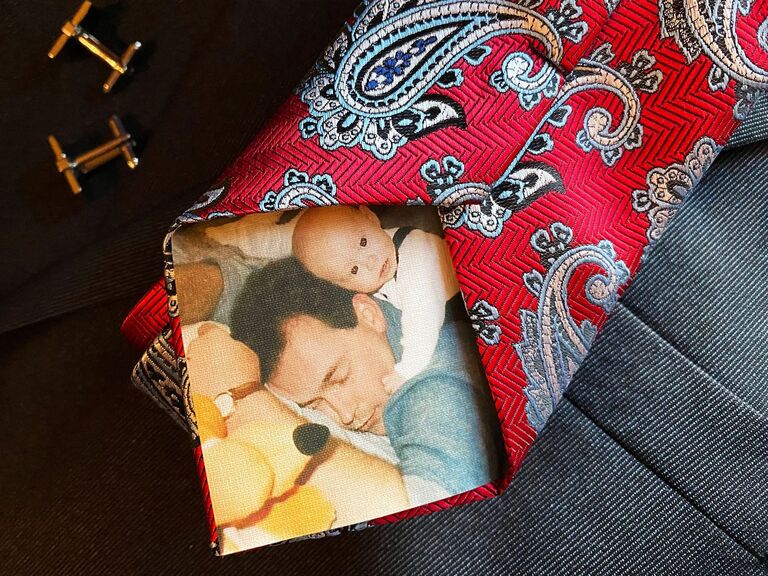 Add something extra special to the father-of-the-groom's wedding day ensemble with a personalized tie patch. If you're his son, print a sentimental photo of the two of you; if you're his soon-to-be in-law, customize it with a loving message instead. Either way, he can stick the keepsake on the inside of his tie to wear with pride on the wedding day. Our prediction? He'll definitely be showing this unique gift to every guest at the reception.
15. "I Love Dad" Socks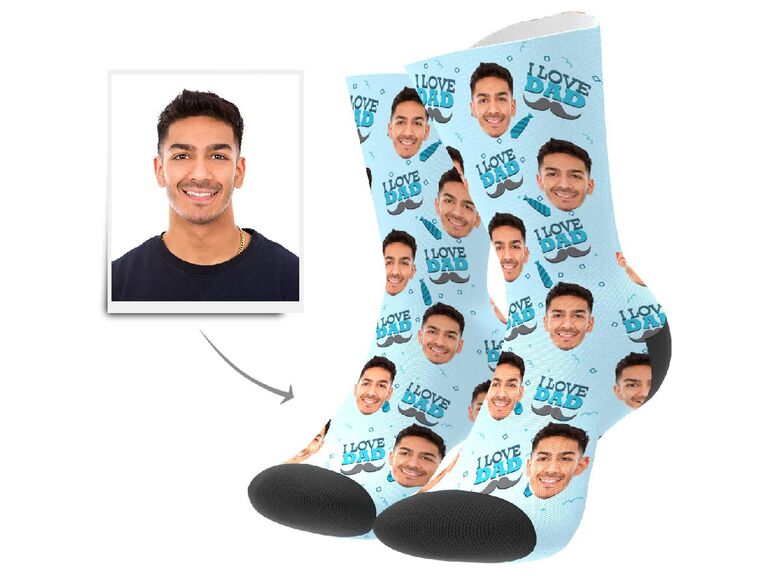 Fair warning: If you get your dad these humorous socks, you can't be embarrassed when he wears them to your wedding—he's just proud of you! These custom socks are printed with your face and the oh-so-true phrase: "I Love Dad." (Psst. They also come in women's sizes in case you need a wedding gift for your mom.)
16. Personalized Belt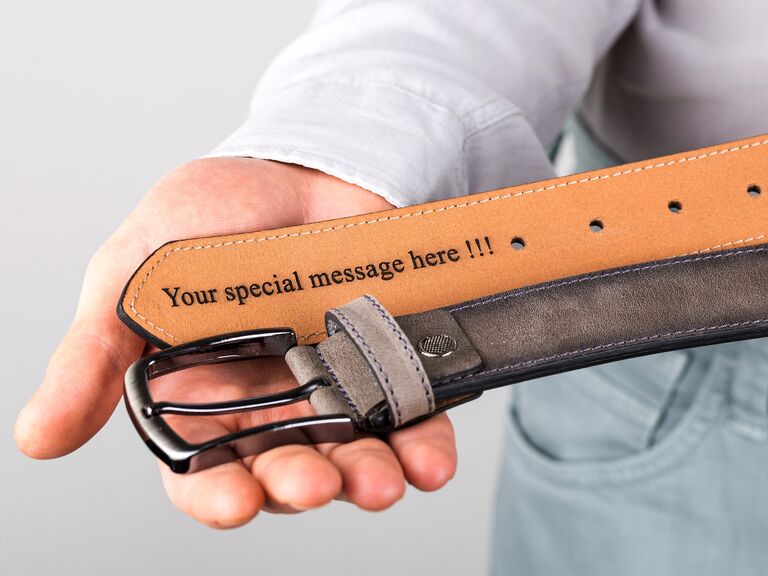 Noticing a theme to our gift ideas? Our favorite wedding gifts for the father of the groom from his son or in-law are practical and personal—like this engraved belt. The handmade leather belt comes in black, brown, gray, green, blue or saddle tan and can be engraved on the inside, outside or both.
17. Garment Duffle Bag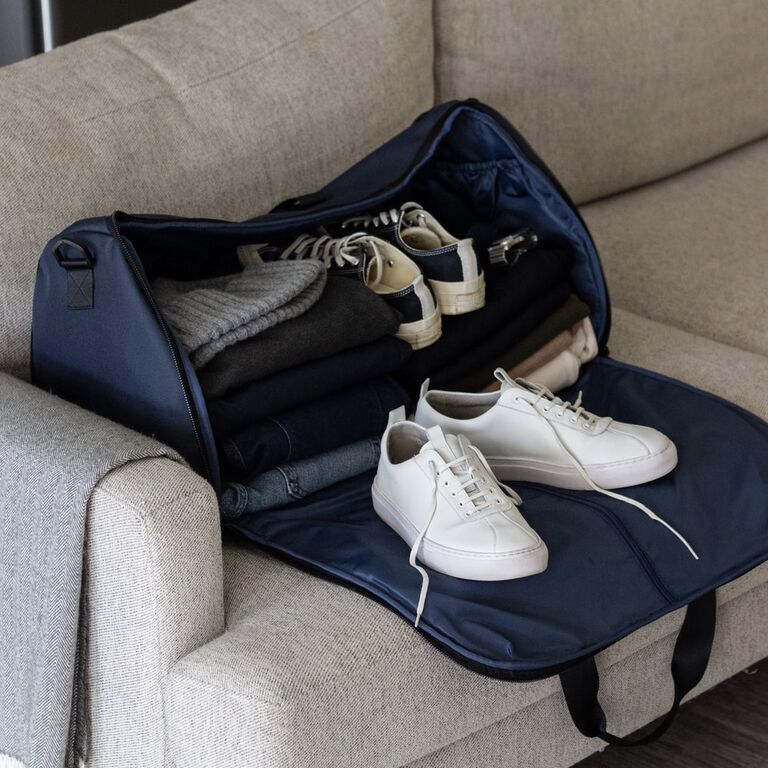 Garment bags can be used by your dad or father-in-law before, during and after the big day, so make sure to surprise him with it early on in the festivities. It's an especially fitting gift for the groom's father if it's a destination wedding. This essential piece of luggage doesn't just hold a suit or two; it can also fold into a duffle for him to pack his shoes and five days worth of clothes.
18. Monogrammed Pocket Knife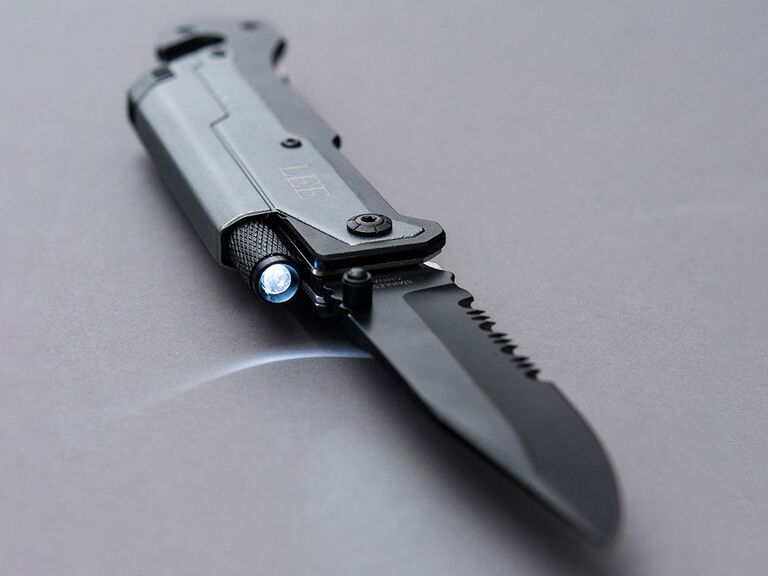 Shopping for the ultra-handy, outdoorsy kind of dad? Treat him to this stylish pocket knife as a nod to his passions. The multipurpose tool comes with a sleek blade, a mini flashlight and even a firestarter. If all that doesn't impress him, the engraved monogram certainly will.
19. Custom YETI Travel Mug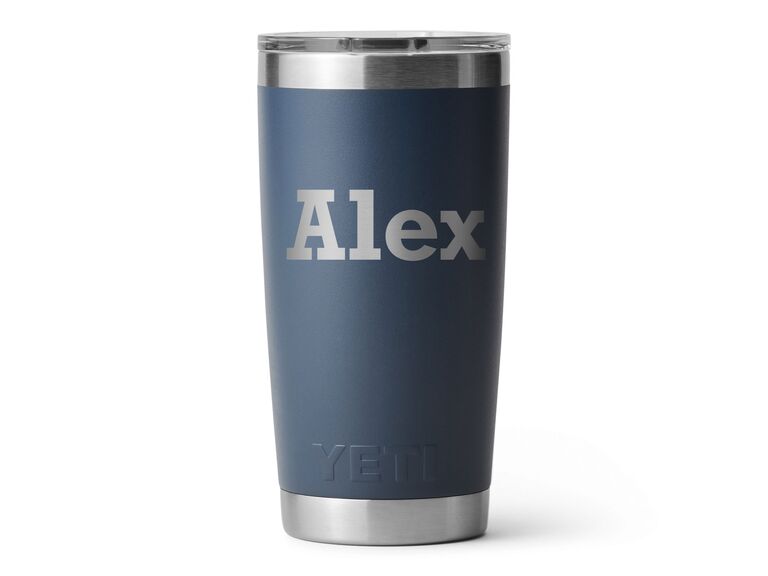 YETI drinkware makes an impressive gift for anyone in a wedding party—especially when it's customized. For the father of the groom that's never without a cup of coffee in hand, this travel mug will keep his drink hot (or cold) for hours. Chances are, you'll probably see him up early, parading around the venue with this sleek tumbler the morning of the wedding.
20. Personalized Golf Balls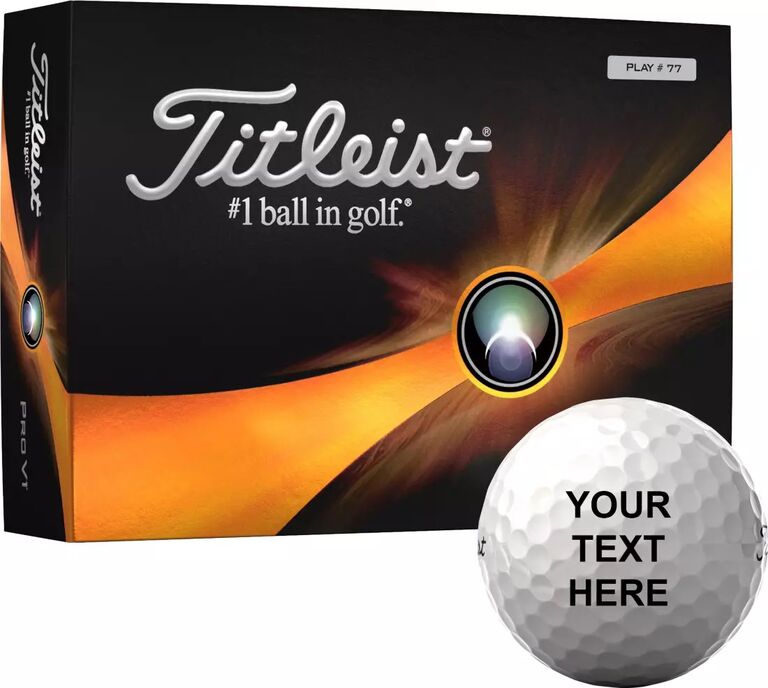 Dad will definitely appreciate a set of personalized golf balls. Plus, these are from iconic brand Titleist (only the best for your old man). Order a box with his name, initials or a message on each ball. You even get to pick from a few text colors. Pair the gift with a round of golf on you once all the wedding festivities are over for some bonding.
21. Custom Fishing Lure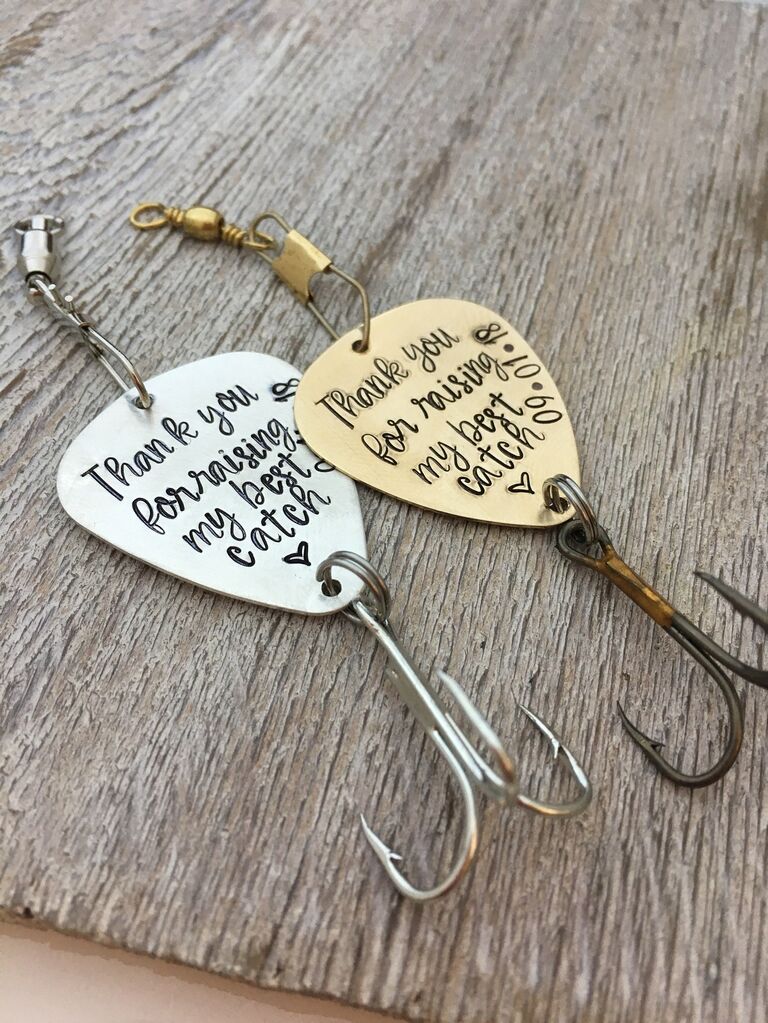 Leave your mark on his favorite hobby with this sweet, personalized fishing lure. You can have it stamped with a playful message like "I love you more than you love fishing," or "Thank you for raising my best catch," if it's a wedding gift for your father-in-law. And yes, this unique father-of-the-groom present works as a real lure.
22. Experience Gift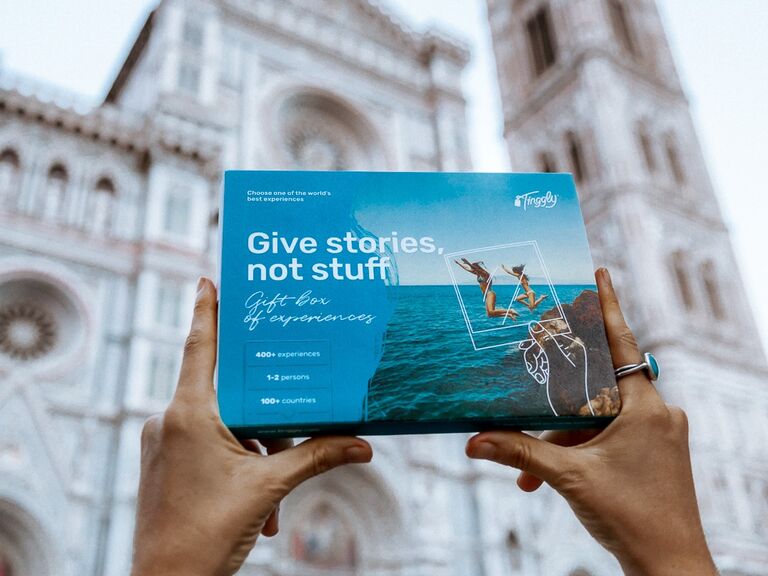 No matter how old you get, you still enjoy spending time with your ol' man. Make sure he knows it with an experience wedding-day gift. Tinggly sells vouchers for local and international excursions that you two can enjoy together. This "Give stories, not stuff" box offers over 700 experiences in more than 50 countries. And it never expires, so he can save it for the next family vacation or cash it in in your hometown.
23. Personalized Engraved Hammer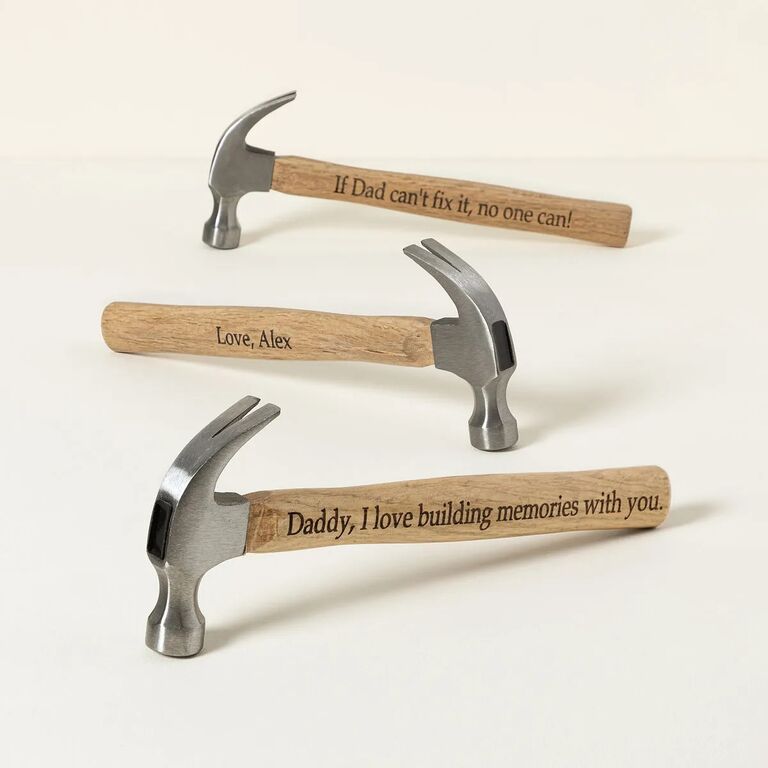 This father-of-the-groom gift really hits the nail on the head! (Sorry, we had to.) If he's your go-to handyman for home projects and matters of the heart, this hammer is a symbolic gift idea. One side of the handle is engraved with either "If Dad can't fix it, no one can!" or "Dad, I love building memories with you," while the other is signed with your name.
24. Father and Son Custom Illustration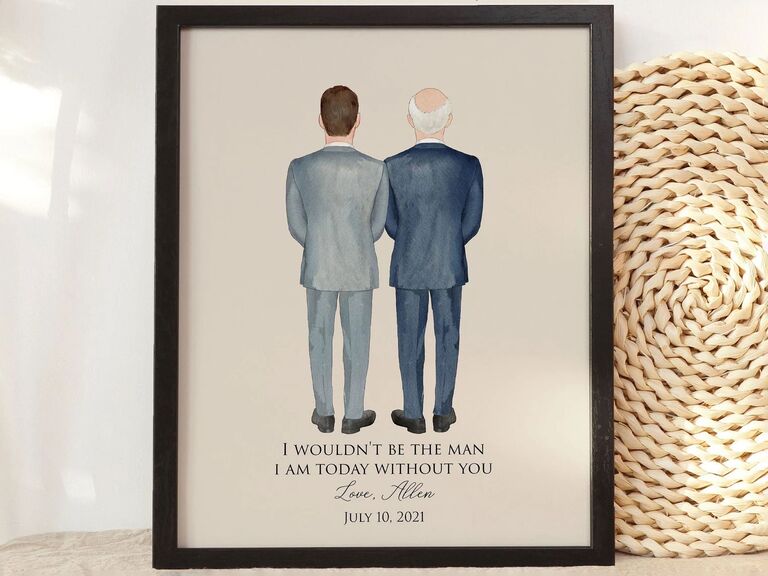 Hands down, one of the most sentimental father-of-the-groom gifts from his son is a custom illustration. Choose between dozens of hairstyles and outfits to recreate the likeness of you and your dad on your wedding day, then complete the gift by adding a thoughtful message, like "I wouldn't be the man I am today without you." Note: This listing is for a digital download, so make sure to give yourself time to have it professionally printed and framed before handing it over.
25. Amazon Echo Show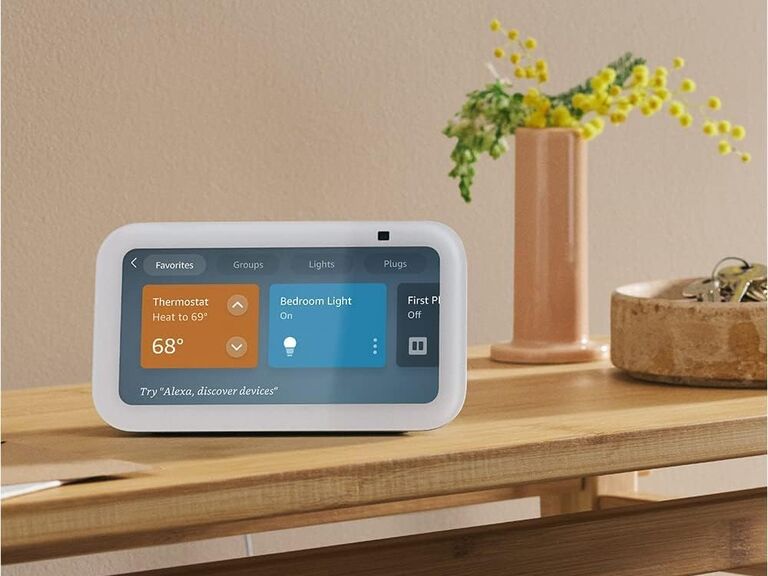 If he's basically been your personal assistant for the past few months (bless him!), reward him with a helping hand of his own. The Echo Show is equipped with Alexa, a voice service that can play music, read the news, set alarms and help with everyday tasks like making a shopping list. The best part? Each Echo Show comes with a built-in camera and digital screen that makes video calls and displays photos, so this gift doubles as a promise to always keep in touch. Talk about a sweet gift for a groom's father.