How to Create an Effortlessly Beautiful Half-Up Top Knot
The cool-girl 'do is officially our new favorite wedding hairstyle.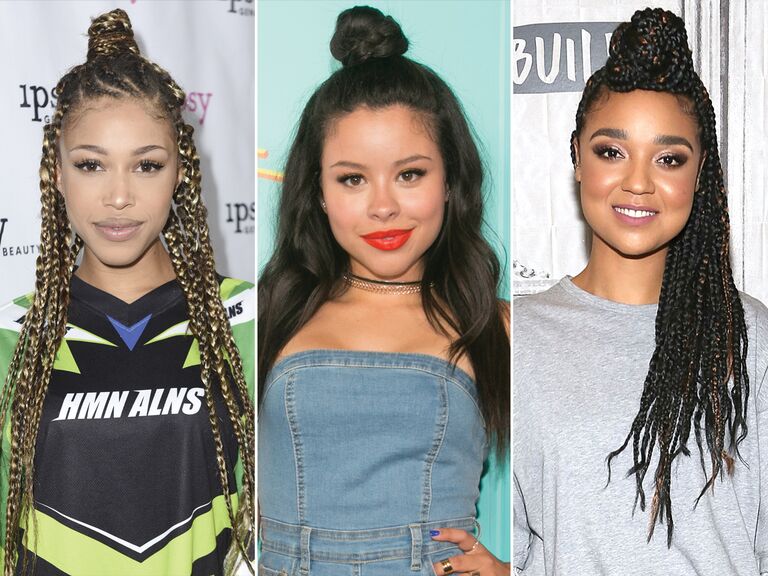 Vivien Killilea / Stringer/Getty.com,Gabriel Olsen / Stringer/Getty.com,Manny Carabel / Contributor/Getty.com
We have included third party products to help you navigate and enjoy life's biggest moments. Purchases made through links on this page may earn us a commission.
Your wedding day look—from your outfit to your hair—should be a reflection of who you are. If you're laid-back and fashion-forward, it can be difficult to find the right hairstyle. Elaborate updos may feel too fussy while loose curls feel too glam. Enter the half-up top knot: the ultimate cool-girl wedding hairstyle. We love this gorgeous 'do because it's equal parts easygoing and gorgeous. Keeping part of your hair down will allow you to show off your fabulous tresses while tying the top part up will keep your hair off your face so you can enjoy the day without worry. A celeb favorite, this trendy half-up style can work for any type of event—from a laid-back beach wedding to a totally formal winter soirée. "What's great about this style is that it can be casual or dressed up depending on how you're feeling," says celebrity stylist Mara Roszak.
Thinking of rocking the half-up top knot hairstyle for your wedding day? Here are nine different ways to style a half-up top knot for your wedding day, below.
Supplies for Your Half-Up Top Knot
To make sure your half top knot looks as good as possible, equip yourself with the right products. "What's also great about this style is that it doesn't require much in the way of tools," says Roszak, an Authentic Beauty Concept advocate. Here's what you'll need to pull off the chic 'do.
How to Create a Half-Up Top Knot
While there are several ways to rock this style, Roszak gave The Knot step-by-step instructions for a basic half-up top knot. If you're doing your own glam for your minimony or pre-wedding events, read up on all of Roszak's best tips.
The celebrity stylist says it's not necessary to wash your hair before styling since you're going to be pulling it back. However, if you want squeaky-clean tresses for your wedding, Roszak says to have hairspray or dry shampoo on hand. This will give it hold so it needs to stay put all day.
The key to a gorgeous half-up top knot is a great base. You can either get a blowout or use air-dried hair, but Roszak recommends adding in bends with a curling iron for best results. Then, apply dry shampoo or hairspray around the face and throughout the hair, focusing on the top section. With your fingers, split the hair in half from one tip of the ear to the other and gather the top section towards the crown of the head, making sure it's high and tight. "I tend to like the 'up' part to be quite tight around the face with a bit of messiness or volume on top," Roszak reveals. Use an elastic to pull the hair into a messy bun (Roszak says the more imperfect the better) and use bobby pins to tuck in any parts that feel lopsided or lumpy.
Next, put a pinch of texturizing paste on your fingertips and gently pull on the hair around your face to create dimension and texture—but stop when you get to your ears. "I personally like when the hair is very tightly pulled right in front of the ears," Roszak says. "I find this can give the face a bit of lift and make the shape more refined overall."
The Chic Half-Up Top Knot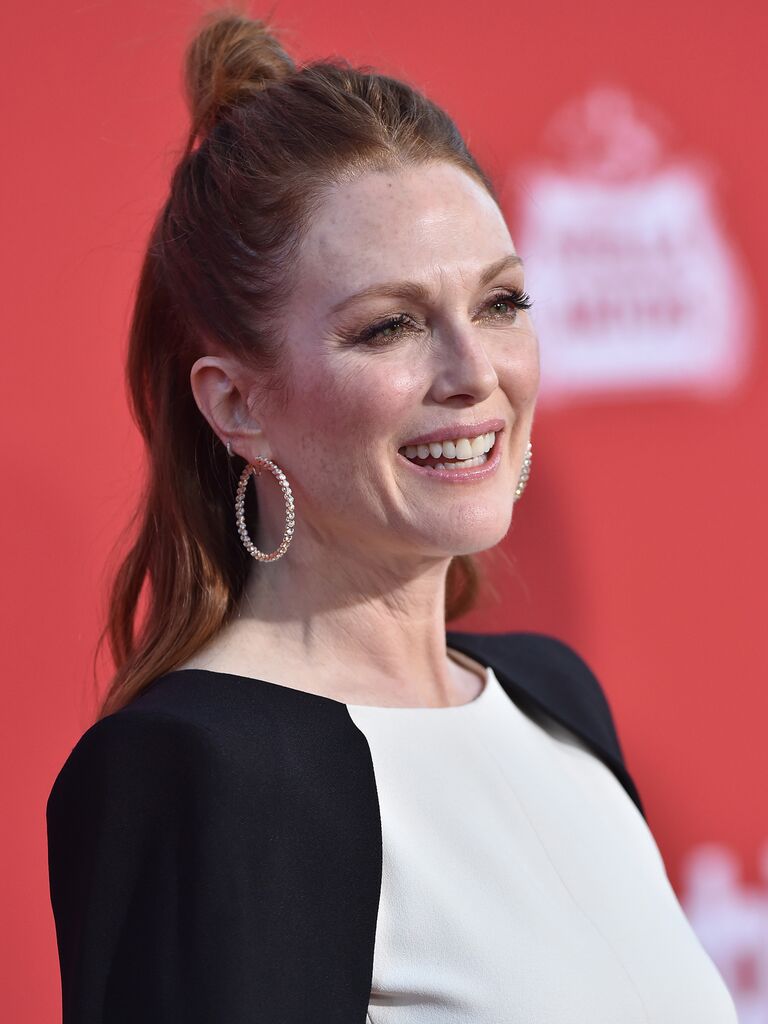 This look is the most classic rendition of the half-up top knot. Follow Roszak's instructions to a T, and you'll end up with a red-carpet worthy style. We love how Julianna Moore left extra volume near her part—it's a subtle way to add a little more drama to this laid-back 'do.
The Funky Half-Up Top Knot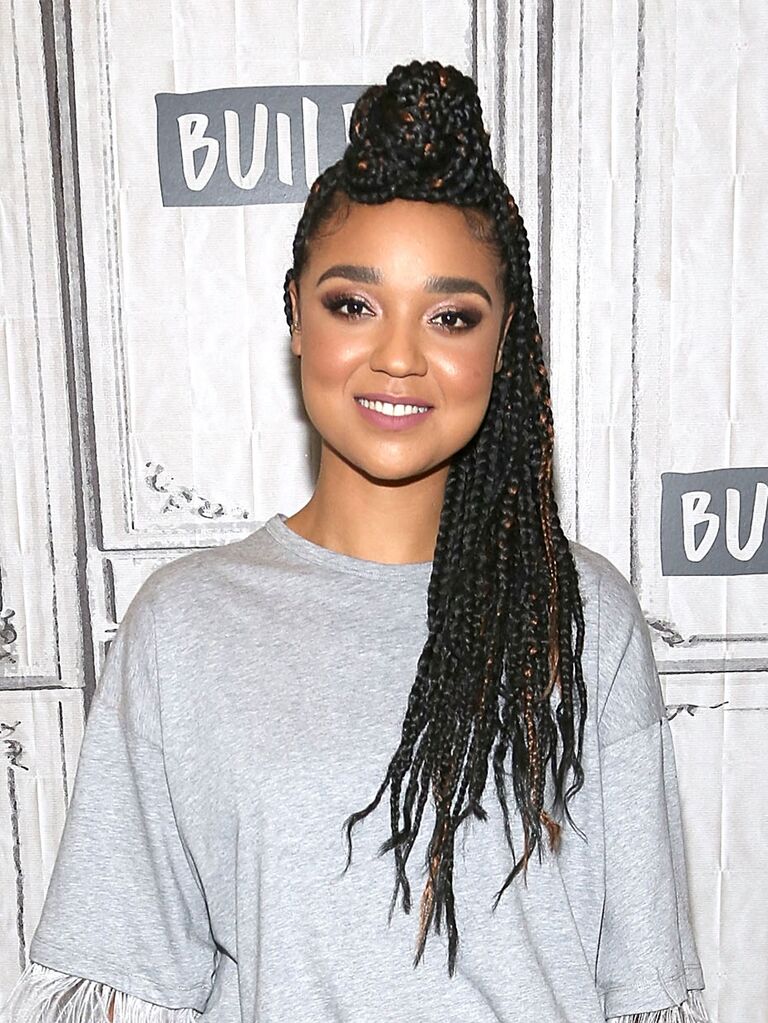 If you're hosting a vintage wedding, consider this variation of the half-up top knot. After sectioning your hair in half, gather it at the top of your forehead for a retro look that's both classic and modern.
The Boho Half-Up Top Knot
This boho top knot is looser and more casual than the chic knot, though it will still look gorgeous at a formal ceremony. To achieve this top knot hairstyle, follow many of the same steps as the chic knot, with these small differences. When separating your hair, leave two strands out at the front to dangle down your forehead and along the sides of your head. This will give your hairstyle a laid-back look.
The Sleek Half-Up Top Knot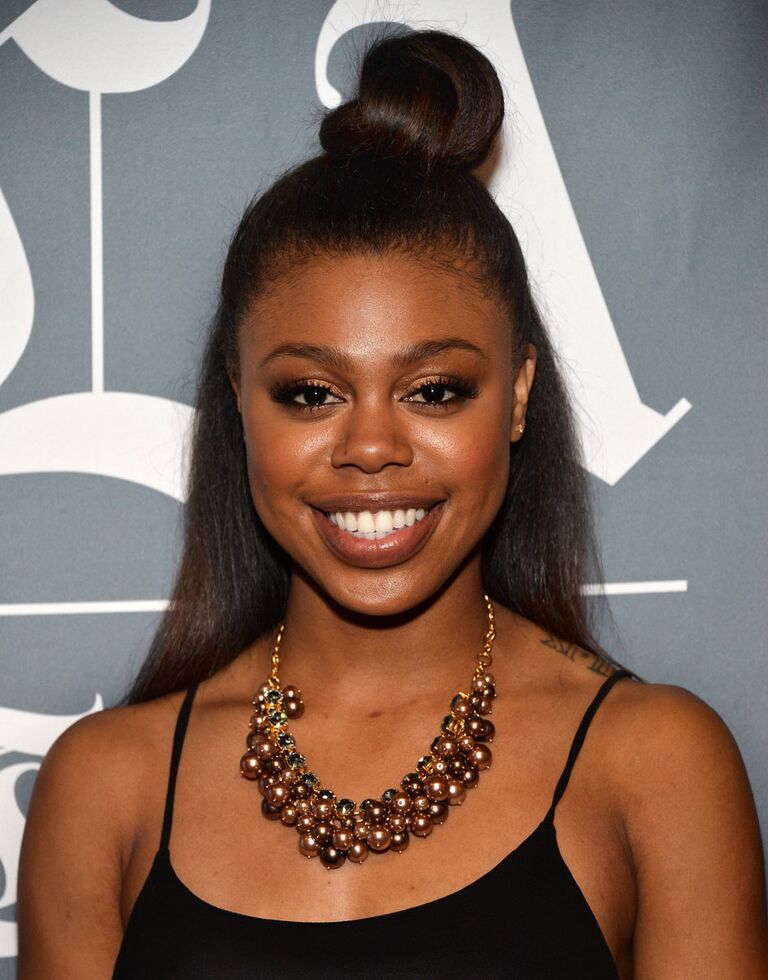 For a slightly more formal or sophisticated look, the sleek top knot is a great option. Follow the original directions, but make sure you brush your hair back before you start twisting your captured hair into a bun. Skip the last step of pulling out strands around the side of your face to ensure you maintain that sleek look. Capture all those stray little wisps on the front and side with hairspray or texturizing paste. If you find that a few hairs have come loose or that a bump or two exists, use bobby pins and hairspray to keep your look in line.
The Grungy Half-Up Top Knot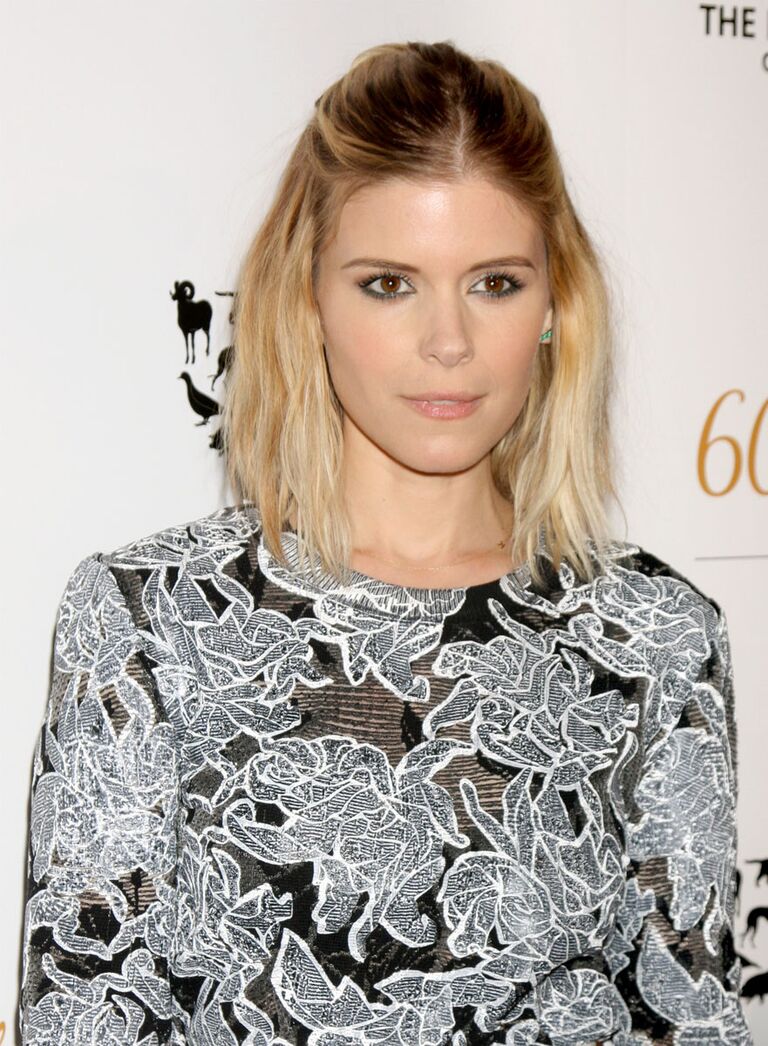 This pretty yet casual look requires less hair, which is great news for short-haired to-be-weds. When separating your hair, focus on capturing only the top layer. You'll want to leave plenty of hair hanging around your head. Rather than brushing your hair back into a high bun, sweep the sides of your hair to the back of your head. This results in a lower, edgier version of the popular hairstyle. If you plan on wearing a tiara or headband, you may want to consider this version of the half-up top knot bun so that your bun doesn't distract from your sparkling hairpiece. If you have shorter hair, use a small hairband and plenty of bobby pins to keep your locks in place. An extra spray of hairspray never hurts.
The Glam Half-Up Top Knot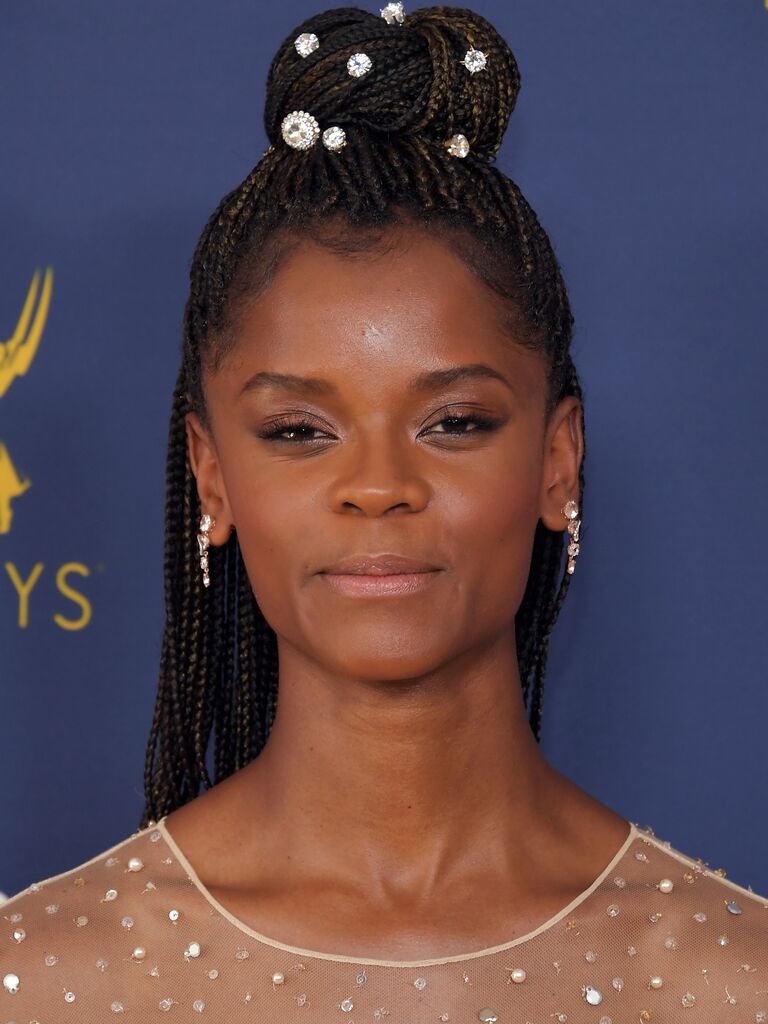 If you want to make this laid-back style a little more glam, we've got you covered. Follow the original instructions, but pull your hair into a tightly-wound bun instead of a messy knot. Then, add in sparkly pins all over. They'll look absolutely stunning when you talk down the aisle.
The Wispy Half-Up Top Knot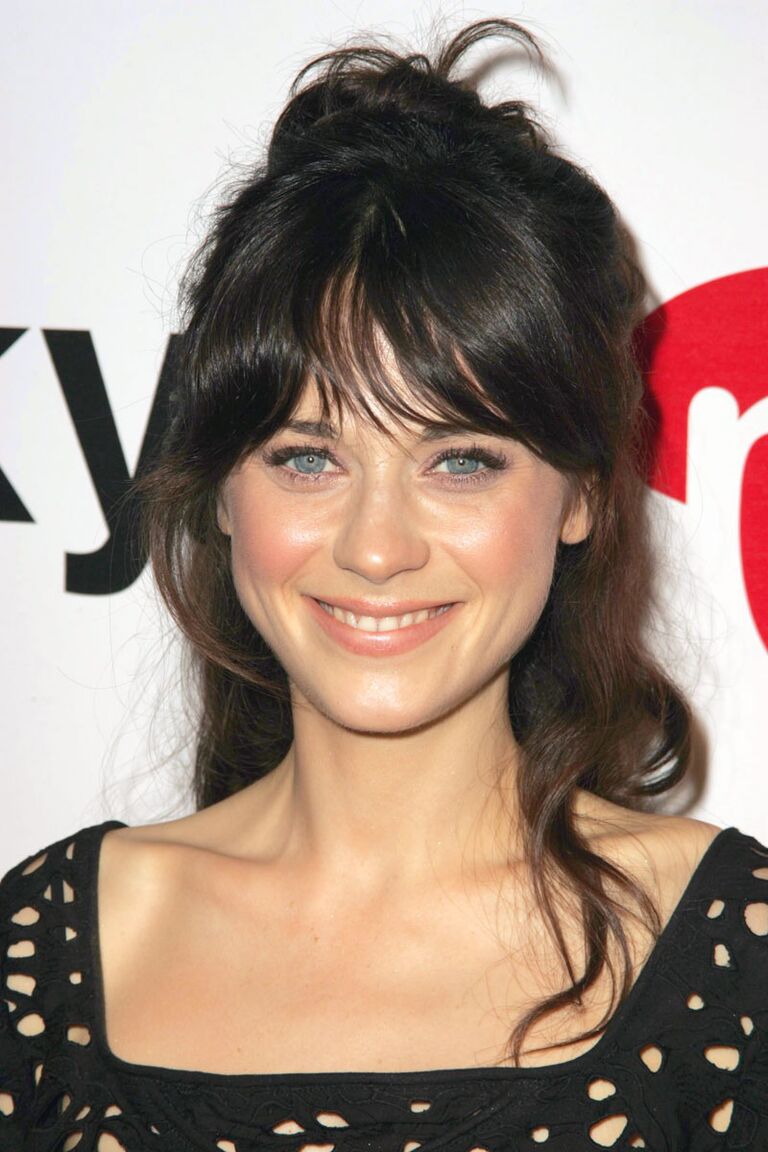 For a beautiful, free-spirited look, go with a wispy half-up top knot. When gathering your hair, keep plenty in front and down the sides. (Psst: this style works extremely well for brides with bangs.) Wrap your bun loosely and point the bun back, not up. This messy style may take a couple of tries to get just right. Use bobby pins to perfect the style you want before you load on the hairspray.
The Braided Half-Up Top Knot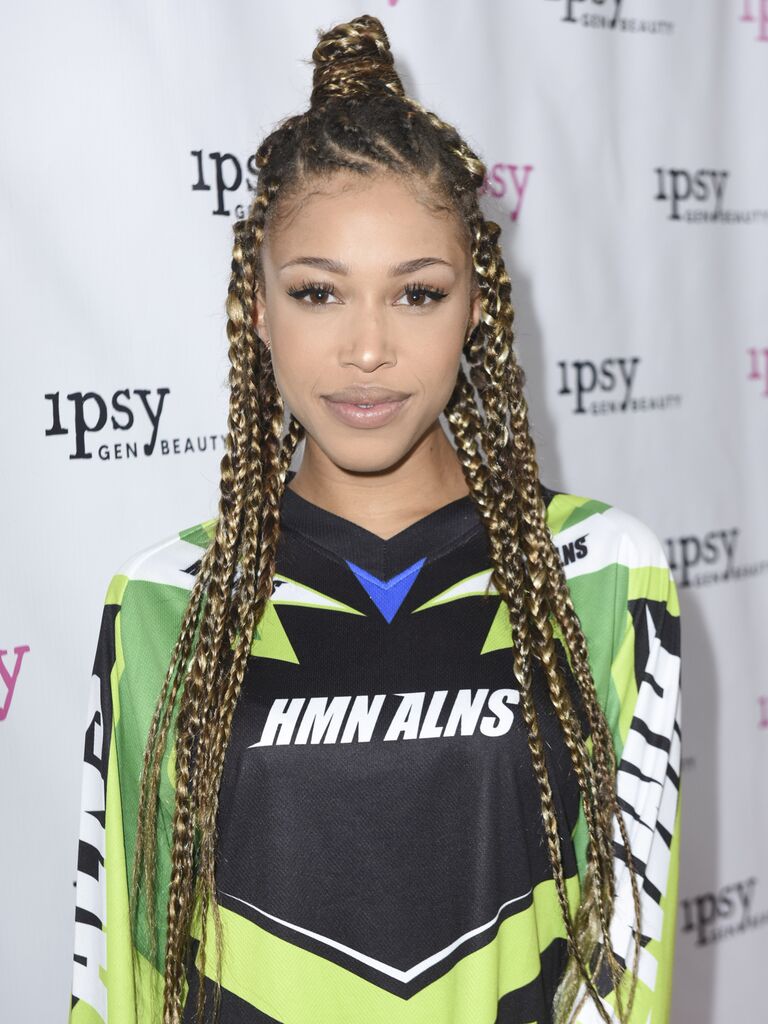 Planning on rocking braids on your wedding day? You can still achieve a gorgeous half-up top knot. Roszak's pro tip is to leave more hair down when you're splitting your hair in half. After you section your hair off, wrap the top part of your hair around the base for a chic twisted top knot. No need to use texturizing paste to pull down hair around your face—just add hairspray and bobby pins where needed.
The Sweet Half-Up Top Knot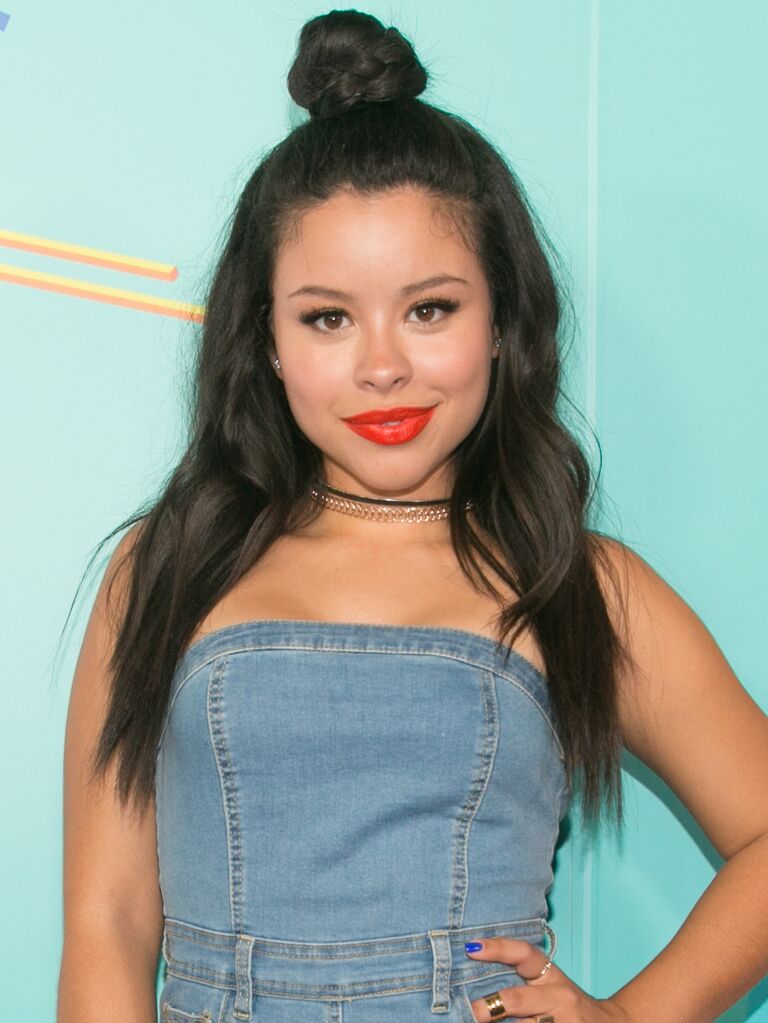 The final half-up top knot is this sweet style. In this version, focus on gathering your hair from the front and top of your head, leaving plenty of hair below. This style is great for brides with short or medium-length hair since you are pulling the hair directly back and not around your head.
To get a sleek look, brush your hair back to smooth out any bumps. A tight bun will make this half-up top knot look more formal. Keep it casual by tugging your bun to loosen it up and/or teasing out a few hairs to gently drift around your face. Add soft waves to the hair below for an extra-sweet touch.