Here's How to Buy the Best Wedding Wine For Your Big Day
Get to know your vino with these expert tips.
Oenophiles, lovers of wines, have no problem selecting their favorite wines for dinner parties—but when it comes to wedding wine for the big day, experts and novices alike might not know the ins and outs of serving vino for hundreds of guests. From menu pairings to the much-debated question of how many bottles to buy, follow these expert tips to pull off the perfect pour with every glass even if you aren't a sommelier. But full disclosure: The best wine for your wedding is always the one you and your partner enjoy since wine tells its own story and one about the people who choose it.
How to Choose the Best Wines for Your Wedding
Picking the best wedding wines for your big day doesn't have to be an overwhelming experience amid wedding planning. Read below for five helpful tips while you and your partner go through the wine selection process.
Consider the season your wedding's in.
Traditionally, the assumption is that fall or winter nuptials automatically means red wine (like syrah or cabernet sauvignon), just like a spring or summer wedding is synonymous with white wine (like Sancerre or pinot gris). But actually, it doesn't matter what time of year it is, just so long as the type of wine you select as your wedding wine fits with your menu. "Most people want to drink what they like whenever they want to, which explains why rosé has leaped from a springtime sipper to a year-round superstar," says Anthony Giglio, wine expert and wine director at The American Express Centurion Global Lounge Network. "People like how it bridges white and red as somewhere in between."
Pair your wine with your food menu.
Instead of getting wine that perfectly matches one specific protein on your menu, choose wedding wines that can go with a variety of dishes. "I prefer to go with versatile wines. And that means they're wines that don't see heavy use of wood. Or avoid super powerful varietals that have seen a lot of skin contact for red wines," Brett H. Philpott-Freeman, president and founder of Grape Intentions, advises. Don't know where to start? Philpott-Freeman offers suggestions for the best red and white wines for weddings. "Generally speaking, versatile reds are pinot noir or Gamay. So we're talking southern Burgundy Beaujolais, not Beaujolais nouveau, which is a really versatile varietal and super food friendly. With white wines, I tend to steer my customers into fun, refreshing styles. Albarino is a wonderful go-to varietal from Spain––very refreshing. With chenin blanc from South Africa, you can get a lot of bang for your buck. If we're going to talk about a country, you get a lot for your money with South African wines." Overall, choosing well-balanced, trustworthy wines that can match a variety of dishes will give you one less headache, and your guests will enjoy their meals even more.
For champagne drinkers, Robin McBride, one of the founders of the McBride Sisters Wine Company, believes you should think outside of the box with your champagne pairing. "The most common mistake we see is people pairing champagne with dessert. The impulse is understandable since it gathers the group together after dinner and dancing and it makes a celebration of the wedding cake, but the fact is that most champagnes are dry, not sweet, and will not stand up to the sugary flavors of most wedding cakes. Instead, pair champagne with appetizers like sushi, cured meats or even fried foods, and serve a wine that's a touch sweeter, like riesling, with dessert."
Incorporate your wedding theme.
Erica Estrada, one of the founders of Mela Wine, as well as the brand's marketing and creative director, thinks connecting your wedding theme to your wine is a great idea. "Since cuisine, wine and cocktails are typically chosen by the clients, it's an extension of them for their guests to enjoy. The wine selection is just one of the important details that play into the wedding celebration and guest experience."
Here are McBride's top picks for these popular wedding themes:
Vintage: "Champagne or anything sparkling. It's classic and timeless. We like true French Champagne or sparkling brut rosé served in a coupe glass."
Nautical: "Sauvignon blanc, for sure. It's a coastally grown varietal, and the best sauvignon blancs come from overseas, in regions of France and New Zealand."
Rustic: "Chardonnay. This country grape has oaky flavors that call to mind nature and the outdoors."
Romantic: "Anything red and sexy. Merlot is soft, supple and full of tannins, making you literally lick your lips!"
Glamorous: "Sparkling wine. Serve it in a tall wine glass for elegance."
Your wine can work with your wedding decorations too. "Wine is an agricultural product, so it's fun because you can tie it in quite easily for a rustic wedding theme. You can incorporate wine barrels for the decor. One fun thing you can do is get bladder bags and put them in wooden barrels. Then have it set up so people can self-serve their wine out of the barrel system," Philpott-Freeman advises. For a vintage wedding, "an old Chevy, Budweiser and canned beers come to mind. So try canned wine––it's a huge trend right now. You can have a lot of different kinds of wines for people to grab themselves." No matter what, try to stick with versatile wines that are refreshing and food friendly.
Think about your budget.
Most likely, you don't want to spend all of your money on alcohol, so use a wedding alcohol calculator to help you stick to your budget. But don't think expensive bottles of wedding wine automatically equal better quality. "What's so beautiful about wine is that it's subjective to everyone and their palettes. There's usually valid reasoning why one bottle may be significantly more expensive than another. The type of grape, where it's sourced and corkage can play a role in the cost––which, ultimately, may not have anything to do with the quality or taste. Choose wine you enjoy and you think will be enjoyed by others," Estrada says. Philpott-Freeman offers his own two cents on the matter. "For the most part, people stop decerning a big difference once they leave the $50 to $65 price range. So you don't need to spend a fortune on wine. If it's a four- or six-hour event, and you're spending money on three-figure bottles of wine, people are so drunk, certainly tipsy, to a point where they wouldn't appreciate it. Remember, there are a lot of really wonderful wines out there that don't cost an arm and a leg."
Have a simple variety.
"A bottle of white, a bottle of red/Perhaps a bottle of rosé instead" aren't just lyrics from a Billy Joel song, they're also words to live by as you select your wedding wines. You don't want to make it too complicated. To keep it simple, choose a white wine that's light and refreshing (like a sauvignon blanc or pinot grigio), and stick with a red that's a little bit on the crisp and fruity side (like a pinot noir) since both can go well with a variety of food. Then pick a bottle of mild champagne or prosecco to hit the bubbly note.
Refer back to your palette.
Overall, the best wine to serve at a wedding is whatever you enjoy the most. If you don't know the names of or the kind of wines you like, visit a winery or local wine bar for a wine tour or wine-tasting date night. This allows you and your partner to learn about numerous wines and find out which wines are your favorite. You can also look at the wine menus of your favorite restaurants for reference.
When you schedule your wine tasting, Philpott-Freeman suggests you do this after you've finalized your wedding menu. "Usually four to eight weeks before the event is more than enough time to sit down and decide on your wine. Depending on the kind of wine, you might want more time to determine your selection. If it's more affordable wine, it's not a big deal. If it's on the higher end for a large wedding, the more lead time, the better."
Things to Do After You Select Your Wine
There are a couple of things you need to check off your to-do list after you figure out what wedding wines you want. Once you decide on these things you can go buy all the delicious wines you desire.
Determine if you want to buy the wine yourself or through your venue.
Estrada highly suggests that you buy all the wine for your wedding. "If you have the choice to bring in your own wine, go for it. It's important that the wine you pour for guests is one that you love and feel connected to. Make sure to ask about any corkage fees when bringing in your own. However, if you have to select a wine from the venue, taste it and consider how it pairs with your meal."
McBride advises couples to talk with their wedding planner before making a final decision. "Speak with your wedding planner or the events director at your venue to see what your options are. Sometimes, if you want a specific brand, you can make the case that you need to bring your own wine in for the big day. Oftentimes, retailers give price breaks on bulk purchases (of a case or more), so getting creative can help you save on extra markups." But if you want to take some of the hassle out of the wine-picking process, choosing wine from your wedding venue's wine list is your best option.
Figure out a plan for leftover wine.
Depending on how much you order, you might end up with a little (or a lot) of wine after the wedding. Of course, you can keep the wine for yourself or give the bottles as wedding favors. But there's a third option, returning the wine to the wine seller you bought them from. "Wine being returnable comes down to and depends on the vendor. Typically, with wine, as long as it's in a sellable condition, you can return it. The label needs to be intact, the capsule unbroken, and obviously, the cork is still in the bottle. For twist caps on wine bottles, the cap must be untwisted or not have a broken seal for it to be in truly sellable condition. So if you're considering putting the wine in an ice bath, it's probably going to cause some wear and tear on the label," Philpott-Freeman says.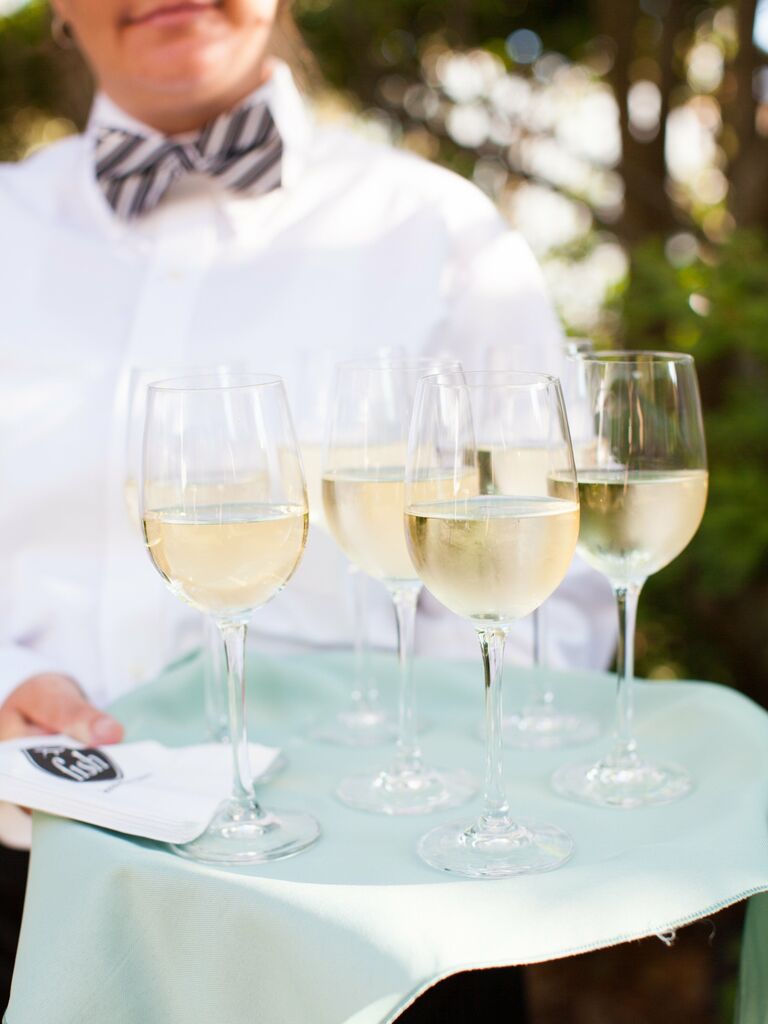 How Much Wine to Buy for Your Wedding
Now it's time to get into the logistics of wedding wine shopping. Here's exactly how to calculate how much wine you should buy for your special day.
How many bottles of wine are needed for 200 guests?
Before you can determine how many bottles of wine to buy, you need to ask yourself who'll be drinking it. "For example, say you've got a guest list of 200. How many of the 200 guests are going to drink within that? Because you're maybe going to have some youth that might be part of that number, and you might have some elderly guests who are a part of that number. After thinking about that, you might say, 'Oh, well, actually, only about 150 are probably gonna drink,'" Philpott-Freeman says. The next questions you have to ask yourself are: How heavy of a drinking crowd is it, do you want to have the same wine at your wedding reception that you're going to serve with your meal, are you going to be having an open bar? Remember, a lot of times your decision is going to come down to budget and time.
Philpott-Freeman does the math for us. "So if you have 150 people who are drinking, we'll say 300 drinks are poured in the first hour and 150 to 200 drinks in the second hour. Then for the final hour about 75 drinks. Add that up and then divide those drinks by 60 since there are 60 pours in a standard case of wine. Which means we're looking at about four or five cases of wine." He believes using the consumption rate per hour of your guests is a better gauge for figuring out how much wine to buy than using the one bottle per person rule of thumb. "Let's say we're doing a four-hour event, you can expect people to drink two to three drinks in the first hour––that's on the heavier side of the drinking spectrum."
How many bottles are needed for a champagne toast?
In general, champagne is only used for the toast (or champagne tower), so you'll usually need a glass per person, which results in a couple of cases if each case is 60 pours. Since champagne is expensive, Philpott-Freeman likes to ensure couples really want champagne at their wedding. "I have to ask people, how important is it to you? Do you think you'd be drinking it all night? How much do you want to spend on it? Is it just for the toast?" If you realize having champagne isn't necessary for your wedding day, then Philpott-Freeman has delicious and inexpensive alternatives for you. "There are a lot of other great options, like cava which starts with a 'C'. There are some beautiful Cavas out of Spain that are a fraction of the price that's made the same way as champagne. Or go with a softer style of CO2, than champagne, like prosecco. The Italians are trying to improve the image of prosecco since it's associated with cheap brunches in the US."
Remember, heavy pours equal an expensive wine bill.
If there's one thing you want to make sure your bartenders and waitstaff do, then it's serving the wine properly. Heavy pours are usually welcome at bars, but not at your wedding. It's more important to keep the flavor and bottle count in check. "Guests should be poured three ounces of wine, over and over again," Giglio says. "This keeps the wine from getting warm in their glass." A quick calculation will keep any wine from going to waste: There are 25 ounces in every bottle (round down to 24 for human error when pouring), so if there are eight guests at the table, the server should be able to pour eight three-ounce glasses without running out. Unless your sparkling wine is very inexpensive, don't use flutes since you can't get any of the flavors out of the wine due to the shape of the glass. While McBride loves flutes for champagne, Giglio advises serving sparkling wine in good-quality, tulip-shaped white wine glasses.
How to Buy Wine in Bulk for Your Wedding
To be safe, always speak to your venue's catering or wine professional to ensure you're getting the best deal and ordering the correct amount of wine for your budget—but neither should compromise the quality. While it's the job of the venue's catering director to offer you a wide variety of the least-expensive wines available, you should feel comfortable stepping in and asking for less variety but a more thoughtful selection. Be prepared with a list of wines you both like to drink. If your wedding is in the same state you buy your wine regularly, your venue can likely order that wine for you or at least try to accommodate your request—but it's best to talk about this before signing any contracts. And if you're going with wine that your venue suggests, always do a tasting to ensure you like it and it fits with the foods you'll be serving.
"If you're going out on your own, buy some wines, do your own tasting and buy the best thing for your budget. If you buy wine in bulk, usually, you want to go to a big box store. They're going to have lots of inventory, tend to have better prices and sometimes give you an additional discount if you're buying by the case. Sometimes you can even find wineries that will work with you," Philpott-Freeman says.