How to Choose Wine For Your Wedding
Get to know your vino with these tips for picking and serving the right wines for your event.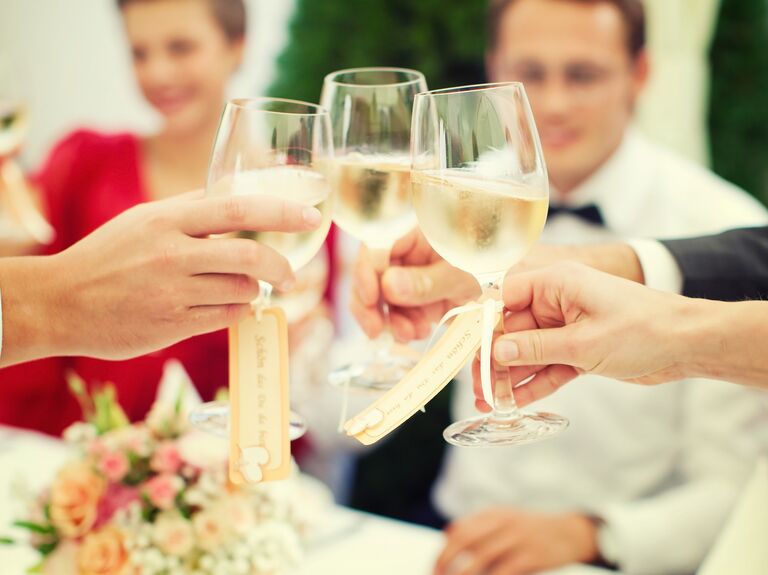 Shutterstock Images
Oenophiles have no problem selecting their favorite wines for dinner parties—but on a larger, wedding reception scale, wine experts and novices alike might not know the ins and outs of serving vino for hundreds of guests. From temperature and menu pairings to the much-debated question of how many bottles to buy, follow these expert tips to pulling off a perfect pour with every glass. But full disclosure: You should always choose varietals you and your fiancé enjoy, since wine can actually say something about you—even better if it's part of your love story.
Think less seasonally…
Traditionally, the assumption is that a fall or winter wedding automatically means red wine, just like a spring or summer celebration is synonymous with white wine. But actually, it doesn't matter what time of year it is, just so long as it fits in with your menu. "Most people want to drink what they like whenever they want to, which explains why rosé has leapt from a springtime sipper to a year-round superstar," says Anthony Giglio, wine director at The Centurion Lounge by American Express. "People like how it bridges white and red as somewhere in between."
…and more about your menu.
You don't need a seasoned sommelier to suggest great wine and food pairings; it's as easy as knowing that wines and dishes that carry similar flavors will complement each other. Eater Drinks editor Kat Odell suggests the following pairings:
Chicken
A red or a white that's on the medium to lighter side is a safe bet.
Fish
Greek wines or other lighter, mineral-y whites go well with seafood.
Beef
A strong grenache or pinot noir (both reds) complements beef.
Pork
Go for a bolder white with pork, like a white Burgundy.
Overall, choosing well-balanced, trustworthy wines that can be matched with a variety of dishes will give you one less headache, and your guests will enjoy their meals even more.
Have a simple variety.
"A bottle of white, a bottle of red, perhaps a bottle of rosé instead" aren't just lyrics from a Billy Joel song, they're also words to live by as you select the wines you'll serve at the reception (save the rosé, which you may want to swap for a bubbly beverage). "You don't want to make it too complicated," says Gillian Sciaretta, associate tasting coordinator at Wine Spectator. "Just picking a white, red and sparkling is a good way to go; people who have very different preferences will still enjoy the wine." To keep it simple, choose a white wine that's light and refreshing (like a sauvignon blanc or pinot grigio), and stick with a red that's a little bit on the crisp and fruity side (like a pinot noir), since both can go well with a variety of food. Then pick a mild champagne or prosecco to hit the bubbly note. "As long as the wines offer pleasant flavors that appeal to a large crowd, you should be good to go," Sciaretta says. "People are always just happy to have a good glass of wine in their hand."
Make sure the temperature is right.
Even if you're having your wedding reception on top of a snowy mountain in the dead of winter, serve all of your wine cold—that goes for red too. "Whites and sparkling should be served on ice. Even reds—particularly lighter ones—can benefit from half an hour in the fridge before service," says Nicholas Jackson, Sotheby's wine buyer. "While wine that's too cold can warm up, warm wine is a loss from the beginning." Sciaretta agrees that temperature control is important, noting that red wine should be served at 55 degrees and white wine somewhere in the high 40s. (If the bottle doesn't need to breathe, keep it unopened until the last second, so the flavor isn't lost.)
Keep heavy pours to a minimum.
If there's one thing you want to make sure your bartenders and waitstaff do, it's serve the wine properly. Heavy pours are usually welcome at bars, but at your wedding, it's more important to keep the flavor and bottle count in check. "Guests should be poured three ounces of wine, over and over again," Giglio says. "This keeps the wine from getting warm in their glass." A quick calculation will keep any wine from going to waste: There are 25 ounces in every bottle (round down to 24 for human error when pouring), so if there are eight guests at the table, the server should be able to pour eight three-ounce glasses without running out. Jackson also suggests that unless your sparkling wine is very inexpensive, don't use flutes—you can't get any of the flavor out of the wine due to the shape of the glass. Sparkling wine should be served from good-quality, tulip-shaped white wine glasses.
Use the one bottle per person rule of thumb.
So now that you know how much should be poured, how much wine do you need for the reception? "We work on the basis that for a whole evening, at least one bottle of wine per head should be counted on," Jackson says. "And then add a cushion—if you're expecting 150 guests, get 180 bottles. There's nothing worse than running out of wine." (Pro tip: Champagne also has eight pours per bottle. So if you're planning a champagne toast for 150 guests but not offering it at the bar, you'll only need 20 bottles.) Keep in mind that as long as the staff isn't preopening bottles, the leftover wines can either be sold back into the venue's inventory or taken home to be enjoyed during the honeymoon and beyond.
Bulk wine packages should be both good quality and affordable.
To be safe, always speak to your venue's catering or wine professional to make sure you're getting the best deal, as well as ordering the correct amount of wine for your budget—but neither should compromise the quality, Giglio notes. While it's the job of the venue's catering director to offer you a wide variety of the least-expensive wines available, you should feel comfortable to step in and ask for less variety with a more thoughtful selection. Be prepared with a list of wines you both like to drink (be reasonable and choose bottles under $20, unless you have more room in your budget). If your wedding is in the same state as where you buy your wine regularly, your venue can likely order that wine for you, or at least try to accommodate your request—but it's best to talk about this before you sign any contracts. And if you're going with wine that your venue suggests, always do a tasting to make sure you like it and it fits with the foods you'll be serving.