8 Places to Look for the Perfect Ceremony Passages
The right readings will set a meaningful tone for your ceremony.
by The Knot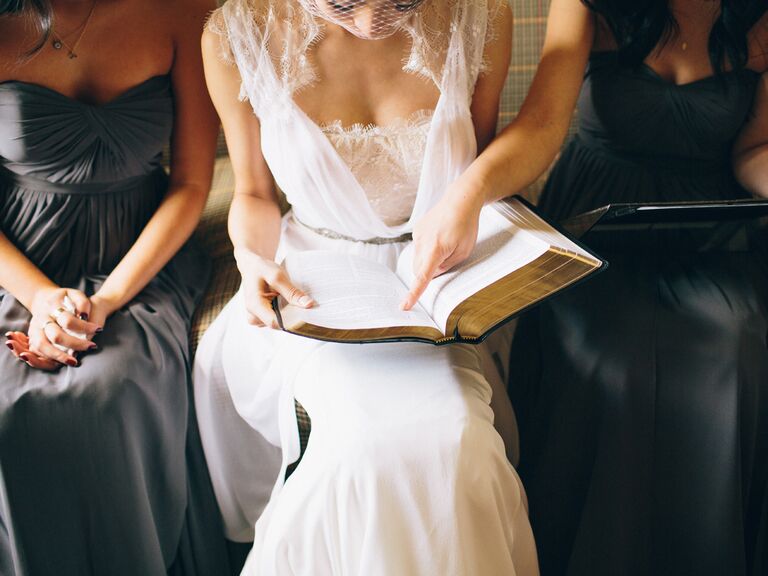 Before delving into the wide world of possible readings for your wedding ceremony, look to your own backgrounds and relationship first. Remember the time your fiancé gave you a Pablo Neruda book for your birthday? Or did you meet in English class and read Pride and Prejudice together? Or maybe a Stevie Wonder song was playing in the restaurant when he proposed? Do some reminiscing—the perfect passage might be right in front of you. Here are other places to look for ceremony reading passages. 
1. Scripture and Cultural Texts
The Dhammapada (Buddhist), the Song of Songs (Jewish), the Bible (Christian) and the I Ching (Chinese) are all popular sources for different backgrounds. Just make sure to explain the reading's source in the introduction or in your ceremony programs. And keep in mind that if you're having a religious ceremony, there may be certain requirements about or restrictions on what can be read.
2. Classic Poetry
Poems were practically made for wedding ceremonies, from Shakespeare's love sonnets and Elizabeth Barrett Browning's romantic verses to the works of more modern scribes like E.E. Cummings, Maya Angelou, Walt Whitman, Nikki Giovanni and William Butler Yeats. If you can't decide between several short poems, consider having multiple readers recite them one after the other. 
3. Literature
Browse books and short stories to find passages that remind you of love and your marriage. Kahlil Gibran's The Prophet is popular for weddings, as are classics by Jane Austen and Charlotte and Emily Brontë. But think beyond the obvious and consider modern authors you love. Maybe one of Jonathan Safran Foer's novels spoke to you, a passage written by Elizabeth Gilbert really stuck with you, or you loved one of David Sedaris's funny, touching essays.
4. Children's Books
Your favorite storybooks from childhood can actually be quite profound, given their audience. Excerpts from books by Dr. Seuss, Shel Silverstein, Maurice Sendak, Roald Dahl and other classic authors might surprise you with how romantic they can be. One idea we love: Have your young cousin or neice or nephew read the passage and there won't be a dry eye at your ceremony.
5. Love Letters
Love letters penned by historical figures (like James Joyce's to his wife, Nora, or Simone de Beauvoir's to Jean-Paul Sartre, for example) can be especially moving. If you have two or more readings, ask one person to read from a love letter, and another reader to handle the response letter. And don't forget about your own "love letters." Search your email inbox for messages from when you first met or were falling in love. You may find sweet tidbits of old correspondence that chronicle your falling in love from a totally personal and unique angle.
6. Your Favorite Movies
If historical literature or old-world poetry just isn't your style, try drawing from romantic movie quotes: Billy Crystal's speech at the end of When Harry Met Sally and the first-person narration from The Notebook come to mind. Think beyond your typical romantic movies too. If you have a special, nontraditional film you both love—maybe you always watch it together when one of you is sick—check it for quotes too.
7. Song Lyrics
If you're more likely to have a list of favorite tunes than favorite sonnets, check your top playlists for songs with romantic, readable lyrics. Some of our favorites? The Beatles' "In My Life," The Beach Boys' "God Only Knows," Van Morrison's "Someone Like You" and Bob Dylan's "Make You Feel My Love."
8. Your Family
If you're looking for a way to honor a deceased or absent relative, reading from that person's favorite poem, book or passage of scripture is appropriate. Another touching option? Choosing excerpts from a meaningful book or letter written during their lifetime. 
Nine ceremony dos and don'ts, here.
Everything you need to know about writing your own vows, here.