Up Your Garter Game With a Custom Look
Even though it may be hidden, personalizing your garter can make a big style statement.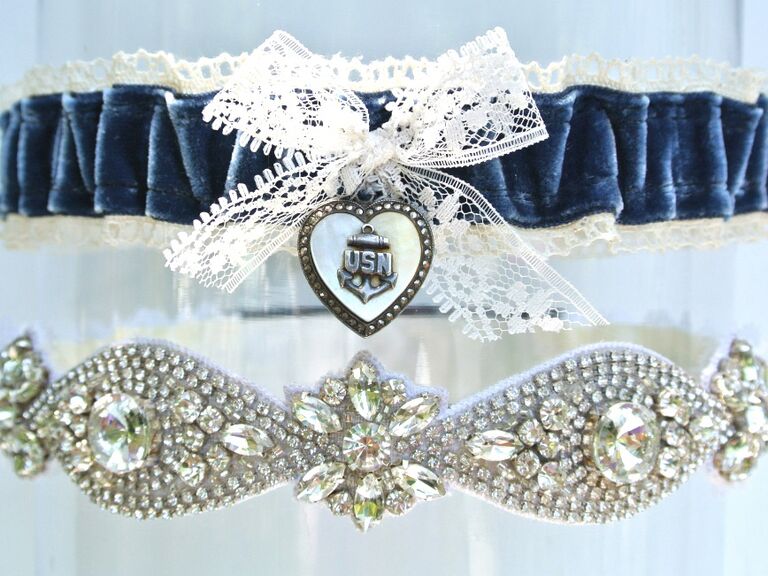 La Gartier
There are a number of theories surrounding the wearing and tossing of the bridal garter. While a woman of past decades would wear this accessory to hold up her stockings, some believe a wedding garter was regarded as a token of love with "magical powers." Others say the garter was thrown as proof a marriage has been consummated. And some think the bride's attire was considered lucky, and to keep herself intact, the bride would throw her garter to avoid her dress being torn to pieces by guests.
Whatever the historical significance of the garter may be, the tradition lives on today. Buried beneath the gown, a bride typically wears two garters—one as a wedding day keepsake and one for the groom to toss to single male guests.
After designing a few personalized garters for ready-to-wed friends, Sarah Dobson saw a business opportunity with the wedding industry's most forgotten accessory. "I noticed that the design of the wedding garter had frozen somewhere right around 1985," says the owner and designer of La Gartier Wedding Garters. "Every garter I saw looked outdated and completely out of touch with today's bridal trends. The more I looked, the more it became apparent to me that the wedding garter, as a basic wedding accessory, was in serious need of a redesign. I became passionately determined to create a modern, beautiful wedding garter that spoke to today's bride."
Statement-Making Garters
For Dobson, the makings of a great garter is one that's cute and sexy, but more importantly something the bride wants to wear when she otherwise was going to skip the tradition. To do this requires creating a look as beautiful as the bride's more visible accessories, while at the same time imparting deep meaning and personal significance to the bride. "It should be one that she would want to pass down to her daughter one day," Dobson says.
For a custom look, Dobson goes beyond matching the wedding palette colors. "The most popular customizations tend to be designs that incorporate a special family heirloom," she says. "This could be anything from jewelry from the bride's grandmother or fabric from the bride's mother's wedding gown. Recently, I've been creating a ton of military name tag garters, which are designs that incorporate the bride's fiancé's name tag taken directly from his Navy, Army or Marine uniform."
Dobson has worked on lots of garters over the years and says picking her favorite is like picking a favorite child. That said, the stories behind each accessory do make them more memorable. "Some that stick out are a garter made out of the bride's father's last remaining necktie, a garter created using the bride's late mother's favorite necklace, and a garter created using her little brother's favorite superman pajamas." And possibly top on her list? A garter that incorporated the tags of the bride's dog who passed away from leukemia two months before being able to escort her down the aisle.
Trending With Brides
In addition to a popular request for rose gold, Dobson says there are two trends she's seeing. The first is sparkle—and lots of it. "We've found that brides want sparkle more than anything, so we make it a point to design garters that feature a double- or even triple-dose of bling in order to keep up with our brides other sparkly accessories, such as sashes, shoes and headpieces," Dobson says.
The second is fit. "Garters that are slim in nature are in high demand right now," Dobson says. "This is because brides are opting for dress silhouettes like a mermaid-style and trumpet, which leave little room for a voluminous, fabric-heavy wedding garter. For this reason, we made sure to design garters that lay very flat against the leg when worn so they don't show through the skirt of our brides' gowns."
Grab Your Garter
Different styles of garters can be purchased directly from the La Gartier site. But for a custom look tailored to your personal story, Dobson recommends booking as early as possible, with the earliest availability being January 2017 and only three custom pieces scheduled per month. Starting at $400 for a personalized look, the price may seem steep, but when you consider you're creating an heirloom built on your personal story, it becomes priceless.