The Surprising Kitchen Amenities Millennial Newlyweds Are Obsessing Over
Here's how young homeowners want to stock their brand-new kitchens, according to this recent survey.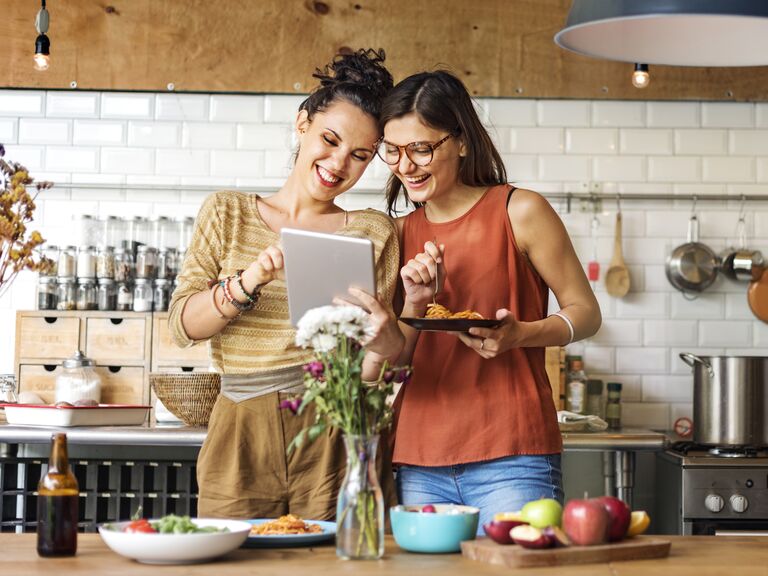 shutterstock
There's a good reason you or a couple you know is so excited to register for kitchen stuff—or so particular about buying a newlywed home with the perfect kitchen. A recent survey by HelloFresh and Redfin reveals the kitchen (ahem, not the bedroom) is the most important room in the house for millennial homeowners (42 percent of whom are married), and the one place where they finally feel like adults. Because once you've cooked a delicious meal for a crowd from start to finish, you've definitely made it to adulthood.
"Millennials now make up the largest percentage of homebuyers, with the survey results disproving the notion that they aren't cooking. It turns out, cooking at home is 'in,'" a press release for the survey says. "Fifty-seven percent of millennials say they feel the most like an adult when they cook a recipe from start to finish for the first time and 78 percent say hosting Thanksgiving is their barometer to adulting."
Since a beautiful kitchen is so important to young homebuyers, it's no surprise they're looking for kitchen amenities that go above and beyond in both function and design. The top three things millennial homebuyers want in their dream kitchen are a dishwasher (67 percent), pantry or other great storage (65 percent) and a big island (64 percent).
And while those are practical necessities, millennials are, of course, all about sleek design and being able to entertain in style. Design elements like stainless steel, granite, quartz countertops and tile backsplashes are trending among young homebuyers right now. And what's a home without popular perks like a deep farmhouse sink, outdoor kitchen, wine fridge and even a breakfast bar to keep life interesting?
Inspired by these popular kitchen trends? Make your wishlist a reality: Save up to buy your dream home with The Knot Newlywed Fund, or register for must-have appliances and products with a traditional registry.