Tips + Tricks For Your Save The Dates
Send wedding save-the-date cards that really get all your guests excited! Here's how to make a good first impression.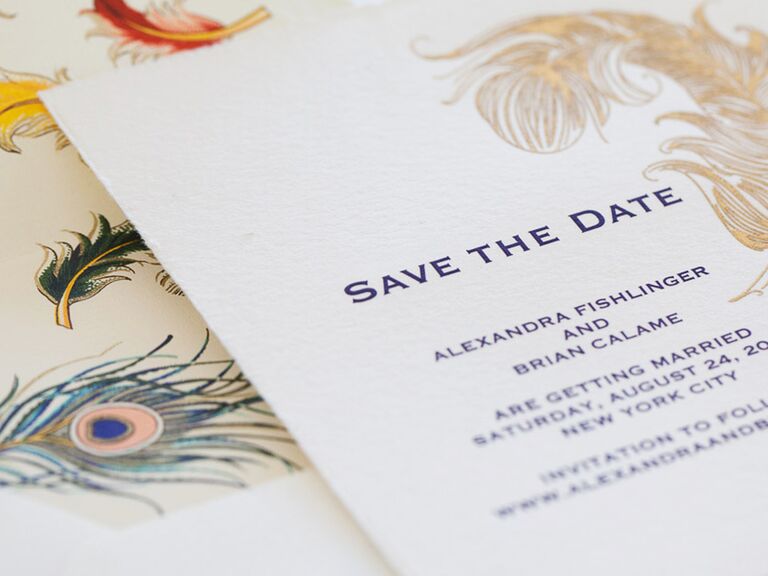 5th Avenue Digital Photography
Your wedding save-the-date cards will be the first thing people see regarding your wedding style so you want to make them cool, unique, personalized as well as use your wedding day colors. There are hundreds of design ideas and new trends are popping up daily, but here's a glimpse of what we're seeing going on today.
10 Ideas to Start
Whatever you choose, make it fun and we're sure you'll get a favorable response. Here are 10 ideas to get you started:
1. Use bright, bold colors that will make an impact and your wedding date will stay in the thoughts of even the most absentminded guests.
2. Include graphics or colors that make sense to the locale and date, such as pink and red flowers if you plan to marry in the springtime in a rose garden, or a card tied up with a baby-blue gingham ribbon for an oceanside summer soiree.
3. Your save-the-date cards can be as simple as a postcard or as elaborate and interactive as a magnetic puzzle.
4. We're fans of a picture taken shortly after the engagement (think holiday cards).
5. Some brides favor save-the-date cookies, although you may have to send out a second reminder to all your sweet-tooth friends who might munch before they mark down your date!
6. We absolutely love the idea of save-the-date stickers that will fit into those tiny boxes in appointment books or on desktop calendars.
7. Refrigerator magnet—ones with just your names and wedding date—are cool too.
8. We like pretty save-the-dates like ones designed on fans or better yet, pinwheels!
9. An all-time favorite done many different ways is the calendar. Invitation designers are creating cards that look like a mini calendar month with the date you've chosen circled or decorated or knocked out with a mini three-hole punch.
10. The hottest trend is a photo strip (the kind you create yourself on a beach boardwalk) with funny faces and the wedding date. In each of the four pictures, hold up a sign. 1) We're getting married. 2) Save the Date. 3) June 5. 4) Be there! (You get the idea.)
For those who do have the budgets, you may wish to have save-the-dates specially made for you from a couture invitation designer. Start researching local wedding invitation designers and stationery stores.