83 Soulful First Dance Wedding Songs
Stir things up with a first dance packed with heart and soul.
by The Knot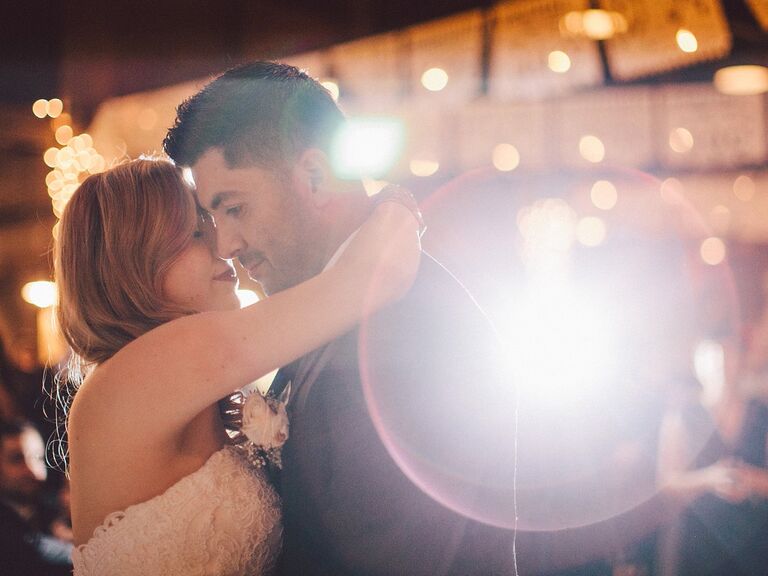 Tell your DJ or band to play one of these passionate songs. They were made for moving and grooving. With their Sexy rhythms, intense lyrics, and sensuous singing make for one heavy first dance -- we've got 83 delights to choose from.
1. "Ain't Nobody" (Chaka Khan)
2. "All My Life" (K-Ci & JoJo)
3. "Always And Forever" (Heatwave)
4. "Angel Of Mine" (Monica)
5. "Are You Lonely For Me, Baby?" (Al Green)
6. "Avalon" (Roxy Music)
7. "Beautiful" (Mary J. Blige)
8. "Best Thing That Ever Happened To Me" (Gladys Knight & The Pips)
9. "Can't Get Enough of Your Love" (Barry White)
10. "Caught Up In The Rapture" (Anita Baker)
11. "Change The World" (Eric Clapton)
12. "Close To Me" (Next)
13. "Completely" (Michael Bolton)
14. "Crazy Love" (Aaron Neville)
15. "Crazy Love" (Van Morrison)
16. "Ebb Time" (Righteous Brothers)
17. "Everything" (Mary J. Blige)
18. "Everything" (The Stylistics)
19. "Faithfully" (Journey)
20. "Fields Of Gold" (Sting)
21. "For The Love Of You" (Isley Brothers)
22. "For You I Will" (Monica)
23. "Have I Told You Lately" (Rod Stewart)
24. "How Sweet It Is To Be Loved By You" (Marvin Gaye)
25. "I Believe In You and Me" (Whitney Houston)
26. "I Just Can't Stop Loving You" (Michael Jackson)
27. "I Swear" (All-4-One)
28. "I Want to Know What Love Is" (Foreigner)
29. "I.O.U. Me" (Bebe & Cece)
30. "I'll Always Love You" (Taylor Dayne)
31. "I'll Be There (The Jackson 5)
32. "I'm Your Angel" (Celine Dion & R. Kelly)
33. "Into The Mystic" (Van Morrison)
34. "Is This Love" (Bob Marley)
35. "Let's Get It On" (Marvin Gaye)
36. "Let's Stay Together" (Al Green)
37. "Let's Stay Together" (Tina Turner)
38. "Love Me Tender" (Elvis Presley)
39. "My All" (Mariah Carey)
40. "My Girl" (The Temptations)
41. "My Love Is Your Love" (Whitney Houston)
42. "Never Gonna Let You Go" (Sergio Mendez)
43. "No Ordinary Love" (Sade)
44. "Nobody Does It Better" (Carly Simon)
45. "On Bended Knee" (Boyz II Men)
46. "Only You" (The Platters)
47. "Power Of Love" (Celine Dion)
48. "Ribbon In The Sky" (Stevie Wonder)
49. "Sea Of Love" (Honeydrippers)
50. "Shining Star" (The Manhattans)
51. "Sign Your Name" (Terence Trent D'arby)
52. "Signed, Sealed, Delivered" (Stevie Wonder)
53. "Slave To Love" (Brian Ferry)
54. "Smoke Gets In Your Eyes" (The Platters)
55. "Someone To Watch Over Me" (Sting)
56. "Spend My Life" (Eric Benet)
57. "Stand By Me" (Ben E. King)
58. "Suddenly" (Billy Ocean)
59. "Sweet Love" (Anita Baker)
60. "Sweet Thing" (Chaka Khan)
61. "Tell Me Something Good" (Chaka Khan)
62. "The First Time Ever I Saw Your Face" (Roberta Flack)
63. "The Look Of Love" (Dusty Springfield)
64. "The Look Of Love" (Sergio Mendez & Brasil '66)
65. "The One" (Lionel Richie)
66. "The Sweetest Thing" (Lauryn Hill)
67. "The Twelfth Of Never" (Johnny Mathis)
68. "Three Times A Lady" (Commodores)
69. "Truly" (Lionel Richie)
70. "Vision Of Love" (Mariah Carey)
71. "When A Man Loves A Woman" (Michael Bolton)
72. "When A Man Loves A Woman" (Percy Sledge)
73. "Whenever You Call" (Mariah Carey & Brian McKnight)
74. "With You I'm Born Again" (Billy Preston & Serita)
75. "Wonderful Tonight" (Eric Clapton)
76. "Wonderful, Wonderful" (Johnny Mathis)
77. "You Are My Lady" (Freddie Jackson)
78. "You Are The Sunshine Of My Life" (Stevie Wonder)
79. "You Give Good Love" (Whitney Houston)
80. "You Mean The World To Me" (Toni Braxton)
81. "You Send Me" (Sam Cooke)
82. "You're All I Need To Get By" (Marvin Gaye & Tammi Terrell)
83. "I Belong To You" (Lenny Kravitz)
SOURCE
New York City professional DJ Nicole Batchelor, who has spun for celebrity clients such as Steven Spielberg, Alec Baldwin, and President Clinton, helped us compile this list. To book her, contact [email protected]