26 Stunning Vow Renewal Rings to Shop Now
Find your dream ring for your vow renewal ceremony.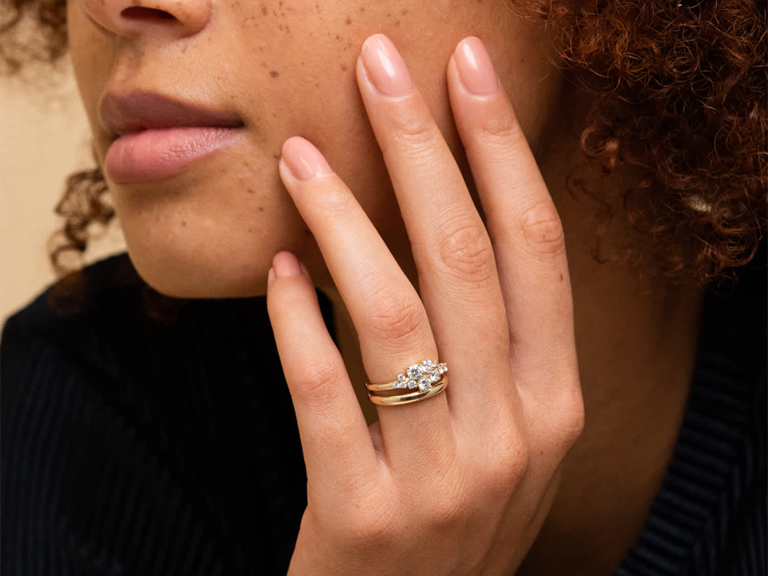 We have included third party products to help you navigate and enjoy life's biggest moments. Purchases made through links on this page may earn us a commission.
Renewing your wedding vows is a special tradition designed so that you and your partner can express your love and appreciation for one another. It's also a chance to relive your wedding day over again. When performing your wedding vow renewal, it's common to have an officiant lead a ceremony in which you say your original (or updated) vows—and exchange your wedding rings. Sometimes, couples will use this moment to gift each other with new rings. Below, find everything you need to know about the special role new rings can play in your vow renewal ceremony—plus 26 vow renewal rings from top jewelry brands and designers that you can shop right now.
In this article:
Do You Exchange Rings at a Vow Renewal?
There are no hard and fast rules about how to conduct a vow renewal ceremony. Whether or not you exchange rings is totally up to you. "Couples often choose to exchange rings at a vow renewal ceremony," says Tonia Zehrer, Senior Vice President and Chief Merchandising Officer of Signet Jewelers. "Regardless of whether the couple prefers to use their original rings or new anniversary rings is entirely up to them, but the tradition of saying your vows and exchanging rings still stands."
Afshin Shaddaie, President of Estate Diamond Jewelry, agrees. "Although the vow renewal ceremony isn't a legal ceremony, like a wedding, many of the wedding traditions will be observed," he says. "The exchange-of-rings tradition, whether they're upgraded or not, is a common practice during vow renewals—but as with all vow renewal customs, there are no fixed rules."
While it's not required, exchanging rings at your vow renewal ceremony has some pros: It's a special moment, allows you to relive a part of your wedding ceremony—and is a good excuse to add some new or upgraded bling into the mix.
Should You Buy New Rings for Your Vow Renewal?
If you're celebrating a milestone anniversary, you may want to consider buying new rings to mark the occasion.
"While you can always use existing rings in a vow renewal ceremony, there is something romantic about having a new ring to embody the reaffirmation of commitment," says Greg Kwiat, CEO of Kwiat and Fred Leighton. "A new ring serves as a unique reminder of the renewal ceremony and can be a complement to an original wedding band."
But, if you do not have the budget available or desire to buy new rings, there's no need to fret. "There is no requirement to buy new rings for the renewal. The vow renewal ceremony is about renewing one's love for their spouse, and gifts are not a requirement at all," Shaddaie says.
How to Choose a Vow Renewal Ring
For married couples, the process of buying vow renewal rings can present a lot of questions.
First, should you use this opportunity to upgrade your engagement ring and wedding band? According to Carol Offman, CEO and Founder of Inner Expressions, renewing your vows may be the perfect time to do so.
Recently, Offman worked with a couple who—after 20 years of marriage—decided to gift each other with new rings for their vow renewal ceremony. "When they first got married, they did not have the means for fancy expensive wedding jewelry. They were both starting out in their respective careers and saving their money for essentials," Offman says. Two decades later, the couple decided it was time to show each other appreciation and upgrade their rings. "It was a beautiful way to renew their vows," she says.
If you do opt to upgrade your engagement ring or wedding band, you might be wondering where to start. When choosing new rings, Shaddaie says the trends around vow renewal rings tend to be the same as whatever is trending in the engagement ring world at the time. "Right now, vintage rings and minimalistic engagement rings and wedding bands are very popular, and that's also what's trending for vow renewal rings," he says.
Worried you won't choose the right ring? Don't be. "Rule number one of wedding ring shopping is that anything goes. There are no rules, and couples should select whatever styles they like best. Mixing shapes, sizes and metals are allowed," Kwiat says.
26 Vow Renewal Rings That Represent Everlasting Love
Feeling new vow renewal rings right now? Below, Find editor-approved options you can add to your cart.
Blue Nile Solitaire Plus Hidden Halo Diamond Engagement Ring
If you're looking to upgrade your engagement ring, this ring is a worthy candidate. We love the way it beautifully mixes metals with a thin 18-karat yellow gold band and platinum prongs.
Mejuri Pavé Diamond Soft Charlotte Ring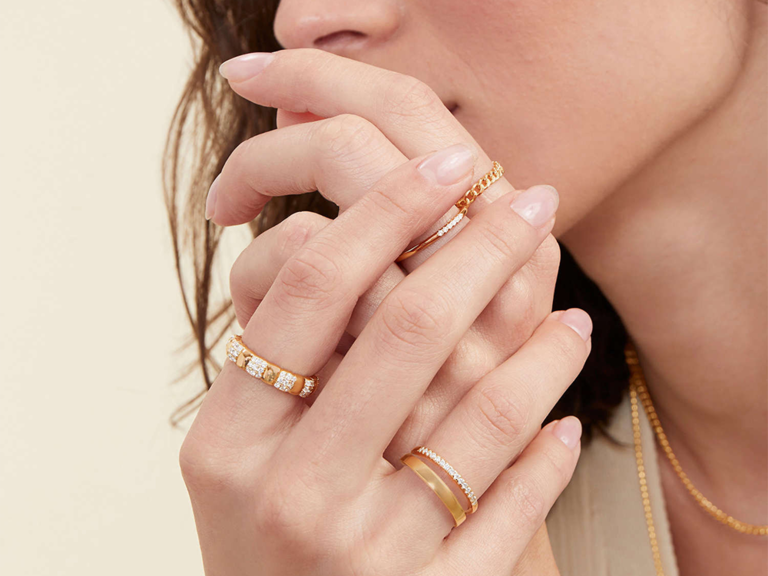 It's common to upgrade your wedding band when you renew your vows. For a one-of-a-kind wedding band with an extra elevated design, consider this extravagant ring with diamond pavé details.
Barkev's Hidden Halo Oval Morganite Engagement Ring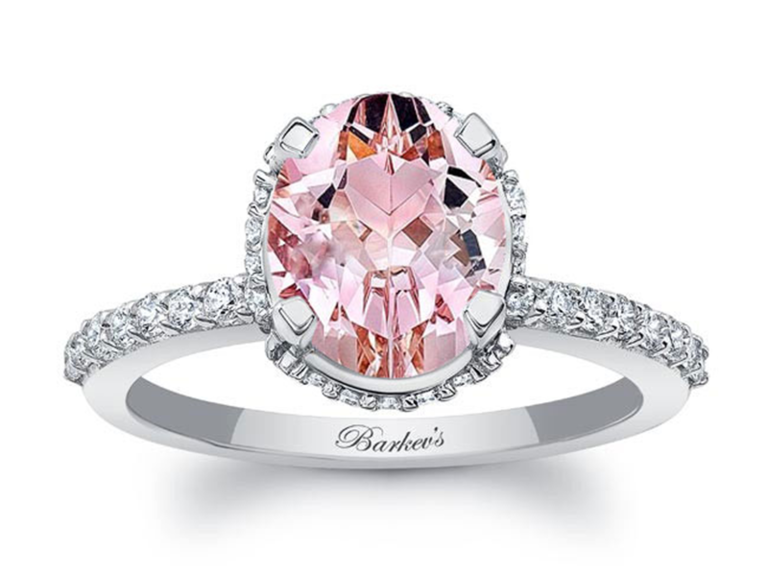 Calling all lovers of the color pink. This stunning ring features a lovely morganite gemstone in a beautiful rose hue, which is framed by complementary white diamonds that continue down the shank.
Gemist The Oval Solitaire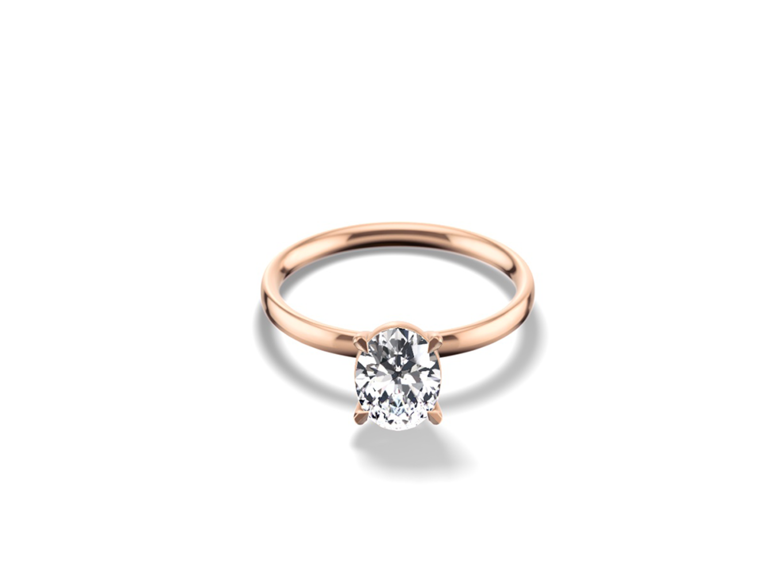 A classic solitaire design will never go out of style. Bonus: Gemist allows you to customize your piece to better suit your taste and budget. Choose whether you want a diamond or gemstone ring—and you can also decide whether to have 14-karat yellow, rose or white gold.
Aurate Love Me Knot Diamond Ring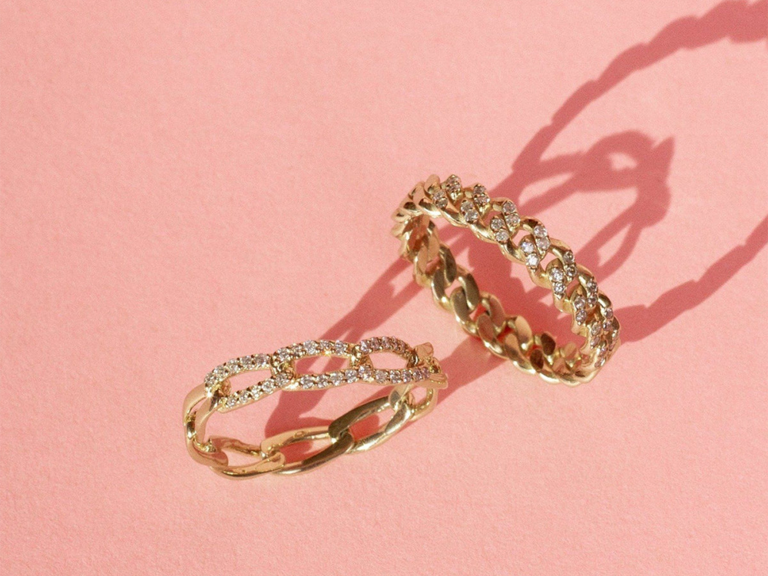 This interlocking ring symbolizes tying the knot and is the perfect reminder of your vow renewal. You can purchase it in recycled rose, yellow or white gold.
Annoushka 18ct Gold Aquamarine Diamond Lovebirds Ring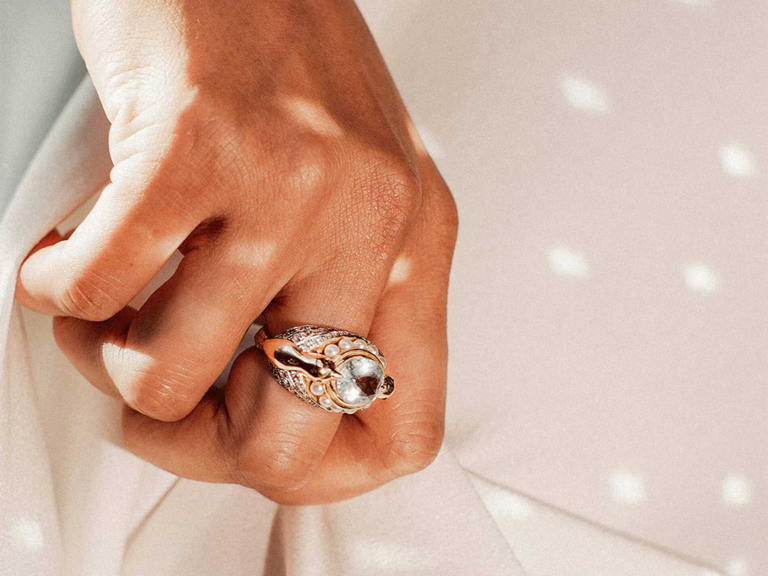 As part of the Annoushka x Temperley bridal jewelry collection, this romantic ring is designed to represent purity and hope. In addition to being a show-stopping statement ring, it's also made responsibly with recycled 18-karat yellow gold and ethically-sourced gemstones.
Barkev's Vintage Marquise Blue Diamond Accent Moissanite Engagement Ring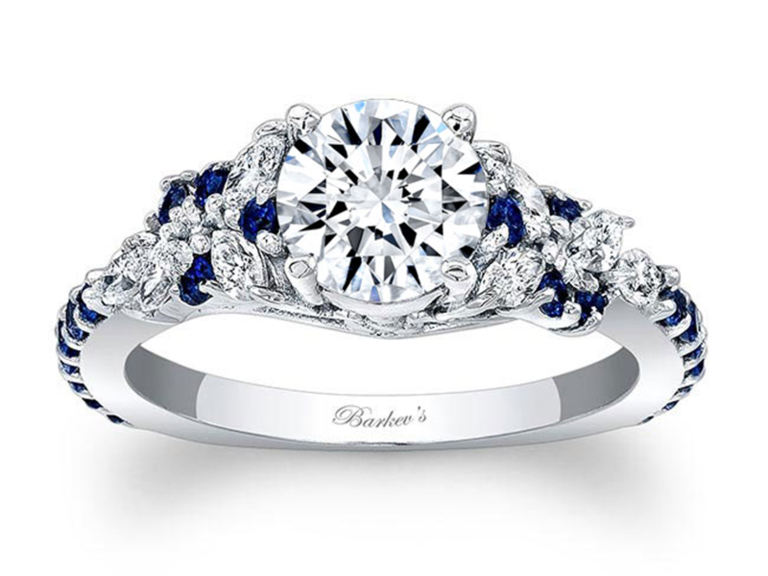 For a bedazzled ring with a pop of color, consider this classy marquise blue sapphire and accent moissanite piece with cathedral shoulders. This is the perfect ring if you want to upgrade your engagement ring and instead go for something vintage-inspired.
Gemvara Cushion Cut Lab Created Sapphire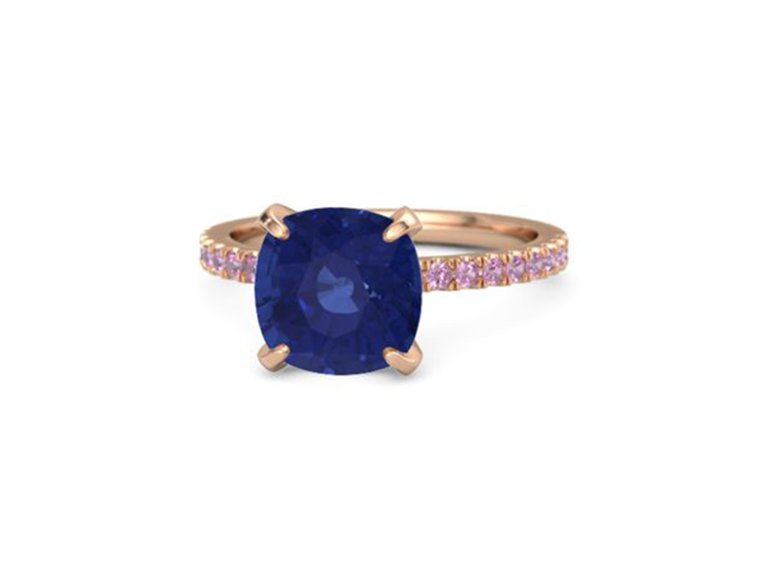 When choosing a new ring, it's becoming more and more popular to go for lab-created stones. This colorful ring with a lab-created blue sapphire center stone and pink tourmaline accent stones is all about vibrant fun.
Blue Nile Split Semi Halo Diamond Engagement Ring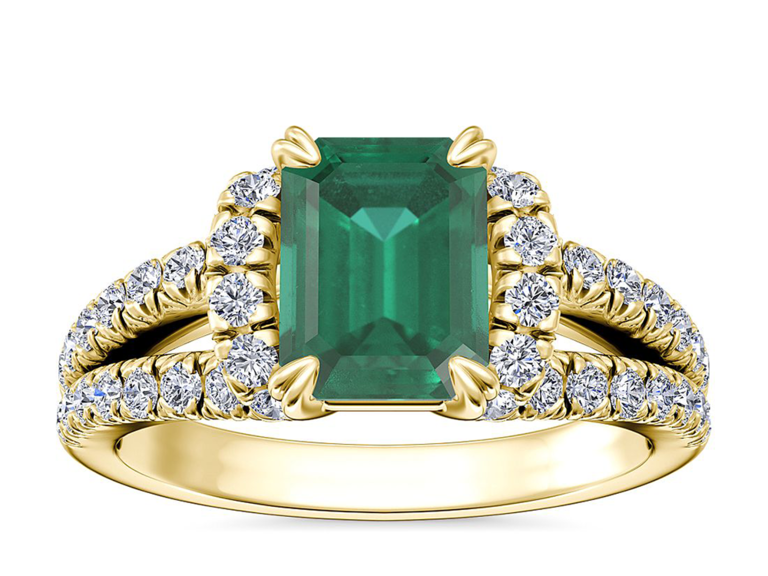 One look at this regal ring and we're swooning. Made from 14-karat gold or platinum—and with your choice of color for the gemstone center stone—this ring is fit for royalty.
Auvere XOXO Diamond Band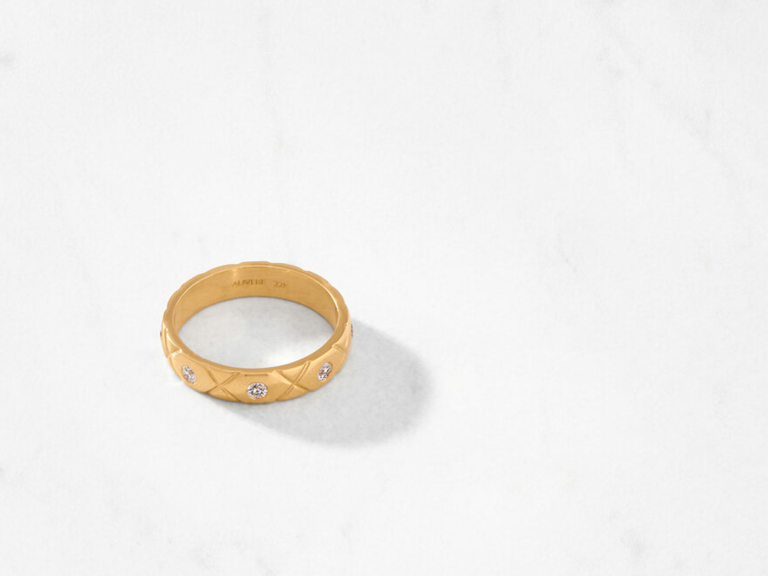 Want to upgrade your first-time wedding band for something a bit more bedazzled? Go for this XOXO Diamond Band from Aurvere, which is handcrafted from 22-karat gold and eight round-cut diamonds.
Blue Nile Riviera Pavé Diamond Eternity Ring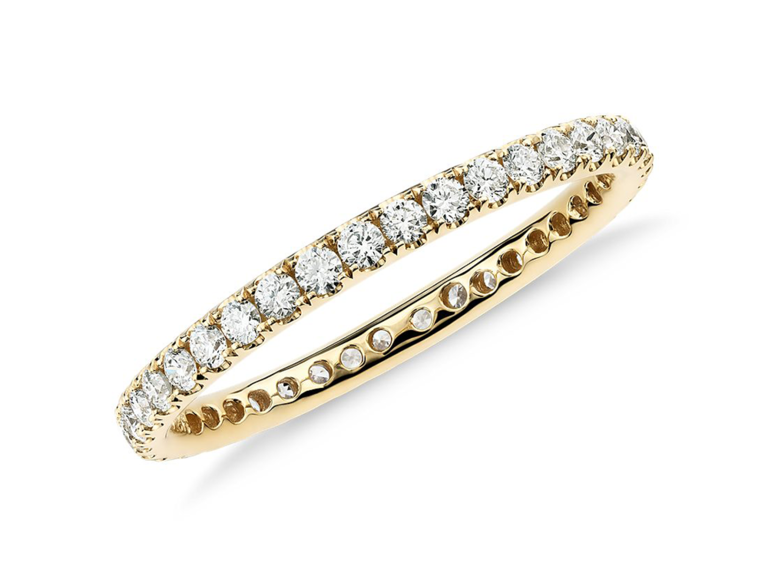 When renewing your vows, it's common to upgrade your wedding band—or to add a new eternity ring alongside your original engagement ring set. We recommend this beautiful pavé diamond eternity ring by Blue Nile. It's extravagant, but still classic.
Gemvara Round Cut Moissanite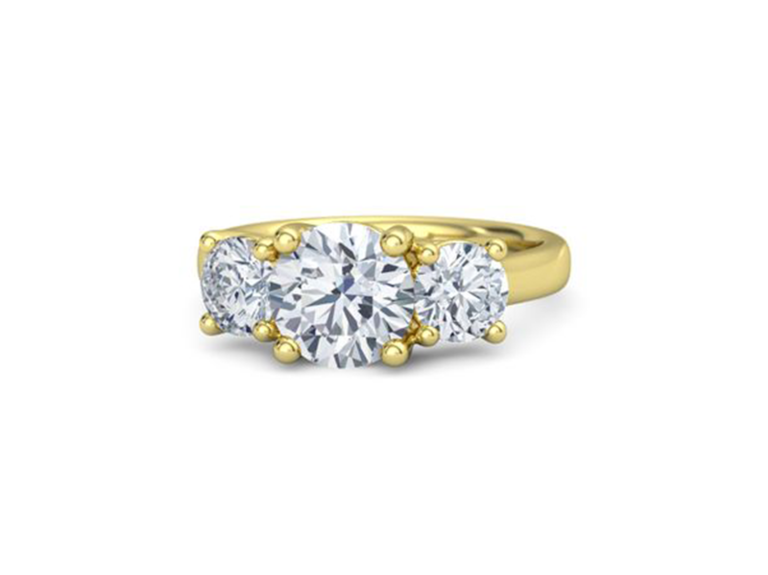 We love the style of this round-cut diamond ring, featuring three center stones and a yellow gold band. The best part? Because the main stones are made from moissanite, you'll get an equally beautiful ring for a fraction of the price.
Mejuri Diamonds Band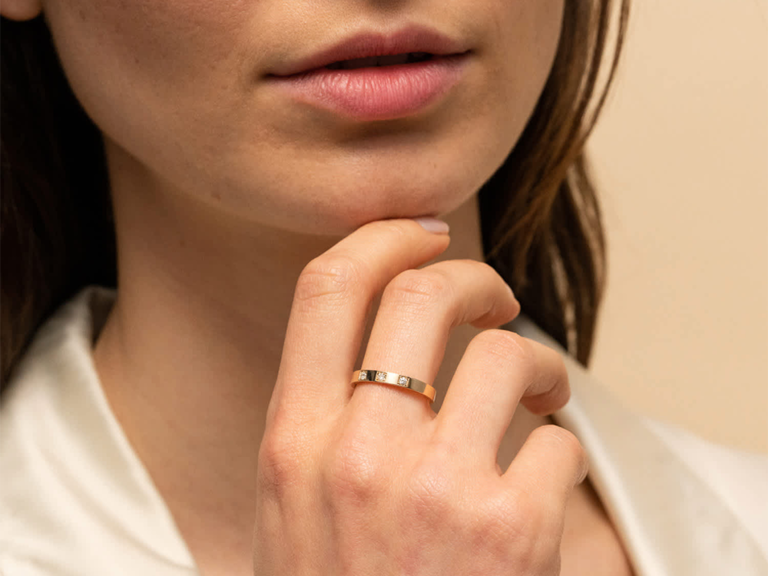 Sometimes less is more. Wear this gorgeous, minimalist band in place of your original wedding band or alongside your wedding ring set.
Annoushka 18ct Gold Diamond 2mm Wedding Band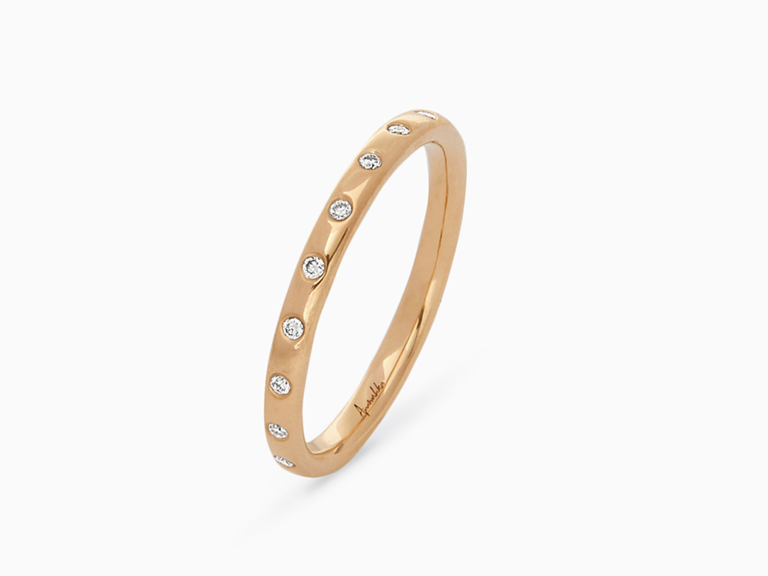 This diamond wedding band is made from 18-karat gold and adorned with delicate round-cut diamonds. Wear it on its own—or see how it adds the perfect amount of sparkle next to your engagement ring.
Gorjana Diamond Row Ring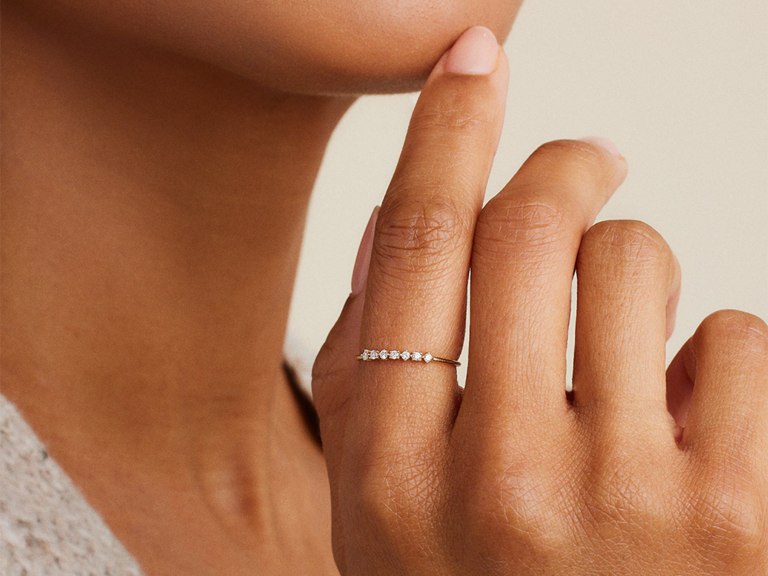 You can't go wrong with a delicate diamond ring. In this case, the Diamond Row Ring by Gorjana stylishly displays seven diamonds of different shapes along a thin 14-karat solid gold band.
Mejuri Pavé Diamond Thin Dôme Ring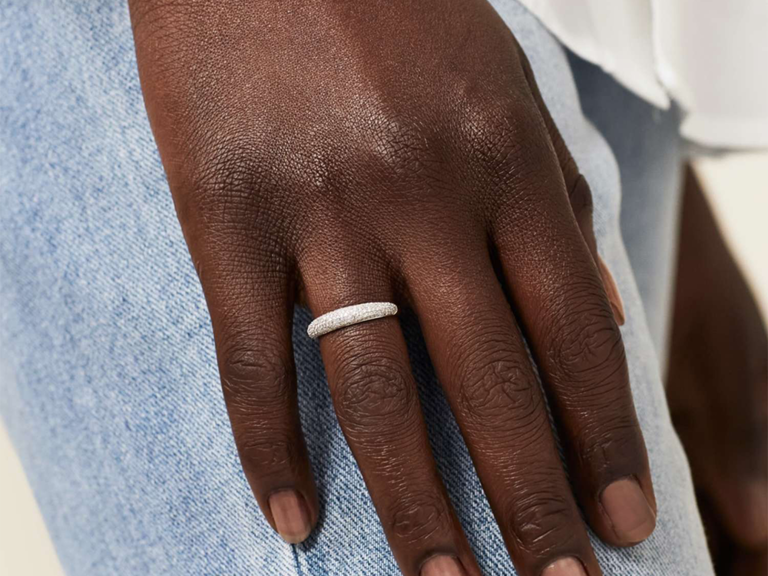 This pavé diamond ring by Mejuri is equal parts sophisticated and glamorous. Wear it on its own or stacked next to other rings.
Blue Nile Trio Micropavé Diamond Wedding Ring
For a ring that really shines, shop this stunning micropavé wedding ring. Featuring three rows of delicate diamonds on an 18-karat yellow or white gold band, this piece is one you'll want to wear daily.
Aurate Bold Diamond Stacker Ring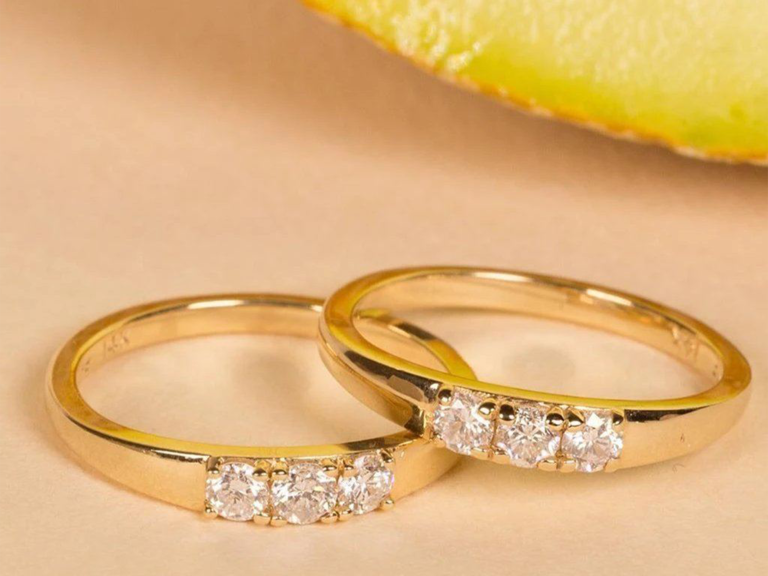 High-fashion gals will love this bold stacker ring with three brilliant diamonds that are set tightly together. We love that it's stackable—but features a sturdy 14-karat gold band—so that it won't get lost among your other rings.
Annoushka 18ct Gold Tanzanite & Diamond Engagement Jacket Ring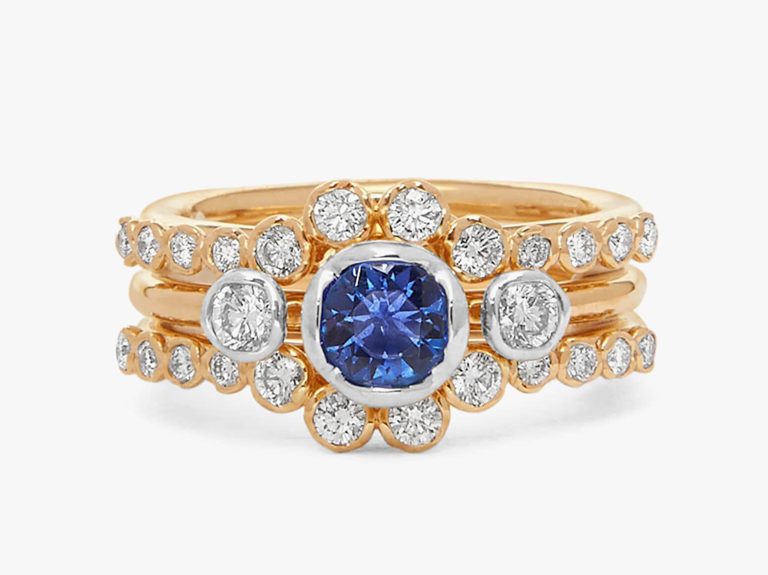 Ready for a totally new ring set? Give this remarkable tanzanite and diamond ring duo a try, and your mind will be made up.
Blue Nile Floating Diamond Eternity Band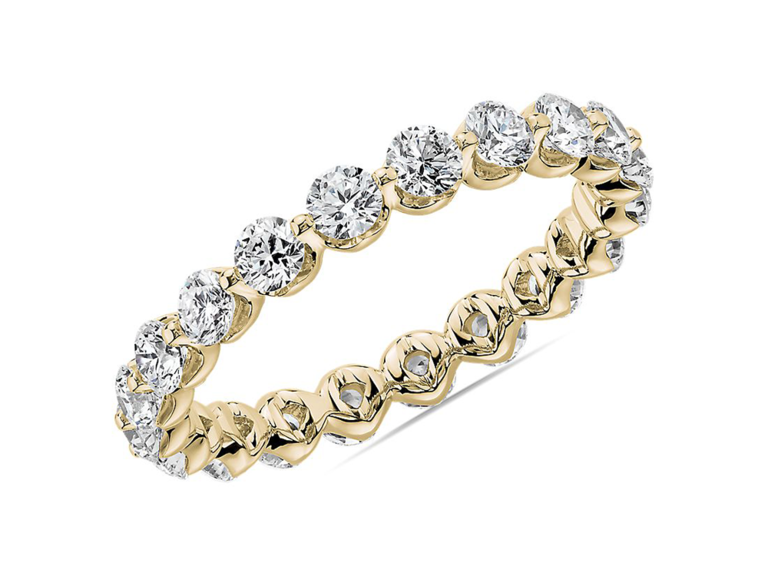 Bring on the bling. The understated 14-karat gold setting of this diamond eternity band allows the stones to sit front and center.
Mejuri Diamonds Cluster Ring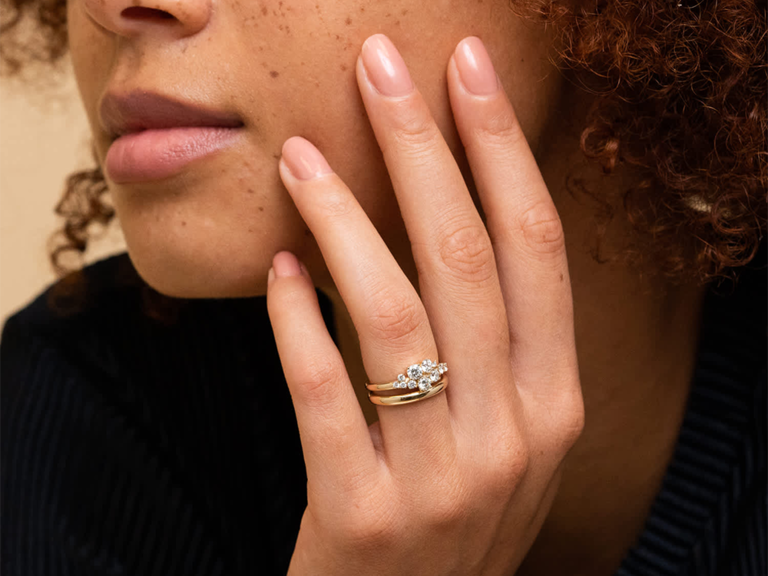 If you want to stay up on the trends but still want a ring that won't go out of style—we've got you covered. This diamond cluster ring is the perfect combo of fashion-forward and timeless.
Barkev's 1 Carat Halo Blue Sapphire And Diamond Ring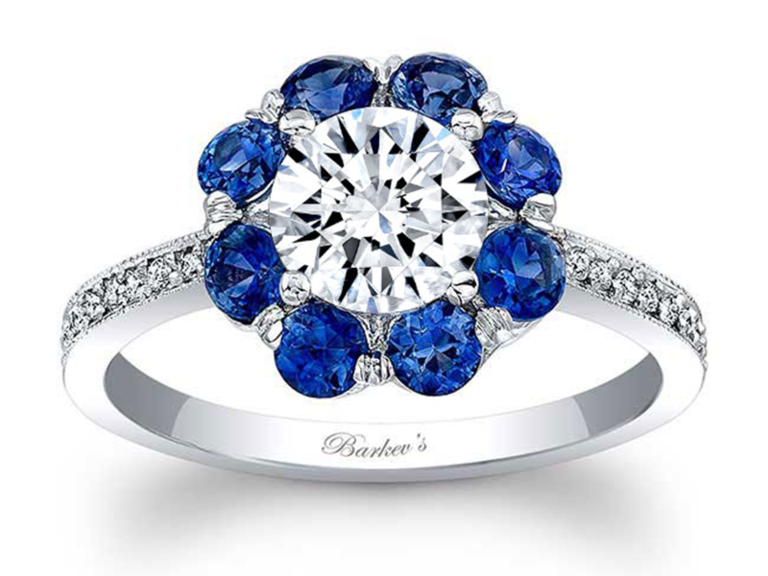 If you can't decide between colored gemstones and diamonds, this ring offers the best of both worlds. This diamond and blue sapphire ring offers the elegant look of a diamond center stone—plus a vibrant blue halo.
Aurate Diamond Eternity Ring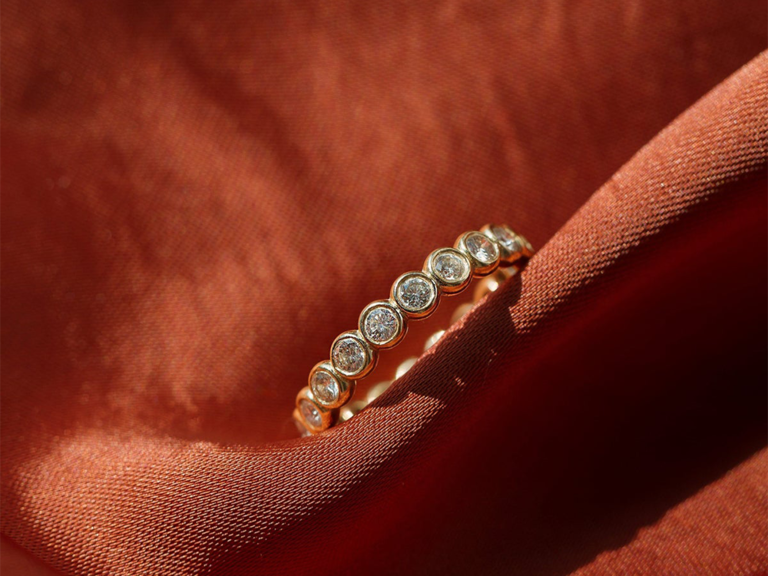 For an eternity ring that can be worn solo or stacked alongside other stunners, consider the diamond eternity ring by Aurate. Not only is it gorgeous, but it's also made from conflict-free diamonds and a sustainable solid gold setting.
Blue Nile Garland Diamond Eternity Ring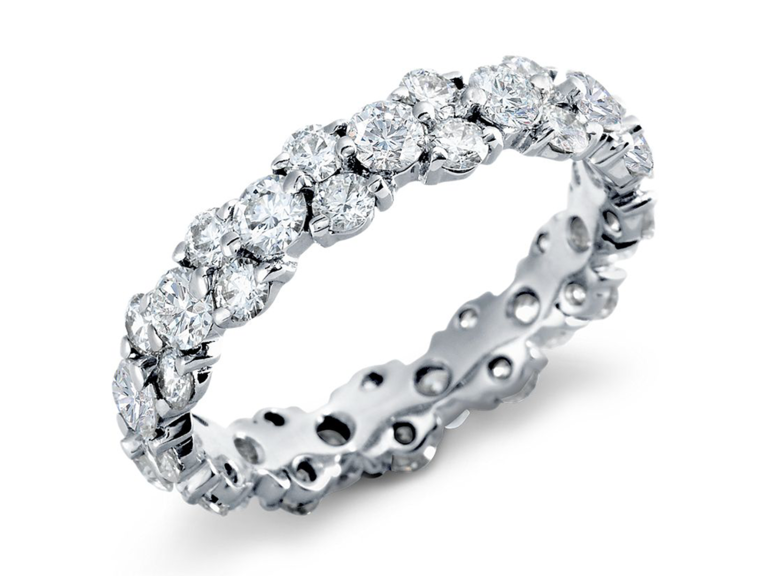 We love this ring for its unique garland design, featuring diamonds set in pairs and singles. If an eternity band is at the top of your wishlist, consider this standout stunner.
Annoushka Dusty Diamonds 18ct Rose Gold Eternity Ring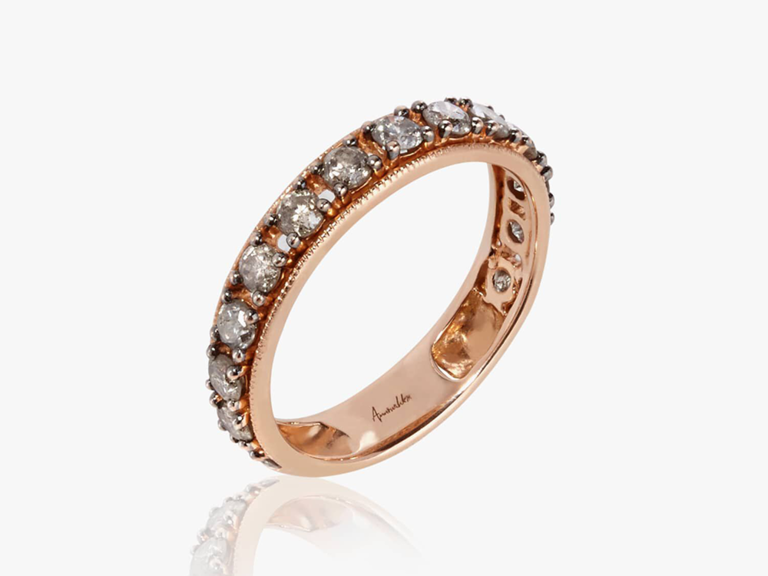 Calling all old souls. This vintage-inspired rose gold eternity band with gray diamonds evokes the romance of a bygone era.
Blue Nile Studio Simple Emerald-Cut Halo Diamond Engagement Ring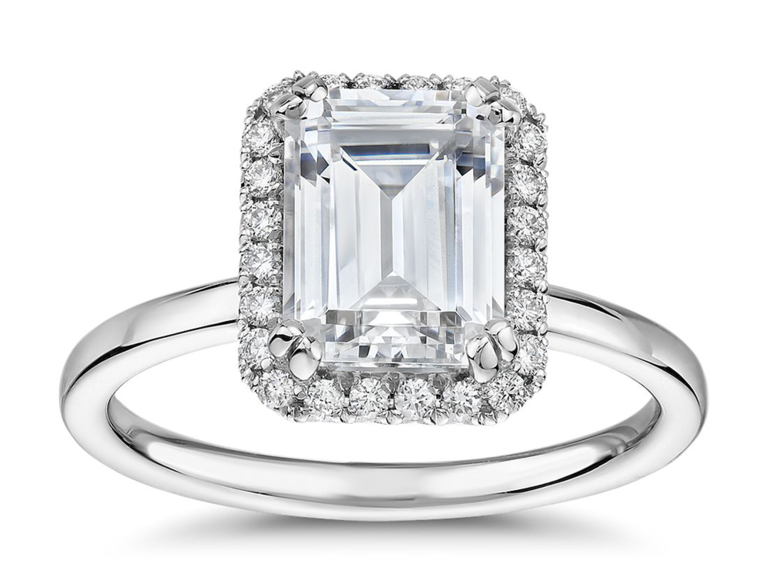 Ready to upgrade your ring? This classic emerald-cut center stone with a halo of diamonds is equal parts trendy and elegant.