See Watters Wedding Dresses From Bridal Fashion Week
Here's the designer's latest collection to hit the bridal runways.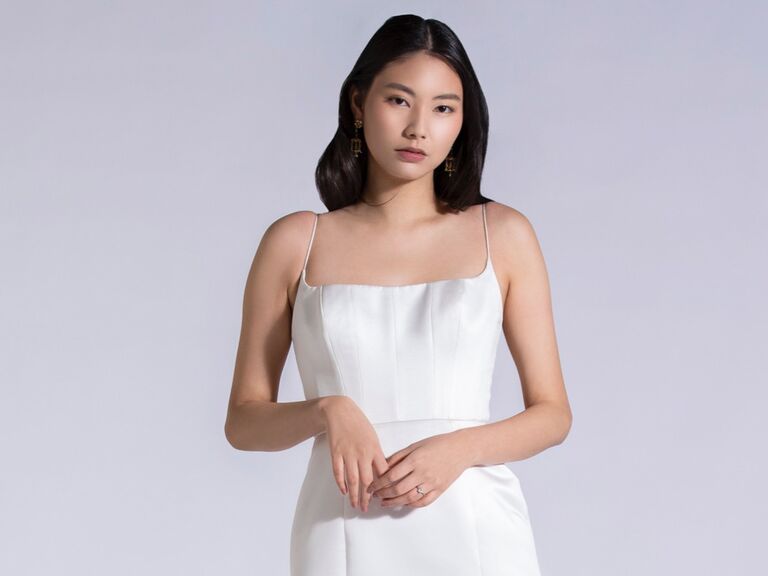 Designed with drama, style and comfort in mind, it's no wonder Watters wedding dresses have been long-time industry favorites. For more than 30 years, Watters dresses have allowed brides to embrace their unique fashion sensibilities with styles that reflect the latest trends, yet maintain timeless elegance to the core. The Watters bridal brand prides itself on delivering beauty to every bride, with four unique labels offering a wide range of affordable price points to explore. Based in Dallas, Texas, Watters is known as one of the largest family-owned bridal brands in the world and considers each one of its dresses a genuine labor of love.
See every dress from Watters' 2022 collection below.
Watters' Spring 2022 Wedding Dresses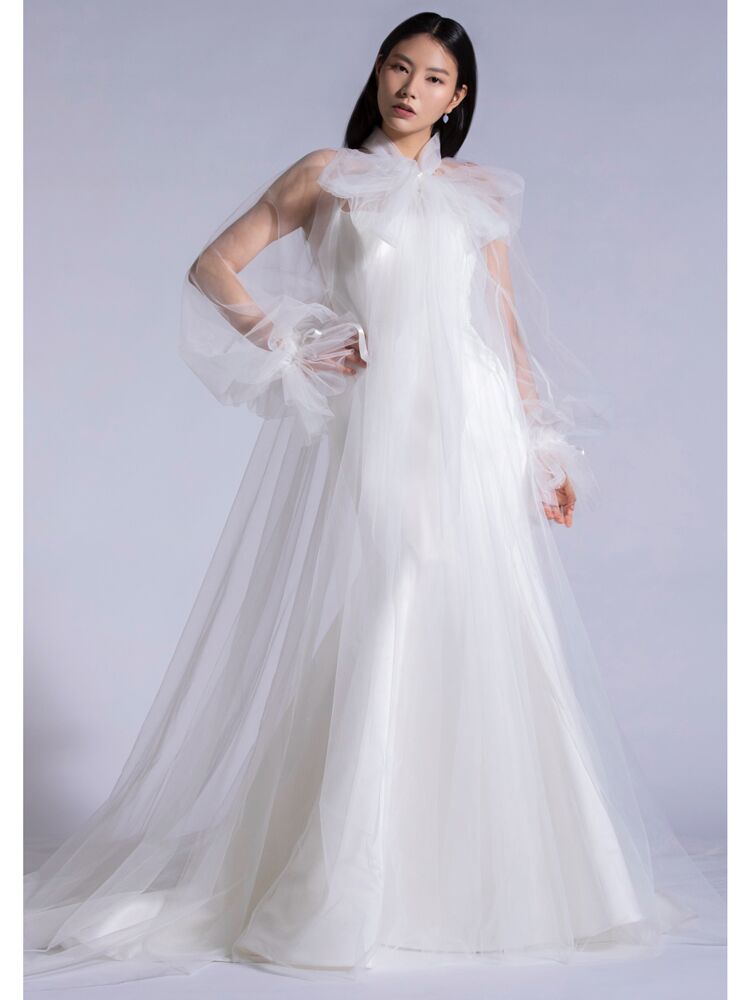 "Bryson" Gown; organza ball gown with sheer overcoat and puff sleeves.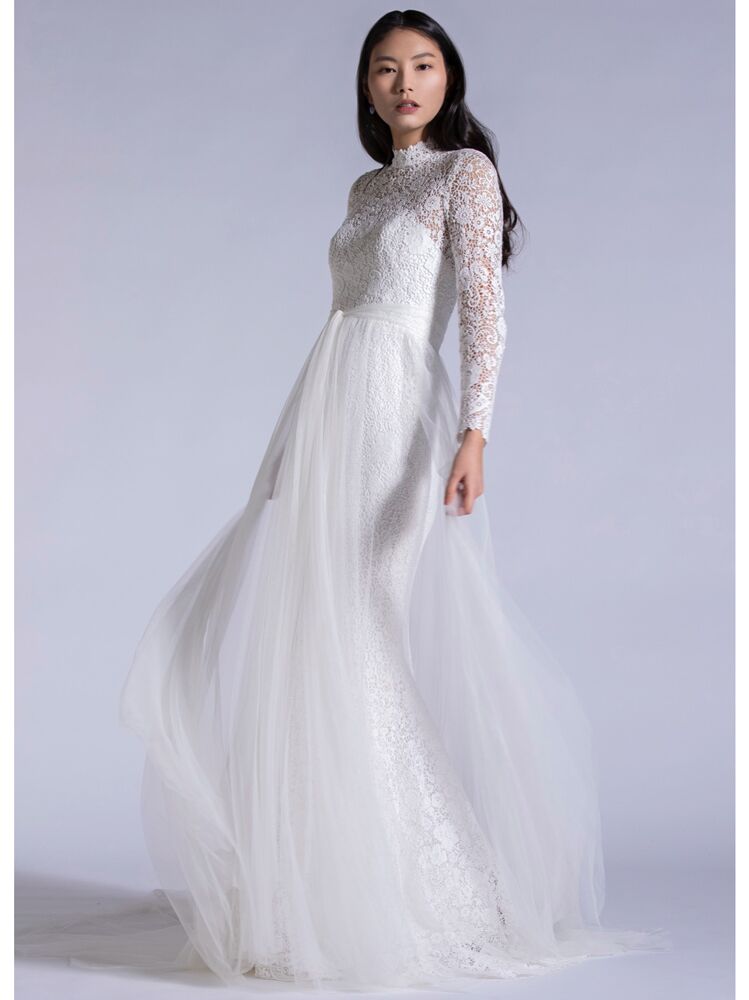 "Danbury" Gown; lace fit-and-flare wedding dress with long sleeves, high neckline and tulle overskirt.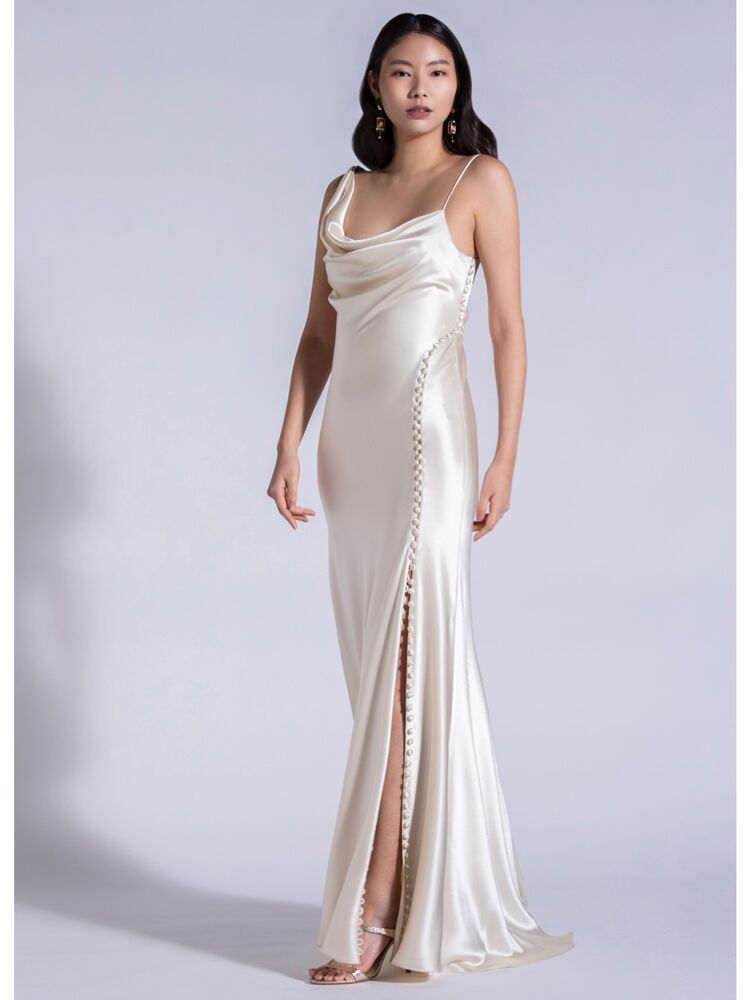 "Mirall" Gown; sleeveless satin sheath wedding dress with buttons, front slit and asymmetrical neckline.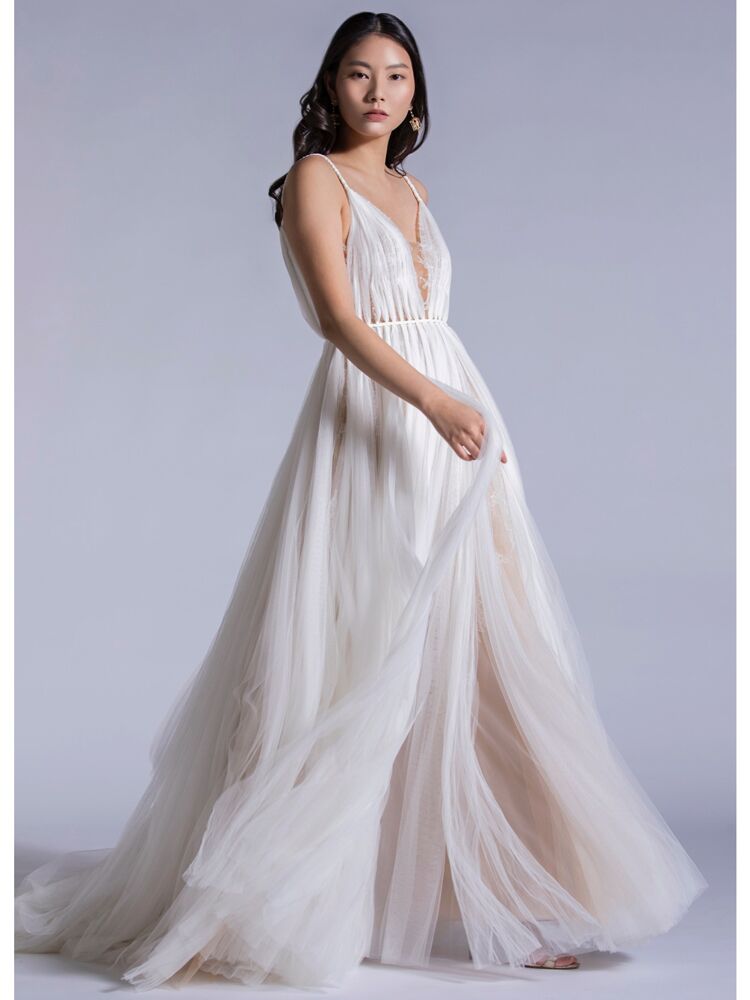 "Nevoa" Gown; pleated tulle A-line wedding dress with deep V-neck and spaghetti straps.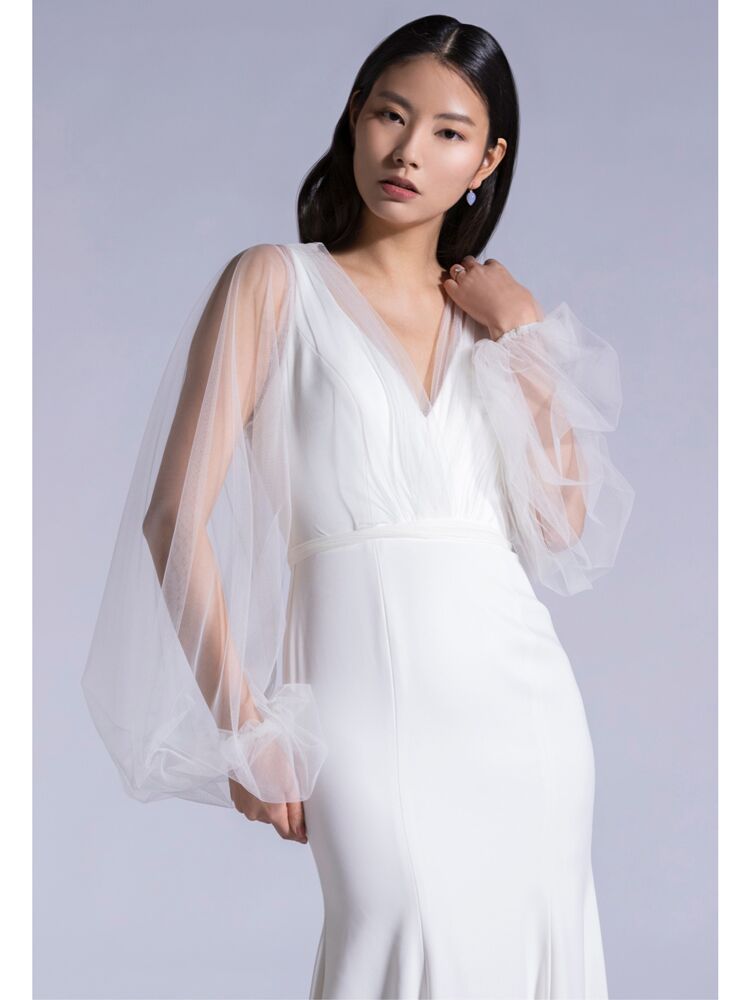 "Quinn" Gown; fit-and-flare wedding dress with V-neck and organza ballon sleeves.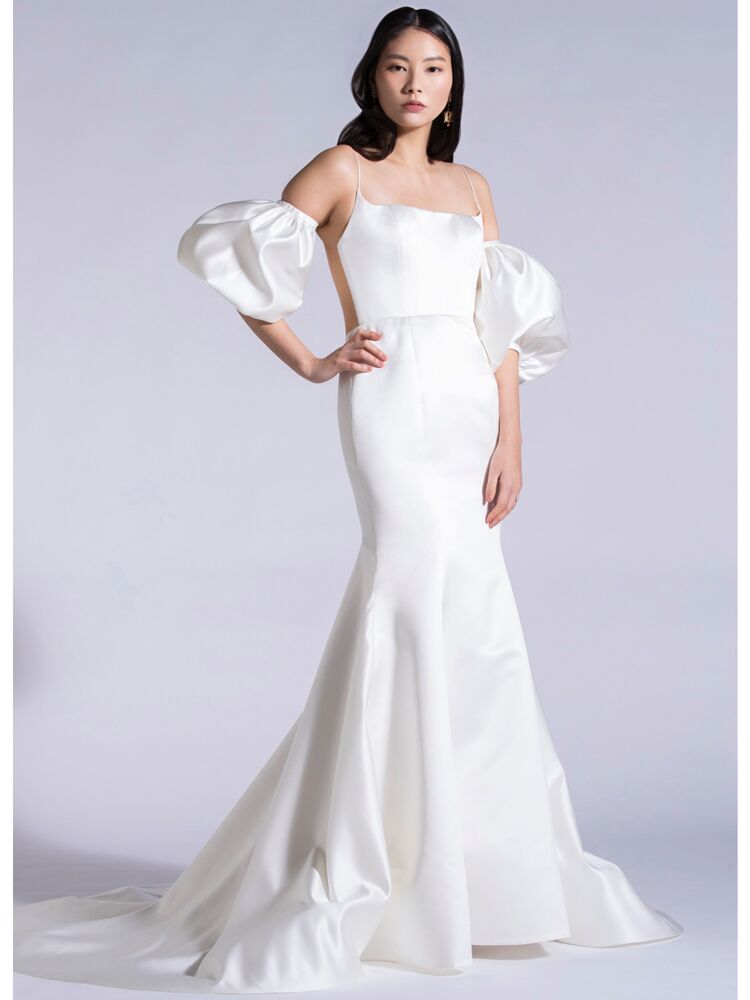 "Serein" Gown; fit-and-flare wedding dress with spaghetti straps, separate puff sleeves and open back.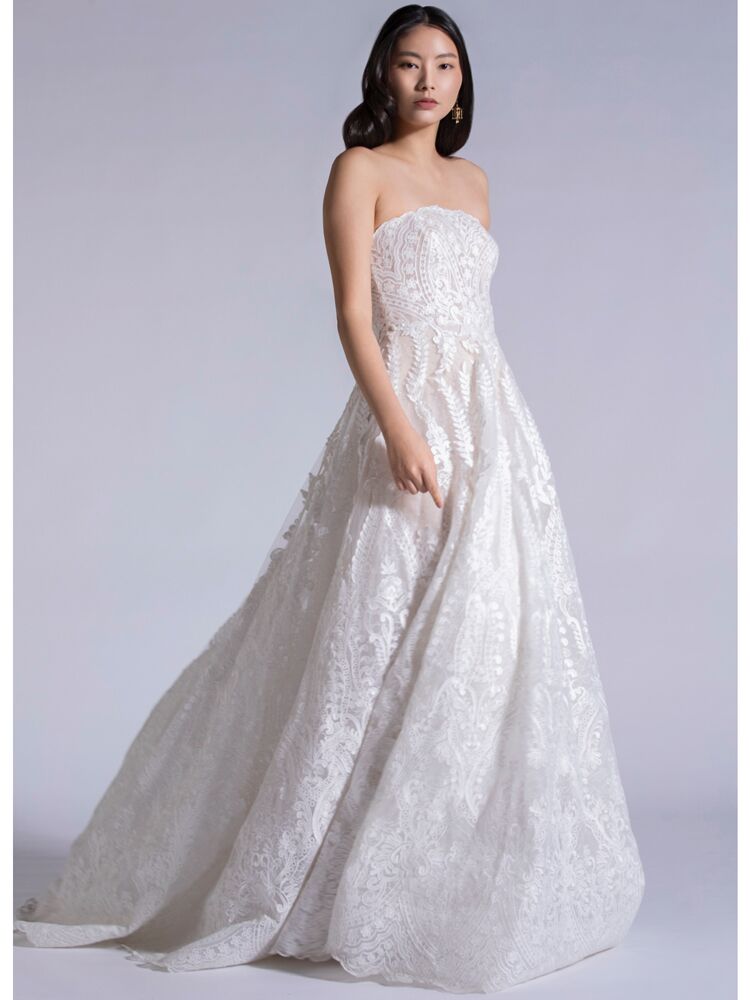 "Wish" Gown; strapless lace ball gown with 3D appliqués and straight neckline."
Designer Watters' Signature Style
For years, brides have said "yes" to Watters gowns thanks to their unique beauty, effortless versatility, and intentional emphasis on comfort. The original Watters collection is known for leaning into the latest trends with designs that feel fresh and of-the-moment with signature style elements like lace overlays, voluminous tulle skirts and plunging V-necklines. Watters' focus is to know fashion, pick up on trends, and understand how brides' wants and needs evolve. With that mission in mind, they're able to design statement-making dresses with keen attention to detail and are never afraid to take a fashion risk.
A Brief History of Wedding Dress Designer Watters
What began as a hobby turned into a calling for Vatana Watters when she realized her innate talent for designing gowns that broke the cookie-cutter mold. With the help of her family, Vatana founded the Watters brand in 1988 and has since grown the company into a bridal industry mainstay that includes four distinct labels: Watters, Wtoo, Willowby and By Watters, in addition to designing bridesmaids dresses and accessories. Today, Watters bridal gowns are worn by women all across the world, from high-profile celebrities and everyday brides on their biggest day.
In 2017, Vatana's daughter, Sydney Watters Dunbar joined the company as Style Director and helped usher in a new era of millennial-centric style and creative marketing strategies around the use of social media. More than ever, brides are eager to see what's next for this dynamic mother-daughter duo in the upcoming Watters 2020 collection.
Other Watters Labels
Along with the namesake Watters label, which includes dresses ranging from $1800 - $7500, the bridal company has unveiled three additional brands, each characterized by a distinct point of inspiration. Wtoo by Watters is known as a luxe yet accessible brand, with dresses in the $600 - $4000 price range. Wtoo by Watters brides can expect an array of feminine and flirty silhouettes, each designed with a sense of sisterhood in mind. Many Wtoo dresses come in sizes 00-32W, reflecting the brand's emphasis on both inclusivity and individuality.
The more bohemian and airy brand, Willowby, features Watters wedding gowns with a free-spirited twist. The Willowby label is aimed at brides who "take the road less traveled" and offers dresses from $500 - $4000, with most styles also available in plus size.
Perfect for the bride who needs a readily available look for her big moment, By Watters is the company's latest addition, which makes dress shopping easy and convenient. By Watters dresses, starting at $350, are all available to purchase online and include complimentary shipping.
Watters Collection History
Both the Watters and Wtoo by Watters brands have expanded into bridesmaid dresses for the style-conscious couple. Their collections are known to combine trendsetting looks designed with timeless taste, and can be ordered in a vast array of colors and fabrics. Additionally, select Wtoo bridesmaid gowns are available for purchase online with immediate delivery as the brand puts an increased emphasis on their direct-to-consumer offerings.
Famous Watters Brides
Many high-profile brides, including model Hunter McGrady and So You Think You Can Dance contestant, Allison Holker have selected Watters wedding dresses for their special day. Additionally, JoJo Fletcher of The Bachelorette donned the cross-front 'Micah' bridesmaid dress for a friend's wedding in the British Virgin Islands. We can't wait to see which celebrities step out in Watters wedding dresses 2020 and beyond.
Fun Facts About Watters
During Watters spring 2019 fashion show in New York City, model Nicole Kaspar got the surprise of a lifetime when her boyfriend proposed on stage during the show's grand finale. Not surprisingly, the crowd instantly melted as Nicole said yes amidst a stream of happy tears.