Wedding Toast Tips for Guests
Check out these tips for making your toast a memorable moment.
by The Knot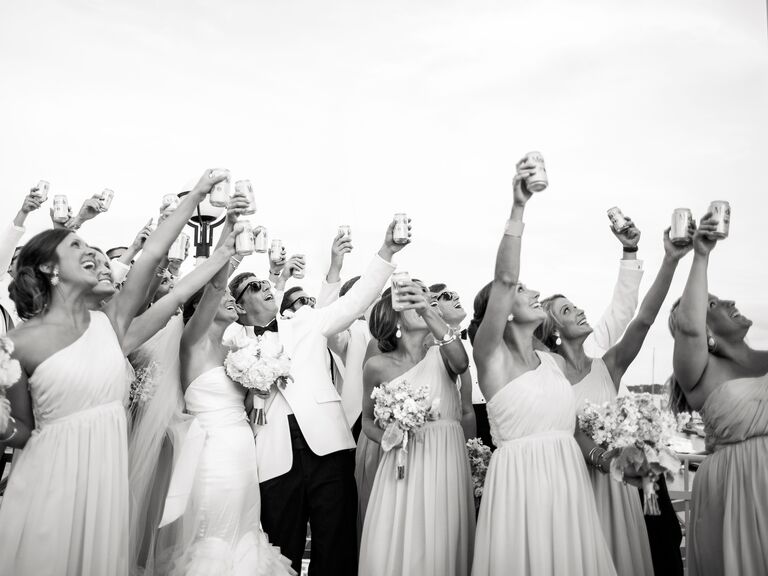 Jade + Matthew Take Pictures
You're so excited to witness the union of these two fabulous people that you've just got to gush a little. And you're entitled to—just make sure you're doing it at the right time, and in the right way.
Pick the Right Party
Wedding day toasts are usually reserved for the key players in the bridal party—best man, maid of honor, parents, the happy couple themselves and an occasional grandparent or two. Unless you fall into one of these categories, it's best not to step on anyone else's toes at the reception. A better time for you to publicly share your well wishes may be at the less formal rehearsal dinner or postwedding brunch. Even then, make sure to vibe it out first. Allow another guest (not affiliated with the wedding party) to raise his or her glass in praise before you do. If it's clear that anyone can chime in, feel free to jump in too.
Keep it on the Short Side
It's possible that you won't be the only guest wanting to toast the bride and groom, so don't hog the microphone! Two to three minutes is plenty of time to get your heartfelt wishes across.
Don't Read Your Toast
While it's smart to think about what you're going to say beforehand, try not to memorize your speech—you still want it to come off as spontaneous. If you're worried about freezing in front of a crowd, by all means, bring a few note cards with you.
Play to Your Crowd
If the room is filled with people who are ready to party, a serious monologue is probably going to bore them. On the other hand, a buttoned-up crowd might not appreciate that stand-up routine you wrote about the week you and the groom spent in Cancun.
Start Off Simple
First, introduce yourself, since it's probable many guests haven't met you yet. Of course, you'll want to explain how you've come to know the couple—for example, "I first met Mike at college during freshman orientation"—but be sure to make the toast about both the bride and groom. (Resist the urge to catalog the things you've been up to since then.)
Make it Fun
Include random and funny anecdotes of times you've spent with the couple, particularly any memories you have from when your friend first introduced you to her significant other. Take it easy with inside jokes—one or two is fine, but you don't want the other guests to feel left out.
Keep it Clean
A good rule of thumb: Stay away from anything—bad language, drunken anecdotes—that you'd hesitate saying directly to the bride's grandmother's face.
Nix the Ex Reference
We can't say this enough: Do not—no matter how funny you think the story might be—bring up a bride or groom's ex during the toast. It's sure to make at least one person uncomfortable and that's not the point of the toast, right?
End on a High Note
No matter what you choose to say, just remember to add an "I'm so happy for you two. I love you guys. Cheers!" at the end.