14 Wedding Invitation Etiquette Questions We Get All the Time
Mail your invites with confidence.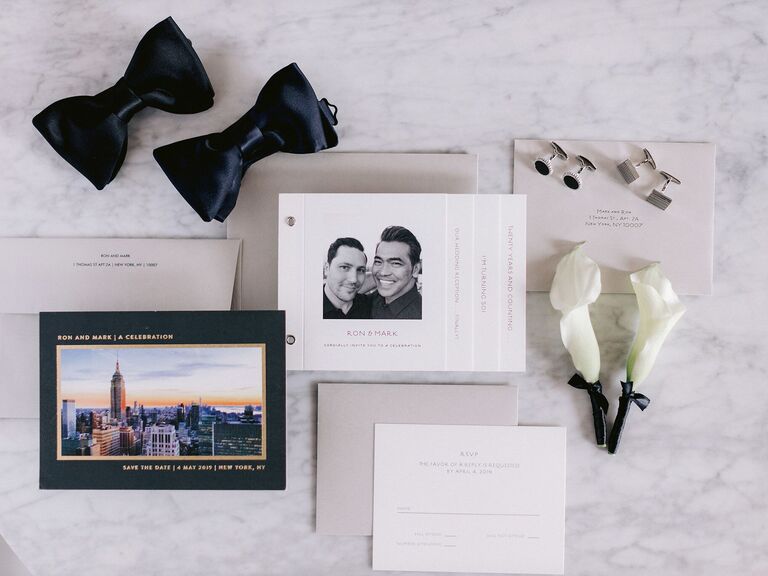 JENNY FU STUDIO
We have included third party products to help you navigate and enjoy life's biggest moments. Purchases made through links on this page may earn us a commission.
The invites you choose for your wedding aren't just your guests' first look at the style or theme of your big day—they're also a crucial logistical element. As a result, it's super important to be aware of the biggest wedding invitation etiquette guidelines before sending your stationery out.
Our 2022 Couples Communication Study showed that 62% of soonlyweds share the initial specifics of their special day via mail. This includes crucial information, such as the date and time, as well as indirect details, like an indication of the level of formality. Other essential info, such as hotel block reservations and your registry, can be conveniently housed on your wedding website.
If you're at the very beginning of your wedding invitation journey, The Knot Invitations offers a variety of layouts and colors so you can personalize your wedding stationery to reflect your styles as a couple. Already chosen your favorite design? There are a few questions that may arise as you prepare to officially invite your loved ones to your wedding. Below, we're answering the most pressing etiquette questions for your invites.
1. When should you send out your wedding invitations?
When to send wedding invitations is often the first etiquette question couples ask in relation to their invites. Traditionally, invitations go out six to eight weeks before the wedding. That timeline gives guests plenty of leeway to clear their schedules and make travel arrangements if they don't live in town. If it's a destination wedding, give guests more time and send them out three months ahead of the wedding. Most couples also send out save-the-date cards so that their guests can hold the day in their calendar before getting into the nitty-gritty details. Save-the-dates are typically sent out six to eight months before the wedding, but can be mailed up to a year in advance if you have your details finalized.
2. When should your wedding RSVPs be due?
Another question that comes up time and time again: When should RSVPs be due for your wedding? As a general rule of thumb, you want to make your RSVP date at least two to three weeks before your wedding date. This should allow enough time for you to get a final head count to the caterer (one week before) and to finalize your seating chart. Our 2022 Couples Communication Study showed that 55% of couples prefer a little extra wiggle room, requesting RSVPs three to six weeks before the wedding.
If some guests still haven't responded by your deadline, give them a quick call and ask for their RSVPs (still via mail) so you have all their information. Not sure when you should send out your wedding RSVP cards to begin with? Easy: Just assemble them alongside your wedding invites to be mailed together.
3. How do you write the dress code on your wedding invitations?
When it comes to proper etiquette for wedding invitations, questions about wording are common. Luckily, we've covered all the basics in this handy wedding invitation wording guide, including dress code examples. The easiest way to get your point across is to include your desired dress code on the bottom of the invite or on a separate details card. "Black tie," "cocktail attire" or "dress casual" are all acceptable templates. (And trust us, your guests will appreciate the heads-up).
If you'd prefer not to explicitly state the dress code, that's okay too. Instead, your invitation design can clue guests in. For example, a traditional invite with letterpress and calligraphy hints at a formal event, whereas an invite with a playful font and bright colors fits a casual style. Another option is to direct guests to your wedding website, where you can go into detail about the weekend events and dress code in a more informal forum.
4. Where do you put the return address on your wedding invitations?
It might be tempting to skip this step, but including a return address on your wedding invitations is actually really important. If for any reason an invite doesn't get delivered, you won't end up losing it completely and you can reach out to the guest directly to update them on the issue and ask for another address. That way, you won't risk any hurt feelings when they hear of others receiving their invitations and wonder why they didn't get one.
The return address usually goes on the back flap of the envelope. Also, the return address used should be that of the person(s) whom you've designated to receive response cards, be it yourselves or your parents (traditionally, whoever is hosting the wedding handles response cards). It's also proper wedding RSVP etiquette to include the host's address and postage on the envelopes for your response cards. Guests should not be expected to fill out this information or pay for postage themselves.
5. Can you put information on the back of your wedding invitations?
Generally, it's better to include details that don't fit on your wedding invitation on a separate details card rather than on the back of the invite itself. The main reason being that guests could miss out on an important piece of information simply by not turning over the invitation. You also don't want to overcrowd your invitations with too many details (on the front or back), as this will take away from the main design of your stationery. Insert cards can help to achieve a cleaner or more organized look.
Of course, that doesn't mean you can't make the most of the space on your wedding invites. Many couples opt to include a monogram, personalized wedding logo or another unique design element on the back.
6. What time should you put on your wedding invitations?
Strategically putting an earlier time on your wedding invitations than the actual ceremony start time isn't a new idea—but that doesn't make it a good idea. Generally, guests show up on time (early, in fact!) for a wedding ceremony. By placing a false start time on your wedding invitations, your loved ones could end up waiting much longer than they need to for you and your future spouse to arrive.
It's also not necessary to include additional start times on your wedding invites (think: the cocktail hour and reception). If the events are all taking place on the same day at the same location, simply stating "reception to follow" is enough. If your reception is at a different venue, you can include the location beneath the ceremony details or on a separate reception card depending on the space available. For jam-packed wedding weekends, it's a good idea to have separate itinerary cards with the respective date, time and location of each event. These can be sent out with your wedding invitations or included in wedding welcome bags.
7. Where do you put information about your wedding website?
There are a few places you can include your wedding website without breaking any etiquette rules. A simple "TaylorandPayton.com" on your save-the-dates is a great way to let guests know from the beginning that you have a wedding website. You can also include your wedding URL on an insert card in your invitation suite (just make sure you don't print it on your actual wedding invitations). If you got your stationery from The Knot Invitations, you can set up a wedding website on The Knot to match. That way, your loved ones will get a cohesive design experience ahead of your big day.
8. Should you include your registry information on your invitations?
Including registry info on your wedding invitations or save-the-dates is considered impolite because it can give the impression that you're outright asking guests for gifts. So how exactly do you let your loved ones know about your wedding wish list? Go ahead and put your registry details directly on your wedding website (The Knot All-in-One Registry allows you to include links from all of the places you are registered).
Don't plan on setting up a personal website? It's totally fine to include information about where you are registered on your wedding shower invitations or spread the news by word of mouth. Your parents, wedding party and other close friends will be able to fill guests in without breaking traditional wedding invitation etiquette.
9. Do you have to give every guest a plus-one?
There are some simple etiquette guidelines for assigning plus-ones that'll make your job a little easier. First things first, know that you definitely don't have to give every single guest a plus-one. If they're not married or in a serious relationship, it's perfectly acceptable to extend a solo invite. Most of your loved ones will understand that without "and guest" or another name on the invitation, they aren't invited with a plus-one.
While it's always nice to invite everyone with a guest, that can add up quickly (in terms of both headcount and cost). If a guest RSVPs for two, call them and explain you're trying to be diligent about your guest list, and unfortunately, you were not able to invite everyone with a guest. If you realize that nearly everyone will be coupled up, you might want to extend a plus-one invitation to your few single friends and family members.
10. How do you make it clear that you're having an adults-only wedding?
Having an adults-only wedding? Keep in mind that it's not considered proper etiquette to directly print this detail on the invitation. Instead, the simplest way to make it clear to guests is by being intentional about how you address your wedding invitations. Stating each guest by name (not "and guest" or "family") should make it clear that the invite is only meant for those mentioned.
If you find that some guests reply with their children's names added, give them a call and explain you're having an adults-only wedding and you hope they can still attend. If there are a lot of kids in your family, you may want to consider hiring or arranging for a babysitter. It's definitely not required, but it's a nice gesture. If you do organize childcare, be sure to include this information on the wedding website.
11. Is it okay to invite people to the ceremony or reception only?
Holding a small, intimate ceremony followed by a larger reception is becoming increasingly popular among to-be-weds. Nowadays, it's totally acceptable to keep your ceremony guest list small and invite additional guests to the reception only. Just make sure that your invitation wording is clear so that your loved ones know what to expect.
Inviting guests to the ceremony only (and not the reception) is a much trickier situation. Standard etiquette dictates that everyone who attends the ceremony (or shower or engagement party) should be invited to the wedding reception. By inviting guests to the ceremony and not the reception, it could send the message that you don't want to pay for their plate at your party or you don't care enough to have them there to actually celebrate your newlywed status.
12. If you invited a guest and their S.O. by name, but they recently broke up, can the guest bring someone else instead?
Long story short: If you worded the invitation by having their partner's name on the envelope (rather than "and guest"), you have every right to say no to a new plus-one. As a rule, invitations are nontransferable when people are invited by name. This can help avoid the situation of a guest bringing someone you don't know or aren't particularly friendly with. Or perhaps there's someone else who didn't make the original guest list that you'd like to extend an invite to instead. (If you're doing this, try not to make the new invitee feel like they're on the B-list. It's a good idea to explain the situation with care, especially if they're getting a last-minute invite).
As for the guest who will be attending solo, if you invited all of your single friends sans dates, let them know they won't be the only one (in case that's their worry). On the other hand, if the invitation was addressed with "and guest" rather than specifying their plus-one by name, they're generally free to bring whomever they want.
13. Do you have to invite someone who invited you to their wedding?
There are lots of unwritten rules when it comes to the correct wedding etiquette for your invitations. When deciding on the guest list, it's normal to be on the fence about some people—particularly if you were invited to their wedding but you no longer feel as close. Ultimately, you're not compelled to reciprocate the invitation, but if they're still a close friend you see or speak with regularly, or their wedding took place recently, it's a nice gesture to make room for them on your guest list. If their wedding was a long time ago and the nature of your relationship has since changed, it's perfectly okay not to invite them. Just be mindful of how they hear the news—if you're still friends, it's a good idea to politely let them know they aren't invited to the wedding yourself.
14. Is it ever acceptable to uninvite a guest from your wedding?
Uninviting a guest from your wedding is not something you should take lightly, and generally isn't advised unless it's absolutely necessary. In any case, it's not good etiquette to uninvite guests, whether it's due to a change in venue, problems with your budget or a disagreement. If you've fallen out with a particular guest, revoking their invitation is likely to make the situation worse (and you definitely don't need that stress ahead of your wedding day). It's also going to make your friendship more difficult to salvage, regardless of what caused the disagreement in the first place. Discuss the matter with your fiancé, and if you both agree that uninviting the guest is the only reasonable course of action, reach out to the guest directly to explain. Preferably, this should be a face-to-face conversation.