Home

The Farm at Eagles Ridge
About this Vendor
The Farm at Eagles Ridge
The Farm at Eagles Ridge is nestled in the picturesque rolling hills of Lancaster County. Located just minutes from downtown Lancaster, the property features a beautifully restored 1820 stone farmhouse and a climate controlled barn perfect for your special day. Contact us for more information!
Amenities + Details
Amenities
Handicap Accessible

Liability Insurance

On-Site Accommodations

Indoor

Reception Area
For more details about amenities, please message the Venue.
Farm + Ranch, Barn, Historic Venue
Rentals + Equipment, Service Staff
Contact Info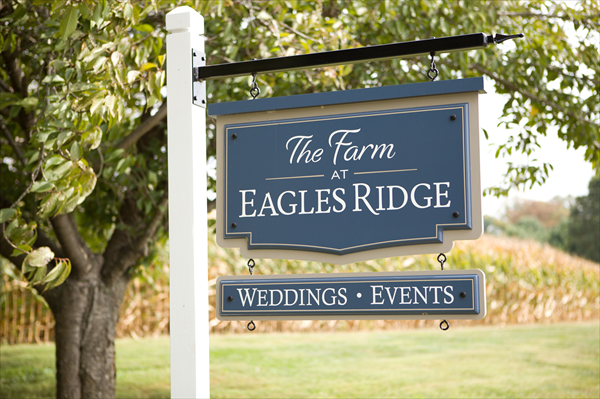 465 Long Lane, Lancaster, PA
The Farm at Eagles Ridge, Lancaster PA
Reviewed on

6/13/2014
Janet R
For those of you who are searching for a rustic, elegant barn wedding, your search now ends! We highly recommend The Farm at Eagles Ridge in Lancaster, PA. We so enjoyed working with Betsy Herr through the last year+. The very first time we saw the Farm, it was in the midst of construction….dust, drop cloths, floor wasn't re-done and dirt everywhere, even weeds where the beautiful hardscape area is now. But we were impressed with the the venue and beautiful landscape and somehow, could see their vision of what the farm is today. We thought long and hard because we had another beautiful, rustic place in mind, but we decided to gamble on The Farm at Eagles Ridge. And boy did we get more than we thought in return! The Farm at Eagles Ridge is immaculate! It provided a beautiful backdrop to create my daughter's vision of the wedding she's always wanted! We so appreciate all that Betsy did for us and also answering the barrage of emails that I've sent over time. There are lots of beautiful places to have weddings, but it's always customer service that sets the good ones apart. The Farm at Eagles Ridge is definitely one of them and is top on our list. I encourage you to check it out, because you will be amazed! Janet Reimund
---
Beautiful Venue, Awesome People!
Reviewed on

5/27/2014
Aubrey R
o I cannot describe our wedding day as anything but perfect. My husband and I knew we would choose the Farm at Eagles Ridge immediately after we got out of our car upon our first visit. We had high hopes for an amazing wedding day, but we could not have imagined that it would be as great as it was. The grounds are beautiful, the facilities are impeccable, and Betsy and the Farm's support staff was absolutely first class. They made the process of planning a wedding at their venue easy and fun, and the day-of staff helped to ensure everything went off without a hitch. None of the small details went unnoticed – from shuttling elderly guests around the property on a golf cart, to directing our vendors to the appropriate places, we couldn't have asked for more. Our guests have not stopped telling us how beautiful the farm was, and how lovely the staff was!
---
An incredible experience
Reviewed on

11/23/2013
Martha S
My husband and I recently were married at The Farm at Eagles Ridge. As we began planning our wedding, we knew we wanted a rustic farm setting that allowed us to find and bring in all of our own vendors. After a few google searches, The Farm at Eagles Ridge popped up and although they didn't have a website yet and there were only maybe two photos of the venue, I immediately contacted them. I promptly received a reply from Paige with additional information about the venue and an offer to come take a tour. We set up a tour and drove out to Lancaster to meet Paige. At that time the farm was still under renovations, but I knew immediately that this was the place where I'd have my wedding. We signed the contract that same night. It was the first and only venue that we toured. I can't say enough good things about the farm, it is beyond beautiful and is set back in the gorgeous rolling hills of Lancaster. The convenience of the farm house is fantastic, it provides a place to get ready as well as a place to spend the night. The farm is located near many hotels so it is convenient for out of town guests who need a place to stay. My experience working with Paige at the farm was incredible. She was so responsive and beyond helpful and answered every possible question that I could have thrown at her. She made me feel completely at ease. I would absolutely positively recommend the farm to anyone looking to have a unique, beautiful, memorable, rustic wedding.
---
Amazing venue. Wonderful people to work with.
Reviewed on

7/13/2015
My husband, my family, and I could not have been more pleased with the Farm at Eagles Ridge for our wedding in June. From the very first moment that we visited the farm and met with Paige, we knew this venue was special and that it was the perfect fit for us. Throughout the entire preparation process, Paige was available every step of the way to answer every little question that we had as well as to provide us with options and suggestions. Her enthusiasm and attention to detail to our wedding made us feel special and in good hands. She is exactly the type of person you want involved in helping to plan a wedding. Beyond the professionalism and high quality of service provided by Paige (and her family as well on the wedding day), the venue is breathtaking. There is nothing like it. Our guests have been raving non-stop about what an amazing place it is and we have been too! I cannot sing the praises of the Farm at Eagles Ridge enough and we are so beyond glad that we chose this venue to help create the best day of our lives.
---
Dream Wedding!
Reviewed on

6/17/2015
Katie A
We 100% recommend The Farm at Eagles Ridge! It has been a month since our wedding and we are still getting complemented on how beautiful it was! If you are looking for a an elegant farm wedding this is definitely the venue for you! Paige and her family were wonderful to work with as well! They were very responsive and helpful with all the questions we had and helping the day of the wedding. You are guaranteed a beautiful day if you choose The Farm at Eagles Ridge!
---
Reviewed on

5/26/2015
Maggie S
Absolutely beautiful!!! I had so many complements on this site, and I think the main reason my wedding was such a huge success was because of the Farm. The flow of everything is just perfect- from getting ready in the absolutely adorable farmhouse to walking to the picturesque ceremony site on the lake to everyone heading to the cocktail hour in front of the barn to walking up into the barn for the reception and finally opening the doors outside to the beautiful patio. It was so nice having the farmhouse to store belongings during the day and it was so much fun to get ready in. The site couldn't be more beautiful- we even had bald eagles flying above us during cocktail hour! The barn is so perfect for a beautiful setting and dancing, and the back patio that opened up at the end of the night was beautiful with little lights and and space heaters with chairs and a corn crib with chandeliers. Everyone was very comfortable moving from the dance floor to their tables to the patio and it was just all so perfect. Paige and her whole family are all so accommodating and responsive and just great people to work with. The chairs and tables provided are in perfect condition and look great in the barn. Because of how beautiful the setting is, you don't even need to get any extra props, just some nice linens and flowers on the table are enough to make the whole place look stunning. I was so thrilled with how my wedding turned out, I highly recommend this site for anyone that wants a beautiful country barn wedding.
---
Perfect Day!
Reviewed on

5/22/2015
Ashley W
I can't say enough about the beauty of this venue and excellent service that their personnel provide! Paige was wonderful to work with and helped me to make my day absolutely perfect. The #1 thing people kept telling me at the wedding was that this was the BEST venue they have ever been to!
---
The Farm at Eagles Ridge
Reviewed on

5/17/2015
Kara D
The Farm at Eagles Ridge was the perfect place to have our wedding!! I can not think of another place that was that perfect to create such a beautiful, warm, and welcoming atmosphere for both our guests and us! Whenever we needed to meet with them to discuss the layout or just to make sure everything was ready and set for the wedding they responded right away and got us over to the farm as soon as they could. They were very helpful and they barn and farmhouse were just breathtaking! We enjoyed every moment spent at the farm and Paige and Betsy. We couldn't of been more happier to have chose them for our wedding venue
---
The best place to get married!
Reviewed on

12/10/2014
Sam S
The Farm At Eagles ridge is the most beautiful place to get married. Our wedding day was perfect because of the place itself and because of the wonderful staff that works there. Paige Flowers was in charge of our wedding, and she was just incredible. Anything we wanted she made sure we were able to have it. Her and her whole family just made us feel so special and made our day perfect. I would recommend this place to anyone (which I already do!) It really is the most beautiful place, from the grounds, to the staff everything is just perfect.
---
Beautiful Venue and great outdoor ceremony space
Reviewed on

10/19/2014
Kelly b
The Farm at Eagles Ridge was the perfect venue for our wedding. The grounds are absolutely gorgeous and the pond makes a beautiful backdrop for the ceremony. The barn is beautifully refurnished into rustic elegance (not just "rustic" like so many others). It also has AC which is not a common find for barn venues. The farmhouse where the bridal party gets ready is also gorgeous. Paige (one of the owners' daughters) who manages the venue and who we worked with directly the entire time was so very helpful and nice and always available to answer any questions and make sure all goes smoothly. We received so many comments from guests on how they loved the venue we chose. The only 2 areas that I feel they could improve would be the fact that they don't have a real back up option for the outdoor ceremony if it rains (yes you can move inside to reception space or in the corn crib but they are not adequately set up for a ceremony). Luckily it did not rain but it did make us a bit nervous. Lastly, the contract rules and terms are very strict. Other venues seem to have a bit more flexibility in allowing you to bring things in ahead of time or arrive /early stay a bit later without additional charges. Many of the extras (fire pit, chairs, room on 3rd floor etc) warrant additional charges when the rental fee is already a bit pricey. Overall, a fantastic venue and great experience!!!!
---
Absolutely Magical!
Reviewed on

10/14/2014
The moment my husband and I visited the farm for the first time we knew it was where we would get married. It had the rustic vibe we wanted and the amenities our families wanted (air conditioning, nice bathrooms, easy parking,and golf carts for grandma). The grounds are perfect, the barn is beautiful, and Betsy and her family were amazing to work with from start to finish. At our wedding we had a lot of moving parts on different areas of the property. Getting ready in the stone house, a traditional pre ceremony in the corn crib, the ceremony in front of the dock, the cocktail in front of the barn, and the reception inside the barn. The flow of our wedding was exceptional and everyone had a wonderful time. Multiple people came up to us and told us this was the best wedding they had ever been to. I cannot say enough about this venue and the Herr family. My husband and I talk all the time that we want to do it all over again and change nothing. Everything was perfect and even better than we ever could have imagined.
---
Amazing Venue!
Reviewed on

8/06/2014
Allison Z
I loved working with Paige and the rest of the staff at The Farm at Eagles Ride. Our family and guests were very impressed with the Farm and the entire evening I got compliments on what a fantastic venue we had chosen. Every one of those compliments was well deserved. Along with the gorgeous setting, and to us every bit as important, was the friendly and kind way we were treated. We appreciated the personal attention to details and all of our questions being answered in a timely fashion. I couldn't be more pleased with our reception at The Farm. It was an amazing experience!
---
A beautiful Day at a beautiful venue!
Reviewed on

8/04/2014
Lauren D
My husband and I visited and ended up booking The Farm at Eagles Ridge before it was fully renovated. At the time, we were feeling a little unsure about booking because the venue wasn't finished. Now, we are so happy that we did! We looked at many different venues in the Lancaster area and nothing quite compares to the setting, amenities, and environment at The Farm at Eagles Ridge. The beauty and possibilities of the venue are endless! I primarily communicated with Betsy, and she was always very professional, helpful, and responsive. Betsy has a wonderful demeanor that always put me at ease even when wedding stressors started to get the best of me. I didn't have as much contact with Paige, but all of the interactions we did have were very pleasant. I had quite a bit of decorations for the wedding and Betsy was very accommodating by letting us drop off everything the night before the rehearsal. The day of the wedding ran very smoothly. All of Eagles Ridge's employees were very professional and helpful. We used the house for the bridal party to get ready. The entire house is beautifully decorated and made a great location for pictures before the wedding. Our ceremony was by the pond, and the scenery was stunning. The cocktail hour was on the patio and in the corn crib. The reception took place in the air-conditioned barn. We definitely got the best of both worlds for a summer wedding- outdoor beauty and indoor climate controlled comfort! Of course we had a wonderful wedding day; it was better than I ever could have imagined! The atmosphere the venue provided was a huge part of that! In addition to our experience, our guests could not stop raving about The Farm at Eagles Ridge and our wedding day. We had several guests who traveled from out of state. They weren't sure what to expect when they saw "farm" on the invitation. They were blown away by the unique environment- beautiful, elegant, classic- and still rave about the day every time we see them. I highly recommend using The Farm at Eagles Ridge as the venue for your wedding. We are so happy that we did!
---
Simply perfect!
Reviewed on

7/29/2014
Thanks so much to Paige for all she did to make Amy's wedding so beautiful. From designing the venue to upkeep of the property and seeing to our needs Saturday, she and her family have been, giving, gracious and caring. Our experience with the Farm at Eagles Ridge was positive in every way. It is a peaceful, pristine venue for couples to celebrate the beauty of their love as they begin their life together. The Herr family has given a precious gift to others that allowed us to share and enjoy such an awesome location. It was a beautiful, wonderful day for our family, and I really appreciate the opportunity we had to use this venue. All our guests raved about the beauty of the surroundings and clean and freshness of all parts of the barn area itself. It's not easy to keep it that way with families celebrating with gusto every weekend. I have friends that attended that already want to have their weddings there. Paige connected us with Fiffer at Treasured rentals and she really helped us get the look just the way we wanted it. It may be more involved than going somewhere that the catering, etc. is already on site, but we worked with Rettew's who were tremendous and made it seem easy. We would definitely recommend this venue to anyone. It was definite worth it.
---
A Beautiful Venue!
Reviewed on

7/07/2014
Alyssa W
We had our reception at The Farm at Eagles Ridge, and it is a beautiful venue. The team of people who work there are professional, accommodating, and a joy to work with. They communicate well. Are flexible with planning and details, and are there the day of your event to make sure everything is perfect. We would highly recommend this venue to anyone looking for a beautiful wedding location.
---
so glad we found this place
Reviewed on

7/01/2014
Jessica W
We took a chance by booking our venue while it was still under construction. I had to trust in the Herr family's vision and use my imagination. I regret nothing. The venue itself turned out more beautiful than I ever imagined. My wedding still seems surreal. There is nothing like The Farm at Eagles Ridge! The staff is so easy to work with and the place is gorgeous!
---
The Farm at Eagles Ridge Review
Reviewed on

6/12/2014
Jillian K
This venue was amazing. The beautiful ourdoor ceremony site (multiple options) and indoor restored barn were just what I was looking for, for my rustic June wedding. The owners and staff are incredibly friendly and helpful throughout the entire process. I have not one negative comment!!
---
Farm at Eagles Ridge
Reviewed on

11/19/2013
Jill N
Eagles Ridge is truly one of the most beautiful properties you'll find, and the staff was such a pleasure to work with. I can't recommend Paige and Eagles Ridge highly enough. The grounds are so naturally beautiful with the pond (and dock!) and trees. And both the farmhouse and barn are spectacular. It's a photographers dream. They did such an amazing job renovating the barn to preserve it's authentic charm while making it perfectly comfortable. Our guests raved endlessly about the Eagles Ridge...and we share their sentiment.
---
The Perfect Setting
Reviewed on

10/27/2013
Ali P
The Farm at Eagles Ridge is absolutely breathtaking. The Herr family has been such an amazing collective group to work with and Betsy was so attentive to our every need. Each time we visited the Farm, I knew I was in my 'happy place'. I hope we get invited to many more weddings at the Farm so we can go back and enjoy the views and the landscape. Thank you Herr's!
---
mr.
Reviewed on

10/12/2013
Paul S
I have known the Herr family for many yeras and they created a warm, family atmosphere for my daughter's baby shower. The event was held in the house, which was perfect for a shower with family and friends. my catering firm, photographer, and floral firm received gracious assistance from the Herr family and these firms were impressed with the venue. One-of-a-kind is an under statement. This family memory for us was the result of one HUGE part: The Herr Family and The Farm at Eagle's Ridge Thank you for sharing this venue with my family
---
Amazing venue at the Farm at Eagles Ridge!
Reviewed on

10/09/2013
Laura S
We had our wedding this week at the Farm at Eagles Ridge, and we could not have asked for a more perfect venue! Not only was the setting absolutely gorgeous, but the staff was wonderful to work with and attentive to our every need and wish. All of the guests commented that it was one of the most beautiful venues they had been to for a wedding, and they were right! Choosing the Farm at Eagles Ridge was absolutely the best choice we made for our celebration - I can't imagine having as beautiful a wedding anywhere else. Thank you to the Farm and to everyone who worked hard to make our special day perfect!
---
What a wonderful day!
Reviewed on

9/18/2013
The Farm at Eagles Ridge is such a beautiful venue. The beauty is immediately present as soon as one enters the long drive down to the grounds. It continues for the bride to be while she is getting ready in the Farm house. The renovations to the house are so nice and it is the perfect place to get ready and relax. We had our ceremony out side near the pond, the cocktail hour at the foot of the main barn and then the reception in the barn. We had a bar out in the corn crib, with inside bars. There was so much space to accommodate our large wedding, but it still felt incredibly intimate. All of our guests could not stop raving about how beautiful everything was. As amazing as the Farm grounds are, we felt that dealing with the owners was an equally wonderful experience. The Herr family could not have been more gracious and pleasant to work with. The best compliment I can try to offer is to say we never felt like 'customers', rather we felt like 'friends' who were having one of the most important days in our family's life on their property. Our last note of worth would be to say we had 2 guests who had to go back and forth between our wedding andanother wedding in Lancaster at another Barn. They said it (the other barn and grounds) didn't come close to comparing to the beauty of the Farm at Eagles Ridge.
---
Beautiful location, kind & helpful staff :)
Reviewed on

6/30/2013
Allie G
Initially, we were having a tough time looking for a modern rustic look for our wedding site but we finally found it at Eagles Ridge. From our first tour, Paige and Betsy (sisters and co-owners) have been a dream to work with. They have been so generous and flexible in allowing us to make our wedding day uniquely perfect for us. We enjoyed every aspect of our special day from the beautiful ceremony with a backdrop of the glistening pond to our family and bridal party pictures taken on the farmhouse front porch. The renovated barn offered the perfect amount of space for our 200 guests to dine and dance. And because of the versatility of their indoor and outdoor space, our photographer was able to snap beautiful portraits from so many different locations on site. Not only did the photographer benefit from the versatility but so did we. From preparations and first look, to ceremony, cocktail hour, and reception - we didn't have to leave the venue at all! We were able to have our dream wedding because of this dream site and we couldn't have asked for anything better. Thanks Paige and Betsy!
---
Send Message