The Best 70s Suits For Groovy Grooms
Find out how menswear ended up in its Daisy Jones & the 6 era and find out how you can channel your own with these swaggy 70s suits.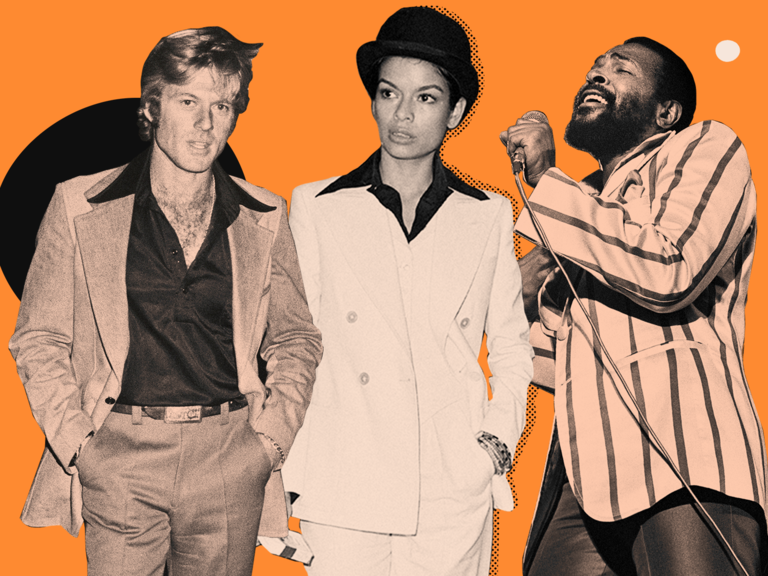 Photos: Getty Images,Design: Tiana Crispino
We have included third party products to help you navigate and enjoy life's biggest moments. Purchases made through links on this page may earn us a commission.
Everything old is new again. Cycles of nostalgia are nothing new in fashion but it's been ages since we've seen one as strong as the resurgence of 70s-style tailoring in the suiting world. Maybe it's the traditional eb and flow of fashion, which often sees older senses of style cycle in and out as new generations discover them. Or maybe it's just the Daisy Jones & The Six effect, with a number of pop cultural touchstones bringing that sense of style back to the forefront. Whatever it may be, we're seeing it everywhere, from weddings to red carpets–Chris Pine and Andrew Garfield are right at the forefront, with stylists like Ilaria Urbinati and Warren Alfie Baker outfitting them and other clients in swanky seventies chic suits. If you're thinking about incorporating the trend into your next wedding suit (be it as groom or guest), you're on the right track. Read on to learn about how 70s suits are stayin' alive.
70s Menswear is Having a Moment
Trends like these are never limited to suiting. The current state of menswear at large is heavily indebted to 70s fashion, from the resurgence of flared jeans and corduroy pants to ringer tees making a comeback. In a sense, everyone is trying to dress like their interpretation of Matthew McConnaughey's character from Dazed & Confused. And hey, that's a pretty solid style icon to channel.
The 70s trend touches suiting in proportion, fit, and color (plus how the suit is styled, which we'll get to soon). While any and all kinds of suits were popular across the decade, the sort of 70s suits that are back at the forefront of modern menswear are the kind with wider proportions and more relaxed fits. We're talking thick lapels and trousers with higher rises and flared legs (double-breasted suits, which by default tend to have a wider lapel, are all the rage for this same reason). The right kind of 70s suit looks like something you'd see Mick Jagger wearing at a party, which is to say cool as hell and anything but subtle. Suits like these aren't for blending in. They're for making a statement and standing out in a crowd (which, if you're getting married, is absolutely the vibe).
It isn't just about your jacket and pants, though. The trend is just as present in the details of what you wear with your suit and how you style it. Dress shirts with longer collars add to the looks, as do turtleneck sweaters. Ties should be appropriately thick to match the lapels and perhaps contain a geometric print–or better yet, leave the tie at home and go full Sunset Strip with a bolo tie. Instead of dress shoes, throw on hip Chelsea boots or wavy loafers with no socks. Try an ascot or a gold chain and a pinky ring to match. And of course, don't forget a pair of sunglasses - preferably big and gaudy in all the right ways.
Defining Details of a 70s Suit
A great 70s wedding suit comes together in the (appropriately retro) details. It's not as simple as just wide lapels or bell-bottom pants. Vintage style suits are an accumulation of proportions, accessories, and fitting choices that combine to make something beautiful. You don't have to include every single flourish we'll cover but a great 70s style suit has some combination of the following details.
Leisurely Lapels
The most immediately recognizable detail in 70s suiting is the lapels. Vintage suits from the era are known for their wide lapels, which often included peaks rather than notches. They're eye-grabbing and anything but subtle–which isn't a bad thing. Like I said, suits like these aren't meant to blend in. They're meant to stand out.
Fab Fit
The general rules of how a suit should fit still apply when wearing a 70s style suit (or an actual vintage one). Your jacket's hem shouldn't drag all the way down to your knees or anything. However, in a lot of ways vintage suiting is about contrast. You'd often see wide shoulders and lapels paired with slimmer waists and torsos, or bell-bottom trousers that start on the skinner side only to balloon out for a wider fit towards the pants hem. You don't have to lean all the way into these extremes when putting together your 70s style wedding suit. But it helps to dabble–add some flare to those trouser legs!
Keep it Colorful
Listen, there's nothing wrong with a black suit but if you really want to embrace the style, your 70s style suit needs to be colorful! In keeping with the loud-and-proud vibe retro suits flaunt, your suit should be in a color scheme true to the era. Baby blues were huge back in the day and they're still a great move if you're looking to channel your inner Saturday Night Fever. Red is also a great color if you're going for more of a rock-star vibe. If you want to stay on the slightly more neutral side, variations of brown are your friend here as well as some of the more natural shades on this side of the color spectrum. Think deep auburns, burnt oranges, and maroons.
Swaggy Shirts
If you're looking to lean in hard to the 70s vibe, consider pairing your suit with a non-traditional dress shirt. Stay with me here: suits styled after the era look even better (and more true to the decade) with denim, velvet, and corduroy shirts. Texture is a big part of 70s style and suiting. Contrasting a standard suiting fabric like wool or flannel blends with a well-worn denim or a buttery corduroy will have you looking like you stepped right off a red carpet from the age before superhero movies ruled the box office. And if you aren't feeling those fabrics, try a dress shirt with a fun print. We're not talking stripes or gingham here–no, track down a paisley print or something even more unconventional.
Tie It Together
When styling a retro suit you have a whole bevy of options when it comes time to decide what to put around your neck. First of all, this is a category of suit for which it's totally cool to just leave the traditional tie at home and not wear anything. An open collar (and maybe a gold chain) will go a long way. If you feel like sticking with a traditional tie, go with a retro geometric print or kitschy pattern instead of a solid print one. You have plenty of other options, though. Ascots, bandanas, scarves, and bolo ties are all accessories that will bring out the best in your 70s suit.
Editor's Picks: 70s Suit Styles We Totally Dig
Banana Republic Nolan Linen Suit
When Banana Republic rebranded in 2022, they did so with a heavy focus on archival designs from their early days. This ethos extends to their suiting, which is full of double-breasted beauties and era-appropriate patterns. The standout, however, is the peachy Nolan, a flowy linen suit that channels the 70s with equal parts style and accessibility (the full suit comes in at right around $600).
Giuliva Heritage Alfonso Blazer and Vito Trousers
Giuliva Heritage brings the sort of 70s sartorial swagger you'd see icons like Michael Caine and Mick Jagger rocking back in the day. It's the most extreme version of 70s tailoring available on the market these days - thick lapels, contrasting colors, and a mix of Saville Row savvy and Italian detailing. This jacket and trousers combination is among the best they have to offer right now, with thick lapels and thick pinstripes to match.
Express Modern Tech Suit Jacket in Rust
Bright, bold colors were all the rage in 70s suiting. Express channels the best of it with this deep rust-colored suit, with thick peaked lapels to complete the look.
Phix Purple Shawl Collar Suit Jacket
Phix really leans into retro vibes with their wavy rock-and-roll takes on classic suiting, jeans, and jackets. For a chic 70s glam, try their purple shawl collar jacket. It's an edgy take on a traditional shawl jacket that pairs great with the brand's sheen dusky pink trousers.
Spier & MacKay Cigar Linen Neo Cut Suit
Vintage suiting isn't always about bright colors and ruffled dress shirts. Sometimes it's as simple as a suit in a classic cut in the right color and styled just right. Take this Spier & MacKay stunner–it's in a lightweight linen (very 70s) and a rich shade of cigar-brown (also very 70s). If you pair this with a denim shirt or a burnt orange turtleneck you'll look every bit the 70s superstar someone in a leisure suit would.
Todd Snyder White Herringbone Double-Breasted Wythe Sport Coat
Did I mention that suit separates and mixing high and low is very 70s? No? Well, it is. Give it a shot with Todd Snyder's stunner of a sport coat. The Wythe is going to look great with a good pair of suit trousers, sure (especially with flared legs) but you could also get away with pairing this with some good denim. Double down with a denim shirt and you'll be on the right track.
Suitsupply Off-White Roma Suit
Want to roll up to the wedding looking ready to accept the Academy Award for Best Actor in 1979? Suitsupply's Roma is the way to go. It's a perfect suit, from the high placement of the lapel notches to the beautiful Zegna silk the suit is cut from. This one is gonna turn some heads.
Paisley & Grey Dark Amber Suit
This suit from Paisley & Grey comes in a beautiful shade of amber straight out of the 70s, but the real draw here is the textured cotton the suit is made from. Mixing patterns and fabrics is a great way to achieve a vintage vibe, so don't be afraid to pair this with something like silk or denim.
Banana Republic Gavin Linen Suit
Banana Republic's Gavin suit is a more subdued take on flowy 70s linen, coming in a simple black with an understated herringbone texture. The real gem here is the cloth buttons, giving the piece a sort of informal tuxedo feeling. It's a cool, collected look for grooms and guests alike aiming to look good without necessarily wearing bright colors.
Far-Out 70s Suit Accessories for Grooms
There's nothing stopping you from turning a suit that's already in your closet into a 70s look. The right tie, the right shirt, or the right pair of shoes (or boots, in some cases) can get the job done as well as any wide-lapeled wonder can.
Libero 'Spaghetti Western' Denim Shirt
Canadian menswear upstart Libero's latest collection includes this beauty of a denim shirt, the quintessential piece to pair with a 70s-style suit. Throw this on under any jacket and you'll immediately be channeling Robert Redford in his prime.
Castatlantic Lunettes de Solei Sunglasses
Casatlantic is a brand that focuses on quality over quantity. If they make something, they've put a tremendous amount of thought into it when it comes to quality, design, and storytelling. The Lunettes de Solei sunglasses are a testament to this, with frames cast in beautiful translucent acetate in a honey amber that oozes 70s cool.
Dandy Del Mar Moorea Silk Satin Scarf
Whether you're wearing a denim shirt or a satin one with a thick collar, using a silk scarf or bandana to go for an ascot look in lieu of a tie is an easy way to hack your way into a vintage look with minimal effort. Give the Moorea scarf from Dandy Del Mar a shot. With its geometric design and beautiful colors it's the finishing touch your 70s suit needs.
Straight to Hell Richards Burgundy Snakeskin Boot
Why not go all-in on your retro suit and dress the part from head to toe? Nobody is going to accuse these snakeskin Chelsea boots from Straight to Hell of being subtle but subtle isn't always what you want from a wedding look. Pull these on and strut down the aisle like you're Iggy Pop in his heyday.
Nisolo Huarache Sandal in Brandy
Huarache sandals are a great retro-friendly alternative to traditional dress shoes. Nisolo makes some of the most popular in the world these days and you can frequently see them on the feet of celebrities like Chris Pine and Harry Styles. If two of the best-dressed guys in the world wear them, well, it's probably a good place to start taking notes.
Proper Cloth Slate Floral Print Shirt
If you don't plan on going the denim shirt route, opt for a paisley or floral print. Proper Cloth's take on the latter comes in a cool slate shade, giving it surprising versatility (it's practically a neutral!) for a printed dress shirt.
Suitsupply Off-White Knitted Cotton Shirt
Whether you're aiming to channel Elvis or Ray Liotta in Goodfellas, Suitsupply's camp-collar short sleeve shirt is the sort of wardrobe piece a bunch of the coolest guys of all time wore on the regular. Throw it on under your suit or leave the jacket at home for a dressy casual wedding.
Banana Republic Spiaggia Italian Silk Tie
In terms of traditional neck ties that still lean into a retro feeling, the Spiaggia from Banana Republic is exactly the sort of tie you're looking for. From the deep, musky brown to the western-style pattern, it's every bit the 70s necktie your suit needs.
Levi's Barstow Denim Shirt
The Levi's Barstow is practically synonymous with the term "denim shirt" at this point. It was a stylish 70s suiting choice back in the day and guess what? The times haven't changed a bit.