29 Alice in Wonderland-Inspired Wedding Details You'll Fall Madly in Love With
Tea party, anyone?
The best way to personalize your wedding is to incorporate the things you love the most: books, movies, food, travel destinations and more. If you love the idea of an Alice in Wonderland wedding, we're here to help plan it. You can incorporate this famous Lewis Carroll story into your nuptials in so many different ways. Rock a blue Alice in Wonderland-themed dress, serve a Wonderland-inspired cake, order checkerboard stationery or invest in Mad Hatter-inspired decor. Tea party weddings and bridal showers are already trending, thanks to Bridgerton, so this theme feels nostalgic and modern all at once.
The story's vibrant colors, eccentric characters and time-turning storyline make for great entertainment (not to mention totally fun wedding inspiration). Host your nuptials in a forest or a castle—or host a lovely garden party. (Psst: If you're looking for more ideas, check out our roundup of Disney wedding ideas.) You'll be as mad as a hatter over these details that channel Alice's adventures. Save your favorites, and then work with a wedding planner to bring your fairytale vision to life.
Alice in Wonderland Wedding Dress Ideas
Who can forget Alice's stunning blue gown in the movie? Pull inspiration from the film and wear a similar dress on your own wedding day.
Nail the look from the film with a blue gown. It's made of dreamy tulle, which will look amazing as you go down the aisle.
For a more sultry style, wear a dress that's fitted. Add a touch of elegance with a white lace bodice.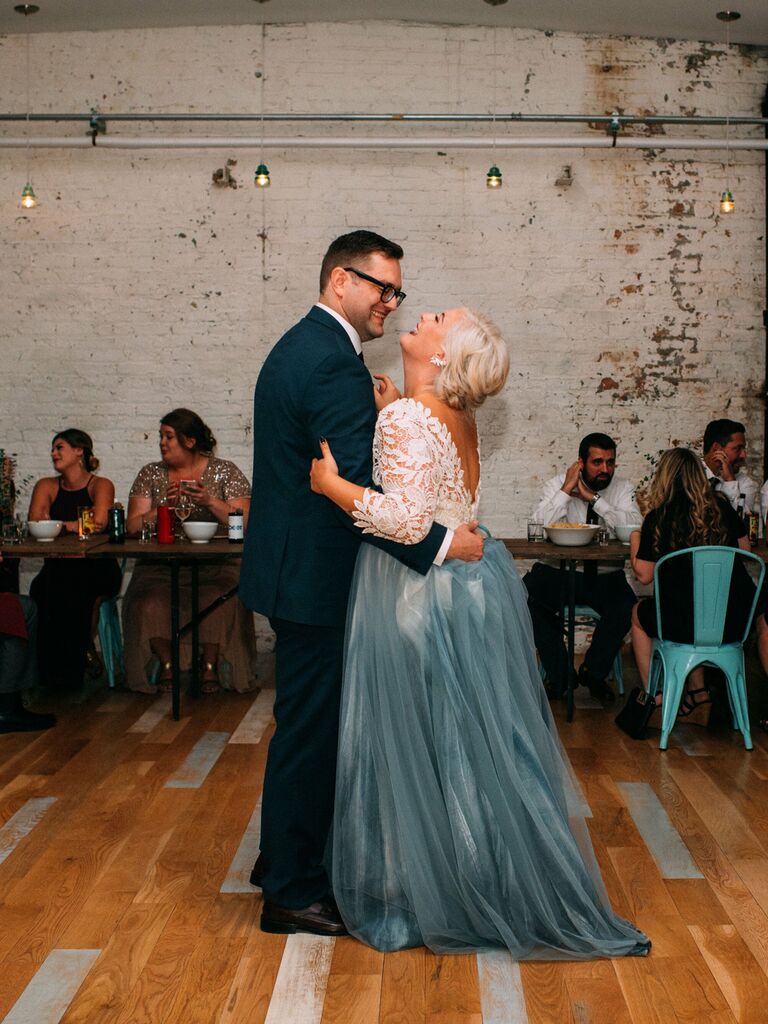 For an edgier take on Alice's dress, wear a deeper shade of blue. A long-sleeve lace top will balance out the funky skirt.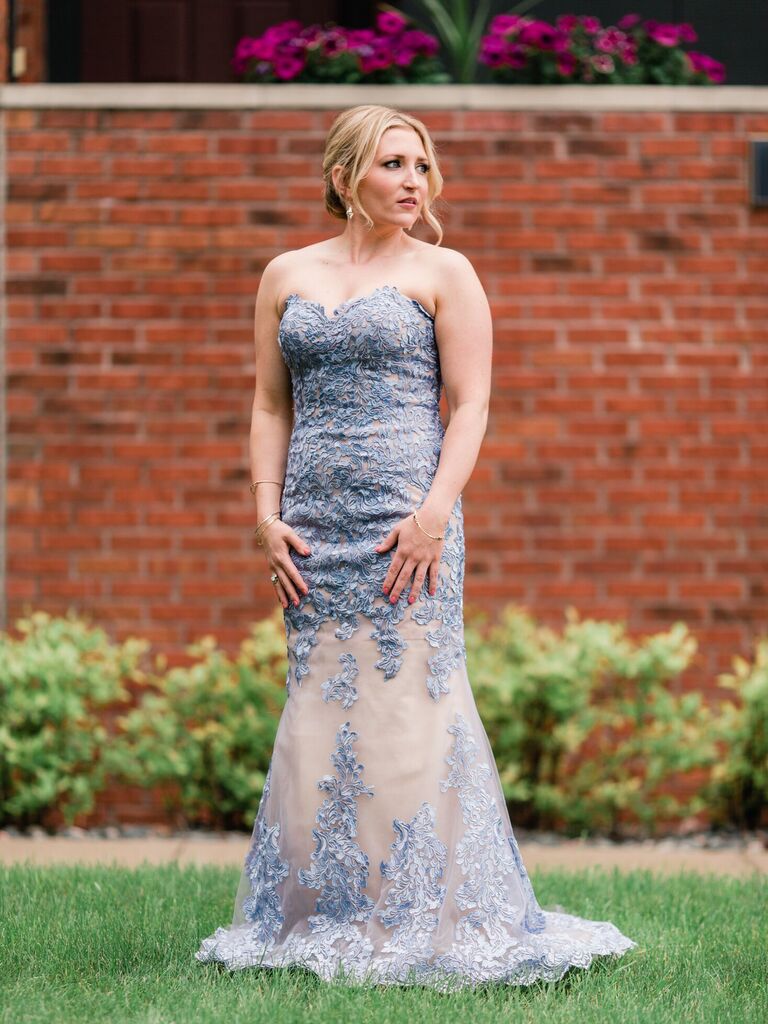 We're madly in love with this Alice in Wonderland wedding dress. The fitted silhouette, nude bodice and blue lace overlay is absolute magic.
Alice in Wonderland-Themed Wedding Cake
Surprise your guests with an on-theme sweet treat. Here are our favorite Alice in Wonderland-themed wedding cakes.
We're mad as a hatter over this creative cake. The off-center stack, tea pots and playing card designs combine all the best parts of the story.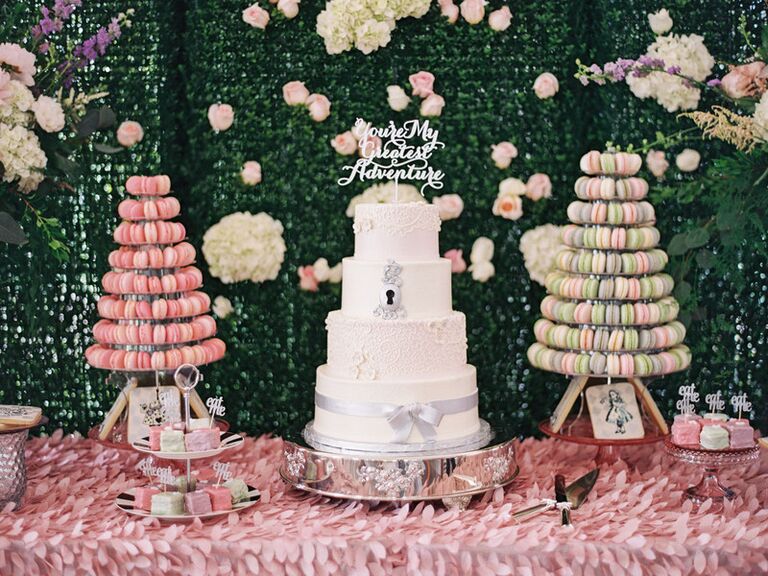 If you don't want to fully commit to an Alice in Wonderland-themed cake, consider investing in an on-theme cake topper. This adorable quote lends itself to the famous story without feeling too over-the-top.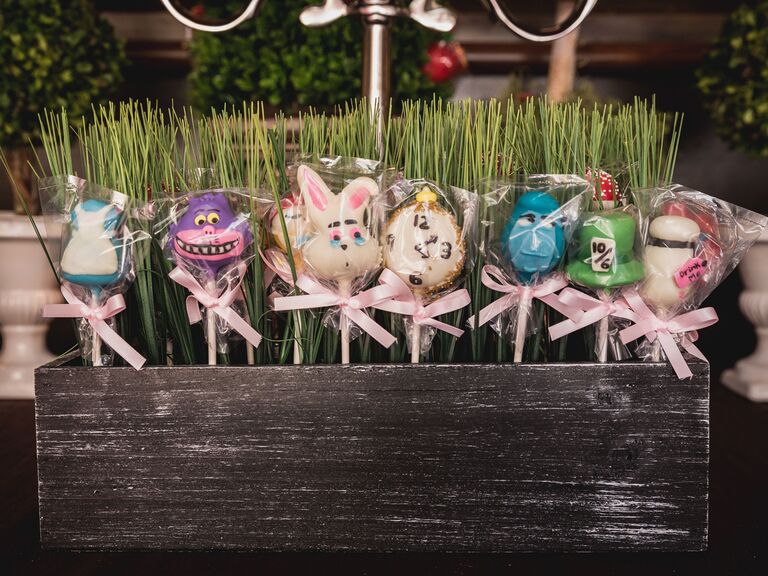 If traditional cake isn't for you, there are plenty of wedding dessert alternatives (such as cupcakes, cookies or pies). Serve cake pops in the shapes of different characters from Alice in Wonderland.
Transform any cake with a Mad Hatter-inspired wedding cake topper. It's a cost-effective way to show off your love of the story on the dessert table.
Alice in Wonderland Wedding Invitations
Your wedding stationery sets the tone for your event. Clue your guests into what to expect by sending out Alice in Wonderland wedding invitations.
Make your guests feel as if they're falling down the rabbit hole with a twisted checkerboard design on your wedding stationery.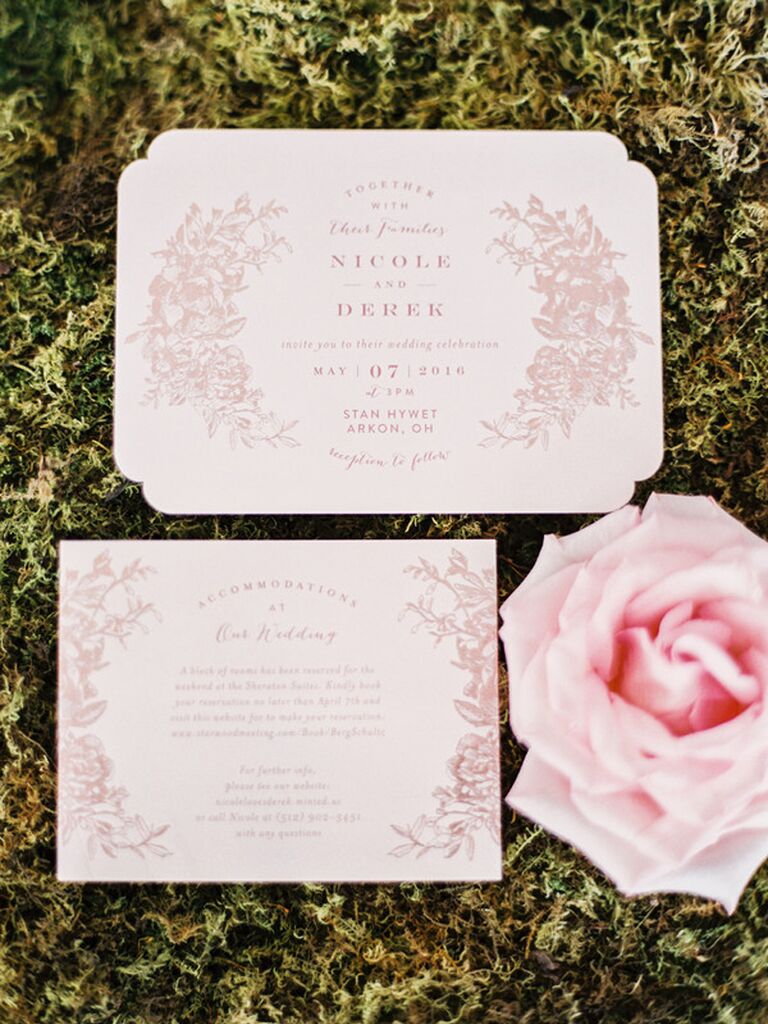 If you're hoping to use more traditional wedding invitations, take a picture of them on top of moss. The end result will look straight out of the story.
Alice in Wonderland Wedding Ideas
A themed wedding is all about the details. See our favorite Alice in Wonderland wedding ideas here.
Take your guests to the castle of the Queen of Hearts with this creative idea. Use playing cards as escort cards.
Or, exchange vows inside an actual castle. Your ceremony will feel absolutely magical.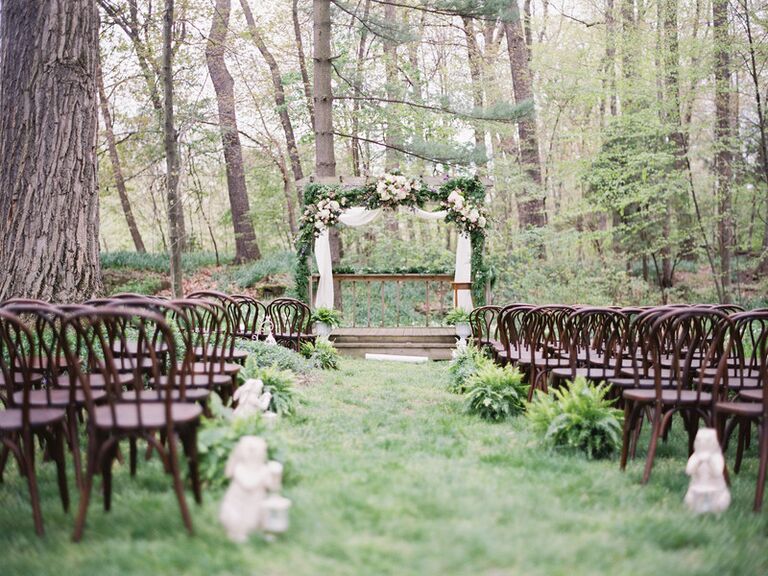 For a dreamier vibe, get married in a forest. Your guests will feel like they've fallen into the fairytale with you.
One of our favorite ways to personalize your wedding? Create a custom menu based on the things you love.
Hang greenery and moss from the ceiling to create the illusion of being down in Wonderland with the Cheshire cat. The small touch will add a huge amount of magic to your wedding reception.
If you're aiming for a less spooky vibe, consider hanging oversized flowers from the ceiling. They'll add a punch of color to your celebration.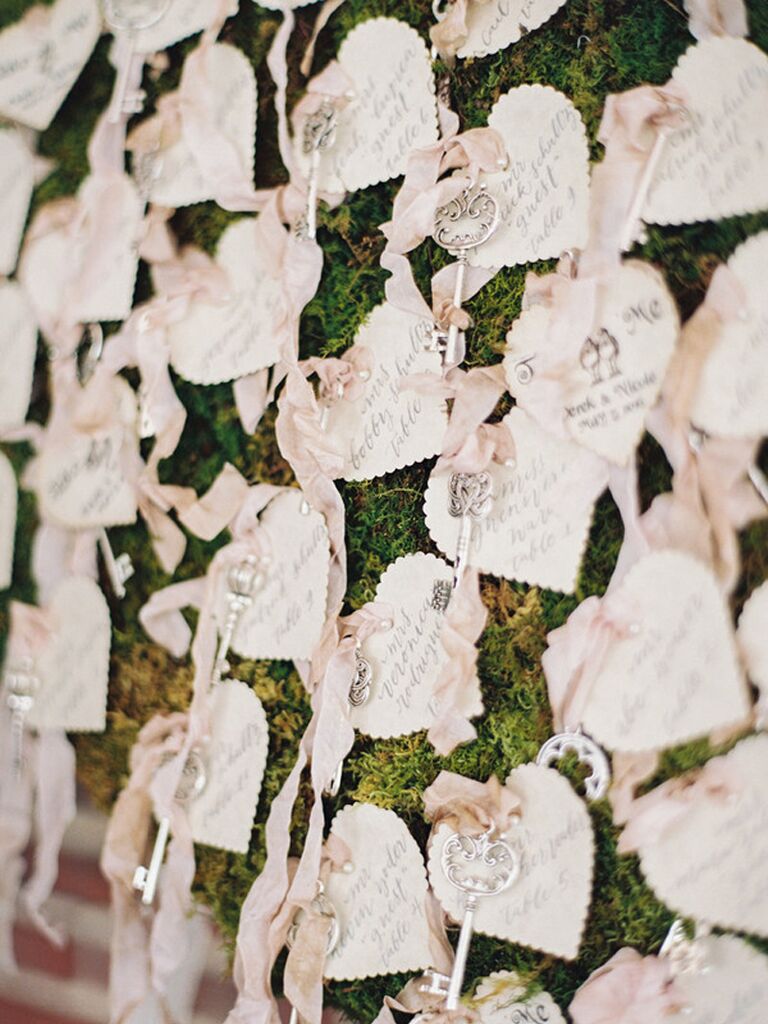 Offer your guests their own Golden Key. Attach a small key to each escort card so your guests can find their seats in style.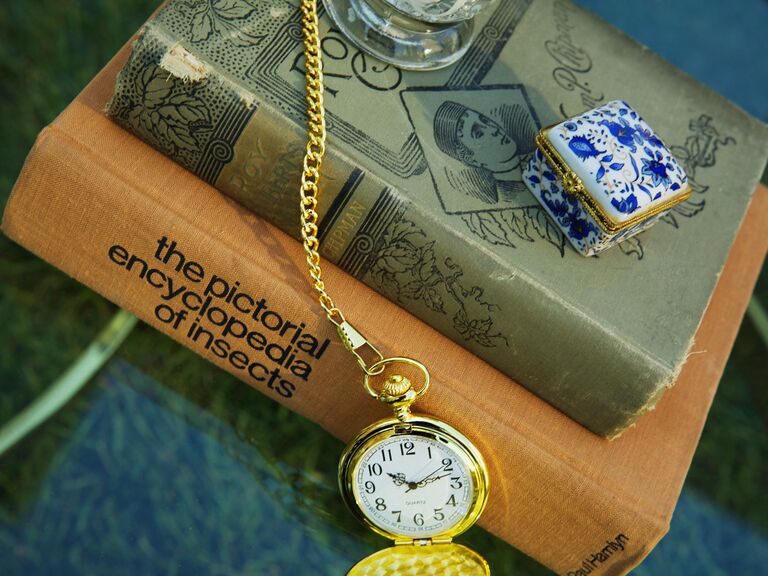 Set up literary-inspired centerpieces for your fairytale wedding. Place books on the table and lay a vintage pocket watch (courtesy of the White Rabbit) on top.
If you're looking for a subtle way to incorporate Alice in Wonderland into your wedding, this is it. Create custom napkins with your favorite quote from the story.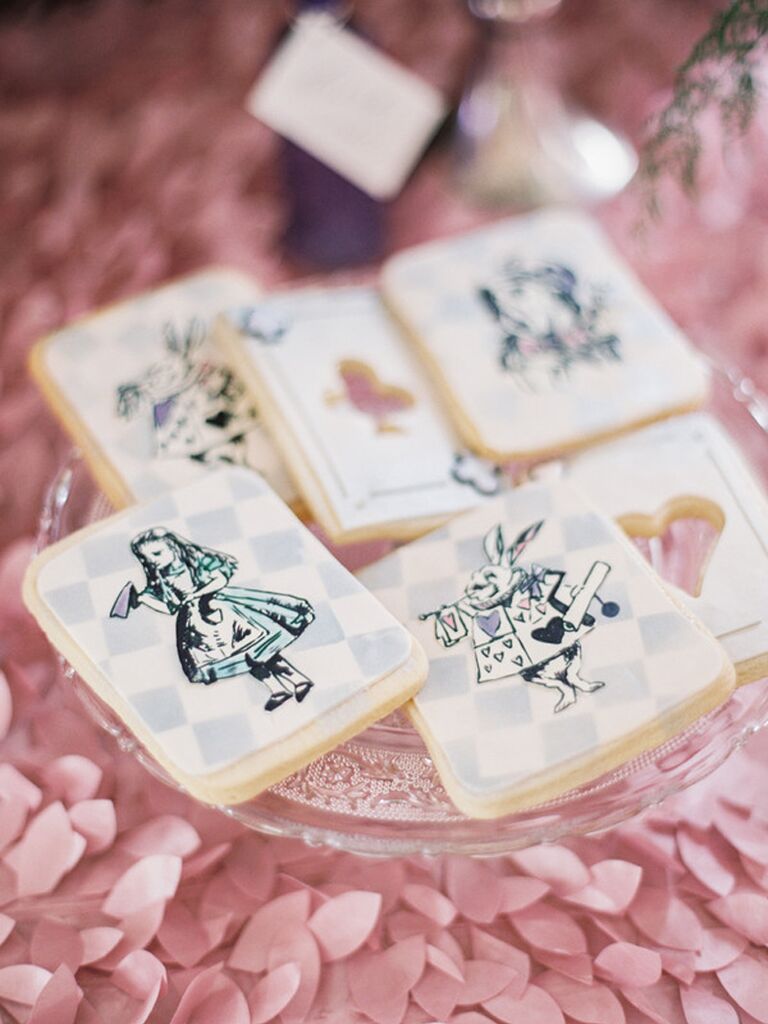 Decorate your wedding desserts with pictures of famous characters from the story. Another idea? Serve treats that say, "Eat me" just like the story.
Your wedding centerpieces don't have to be intricate in order to nail the theme. Simply placing a large playing card in front of an assortment of flowers is reminiscent of Alice's adventures in Wonderland.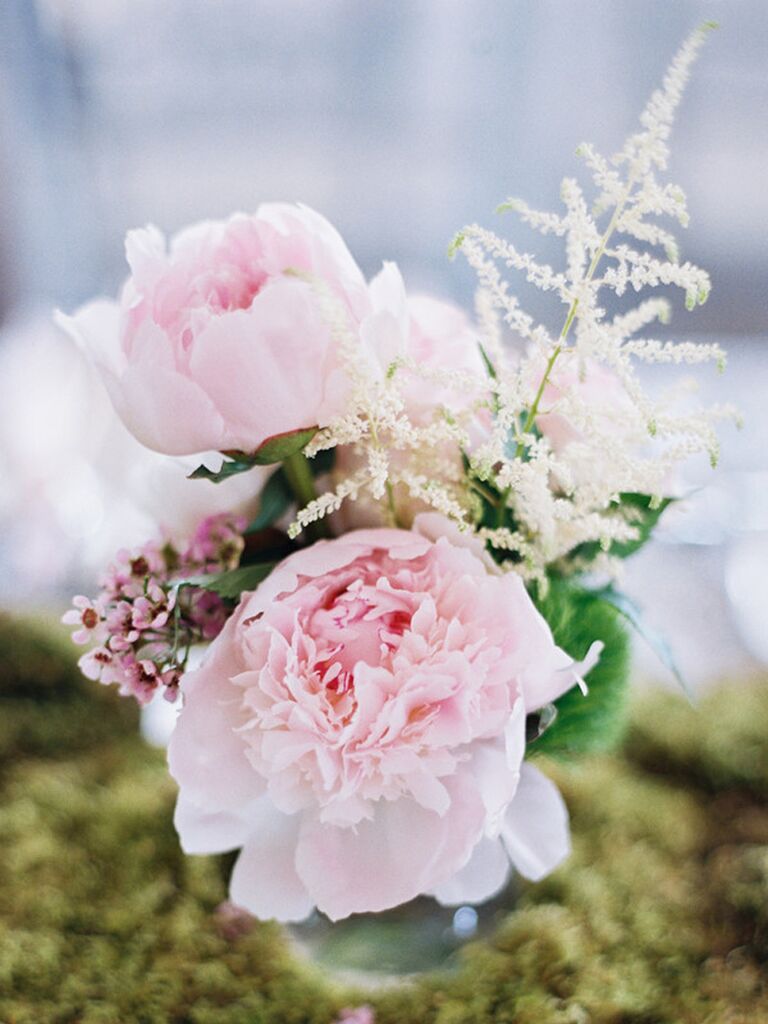 Looking for the ultimate Alice in Wonderland wedding inspiration? Mix wildflowers and greenery with pillowy-soft blooms (think: peonies or roses) for a dreamy effect.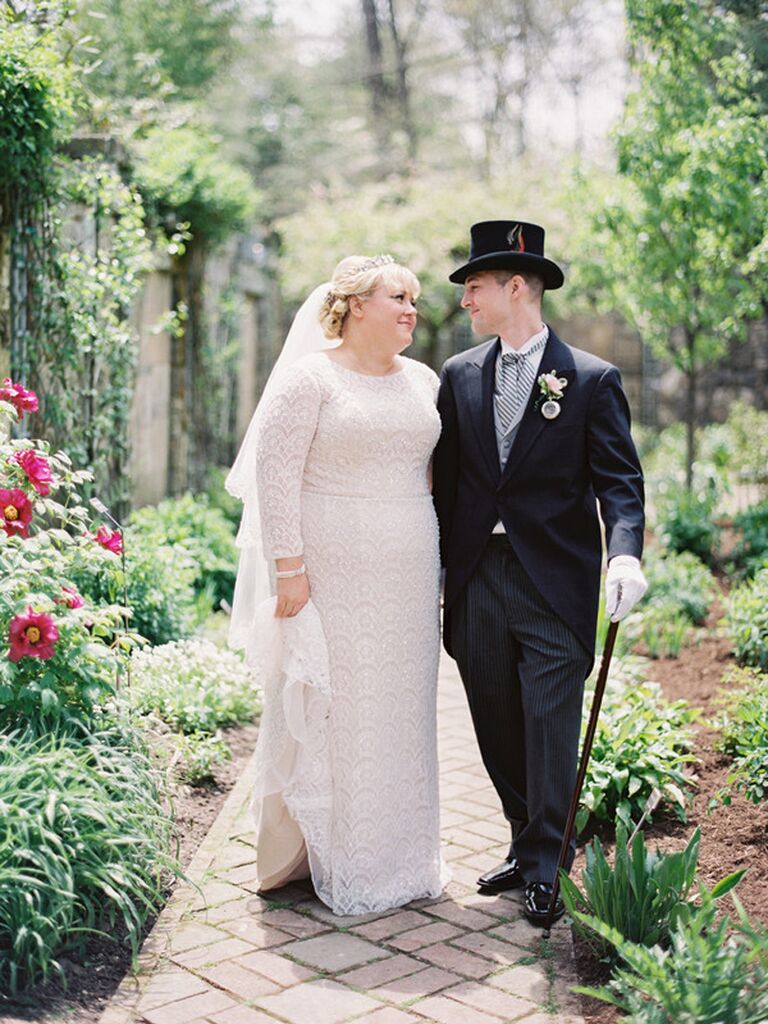 Throw an Alice in Wonderland tea party by dressing as the Mad Hatter. Don't forget to block off time for a photo shoot.
Another idea for your wedding centerpieces? Place flowers in pretty teapots and add tea cups. You'll make your guests feel as though they're sitting at the Mad Hatter's tea party.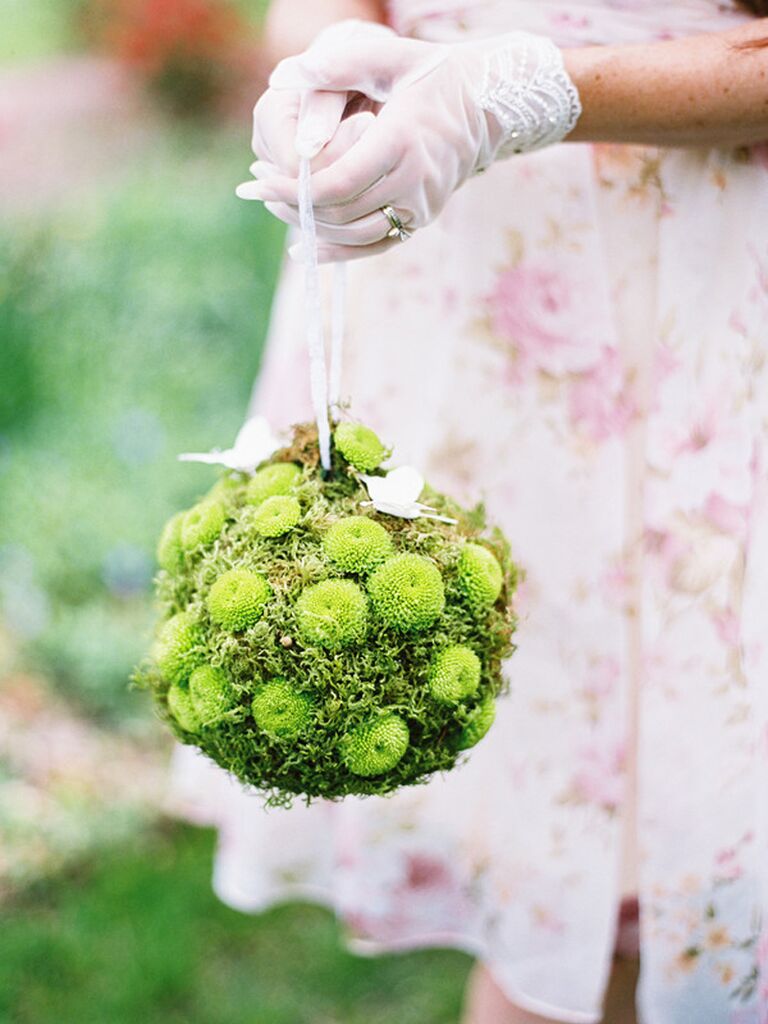 Swap out a wedding bouquet made of flowers for an orb of greenery and moss. They'll look especially stunning in an outdoor venue.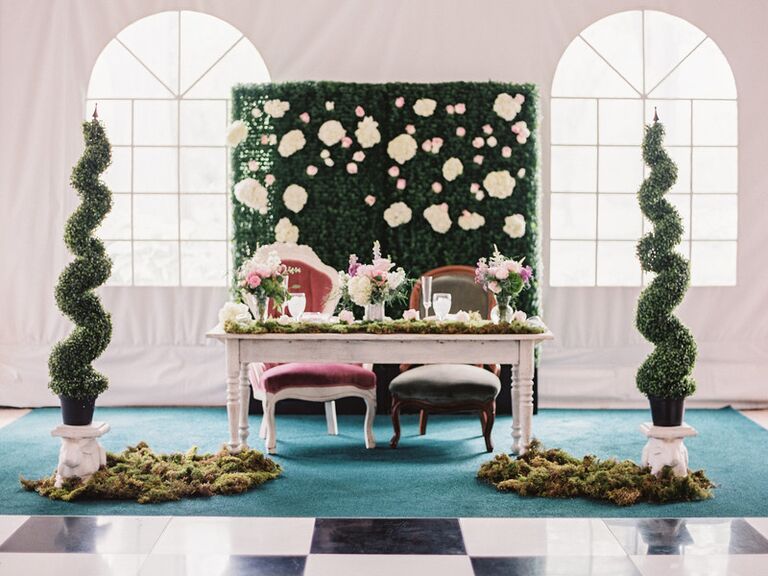 Use a mixture of greenery and colorful flowers to create a whimsical sweetheart table.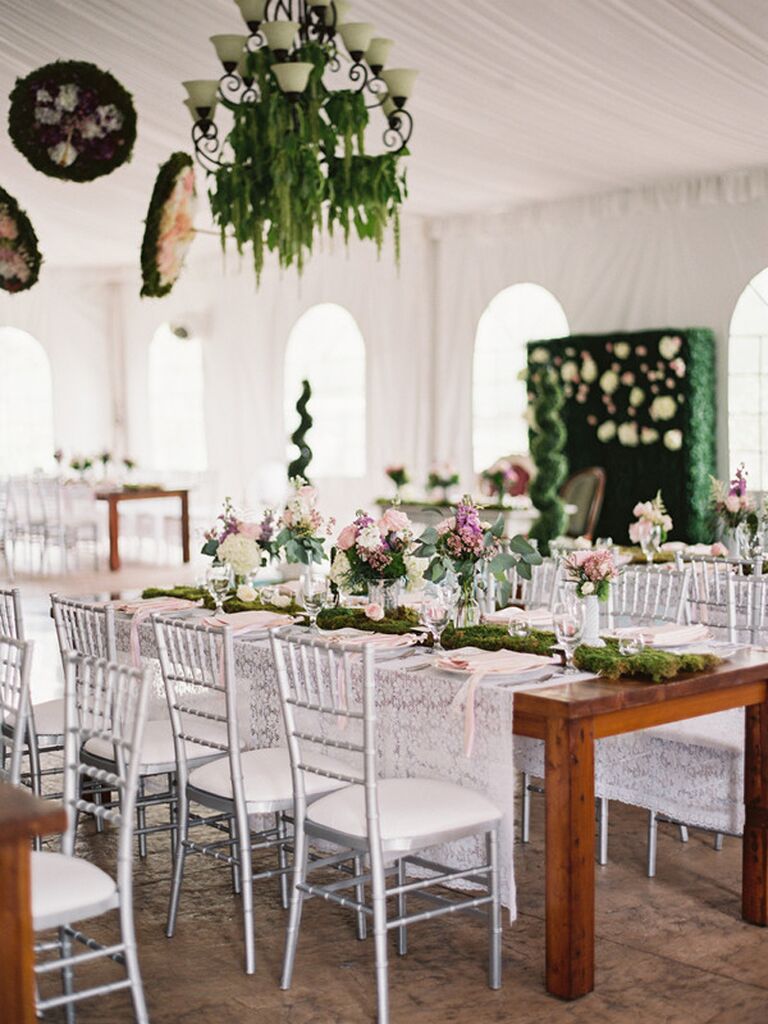 Rather than using a typical centerpiece, lay moss across the center of the table and sprinkle colorful flowers on top.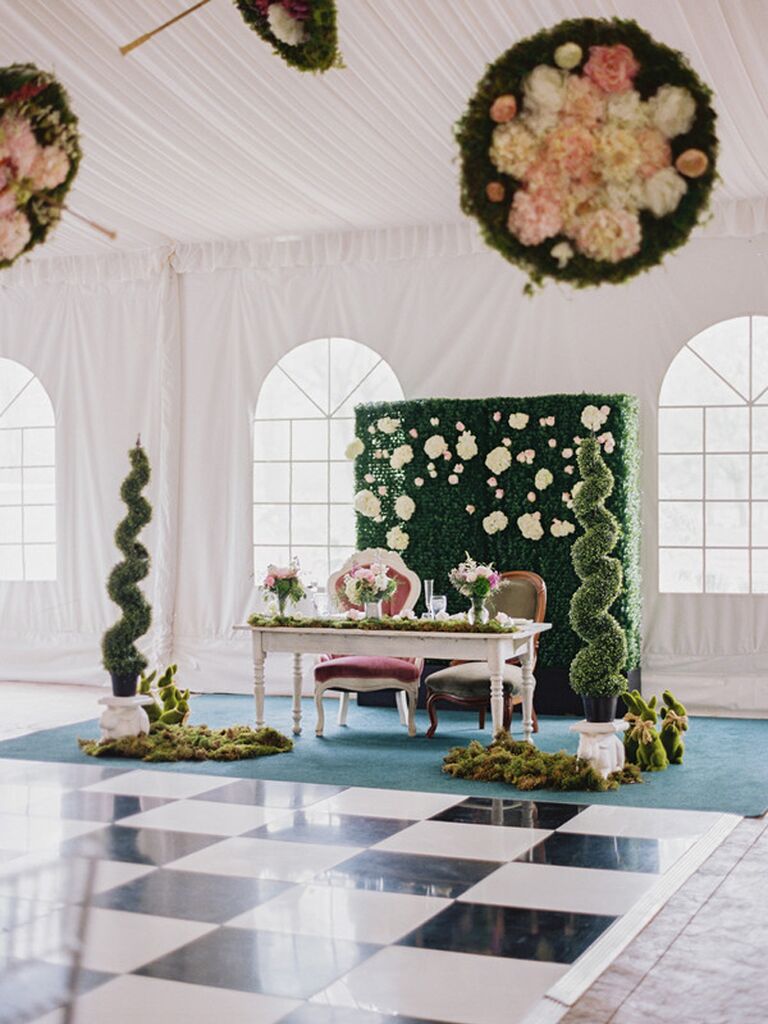 Transport your guests directly to Wonderland by setting up a checkerboard floor in the reception area.
Serve your signature cocktails in style. Attach a small tag that says, "Drink me" just like the story. Don't worry—your guests won't shrink after consuming. Cheers!