The Best Electric Grill You Can Buy
Looking for the best electric grill? Read The Knot's reviews and find the best electric grill you can buy now.

We have included third party products to help you navigate and enjoy life's biggest moments. Purchases made through links on this page may earn us a commission.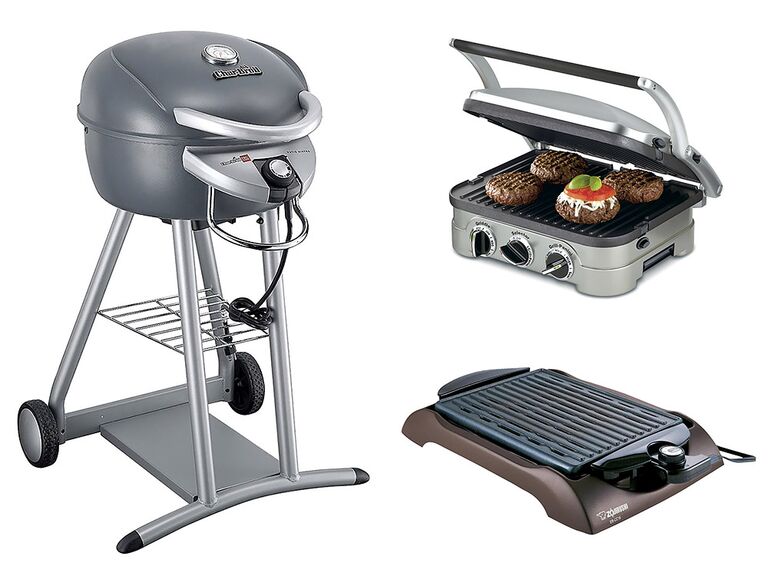 Grilling is a great American tradition. Birthday parties, cook outs, and family barbecues many times revolve around the grill. When it comes to grilling, you have two choices: the traditional gas or charcoal grill or an electric grill. Electric grills come in indoor and outdoor models, and some have hoods, while others provide just a flat grilling surface. We're here to help you find the best electric grill, which gives you greater portability, easier clean-up, and healthier food too!
In this Article:
Best Indoor Electric Grills
Perhaps you live in a cold climate, or maybe you just don't want to carry food and utensils back and forth from your kitchen to your outside space. In either case, a good quality indoor electric grill affords you the best of both worlds; tender, juicy, grilled meats and vegetables without ever having to leave your kitchen. When shopping, remember that the best indoor electric grill will have cool-touch handles and casing, a relatively compact size for ease of storage, and will be dishwasher safe. We've included all of these factors and more in our carefully curated list of indoor electric grills.
Best Electric Grill: Overall Indoor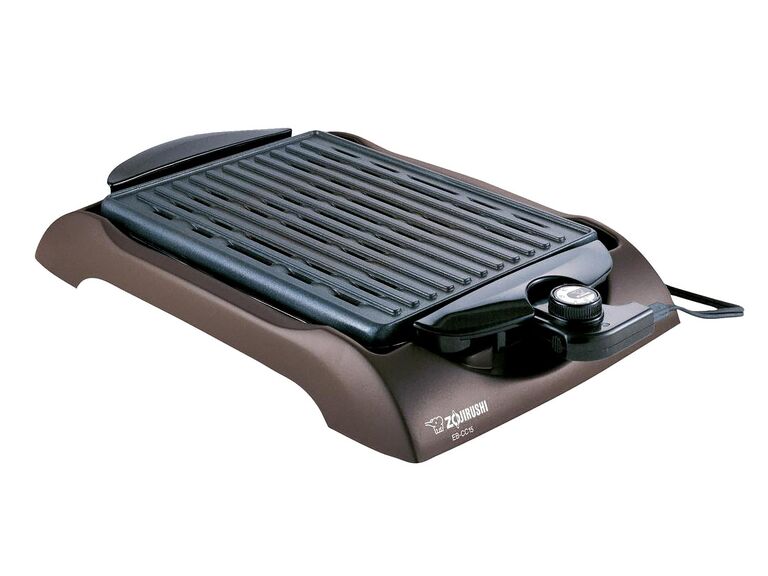 Zojirushi EB-CC15 Indoor Electric Grill $98, HomeDepot.com
According to electric grill reviews, the Zojirushi EB-CC15 is one of the top-rated, best electric grills on Amazon. This grill deserves its reputation too, with sizeable cast iron grill grates and a dishwasher-safe drip tray. And because the grill is cast iron, it's non-stick, which makes cleaning up a cinch. Its high heat capacity makes it a solid alternative to a gas grill, but the Zojirushi is intended for indoor use only, making it one of the best electric tabletop grills on the market today.
Pros:

Designed to pull unhealthy oils and fats away from your food
Sturdy, cast-iron, non-stick surface
Higher heat capacity than other indoor electric grills

Cons:

Does not have a lid, which can cause thicker cuts to cook unevenly
Difficult to clean deep ridges of grill grates
Best Electric Grill: Indoor Surface Area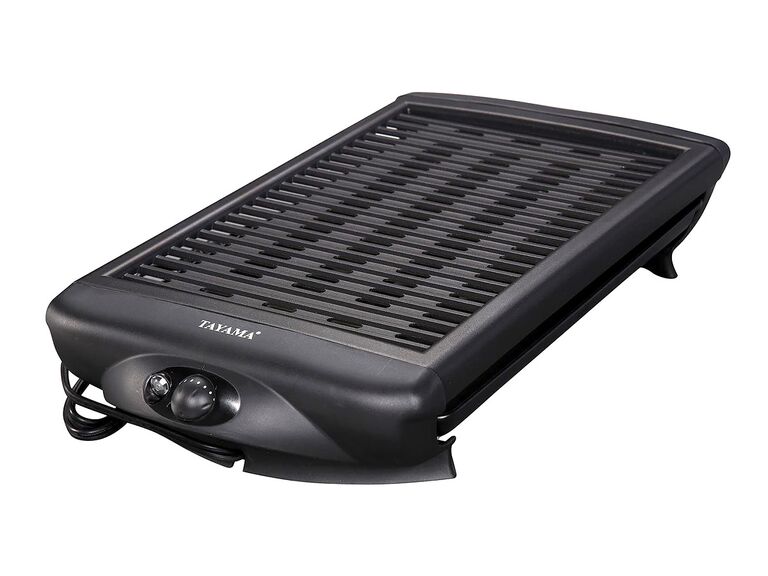 Tayama TG-868 Non-Stick Electric Indoor Grill $24, Amazon.com


The Tayama TG-868 is the best electric grill for cooks who want a bit more surface area. With 15 x 10 inches of nonstick cooking surface, you'll be able to grill multiple ingredients at once, meaning less time spent in the kitchen and more time with your guests. Despite its large surface area, it weighs only 6 pounds, making it easy to move and transport. Spacious and lightweight? Yes, please. This is the best electric grill for hostesses who regularly entertain.
Pros:

Long lasting
Large surface area is great for serving large groups
Sleek look
High heat capacity
Removable trays are dishwasher safe
Lightweight for easy moving and storage
Built-in water tray reduces smoking and residual odors
Affordable

Cons:

Lower heat capacity than other indoor electric grills
Does not have a lid, which can cause thicker cuts to cook unevenly
Best Electric Grill: Indoor "Smart" Grill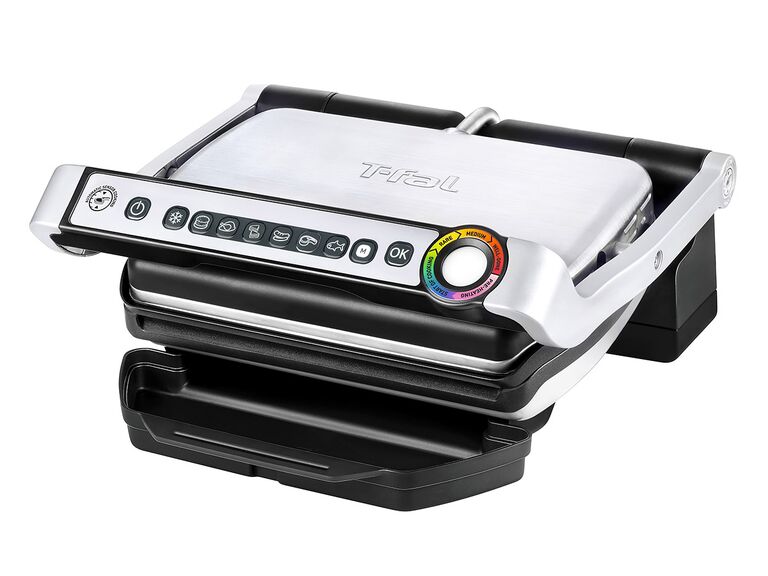 T-fal GC702 OptiGrill $132.45, Walmart.com
This compact model is the best electric grill for couples or individuals cooking small portions. Pre-set programs do the work for you, with settings for burgers, poultry, sausage, sandwich, red meat, or fish. No more guesswork when it comes to grilling. What's more, since the grill has a lid, you can easily use it to defrost and cook your frozen food. As an added bonus, we love its sleek, stainless steel exterior.
Pros:

Compact size makes it great for individual use
The electric grill can sense the thickness of your food to ensure the perfect outcome
The clamshell-style hood allows you to defrost and cook frozen foods
Easy-to-use settings make this a great grill for beginners
Sleek, stainless steel design

Cons:

Small size makes it a poor choice for entertaining
Plates must be in precise alignment in order for the automatic sensors to work
Best Electric Grill: Indoor Multi-purpose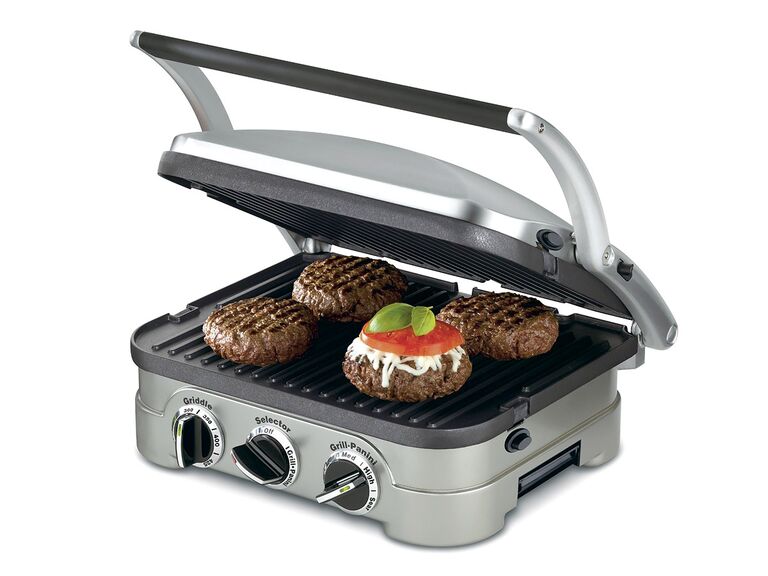 Cuisinart GR-4N 5-in-1 Griddler $75, Amazon.com
This is the best indoor electric grill for those seeking a multipurpose tool. This versatile product is a grill, a griddler and a panini press all in one. You can open up the electric grill for a larger surface area, press the sides together to use as a panini press, or interchange the plates for a half-grill, half-griddle combo. With all the unique features on this grill, you can expand your culinary skills. The versatility of this indoor grill definitely gives it extra points in our book.
Pros:

Versatile, 5-in-1 plate settings mean more cooking options
Sleek, stainless steel casing makes it an attractive addition to your countertop
BPA free

Cons:

Takes longer to heat up than other models
Grease draining system is not as efficient as competitors
Best Indoor Grill: Affordability
Hamilton Beach 25360 Indoor Flavor/Searing Grill $65 Target.com
When you consider its great price tag, sleek appearance, and great tasting results, this is one of the best indoor electric grills for your money. This grill heats up quickly and evenly, and its hood allows you to lock in juice and flavor on even the thickest cuts of meat, thus providing the closest alternative to outdoor grills. Just because you want a quality grill, doesn't mean you have to fork out a fortune for a good one.
Pros:

High heat searing mimics the taste of an outdoor grill
Convection hood evenly cooks even thick cuts of meat
Relatively little smoke; won't leave your kitchen smelly
Affordable for the value
Easy clean-up

Cons:

Hood doesn't fit in most dishwashers
Casing is made of plastic
Best Outdoor Electric Grills
Ready to take this party outside? Go on and plan that camping trip or invite the gang over for a backyard barbecue. The best outdoor electric grills bring you back to the tradition of cooking in nature, mimicking the taste and juiciness of gas or charcoal grills without the hassle of propane tanks and messy clean-up. Outdoor electric grills need to be more durable than their indoor counterparts, so look for rust-resistant models, or easily compactable designs. We've considered affordability, durability, taste, quality, and amenities to provide you with the five best outdoor electric grills.
Best Electric Grill: Outdoor Quality and Durability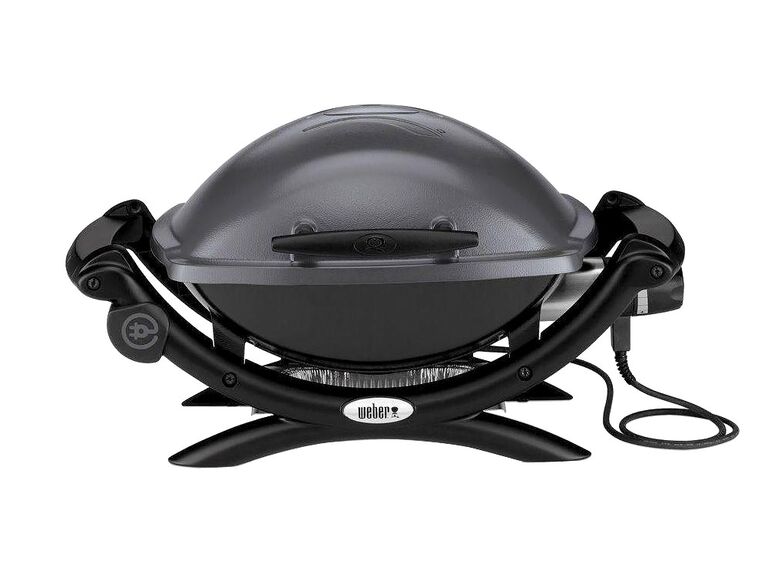 Weber Q 1400 Portable Electric Grill $249, HomeDepot.com
This is one of the best outdoor electric grills on the market. With 182 square inches of cooking space and an entirely aluminum lid and body, this top-rated electric grill is sure to last you years, as Weber is known for their high-quality, long-lasting products. This is a great investment for those who will be frequently grilling and for years to come. Take this grill on your next camping trip or simply set it up on your back porch for a delicious grilled meal in no time.
Pros:

Long lasting
Porcelain enameled cast-iron grates give you a great-tasting, even finish
Sleek look
High heat capacity
Side handles
No assembly

Cons:

Long preheat time
Cart is not included with purchase
Best Electric Grill: Outdoor Versatility and Flavor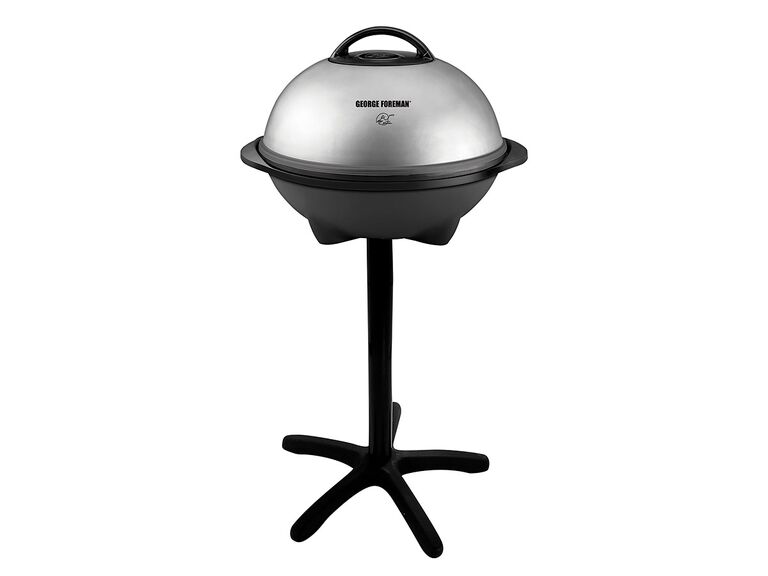 George Foreman GGR50B Indoor/Outdoor Grill $90, Walmart.com
This grill is suitable for indoor and outdoor use, giving you the best of both worlds when it comes to whipping up your favorite grilled meals. All of the health features that made George Foreman's original indoor grill so popular are back on this versatile, indoor/outdoor grill; its sloping base pulls fat and oil away from your food and into an easily cleanable tray. The grill can be used outdoors with a removable stand, or the tabletop version can be moved indoors in case of inclement weather.
Pros:

Light and portable, comes with removable stand for indoor or outdoor use
5 heat settings and quick pre-heat
Gently sloped for fat reduction, with a built-in oil collecting tray

Cons:

No built-in temperature gauge, making it difficult to tell if food is cooked properly
Less grill space compared to competitors
Best Electric Grill: Outdoor Style and Price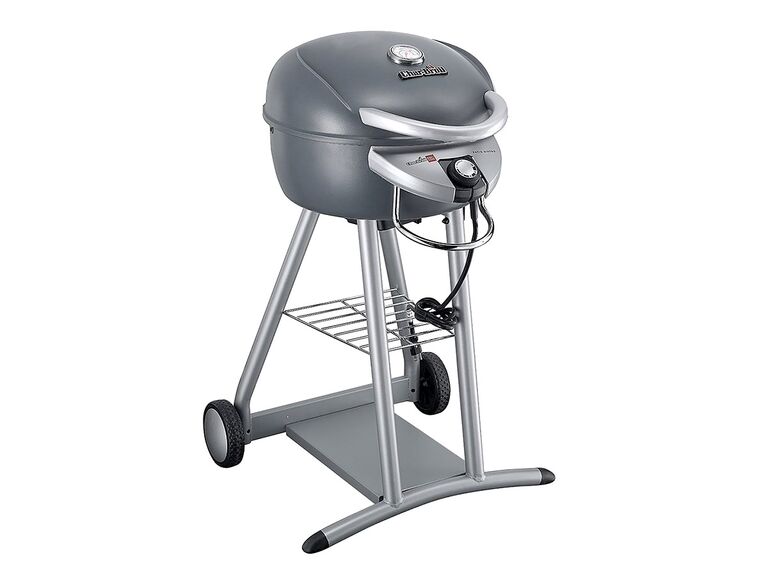 Char-Broil TRU-Infrared Patio Bistro Electric Grill $139, Amazon.com
We give the Char-Broil an A-plus in style. It's sleek, portable, and rust resistant. This is the best electric patio grill when it comes to bang for your buck in surface space, and it even boasts a second-level surface for more tender veggies. The ElectricTRU Infrared is Char-Broil's special technology that leaves your meats juicy and full of flavor by using radiant heat instead of convective heat, producing a taste identical to that of gas grills.
Pros:

Affordable, high-quality grill
Sleek look
Rust resistant
Large surface area with second level

Cons:

Leaving the hood for too long will lower temperature inside grill
Long preheat time with low maximum temperature
Best Electric Grill: Overall Outdoor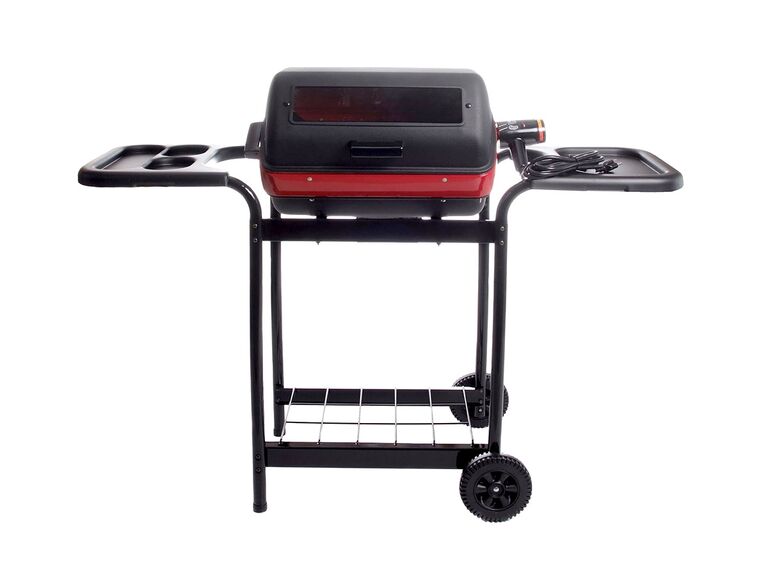 Easy Street Electric Cart Grill $210, Amazon.com
Easy Street's Electric Cart Grill is our pick as the overall best outdoor electric grill, mimicking the look and design of your favorite gas model, making it one of the best electric grills for steaks. Its handy window allows you to check on your food without opening the top, which is a major plus for the attentive griller. The Easy Street electric grill has a unique, built-in rotisserie feature and three heating positions, allowing you to choose even heat, different temperature zones, or vertical rotisserie heat. This grill will give you the taste of a gas grill with the convenience and versatility of an electric grill--a win-win if you ask us.
Pros:

3 heating positions
Window in lid for easy previewing
Reflector pan creates smoke for enhanced, grill-like flavor
Collapsible side tables for food storage

Cons: