The Complete Guide to a US Virgin Islands Honeymoon
Escape to soft white sand and glistening waters without your passport.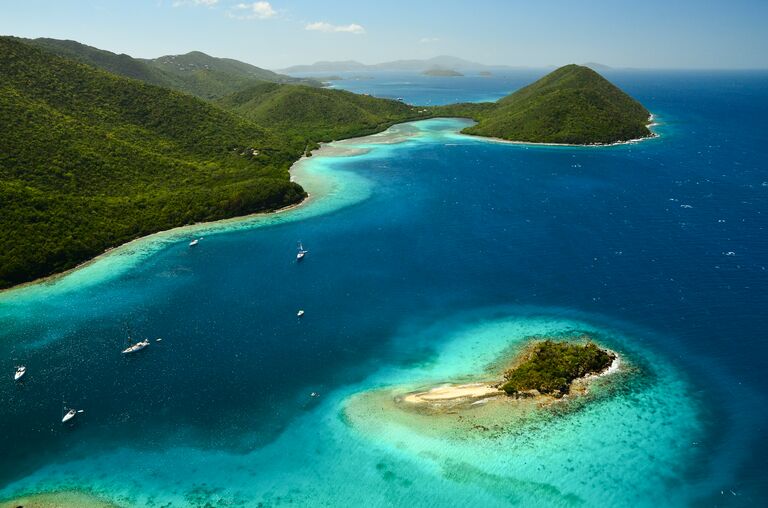 Getty Images
We have included third party products to help you navigate and enjoy life's biggest moments. Purchases made through links on this page may earn us a commission.
Imagine laid-back days with your toes stuck in soft, white sand. You only move to head to a restaurant with reggae beats and the mouthwatering scent of Creole cuisine wafting out of the open door. Water sports, like snorkeling and paddleboarding, and fruity beverages served poolside are ways to "mix up your days." If this is your idea of paradise, consider a US Virgin Islands honeymoon. The trio of islands—St. John, St. Thomas and St. Croix—each has a distinct personality, but they share one significant commonality: Together, they comprise what's nicknamed "America's Caribbean Paradise." You'll see why from the moment you deplane and feel the cool Caribbean breeze.
How long was said plane ride? It depends on where you're coming from and going to. St. Thomas is the gateway and easiest to get to. It can serve as a home base. Couples can take a day trip to St. John and St. Croix or book stays in one or both later in their honeymoon. Newlyweds flying into St. Thomas from the Northeast or South can expect a six- or seven-hour flight. People coming in from the Pacific Northwest should plan on 11-plus hours with a connecting flight. Since the Virgin Islands is a US territory, honeymooners won't need passports.
US Virgin Islands Honeymoon Tips in this Article:
Is the US Virgin Islands Good for a Honeymoon?
Pros of a Honeymoon in the US Virgin Islands
A Virgin Islands honeymoon has all the trimmings of a Caribbean vacation without the hassle of international travel, like getting a passport. The climate is warm, even in the winter. Restaurants serve fresh seafood with Creole spices, and tables overlook the Caribbean Sea. Many US Virgin Islands resorts are set on the beach, offering honeymooners the opportunity to go from bed to beach in a New York minute. Some offer US Virgin Islands honeymoon packages complete with bubbly, private dinners and rooms with gorgeous vistas.
Looking at the water is great, but couples can also go snorkeling or scuba diving. Cruises are also available. The best part? You don't have to choose between the three islands—island hopping is recommended whenever possible.
Cons of a Honeymoon in the US Virgin Islands
A US Virgin Islands honeymoon is for couples ready to embrace island time and a laissez-faire lifestyle, which isn't for everyone. Though there are opportunities for water sports and exploring some history, you won't be traveling back in time as you would on vacation in Italy or France. Art museums full of works from famed artists aren't the main attraction in these parts—relaxation by the water is. To that end, it's not the best trip for honeymooners hoping to do a ton of sightseeing.
The Best Times to Visit the US Virgin Islands
Peak tourist season in the USVI is December through March. Expect more competition for hotel rooms, tables at romantic restaurants and activities. During these times, booking reservations in advance can ensure you achieve your honeymoon goals.
USVI Tourism Tips for Couples
The USVI will be more of a trek for West Coast couples than those flying in from the Northeast or South. People from New York can expect to land in St. Thomas within six or seven hours and will only need one flight, while those traveling from San Fransisco can expect more than an 11-hour trip with a layover.
Regardless of which state a couple flies in from, passports aren't necessary for US citizens because the Virgin Islands are an American territory. The language is English, and the US dollar is the currency.
Best Places to Visit in the US Virgin Islands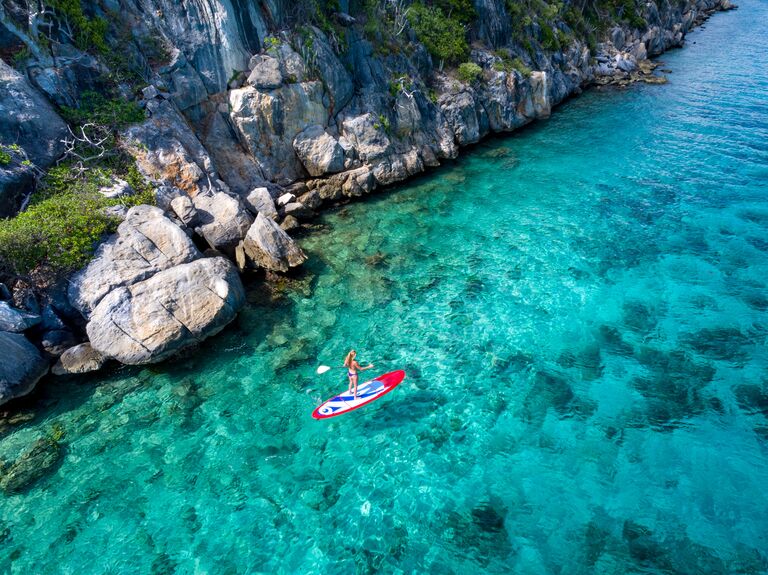 Each of the three islands that make up the US Virgin Islands has a character all its own. St. Thomas' high-end shops and yacht-filled waterways give it a cosmopolitan appeal. St. John is heavenly for those who want to return to nature, and St. Croix is a hub of history. Couples can spend their entire Virgin Islands honeymoon on one island or hit them all, depending on where the tide takes them.
St. Thomas
St. Thomas is hailed as the "Gateway to Paradise." It's the easiest to get to and often serves as a home base for Virgin Islands' travelers. St. Thomas is full of luxury resorts, high-end shopping in Charlotte Amalie, and dozens of beaches. A boater's paradise, you'll see lots of sailing and hear plenty of yacht rock in the harbors. The dining and bar scene is also hopping, with casual watering holes serving up rum-soaked beverages ideal for beach day fun. Honeymooners will find fine-dining options galore at resorts for intimate date nights.
St. John
St. John is the smallest of the three islands, known for being the most pristine. It offers a quiet, natural respite from the material world. Virgin Islands National Park covers the majority of the island and has jaw-dropping white-sand beaches and lush tropical forests. Walk through said forests and listen to the cuckoos, hummingbirds and warblers as they provide the impromptu playlist for your stroll. Guests can spot turtles and catch glimpses of dolphins by the beach. Sailing and diving are common. The Annaberg Historic Trail offers history lessons, self-guided tours and events.
St. Croix
St. Croix is the largest of the three islands. Cruzan Rum Distillery is there, but it's temporarily closed. The sandy shores, idyllic stone pathways and numerous opportunities to explore history? Those are still around. Walk through the 17-acre St. George Village Botanical Garden and learn more about the area's sordid history of slavery. Head to Point Udall, the easternmost point of the US. Couples can also try their luck at a casino, give a water sport a whirl, or indulge in an upscale meal at one of the fine-dining establishments.
Fun Things to Do in the US Virgin Islands for Couples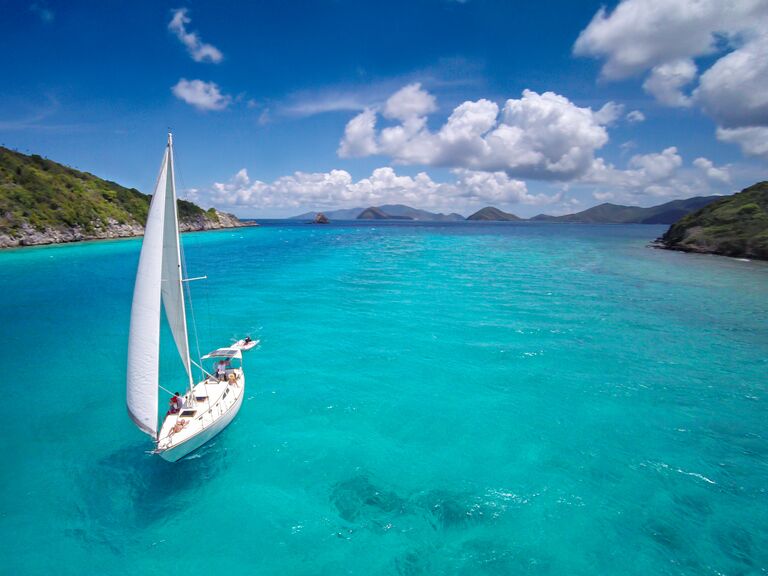 Sail the Glistening Waters
After a few days spent lazing away by the beach, consider actually getting into the sea. Water sports and cruises are pastimes in the US Virgin Islands, and couples can admire the sea from a boat or above. Parasailing excursions give couples a dose of adrenaline and a chance to take in the sparkling turquoise sea from the air. Opt for a sunset cruise around St. Croix for something more calming but equally picturesque.
Head Under the Sea
As beautiful as the Virgin Islands are by land (or boat), an under-the-sea adventure is breathtaking to experience with your new spouse. Explore hidden corners of the Caribbean and spot sea turtles, coral and tropical fish on small-group half-day snorkeling trips. Some include semi-private tours to appropriately named Honeymoon Beach and its crystal-clear waters.
Indulge in Retail Therapy, Charlotte Amalie Style
Main Street in Charlotte Amalie is like a walk down Fifth Avenue or Rodeo Drive, only with tropical temperatures. Cartier and TAG Heuer are among the high-end shops here offering luxury items. Explore passages, alleyways and luxury complexes for jewelry made with rare gemstones, chocolates, tropically inspired clothes and standard souvenirs.
Visit Virgin Islands National Park
A dreamy spot for those who adore sprawling open space and all things Mother Nature, Virgin Islands National Park comprises about two-thirds of St. John. White-sand beaches offer plenty of opportunities to see colorful corals. Trunk Bay features a backdrop of forests and water sports galore, while Francis Bay is home to calm waters and sea turtles. A shady 2.2-mile hike along Reef Bay Trail doubles as a history lesson—spot four sugar mills, pre-Columbian petroglyphs and, of course, an unspoiled beach.
The Best USVI Honeymoon Packages and All-Inclusive Resorts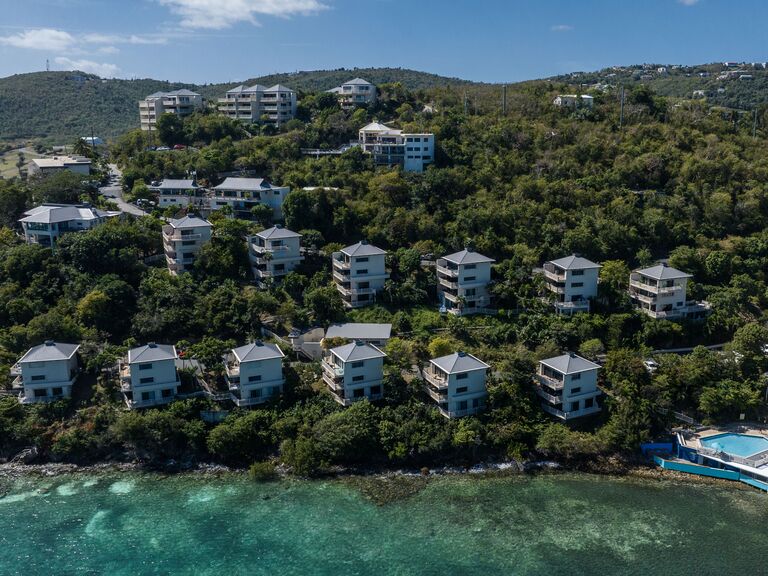 Set on a 15-acre hillside preserve, Point Pleasant Resort in St. Thomas provides bird's-eye views of Water Bay. Spacious villas and suites have private balconies with views of the island's tropical surroundings. The resort boasts access to a private beach, and guests can rent paddleboards, kayaks and more. Periodic kayak tours and water aerobics classes are also offered. There are two on-site restaurants—one casual and one upscale, both offering delectable Caribbean cuisine.
This sprawling beachfront resort on a former cattle ranch offers Beauregard Bay vistas. Rooms and suites have furnished balconies and patios, perfect for watching a Virgin Islands sunrise or sunset. Other perks include daily complimentary breakfast, diving lessons and weekly cocktail receptions. A spa, tennis courts and a golf course are right on site. There's also a romance package, which includes a private round-trip airport transfer, fine chocolates and prosecco at check-in, a three-course dinner for two, and a half-day snorkeling trip.
One of the few true US Virgin Islands all-inclusive resorts, a stay at Bolongo Bay includes a la carte meals and unlimited cocktails. But—nice as luxury resorts and major hotel chains are—the independently owned spot offers small-hotel energy. Expect a laid-back feel and elbow room as you peer out at the clear-as-day Caribbean Sea. You can also play on (and in) the water. Guests receive complimentary access to gear, stand-up paddleboards and kayaks. Ready for an afternoon siesta? Lounge chairs and hammocks are also included with the stay.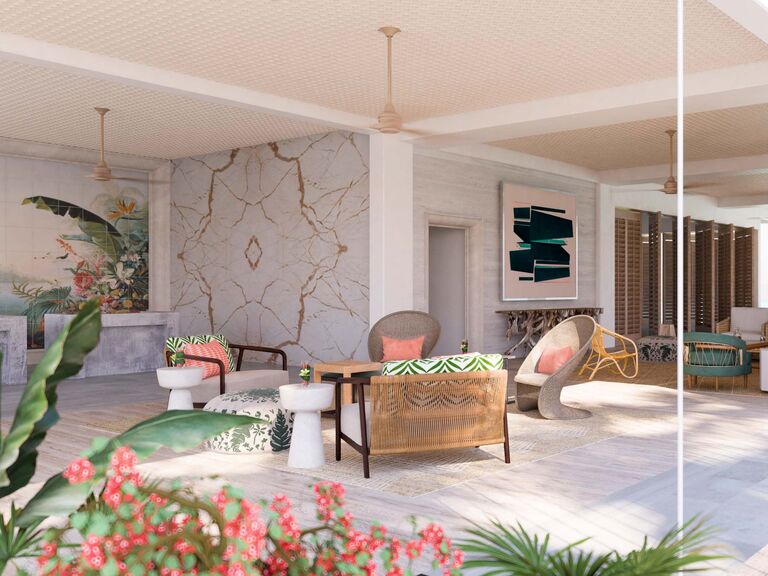 Be among the first to discover one of the newest US Virgin Islands resorts. Morningstar Buoy Haus Beach Resort opened in Spring 2023. A spa offers couple's massages, though the beds are so posh you may be tempted to stay in them all day. Outside, views of the ocean beckon couples to explore (or relax) by the water. An outdoor pool and a Caribbean restaurant on the resort's grounds are among the other perks.
If you're looking to make your US Virgin Islands honeymoon all-inclusive, consider Divi Carina Bay Resort and Casino. Situated in St. Croix, the resort is an adults-only oasis with plenty of fun to be had on the grounds. There, newlyweds will find a pool, pickleball and on-site water sports rentals like kayaks and paddleboards. Couples can also learn about and book island activities—like a food tour or downtown shopping—with the help of a concierge. After a day of fun, honeymooners can return to airy rooms with ocean-inspired details like blue throw blankets.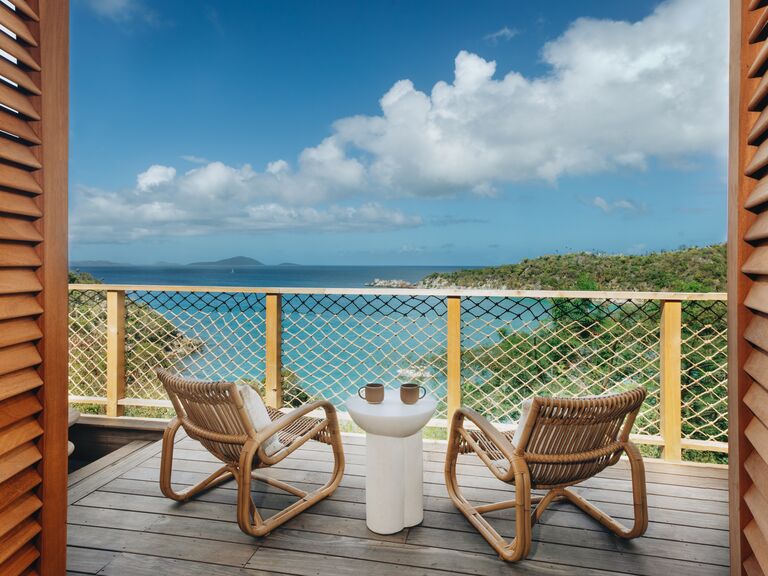 This private island resort is a haven for people looking for a natural paradise. The glamping-style accommodations include tree houses and tents that are light and airy, heavily leaning into a neutral palette of exposed wood and white. The resort is a quick 10-minute boat ride from St. Thomas and St. John. A special romance package includes at least a two-night stay in a luxury tree house or glamping tent, a welcome bottle of bubbly, complimentary breakfast and use of a private cabana for a day. A romantic dinner for two on the beach is also on the menu.
This beachfront resort is two miles from Honeymoon Beach—a happy coincidence for pairs celebrating their recent nuptials. The villa-style beachside resort's studios and one-, two- and three-bedroom accommodations have added space and an air of intimacy and exclusivity. Amenities like laundry machines and kitchen appliances are included. The king-sized Westin bed offers plenty of room for leisurely snuggles at sunrise, and the furnished balconies give way to stunning island vistas.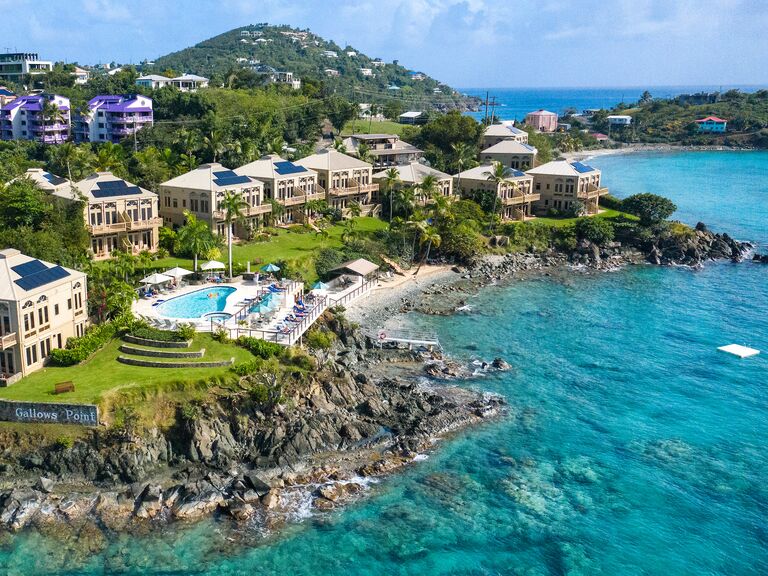 A unique resort in St. John, Gallows Point overlooks Galge Cove and consists of individual condos, giving pairs added privacy and a home-away-from-home feeling. A stone's throw away from a Caribbean Sea beach, the resort also has an oceanfront pool. It's a five-minute walk from the ferry (giving couples endless opportunities to island hop) and one mile from Virgin Islands National Park. A concierge team can help honeymooners find water sports rentals and excursions.
What to Pack for a US Virgin Islands Honeymoon
Sunscreen is a must for fun in the sun—but not just any SPF product will do. The US Virgin Islands banned sunscreen with oxybenzone, octinoxate (OMC) and octocrylene in March 2020 to protect its ecosystem. Mineral-based sunscreen with active ingredients like zinc oxide and titanium dioxide are usually permitted. Many sunscreens will say "reef safe," but check the ingredient list for oxybenzone, octinoxate and octocrylene just to be safe.
Otherwise, aim for breezy outfits to stay cool (literally and figuratively) in the tropics. Think flowy dresses that double as swimsuit cover-ups, linen pants and lightweight tees. A nice dress, a jumpsuit, slacks and a collared shirt will serve you well during nice dinners. For added sun protection, pack a hat and opt for UPF-protective clothing. A backpack will come in handy if you're island-hopping or day-tripping.