9 Suitcases That Check Off the 3 Necessities of Luggage
Upgrade your set of wheels with a new, supercharged suitcase, perfect for your honeymoon and a life of adventures.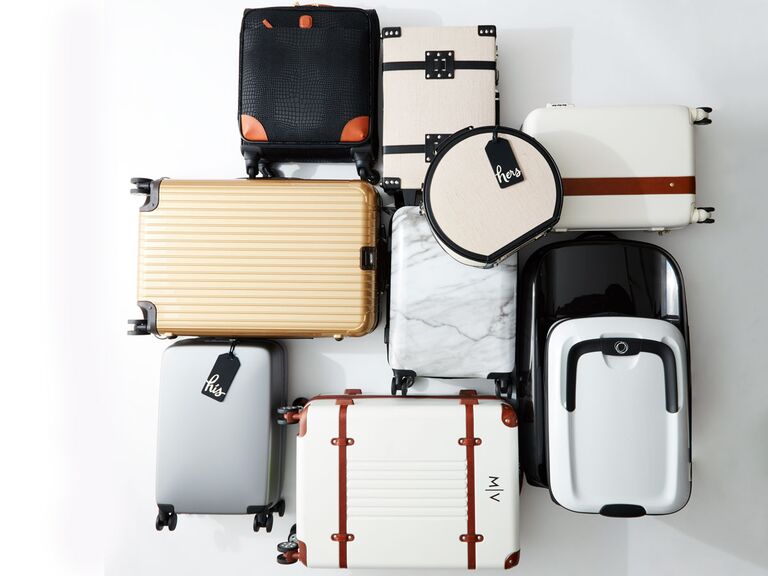 Yunhee Kim
The Three Biggies of Baggage
1. Material
Durability is key, so which material should you choose? Hard-cased bags are lightweight, colorful (easy to spot on a carousel) and water resistant, and they maneuver well—most have four wheels. You can't overstuff them though, and if it's a carry-on, overhead bins can sometimes be a tight squeeze. Soft-sided suitcases are more durable and flexible with tons of pockets for organizing essentials. But most come in basic colors and only have two wheels, making them harder to haul.
2. Technology
Not to totally tip the scales in favor of a hard-sided case, but the newest ones are packed full of features. Chronic overpacker? The Raden carry-on has its own app that allows you to check the weight of your bag (no surprises or overage charges at check-in). Once you're airborne, Bluetooth technology allows you to keep tabs on your luggage's location. Burn through your smartphone battery in flight? Power up with your Raden or Away carryon. Both can charge any USB device while you wait for your connecting flight.
3. Size
Luggage comes in all sizes, from tiny cosmetic cases to ones that fill the whole trunk of your rental car. Consider your travel style: adventurer, casual weekender or full-blown European tour? Then consult your favorite airline's baggage guidelines before registering for any suitcase. A carry-on is hands down the most versatile sized bag, but dimension requirements vary based on carrier. If you plan to do a lot of regional or international travel, opt for a small square case.
Your Luggage Checklist
Take stock of what you have before registering—a good practice across all categories from your kitchen to bedroom. If you're a seasoned globe-trotter, you may already have a few pieces you love. Perhaps one or two need replacing, or you may be ready to invest in something beyond a weekender. Here's what we suggest: Ask for two carry-on suitcases (because baggage fees are a killer) and a garment bag for hanging your finest duds. If you plan to take longer trips or are a notorious overpacker, a larger bag to check is essential. And don't give up on the duffle (we vote for leather). It's perfect for overnights or weekend road trips.
We picked out our favorite luggage pieces that check off all our baggage requirements, shop them now or add a couple to your registry.
Chic Luggage Tags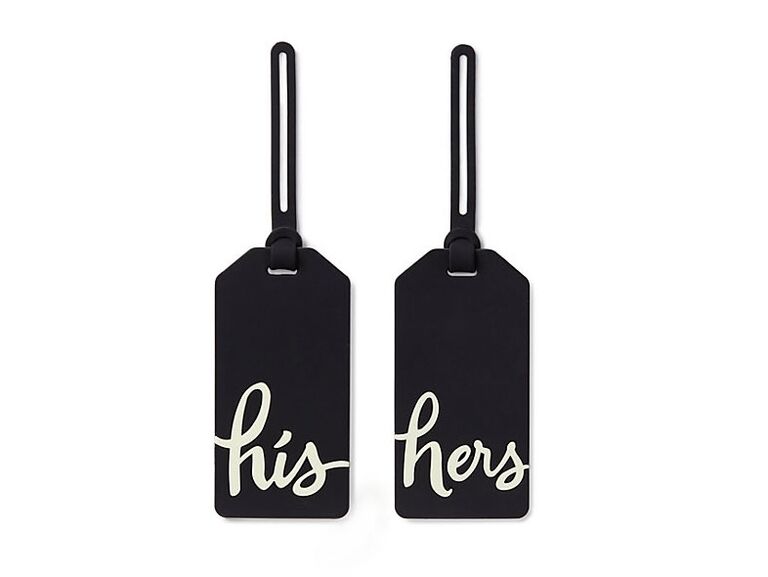 Whether it's a grand, globe-trotting honeymoon or an impromptu weekend away, don't let finding your luggage hold you up. Accessorize your cases with these cute 'his' and 'hers' luggage tags.
Kate Spade Two of a Kind Luggage Tags, $26 KateSpade.com
Wide Body Trolly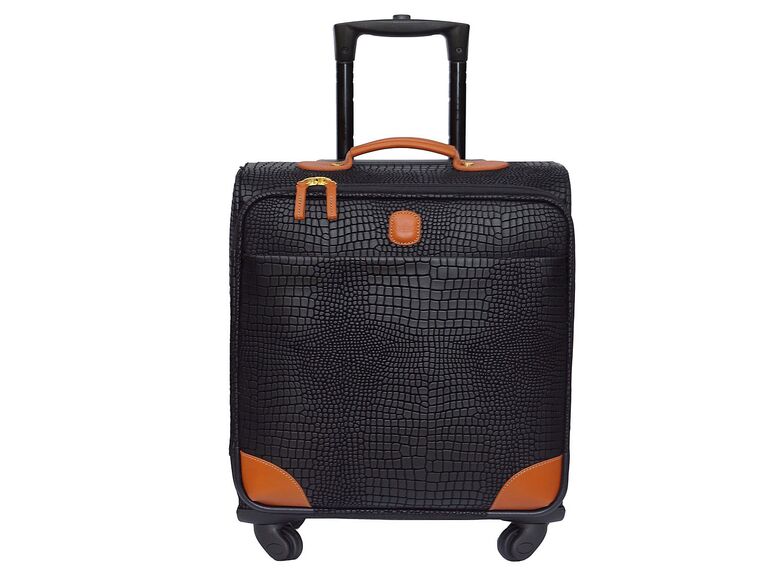 Bric's chic luggage collection of rolling duffels and cargo bags are lightweight and versatile—perfect for any jet-setter. This wide body trolley is water-resistant and features a two stage handle, four wheels for easy navigating and a convenient front zipper compartment.
Bric's My Life 20-inch wide body trolly, $595, Bloomingdales.com
Vintage Vibes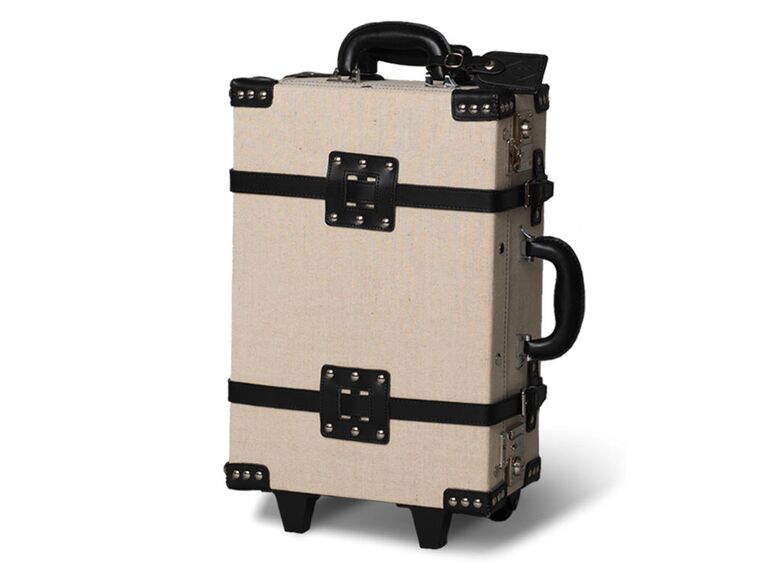 For a sophisticated edge, this carry-on boasts all the glamor of a classic vintage case, but with modern amenities like an extendable trolley handle, buckled leather straps, two TSA-approved locks and two silent-glide wheels make it easy to wander to fabulous places unknown.
Steamline Luggage The Editor carry-on, $490, Steamlineluggage.com
Trimmed In Leather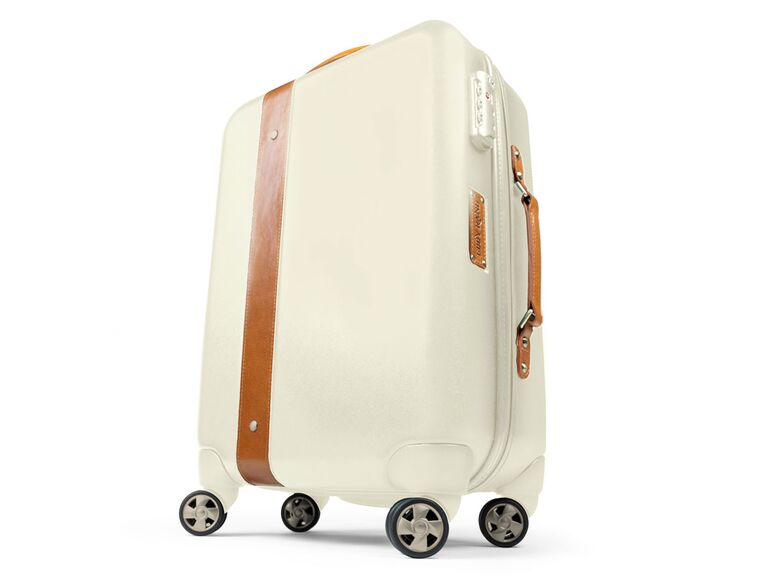 Meet the perfect travel companion (aside from your hubby, of course). With the complete quartermaster you won't have to leave anything behind and thanks to the 10 different sized caryall bags, you can pack to complete perfection.
Ebby Rane The Complete Quartermaster, $995, Portmantos.com
Haute Hatbox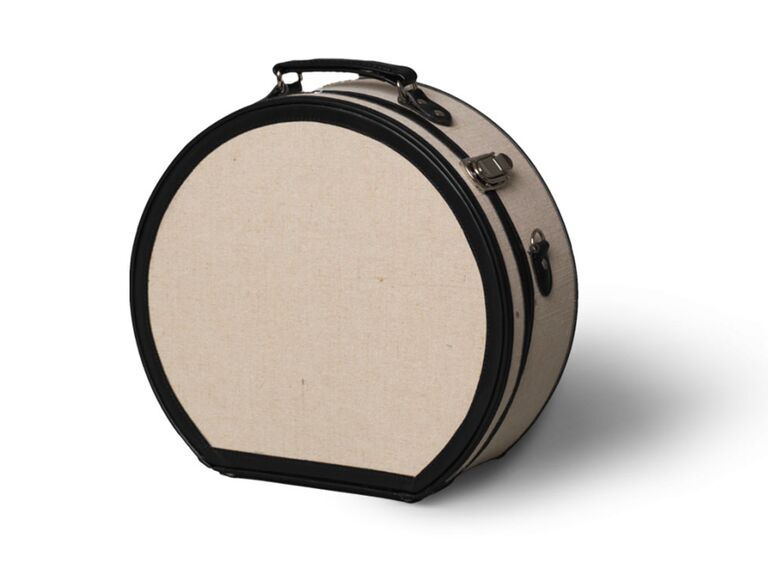 Journey back to the golden age of travel with a vintage-looking hatbox. Its elegant combination of natural linen and sleek black leather make a perfect choice for wanderlusters with a refined, edgy style.
Steamline Luggage Editor black large hatbox, $320 SteamlineLuggage.com
Interlocking Technology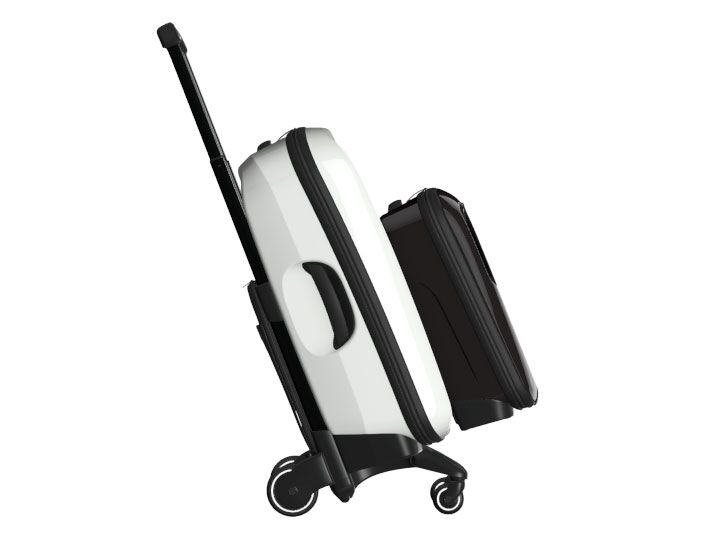 The ease of pushing a stroller has finally been combined with carting around luggage. Instead of trailing behind, Bugaboo designed their collection to be pushed ahead. The case set can even be clicked into place so everything is neat and tidy, all together.
Bugaboo Boxer Chassis and Brilliant White Travel Case and Jet Black Cabin Case, $1,490, Bugaboo.com
Marbelized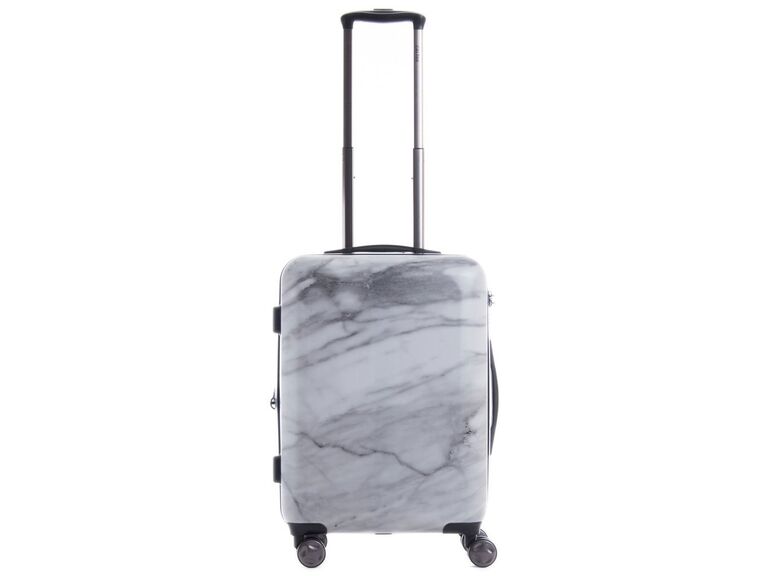 Finally, a carry-on that stands out in the best way. Marble texture meets a durable hardshell body that's sure to keep all your belongings safe through the roughest turbulence.
Calpak Astyll carry-on, $125 Calpak.com
Monogram Customization
Adorn this hardshell spinner with an initial or two and you'll never miss your bag at the luggage pick-up carousel again.
Mark and Graham Terminal 1 carry-on, $199, MarkandGraham.com
Sleek Asthetic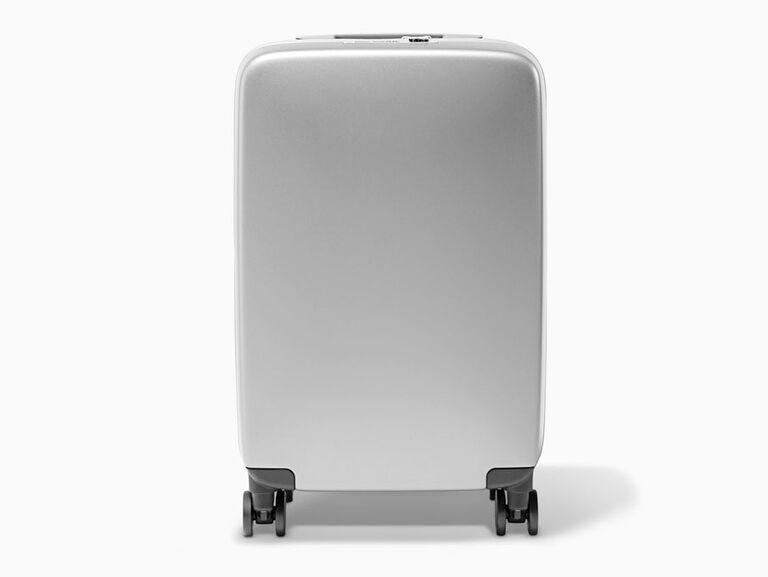 Technology and style in one. This carry-on can charge your phone while you're waiting to board (no more wandering around for an available outlet) and with its handy app, you can weigh it and even track its location.
Raden The A22 Carry, $345, Raden.com
Textured Hardcase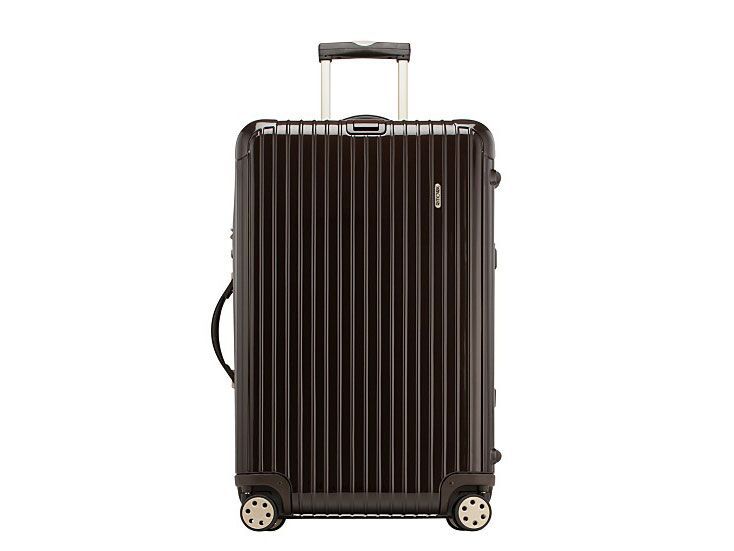 This hardcase was named for the smooth 360-degree rotating wheels, which allow it to glide around with ease. (No more dragging along jammed wheels!)
Rimowa Salsa Deluxe 29" Multiwheel Upright, $695, Bloomingdales.com