15 Wedding Invitation Suites Inspired by Our Fave Celebrity Couples
The best part? You can buy them all RN.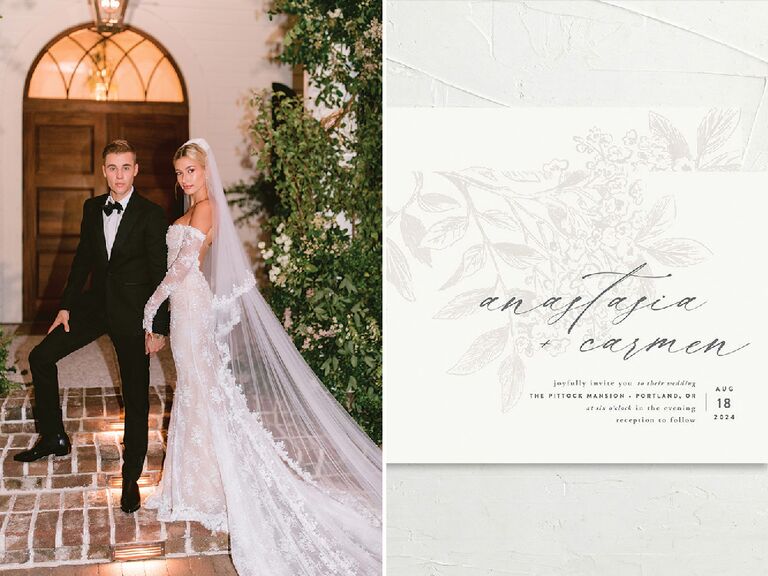 Jose Villa/Instagram
Choosing your wedding stationery is one of the more creative tasks on your planning checklist—but with so many color palettes and design schemes out there, narrowing down your favorite can seem like quite the challenge. One of our favorite ways to get inspired, though, is to see what other couples use for their paper… including celebrities!
While it's rare that real photos of celebrity wedding invitations get shared online, it's certainly possible to reference their actual weddings (and their love stories) for ideas. And given the extensive amount of invitation suites available through The Knot Invitations, we can't help but daydream about what famous wedding invitations might look like.
Below, we round up 15 wedding invitations inspired by our favorite celebrity couples. From Kourtney and Travis to Meghan and Harry, we have a feeling these A-listers would love their idealized stationery. And the best part? You can buy them all right now for your own wedding day.
JoJo Fletcher and Jordan Rodgers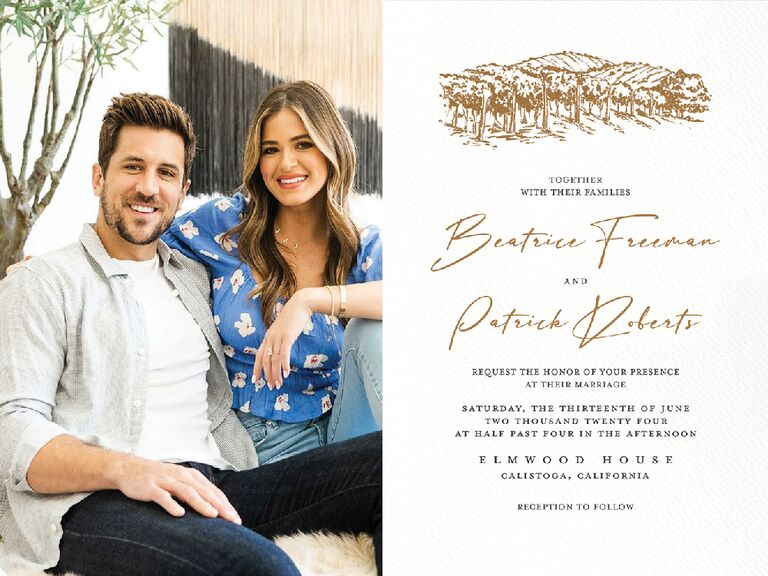 As one of the most beloved couples from The Bachelor franchise, JoJo Fletcher and Jordan Rodgers' spring 2022 wedding was a long time in the making. But we don't have to speculate what their invites would look like, because they designed their suite exclusively for The Knot! (The best part? You can shop the collection for your own wedding.) The duo created our Romantic Setting invitation, which can be customized to feature an illustration of a mountainscape, a rustic vineyard or a traditional barn above minimalistic typography. By tying in a taste of the venue, this collection hints at all the adventures yet to be had—especially on the wedding day itself. "We knew that we wanted our invitations to give guests an idea of what our wedding would feel like," Fletcher told us ahead of their nuptials, which took place at a winery in Southern California. "Having the illustration of the vineyard was such a beautiful way of showing them what to expect." Whether you're a die-hard Bach Nation fan or you just love JoJo and Jordan's style, you can shop their invitation suite for your own big day too.
Meghan Markle and Prince Harry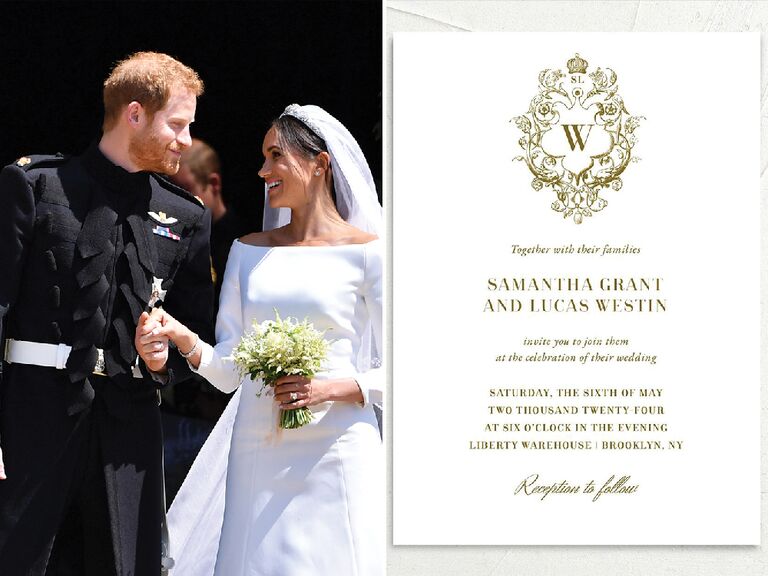 We don't have to guess what Meghan Markle and Prince Harry's wedding invitations looked like, because a photo was shared on Twitter back in 2018. The couple, who hosted one of the most anticipated weddings of the decade, tapped UK publisher (and royal family favorite) Barnard and Westwood for the invites, which featured the Three-Feathered Badge of the Prince of Wales printed in gold ink. The minimal black and gilded gold typography combo looked effortlessly elegant, forecasting just how grand the nuptials would be. If you love this regal stationery look, you can easily recreate it with our very own Ornate Vintage Crest invitations in gold, which boats a vintage-inspired frame surrounding your initials at the top—Westminster Abbey venue not required.
Kourtney Kardashian and Travis Barker
There's no denying Kourtney Kardashian and Travis Barker are one of Hollywood's buzziest couples right now. Following their scenic oceanside engagement in October 2021—which included voluminous displays of red roses and candles—the duo secretly got married in a Las Vegas chapel around 2 a.m. after the 2022 Grammy Awards. Many sources say there are more wedding events to come (particularly because they didn't have a license in Vegas), which will likely be star-studded affairs. Given that their engagement palette was mainly black and red, we predict their wedding will have a similar color story. We imagine their invitations would look something like our Modern Initials design. With minimal font and a black hue, these invites are edgy and cool, just like Kravis.
Taylor Swift and Joe Alwyn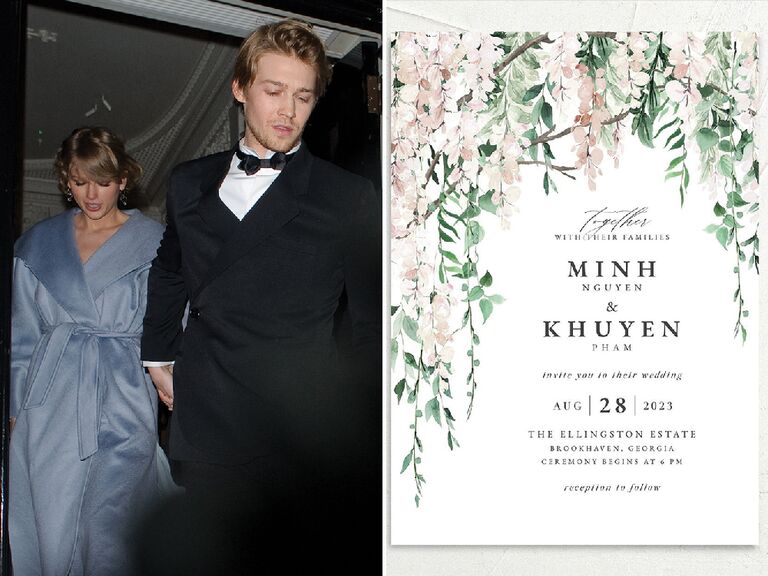 Although Taylor Swift and Joe Alwyn keep their relationship largely out of the public eye, many fans speculate they may already be engaged… or even secretly married! We can't help but dream about what their wedding could look like—and given the references to their relationship throughout Swift's discography (particularly in albums like Lover and Folklore), we have a feeling their invitation theme would epitomize romance and whimsy. We'd pair them with The Knot's dreamy Romantic Wisteria invitations in pink. This design encapsulates the feeling of true love, and it also boasts the flower mentioned in Swift's lyrics from "The Lakes," which is believed to be a love song about running away with Alywn ("I want to watch wisteria grow right over my bare feet / 'cause I haven't moved in years").
Justin and Hailey Bieber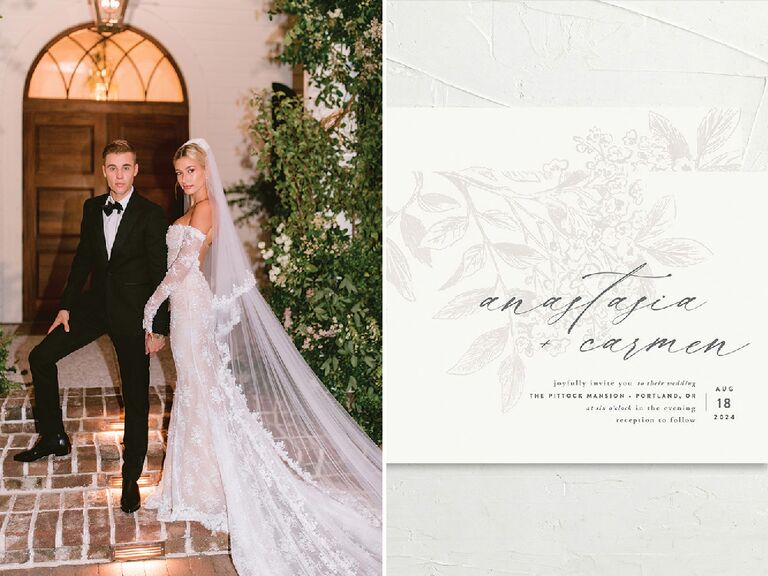 Though Justin and Hailey Bieber were legally married in a surprise NYC courthouse elopement in fall 2018, they threw a much larger star-studded bash one year later. The South Carolina nuptials, designed by celeb-favorite planner Mindy Weiss, were equal parts glam and romantic. While we've never gotten a glimpse of their celebrity wedding invitations, we imagine they'd look like our Subtle Romantic invitations, complete with elegant script and a Southern-flavored floral pattern.
Ariana Grande and Dalton Gomez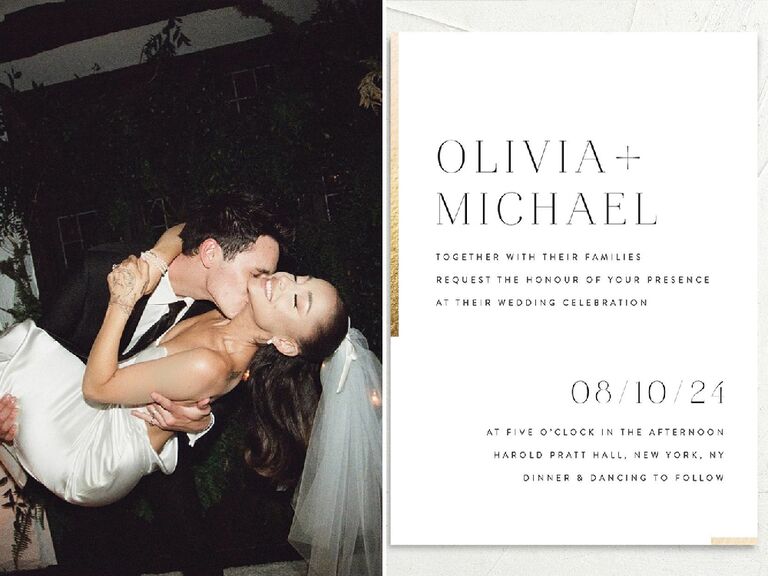 In May 2021, Ariana Grande quietly married her fiancé, real estate agent Dalton Gomez, in a small minimony at home. Shortly after news of the low-key nuptials broke, the bride shared a collection of photos from the intimate affair. She transformed her house into a chic wedding oasis, swapping vows in front of her fireplace surrounded by candles and simple garlands of hanging florals cascading. The wedding was a perfect example of understated glam, which is why we'd imagine their wedding invitations would look something like our Bar Accent suite. With a white background, simple black typography in a modern font and subtle hints of gold foil bars on the side and bottom, this chic design embodies the couple's elegant, minimalistic vibe.
Blake Shelton and Gwen Stefani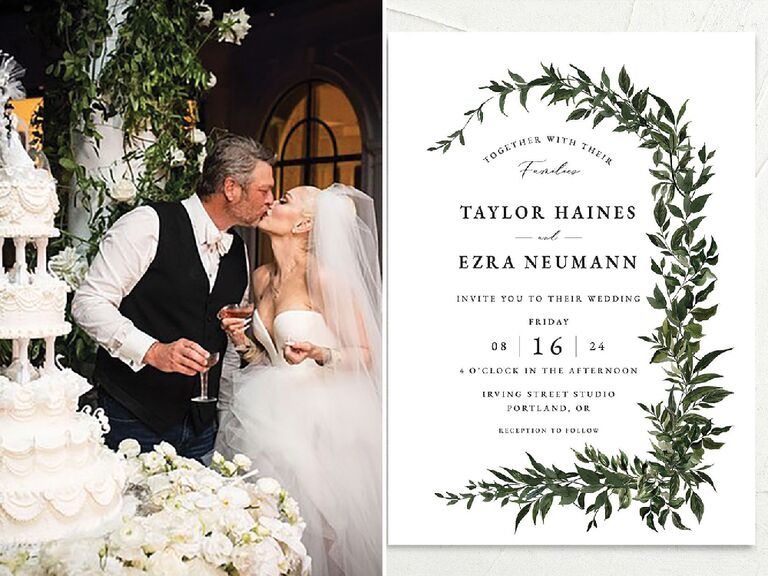 Blake Shelton and Gwen Stefani's 2021 wedding was a blend of upscale country and modern glam vibes. The nuptials took place at Shelton's Oklahoma ranch, and included quite a few western touches, like stiletto cowgirl boots for the bride and jeans and a tux vest for the groom. Despite their country roots, the big day also featured classic wedding touches, like a towering white floral cake and lush florals throughout. If we were to reimagine these celebrity wedding invites, we'd select Rich Greenery: the sprawling leaves that frame the elegant typography are reminiscent of the couple's own flower arrangements, particularly at their altar.
Jenna Dewan and Steve Kazee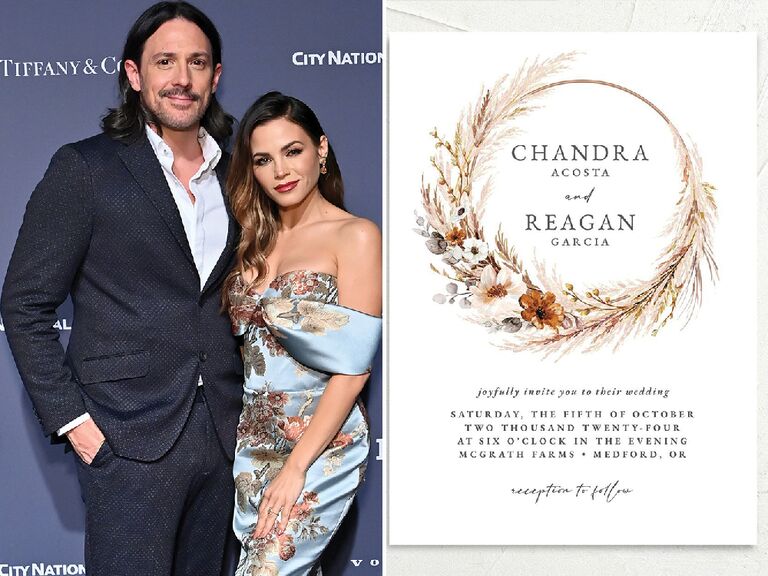 Just like JoJo and Jordan, we already know what Jenna Dewan's dream wedding invitations would look like, because she designed them with The Knot! In 2021, the dancer and sustainability activist (and our Fall 2021 Cover Star) created the Bohemian Hoop suite: a natural-toned paper collection featuring a hoop decorated with pampas grass and florals. "Invitations set the tone for a wedding and allow couples to get creative and demonstrate their unique wedding style," she said at the time, noting that she opted to highlight her passion for nature through the design. "Sustainability is so important to my family and me, and I'm grateful to have worked with The Knot to curate my ideal invitation—one that brings my love for the earth and design together into a beautiful, eco-friendly collection."
Beyoncé and Jay Z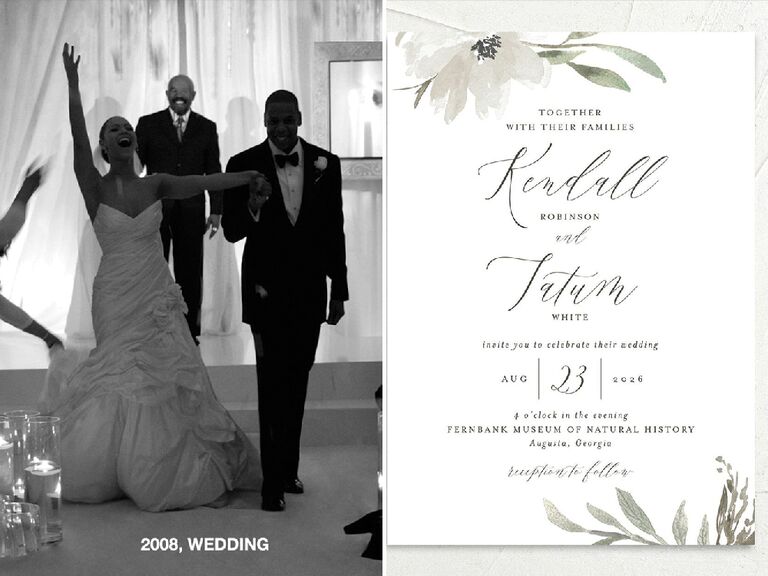 Did you know that Beyoncé and Jay-Z basically invented the unplugged wedding? The musical power duo tied the knot back in 2008 and requested that guests leave their cellphones behind. The couple transformed their Tribeca loft with crystal and bunches of white orchids—70,000, to be exact—for their exclusive nuptials. It wasn't until ten years later that Beyonce finally revealed a select few photos from their wedding day. If we could reimagine their celebrity wedding invitations, we'd pair them with our Muted Floral design, tying in the presence of white flowers and simplistic elegance.
John Legend and Chrissy Teigen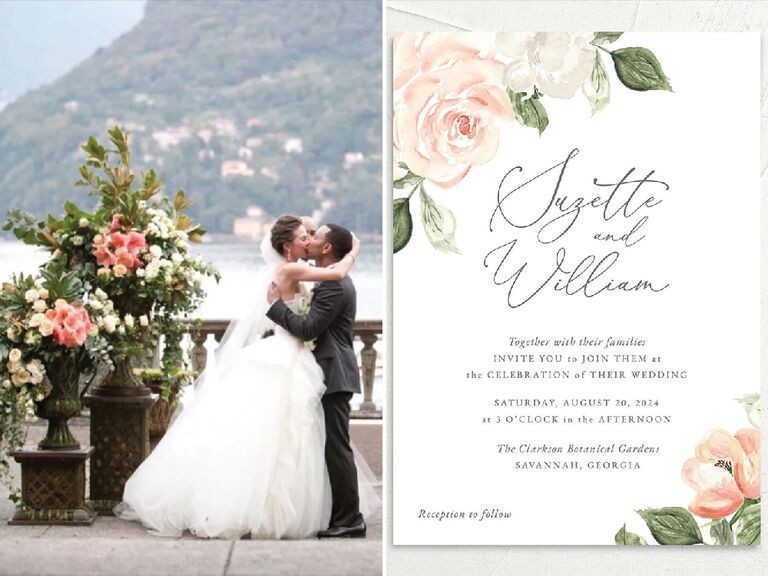 Nearly ten years later, we still swoon over John Legend and Chrissy Teigen's dreamy Italian wedding. The famous duo invited guests to travel to scenic Lake Como for their 2013 nuptials, complete with outfit changes, lush pink flowers, and even a live performance by Stevie Wonder. We have a feeling these newlyweds would have loved our Romantic Garden invitations in pink—the rosy hue pulls inspiration from their own wedding palette, perfectly fit for a party at Villa Pizzo.
David and Victoria Beckham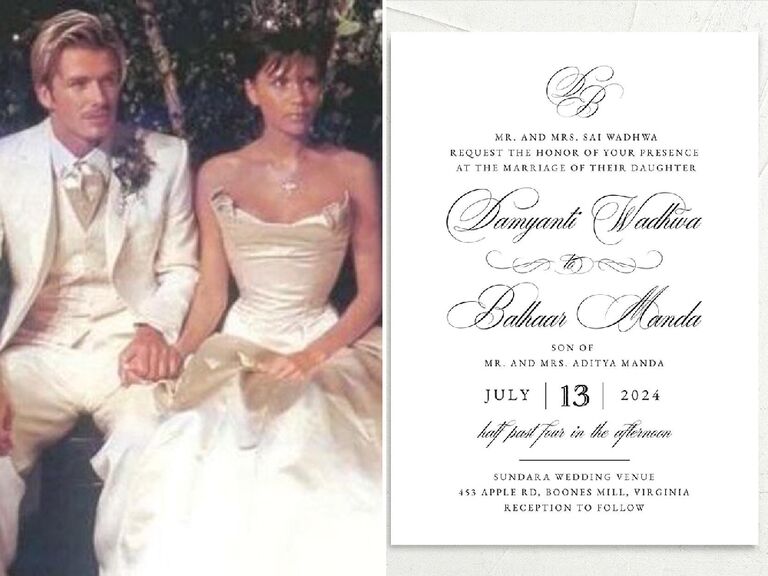 Only 29 people were invited to watch the wedding ceremony for David and Victoria Beckham, which took place at a castle at Luttrellstown Castle near Dublin, Ireland. Following the exclusive vow swap, the newlyweds invited 230 more guests to enjoy a lavish reception party. The entire evening was fit for royalty; the bride wore a tiara, the couple had thrones to sit on, and they even sliced their wedding cake with a sword. A wedding as posh as this certainly requires a stationery suite of matching caliber, which is why we'd predict the Beckahms' celebrity wedding invites may have looked like our regal Vintage Flourish design, complete with sweeping calligraphy and a cursive monogram.
George and Amal Clooney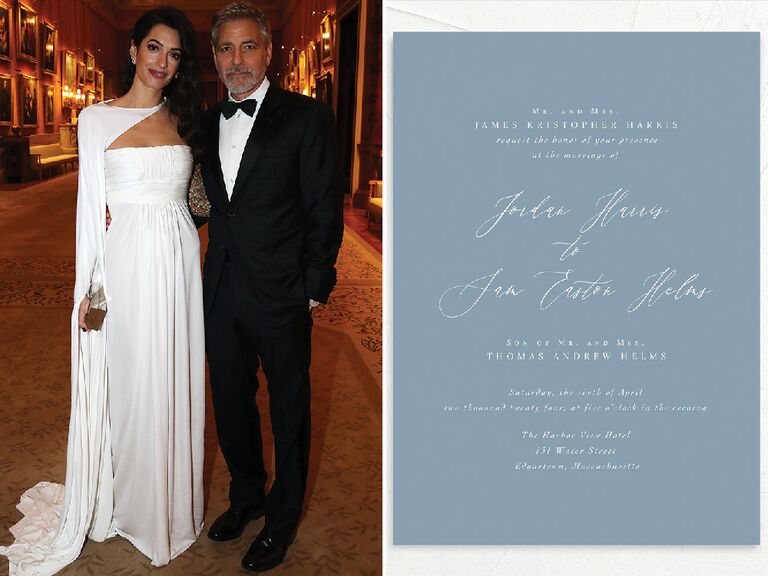 Who can forget George and Amal Clooney's multi-day wedding extravaganza in Venice, Italy? The duo got married in September 2014, and their wedding weekend was full of high-profile events, like water taxi canal rides, a civil ceremony, and a star-studded reception. Memorably, fans and paparazzi alike flocked to the city to catch a glimpse of the highly-anticipated soirée. Given that Venice is known for its system of waterways, we'd imagine this celebrity wedding invitation to look like our Something Blue invitation suite. The simple blue background serves as an elegant (yet subtle) nod to the city's famed ancient canals.
Serena Williams and Alexis Ohanian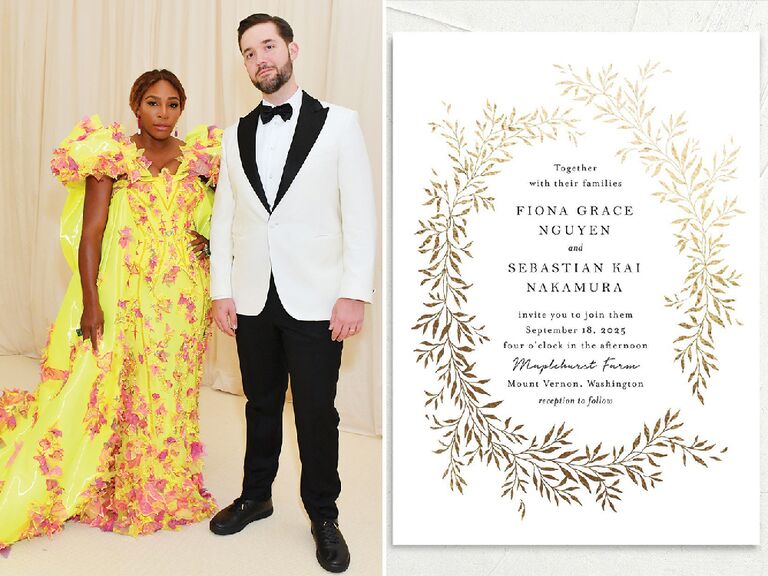 Serena Williams' wedding day was certainly one to remember. The tennis superstar wed Reddit co-founder Alexis Ohanian in New Orleans in November 2017, and the event was a fairy tale IRL. Her team of vendors created a French ball-themed celebration complete with Beauty and the Beast-inspired decor and lots of fresh flowers. We have a feeling their celebrity wedding invites would look like our Romantic Wreath suite, particularly because the gold foil frame is quite similar to the gold flower arch that framed the couple's altar.
Faith Hill and Tim McGraw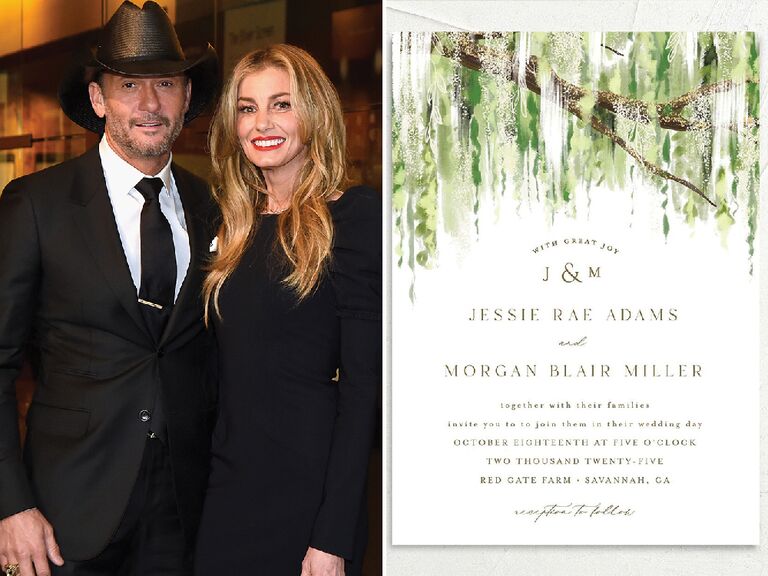 Country music icons Faith Hill and Tim McGraw have one of Hollywood's longest-running marriages, but their nuptials were a complete surprise to guests. The couple invited loved ones to McGraw's aunt's backyard for what was supposed to be a charity softball game back in 1996. Much to their surprise, though, the couple appeared wearing a wedding dress and a tuxedo and swapped vows underneath a locust tree. As an homage to their intimate venue, we'd imagine Hill and McGraw's celebrity wedding invites might look something like our Spanish Moss suite, with a lovely illustration of cascading tree leaves framing the rustic brown font.
Neil Patrick Harris and David Burtka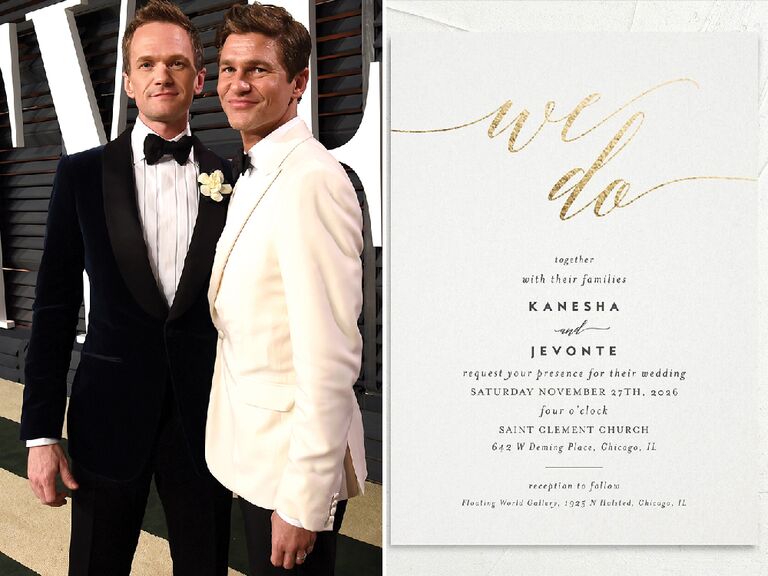 Like many others, Neil Patrick Harris and David Burtka also jetted off to Italy for their long-awaited nuptials. The couple wed in 2014 after being engaged for seven years—they famously waited for the Marriage Equality Act to pass in New York before tying the knot. Their date finally came a few years later, when they swapped vows surrounded by family (and famous friends, like Elton John). Inspired by the glitz of their European celebration, we imagine their wedding invitations would look like our We Do Foil stationery. The standout ribbon of gold foil calligraphy evokes the vibe of sparkling fireworks, which lit up the night sky while the newlyweds partied.