9 Couples Tell Us How They Met Their Future Spouses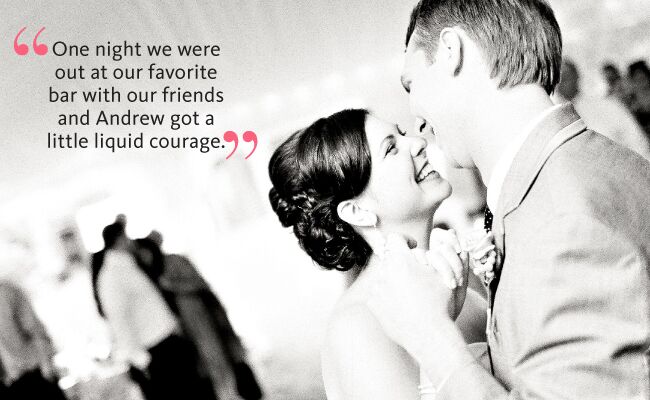 There are so many amazing couples behind every photo in our real weddings gallery, and sometimes when we come across the stories of how they met, we just have to share them. This time, we've rounded up some of the cutest "How We Met" stories, from freshman dorm move-in day to really nosy aunts and adorably awkward failed pick-up lines. We dare you to read through these sweet stories and not smile from ear-to-ear by the end!
1. A Nosy Aunt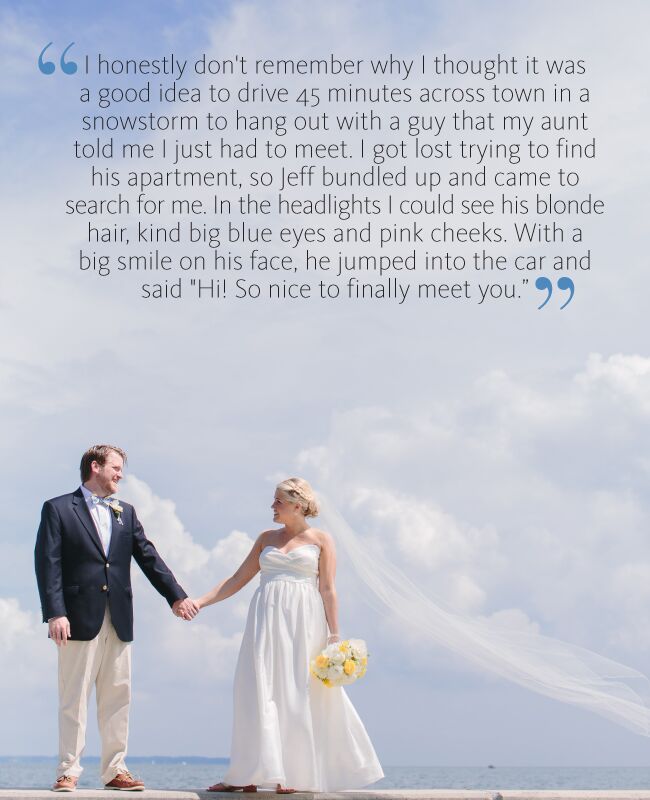 "I honestly don't remember why I thought it was a good idea to drive 45 minutes across town in a snowstorm to hang out with a guy that my aunt told me I just had to meet. I got lost trying to find his apartment, so Jeff bundled up and came to search for me. In the headlights I could see his blonde hair, kind big blue eyes and pink cheeks. With a big smile on his face, he jumped into the car and said 'Hi! So nice to finally meet you.'" — Faith & Jeff, OH
2. Some Mutual Friends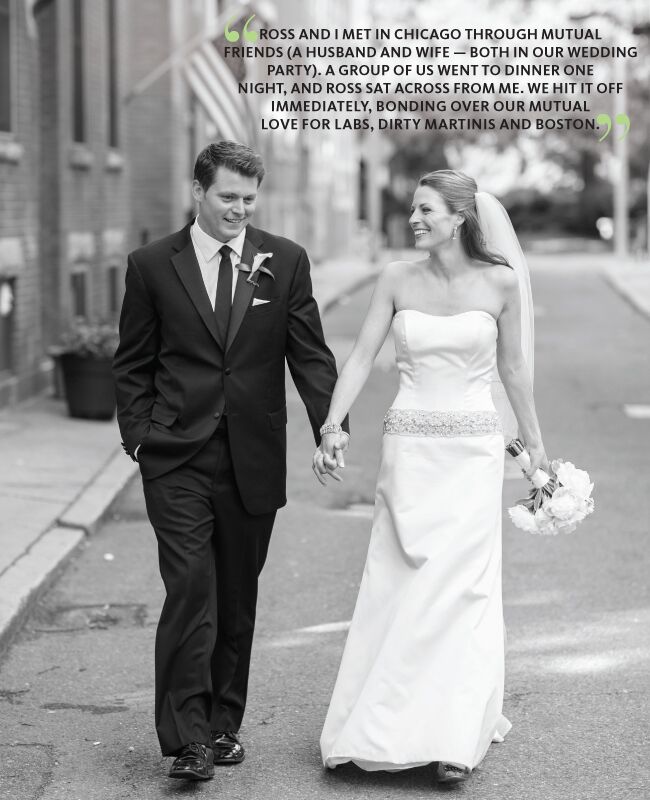 "Ross and I met in Chicago through mutual friends (a husband and wife — both in our wedding party). A group of us went to dinner one night, and Ross sat across from me. We hit it off immediately, bonding over our mutual love for labs, dirty martinis and Boston. We dated for 4 years before Ross proposed." — Sarah & Ross, MA
3. A Little Liquid Courage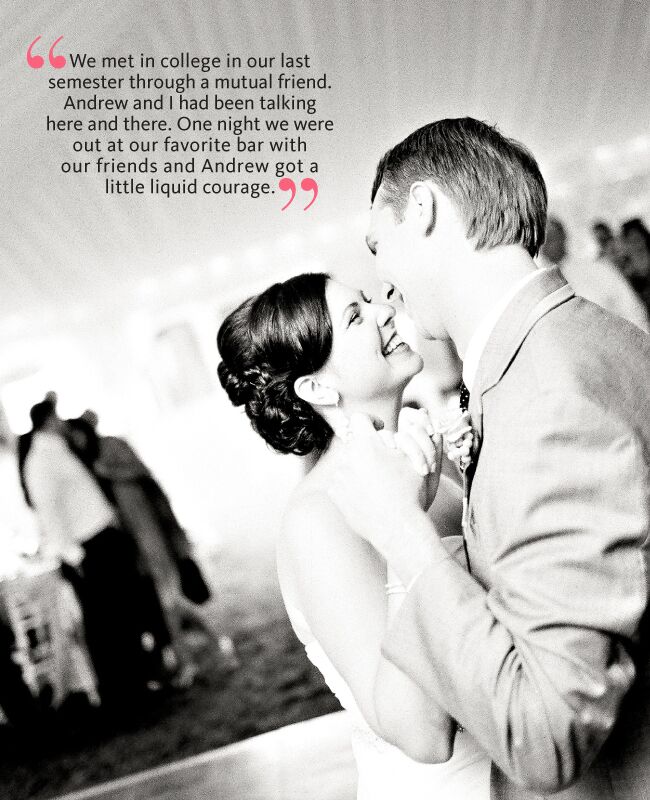 "We met in college in our last semester through a mutual friend. Andrew and I had been talking here and there. One night we were out at our favorite bar with our friends and Andrew got a little liquid courage." — Julianne & Andrew, MA
4. Some Coincidental Run-Ins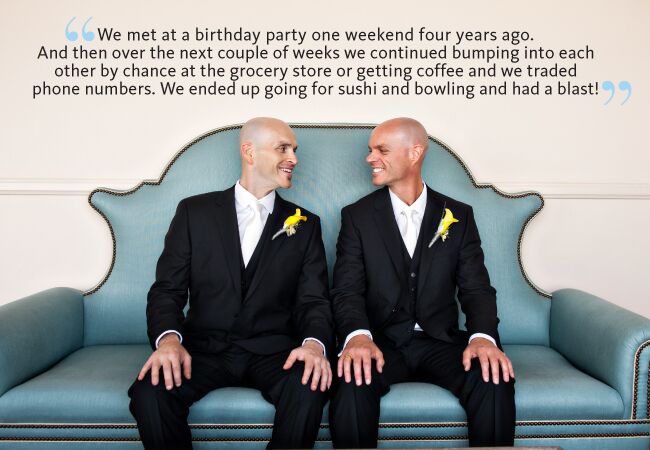 "We met at a birthday party one weekend four years ago. And then over the next couple of weeks we continued bumping into each other by chance at the grocery store or getting coffee and we traded phone numbers. We ended up going for sushi and bowling and had a blast!" — Jeff & Eric, CA
5. A Street Corner Encounter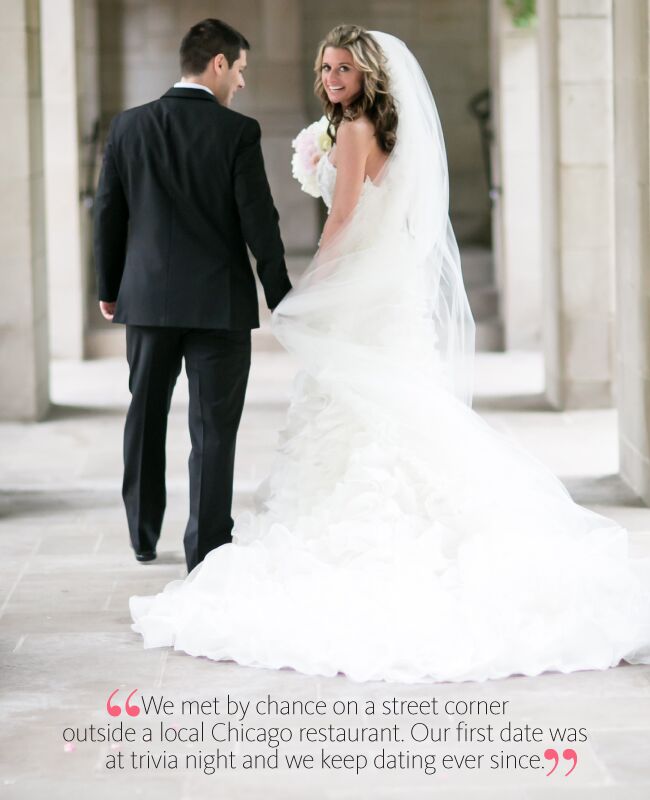 "We met by chance on a street corner outside a local Chicago restaurant. Our first date was at trivia night and we kept dating ever since." — Lisa & Logan, IL
6. A Job Interview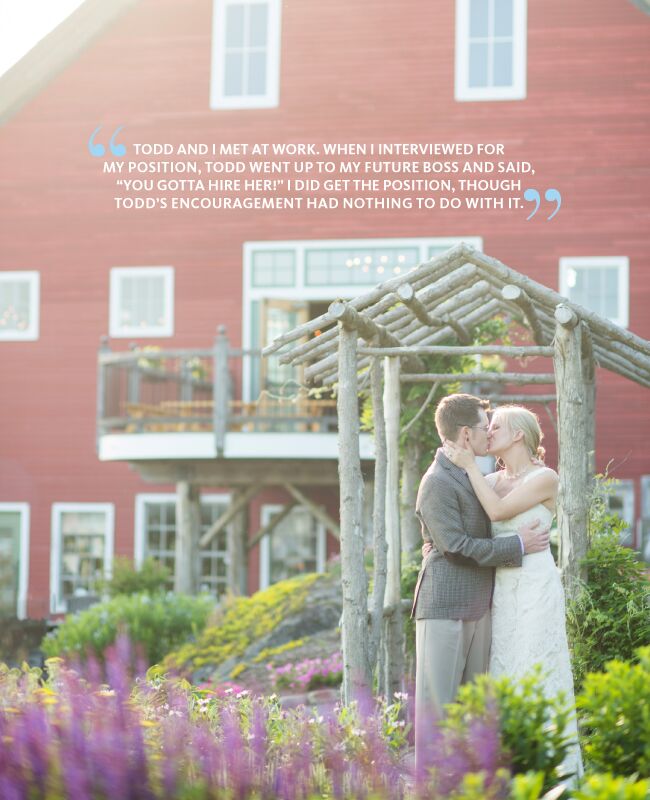 "Todd and I met at work. When I interviewed for my position, Todd went up to my future boss and said, "You gotta hire her!" I did get the position, though Todd's encouragement had nothing to do with it." — Kimberly & Todd, MA
7. A Science Class Setup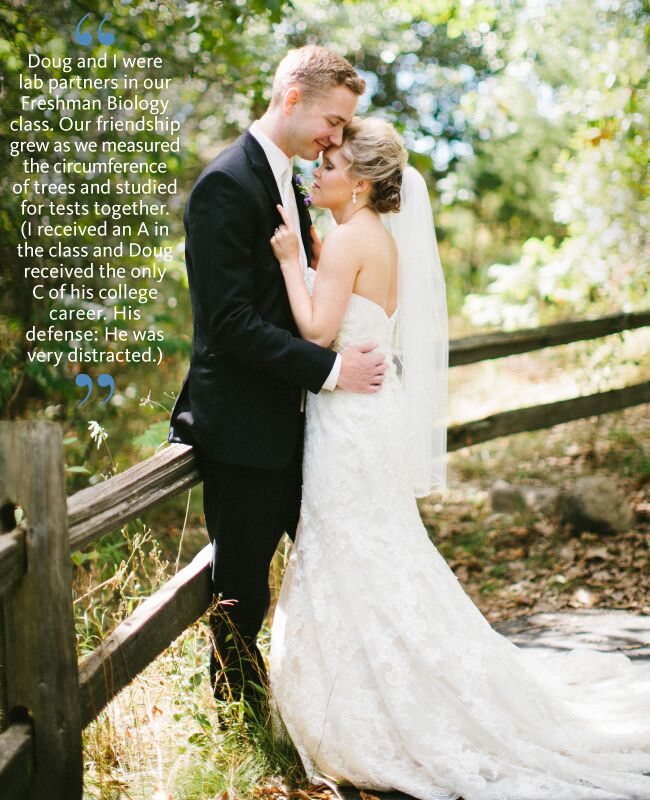 "Doug and I were lab partners in our Freshman Biology 101 class at Butler University. Our friendship grew as we measured the circumference of trees and studied for tests together. (I received an A in the class and Doug received the only C of his college career. His defense: He was very distracted.)" — Allison & Doug, IL
8. A Move-In Day Meet-Up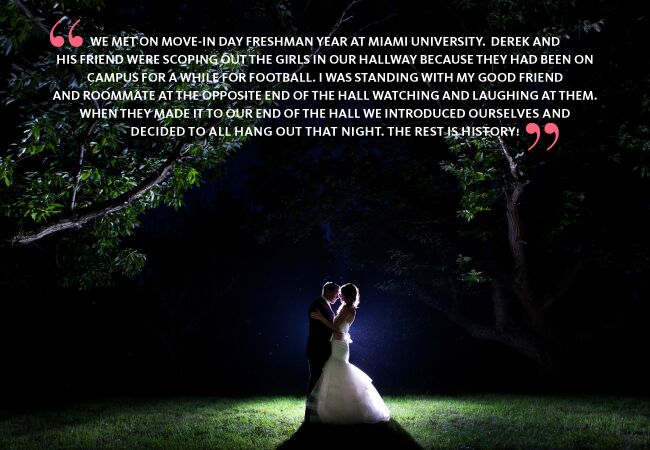 "We met on Move-In Day freshman year at Miami University. Derek and his friend were scoping out the girls in our hallway because they had been on campus for a while for football. I was standing with my good friend and roommate at the opposite end of the hall watching and laughing at them. When they made it to our end of the hall we introduced ourselves and decided to all hang out that night. The rest is history!" — Brittany & Derek, OH
9. A Failed Pick-Up Line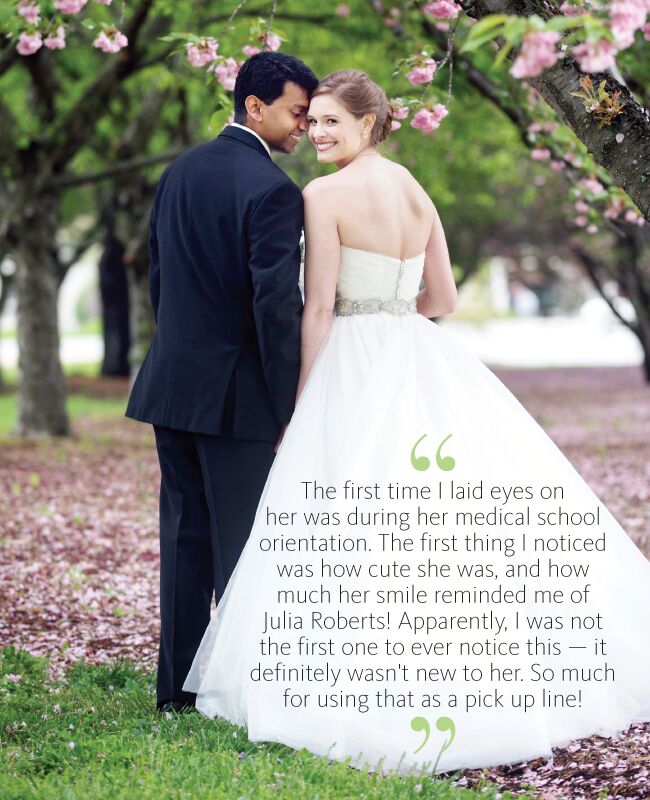 "The first time I laid eyes on her was during her medical school orientation. The first thing I noticed was how cute she was, and how much her smile reminded me of Julia Roberts! Apparently, I was not the first one to ever notice this — it definitely wasn't new to her. So much for using that as a pick up line!" — Stephanie & Gayan, MO
Want more? Of course you do!
> 14 Grooms Tell Us How They Knew They Found "The One"
> What Happens After Your Wedding? Check Out This Newlywed To-Do List