6 Creative Proposal Ideas (Yeah, These Really Happened!)
Some couples want nothing more than a laid-back, by-the-book proposal. Then there are the other couples, where the proposal not only needs to be personalized, but it also has to be unique and entirely different that the typical restaurant, bended-knee idea. Sound like you? Then get inspired by some of the most creative proposal ideas we've ever seen. If you find something you like, steal it and modify it to make your proposal something totally unforgettable.
by Jamie Miles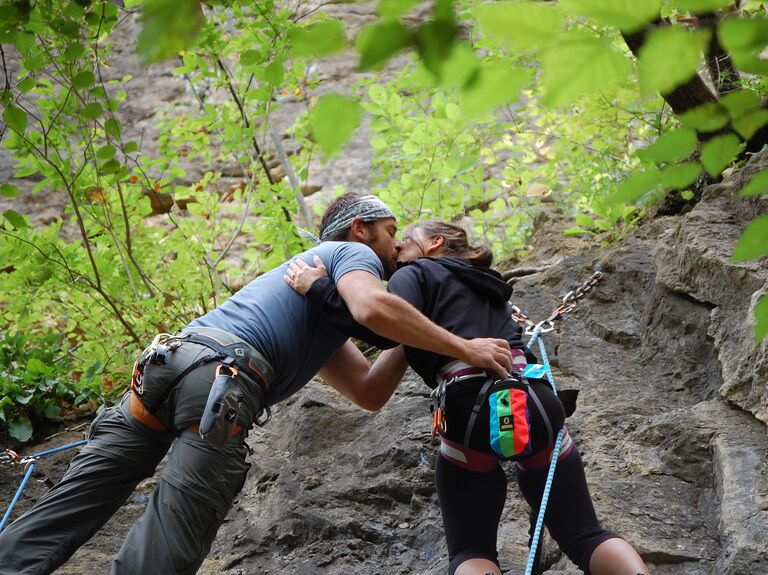 1. Create A Custom Website
If you're tech savvy (or honestly, even if you just know how to create a Tumblr page), you can easily pull this one off. A custom site can be as simple or complicated as you want -- from a simple page that tells your love story to an interactive one that's totally customized.
Follow Their Lead: Rhett Hildebrandt created a website MarryMeMaryDay.com for his girlfriend, Mary, where he posted illustrations he had made her favorite movies, books, TV shows and more, including Beauty and the Beast, the Harry Potter series and The Princess Bride. Then he asked the social-sphere on Twitter and Reddit to help out with his proposal by posting photos of Mary's favorite things -- all with the hashtag #MarryMeMaryDay. At the end of the day, he led her into a room set up with a projector and shared all of the hashtagged images with her.
Jason Sherman put his skills to work and designed a custom website for his girlfriend -- MeAndYouMakes.Us. There, he posted photos of the two of them from the time the first met to the day he proposed. When his girlfriend pulled up the site, she was surprised to find all of the photos and a proposal waiting for her!
2. Enlist a Celebrity (or Favorite Band, Sports Team or Athlete)
Maybe you met at a concert, or maybe you've have always had a shared love for the same sports team. Enlisting someone you both admire to be a part of the proposal takes more time and coordination but ultimately makes for a seriously memorable story. Just choose someone you both love (in other words, if he or she doesn't love football, asking the local team to help you propose isn't going to be special for you both).
Follow Their Lead: Brook and Britnee love the Goo Goo Dolls. So when Brook went to create a proposal video, he knew that their song "Come To Me" would make the perfect soundtrack. Even better -- he emailed the Goo Goo Dolls PR contact and asked whether they would be willing to help him propose, and they did (at the 3:40 minute-mark). The day he popped the question, he invited Britnee to a movie theater to watch the Goo Goo Dolls proposal video. (She said, "Yes.")
For a couple of Bruce Springsteen fans, this was the ultimate proposal. During one of Springsteen's concerts in Brazil, Bruce actually pulled the couple on stage for the entire audience to see the two get engaged. To top it all off, the rock legend played "She's The One" during the proposal and gave the couple congratulatory hugs. (Skip to the 5-minute mark in the video to see the proposal.)
3. Propose to Each Other (the Double Proposal)
More and more couples are going Dutch on the engagement ring, so take that idea and decide to propose to one another for a unique twist on tradition. You can make it as much or as little of a surprise as you want. For example, shop for the rings together and decide to propose to one another on a particular day. Or, keep it all a secret by surprising one another with rings and a creative proposal.
Follow Their Lead: One bride on our message boards, UponMidnight, says that she and her boyfriend proposed to one another on their seventh anniversary. The two chose unique engagement rings that matched each other's eyes.
Laura and her girlfriend, Kathrine, had been together for three years when they started talking about getting engaged. "We both want diamond rings and we both want to propose to each other," Laura shared on our message boards. It was just a matter of finding the right timing.
4. Incorporate His or Her Favorite Thing in the Entire World (and Multiply It by 100)
Adding something personalized seems simple enough, but this idea takes it up a notch. For example, if she or he loves sunflowers, propose in a field of sunflowers. If it's art, pop the question in front of his or her favorite piece. Better yet, have a custom exhibit set up just for the proposal. See what we mean?
Follow Their Lead: Groom-to-be Ed surprised his fiancée, Alex, by proposing in front of 19 pugs (her favorite dog), accessorized with pink heart-shaped balloons in the middle of Central Park.
Inspired by his girlfriend Andrea's love of all things Harry Potter, Jaysin planned a Harry Potter-themed scavenger hunt proposal, complete with a custom video game! Each of the scavenger hunt clues came with a riddle that eventually led her to a UPS store, the public library and, finally, one of their favorite pubs, where he proposed. The best part? A spell casting and magic trick at the end.
5. Involve a Special Talent or Stunt
This doesn't have to be a skydiving proposal (although we've heard of a few!). It could be something much more on the mellow side, like writing a song just for her with lyrics that include "will you marry me?" and playing it at home or during a concert in public.
Follow Their Lead: One skilled wakeboarder got down on one knee while trailing a boat with his girlfriend. Oh yeah, and the entire thing was caught on video.
Another guy proposed in the middle of a rock climbing adventure. He even planted a few hidden cameras to capture the moment.
6. Plan an On-Air Proposal
Public proposals are more common than you might think (they actually account for 36 percent of engagements). Getting down on one knee on live TV though is different -- and has to be one of the most public and over-the-top ways to propose (on par with getting engaged on the Jumbotron at a sporting event). A grand gesture can be totally romantic, but you also have to consider the pressure of making a lifetime decision in front of a million viewers.
Follow Their Lead: William Polen III shocked his girlfriend, Julie Loven, when he proposed on Bethenny Frankel's talk show, Bethenny. Two days later, the clip even showed up on Late Night With Jimmy Fallon!