Find the Most Flattering Tuxedo Styles for Your Wedding
In the dark about which wedding tuxedo or suit styles are best for your body type? Here's help.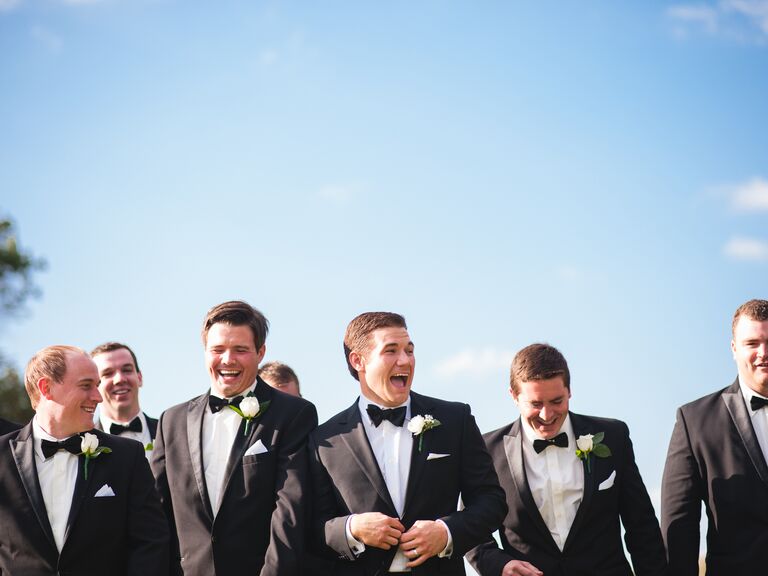 L. Frisch Photography
You've never had so many pictures taken of you in your life, so you'll want to make sure you look your best on your wedding day. Keep these tips in mind for choosing the suit that best becomes you.
Tall and Thin
Congratulations: With your frame, you can wear just about any suit, from contemporary styles—like single-breasted four-button jackets—to a more classic, double-breasted tuxedo with broad shoulders. The choice is yours. If you're extremely thin and want to look bulkier, opt for the latter; it'll pad your chest slightly and fill out your torso. One caveat: Make sure your trouser legs and jacket arms are long enough.
Tall and Husky, or Muscular
Go for a smooth, clean look without a lot of frills. A shawl collar (a more rounded lapel than a peak collar) will create an elegant line that'll make you seem less bulky. Avoid double-breasted jackets, which add volume. If you have a large waist, consider wearing a vest instead of a cummerbund, since cummerbunds draw attention to the waist, while vests help conceal a belly. Keep in mind that black has a slimming effect, which makes the classic tux perfect for you. You'll probably find that white suits, light-colored suits (such as tan or seersucker), morning suits, and tails are not your most flattering looks. And if you're extremely muscular, be aware of sizing, especially around your neck. You don't want to feel like your bow tie is strangling you.
Short and Slim
Steer clear of styles that look too large on your frame, like double-breasted jackets. Instead, go for a two- or three-button jacket with a low-button stance (it elongates the body), paired with classic tuxedo pants or trousers. If you want to look a bit broader, ask your tailor for extra shoulder padding. When sizing your tux or suit, make sure everything fits precisely so you don't end up looking like you're swimming in yards of extra material.
Short and Broad
Stick with a single-breasted jacket. A classic two- or one-button jacket with a low-button stance and a shawl collar will keep your look streamlined and slim. Also, look for a jacket with a natural shoulder line and avoid the more broad European styles. If you have a heavy waist, choose a vest rather than a cummerbund to draw attention away from your waistline and up toward your face. And once again, remember that black has a slimming effect, which makes the classic tux perfect for you. When it comes to sizing, make sure everything fits well. When you button your jacket, the material near the buttons shouldn't pull and your trousers should fit comfortably around your waist.