Here's What Gen Z Would Like to Accomplish Before Marriage
The top two factors will surprise you.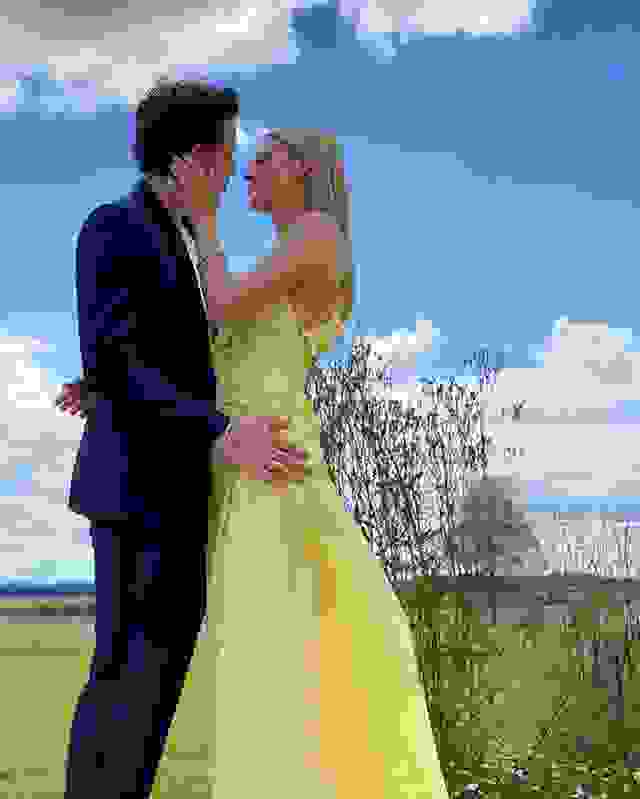 Brooklyn Beckham / Instagram

We have included third party products to help you navigate and enjoy life's biggest moments. Purchases made through links on this page may earn us a commission.
Platforms like TikTok and YouTube aren't only front of mind for Gen Z and younger millennials. According to The Future of Relationships & Weddings Study released by The Knot, attitudes and expectations among the "GenZennials" or Gen Z and younger millennials regarding marriages and weddings is evolving with a focus on several life objectives before commitment. 
The study, which surveyed nearly 1,000 older members of Gen Z and young millennials this spring, found what exactly this particular crop of 20-somethings would like to prioritize before they even walk down the aisle: First on the list was establishing and achieving financial independence. 
"If you are both financially independent, it can mean there's more of an equal balance in the relationship," says Colleen McCreary, Chief People Officer at personal finance company Credit Karma. "It means you both have autonomy to spend your hard-earned money. And, it can mean there is more of a sense of equality between you two rather than one person having more control on the spending and saving than the other." Beyond financial independence, see what else comes before Gen Z and relationships, according to our study, and expert tips on how to achieve stability. 
Gen Z Prioritizes Financial Independence 
For Gen Z and relationships, the greatest focus falls first on financial independence--and later, love. Among two-thirds of respondents ranked financial independence, along with building a successful career and owning a home, as the three top priorities for Gen Z before weddings and marriage enter the picture. 
"Financial independence means having the freedom of choice," says McCreary. Examples include how your time is spent, where you choose to work, and even, where you decide to live. "Being financially independent means you don't need to rely on others to help you reach the financial goals you set for yourself," McCreary explains. "It means having control over the process in order to feel comfortable with your financial standing, whether that means paying off your debts, building out your savings, or spending [your hard-earned] money."
"Sometimes we hear the phrase of wanting 'financial flexibility,' which greatly varies from person to person and likely changes throughout the span of their lifetime," notes Kelly Lannan, Vice President of Young Investors at Fidelity Investments. "Generally speaking, financial independence means not living paycheck-to-paycheck and having a financial plan in place to cover both short and long-term financial goals." 
Gen Z Also Seeks a Stable Career Before Marriage
In many ways, being financially independent is the result of a stable career; often, both are directly correlated. "Financial independence allows you to take risks in your career. You're not trapped in a company or a job that doesn't bring you satisfaction," explains McCreary. "You are more likely comfortable switching industries, roles--thinking about startups or even starting your own business. Additionally, people who are financially independent tend to express more confidence in their decision-making and are  less afraid to raise their voices, having opinions which often allow them to be more comfortable with new leadership opportunities. Certainly having the ability to focus on your work is an advantage versus having the additional mental energy being used up with worry around debt, paying your bills, or losing your home."
Gen Z males were more likely than females to prioritize building a successful career (51 percent vs. 45 percent) and buying a house (37 percent vs. 27 percent), whereas 48 percent of females over 28 percent of men said graduating school was second in importance after financial independence. 
"This is a generation that has goals," notes Lannan. "Gen Z is ambitious and focused on the accomplishments they want to achieve. We hear that they may need help prioritizing their money goals and knowing how to get started, but the intent is there. Being focused on financial independence in many ways is connected to our careers, as we usually see an increase in salary we get promoted."
Here's How Gen Z Can Achieve Financial Independence 
With financial independence being the priority before Gen Z and relationships last into marriage, there are several steps young millennials and older members of Gen Z (even all couples) can take in order to get to a place of monetary growth and ease. 
Determine Your Goals
"A good first step is to be transparent with your financial goals to see if they are aligned," says McCreary. "This means being honest about your current financial situation and sharing things you hope to pay off or save for in the short and long term. They don't necessarily need to match - it can just be helpful to understand how your partner is thinking about saving and spending their money." 
"Start out by writing out your financial goals and when you want to achieve them," says Lannan. "These may include building up emergency savings, paying off a loan and more."
Audit Your Financial Picture
One practice (do it after a workout or on a slow Sunday) is to create an inventory of assets, according to Fidelity advisors. First, you track the assets you own in one column, which includes savings or retirement accounts. Then, the other column tracks the money you owe, such as student loan debt or credit card payments. Mortgages and rents are also included in the second column.
"Conduct a realistic audit of your financial habits and spending patterns," suggests McCreary. "Ask yourselves if there are any recurring expenses you can cut down on in order to boost your savings or pay off any debts. Even if it seems small, it can add up in the long run and help your bottom line. For example, can you dedicate more nights to cooking instead of going out? Can you opt out of future costly experiences and instead opt for something that is still fun but costs less? Ask yourselves if you're being influenced by what you're seeing others do on social media, or if you really want to buy or do something and it's worth the spend."
Budget… And Stick to It
As good habits are formed with repetition, knowledge for how to maintain a healthy financial picture is fundamental to achieving financial independence in due time. Enter Fidelity's 50/15/5 budgeting guideline: a set of rules to help with saving and spending objectives. "Set aside 50 percent of your income to cover essentials; 15 percent towards retirement; and 5 percent toward short-term savings," says Lannan. "The remaining 30% is for discretionary expenses. If you're contributing to a retirement savings plan like a 401(k), you're already an investor! A financial professional can help review options and ensure that your investments are aligned to your goals and timelines."
"Becoming financially independent takes hard work and dedication. It won't happen overnight, and it requires you to be honest and realistic about your financial situation," McCreary adds. "Sometimes, small actions can yield bigger long term results. Use your financial goals as your north star."
Organize Where You Can
"Organize important documents such as a will, healthcare proxy and a power of attorney to give yourself greater peace of mind," says Lannan. 
"Unfortunately, sometimes these conversations can be tricky or awkward. One way to make sure you're staying on track is to set up a money date," says McCreary. "This just means dedicated time, in a neutral setting, to check in on your goals, your financial standing and if anything has changed." These financial touchbases aren't a one-time conversation: "Given your goals and habits evolve over time." In fact, they should be held two to three times a year.
"As a couple, it's important to have honest money conversations, such as how you view money, what your financial obligations are and what your goals are to ensure you're on the same page," Lannan explains. "But, you don't need to navigate these tough conversations on your own! Take advantage of free resources." 
Suggestions include mobile banking, financial planning, investment and credit tracking apps. Finally, speaking with a professional is a common route for those who seriously want to sweep their finances for a more stable future. 
The Average Age Gen Z Wants to Get Married
Gen Z, while focused on their goals for now, believe the average age they will get married is 27. Meanwhile, millennials have skewed the average age of marriage in the US to 32, according to The Knot 2019 Real Weddings Study. 
"At the same time, the traditional idea of marriage has changed over time," Lannan notes. "It is not that these generations want to forgo marriage, but they are just going about it in a different way than previous generations. Sometimes, this means getting married later or starting a family before marriage… It doesn't mean they are any less committed to their partners. It simply suggests they are more focused on other aspects of their lives versus legalizing a marriage."