Ditching the Heels for Flats at the Reception? Here's How to Hem Your Dress!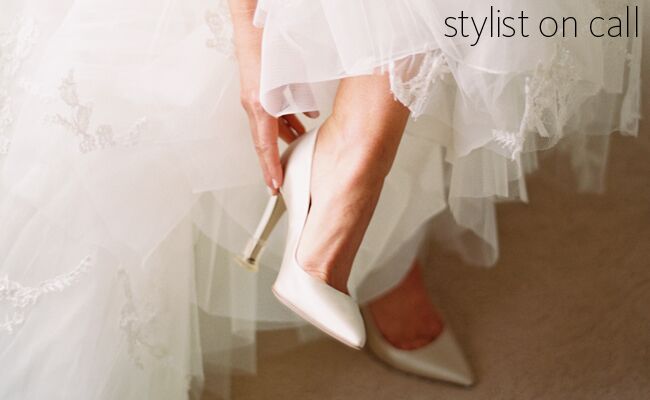 Your dress hem length may seem like a relatively simple detail, but it's actually something you want to think about before your dress fitting especially if you plan on wearing heels for the ceremony and switching to flats for the reception. One common problem we hear a lot is, "How should my dress be hemmed if I plan to change from heels to flats for the reception?" So we called up expert bridal stylist Julie Sabatino, the force behind The Stylish Bride and 11 years of bridal styling experience, to finally solve this great debate. Read on for Julie's expert tips for dealing with this incredibly common problem.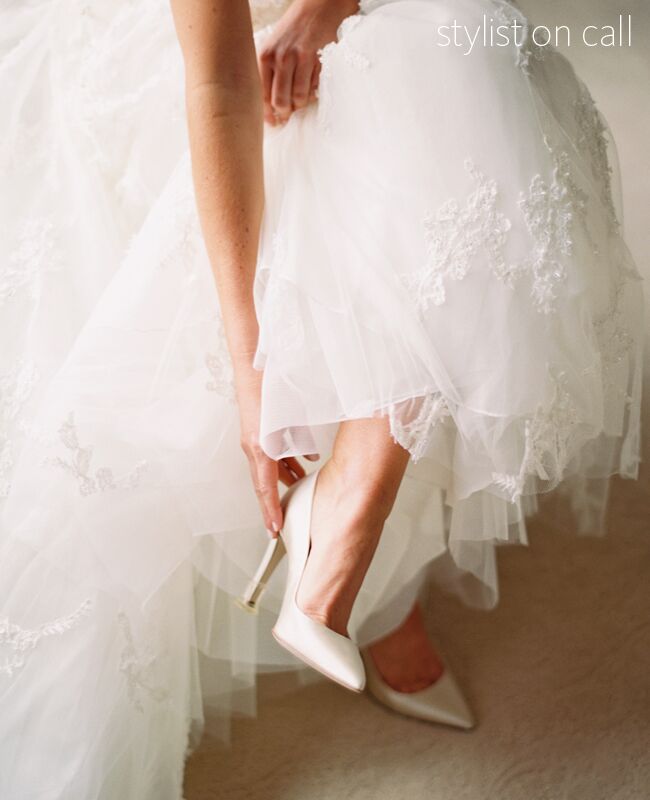 |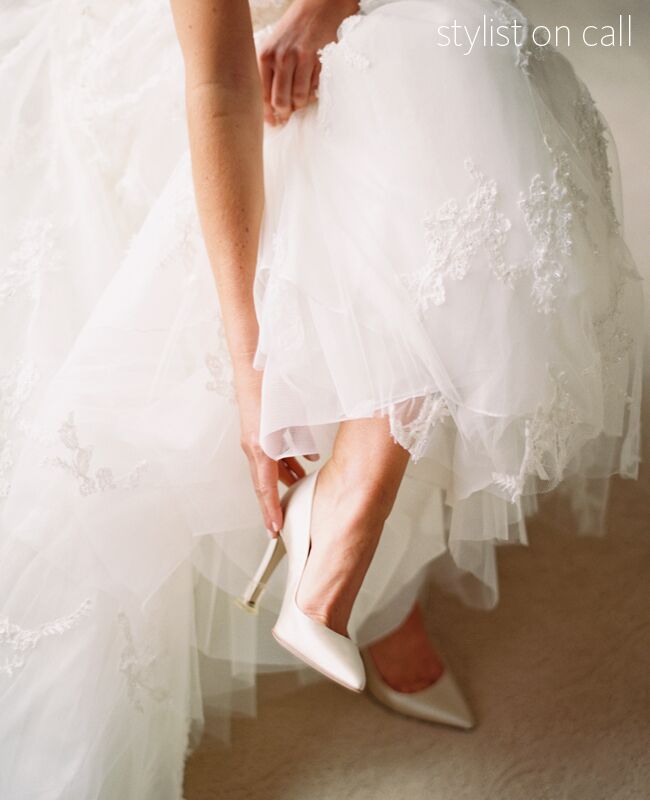 Hem the dress for your heels.
Because you definitely don't want your dress to be too short. "You're going to have your pictures taken in your heels and walking down the aisle in them, so it's really the most important look," says Sabatino.
Find a similar height wedge for the reception.
Flats aren't your only option when it comes to finding a comfier alternative to sky-high stilettos. "If you're in pain you're not going to enjoy your night. And sometimes numbing sprays and padding just don't cut it. What we try to do is find a wedge that is comfy and is approximately the same height as the heel. They'll be more comfortable and then you don't have to worry about the length of your dress," says Sabatino.
Make DIY adjustments to the hemline when you switch your shoes.
This is where your day-of kit comes in handy. With a little bit of help from a bridesmaid or two you can pull off a quick hem job on your own. "I usually pin the dress or use fashion or masking tape to make adjustments. There's a chance you'll be able to see it, depending on the dress's material, but the alternative is tripping — and that's the last thing you want," says Sabatino. "If you have a bustle, you'll need to adjust that as well, which is best done with safety pins unless you have a seamstress there," suggests Sabatino.
Choose a dress that can easily adjust.
A convertible dress can easily be transformed from a long to short style with just a few easy adjustments. With so many designers like Della Giovanna, Kelly Faetanini, Angel Sanchez and Rivini incorporating detachable elements into their collections, it's super easy to switch up your bridal look without having to buy a totally different dress. You could also take the tried-and-true route and buy a second shorter dress for the reception, avoiding the need to make hem adjustments at all.
Want more? Right here!
> 6 Hot Wedding Veil Styles And How To Wear Them
> The Must-Have Bridal Accessory? The Bridal Clutch!