Is It Rude to Have Your Wedding on a Holiday or Holiday Weekend? Here's What We Think
We went to two experts to help talk through this wedding scheduling topic.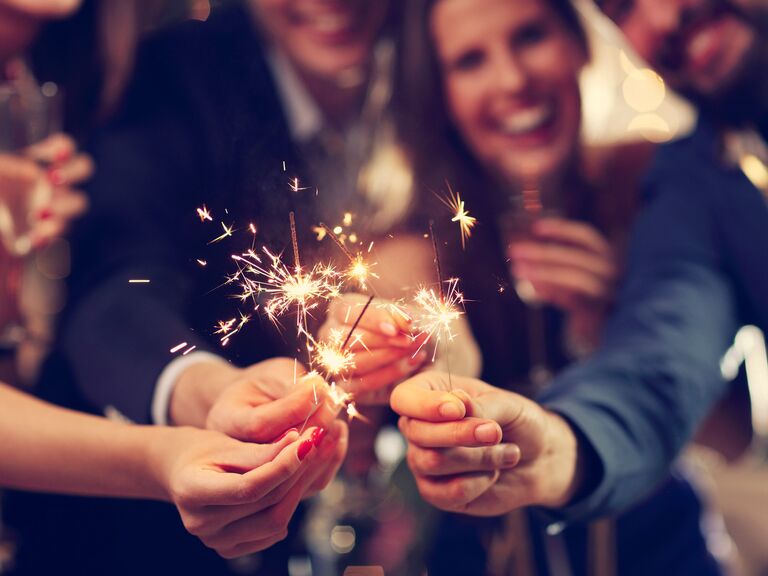 iStock
There's more to marrying on a holiday weekend than simply taking advantage of the extra vacation days. That's why we asked two wedding planners weigh the pros and cons of hosting a holiday weekend wedding. Here's what they had to say.
Have a Holiday Wedding
Having your wedding over a holiday lets you maximize time with your loved ones and gives far-flung guests a buffer day (or two) to travel and recuperate. Plus, it's perfect for hosting a full weekend of festivities, especially at a resort or in a lively city. Just make sure to offer enough activities and amenities to entertain everyone—they may have turned down other plans to celebrate with you, after all. "If done right, a holiday weekend celebration gives you so many more priceless memories than a one-day party would," says Lisa Pleasant of Lisa Pleasant Events in Charlotte, North Carolina. Another perk is the option to decorate with beautiful holiday-themed details. Think: A Fourth of July wedding with tasteful Americana accents and a fireworks display, or a wedding the weekend before Christmas with fragrant garlands, twinkling lights, eggnog and chrisanthemums.
Tip: Check if any local events, like parades, fireworks or concerts, will take place nearby, so you can plan accordingly. And give your guests plenty of notice (send save-the-dates eight to ten months out), so they can pencil your wedding in their calendars.
Have a Non-Holiday Wedding
Logistically, a non-holiday wedding is often easier to coordinate. Holidays in general mean family time, so your invitees who are parents may decline your invitation, especially if your day is adults only. Religious holidays are particularly tricky since people tend to prioritize traditions and obligations. But beyond attendance, holidays increase hotel and airfare rates, and your ideal venue might not offer discounts—or be available at all—due to high demand. Finally, consider whether or not you'd mind having your anniversary overlap with a holiday each year. "I recommend a non-holiday wedding weekend," says Jordan Payne of Jordan Payne Events in Dallas. "It's a day you'll cherish every year and you should have it all to yourselves."
Tip: If you're set on a multiday celebration, lean toward a nonreligious long weekend, like Memorial Day or Labor Day Weekend.