8 Things to Know About Getting Married on New Year's Eve
Here's how to make the countdown to midnight extra-memorable for your guests.
There are so many reasons why a New Year's Eve wedding is fun. One of the biggest perks? With the holiday, there's already a reason to party, so you can expect the excitement to be even more palpable leading up to your wedding day. The glitzy, celebratory atmosphere of New Year's Eve makes it a popular wedding date among couples, so if it's something you're considering, you'll want to start finalizing the details ASAP. We're answering the top questions and sharing tips about how to plan a New Year's Eve wedding to help you get going.
In this article:
How to Decide if You Should Have a New Year's Eve Wedding
Hosting a New Year's Eve wedding (or getting married on any holiday, for that matter) can be a once-in-a-lifetime experience that you and your guests will always remember. But you'll need to spend some extra time weighing the pros and cons of getting married on a holiday, including potential obstacles like higher costs, limited vendor availability, travel delays and guests' personal schedules. It can be helpful to talk to an industry pro, like your photographer or wedding planner if you've hired one, to get their expert thoughts about planning a wedding on New Year's Eve. And don't be afraid to crowdsource opinions from your trusted loved ones—even if you don't end up agreeing with their thoughts, their input could help you make a final decision either way.
If you want to throw the ultimate party on your wedding day, it's hard to argue that there's a better time to do it than New Year's Eve. With the holiday season, guests will already be in a happy, festive mindset, which means they'll show up to your wedding ready for a good time. And once you're married, having your wedding anniversary on New Year's Eve will make the night feel even more special and celebratory (what could be better than your own annual fireworks display?). Plus, you'll have an added reason to plan a fun party or NYE getaway each year. Still need help making your decision? Keep reading for our breakdown of everything you'll want to consider when planning a New Year's Eve wedding.
New Year's Eve Wedding FAQs
Is New Year's Eve a popular wedding date?
Since it's the ultimate party night of the year, New Year's Eve can be a popular wedding date, so we recommend planning well in advance to lock in your top vendors and wedding venue.
Remember that along with other couples who may be planning a New Year's Eve wedding, you'll also need to consider the parties and non-wedding-related festivities happening on the same night. Certain venues, like hotels and restaurants, may already be booked if they host annual New Year's Eve celebrations.
Are New Year's Eve weddings more expensive?
Because it's a major holiday, a New Year's Eve wedding is almost always more expensive compared to a non-holiday wedding.
There are a few reasons why costs are generally higher if you're getting married on New Year's Eve. Number one, you're competing with all of the regular NYE events that are taking place, which can directly impact the supply and demand of certain services and vendors. Catering companies, bartenders, DJs and bands, and event rental companies are just a few examples of vendors that may charge a higher price for their services on New Year's Eve. This is especially true if your preferred vendor has to hire extra staff or supplies for the night—holiday pay will increase the cost of labor. Venues may also charge higher rental fees on New Year's Eve, especially if you want exclusive access to the space, or if the venue has event packages with catering and beverage minimums.
Second, New Year's Eve weddings tend to be fancier than your average bash, with glamorous decorations, formal attire and of course a flowing supply of drinks throughout the night. All of these details affect the bottom line of your wedding budget, especially if you run into shortages or shipping delays on essential items like flowers and alcohol. Inflation across the wedding industry can be a contributing factor too.
The third reason why New Year's Eve weddings are more expensive: The party doesn't end at midnight. While most weddings tend to wrap up around 10 or 11 p.m. (and often lead into an after-party), one of the main draws of a New Year's Eve wedding is the countdown to midnight with all of your guests. While some people might head out shortly after the ball drops, you should plan for the reception to last at least an hour after midnight—and maybe even later if your group wants to party into the wee hours of the morning. Longer party = paying more to keep your vendors and wedding venue for additional time.
Finally, don't forget about the added costs that your guests might run into. Travel and accommodation prices are always higher during the holiday season, and some guests might not be able to swing the cost of attending your wedding if they're not local.
What time should a New Year's Eve wedding start?
Plan to start the ceremony for your New Year's Eve wedding between 5 and 7 p.m. so that the event doesn't feel too long.
While many weddings typically start in the early afternoon, New Year's Eve weddings are different. Since you'll want the event to go until midnight (and beyond), you can start your event a little bit later. The average wedding reception timeline lasts about five hours, so starting your ceremony around 6 p.m. is the sweet spot. If your ceremony will last longer than an hour, we'd recommend starting slightly earlier. A short cocktail hour can lead into dinner, which you'll want to get out of the way as soon as possible so guests can move onto drinks and dancing. Want to keep the festivities going after midnight? Invite your loved ones to a late-night after party.
New Year's Eve Wedding Tips
Start planning ASAP.
Remember what we said about New Year's Eve weddings and limited availability? We recommend tackling your big to-dos, like booking a venue, hiring a photographer and finding a wedding caterer, as soon as possible once you've decided that you're having a New Year's Eve wedding. The average engagement length is 16 months, but depending on when you get engaged, you may need to consider a longer engagement. Following the wedding boom, many vendors are booking up even earlier than normal, so there's a chance you could have to wait until the following year if you have your heart set on getting married on New Year's Eve.
Make it extra-memorable for your guests.
Your New Year's Eve wedding is going to be a blast, but not without a little bit of extra planning and consideration for the sake of your guests. While some people might be thrilled to have a built-in excuse to party at your wedding on NYE, there's always the chance that you'll ruffle some feathers by getting married on a holiday. Maybe you have guests who will be skipping annual New Year's Eve traditions with family to attend your wedding. Or maybe you've invited guests who have small children, and now they have to find (and pay for) a babysitter to watch their little ones.
Going the extra mile for your guests will make the night even more enjoyable for everyone, you included. Yes, it's your wedding day, but it's also a significant holiday that holds a lot of meaning for many people. It's important to coordinate everything for your New Year's Eve wedding down to the very last detail, from making sure that guests have safe transportation home to surprising them with added perks, like an onsite nanny or late-night snacks ahead of midnight.
A New Year's Eve wedding is the perfect opportunity to add a 'wow' moment that your guests will always remember. Whether that means hiring a group of professional dancers to perform during the party, upgrading your cocktails with an interactive beverage station or closing out the night with a fireworks display, NYE is all about going above and beyond. And finally, because it's a holiday, we recommend treating everyone to an open bar, even if you keep it simple with wine and beer. Asking guests to pay for their own drinks at a cash bar could unfortunately have them thinking about where else they could be partying it up.
Give your vendors some extra love.
When you're planning a New Year's Eve wedding, be prepared to go the extra mile for your vendors too. On top of showing your thanks with bigger tips at the end of the night, there are a few thoughtful gestures that will have your vendors raving about you as their favorite couple. First and foremost, it's incredibly important to make sure you're providing wedding vendor meals for those who are working during the reception. This typically includes your photographer, planner and DJ, but you should extend the offer to any vendors who are onsite for an extended length of time.
If you're feeling extra-generous, consider inviting your vendor's partner to join them as a plus-one on your wedding day. It's entirely optional, but the gesture can go a long way for certain vendors you've worked closely with throughout your engagement, such as your photographer or wedding planner. While it's true that your vendors are at your wedding to do a job, the holiday presents a slightly different circumstance (and you'd probably want to be with your spouse if you were in their shoes). Even if they politely decline the offer, your vendor will appreciate the thought.
Dress Accordingly.
Your New Year's Eve wedding attire is the time to pull out all the stops. A black tie dress code and glamorous accessories will play up the festive atmosphere of the evening. Look for sparkly wedding dresses, satin or velvet tuxedos and other wardrobe pieces that are embellished with sequins, feathers and metallic patterns. Outfits inspired by the 1920s and The Great Gatsby are extremely popular for New Year's Eve if you like the idea of a themed wedding. Otherwise, instruct your guests to show up in their finest New Year's Eve cocktail dresses, suits and party attire. As midnight gets closer, you can surprise everyone with party hats, noisemakers and other fun accessories.
New Year's Eve Wedding Venues
When the time comes to choose a venue for your New Year's Eve wedding, we suggest looking for locations that already have a lot of decorative features, like grand windows and fancy lighting fixtures. Rooftop locations, swanky ballrooms and trendy cocktail bars are all safe bets no matter the location, but here are some real-life examples from around the country for even more inspiration
Pond House Cafe in Hartford, Connecticut
A gorgeous space for a cozy New England wedding, the Pond House Cafe in West Hartford, Connecticut will help you every step of the way during your planning process. This all-inclusive venue, which offers a special New Year's Eve wedding package, has a dedicated in-house wedding coordinator and team to handle the logistics of your wedding day down to the very last detail. The main reception space features floor-to-ceiling windows with elegant draping and twinkling lights accenting the ceiling's exposed beams. Their expansive catering menu features locally made, seasonal options (and our personal favorite, a late-night mac and cheese station).
The Oviatt in Los Angeles, California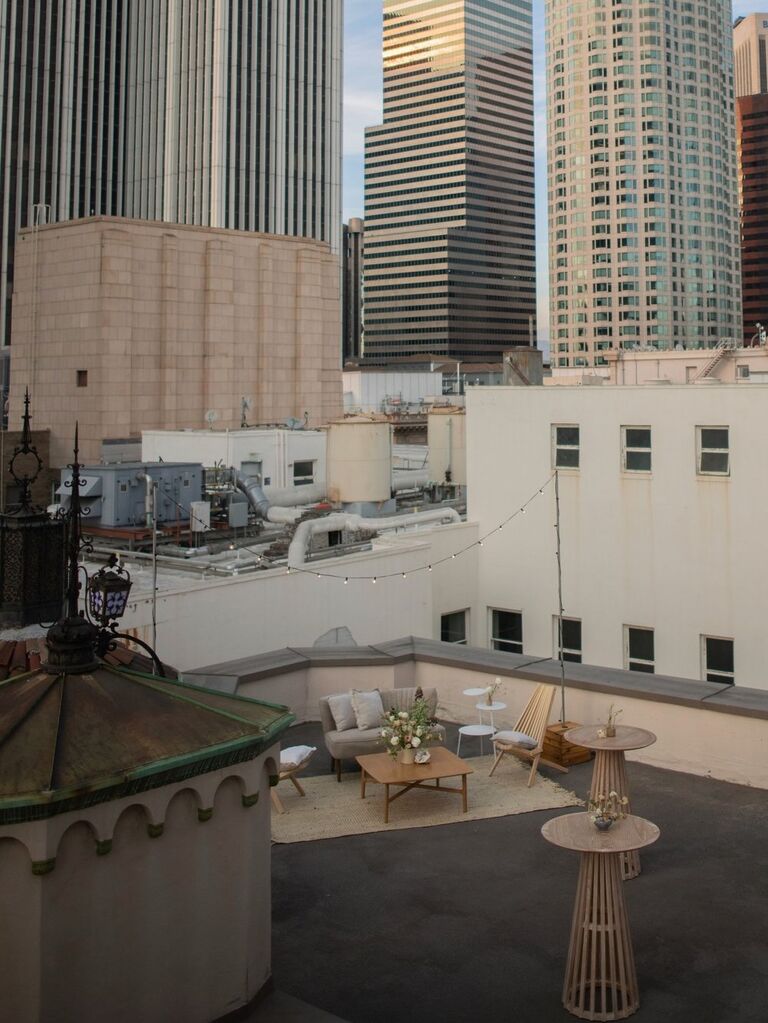 With original 1920s fixtures and an amazing rooftop view, it's hard to imagine a more perfect place for an Art Deco-themed wedding. The Oviatt, located in downtown LA, sets the scene for a glamorous New Year's Eve wedding, but the venue itself comes with several perks. You can get ready onsite in the unique dressing suite, which is decked out with ornately carved wood, etched glass windows and Parisian lighting fixtures (hello, fabulous getting ready photos). Save on event rentals by using the venue's own tables, chairs, dinnerware and more.
Larkspur Events & Dining in Vail, Colorado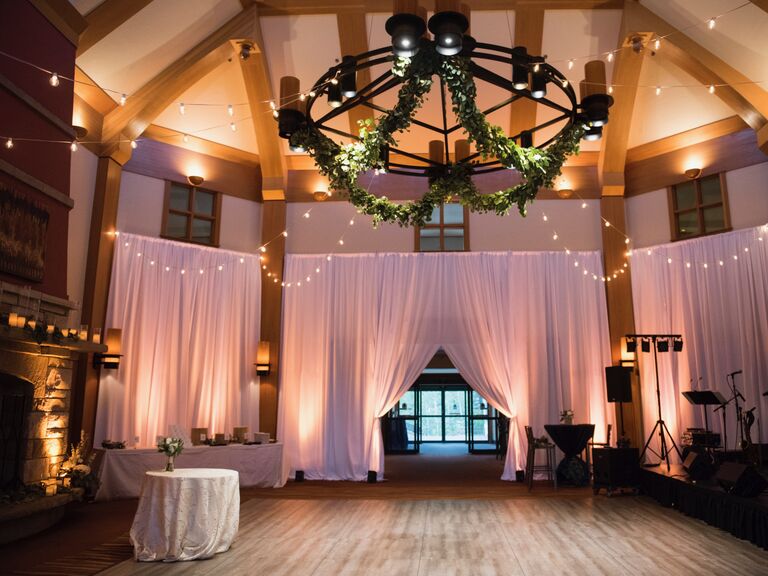 Spend your New Year's Eve in the mountains at this scenic wedding venue. Located less than 10 minutes from Vail Village at the base of Golden Peak, Larkspur is a dream location if you're envisioning a snowy winter wedding. The venue offers wedding packages with in-house catering, rental items and beverages, and has a capacity for up to 500 guests. Multiple hotels within walking distance of the venue make it easy for your guests to plan their trip.