How Microblading Changed My Life
The Knot beauty editor put this semi-permanent brow boosting service to the test. Here's what you should know.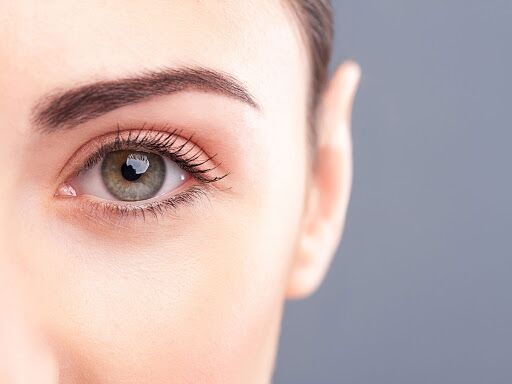 iStock
The early 2000s hit me hard—I have the Juicy Couture tracksuit (baby blue, obviously), glittery MAC eye shadows and the ravaged eyebrows to prove it. I'd pluck my brows every morning with leopard-print Tweezerman slant tweezers using a light-up vanity mirror, haunted by the fear that stray hairs had popped up in the middle of the night. By the time I started college in 2006, my brows were barely visible.
To my horror, in 2014 bold brows à la Cara Delevigne were declared officially on fleek and I spent the next several years trying to fix the damage caused by my mercenary hair removal. I stopped plucking entirely, started taking hair pills and slathered all kinds of growth serums on my anemic arches before bed. My brows grew back—kind of. I still had bald patches everywhere and they were no longer twins but something closer to estranged cousins. Thus began my love-hate relationship with brow pencils, powders and gels.
I learned about microblading on Instagram, and immediately knew I had to try it. Unlike traditional permanent makeup, which can lead to Sharpie-esque effects, microblading is a semipermanent series of feathery strokes that look just like real hairs, and it lasts one to three years. The end result is natural and essentially undetectable—and that's exactly what I wanted.
The Process
At my first consultation at Better Brows NYC, owner and microblading artist Kendra Bray (a former model with predictably impeccable microbladed brows) asked me what I wanted to get out of the experience. I listed off my requests: fuller brows, defined arches and, most of all, symmetry. Once I described the look I was going for, she traced an outline of my new brow shape on my face in removable pencil, which admittedly looked ridiculous. I had a fleeting moment where I feared I was going to end up with dreaded squared-off #instabrow, but she explained the shape was just an outline and would appear much subtler in real life. Once I made some slight tweaks to the shape she suggested, she numbed my brows with topical anesthetic and I laid back on a table in her office, a little scared but mostly excited.

I could barely feel the first few cuts, which is surprising, because I have zero chill where needles are concerned. The tiny, handheld tool she used felt just like a supersharp brow pencil. After each cut, she pressed custom-mixed pigment into the incision, which gave me a second to catch my breath and prepare for the next cut. I started to feel some discomfort after my first eyebrow was finished, but the whole process was already over by the time I was in any kind of real pain. Pro tip: You may sneeze a lot during microblading due to the stimulation of the trigeminal nerve. I was a serious sneezer. Also, don't drink a lot of rosé the night before you go under the knife—I learned the hard way that it makes you a bleeder.
When Kendra blotted the remaining pigment off my forehead and held a mirror up to my face, I was shocked. My brows appeared exactly as they had before my tweezer-fueled rampage so many years ago. In fact, due to her expert shaping skills, they looked arguably better. My eyes were instantly wider, and my face appeared more balanced. She had resurrected the arches I'd demolished, and even built back up the tiny hairs I'd plucked toward the inner corners of my eyes. Though I was in love with the instant results, Kendra reminded me that my new brows would fade over the course of the next few weeks and then scab and fall off before the skin regenerated. "Do not pick the scabs!" she warned. "Do not drink red wine and pick off the scabs!" Apparently this had happened before.
Here's a photo of my brows pre-microblading: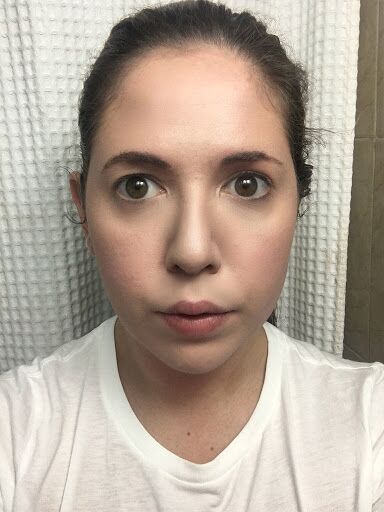 The Recovery

While the procedure only takes a couple of hours, the recovery process is intense. Brides, take note: Microblading is not a quick fix. After my initial appointment, I had to keep my brows totally dry for a full week, while scabs formed. It was during this time that I became particularly skilled at using dry shampoo and face wipes to avoid dealing with full-on showers. I also couldn't work out or get my face too sweaty—a difficult task in the middle of a New York summer. Once the scabs flaked off, it took another couple of weeks for my skin to fully heal. It just so happened my scabs fell off during Bridal Fashion Week, where I found myself over-explaining my brow dilemmas to anyone I made eye contact with. At four weeks, a touch-up was required to perfect any areas that didn't retain the pigment. Due to my naturally oily complexion, my skin rejected a lot the pigment and I had to add on a couple of touch-ups where Kendra used a water-based solution with more staying power. From start to finish, it was about a 12-week ordeal.
Here's a photo of my brows post-microblading: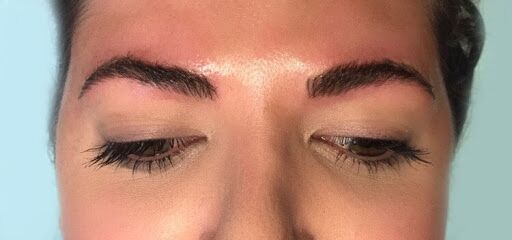 The Results
Microblading is both a splurge (it costs about $500 to $1,600, depending on the amount of touch-ups required) and a process, but for an over-plucker like me, it was a game changer. I've shaved minutes off my morning makeup routine and I never worry about smudging or sweating off my brows anymore. I also feel more comfortable without makeup because my face is more symmetrical now—no more cringing at glaring bald patches whenever I catch myself in the mirror. While perfect brows aren't everything, achieving your #BrowGoals, whether you have serious hair loss or just want your eyes to pop, is an instant confidence booster and totally worth the investment. After all, on your wedding day and beyond, true beauty is about feeling like the best version of yourself—inside and out—and that's exactly how I feel now.
Here's a photo of my brows after my full recovery: