Expecting People to Crash Your Wedding? Read This
Here's how to handle potential wedding crashers.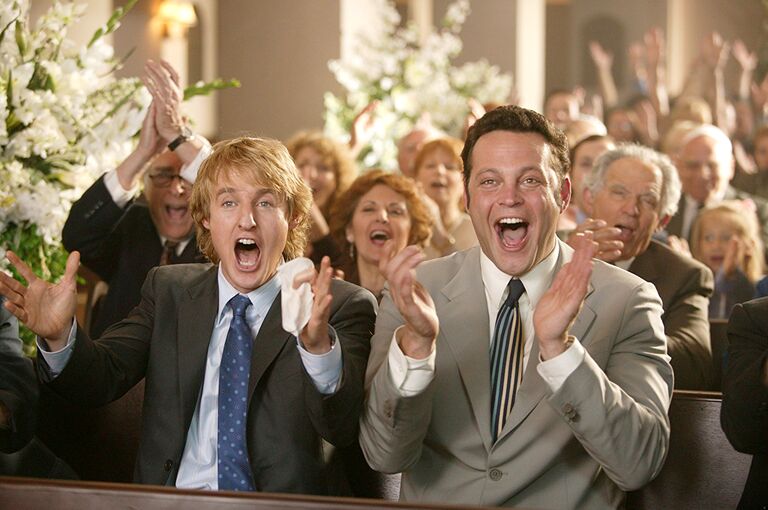 New Line Cinema
No matter how many hours you spend finalizing your wedding guest list, you might be anxious about people showing up uninvited. Whether it's an ex, an estranged family member or a stranger looking for a good time, here's how to deal with crashers both before and at your event.
Strangers
The term "wedding crashers" might conjure up images of Vince Vaughn and Owen Wilson. Those kinds are more common at open, public venues like hotels, restaurants and places with lots of other events happening at once (where it's easier for people to get through the front door). If the wedding's big enough, it might even be more difficult to spot these kinds of crashers than you might think. Also, if you've invited people whom you've never actually seen before, like your parents' coworkers or your in-laws' cousins you've never met, you'll see several unfamiliar faces in the crowd. Don't be shy about asking people who they are when you do the rounds: A simple "I don't think we've met before" will definitely do the trick.
Plan Ahead
There isn't much you can do to prevent strangers from wandering in other than designating an eagle-eyed friend, bridesmaid or relative to keep an eye out in advance. Unfortunately, it's just too easy for people to enter a reception room attached to a public place. (And you don't want to station someone at the door with a list—it's a wedding celebration, not a nightclub.)
How to Handle It
Designate a point person to watch out for anyone lingering too close to the bar or buffet table. If you notice someone is more interested in the food or drinks (or the single guests) than anyone else, there's a chance they don't belong. They'll usually stick out because they're dressed incorrectly or don't seem like part of the environment. But don't immediately go into freak-out mode if you see an unfamiliar face. Only if someone is unrecognizable to you and your new spouse should you go ahead and check with your parents, who very well may know who the guest in question is, even if you don't. If neither set of parents has any clue who the person is, ask the planner or venue manager to discreetly approach the unidentifiable guests and then see them to the door.
Uninvited Plus-Ones
If the words "and guest" don't appear anywhere on the invitation's outer envelope, your cousin's boyfriend of the week shouldn't appear at your wedding. But some guests don't know any better—or simply don't care.
Plan Ahead
Avoiding guests bringing plus-ones without your consent starts with properly addressing your invites. We tend to encourage couples to skip writing "and guest" on their invite envelopes and RSVP cards in favor of using people's actual names. Can't remember your uncle's second wife's name? Find out. For single guests who may assume it's okay to bring a date, explain your budget and/or space constraints. Always double-check RSVPs so you can call if someone adds an uninvited guest—most times, they'll just be apologetic about having misunderstood. Be fair to everyone by establishing a rule in advance that plus-one privileges are reserved for your wedding party and couples who are living together, engaged or married. Refer to this plus-one guideline later if anyone calls it into question.
How to Handle It
If someone shows up unexpectedly, you can figure out a way to make sure they have a seat at the table and accommodate them the best you can. You might not be able to callligraph a custom place card, but it may be possible to work with the venue to set up an extra chair. Of course, if seating arrangements are tight, the surprise guest may have to sit far from their date (but as long as you've done the best you can, that'll be your guests' problem, unfortunately).
Children
Whether it's your cousin's toddler or your future sister-in-law's baby (that means it's your niece or nephew now, so be nice) children do have a certain impact on a wedding, which you might love—or you might prefer to leave for another time. A big family wedding can mean as many as 40 kids running around, which can turn an elegant ballroom into a bit of a zoo.
Plan Ahead
Decide early on whether or not you want to invite children or have an adults-only wedding—then spread the word to your guests by way of your wedding website or word of mouth. All you need is one line: "The reception will be an adults-only affair." Address your save-the-dates and invitations only to the people you know for sure will be invited to the event. If a save-the-date is addressed to the family, but then the invitation only has the names of the parents, you could cause some confusion and ruffle feathers. By that time, your guests' expectations will have been set and plans will have been made. And while you know the invitation's outer envelope specifies exactly who's invited, most people are simply not aware of the proper etiquette here and use the save-the-date addressees as the list of people invited to the main event.
How to Handle It
If people do show up to the wedding with their kids, do your best to accommodate them without disrupting the event. Before the ceremony, have your wedding coordinator or a diplomatic friend ask parents to sit near the back in case their child beings to fuss. That will get a much better response than if someone asks them to leave the venue altogether. Then bust out extra high chairs at the reception. Whatever you do, don't make a scene. Not only will you seem ungracious, it's also a needless stress you don't want to put upon yourself or your other guests. And if someone asks why so-and-so's kid is there, you can explain that despite your no-children request, their parents weren't able to get a sitter in time and brought their child to the wedding unannounced.
Wedding Vendors
We're hoping this doesn't happen to you (and it won't if you choose pros from The Knot Best of Weddings winners!), but there's a chance someone hired for the event could act unprofessionally. Maybe the reception band members thought it was totally fine to show up early to cocktail hour to enjoy the food and drinks while they set up—and a 12-piece band can make a serious dent in the appetizers.
Plan Ahead
Put everything in writing—even if you know they've done tons of weddings, it never hurts to be safe. You need to make it clear you'll provide a meal for dinner and nonalcoholic beverages during the night. If you're concerned about particular vendors, add to their contract that they're not allowed to consume alcohol at any point.
How to Handle It
Before your photographer's associate reaches for a second glass of wine, your planner or a wedding party member should whisper that cocktail hour is for the guests. (Your planner should have no problem doing this.) Another option is to split the duties—have one of your friends keep an eye on the band and another on the photographer. This might even be an instance where a pushy mother-in-law is just what you need to help out. You won't have the time to watch and confront the vendor and still enjoy the wedding—so delegate as much as possible.