Everything You Need to Know About Getting Married in Iowa
Look to The Knot for local details about getting married in Iowa, from choosing your wedding venue to getting your marriage license.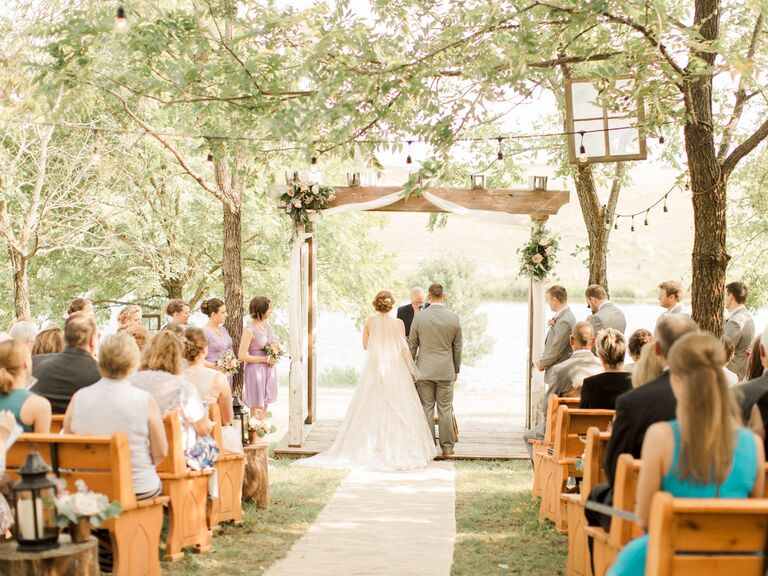 Aly Carrol Photography
Ultimate Guide to Getting Married in Iowa
Better known as the Hawkeye state, Iowa has a reputation for friendly citizens, warm comfort food and a love of nature. Situated between multiple rivers, the state offers couples who are planning their wedding an assortment of options for terrific Iowa wedding venues. Take advantage of Iowa's affinity for agriculture by hosting your festivities on a sprawling farm full of rustic charm. Other outdoor weddings in Iowa utilize the state's picturesque parks, making it easy to plan a wedding in your own field of dreams.

If inside events are your thing, select from one of Iowa's charming historic buildings or classic religious institutions. In situations where you just can't make up your mind, experience the best of both worlds by utilizing separate venues for your ceremony and reception. Use this helpful guide to get ideas for hosting your wedding in Iowa. Take charge of your wedding to-do list, from finding the ideal spot to handling some of the technical matters associated with getting married. Planning your Iowa marriage is sure to provide memories that last a lifetime—and just follow our wedding checklist to help your day go off without a hitch.
Top Wedding Trends in Iowa
Not only are Iowa's wedding venues diverse and easy to personalize, but having this midwestern state as your wedding location also means that you get to enjoy the trends and traditions of the area.
When it comes to wedding trends, however, Iowa couples are varied and unique in how they approach their big day. In fact, depending on where they're located within the state, couples have different ideas about what a typical wedding should include. According to The Knot 2015 Real Weddings Study, around 66 percent of couples opted for a semi-formal wedding, while 16 percent were formal. By contrast, casual weddings were the celebration of choice for 17 percent of couples looking for a more laid back day.
Iowa Marriage Rates and Wedding Costs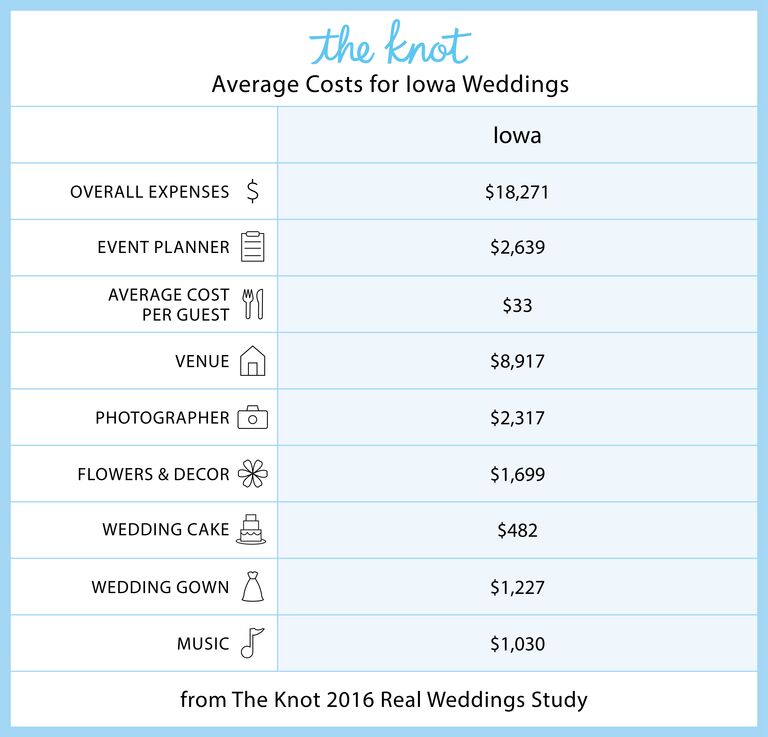 Planning a wedding can be a lot of fun, but affording it is another story entirely. No matter which type of wedding venue you choose or what type of theme fits your personalities, make sure you've created a budget and that you're sticking with it. The Knot Budgeter can help keep you on track! But before you take that important step, here's a little background info on how many couples are tying the knot in Iowa, plus what you can expect to pay for common wedding costs in Iowa, as reported by The Knot 2015 Real Weddings Study.

Iowa Wedding Stats
So how many couples are actually getting married in Iowa? Turns out that marriage rates in Iowa are just above average with 6.9 out of every 1,000 people. And according to The Knot Real Weddings Study, Iowa couples spend an average of $18,175 (not including the engagement ring or honeymoon) for their wedding day, not including the engagement ring and honeymoon. Not surprisingly, Des Moines weddings are consistently more expensive compared to other parts of the state. Plan your big day at a wedding venue in in other parts of the state and you'll likely pay substantially less than the national average.
Budget Breakdown: Average Costs for Iowa Weddings
Getting a sense of what you'll pay for your wedding day expenses will make it easier to budget and negotiate with vendors. Above you'll find average costs for some of the more common wedding categories.
Top Cities in Iowa to Tie the Knot
From Des Moines and Sioux City to Cedar Rapids, Ames and Iowa City, there are a variety of wedding venues in Iowa that stretch across the state. However, there are two city centers which stand out as top picks for Iowa weddings:
Make It Legal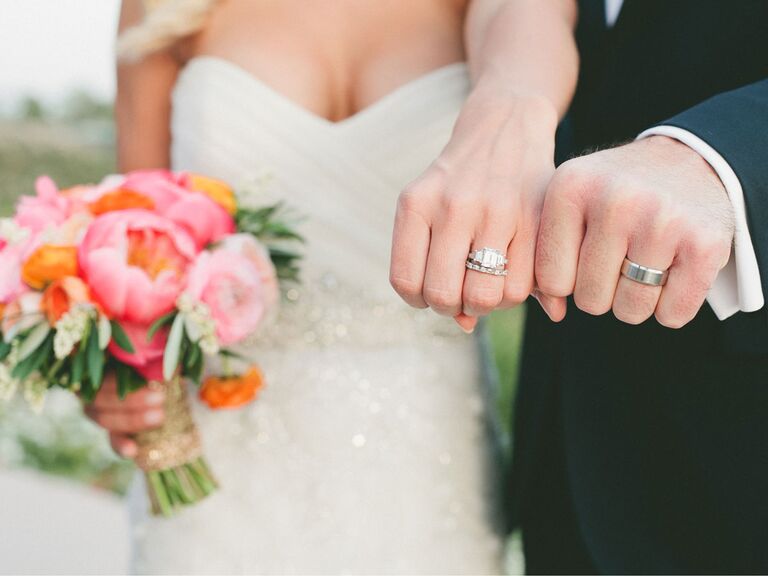 While we hope that planning your wedding feels like it's filled with fun events like cake tastings and finding the perfect DJ or band, there are some strings attached to tying the knot. Understanding the ins and outs of not only getting your Iowa marriage license, but also taking care of details like permits and changing your name(s), is equally important in the weeks and months leading up to saying "I do."
Getting an Iowa Marriage License: The Basics
To apply for a marriage license in Iowa, you can go to any County Recorder's office. This applies for any wedding that is conducted in the state of Iowa. When you go to apply for your license, have the following with you:
A witness, your partner and yourself. Choose a witness that is at least 18 years old.
Photo identification for everyone (driver's license or government-issued ID)
A $35 fee
Iowa has a three-day waiting period, meaning that once the license is issued you must wait three days before it is valid. Make sure to consider this when planning your trip to the County Recorder's office.
After your wedding, return the Certificate of Marriage to the Recorder's office. A certified copy will then be mailed to you.
Permits and Other Legal Necessities for Iowa Wedding Venues
If you're planning a wedding celebration on public land, water or ice, you'll need a special event permit. Apply for the permit online, at least 30 days prior to your wedding date, at the Iowa Department of Natural Resources website. Be prepared to pay a nonrefundable $25 processing fee when you submit the application. Keep in mind that you might also need have liability insurance for your event, depending on the location. But don't let that deter you! Check with your event coordinator or directly with the venue to confirm the need for any permits or additional insurance coverage.
How to Change Your Name in Iowa
If you decide to change your name after the wedding, the process in Iowa is pretty straightforward. Check out HitchSwitch professional name change service or follow our simple guide to changing your name. If you decide do it on your own, be prepared to take the following steps:
Obtain a certified copy of your marriage license. This is the copy with the raised seal.
Visit the Social Security Administration, either in person at one of its offices or via its website, to fill out an application for a new Social Security card.
Take a trip to the DMV to get a new license that reflects your new name. Bring your old license, marriage license and new Social Security card.
Once you officially have a new name, it is time to update all of your accounts. This part can be time consuming, depending on your personal situation. Common items include:
Bank accounts
Investment accounts
Retirement plans
Utility accounts
Credit card accounts
Loans
School associations
Alumni groups
Insurance policies
Patient information
Passport
Legal documents
Voter registration
It's All About Timing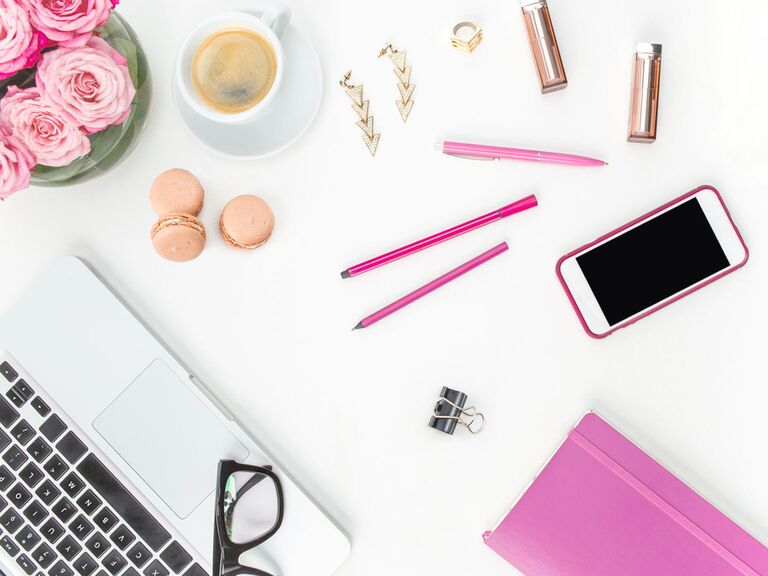 More couples are embracing the beauty of fall weddings, but in Iowa the summer months of June, July and August still top the list of most popular for weddings. In 2015, for example, 45 percent of couples exchanged vows in the summer and 39 percent in the fall.
The Four Seasons in Iowa
Having a winter wedding in Iowa is not for the faint of heart! With an average high of 32 degrees Fahrenheit, only 2 percent of Iowa couples opt for a winter wedding. So if you're not prepared for half a foot of snow or below freezing temps, you may want to consider warmer months to celebrate your love.
March brings spring and an average temperature of 50 degrees Fahrenheit, and 14 percent of Iowa couples embrace the warm-up by exchanging vows in the spring. Snow is still a possibility, with the average snowfall dropping three inches.
The summer months usher in hot temperatures that typically fall in the 80s during the day. Unfortunately, summer thunderstorms and rain showers are also a possibility. If you want to throw a summer outdoor wedding in Iowa, have a plan for bad weather. Rental tents and nearby banquet halls are two possibilities if the weather tries to put a damper on your day. See if your wedding site offers these options, especially if you prefer an outside wedding.
Looking at fall's gorgeous weather, it's easy to see why it is so popular for couples. Temperatures are mild and precipitation is lower than normal. The average temperature in September is 78 degrees Fahrenheit, while October brings a mild 66 degrees Fahrenheit. Outdoor wedding venues in Iowa are an excellent way to experience the crisp, clean air of the season.
Iowa Wedding Dates to Avoid
Depending on where you get married in Iowa, there are some important dates you may want to avoid in order to make sure that your wedding guests are comfortable and can easily find a place to stay. Ask your wedding planner or venue for tips about how to avoid major traffic times or local events that might make your wedding weekend more difficult for guests and more costly for you.
If you're on a tight budget, try to avoid common national holidays and busy weekends that tend to inflate the cost of everything! (We cover these dates for 2016-18 in our comprehensive guide). Additionally, here are some festivals and events you may want to note for 2017:
University of Okoboji Winter games (late January)
Pella Tulip Time (early May)
Orange City Tulip Festival (mid-May)
North Iowa Band Festival, Mason City (late May)
Glenn Miller Festival, Clarinda (early June)
Des Moines Art Festival (late June)
Cedar Rapids Freedom Festival (late June to early July)
National Balloon Classic (late July to early August)
Iowa State Fair, Des Moines (August)
Iowa is also home to a variety of sports teams, such as the Iowa Hawkeyes, Iowa State Cyclones and Burlington Bees. If your event is close to a sporting arena, check the team's schedule to avoid traffic or parking concerns.
Great Guest Experiences
Helping your guests feel comfortable and welcome is one of the key ingredients to wedding success. With such a wide variety of unique wedding venues in Iowa—from rustic barns to trendy galleries—there are so many places for a celebration that is a true reflection of your couple style while also making it fun for your friends and family. No matter where you choose to get married, giving your guests a great experience starts with you creating your very own wedding website. It's a great way to keep everyone connected and informed.
Finding Your Way: Iowa Travel Info
Getting to and around Iowa may seem tricky, especially for out-of-towners who might be visiting for the first time. Relieve some of the travel-related stress by helping your friends and family understand their options for getting to your wedding. Depending on their original locale, flying, driving and taking the train are all possibilities for transportation.
Iowa has five major passenger airports. They are as follows:
The Eastern Iowa Airport
Des Moines International Airport
Dubuque Regional Airport
Sioux Gateway Airport
Waterloo Regional Airport
If flying is not an option, Amtrak is another alternative. Amtrak's train, the California Zephyr, serves the southern portion of Iowa. The Fort Madison area is serviced by Amtrak's Southwest Chief.
Guests who are driving will likely use one of these four primary highways:
Interstate 29 (I-29): runs from west Iowa through Council Bluffs and Sioux City
Interstate 35 (I-35): runs from through the center of the state, including Des Moines, from the Missouri state line to the Minnesota state line
Interstate 80 (I-80): runs from the Nebraska state line to the Illinois state line through the middle of the state
Interstate 74 (I-74): located northeast of Davenport, beginning at I-80
Once guests are in Iowa, they can use public transportation, cabs or rental vehicles to get around. Public transportation may be limited in some areas, so check in advance so your guests know what to expect.
Around Town: What to Do and See in Iowa
The activities, events and attractions across the state of Iowa are wonderfully diverse. From the bustling streets of Des Moines to the picturesque Bridges of Madison County, there is no shortage of year-round events and destinations to entertain guests before and after your wedding day.
Here are some of Iowa's top tourist attractions
The Capitol Building in Des Moines
The National Mississippi River Museum and Aquarium in Dubuque
Eagle Point Park in Dubuque
Pikes Peak State Park in McGregor
Reiman Gardens in Ames
Blank Park Zoo in Des Moines
Adventureland in Altoona
Snake Alley in Burlington
Go Local: Food and Favors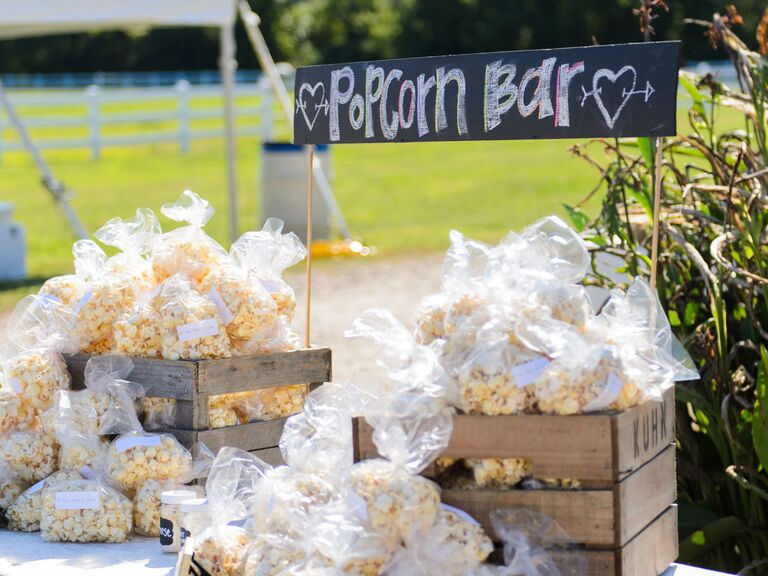 Whether you come from two born and bred Iowa families or are bringing in relatives from all over the country (or world), embracing unique elements of the heartland will help make your wedding memorable for all who attend. Consider these ideas for bringing the food and culture of Iowa to your wedding celebration.
Iowa Flavors: Unique Regional Foods for Your Wedding
From the hearty German fare at the Amana Colonies to Jimmy Jack's Rib Shack in Iowa City, Iowa is known for some of its amazingly tasty comfort food. Iowa is the top producer of pork in the US, and is famous for immense pork tenderloin sandwiches that aren't even close to being contained by a bun. Serve them up slider-style during your cocktail hour or pass out the sandwiches as a late-night snack after your guests have hit the dance floor. Not into swine dining? Maid-Rite sandwiches are another Iowa staple and would be a welcome addition as an appetizer or at your after-party.
Dutch letters, pastries that are loaded with creamy almond paste, are a popular dessert. Add them to your dessert table or serve them up with a side of Blue Bunny ice cream for a tasty way to end your wedding meal.
Do Your Guests a Favor: Iowa-Inspired Take-Home Treats
There are many ways to bring Iowa charm into your wedding though individual favors or fun regional items placed into guest welcome bags. Check out The Knot Shop for personalized wedding favors, and try these unique ideas to get you started:
Iowa is one of the nation's leading producers of corn. Set up a popcorn bar with takeaway bags, or send your guests home with fun and functional corn-cob holders.
Small boxes of handmade truffles from Chocolaterie Stam are a sweet ending to any celebration.
Geodes are Iowa's state gem. Send guests home with these interesting rocks that hold a sparkly secret inside.
Food on a stick is an iconic part of the Iowa State Fair. Apple pie on a stick or cake pops are a cute (and delicious) way to pay homage to fun fair foods.
Iowa City Guides
It doesn't matter if you want the simple beauty of nature or the unique charm of stunning architecture; there is an Iowa wedding venue suited to your tastes. Check out what Des Moines and Cedar Rapids, two of the largest cities in Iowa, have to offer. Once you have selected a venue, you can find wedding vendors using our wedding vendor marketplace.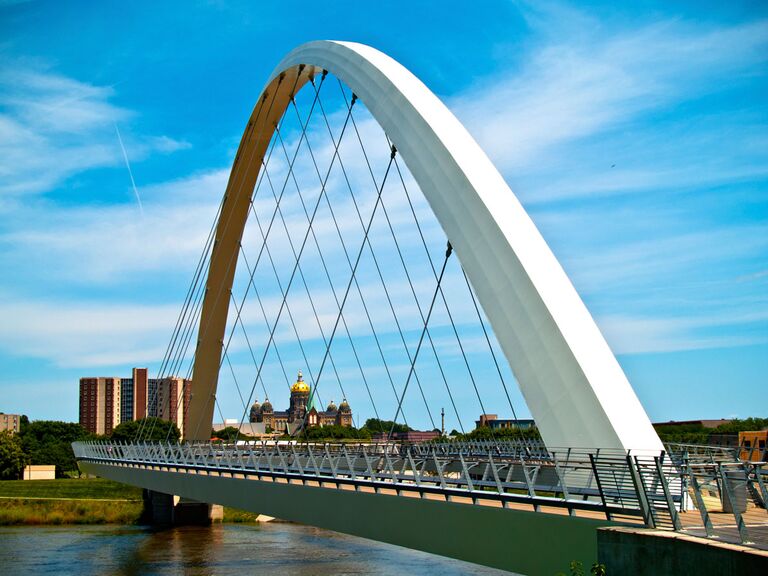 Des Moines is the capital of Iowa and a major center for the financial industry. It is home to the first caucuses of the presidential primary cycle, offering a sense of history that cannot be matched. The city is home to numerous skyscrapers, such as the HUB Tower, Plaza Building, and Principal Financial Group Tower. Imagine exchanging vows with the dramatic backdrop of a breathtaking skyline.
Regardless of your tastes, you are sure to find a spot that fits your style. Downtown spots offer numerous selections for Des Moines wedding venues. If you prefer to get married outside, check out the 76 parks located in Des Moines for a natural setting.
For local Des Moines vendors, check out: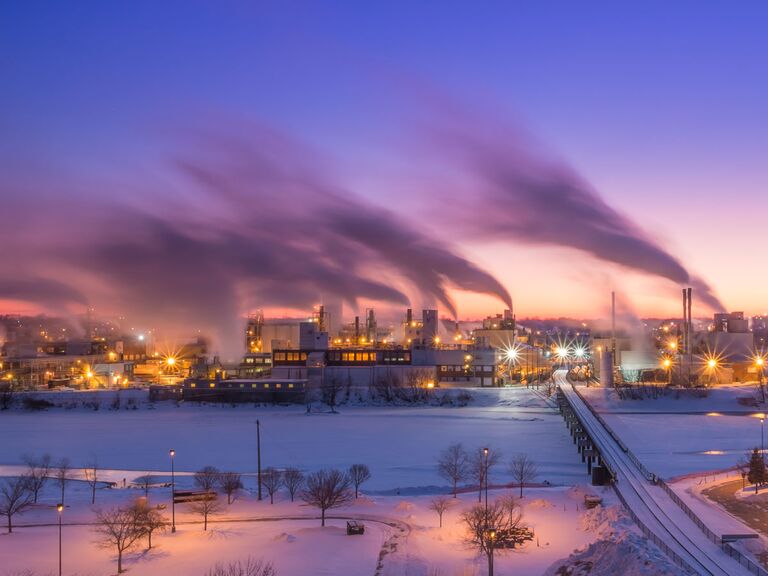 Cedar Rapids is Iowa's second largest city, and is located on the banks of the Cedar River. This distinct city is home to a thriving environment for culture and the arts, with multiple museums and theatres. Czech Village, with its numerous Czech-related businesses, is also located in Cedar Rapids. Many of these establishments seek to preserve Czech culture that has had a direct influence on the growth and development of Cedar Rapids.
For local Cedar Rapids vendors, check out:
Check out more Iowa wedding inspiration here.
Don't forget to download The Knot Wedding Planner app—it's a must-have for on-the-go planning.
Download for iOS: Wedding Planner App by The Knot
Download for Android: The Knot Wedding Planner