33 Creative Picture Gift Ideas To Show Off Your Relationship
These photo gifts go beyond just frames.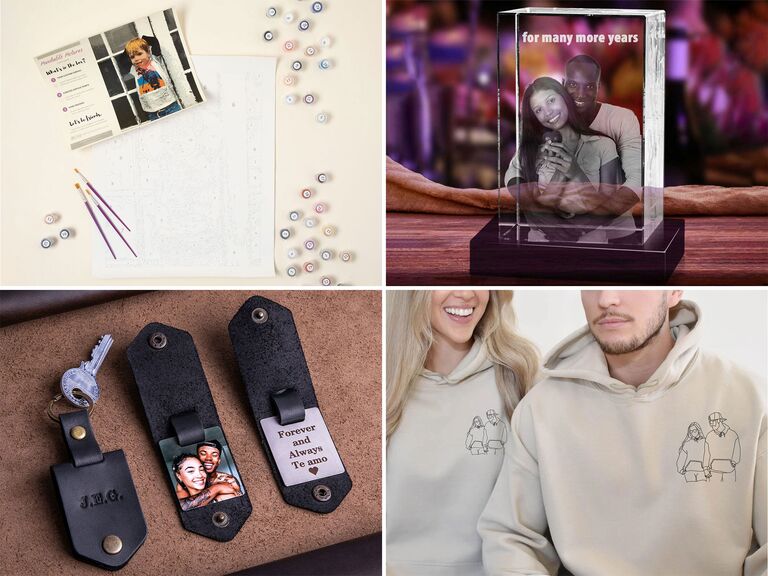 We have included third party products to help you navigate and enjoy life's biggest moments. Purchases made through links on this page may earn us a commission.
They say a picture's worth a thousand words, which is exactly why photo gifts are such smile-inducing presents. While you could go for a cute frame, we've got picture gift ideas that go well beyond four borders. Whether you're shopping for a wedding anniversary gift for your husband, wife or spouse, or a token of gratitude to mark your S.O.'s birthday, a holiday or just because, these unique picture gifts will be well-received—we guarantee it. From vintage reel viewers to photo lockets and personalized night-lights, these custom keepsakes will put you and your boo proudly on display. Just keep scrolling, we're sharing the best couple photo gift ideas so all you have to do is pick the snapshot.
1. Create Your Own Reel Viewer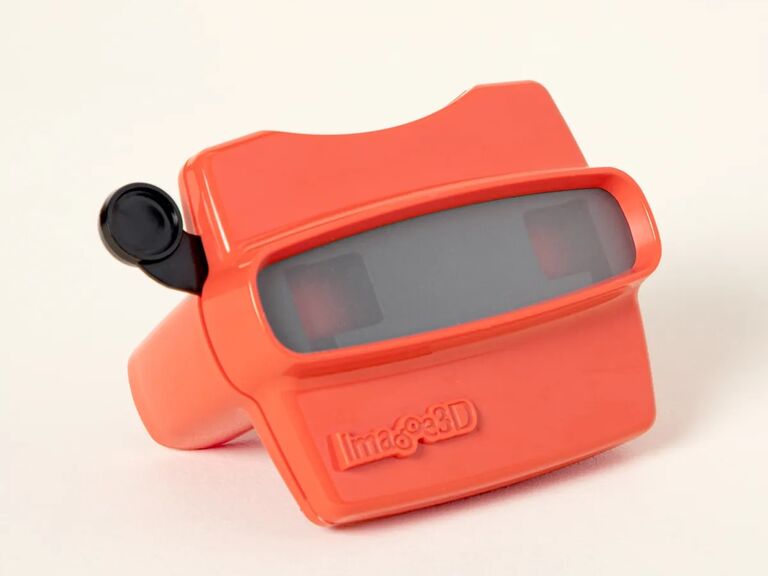 Show them your love is reel with this nostalgic picture gift for your girlfriend, boyfriend, fiancé or spouse. The gadget presents all of your favorite memories as a couple in a unique slideshow format. Plus, once you have the reel viewer, you can buy more custom reels with new snapshots for every gifting occasion. If you're looking for cool photo gifts, this genius idea certainly qualifies.
2. Photo-to-Pencil Sketch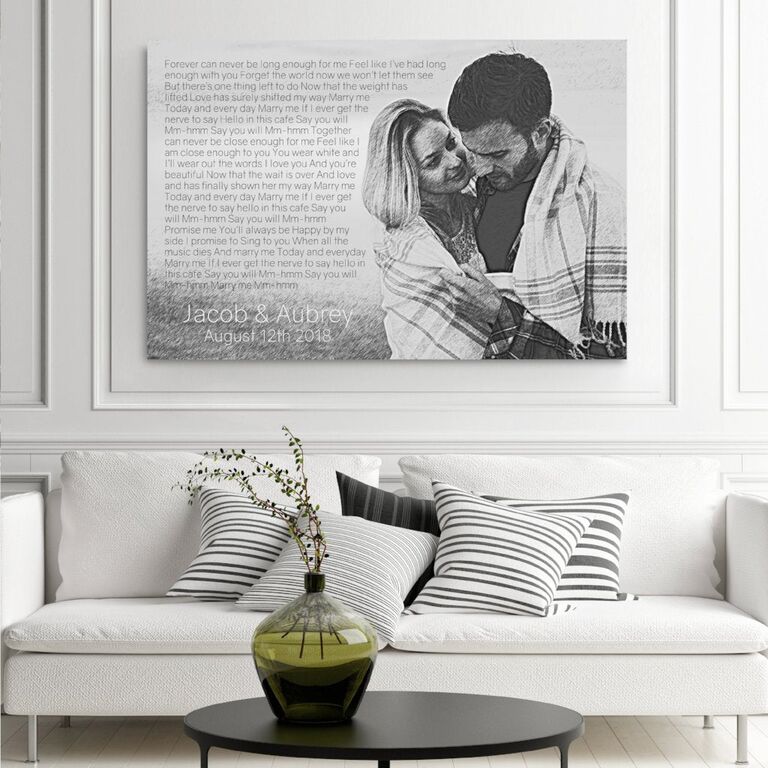 Looking for a wedding anniversary gift? Have one of your favorite moments from the big day turned into a pencil sketch for a stunning piece of wall art. Best of all, the drawing can be accompanied with your vows or the lyrics of your first dance song, if you're married. They'll definitely shed some happy tears when they open this sentimental photo gift.
3. Photo Projection Bracelet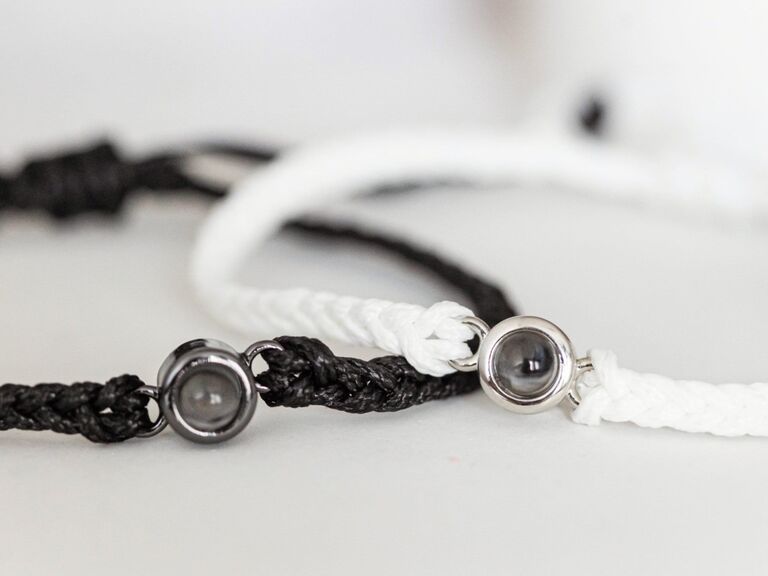 You may have seen this unique picture gift trending on social media and it's totally worth the hype. They can be sold as a set of two—one for you and one for your S.O.—and each braided string bracelet features a stainless steel projection bead personalized with a photo. You can peer into the bead to see the image or use a light to cast it onto a wall.
4. 3D Photo Crystal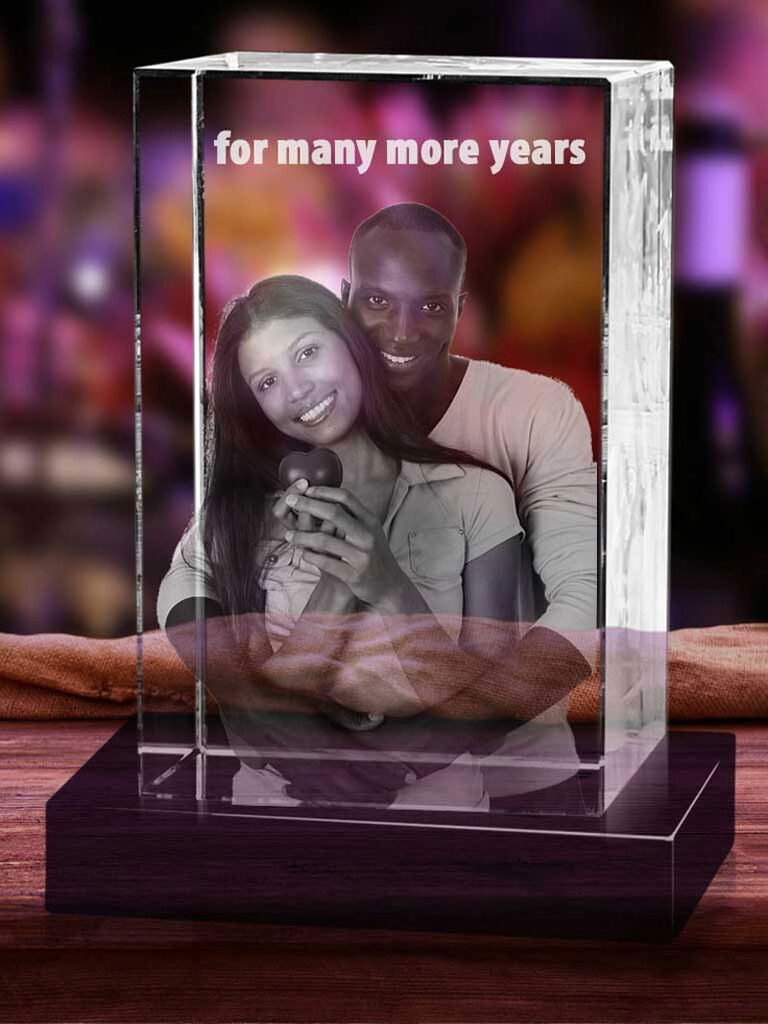 This couple picture gift idea is at the top of our list for a reason. A crystal block is carefully laser engraved with a custom picture, resulting in a 3D recreation of the moment. It can then be mounted on an illuminating black light base or a really snazzy rotating LED to make the image pop even more. It's special as is, but really take it to the next level by having a short, personal message engraved into the crystal.
5. Personalized Wooden Frame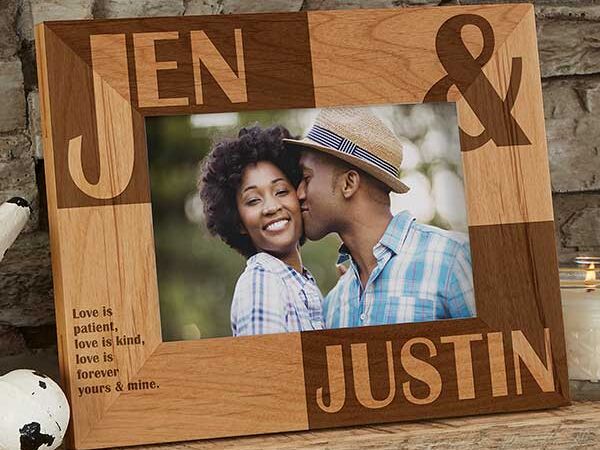 We love turning photos into unique gifts, but you also can't go wrong with a classic frame. This personalized present will earn prime real estate in their home or office. Crafted from two tones of wood, it features both of your names and one of five romantic poems. (Psst: This makes a fitting fifth anniversary gift, which has the traditional theme of wood.)
6. Mercury Glass Frame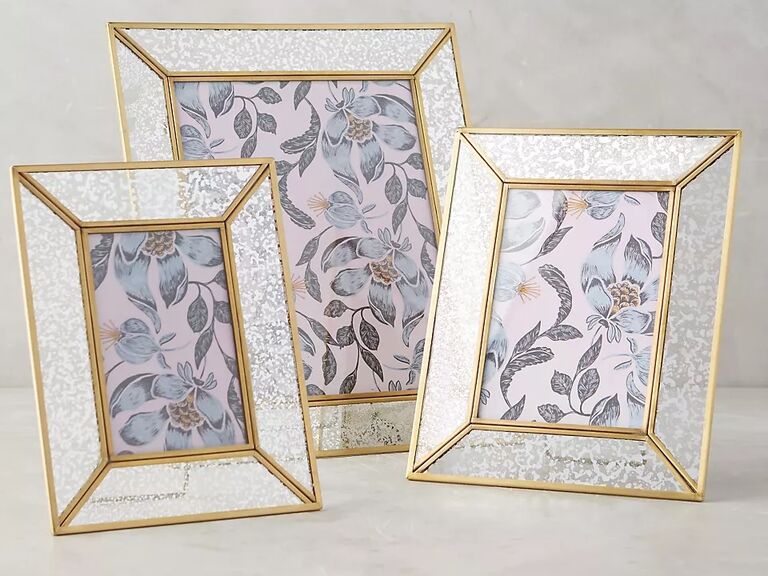 If your partner has a more refined style, try this delicate frame instead. It's made from elegant mercury glass with a brass-plated iron border. Choose between three sizes to show off your favorite memory together.
7. Photo Desk Calendar
Don't feel limited to just one photo. If you have a few—specifically 12—that you want off the camera roll and on display, consider a custom calendar for your partner. This solid brass easel with high-quality, tear-off paper pages can sit on his, her or their desk, so they see a new memory every month. And you don't have to order it at the start of a new year. The calendar can be customized to begin on any month.
8. Custom Song Plaque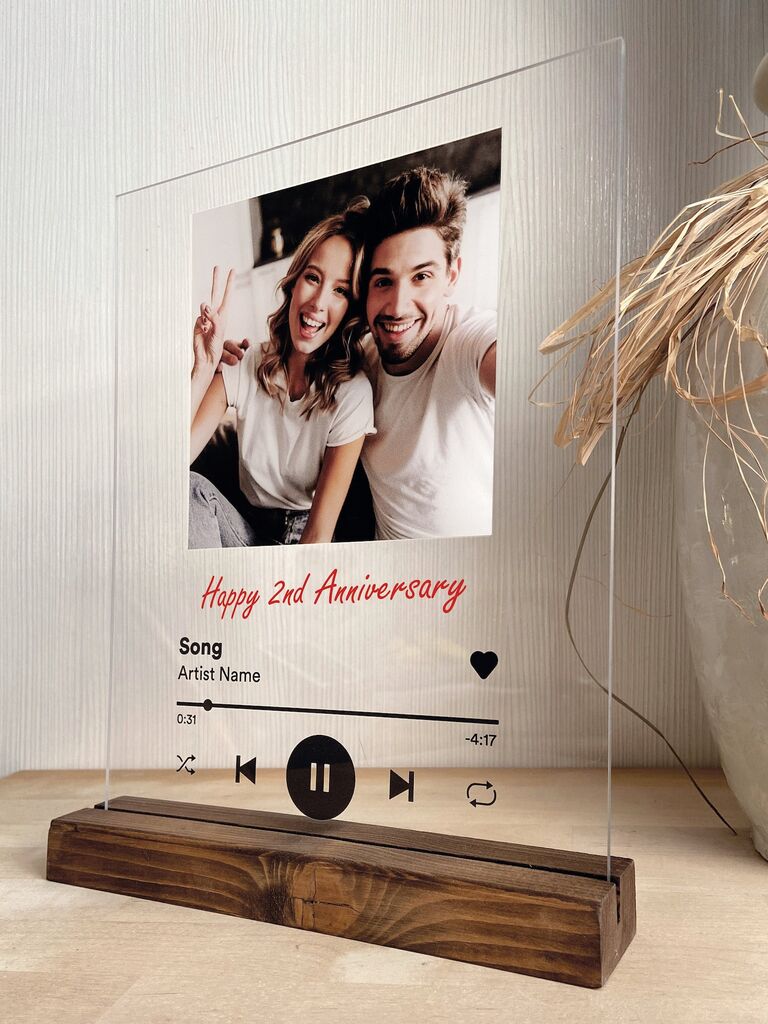 Anything can be an album cover! Turn one of your favorite photos of you together into meaningful art reminiscent of a digital music platform. Simply pick a picture for the art and a song that reflects your love, then the seller will print it onto an acrylic plaque. You can even include a QR code of the music for them to scan then play from their phone.
9. Personalized Fleece Blanket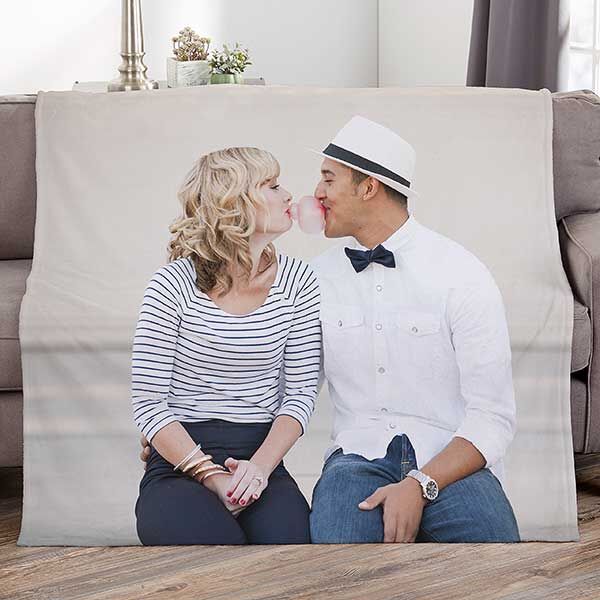 Does your partner give you the warm and fuzzies? Give them something warm and fuzzy right back! This fleece blanket is printed with a special photo of you two, so it's as cozy as it's heartfelt. For an extra cost, you can even add a message over the image like, "You're my favorite cuddle buddy."
10. Custom Watercolor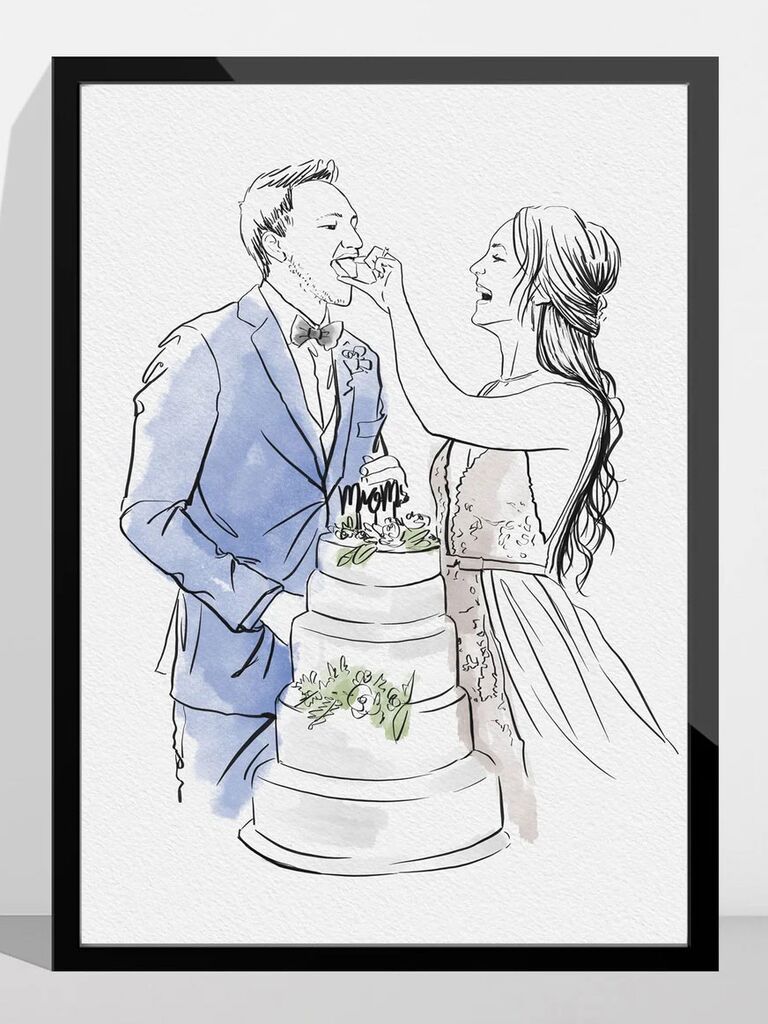 We're obsessed with these custom illustrations and your partner will be too. This art recreates your favorite photo as a pen and ink drawing that is then filled in with watercolor. They can then turn it into a digital file for you to use as you see fit or you can receive the art as a ready-to-hang canvas or framed print.
11. Long-Distance Light-Up Picture Frame Set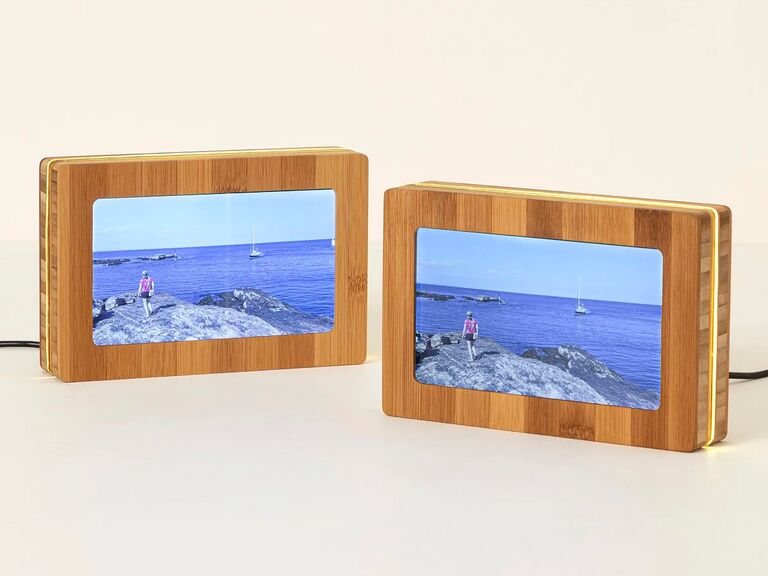 If you're in a long-distance relationship, this is just the picture gift for your girlfriend, boyfriend or partner that lives out of town or even out of the country. On the surface, it looks like a digital picture frame that allows you to make a slideshow with multiple pictures. But it's so much cooler than that. When you buy two, the devices are paired together, so when you tap your wooden frame, your love's will light up and change color. What a cute way to let someone know you're thinking about them!
12. Custom Jigsaw Puzzle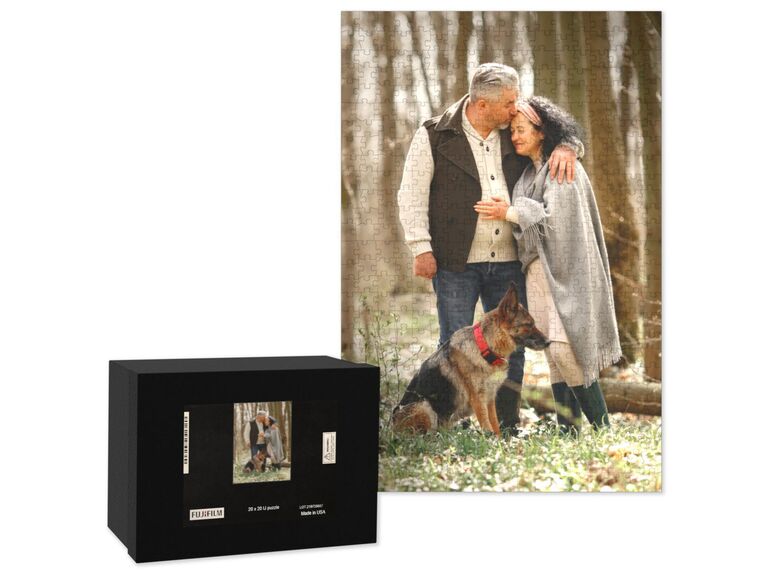 A puzzle is one clever way to celebrate your compatibility. But don't just find any image to put together. Choose your favorite photograph—whether it's a selfie, a portrait from your wedding day or a landscape of a significant place to your relationship—to be turned into a jigsaw puzzle of 30 to over 1,000 pieces. It'll give you both hours of entertainment.
13. Sterling Silver Compass Locket
Gift your adventure buddy this precious locket. Designed like a compass, the sterling silver charm is adorned with white sapphires and opens to reveal two custom photos—perhaps from your latest trip together. Just note, you will have to print the appropriately sized pictures to pop into the necklace yourself. Thankfully, they have an online tool to help you out.
14. Photo Tie Patch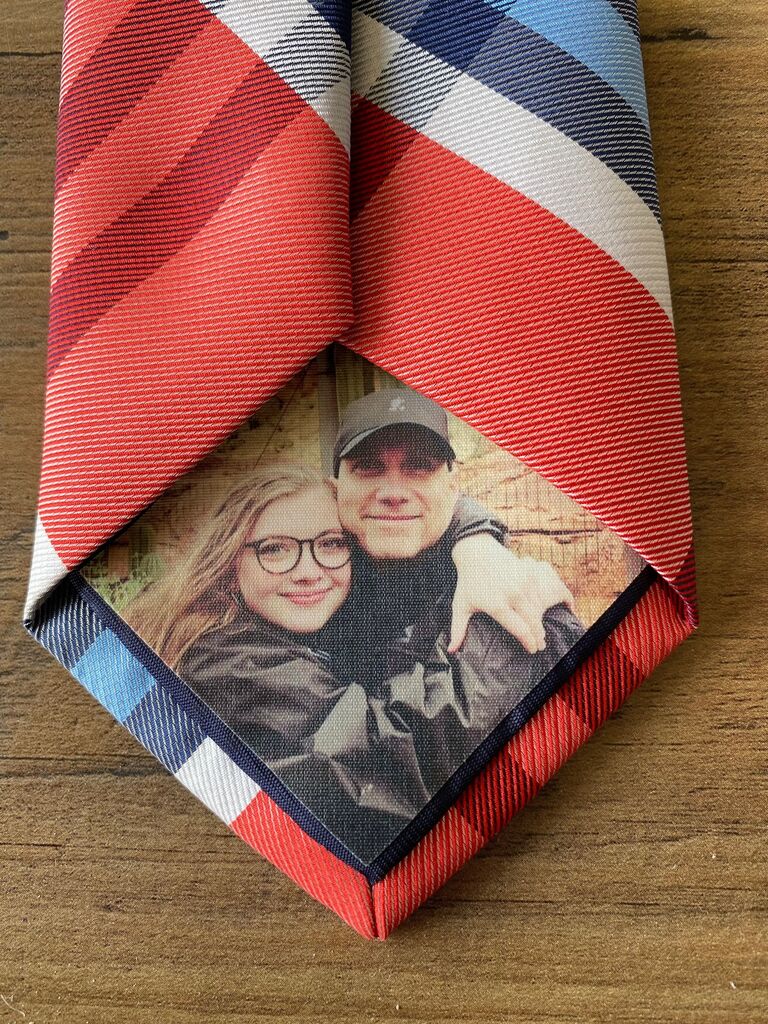 If your partner often dresses up in a suit and tie, surprise them with this photo tie patch. The peel-and-stick fabric construction makes it easy to apply to the inside of their favorite tie or a new one you picked out just for this gift. Now, they can carry a little piece of you with them wherever they go.
15. Custom Pet Pillow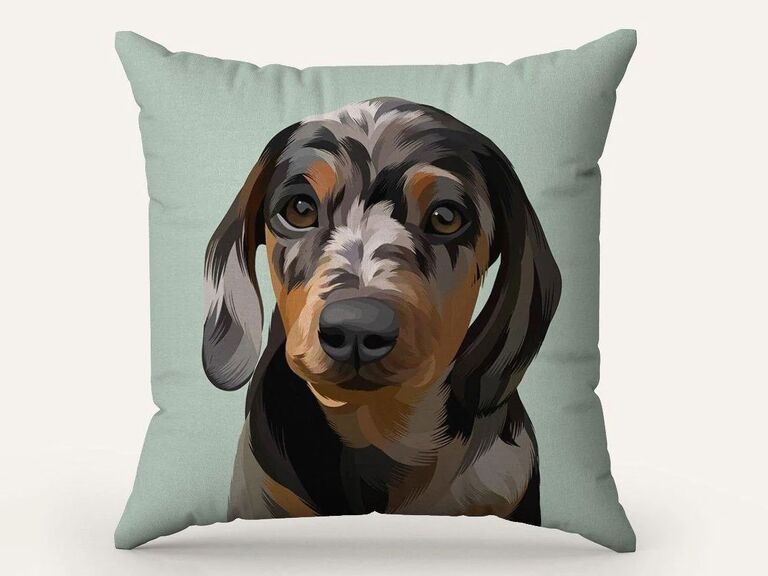 Not all photo gifts have to be of the two of you. Honor their second love with a custom pet pillow. It features a custom illustration of their pet and you can even change the background so it looks like they're driving, a member of royalty or a superhero. They'll definitely get a good chuckle when they open this decorative pillow.
16. Custom House Letterpress Portrait Art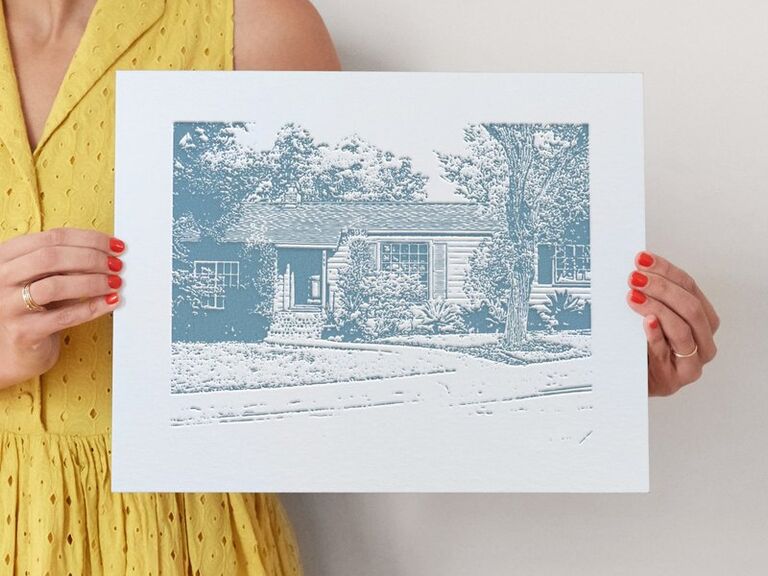 You could also transform an image of your home into special wall art. Minted's designers will turn a photograph of your abode into an heirloom-worthy art piece. Pick the print's color and frame based on their taste and interior style for a creative picture gift.
17. Photo Coasters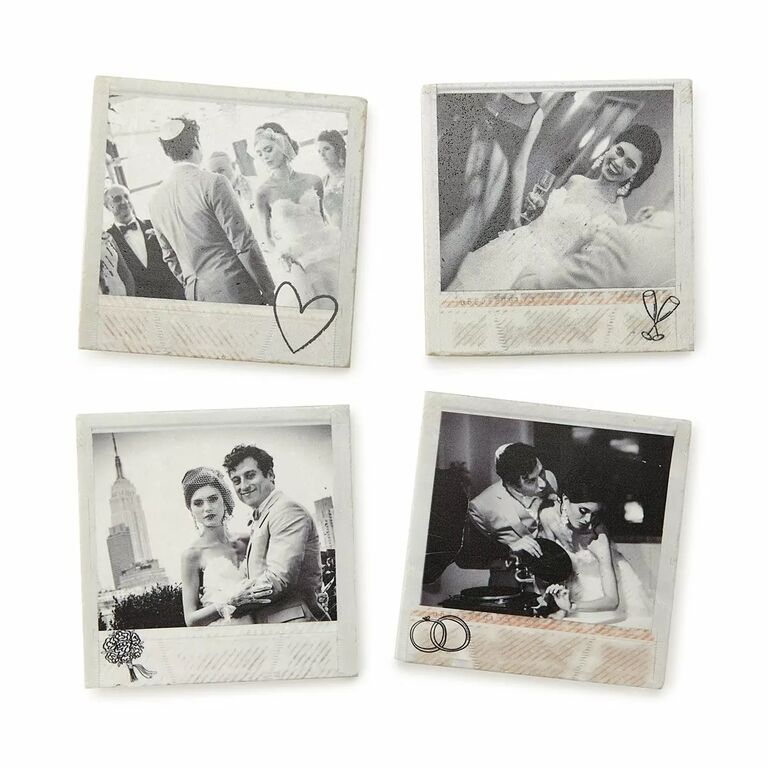 Anyone can appreciate the practicality of coasters, especially if they've just invested in quality furniture. This marble quartet features your choice of photo and text combinations, which look like nostalgic Polaroids when complete. They're a great and arguably cheeky picture gift for your wife, husband or partner if they're always asking you to not put your drink directly on the table.
18. Photo Star Map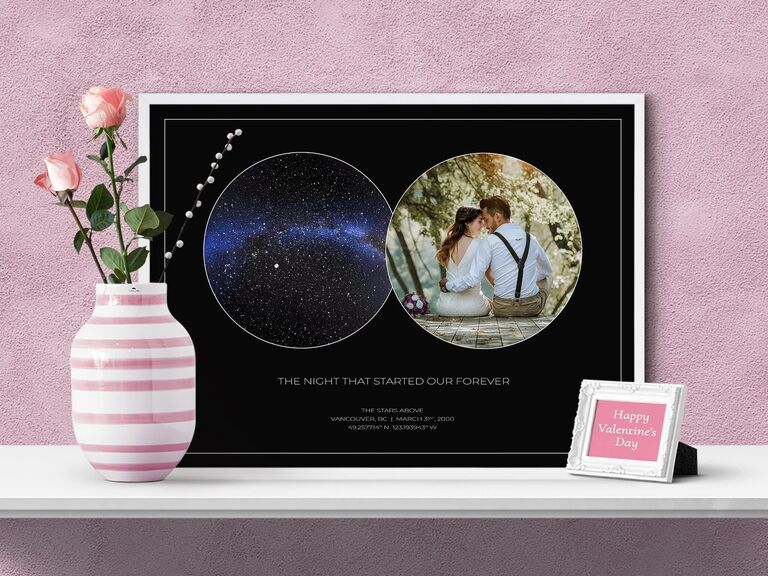 Is your love written in the stars? This tear-jerkingly adorable print features the night sky on the date of your choice (think: the day you met or exchanged vows) alongside a picture of the two of you. Underneath the art is a custom message of your choice along with the date, location name and even the coordinates of the spot you picked.
19. Personalized Photo Lamp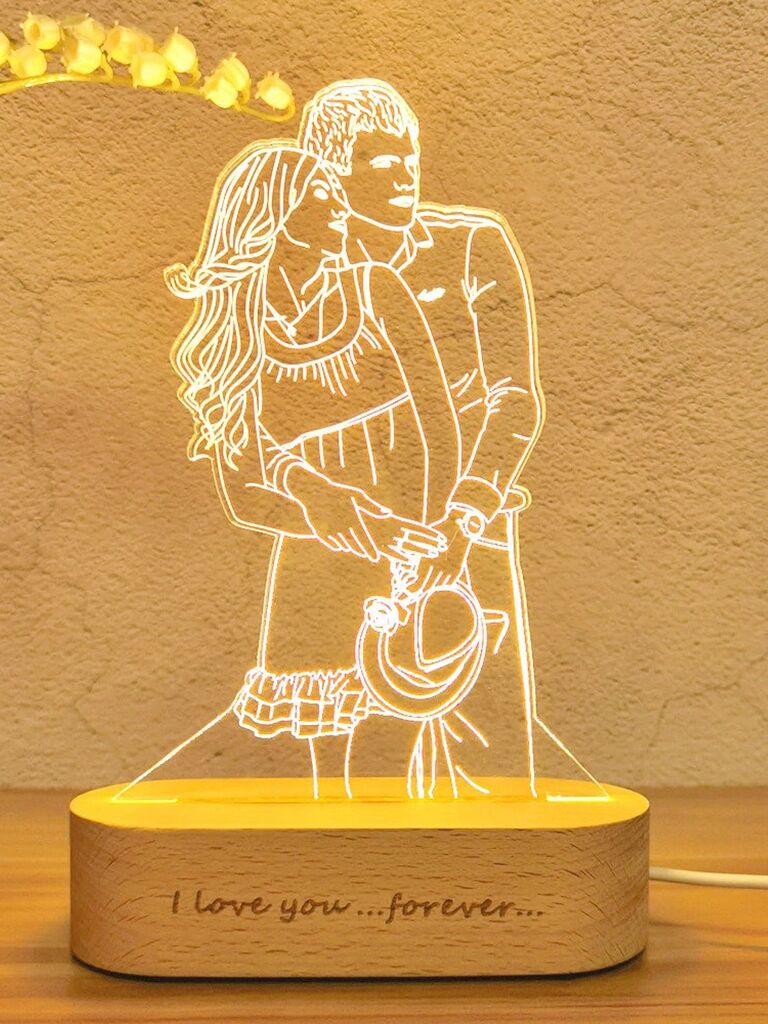 Give the light of your life their own little lamp to keep the nightmares away when you can't be together. This cute photo gift takes the outline of a portrait and turns it into illuminating acrylic board art. Make sure to get the wooden base custom engraved with a short message like "I love you."
20. Scrapbook Photo Album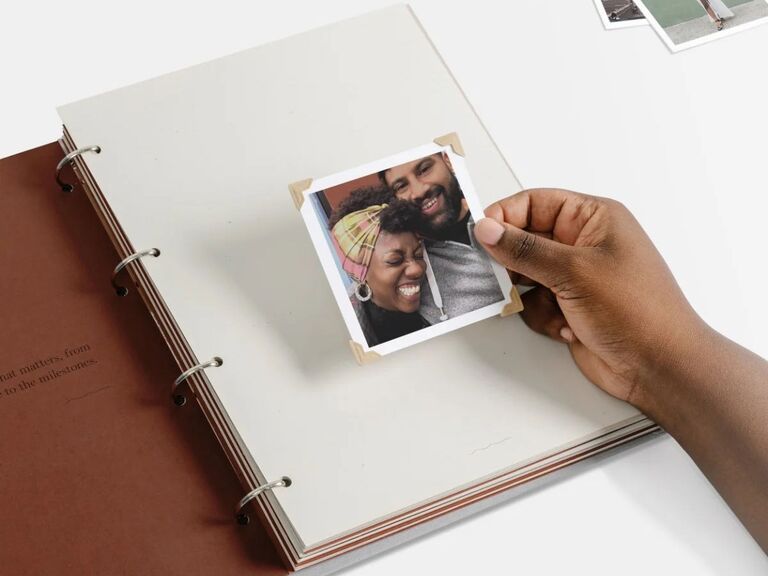 This luxe photo book encourages them to reminisce on both of your fondest memories, all while taking on a new hobby: scrapbooking. It's stuffed with prompts and other fun pages for storing all sorts of mementos, making the perfect DIY photo gift for your crafty partner. It can even be an activity you enjoy together.
21. A Video Book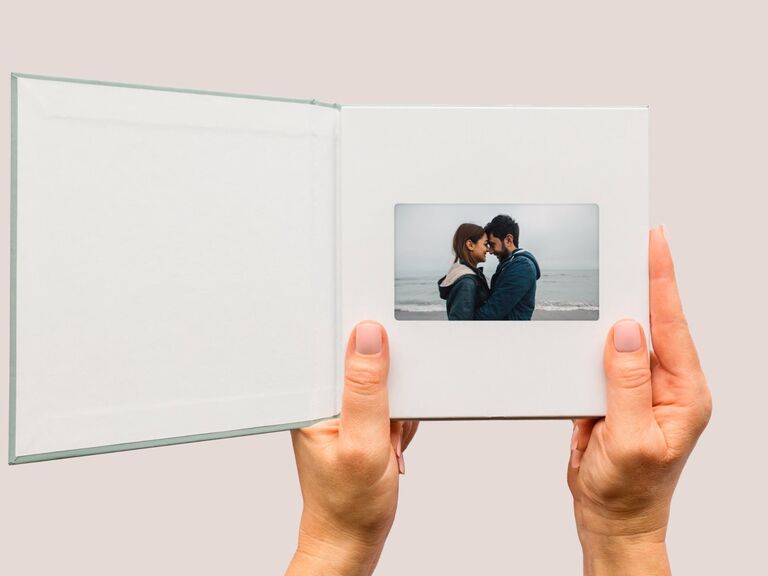 Stretch the limits of your imagination and gift your S.O. a video book. It's a physical book that holds a five-inch HD screen that you can preload with up to a 10 or 20 minute video (or video montage) of your choice. When you open it, the video starts playing. (It's kind of like Harry Potter come to life.) Simply choose your cover design and the film you want to upload, then Heirloom will ship you the keepsake. We love the idea of adding your wedding video and giving it as an anniversary gift.
22. Photo Outline Sweatshirt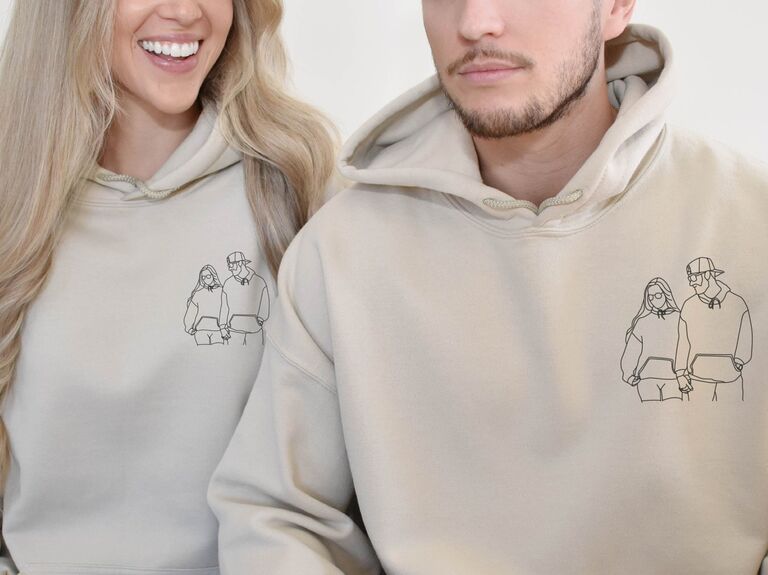 Photo gifts don't get much cuter than this! Your favorite portrait together can be outlined and printed onto a hoodie for personal, but subtle loungewear. It's like you're literally wearing your heart on your sleeve. We highly recommend getting one for each of you!
23. Face Socks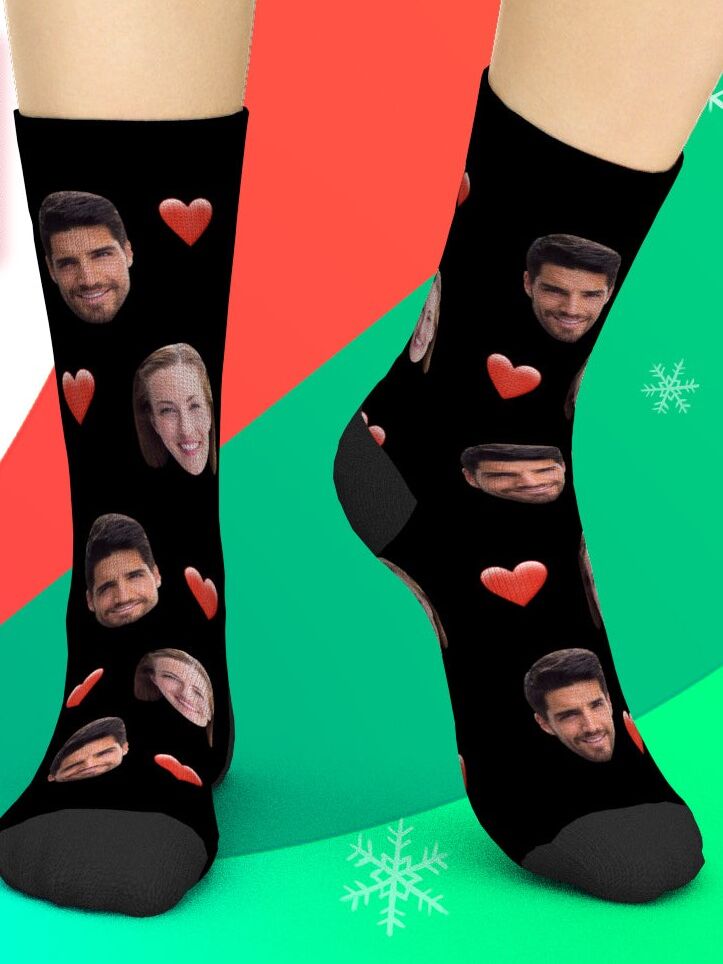 If you're looking for funny things to put pictures on as a gift for your good-humored partner, we love My Face Socks. The brand is exactly as it sounds, they can put your face on socks—as well as undergarments, slippers, hoodies, aprons and home decor. These crew socks are decorated with your portrait along with red hearts.
24. Personalized Miniature Gift Box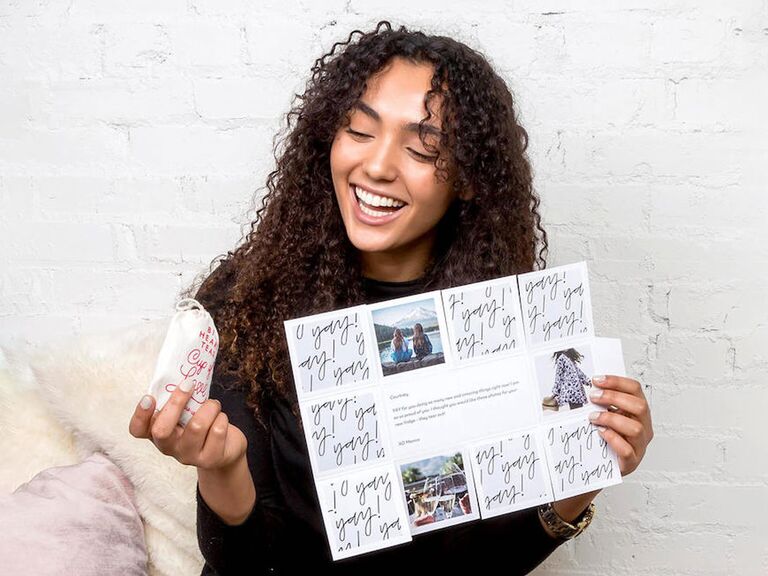 If your special someone lives far away, send them a surprise in the mail with Greetabl. They ship small gift boxes where the wrapper is completely customized by you. Simply pick out a few cute photos of you and your partner, then write a sentimental note to greet them when they open the box. For an additional cost, you can even include a pocket-sized gift like Champagne gummy bears or a scented candle. They've got tons of super-cute options for all kinds of occasions, from birthday to Christmas photo gifts.
25. Create Your Own Mug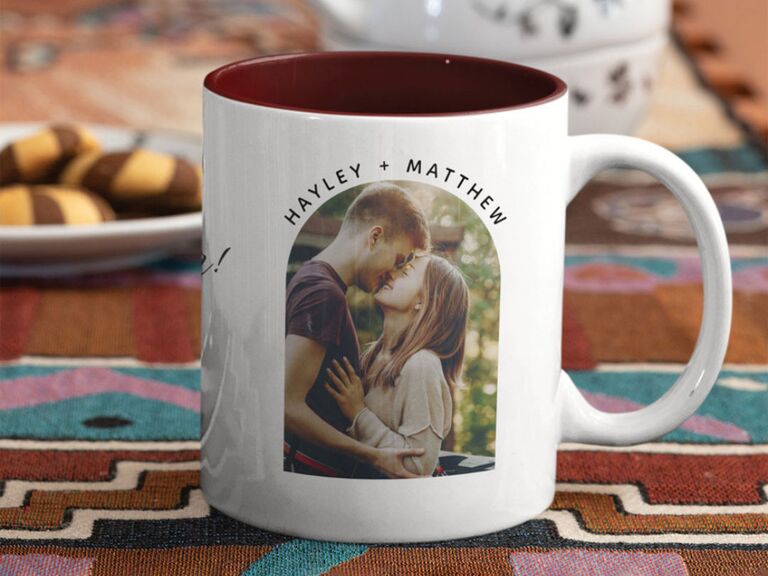 If one of you is a morning person and the other is not, you can still wake up and start your day together! Just get your early bird a custom mug printed with a picture of you—or both of you. It's almost like you're sipping coffee at the breakfast table with them.
26. Easy-to-Install Gallery Wall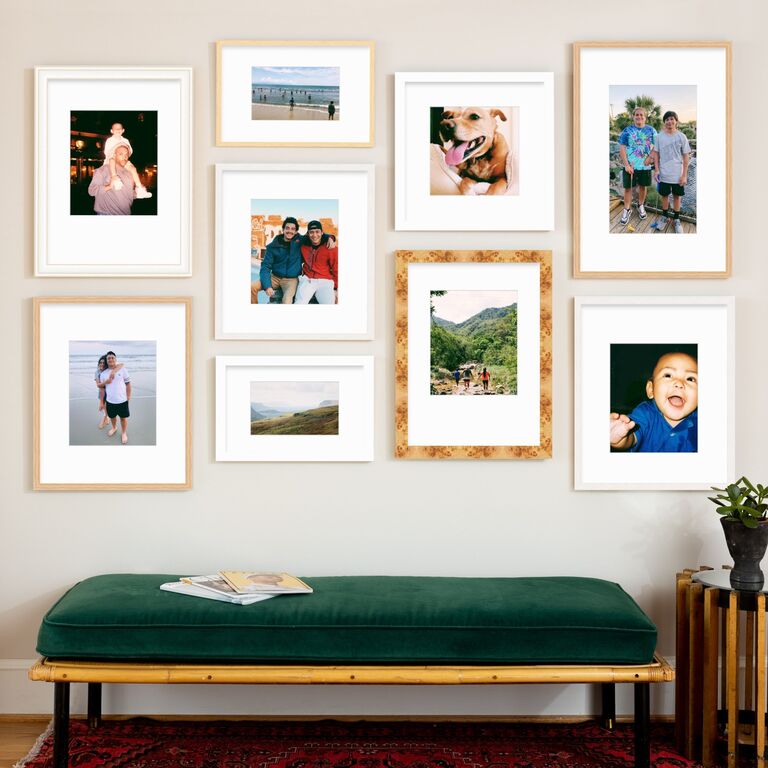 Go extra big with a picture gift for your husband, wife or spouse. Framebridge will help you create a gallery wall in just a few simple steps. First, choose the number, size and style of the frame you want, then upload the pictures for each. They'll then send you the completed set with a life-sized diagram for easy hanging.
27. Photo Planter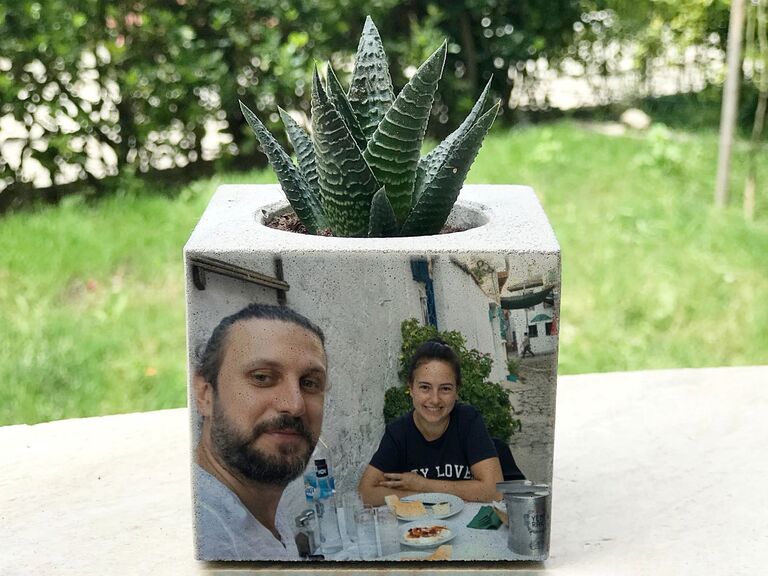 Looking for more unusual photo gifts? This product fits the bill. The pot comes printed with—you guessed it—a picture. Bonus points if you pair it with a little succulent to go inside.
28. Photo Phone Case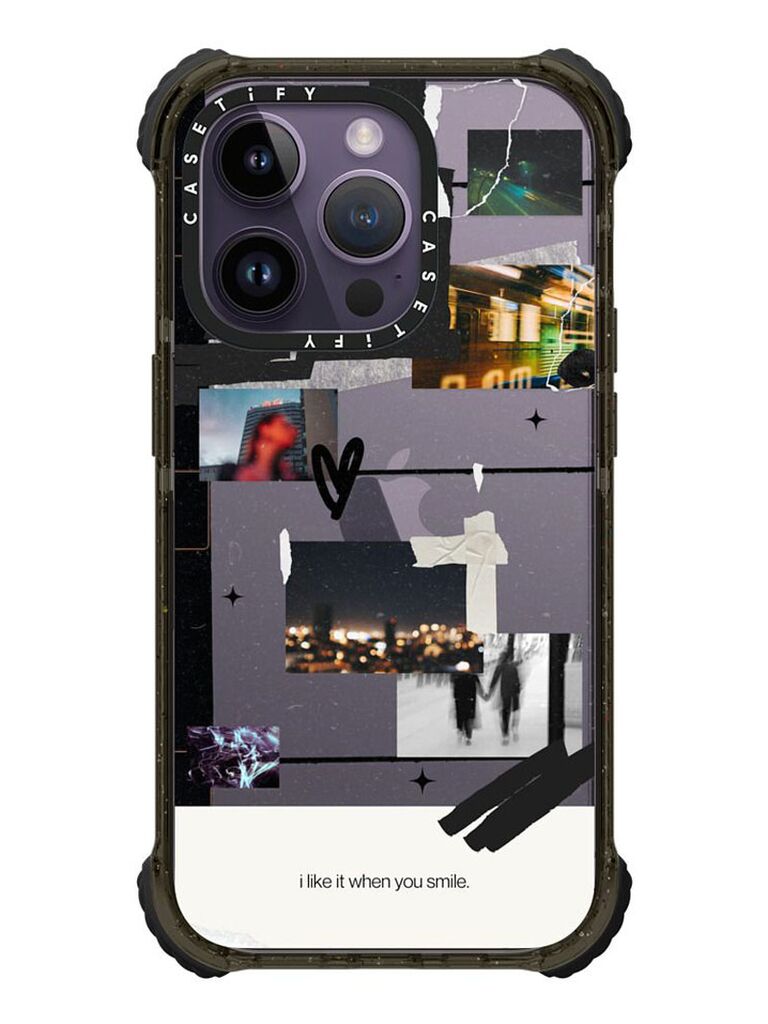 Your partner can have photos literally on their phone with a custom phone case as a gift. (And don't worry, the cases are actually protective.) Simply choose their device, then start designing! You can choose to have one photo or a grid and then choose a background color.
29. Custom Paint-by-Number Kit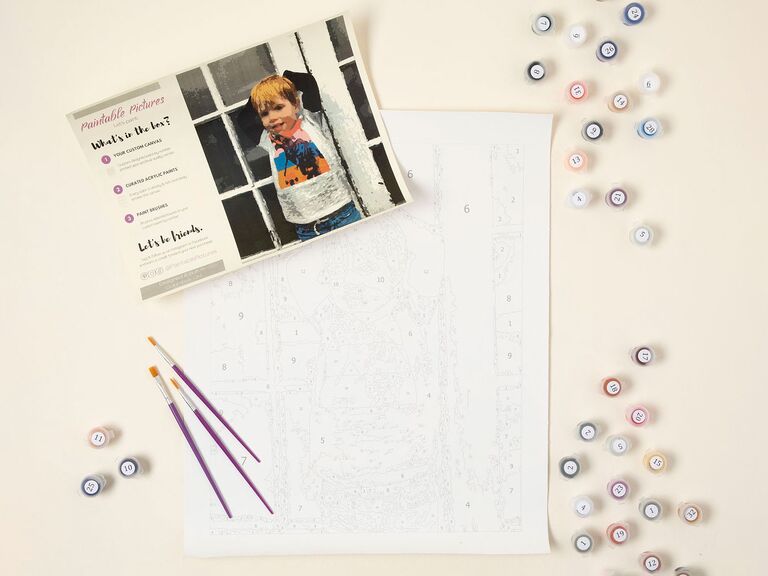 Here's a really cool thing to do with pictures for a gift: a custom paint-by-number. Transform a photo, such as a picture of you two, a special place or a pet, into a paint-by-number for a sentimental gift and rainy day activity for your artsy partner. Choose from two different white linen canvas sizes, then you'll get the paints and brushes to start crafting. Speaking from experience, don't pick a photo that's too busy, the painting can get really intricate!
30. Personalized Leather Keychain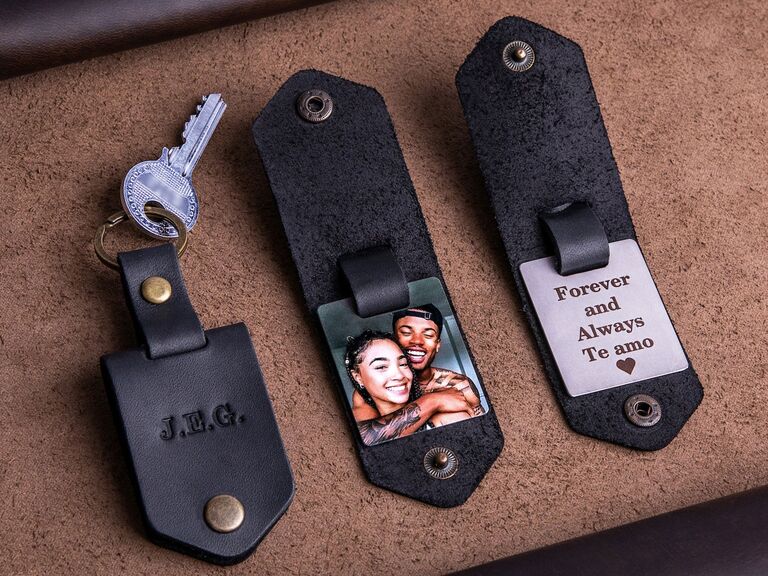 If you're looking for a small spouse, fiancé, girlfriend, partner or boyfriend photo gift, this leather keychain is just the right token to represent your love. Thanks to its fold-over design, it looks like a simple tag with personalized embossing. Once open, it showcases a sweet picture. It's a discreet way to always be with them—now that's a romantic photo gift idea.
31. Instant Camera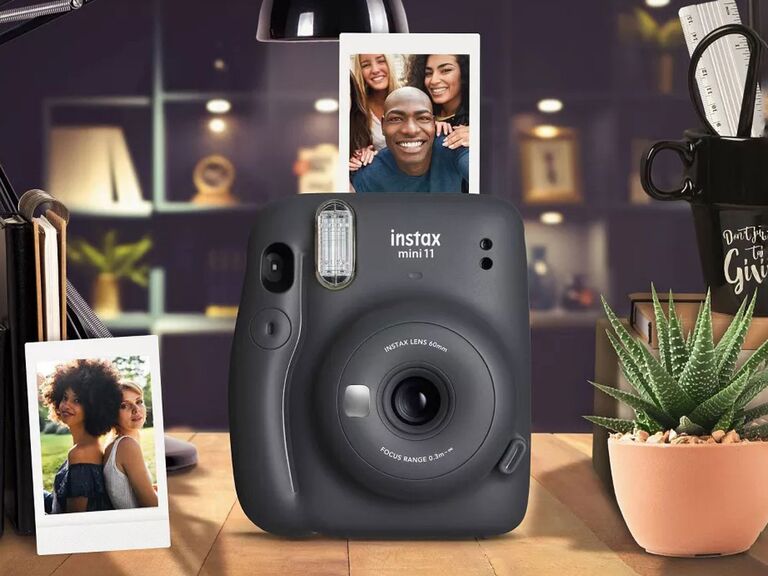 Feel free to think outside of the box when it comes to photo gift ideas. Instead of giving an actual photo, give them a way to take pictures. They'll want to carry this charming instant camera everywhere so they can have a keepsake of all the sweet moments you share. And, since it prints immediately, they'll have instant mementos. (Psst, don't forget the film!)
32. Photo String Lights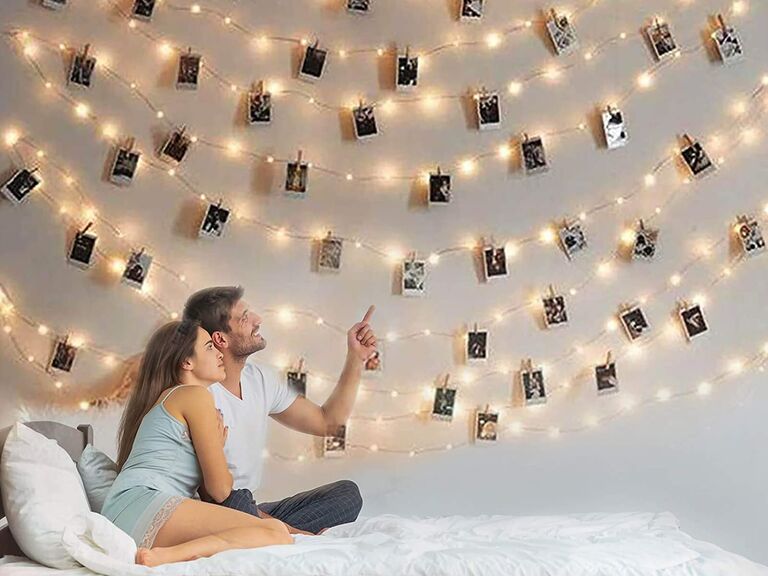 Whether you print off multiple pictures for them or they have their own growing collection of Polaroids, this is just the way to display each. These fairy lights come with small clips to hang photos on the strands, making it easy for them to decorate their home with your special moments—and they'll always be lit with the spotlight they deserve! Best of all, it's easy to rearrange the order or even swap out photos as you make more memories together.
33. Photo Keepsake Box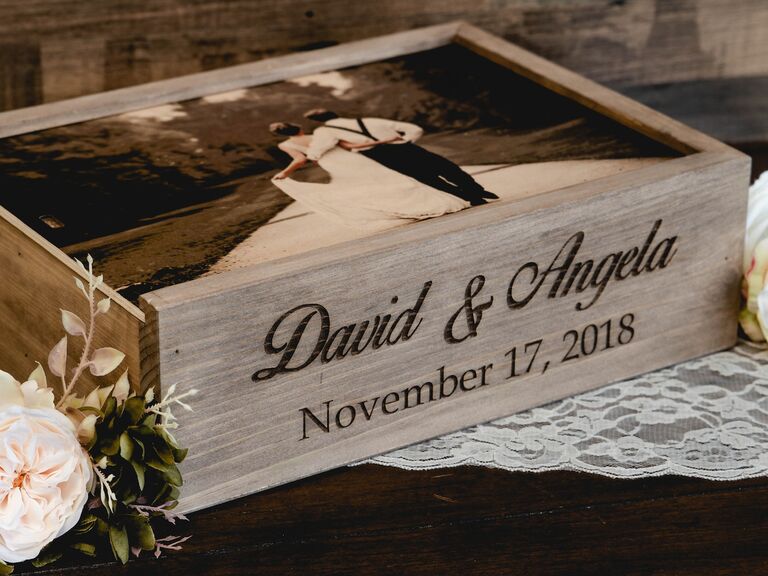 This one's for the lover that likes to hold onto small mementos from your relationship, like ticket stubs or letters. It's a rustic wooden box engraved with your names, a special date, a custom message on the side and a dye-sublimated photo of your choice permanently printed on the lid. It's large enough to hold a bottle of wine, so all their chosen keepsakes will fit perfectly.