40 Cute, Creative and Cool Photo Gift Ideas
Shop picture-perfect presents for every loved one and any love-filled occasion.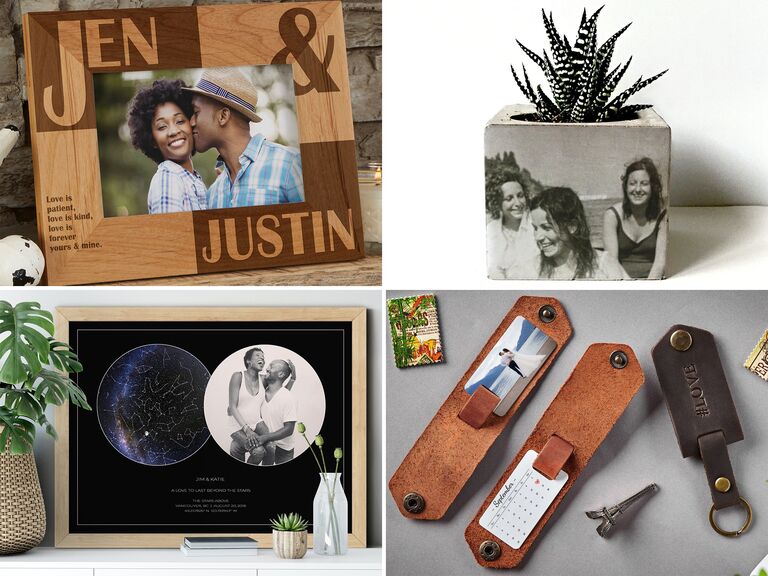 We have included third party products to help you navigate and enjoy life's biggest moments. Purchases made through links on this page may earn us a commission.
They say a picture's worth a thousand words, which is exactly why photo gifts are such enduring, smile-inducing presents. Whether you're on the hunt for a sentimental wedding gift, shopping for an anniversary surprise or searching for just the right token of gratitude, they're almost always well-received. That's why we've rounded up some of our favorite photo gift ideas of all time.
Below, we're sharing awesome picture gift ideas for everyone on your list, not to mention for every occasion—from your BFF's upcoming engagement party to the holidays with your new fam. Honestly, these custom photo keepsakes are so special and unique, we've got you covered for an S.O.'s birthday and even Mother's or Father's Day too.
In this article:
Romantic Photo Gift Ideas for Your Partner
Need the perfect personalized photo gift for your boyfriend or girlfriend? What about a fiancé or spouse? Whatever the case, these sweet and custom picture gifts will make their heart swell with happiness.
Photo and Star Map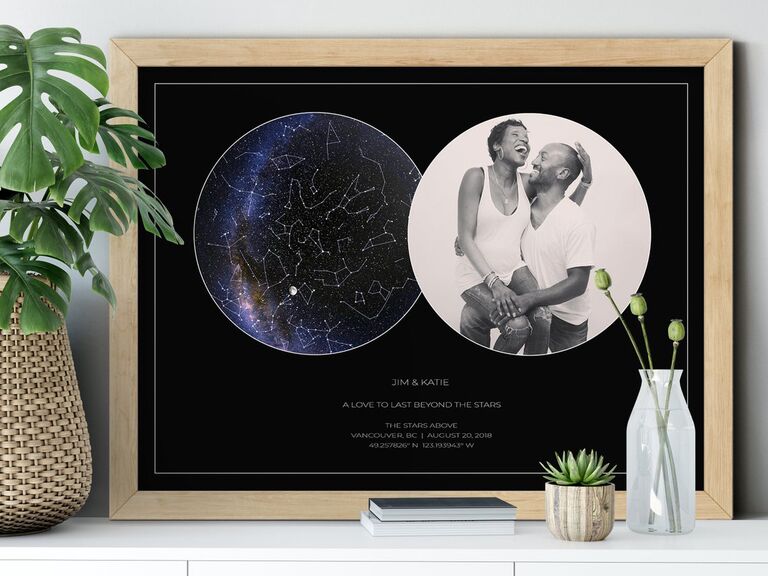 Was your love written in the stars? This tear-jerkingly adorable print pictures the night sky on the date of your choice (think: the day you met or exchanged vows). The poster also comes printed with a message and your names, plus the specified location.
The Stars Above Co. custom star map with photo anniversary or wedding gift idea, from $60, Etsy.com
Custom Reel Viewer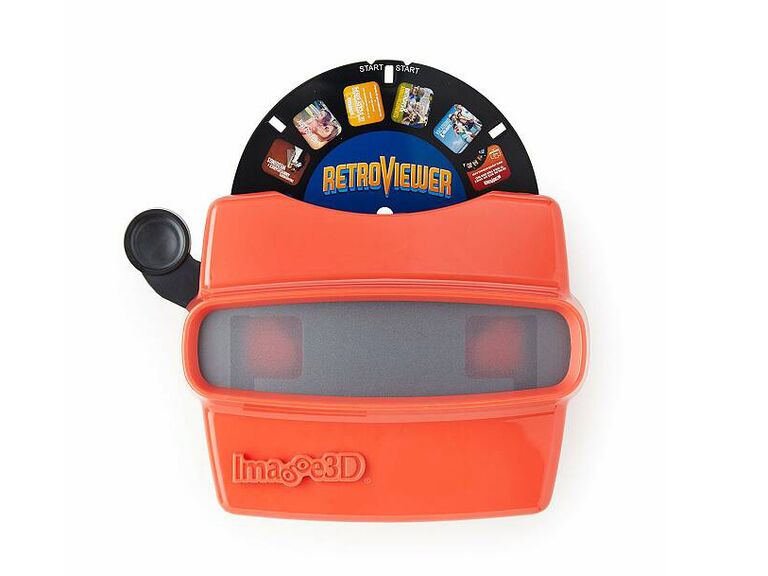 Show them your love is reel with this nostalgic picture gift idea. The gadget presents all your favorite couple memories in a unique slideshow format. If you're looking for cool photo gifts, this genius idea certainly qualifies.
Image3D create your own reel viewer, $30, UncommonGoods.com
Pop-Out Photo Box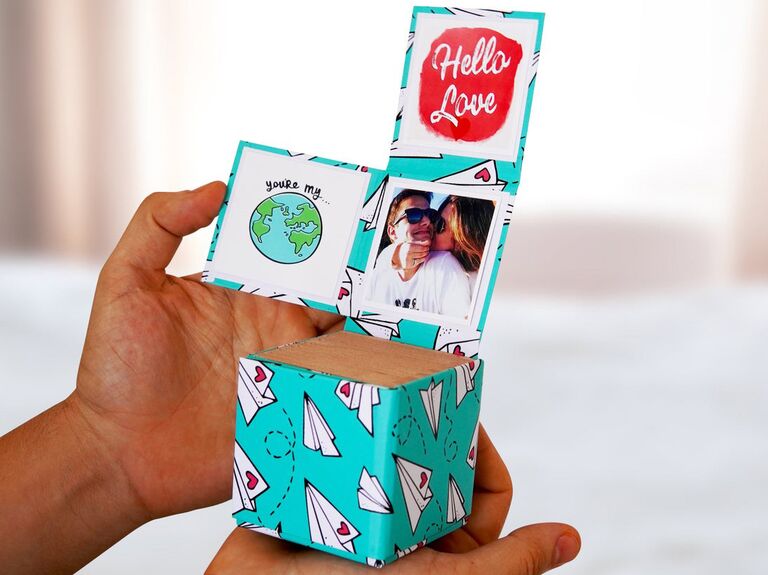 Say hello to a very sweet surprise: a compact box that unfolds to reveal a collage of photos and the text of your choosing. Better yet, you're able to hide a small gift (or heck, even an engagement ring!) inside. Best of all, the box is magnetic, so once it's opened up they can hang it proudly on the fridge. The Etsy seller makes a range of different designs, so pick the one that suits your relationship and the recipient best.
LovinBox exploding surprise gift box, from $40, Etsy.com
Framed Wall Decor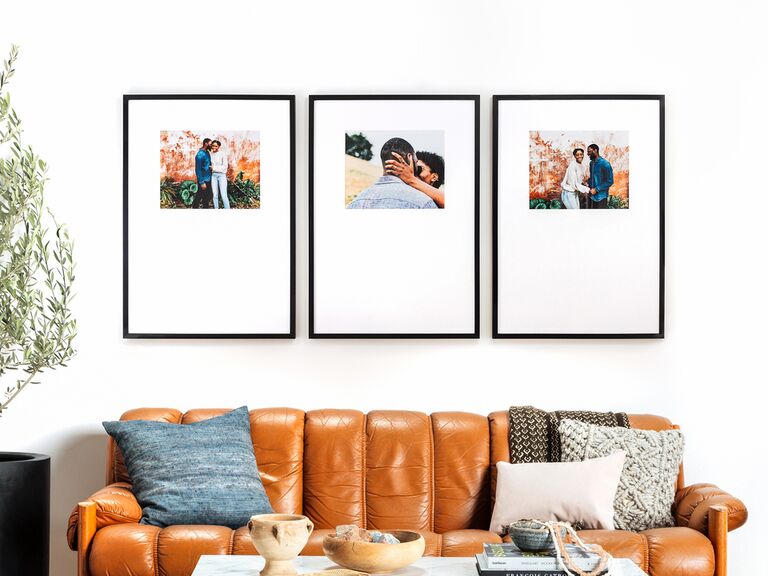 If it's all about how you frame it, they'll love this sleek, sophisticated photo gift. Framebridge has plenty of elegant framed picture gifts to choose from, but we personally love the look of a trio of prints.
Framebridge The Triptych, from $400, Framebridge.com
Photo Locket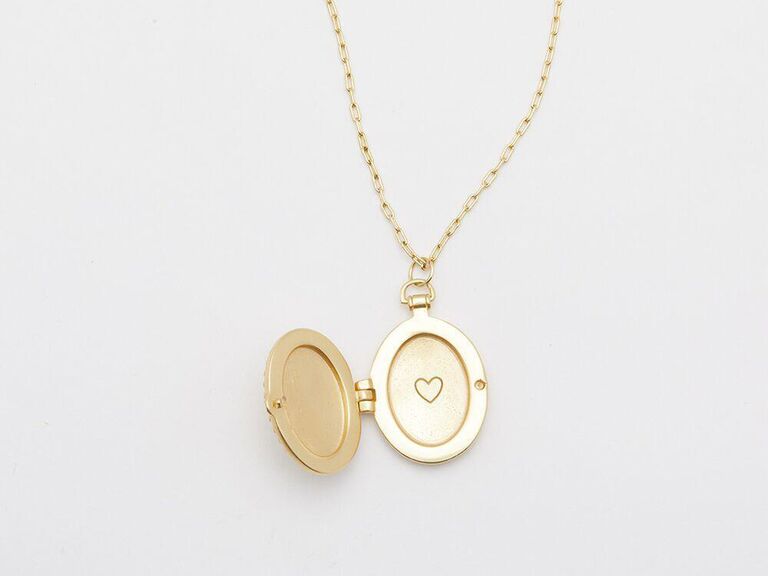 This special jewelry is a timeless choice, and we love the itty-bitty heart engraved inside. Do note that the gift idea requires a little effort on your end: Use the included glue dots to stick in a sweet photograph. We think DIY photo gifts are all the more special.
Gorjana Bali antique locket necklace, $65, Gorjana.com
Photo Key Chain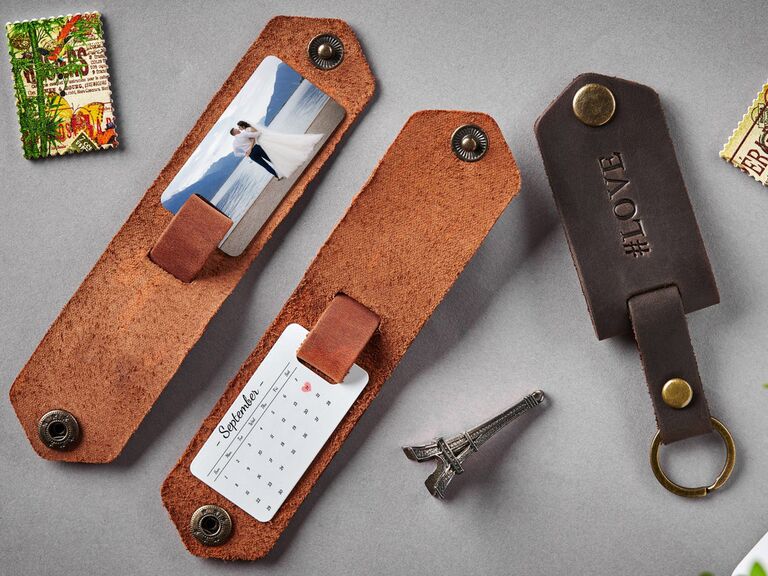 Boyfriends, girlfriends, husbands, wives, fiancés—anyone could use a handy new key chain. And one that comes debossed with a word or phrase? Even better. But what really sets this wedding, anniversary or Valentine's Day gift apart is the custom print attached on the inside. It's a discreet way to always be with them—now that's a romantic photo gift idea.
Leather My Skin custom engraved key holder with your photo, from $25, Etsy.com
Hanging Print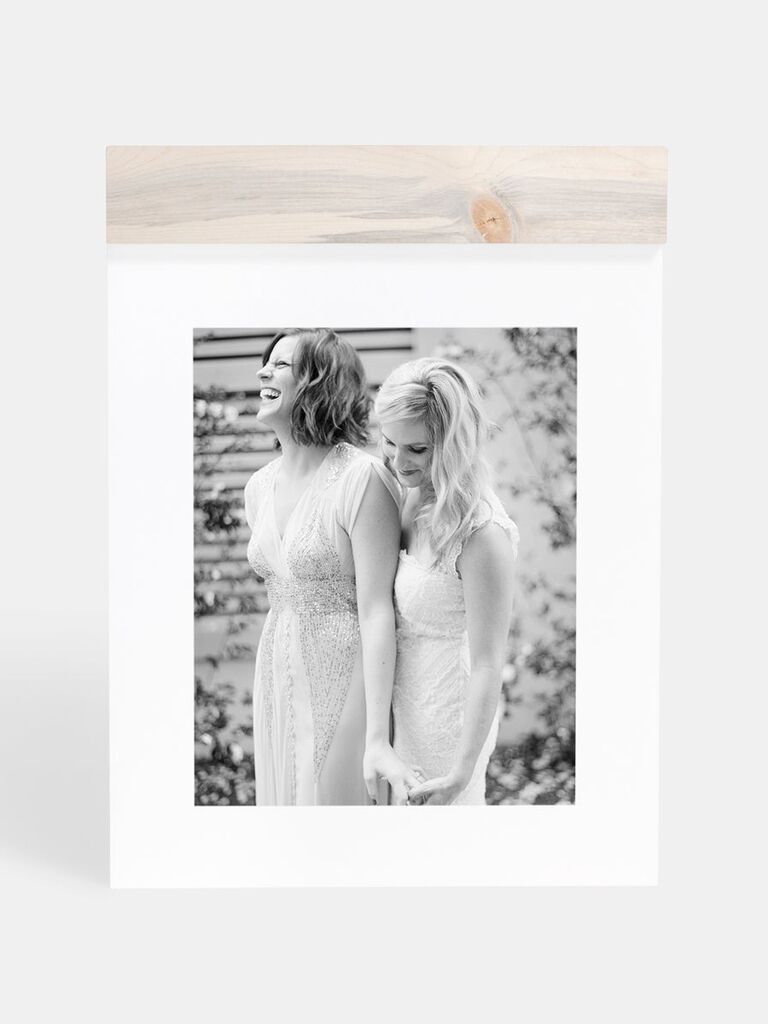 Showcase one of their favorite photos with this trendy hanging art piece. A high-quality print of your preferred pic will be held up by the cool wooden cleat. It's an unusual but attractive way to package a cherished picture, like a wedding photo or another meaningful couple's portrait. Talk about a timeless picture gift!
Artifact Uprising reclaimed wood cleat & print, $40, ArtifactUprising.com
Pet Portrait Cuff Links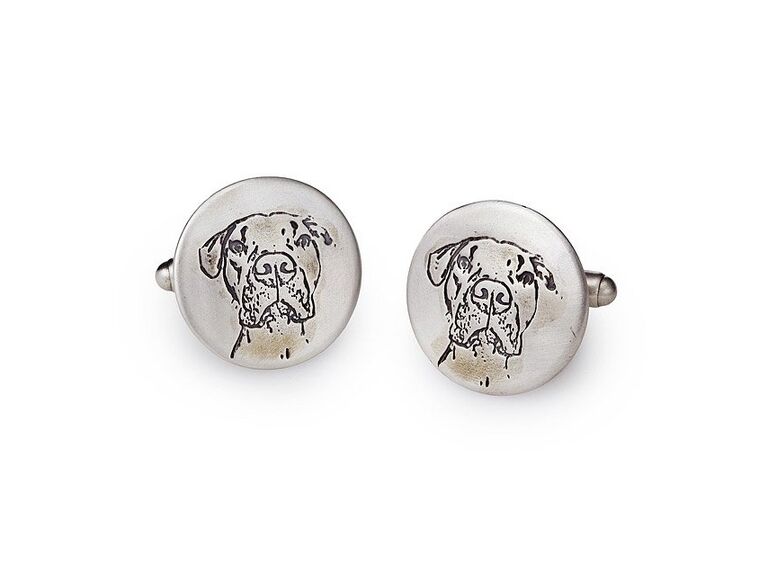 If you and your partner are both obsessed with your pet, consider creative photo gifts like this: cuff links stamped with a picture of your furry (or feathered, or scaly!) friend. The maker takes a snapshot and transforms it into a wearable work of art. It's a cute day-of wedding accessory—and a unique future heirloom.
Erin Harris custom pet portrait cufflinks, $260, UncommonGoods.com
LED Photo Lamp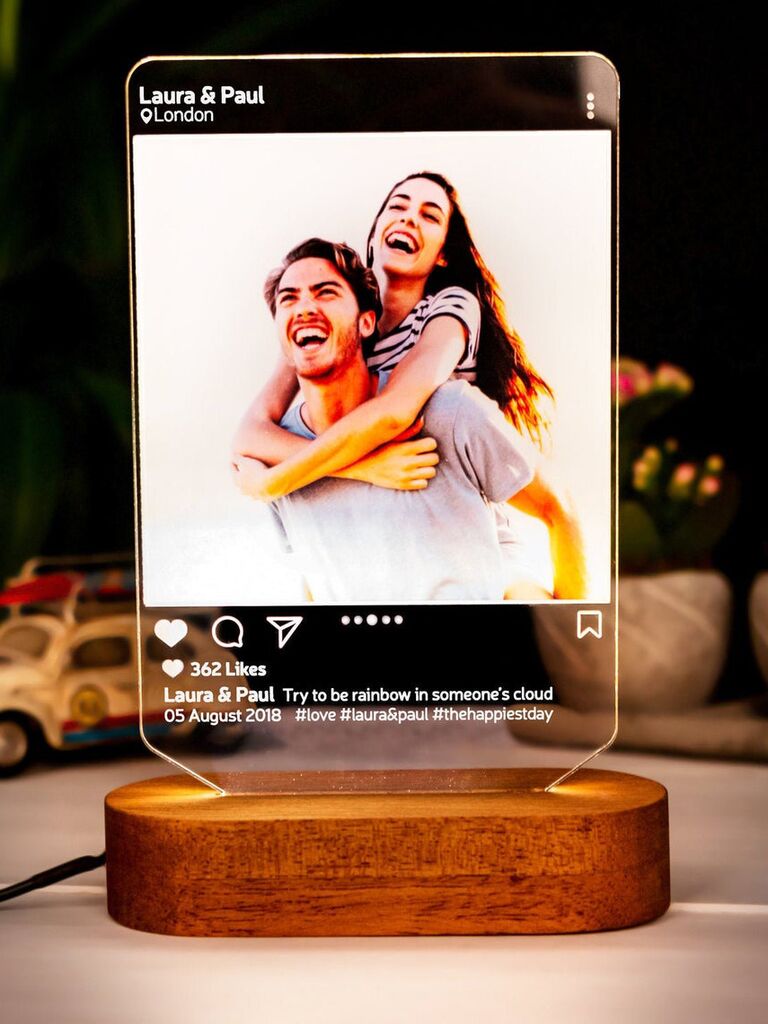 Have a love story that rakes in the likes? This creative photo gift will turn your most Insta-worthy portrait into a cute LED lamp. Customize how many people have hearted it (perhaps your number of wedding guests?), as well as the date, the caption and the hashtags. Then let your other half 'gram the finished product, of course. Who knew personalized photo gifts could be so fun?
DS Gifts Studio Instagram style 3D LED lamp gift, from $51, Etsy.com
Desk-Sized Display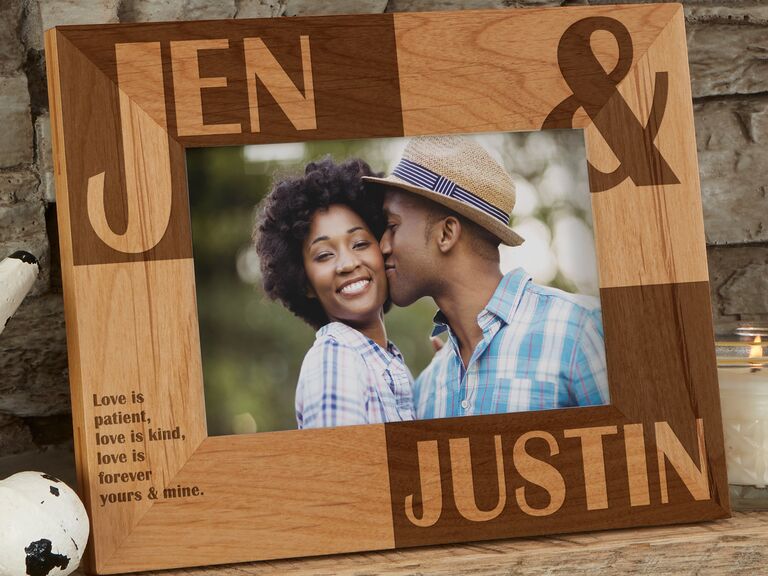 Sometimes the best photo gifts are the most simple. You can't go wrong with a classic frame engraved with a love note. This personalized picture will earn prime real estate on their workspace, all thanks to the included easel that props it up. Plus, desk-worthy photo gifts are a sweet way to remind them of you at work. (Psst: This makes a fitting fifth anniversary present—the theme for five years is wood.)
Personalization Mall Because of You personalized frame, from $27, PersonalizationMall.com
Custom Photo Gift Ideas for the Couple
Check out these editor-approved photo gift ideas for the dynamic duo in your life, from thoughtful engagement keepsakes to newlywed holiday presents that go beyond your standard photo ornaments.
Custom Couple Portrait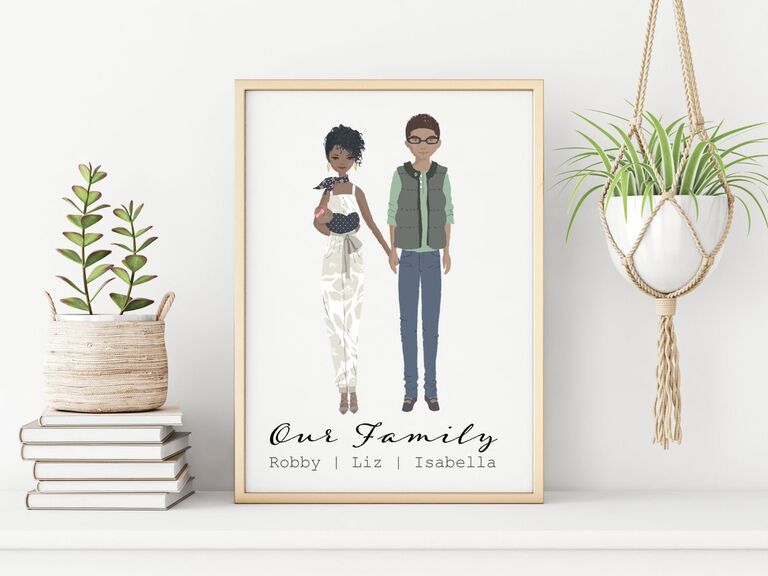 Send this Etsy artist a snapshot of the pair and they'll turn the photo into a one-of-a-kind illustration. (You can even submit a picture that includes the couple's pet!) The couple will be overjoyed knowing you went above and beyond with this cute photo gift idea.
The Granite Heart custom couple photo gift, from $16, Etsy.com
Photo Keepsake Box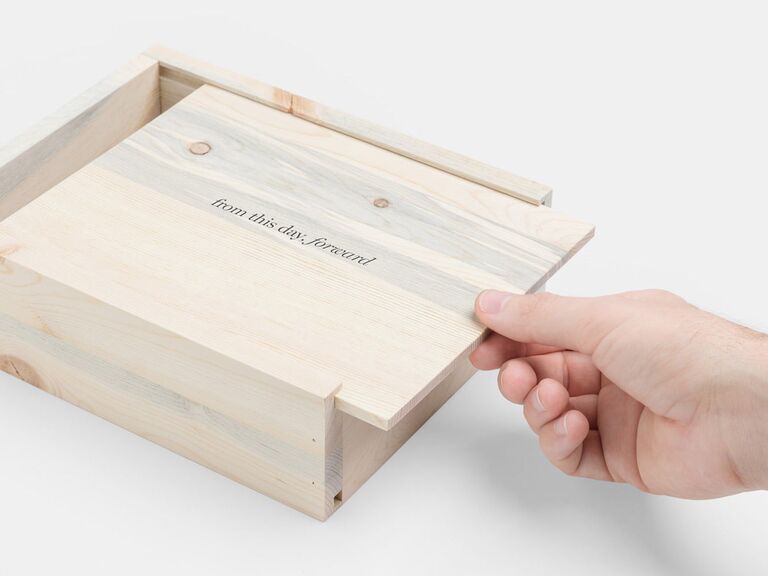 Searching for wedding photo gifts you can hand over without needing access to their pics? Give them a place to store hard copies along with other cherished big-day keepsakes. This wooden storage case is beautiful to look at and says "from this day forward" on the lid.
Artifact Uprising reclaimed wood quote box in Wedding Box, from $65, ArtifactUprising.com
Photo Puzzle
Celebrating two people who really fit together? Personalized picture gifts don't have to come in the form of a regular photo print. Buy the happy couple this custom puzzle. You'll give them hours of entertainment as they assemble the surprise image.
Forever Wedding Crafts personalized puzzle gift, from $20, Etsy.com
Throw Pillow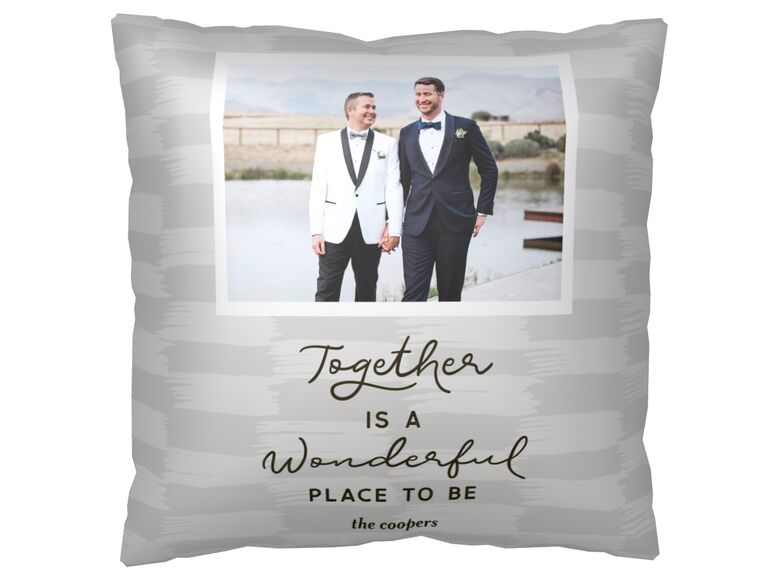 Accessorize their living room or home office with this photo gift idea. Choose from a few different pillow sizes, designs and fabrics for a truly custom, picture-perfect present.
Shutterfly Wonderful Place to Be pillow, from $40, Shutterfly.com
Personalized Art Print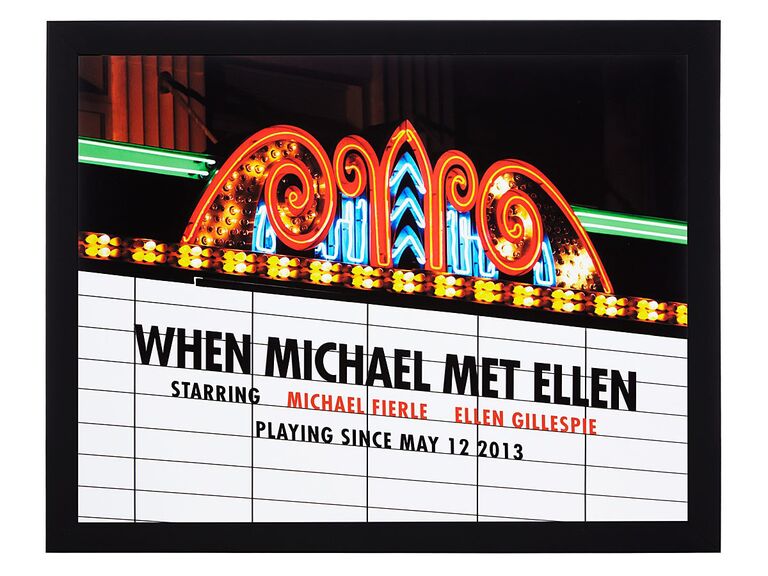 Honor the best "co-stars" you know with this ultra-creative picture gift. The designer puts the couple's own custom movie title onto a photo of a marquee sign. The "playing since" detail is a playful way to nod to when the lovebirds' story began.
Patricia Carlin personalized movie marquee photo print, from $85, UncommonGoods.com
Scrapbook Album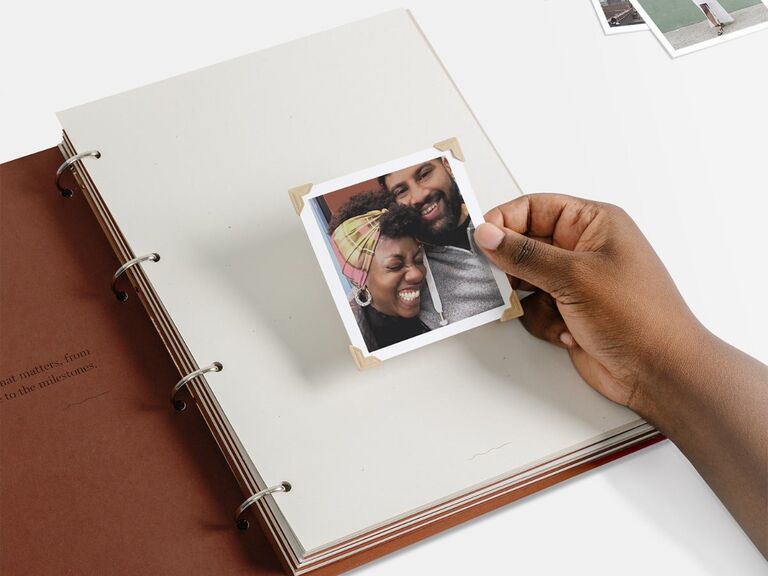 This luxe photo book encourages them to reminisce on their fondest memories all while taking on a new hobby: scrapbooking. It's stuffed with prompts and other fun pages for storing all sorts of mementos. It's the perfect DIY photo gift for the couple to enjoy together.
Artifact Uprising The Stories We Tell scrapbook album, from $89, ArtifactUprising.com
House Portrait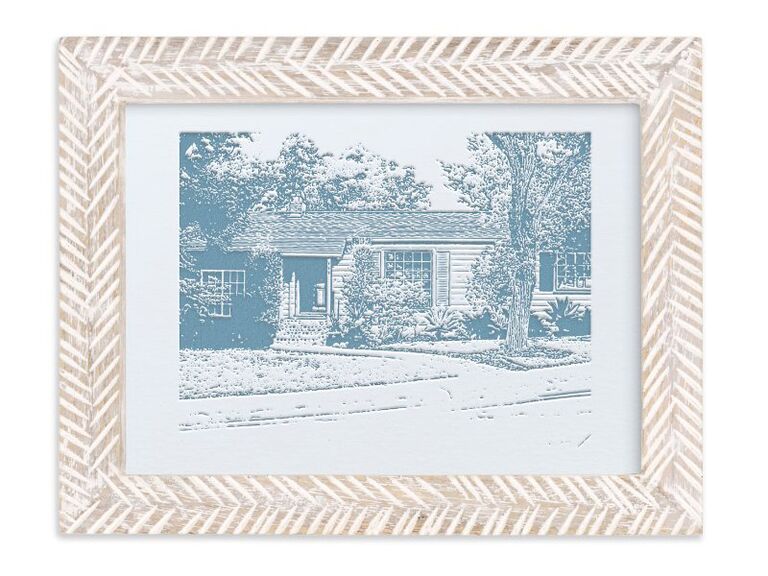 Shopping for a couple with a new shared space? We're obsessed with Minted's house portrait offerings. The brand's designers will turn a photograph of the recipients' abode into an heirloom-worthy art piece. Pick the print's color and frame based on the couple's taste and other home decor for a winning picture gift.
Minted custom house letterpress portrait art, from $91 framed, Minted.com
Photo Block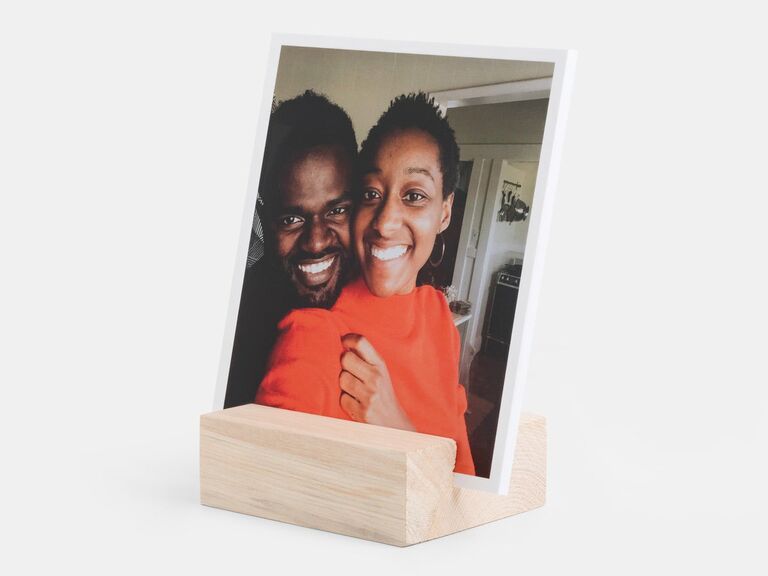 On the hunt for affordable picture gifts? This chic wood block works as a decoration and a paperweight—so basically, it's two presents for the price of one. Plus, it comes with 12 different prints they can rotate to keep their desk looking fresh. Go all out and buy them each a block so they can have matching office decor.
Artifact Uprising wood block & prints, $20, ArtifactUprising.com
Custom Coasters
Anyone can appreciate a set of coasters. Who wants stained furniture—and especially when said furniture just came from the couple's thoughtfully curated wedding registry? This classy marble quartet features your choice of photo and text combinations. They're great postwedding photo gifts for the couple who loves to host.
Shutterfly classic marble coasters, $25 for a set of 4, Shutterfly.com
Pet Pillow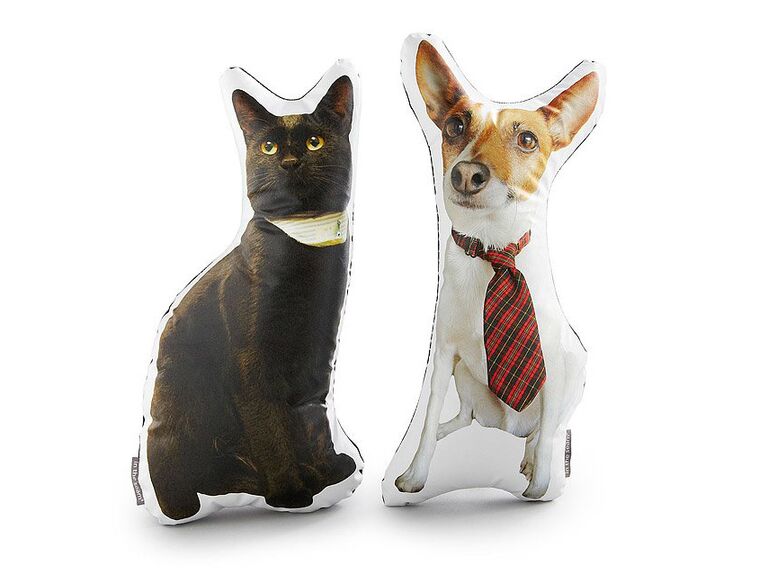 Whether you're buying for a couple with a sense of humor or fiancés who are bummed their dog can't make it to their wedding, these pet photo pillows are giggle-worthy gifts. Whether theirs ends up on their sofa or in a seat at their ceremony, it's bound to put a smile on both their faces.
Ronda J Smith custom pet pillows, $145 each, UncommonGoods.com
Creative Photo Gift Ideas for Your Parents
If one thing's for certain, it's that parents love picture gifts. These presents were made for Mother's Day, Father's Day, the wedding day or even your parents' anniversary. And yep, they work for mom- and dad-in-laws too.
Canvas Art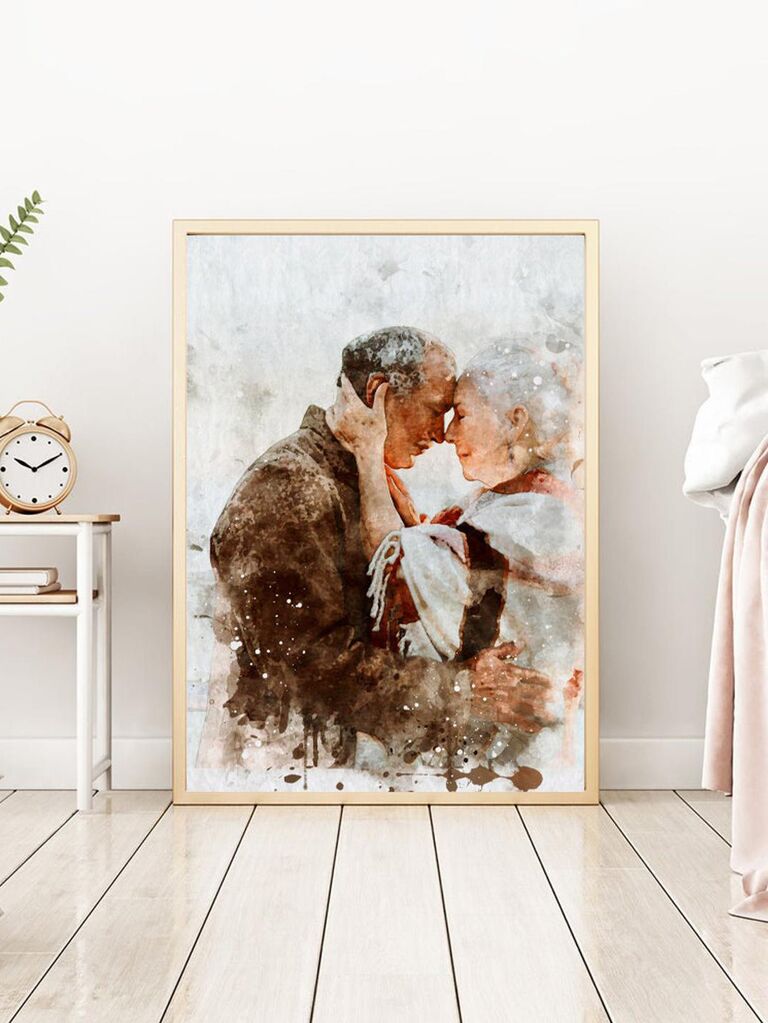 Have you ever seen a more romantic photo gift idea? A touching picture like this—one that showcases their love—may just bring tears to their eyes. Order it as a digital file or as a stylish canvas print.
Charming Blush wedding anniversary parents or grandparents gift, from $28, Etsy.com
Mother-Daughter Picture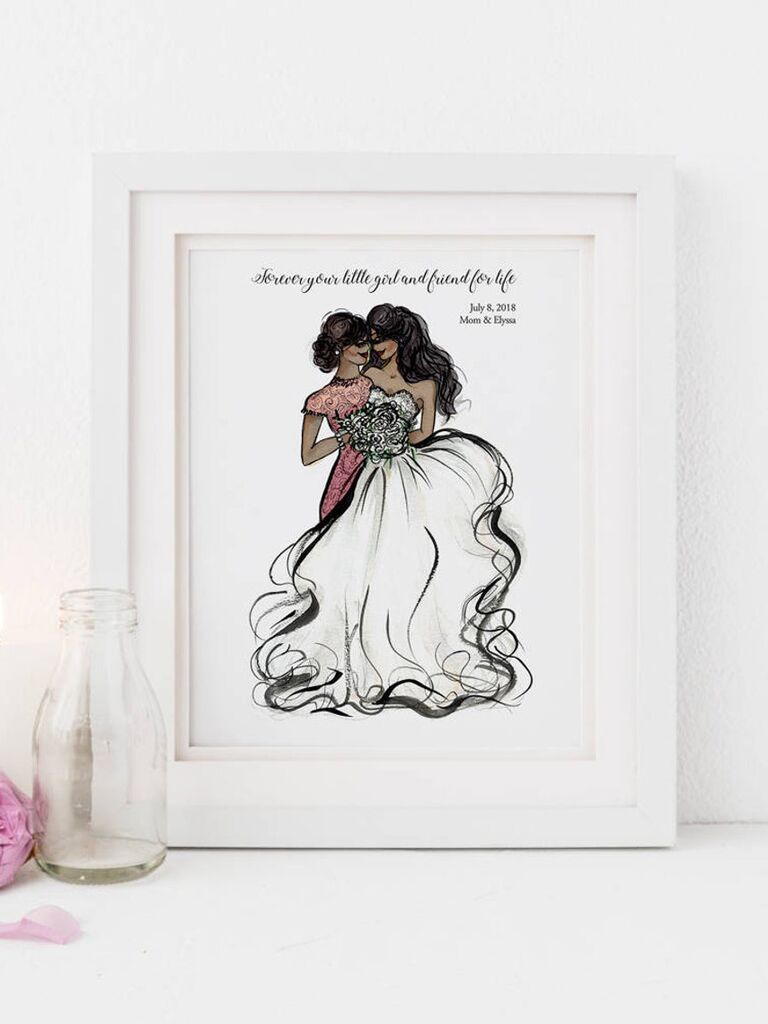 Want to wow Mom with your wedding thank-you present? We love the sentiment behind recreated wedding photos. Commission a custom illustration of you and her on the big day. This one will definitely cause waterworks.
Ssasa Designs mother of the bride gift from daughter, from $50, Etsy.com
Pencil Sketch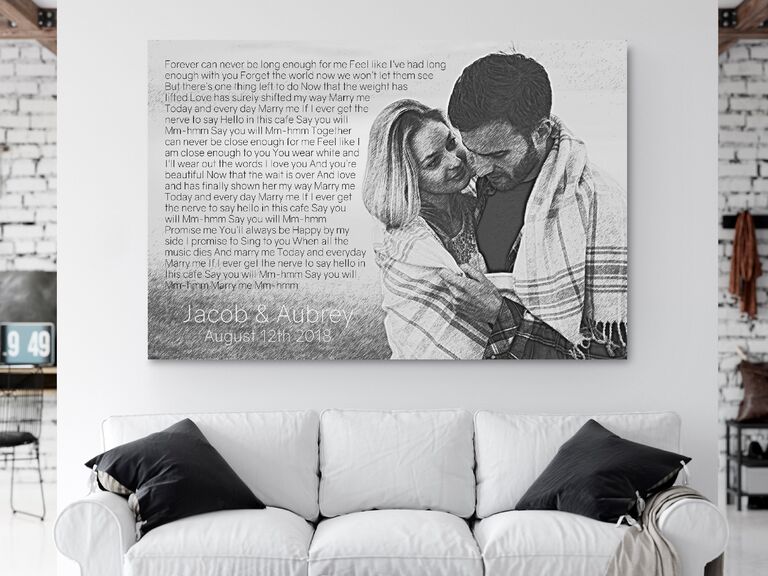 On the hunt for custom picture gifts to commemorate your parents' anniversary? Canvas Vows sells lots of unique and personalized presents that'll look absolutely stunning in their home. Just upload a cute snap of them together and voilà! It'll be turned into a pencil sketch on canvas alongside their wedding vows or the lyrics to a meaningful song.
Canvas Vows photo to pencil sketch with lyrics or vows, from $119, CanvasVows.com
Photo Blanket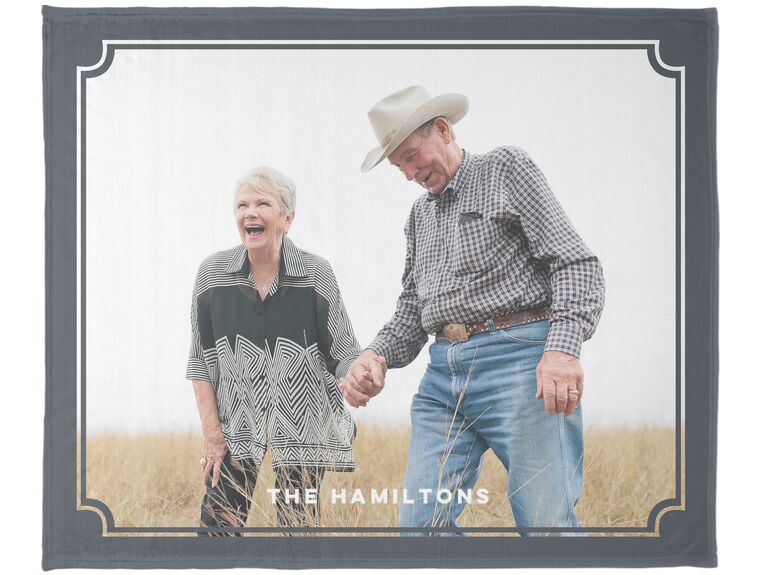 If your parents give you the "warm and fuzzies," give them something warm and fuzzy of their own: this fleece blanket. It's plush and printed with a special family photo, so it's super-sweet too. Cute photo gifts have never been so cozy!
Shutterfly hand-drawn frame fleece photo blanket, from $60, Shutterfly.com
Wall Calendar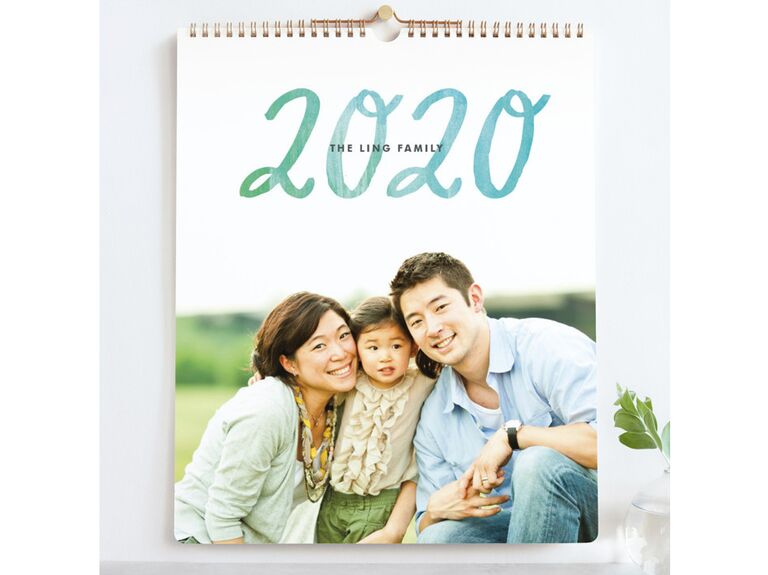 An excellent holiday present for your parents or grandparents? This custom photo calendar they can use in the new year. Decorate each month's page with solo portraits or picture collages. Trust us, cute picture gifts like this will go a long way.
Alethea and Ruth Painted Script photo calendar, from $29, Minted.com
Photo Tie Patch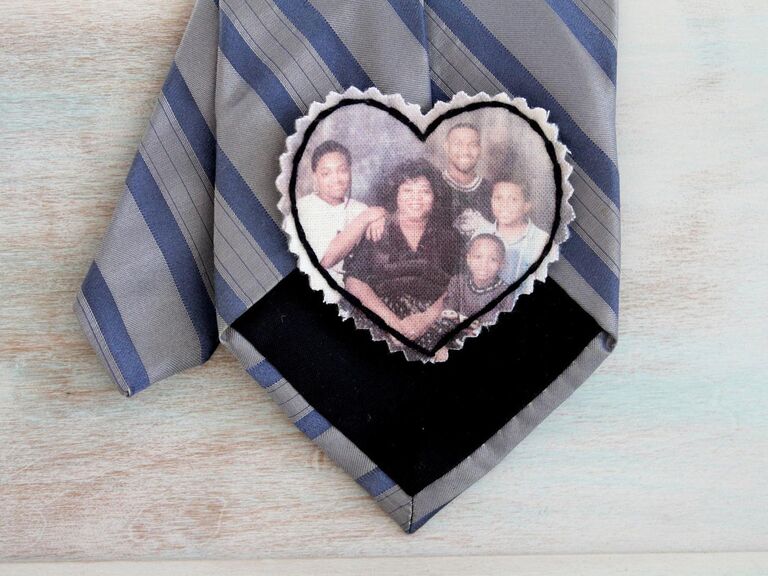 Shopping for the father of the bride or groom? (Or just your pops for Father's Day?) Upgrade his formal attire with this amazingly creative photo gift idea. The heart-shaped patch sews into the backside of his tie and displays a beloved image of your family.
Sew Happy Girls custom photo tie patch, from $24, Etsy.com
Photo Keepsake Box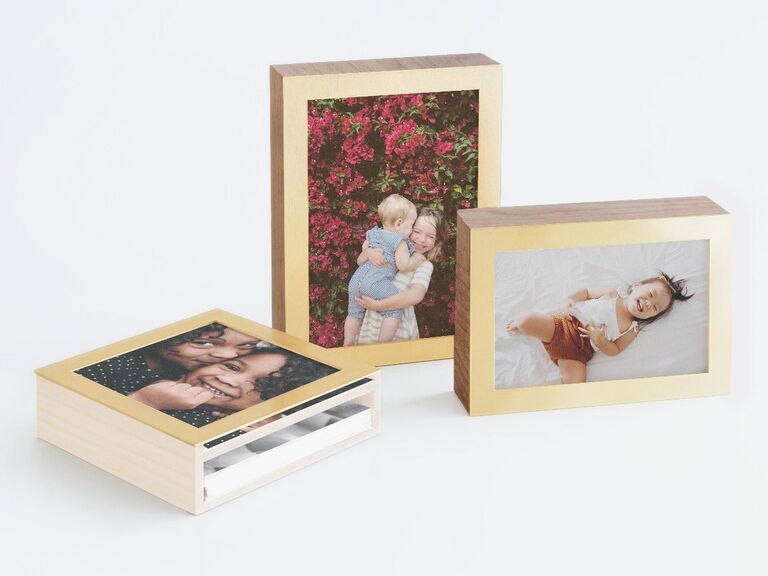 This one's for the parents who love to hold onto things. It's a photo frame that doubles as a storage container—the inside is hollow for stashing other snapshots in their rotation. (The compartment can also fit some cards and special notes.) And through Artifact Uprising, you can order new prints to go along with it.
Artifact Uprising brass & wood display box, from $55, ArtifactUprising.com
Photo Magnet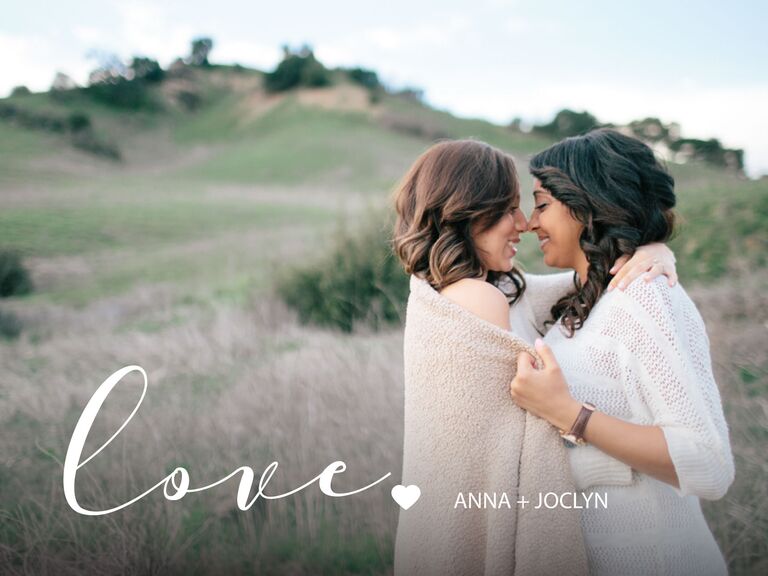 Maybe their fridge is already filled with adornments. But could one more really hurt? Tell them you love them every time they reach for a snack with this creative photo magnet gift idea.
Shutterfly love script magnet, from $8, Shutterfly.com
Collage Wall Art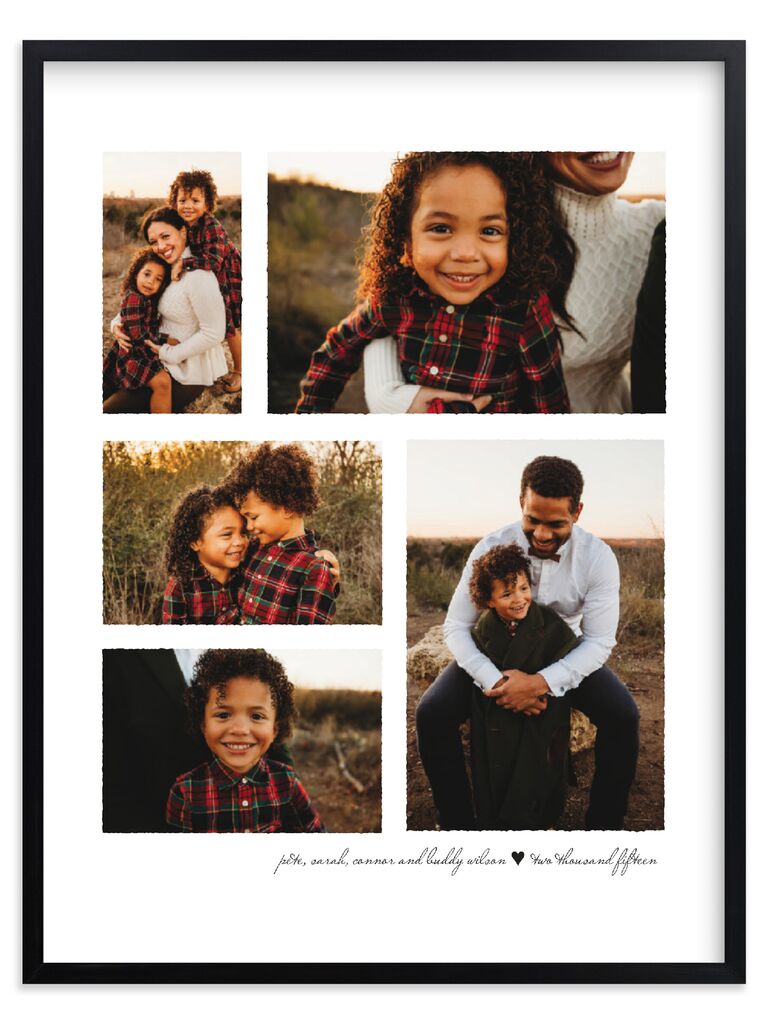 When in doubt, go with a classic photo collage. This one's styled with elegant deckled edges, perfect for their hall or staircase wall. We think it's one of the best photo gifts for the parents obsessed with their grandkids.
Up Up Creative Deckled custom photo art, from $38 framed, Minted.com
3D Photo Gift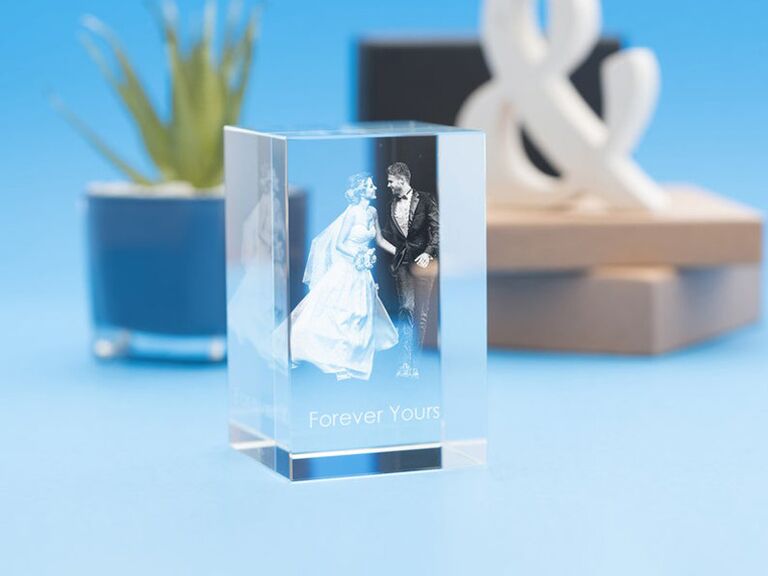 If they've been begging for photos from your wedding day, go the extra mile and give Mom or Dad a unique take on the classic portrait. We have a feeling this cool 3D keepsake will take center stage on their shelf. Add this to the list of creative things to do with pictures for gifts!
Crystal Clear Memories 3D tower laser engraved crystal portrait, from $45, Etsy.com
Cool Photo Gift Ideas for Friends
Bachelorette party gifts, bridal shower gifts, bridesmaid gifts, maid of honor gifts—you can find them all here. Buying a birthday, Christmas or Galentine's Day present? These picture gift ideas will work for any occasion.
Light-Up Picture Frame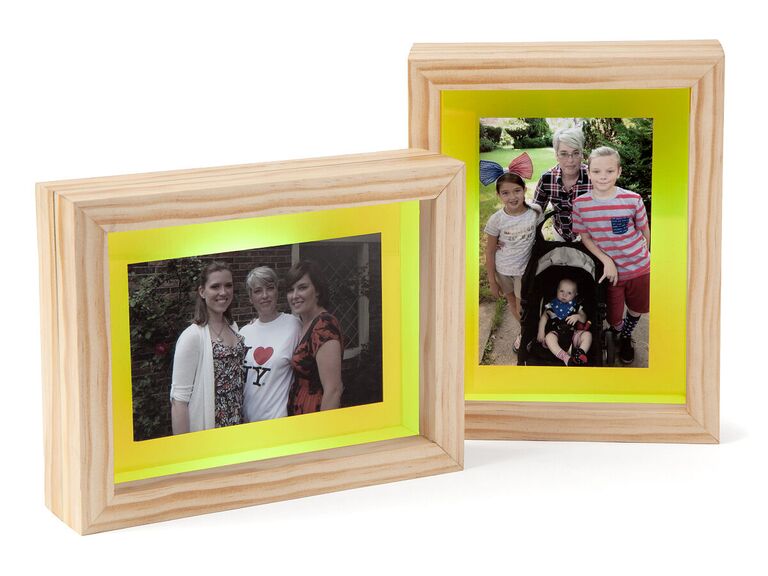 This present for a long-distance bestie tops the list of cute picture gift ideas. You buy two, one for you and one for your BFF. When you touch yours, theirs lights up—how incredibly sweet is that?
John Harrison & Vanessa Whalen long distance friendship frame, $198 for a set of 2, UncommonGoods.com
Boxed Photo Album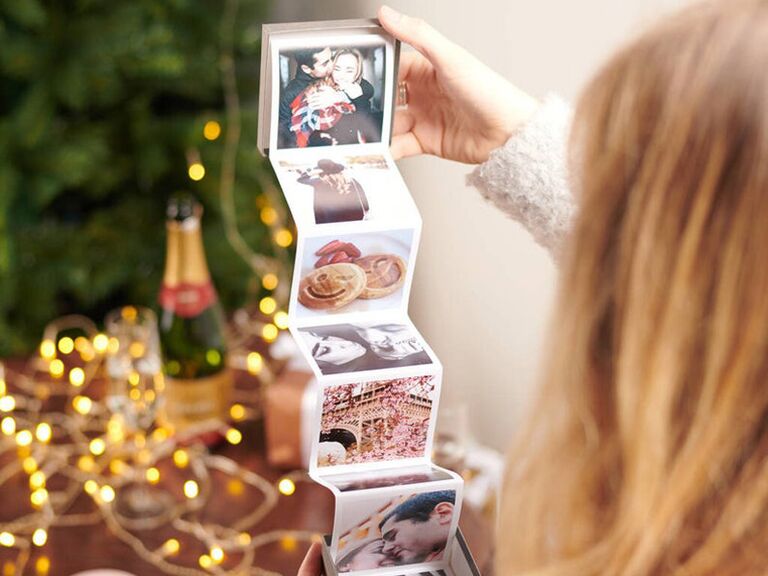 Planning a bridesmaid or maid of honor proposal? Or maybe you want to surprise your bestie bride-to-be? Either way, this pop-out photo collage has you set.
Oakdene Designs personalized pop out photo album in box, from $21, Etsy.com
Photo Book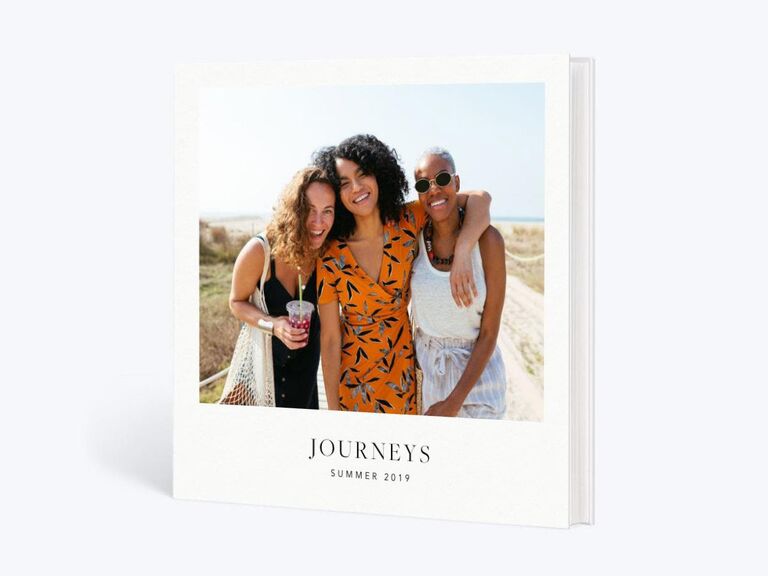 Fill this gift with all your best photo memories—the mini size is ideal for Insta prints. Trust us, your BFF will flip through it often. The best thing about buying photo gifts for your friends is that they can be cherished forever.
Papier The Mini hardback photo book, from $25, Papier.com
Friends Portrait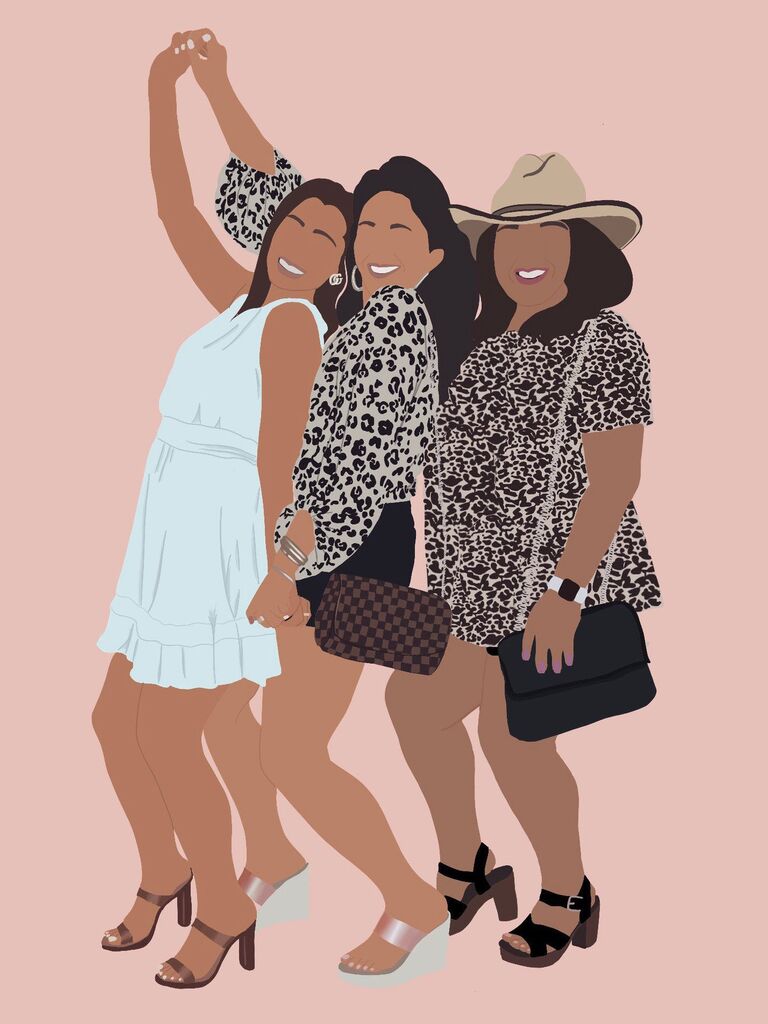 We love the thought of these minimalist illustrations as personalized picture gifts. Take a special photo of you two—be it a throwback from preschool, prom or your wedding day—and turn it into a beautiful print. This talented Etsy artist will help. FYI: The group illustrations make memorable gifts from all the bridesmaids to the bride.
Kayla O'Neil Creative custom best friend minimalist portrait, from $28, Etsy.com
Personalized Gift Box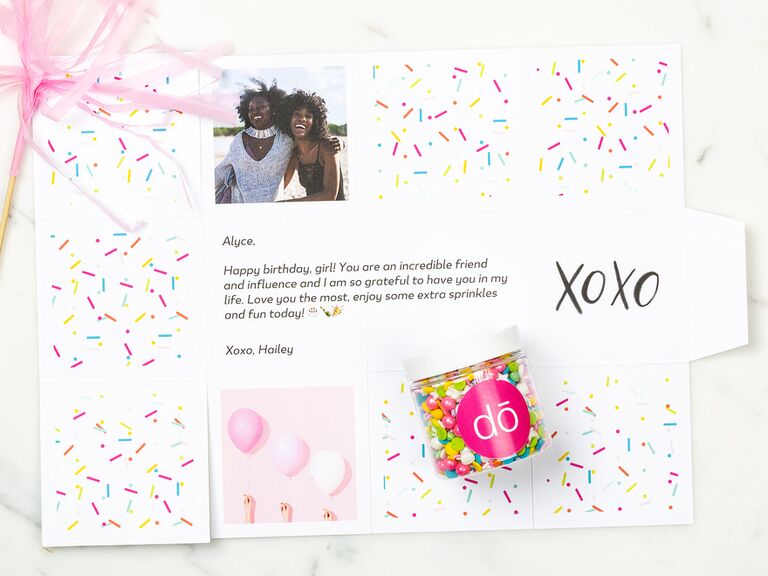 Greetabl gift boxes make for undeniably cool picture gifts. Simply pick out a few cute photos of you and your bestie, write a sentimental note and include a cute surprise like champagne gummy bears or a scented candle. It all folds up into a neat little box with the design of your choosing. They've got tons of super-cute options for all kinds of occasions, from birthday to Christmas photo gifts.
Greetabl DŌ Sprinkles print gift box, from $13 with a gift, Greetabl.com
Disposable Camera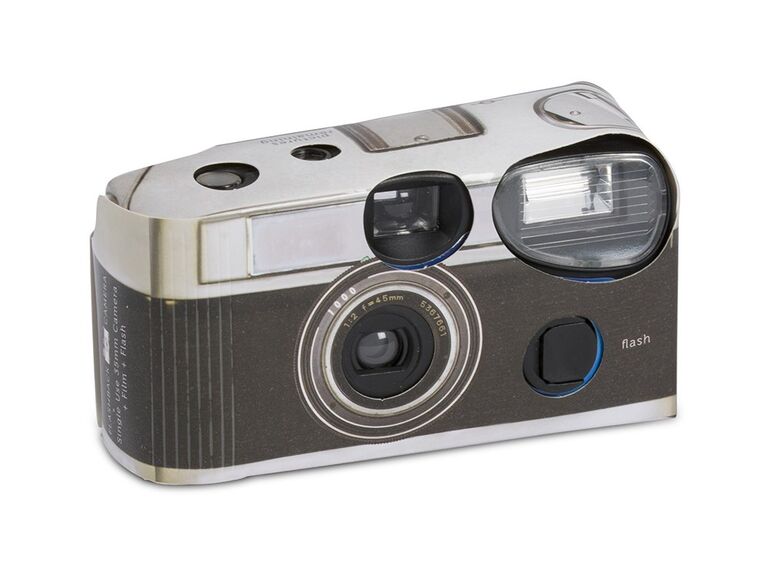 Think outside the box when it comes to picture gift ideas. Your friends can make photo memories on the spot with this creative and affordable present. The retro design is too cute, and the snapshots will be too.
The Knot Shop disposable camera with flash, $9, TheKnotShop.com
Photo Phone Case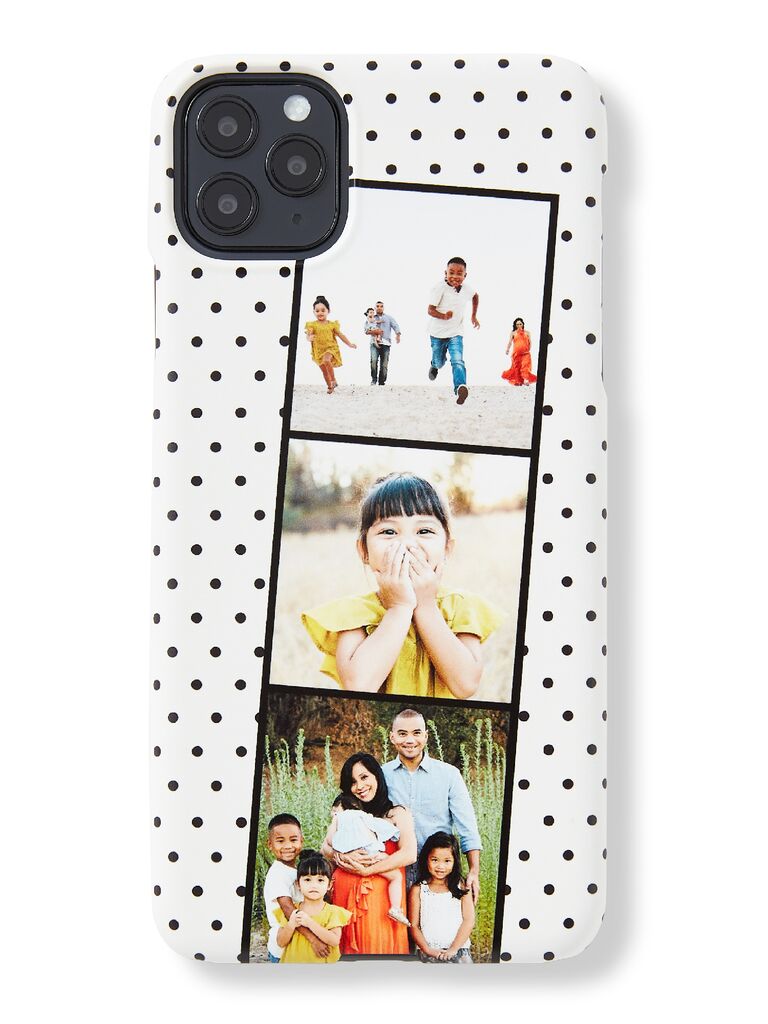 If your friend loves flaunting photos of their picture-perfect family, chances are they'll be delighted with a custom phone case like this one. It's available in different sizes, as well as a range of designs to suit their unique style.
Shutterfly custom iPhone case, from $45, Shutterfly.com
Etched Glass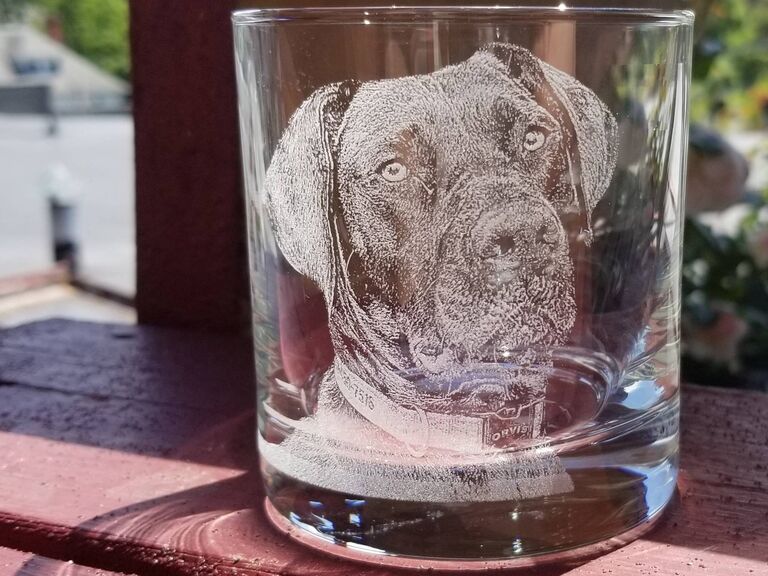 Etched glass photo gifts basically always look cool, and your best buds will appreciate theirs in drinkware form. Have it customized with their favorite furry friend or a picture of you both together. Cheers to friendship with personalized presents that'll last for years!
Cutting Edge Boston etched glass pet photo custom glass, from $35, Etsy.com
Photo Planter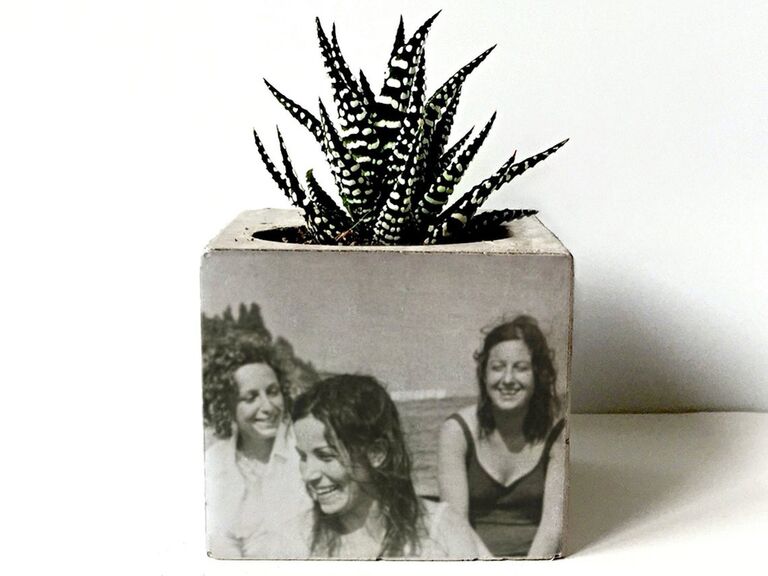 Looking for more unusual photo gifts? This best-selling product fits the bill. The pot comes printed with—you guessed it—a picture. Bonus points if you pair it with a little succulent to go inside.
b.tonworks custom photo on concrete planter, $36, Etsy.com
Photo Socks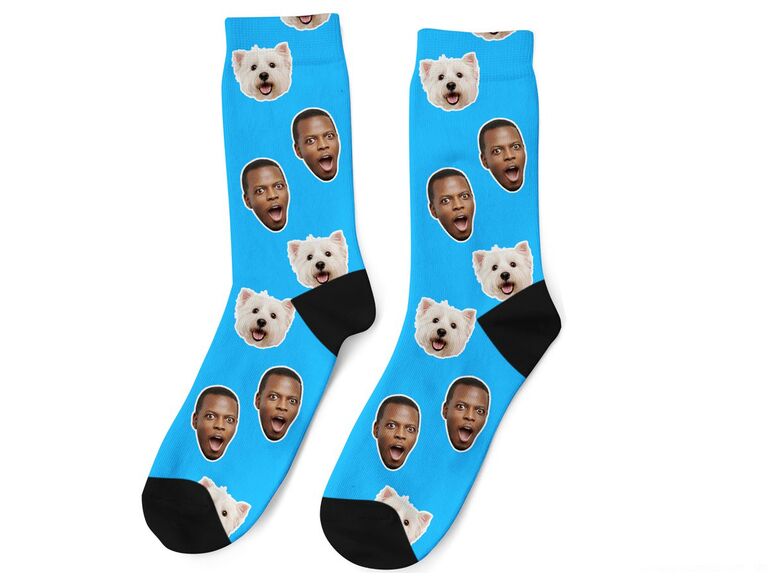 As if we haven't already proved it, you can put your photo on practically anything. That includes clothes, from T-shirts to these socks. Customize the pair with multiple faces (pets optional). How about the smiling mugs of all the groomsmen?
W Shop Studio customized funny photo gift face socks, $10, Etsy.com